Sometimes a trip can feel like one of two things–either a day surrounded by a million tourists, or a relaxing getaway that is hassle-free and provides that much-needed break we all need from life. We love staying at a hotel and the whole experience that it provides, whether it be a staycation in our own city, a short trip away with friends or traveling internationally with a partner. As you know, we're always looking for the best places to stay at and enjoy, which recently amounts to The St. Regis Macao. Over the course of two days and a night, they left us impressed with the level of luxury and state-of-the-art service, which certainly deserves its five-star distinction.
Located in a prime position on the Cotai Strip, it has easy access to great restaurants, kids' clubs, shopping, and also the old Taipa Village for that cultural touch to your stay in Macau. It has an excellent spa on the 38th floor too. The St. Regis Bar not only has top staff but also regularly hosts guest mixologists, and showcases the full St. Regis Bloody Mary World Collection, including The St. Regis Macao original recipe, and of course there is their signature restaurant The Manor.
Also read: The St. Regis Bar Macao: The Hottest Spot in Town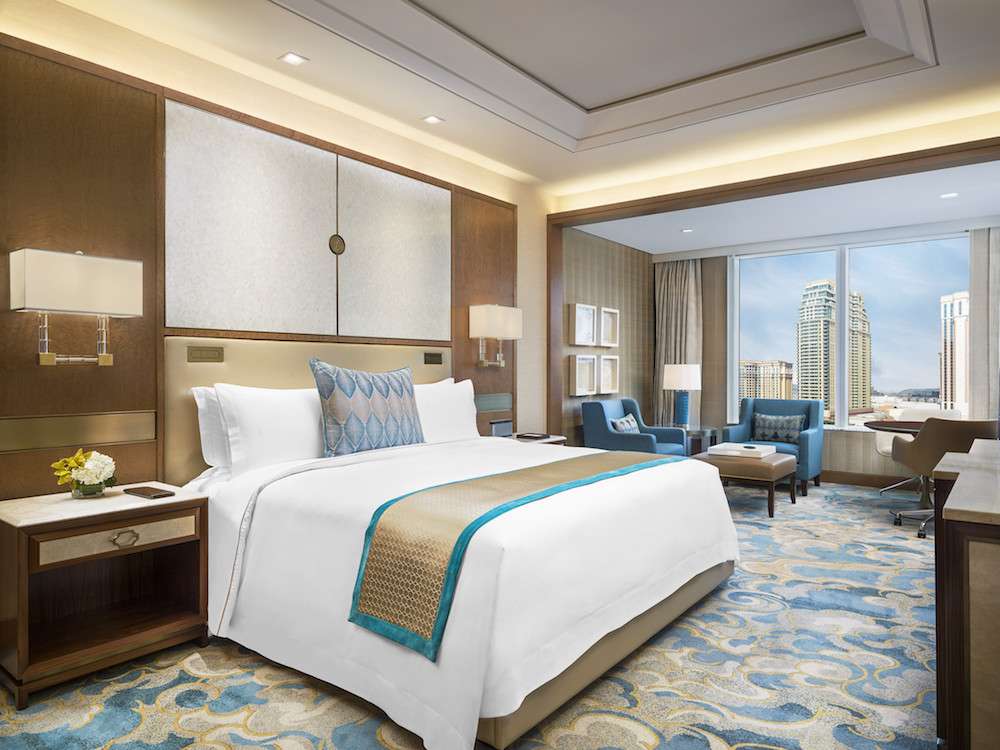 A relaxed check-in and exquisite butler service
The check-in process is quick, easy, and strangely quiet, you don't have people lined up and yelling or even the crowds checking in, it certainly set the tone for the rest of the stay. We stayed in one of their 400 guest rooms facing the Cotai Strip with a view of The Parisian Macao's Eiffel Tower; we were pleasantly surprised by the size. The rooms are spacious, well-equipped with modern amenities and technology. You don't need to worry about forgetting your international adaptor or needing a local phone–it's all taken care of! There is a workspace, lounge area and of course the bed, one of the biggest we've slept in for a while.
However, what really stood out was the staff and its level of attention with guests. Each room has a butler service that can help you take care of any of the smallest needs you might have, not to mention fresh tea or coffee anytime you need. They helped us iron our clothes and left the daily newspaper by the door early the next morning. You can also ask them to shine your shoes, send clothes to wash, request special diets or foods, amongst many other things. The best of it all? It's available 24 hours! The St. Regis butler service and the rest of the staff for that matter should be commended for truly understanding what hospitality means. From check-in to check out, to hailing taxis, exchanging money, and arranging ferry tickets–it was just all made so very easy.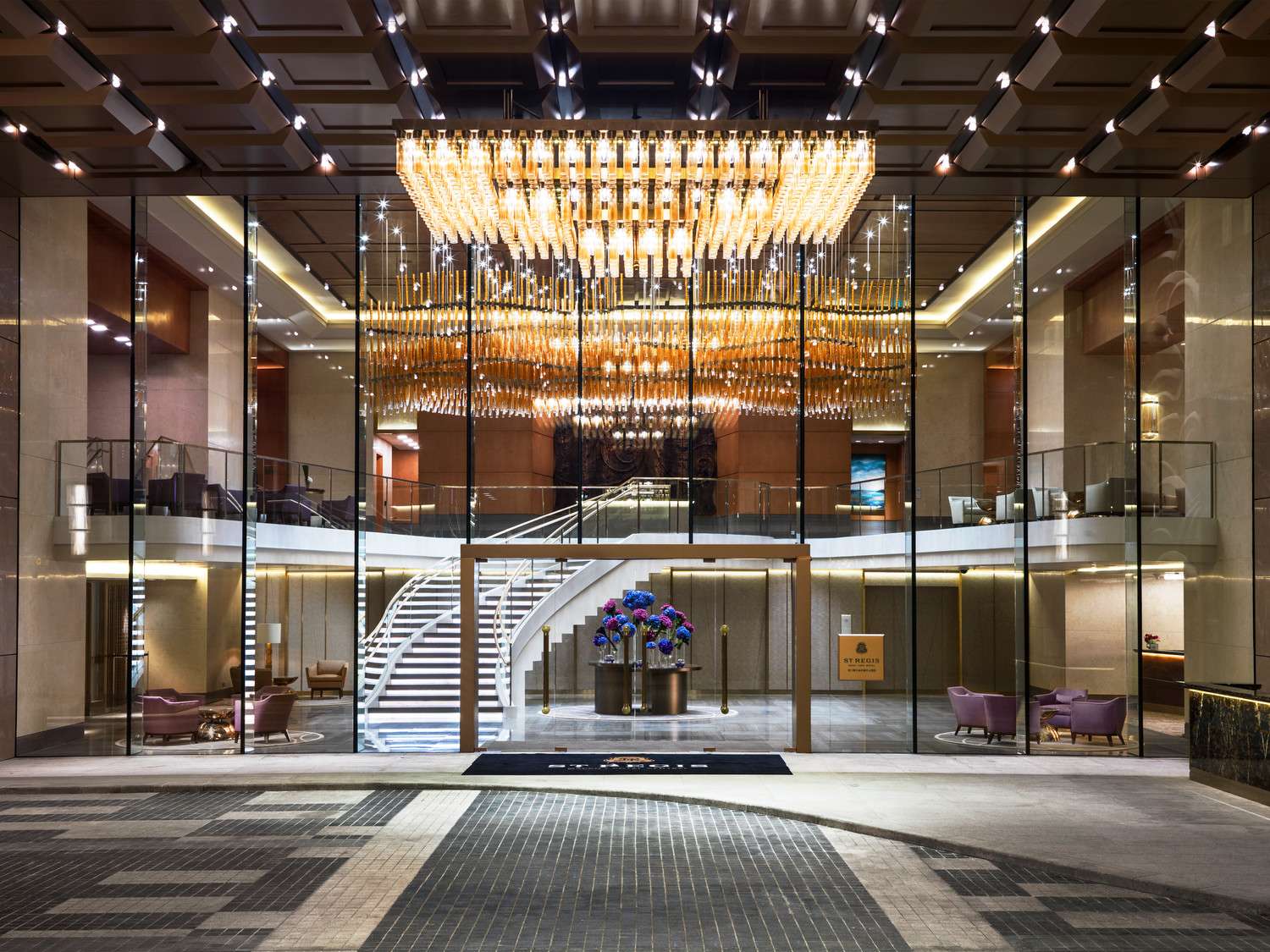 Breakfast of gods
It's surely going to be difficult to choose between breakfast at wonderful The Manor restaurant–with its wide rooms, cheerful decoration of freshly made food by the team of chefs led by Italian chef, Michele Dell'Aquila–or in bed, with astonishing views of Cotai area surrounded by silence or your favorite songs on the electronics bundle the property provides.
We went for a combination of both: the first morning, we were presented with a large selection of both Eastern and Western choices and the layout allowed for almost no crowding. With stations spread out amongst the restaurant, you don't feel like you are waiting to get your food. They even thought about people with dietary restrictions: there is almond and soy milk for anyone looking to have a lactose-free breakfast–in fact, we haven't seen almond milk in many hotels in town. Cappuccino or other coffee-based beverages, toast and eggs cooked in different ways, but also wok-fried noodles, congee to warm the body, and many other things like fresh fruit, cereals, and more are available too. If you're more into an intimate setting, breakfast in the room is just as great! Just choose from their array of sets and then go for one of two items such as waffles or pancakes. We'd go for the muesli as well, by the way.
As for The Manor, maybe decide for breakfast in the room so you'll be able to fully enjoy lunch or dinner at the restaurant, which makes for some pretty amazing shots and, well, a unique dining experience. With Chef Michele Dell'Aquila on the wheel, you're sure to be eating the freshest and best ingredients they could find from the different corners of the world. They also have seasonal menus and different events, so be sure to check their website for news on food and new recipes.
Also read: Michele Dell'Aquila: The Manor's New Executive Sous Chef Making Exquisite Fine Dining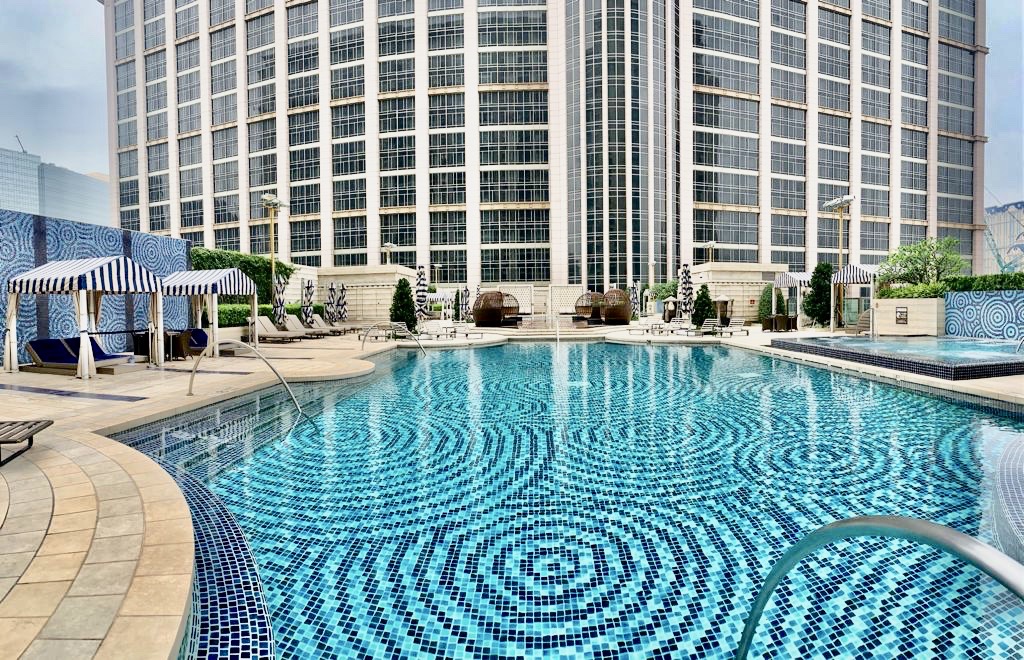 Swimming and Spinning
We all know The St. Regis Macao is paramount when it comes to luxury. What about entertainment? Did you know that besides being inside a shopping mall complex, they also have a wonderful pool and fitness center? With different swimming pools (including for kids) it allows for breathtaking views of the city–under the sun and the moon–while enjoying a quiet and relaxing environment with few people crowding, especially during weekdays. Usage of these facilities is complimentary for guests staying at the hotel.
Also read: Macau's Best Outdoor Swimming Pools
This property is also keen on organizing events, including business-related but also weddings–both indoor or outdoor. Choose to have the party of a lifetime by consulting their options when it comes to having a wedding on their sumptuous grounds.
Also read: Bring Your Dream Wedding to Life at The St. Regis Macao
The St. Regis Macao has everything you could need for a couples getaway, business trip, or family affair. From great service, relaxing, comfortable rooms, to great dining options, and close proximity to Macau and Taipa's activities and attractions, the only question is "When are you checking in?"
---
The St. Regis Macao The Londoner Macao, Estrada do Istmo, s/n, Cotai, +853 2882 8898, www.stregismacao.com
The Manor The St. Regis Macao, The Londoner Macao, Estrada do Istmo, s/n, Cotai, +853 2882 8898, [email protected]
The St. Regis Bar Macao 2F, The St. Regis Macao, The Londoner Macao, Estrada do Istmo, s/n, Cotai, +853 2882 8898, www.thestregisbarmacao.com
Brought to you in partnership with The St. Regis Macao
Tags
Related Posts