A city that continues to attract celebrities for work or play, Macau is a playground for the stars and there are choices aplenty when it comes to the most ultra-luxurious suites in the spectacular hotel properties around the scenic SAR. Many of us might have held off on our travel plans but it's possible to enjoy a piece of paradise at these secluded luxury suites ensuring the safety and well-being of guests. Not just an unrivaled level of privacy but a true getaway and mini-break right in the heart of Macau is definitely achievable.
Mandarin Oriental, Macau
The Presidential Suite at Mandarin Oriental, Macau was definitely made for the VVIPs in Macau. Known to have hosted prominent racers of the annual Macau Grand Prix, we can just imagine the A-list athletes in this two-ensuite bedroom with a dining area, a private bar for posh drinks, and butler service. The Asian-inspired ambiance of the accommodation gives the guest an authentic feel of the city combined with the panoramic view of the Macau archipelago. Every part of the room just looks stunning and yet feels comfortable–which is exactly what we think A-listers are looking for when it comes to their luxury suite of choice.
Mandarin Oriental, Macau 945 Avenida Dr. Sun Yat Sen, NAPE, +853 8805 8888, www.mandarinoriental.com
Also read: Wake Up Here: Mandarin Oriental, Macau

The Venetian Macao
Embark on a journey to Florence right in the heart of the Venetian Macao's Florence Suite. You're guaranteed a memorable night's rest in the plush and ultra-spacious two-bedroom Florence Suites of Paiza. With furnishings of an elegant blend of Chinese and European decor, it is the absolute epitome of luxury and good taste. Complete with spacious living room and dining areas, media room, jacuzzi, plasma televisions, and wired and wireless internet access, the Florence Suites exceeds expectations of the most discerning of guests. It's definitely not just for high rollers–there's no doubt the likes of boxing legend Manny Pacquiao and even David Beckham stayed in the same stylish suites.
The Venetian Macao Estrada da baia de Nossa Senhora da Esperanca, Cotai, +853 2882 8888, www.venetianmacao.com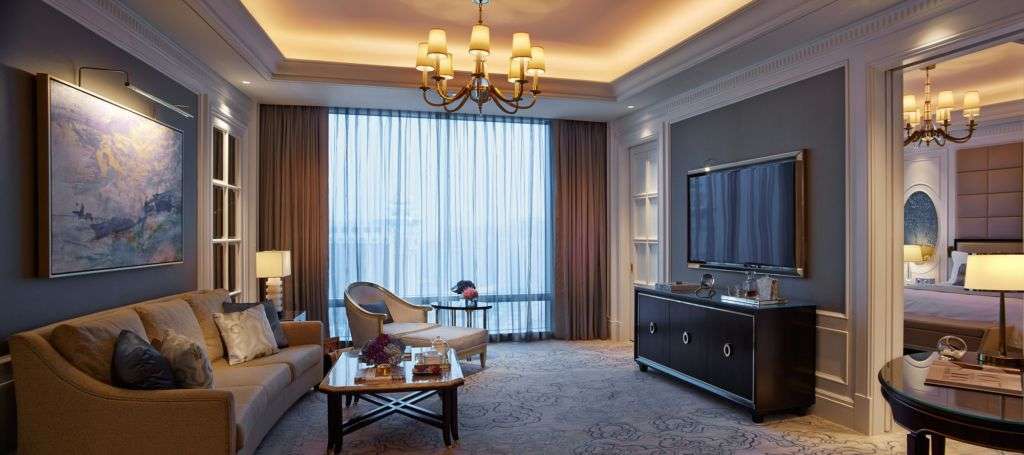 The Ritz-Carlton, Macau
There's a good reason renowned fashion designer Coco Chanel lived at The Ritz-Carlton Paris for 34 years. The brand exudes elegance in every aspect of its being. Here in Macau, the two-bedroom Carlton Club Suite is what dream holidays are made of. With large and luxurious bedroom villas, marble bathrooms, a stunning view of Cotai for an Instagram post of course, and amazing amenities with just about everything you'll ever need and want. The rich carpeting, divine decor, and a soothing color palette are significant features of the Ritz-Carlton brand, making it a favorite hotel for the rich and famous.
The Ritz-Carlton, Macau Galaxy Macau, Estrada da Baía de Nossa Senhora da Esperança, Cotai, +853 8886 6868, www.ritzcarlton.com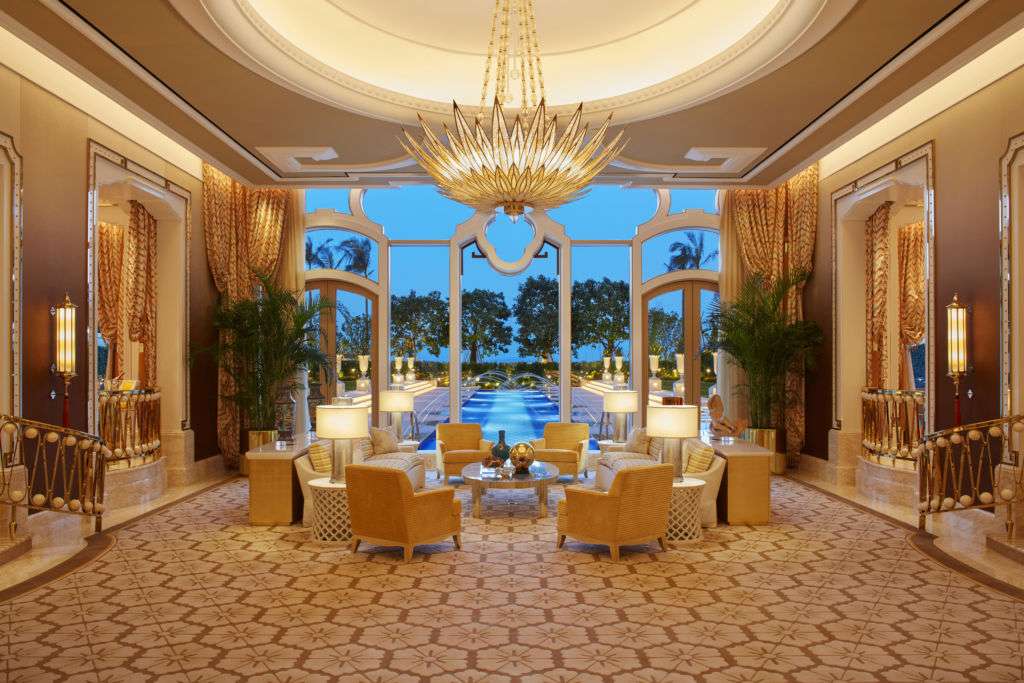 Wynn Palace
The Garden Villas at Wynn Palace definitely sets a new standard for superior resort accommodations—not merely in Macau, but anyplace in the world. With top-quality amenities highlighted by plush, opulent design, you won't ever want to leave the lavish property. Beyond the living room, step onto the tranquil patio and garden, where a magnificent swimming pool awaits. The majestic view offers the perfect opportunity to host a cocktail party under the stars. We imagine celebrities and socialites gathering at this luxury suite with the likes of Anita Yuen and Carina Lau having graced the Macau Franck Muller boutique opening at the decadent hotel.
Wynn Palace Av. Da Nave, Desportiva, Macau, +853 8889 8889, www.wynnpalace.com/garden-villa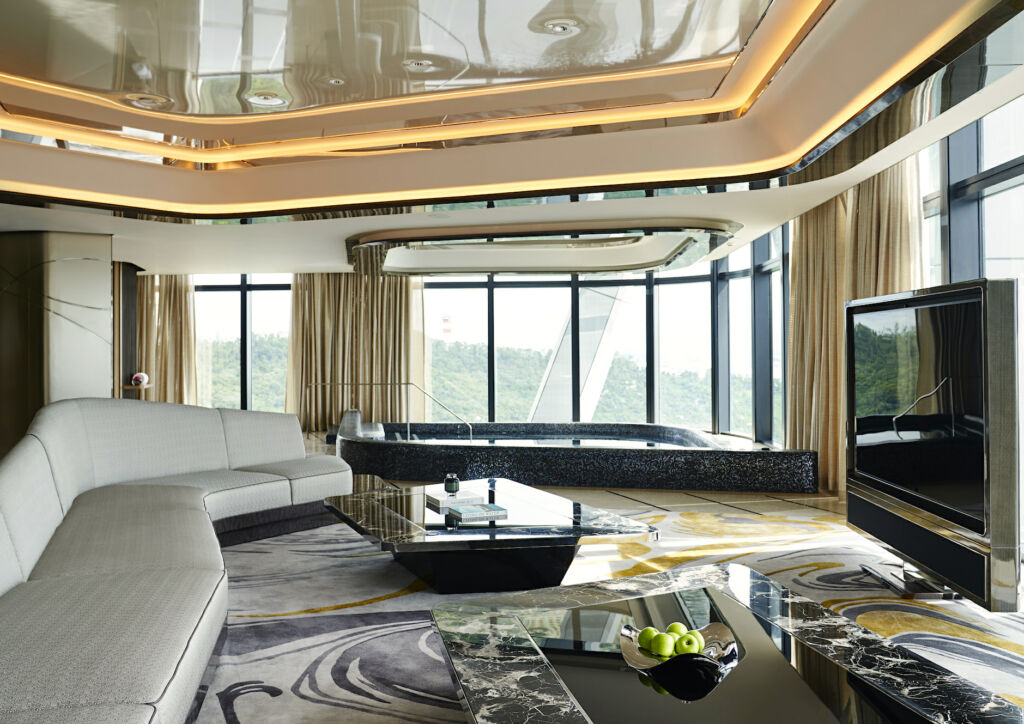 MORPHEUS
The saying "first impression lasts" rings true at Morpheus. Located at the City of Dreams complex, the striking structure was designed by the late award-winning architect Zaha Hadid. The architectural masterpiece has already earned its place as a landmark in the city but more than just its outside beauty, guests will be enamored by the ultra-modern suites. In particular, the Villa is one of the most sought after accommodation experiences sitting on top of Morpheus in the form of six duplex villas.
The upper floors connect to a series of private rooms, in which guests can enter and play at their will. Designed like a stylish penthouse, it features dark tones, reflective surfaces, and large floor-to-ceiling windows offering unobstructed views of Macau. The space is fully equipped with a kitchen, private massage and exercise rooms, and even an internal elevator to take you between floors. The master bathroom inside the suite comes with heated flooring and features a separate steam and shower room. A private butler is available on-demand, to bring you everything you need, 24 hours a day. One of the best thing about checking in to this property is partaking fine French food by Michelin starred French chef, Alain Ducasse.
Morpheus Hotel City of Dreams Macau Estrada do Istmo, Cotai, +853 8868 3432, www.cityofdreamsmacau.com/morpheus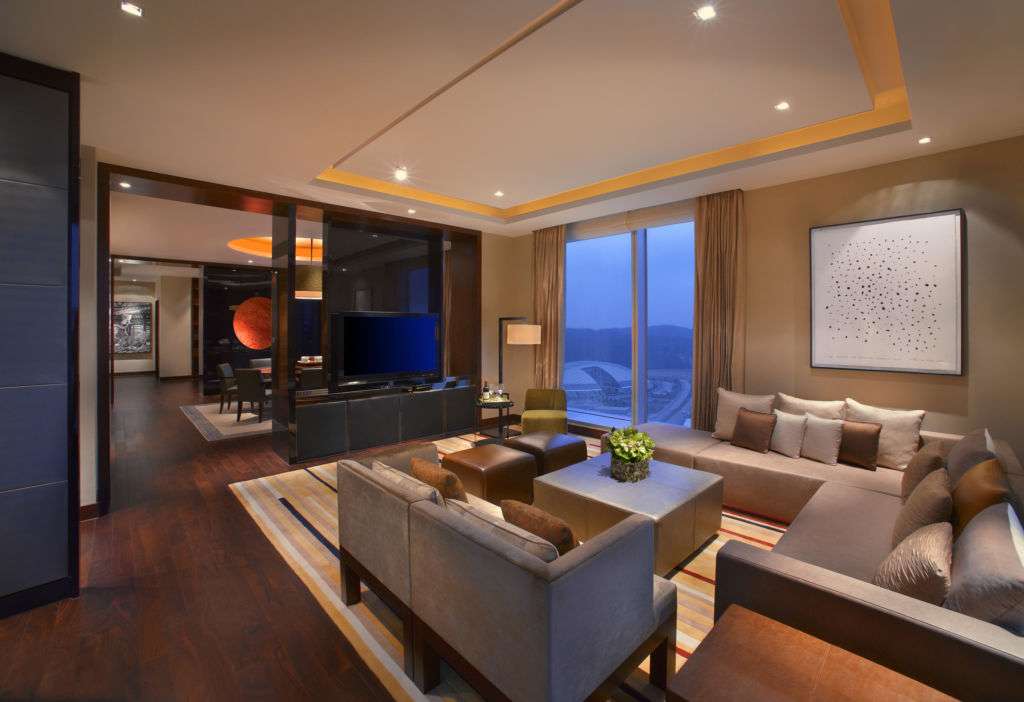 Grand Hyatt Macau
With a stunning view of Cotai or the west bank of the Pearl River, the Grand Hyatt Presidential Suite delivers innovative touches combining contemporary ambiance with the latest business technology. Being a few steps away from their award-winning restaurant means discerning guests don't need to wander far for an extravagant meal. Grand Hyatt is considered a favorite among top CEOs, business owners, and entrepreneurs for its sleek and sophisticated atmosphere.
Grand Hyatt Macau City of Dreams, Estrada do Istmo, Cotai, +853 8868 1234, macau.grand.hyatt.com/hotel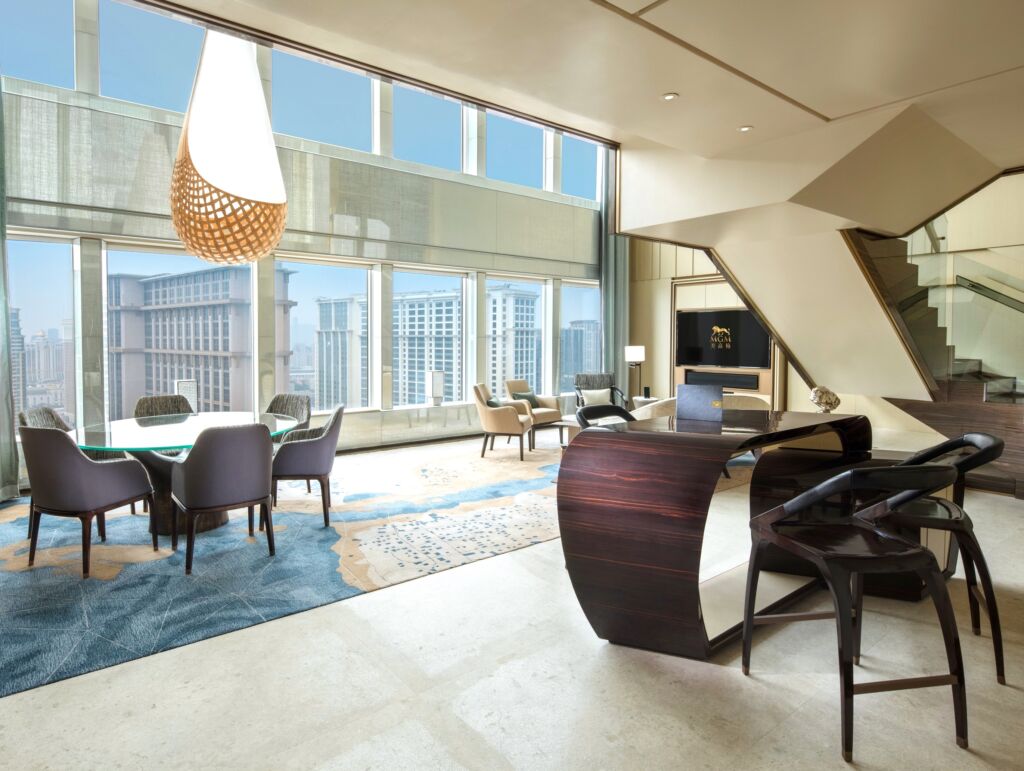 MGM COTAI
MGM Cotai's Skylofts Duplex boasts an exclusive check-in area. That's how special this suite is perched high above the stunning property located in the Cotai strip. Inspired by New York City's lofts, the Skylofts Duplexes features extraordinary design elements that combine dramatic design with unparalleled service. An exclusive Sky Lounge, with dedicated check-in and concierge facilities, are only some of the remarkable perks. The magnificent marble bathroom with walk-in rain and steam shower is a worthy experience in itself. Guests will definitely feel the pinnacle of privacy while enjoying the luxurious trappings of the five-star property.
MGM Cotai Macau Ave. Da Nave Desportiva, Cotai, Macau +853 8806 2318, www.mgm.mo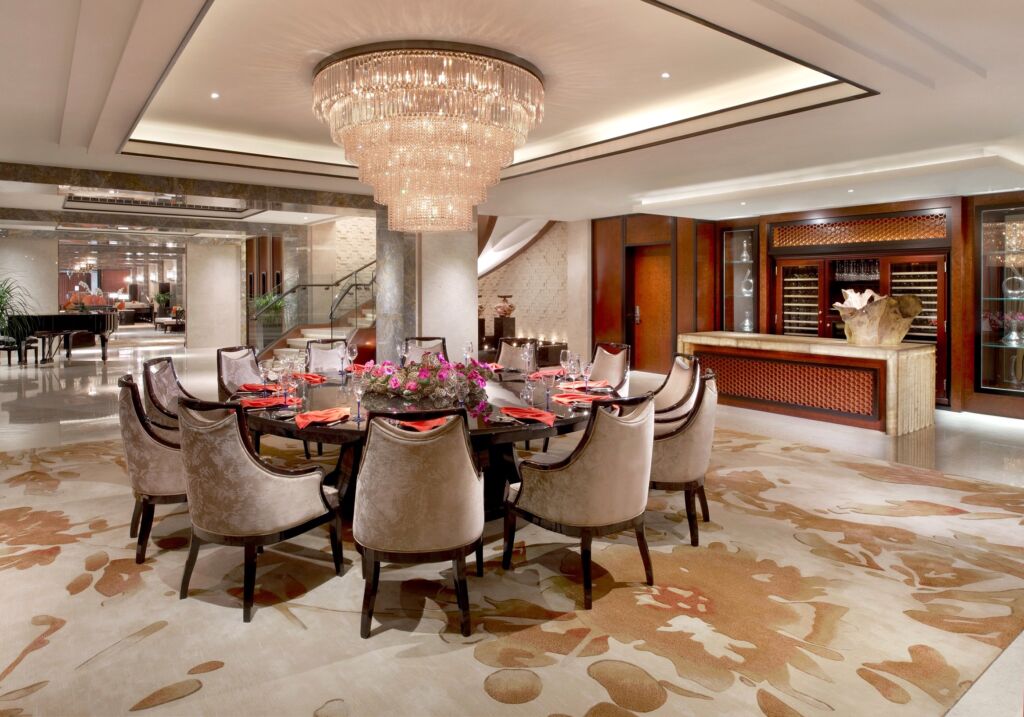 BANYAN TREE MACAU 
Banyan Tree Macau's Presidential suite is described as a once-in-a-lifetime experience. The hotel property is already popular for a spot of romance but this accommodation's level of extravagance is reserved for the crème de la crème. Located on the 30th and 31st floors, the stylish suite features majestic views of the Cotai strip, to begin with. The split-level suite is complete with two bedrooms, a dining room, and a gourmet-outfitted kitchen so guests can dine in total seclusion. You'll find a grand piano for personal entertainment and there's even a pillow menu so you can choose from the best among the best when it comes to sleep and rest. Feel the complete comfort of home while enjoying all the lavish details and hotel ambiance that a stay at a world-class hotel offers at Banyan Tree Macau.
Banyan Tree Macau Galaxy Macau, Estrada da Baia de Nossa da Esperança, Cotai, +853 8883 6688, www.banyantree.com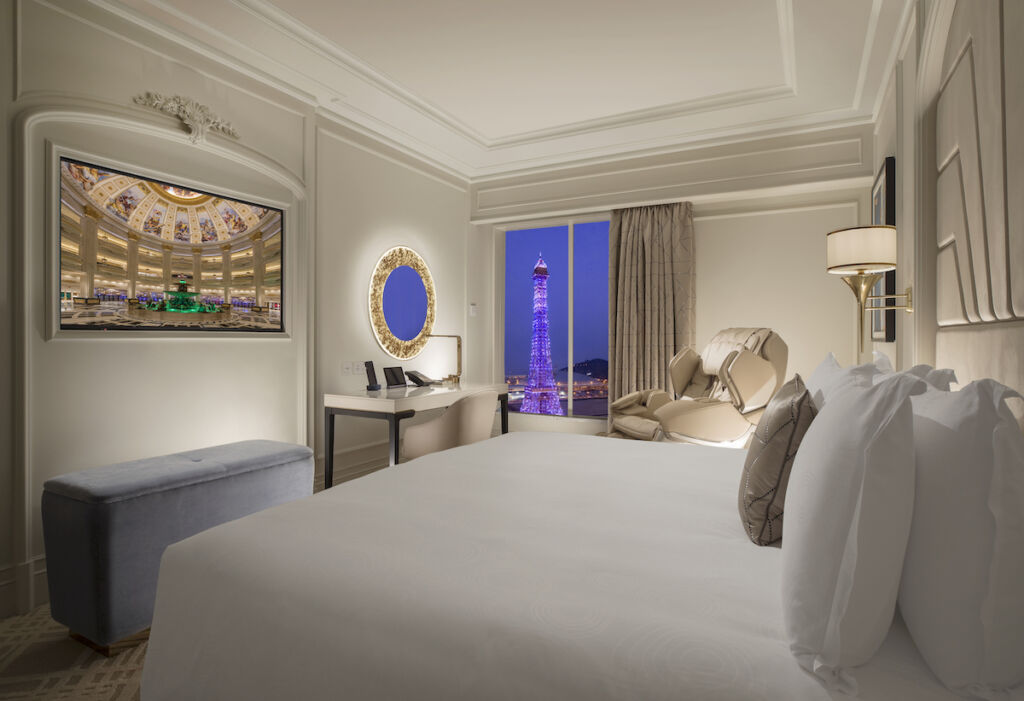 THE PARISIAN MACAO
Paris is called the city of love and everyone dreams of roaming the gorgeous city. From visiting the Eiffel Tower to dining amid the romantic atmosphere, you'll find a piece of Paris right in the heart of Macau. To truly embrace the French experience, the Parisian Macao's Marseille Suite is the ultimate space to soak in the beauty of European glamor. The luxury suite features a floor to ceiling window with Macau's very own Eiffel Tower view. There is an elegant dining area for six and a private audio-visual room with state of the art entertainment facilities. The separate massage room is also an amazing addition to the accommodation offering guests a high-level of pampering treat. This location won't disappoint even if you have kids in tow or just want a break from the hustle and bustle of a busy life.
The Parisian Macao Estrada do Istmo, Lote 3, Macau, +853 8111 2300, www.parisianmacao.com
Also read: Best Family-Friendly Hotels in Macau
Also read: Macau's Best Outdoor Swimming Pools
Tags
Related Posts