We've got some seriously cool stuff happening around the city. Say cheers with a cocktail inspired by Truman Capote at The Ritz-Carlton Bar & Lounge courtesy of the brilliant Ajit Gurung. Art exhibitions. Films at the Cinematheque. Bask in beautiful performances whether ballet, contemporary dance or music. It's all happening this weekend!
(Featured image above)
Praised as one of the best bartenders in Hong Kong, Ajit Gurung from Stockton, Hong Kong heads to The Ritz-Carlton Macau for an exquisite evening of mixology on November 2.
Ajit developed his passion for cocktails at Lily & Bloom, a stellar start to his bartending career. The brilliant mixologist received "The Rising Star" award presented by the Bar Awards Hong Kong this year. He was also recognized and included on "Drinks World Top 25 Bartenders 2017″ and was a "Bacardi Legacy 2016 Top 8" finalist.
Stockton is ranked 8th in Asia's 50 Best Bars in 2017. Mark your calendars as Ajit captivates our palates and senses during his takeover of the Ritz-Carlton Bar & Lounge.
Prepare yourselves for three special signature cocktail creations by the master mixologist himself for only one night in Macau! Discover the special flavors making up these cocktails labeled as Hidden Lady, Cake Eater, and Macabre. Ajit Gurung brings the Stockton's cocktail menu "Minds Undone" that is inspired by authors and writers who loved their art and drinking equally.
When: 10:00pm–1:00am, Thursday, November 2, 2017
Where: The Ritz-Carlton Bar & Lounge, The Ritz-Carlton, Macau, Galaxy Macau, Estrada da Baía da Nossa Senhora da Esperança, Cotai
How much: Cocktails start at MOP $118
For more details, contact +853 8886 6706 or visit  www.ritzcarlton.com, www.facebook.com/events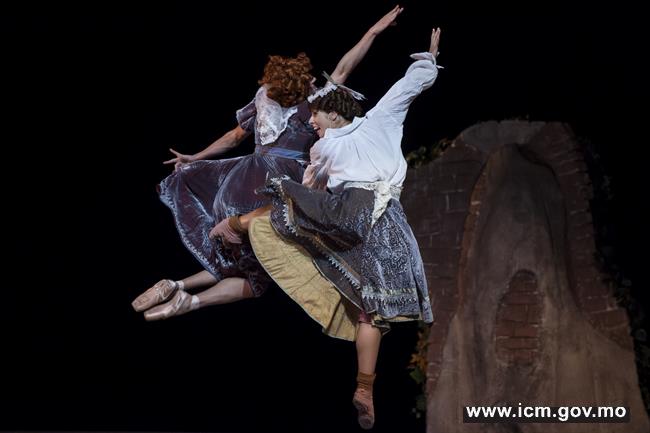 Get ready to explore a vibrant fantasy land brought by the Monte-Carlo Ballet, a noble representative of the finest European dance and dramatic tradition! The acclaimed company is bringing "Le Songe", a ravishing adaptation of Shakespeare's "A Midsummer Night's Dream", conceived and directed by choreographer Jean-Christophe Maillot.
Established in 1985, when her Royal Highness Princess Carolina decided to sponsor a new dance company, the Monte Carlo Ballet have been led by J.C. Maillot since 1993. The choreographer turned the company into an international touring troupe as the principality became an exceptional home for dancers and a destination for audiences.
Now, the time has come for us to be inspired by Monaco's top-notch dance venture, indulging in the delights of Shakespeare's most light-hearted piece. A performance to be staged with all the beauty, tenderness and humor a timeless masterpiece deserves!
When: 8:00pm, November 3–4, 2017
Where: Macao Cultural Centre, Avenida Xian Xing Hai, S/N, NAPE, Macau
How much: MOP $300, MOP $250, MOP $200, MOP $150
For more details, visit www.macauticket.com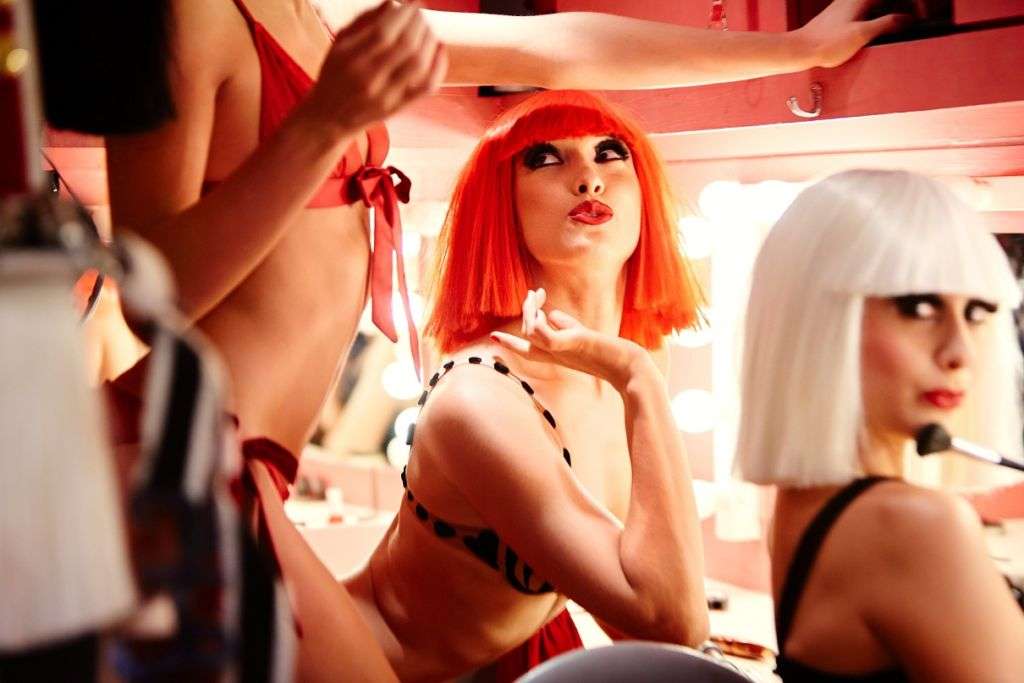 The world's most famous erotic adult cabaret show, Crazy Horse Paris, direct from the City of Lights, featuring highlights of the legendary cabaret, comes to Macau. The show is presented by a multicultural cast of 10 stunningly beautiful, classically trained dancers clad only in textured lighting and projection.
Crazy Horse shows have drawn over 15 million enraptured fans, and can claim to have many world-renowned celebrities attend their shows over the years, including Elvis Presley, Elizabeth Taylor, President John F. Kennedy, Madonna, Christina Aguilera, Jean Paul Gaultier, Pedro Almodovar, Sting, Kylie Minogue, Sharon Stone, Steven Spielberg, Naomi Watts, Michael Baryshnikov, Pink, Kanye West, and Beyonce.
Audiences can expect a unique kaleidoscope of beauty, grace, passion and precision, signature bob wigs, exclusive Christian Louboutin-designed high heels, and perfect, ruby-red lips. Swirling, textured lighting uses dancers as living canvasses, while a soundtrack blends sensual jazz and cutting edge beats. An enchanting evening of seduction, magic, music, and beauty—you won't want to miss this slice of pure Parisian glamour and decadence. The show times are 8:00pm from Tuesday to Friday and 8:00pm and 11:00pm on Saturday and Sunday.
When: November 1–12, 2017
Where: The Parisian Theater, The Parisian Macao, Estrada do Istmo, Lote 3, Cotai, +853 2882 8827
How much: (VIP Reserve) MOP $680, (A Reserve) MOP $480, B Reserve: MOP $380, C Reserve: MOP $180
For more details, visit www.parisianmacao.com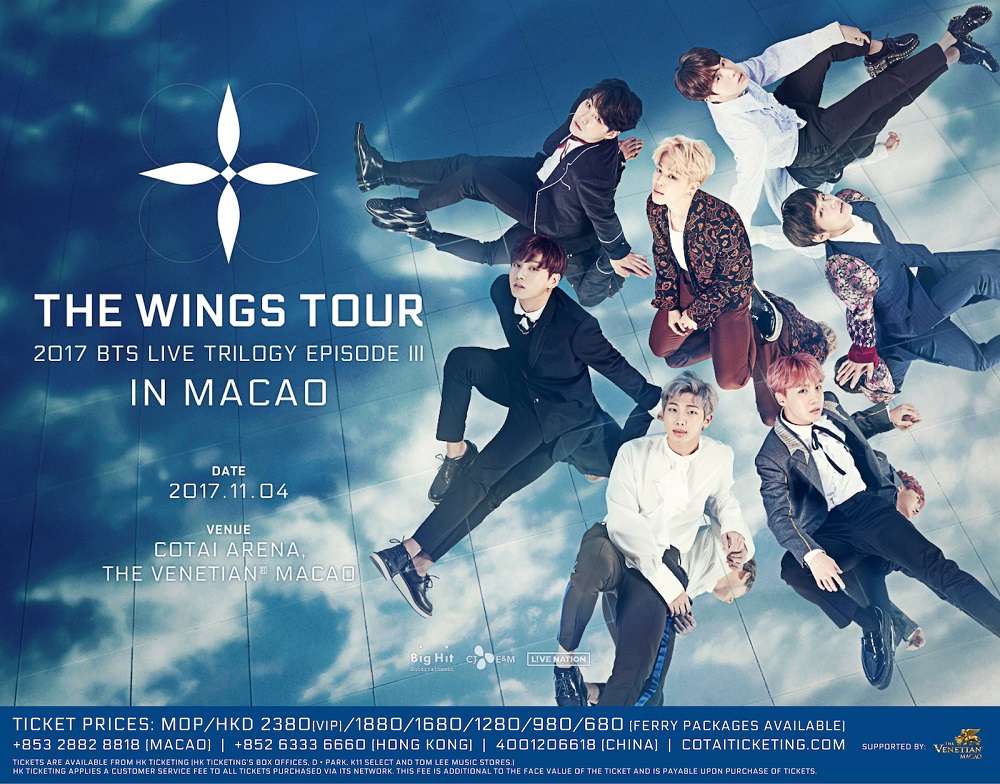 Recently named "The 25 Most Influential People on the Internet" and awarded "Billboard Music Awards Top Social Artist", BTS, is a seven-member South Korean boy band under Big Hit Entertainment. They are set to invade Macau in a memorable night of music and performance.
BTS' album "WINGS" was one of 2016's top-selling albums in Korea. The album also reached No. 1 on 97 iTunes charts around the world and was No. 26 on the prestigious Billboard 200 albums chart, a record for a Korean artist.
TIME magazine recently named BTS as one of the 25 most influential people on the internet, alongside notable figures such as Justin Bieber, President Donald Trump, Rihanna and Katy Perry. They are the only Korean group on the list.
When: Saturday, November 4, 2017
Where: Cotai Arena, The Venetian Macao, Estrada da Baia de Nossa Senhora da Esperanca, Cotai
How much: (VIP Package) MOP $2,380, (A Reserve) MOP $1,880, (B Reserve) MOP $1,680, (C Reserve) MOP $1,280, (D Reserve) MOP $980, (E Reserve) MOP $680
For more details, visit www.venetianmacao.com and www.livenation.asia +852 2989 9239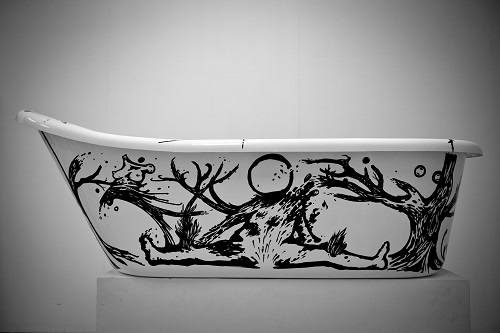 Macau artist Fortes Pakeong Sequeira will have his solo exhibition "Lonely Tones—Works by Fortes Pakeong Sequeira" in AFA Macau. This time Pakeong will have his latest artworks including installation and animation and aims at opening up new perspectives in which the viewer is able to engage.
When: October 28–November 26, 2017
Where: GF, Tak Chun Macau, Art for All, Art Garden, 265 Avenida Dr. Rodrigo Rodrigues, Macau
How much: Free admission
For more details, visit www.afamacau.com or +853 2836 6064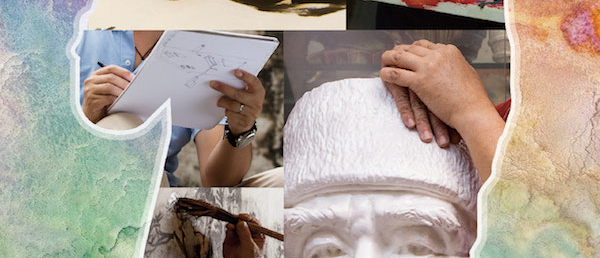 One of the Macao Artists Promotion Projects held by the Macao Foundation is the special exhibition of Chan Hin Io. This exhibition features some of the most exquisite 70 pieces by local artist Chan Hin Io.
When: 9:00am–7:00pm, October 30–November 7, 2017
Where: Chun Chou Tong Pavilion of Lou Lim Ioc Garden, 10 Estrada de Adolfo Loureiro
How much: Free admission
For more details, visit +853 2872 7066 or www.fmac.org.mo

It is the end of 1941, Hong Kong is under Japanese occupation. The anti-Japanese Dongjiang guerrilla unit is tasked with rescuing cultural figures and extracting them from the besieged city. Primary school teacher, Fang Lan (Zhou Xun) finds herself embroiled in the guerrillas' mission to save novelist Mao Dun with her mother (Deanie Ip). In the process, she meets Blackie Lau (Eddie Peng), the intrepid sharpshooter captain of the guerrillas' Urban and Firearms unit. Taking notice of Lan's calm, intelligent nature, Blackie recruits her to join the guerrillas.
Ann Hui tries to depict the sentiments of ordinary people and the role of Hong Kong in the recent history of China.
When: Sunday–Friday, November 5–10, 2017
Where: Cinematheque Passion, 13 Travessa da Paixao, Macau
How much: MOP $60
Full-time students and senior citizens aged 65 or above can enjoy 50% discount. Each purchase of 10 tickets or more can also enjoy 20% discount.
For more details, visit www.cinematheque-passion.mo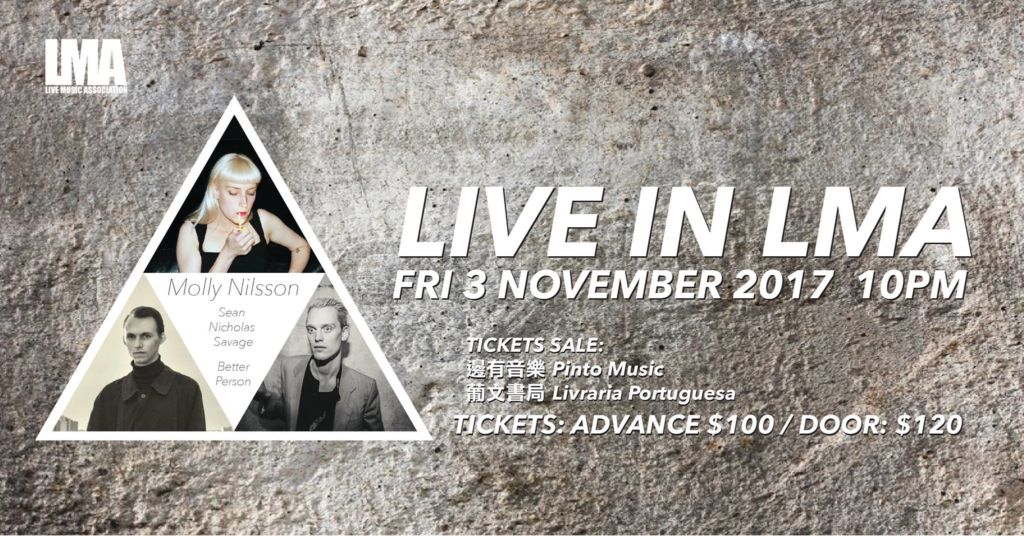 Molly Nilsson with Sean Nicholas Savage and Better Person are doing a fall Asia tour 2017. And they are dropping by Macau for a fantastic performance for one night only. The three talented artists are set to perform in LMA on November 3. Hosting local and overseas acts, the Live Music Association is an incredible location for amazing performances by talented artists and musicians.
When: 9:30pm–11:59pm, Sunday, September 17, 2017
Where: Live Music Association (LMA), 11B San Mei Industrial Building, 50 Avenida do Coronel Mesquita, Macau
How much: At the door: MOP $120
For more details, visit www.facebook.com/LMA.Macau or +853 2875 7511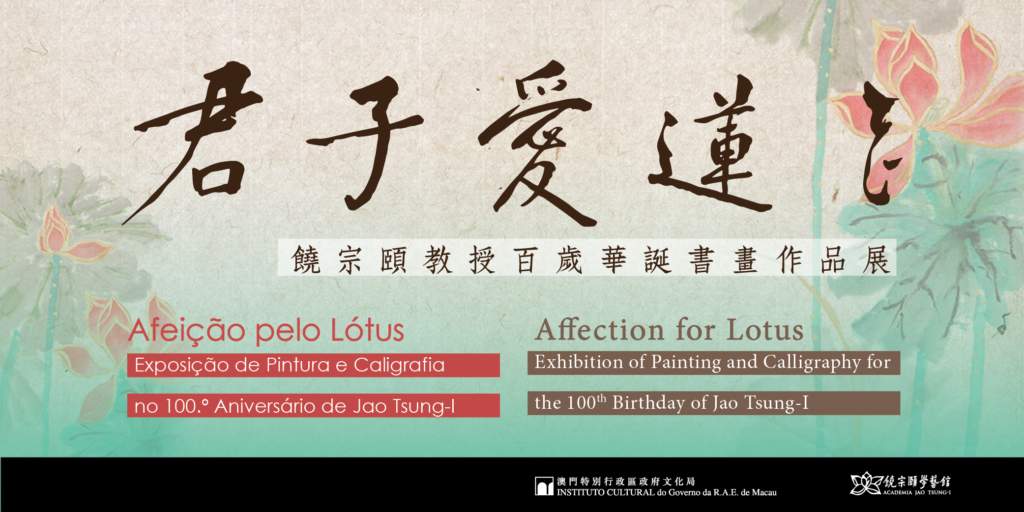 Discover an exquisite exhibition of painting and calligraphy to celebrate the 100th Birthday of Jao Tsung-I. Professor Jao Tsung-i is a world-renowned sinologist who has made prominent achievements and outstanding contributions in various fields, including academia, painting and calligraphy, as well as in the literary arena. In this year coinciding with the professor's 100th birthday, the Jao Tsung-I Academy, with the support of the Macao Museum of Art, presents the "Affection for Lotus—Exhibition of Painting and Calligraphy for the 100th Birthday of Jao Tsung-I", with 15 sets of lotus-themed calligraphy and painting artworks by the professor selected to showcase the artistic glamour of the highly praised "Jao's Lotus".
When: 10:00am–6:00pm, October 13–December 31, 2017
Where: Jao Tsung-I Academy, 95 C-D, Avenida do Conselheiro Ferreira de Almeida, Macau
How much: Free admission
For more details, visit www.ajti.gov.mo or +853 2852 2523
Share
Tags