Everyone likes a little cold from time to time and this is certainly Macau's best season to experiment winter activities such as ice-skating, or strolling through Christmas markets with family and friends! Check out these top family activities we have curated for a full month of holiday bliss, snow and kid-friendly activities and events!
(See featured image above)
The Parisian Macao will have an outdoor ice skating rink at The Eiffel Tower Level 7 observation deck. Guests can hire skates to show off their skills while enjoying roaming entertainment as well as winter food and drink treats. There will also be a winter wonderland, falling snow, seasonal treats with seating areas and pop-up market booths.
When: 4:00pm–10:00pm, November 15, 2018–January 6, 2019
Where: Level 7 Observation Deck, Eiffel Tower, The Parisian Macao, Estrada do Istmo, Lote 3, Cotai
How much: Access to the event area is free (ice rink usage: MOP $50 for 30 minutes)
For more information, go to The Parisian Macao website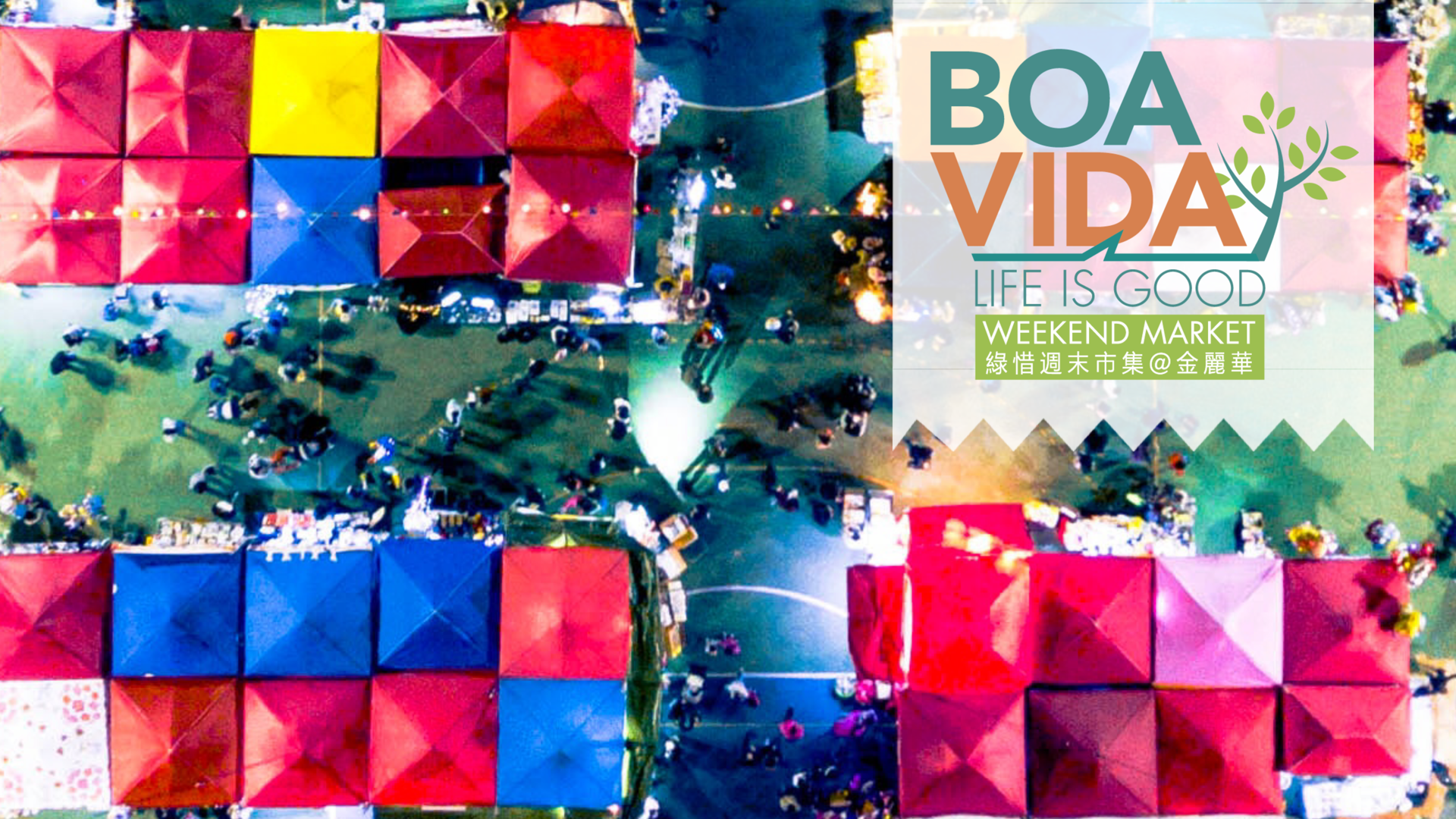 The Boa Vida Weekend Market is a community market embracing the "Boa Vida" lifestyle. In Portuguese, Boa Vida means "Good life, good living", which is the motto of this two-day market. It is organized by Grand Lapa, Macau and Macau Flea Market Culture Association.
Grand Lapa has developed a series of Boa Vida activities that will be held over the coming months as it celebrates its 35th anniversary in 2019, varying from culture to wine and dine, wellness to artistry and more. They hope to bridge generations, and bridge East with West, being true to Macau's DNA. Boa Vida Weekend Market will take place December 8 and 9, 2018 and will showcase good living in booths and stands throughout the resort's grounds, from arts and crafts, entertainment and storytelling, vintage clothing and accessories, sustainable workshops for kids, books and knickknacks, traditional local snacks, live music and a green picnic area at the hotel's lawn. It is sure to be a family affair for all ages.
When: 2:00pm–9:00pm, Saturday and Sunday, December 8 and 9, 2018
Where: Grand Lapa Macau, 956-1110 Avenida da Amizade, Macau
How much: Free admission
For more details, go to Grand Lapa Macau Facebook page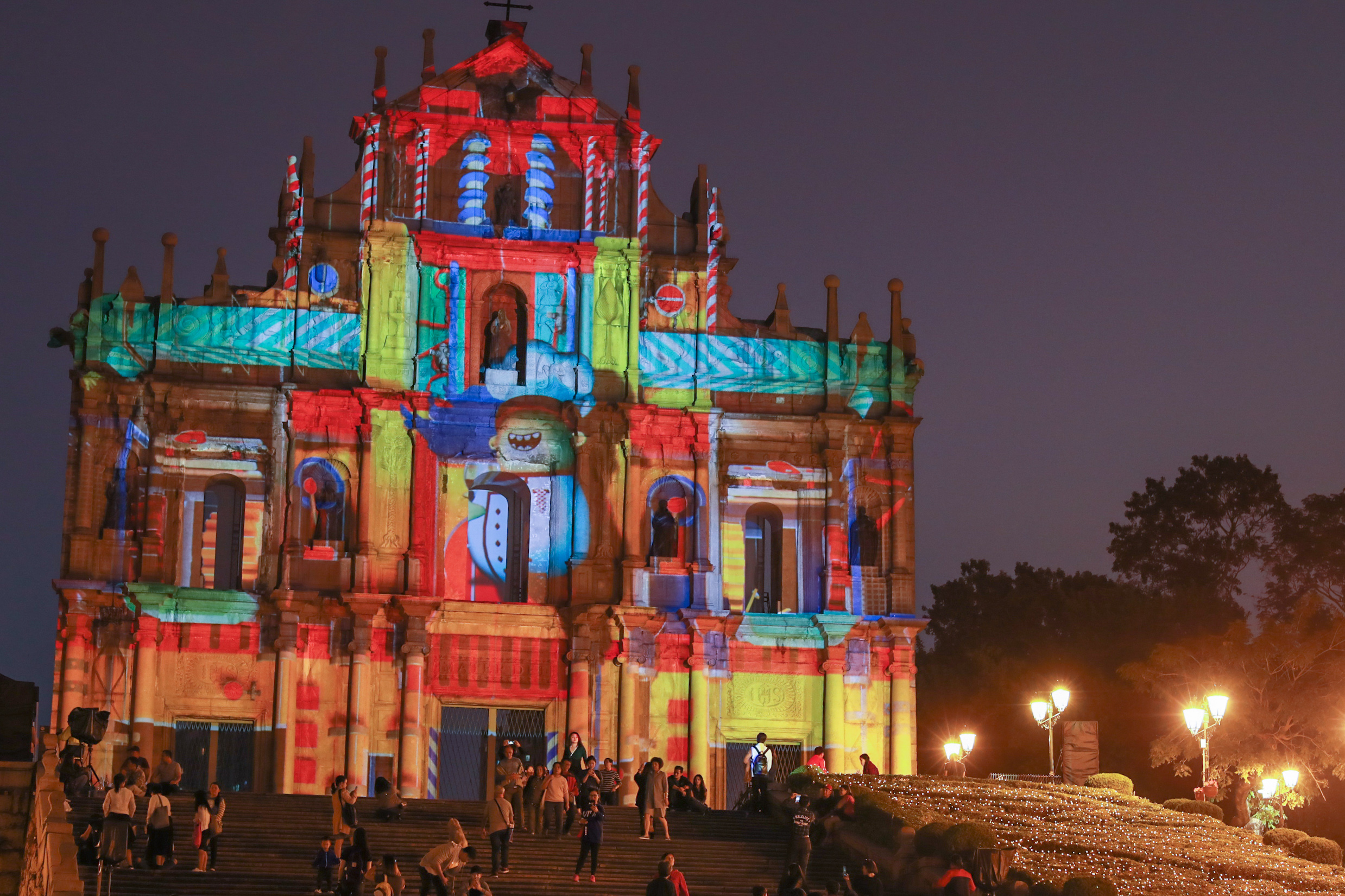 "Macao Light Festival 2018 – Time Travel in Macao" will be staged in throughout December 2018. Revolving around the concept of time, the Festival will weave up local elements of gastronomy, humanity, architecture, culture, creativity and other realms. There will be three different routes throughout the city. The event will portray nostalgic stories and childhood memories of Macau people, leading spectators on a glittery journey across time and space in Macau. More gastronomic elements have been added to the programme and more routes. Five projection mapping shows will be staged at three locations, plus an itinerant projection show at the Taipa Municipal Market.
When: 7:00pm–10:00pm, December 2–31, 2018
Where: Route A (Play Time):  St. Dominic's Church → Ruins of St. Paul's → Pátio de Chôn Sau / Rua das Estalagens / Rua dos Ervanários → Largo do Pagode do Bazar → Camões Garden → Calçada da Igreja de S. Lázaro
Route B (Youth Time): Anim'Arte NAM VAN → Nam Van Lake Nautical Centre
Route C (Taipa Houses → Taipa Municipal Market → Pak Tai Temple and Square of Pak Tai Temple)
How much: Free admission
For additional information, call +853 2833 3000 or check MGTO official website for programming and routes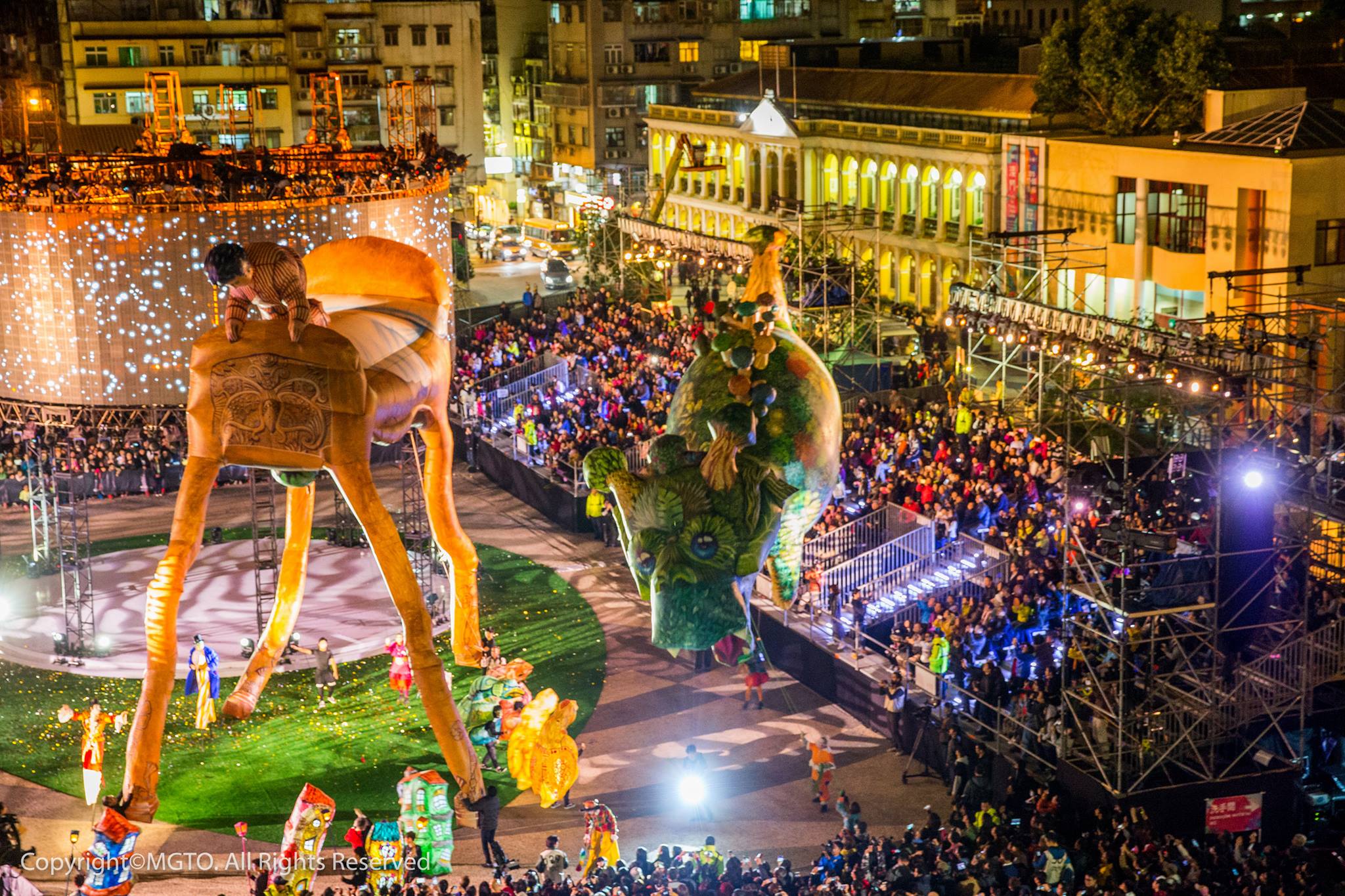 In celebration of the 19th Anniversary of the city's return to China, thousands of overseas performers are coming to town to join local groups for the 2018 Macao International Parade. The party begins with an opening ceremony at the Ruins of St. Paul's where all groups get a chance to showcase their skills. The parade then continues throughout Macau's busy streets and avenues until it arrives at Sai Van Lake Square, where it culminates in a festive, carnival atmosphere. Every year for Macao International Parade participating groups from all over the world, as well as extraordinary local artists, lead residents, and tourists in an adventure through streets and alleys full of history. It is always great and festive, showcasing Macau's unique cultural characteristics as well as the great cultural integration here, promoting cultural and artistic interaction and exchange as well.
When: 3:00pm–7:00pm, December 16, 2018
Where: Throughout Macau peninsula
Circuit: Ruins of St Paul's → Rua de S. Paulo → Rua da Palha → Largo de S. Domingos → Senado Square → Travessa do Roquete → Rua da Sé → Calçada de S. João → Avenida da Praia Grande → Avenida Panorâmica do Lago Nam Van → Avenida Doutor Stanley Ho → Sai Van Lake Square
How much: Free admission
For more information, check the event's official website or Facebook page, or call +853 2836 6866 or email them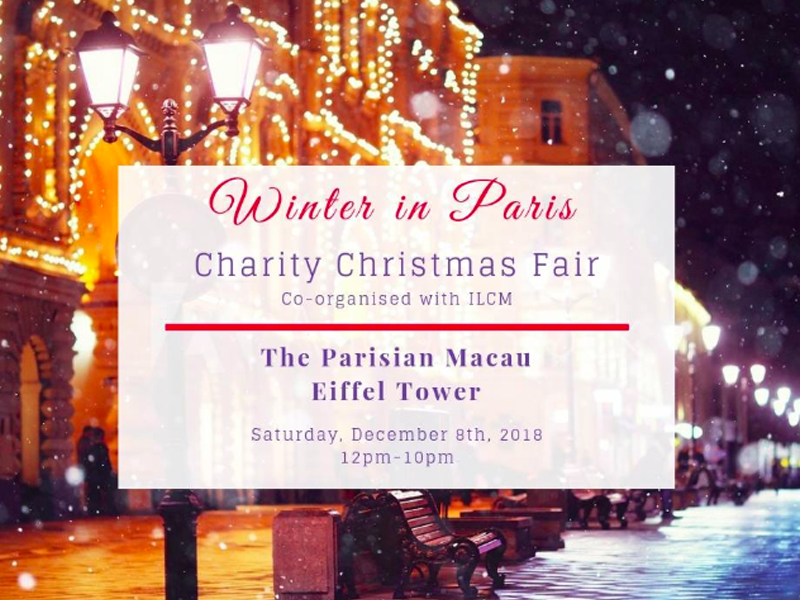 Discover the real joy of Christmas at The Parisian Macao during the Winter in Paris Charity Christmas Fair, where visitors can help raise funds for Caritas Macau while enjoying a fun, festive day with friends and family.
For the Charity Christmas Fair, The Parisian Macao's Eiffel Tower Level 7 viewing platform will be transformed into a fabulous outdoor winter wonderland featuring a Christmas pop-up market, a playground and games for children, plus an ice skating rink, live entertainment, workshops and delicious winter food and drink. And there will be a very special guest in the form of Santa Claus himself for children (and the young at heart) to meet and take selfies and pictures with. Organized in partnership with the International Ladies' Club of Macau in support of Caritas Macau, visitors will be thrilled with the colorful Christmas market overflowing with unique Christmas gifts and decorative items.
When: 12pm–10pm, December 8, 2018
Where: Level 7 Eiffel Tower, The Parisian Macao, Estrada do Istmo, Lote 3, Cotai
How much: Free admission
For more information, check ILCM's page or the event on Facebook
This show promises to take children and parents on a fantastic, adventurous journey, carried by a mysterious force coming from exotic lands! Created for boys and girls between two and five years old, this sensorial experience without words will enchant audiences who get to sit very close to the action. The set looks like a partially sand-covered ship and families and actors will be sharing the space. The story is about naughty Loo, a hot wind from plains of India and Pakistan, wherever she goes she turns land to dessert, and everyone is bewildered!
Loo is a poetic and visual story originally conceived by the Spanish group Ponten Pie. Winner of the FETEN prize 2017 for "Best Show For Early Ages", Loo has been touring to many countries in Europe such as invited to the Edinburg International Children's Festival. Ponten Pie has marveled with their innovative, theatrical adventures since 2009, and this time will let our little ones explore the mysteries under the sands of a tiny but amazing world!
When: Friday, Saturday and Sunday, December 28, 29 and 30, 2018
Where: Small Auditorium, Macao Cultural Centre, Avenida Xian Xing Hai s/n, NAPE, Macau
How much: MOP $180
For more information and ticket purchasing, go to Macau Ticket website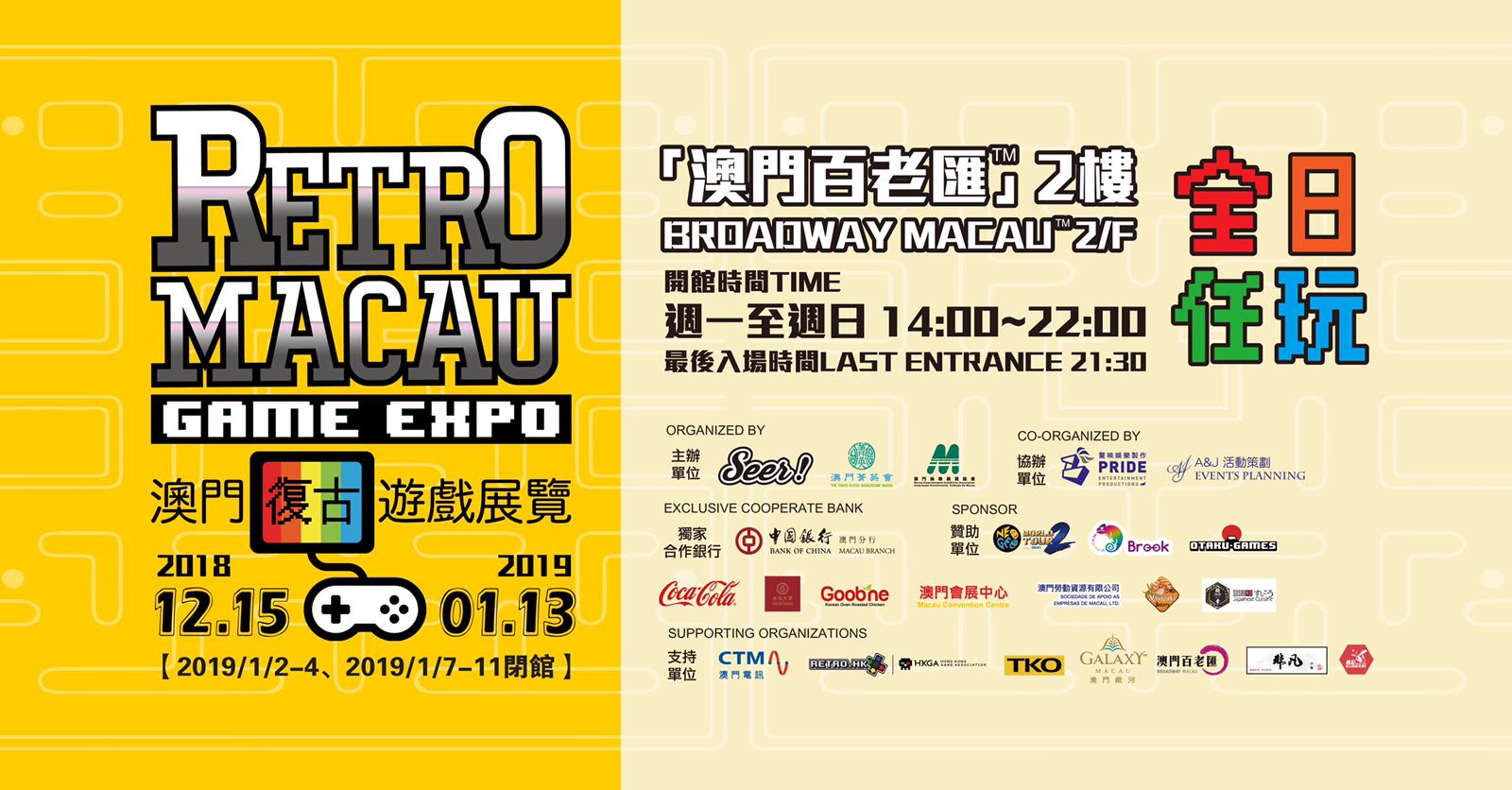 The Retro Macau Game Expo is Macau's first and largest event dedicated to the history of video games, with around 100 retro video games and an arcade area provided for experiences. World-class retro games tournaments will be featured, including The King of Fighters '98, The King of Fighters XIV, with tournaments to be streamed live on various social media platform channels. The winner will receive award money and prizes, as well as a chance to represent Macau to compete with players worldwide. There will also be an exclusive reveal of some rare console devices! Highlights of the exhibition include a playing area and the tournament area. The Tournament of The King of Fighters '98 and The King of Fighters XIV. There will also be a display area for people to have a look at some of the rare console devices. Light food and merchandise will also be sold on site.
When: 2:00pm–10:00pm (last entrance at 9:30pm), December 15, 2018–January 13, 2019
Where: 2/F, Broadway Macau, Avenida Marginal Flor de Lotus, Cotai
How much: MOP $60 per person, tickets are sold on site
For more information, check the event's official page, their Facebook page or call +853 6288 9485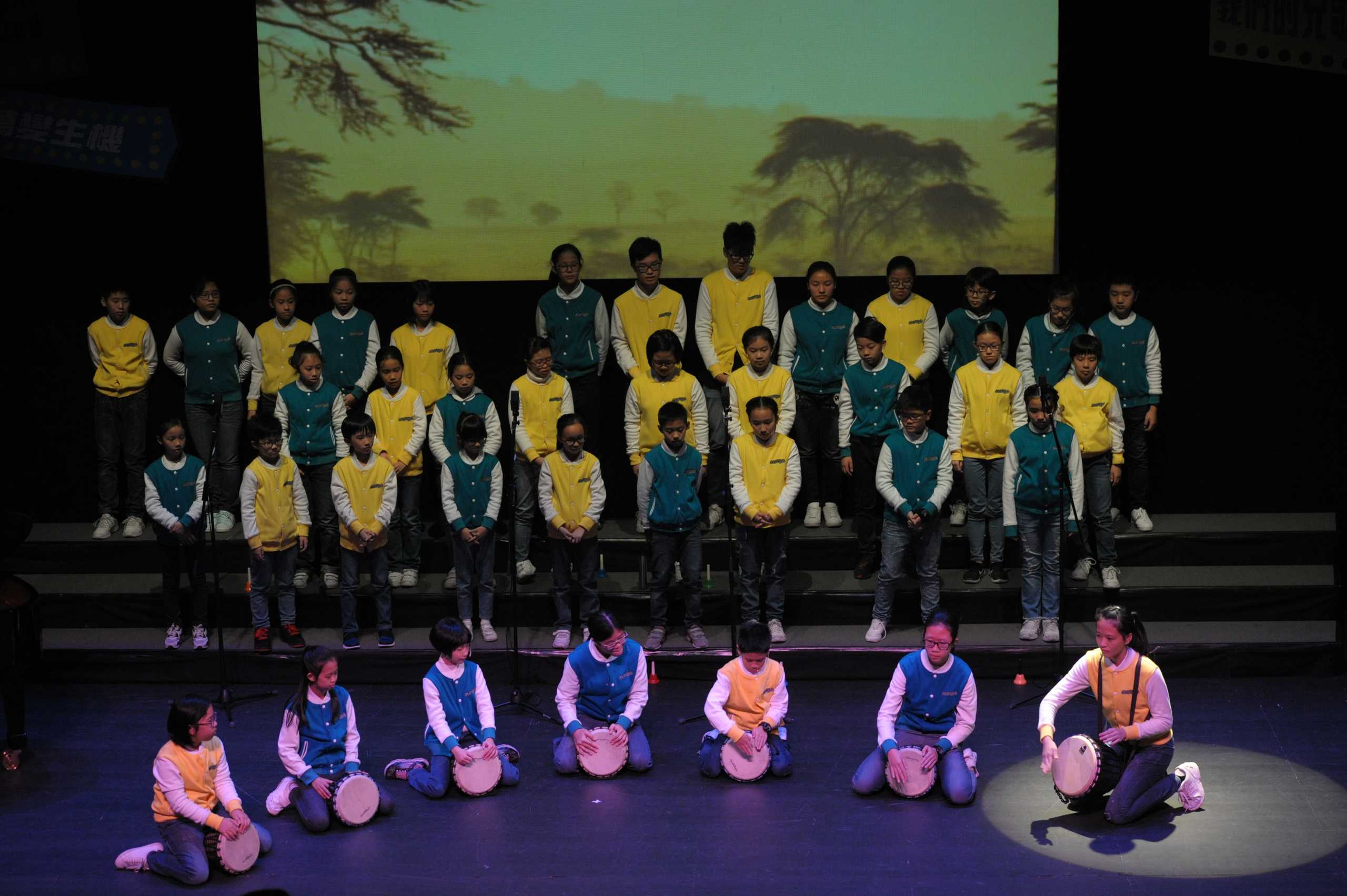 The Macao Cultural Centre's golden voices will be on stage for another edition of CCM Children's Choir Annual Concert in December! Bringing the theme of "Dreams" to the forefront, the show features meaningful songs performed in different styles with plenty of surprises for the audience! On this happy occasion, CCM celebrates the end of yet another great year with an array of lively tunes, from Christmas classics to popular songs. Some of the sets will feature drama and choreographic moves conceived to let both kids and grownups enjoy a cheerful afternoon! Complementing all the singing and movement, the young singers will create various pictures based on the concert theme to be shared with families and friends! The show is part of ARTWarming Winter 2018 line-up.
When: Thursday, December 20, 2018
Where: Macao Cultural Centre, Avenida Xian Xing Hai s/n, NAPE, Macau
How much: Free admission
Ticket distribution for the free admission performance started on October 21 at CCM's Box Office and Macao Ticketing Network Outlets. Each person may collect two tickets, available on a first-come-first-served basis.
For more information, check the event's official page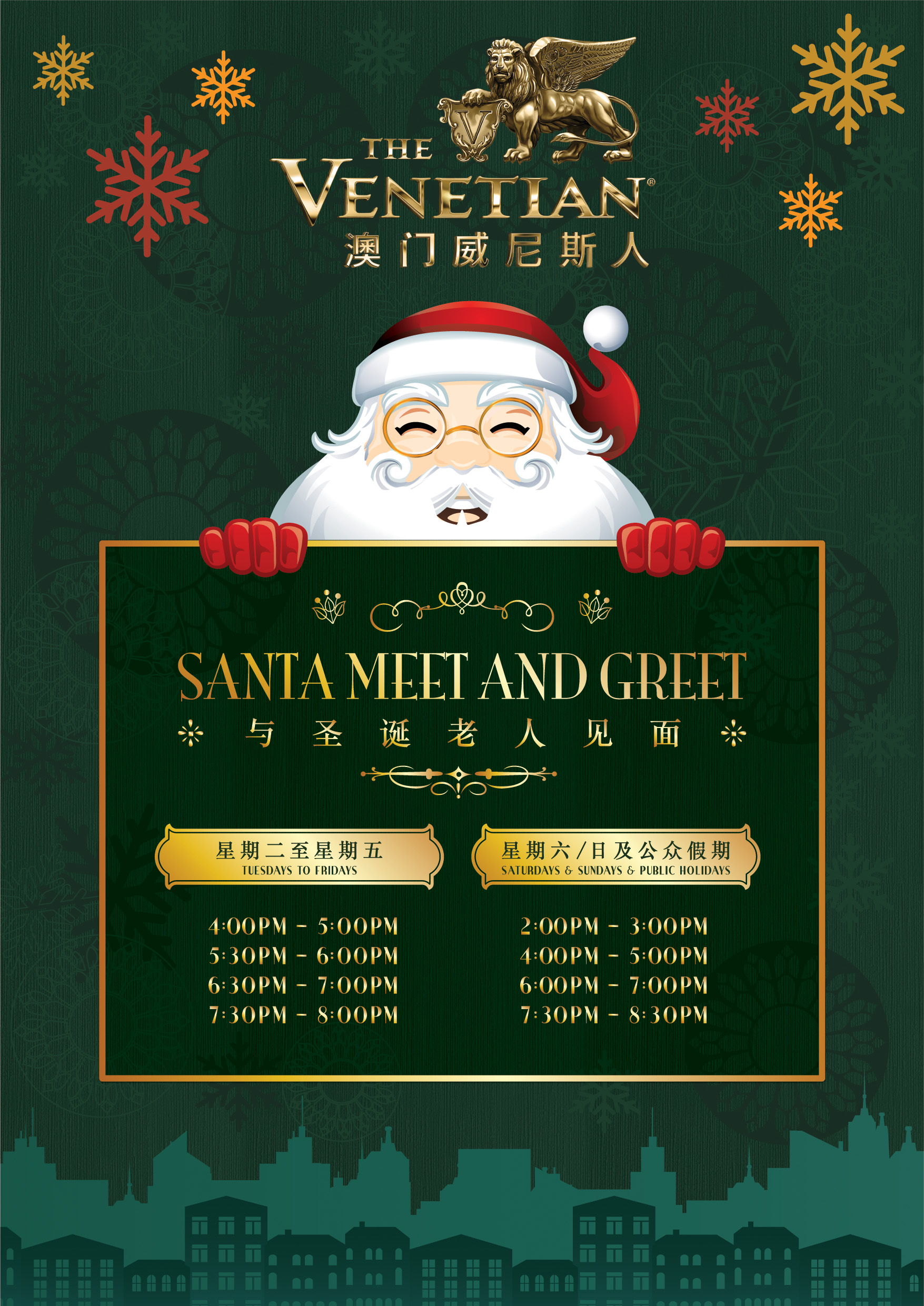 It's getting cold outside, Christmas is almost here and Santa Claus is not missing this either! He is coming to town, more precisely to the Venetian Macao! Head there with friends and family and let the little ones get excited while seeing and greeting Santa Claus in a perfect winter setting! Cease the moment with a photograph of your family and Santa Claus!
There is also a sumptuous Lagoon Christmas Tree close to the Venetian Express, so the feels are all over the place!
When: Tuesday–Sunday, December, 2018–January 6, 2019; For Santa's schedule, consult the featured image above
Where: East Lobby and The Venetian Express, The Venetian Macao, Estrada da Baia de Nossa Senhora da Esperança, Cotai
How much: Free admission
Tags