This weekend is packed with exotic and tasteful dining experiences, including Penang food, Wellington beef specialties at Vida Rica Restaurant and so on. There are also exhibitions and fun festival events to attend these next days, so read on and find out what young artists from all over the world have been doing at both the International Youth Dance Festival and the International Youth Music Festival! Public and art spaces are buzzing with excitement all around the city, as well as restaurants. Have a look and plan your weekend wisely!
(See featured image above)
The programme includes a series of activities: from outdoor to artistic performances, a parade and workshops, there is an array to enjoy! Full of life with international artists and dancers, this festival aims to promote Macau as an international city where everything can happen. On July 22 and 23, the public can appreciate an outdoor performance at the Anim'Arte area, with groups such as Radix Dance Crew (Norway), Yu Hua Dance Club (Malaysia), Dance Clube of Taipei University Marine Technology (Taiwan), Ballet Folklorico Guijarro (Mexico) and much more! The next day highlights are Akragas Folk Group (Italy), Dancingstar (Portugal), Manu (New Zealand) and lots of local collectives.
July 24 and 25 focus on indoor performances by international groups, taking place at the Macau Forum. Russian, Israeli, Hong Kong and Chinese groups are also going to perform here.
When: July 20–25, 2019
Where: Ruins of St. Paul's, St. Dominic's Square, Senado Square, Macau Forum I, Anim'Arte Nam Van, Zheng Guanying Public School
How much: Free admission
For more information and schedule, check here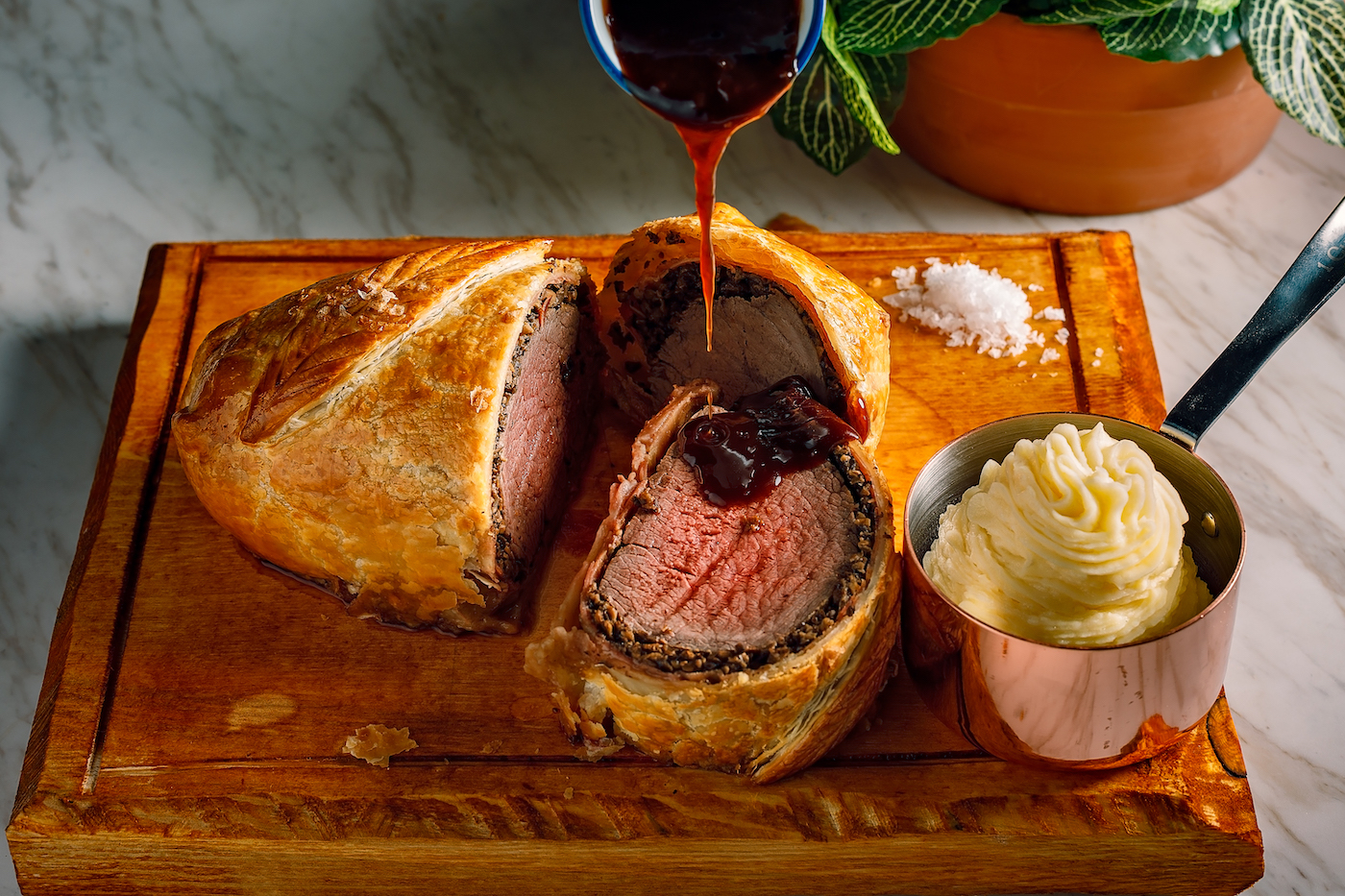 A rare indulgence of the British classics: beef and monkfish Wellington prepared by executive Western chef, Matthias Knilling. The menu includes three different types of Wellingtons: two beef Wellington (inspired by Gordon Ramsay recipe and the first Duke of Wellington) and one monkfish Wellington (recipe by executive Western chef Matthias Knilling).
When: Friday–Sunday, 6:00pm–9:30pm, July 19–21, 2019
Where: Vida Rica Restaurant, Mandarin Oriental, Macau, 945 Avenida Dr. Sun Yat Sen, Nape, Macau
For more information, check their website for and bookings, call +853 8805 8918 or send an email to [email protected]
To celebrate the 70th anniversary of the founding of the People's Republic of China and the 40th anniversary of the establishment of diplomatic ties between China and Portugal, music will be the element of communication of this event. Youth orchestras from Portugal and regions and countries along the Belt and Road, will collaborate with local youth orchestras to present spectacular and diverse performances. These performances will promote exchange among the different groups of youths, providing opportunities for them to learn and show their artistic abilities, and establishing a platform for friendship, in order to achieve cultural integration.
The pre-events start on July 17 at several locations, including Macao Museum, the Outer Harbour Ferry Terminal, and Macau International Airport. Featuring performances by Les Cordes et Voix Magiques d'Ukraine, Albaluna from Portugal and Tang Jungqiao Bamboo Flute Orchestra of Shanghai Conservatory of Music, there are also workshops at Lou Lim Ieoc Garden, with the Traditional Music Ensemble of the University of Macedonia, Italian collective, Loris Lombardo, and also performances by Project Locréa and the National Youth Orchestra of Macao Moradores School.
July 18 starts up with outdoor performances at Anim'Arte NAM VAN, from Poland, Shanghai, Hong Kong, Ukraine, Hungary, among others. The indoor performances take place in July 20 and 21. The Macao Cultural Centre is their main venue, with shows from the Macao Youth Cantonese Opera Culture and Art Development Association, Tokos Band, the Asia Pacific Youth Choir, and many others. So be it rain or shine, head to these shows and be amazed by the groups' performances!
When: July 17–21, 2019
Where: Macao Cultural Centre (Grand Auditorium), Square of the Macao Museum, Anim'Arte Nam Van, and Lou Lim Ieoc Garden
How much: Free admission
For more information, check the event's page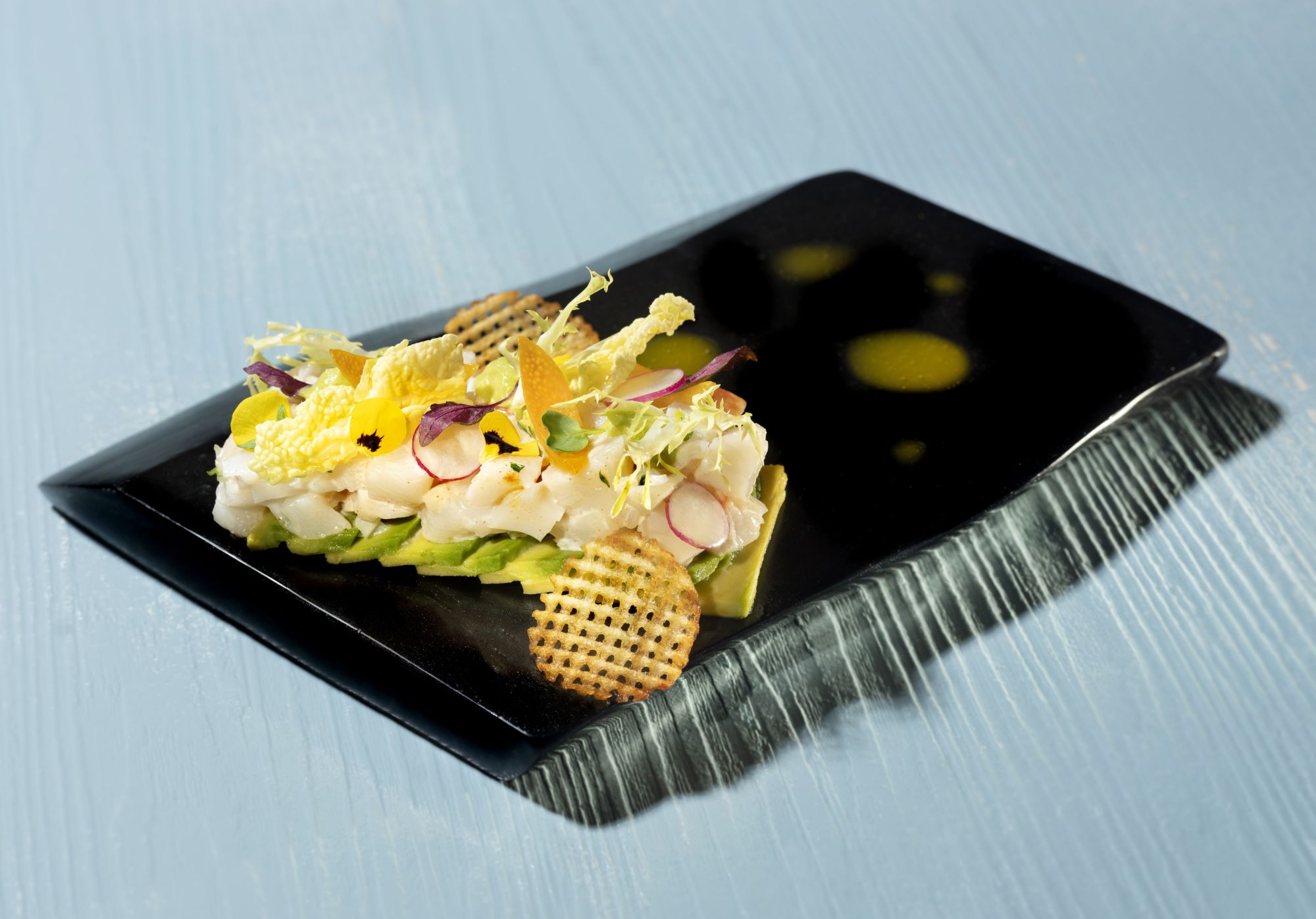 There is no better time than the summertime to pamper yourself and indulge in a little luxury, and there is no better place to do it than at ESPA at The Ritz-Carlton, Macau, with the Sip, Savor, Spa Summer Indulgence package. Enjoy a soothing spa visit at an idyllic retreat that was recognized as the "Best Spa Service of the Year" at the Spa China Awards and awarded with the highest rating of five stars by Forbes Travel Guide since 2017, followed by refreshing champagne and succulent lobster.
The ultimate summer indulgence begins with the purchase of a moisturizing hand treatment and spa gift set at ESPA at The Ritz-Carlton, Macau. After you enjoy your treatment, you will receive a voucher that can be used in your choice of one of The Ritz-Carlton, Macau's many delicious restaurants for a bottle of Perrier-Jouët Brut Reserve Champagne and a lobster dish.
When: July 1–August 31, 2019
Where: Lai Heen, The Ritz-Carlton Bar and Lounge, ESPA, The Ritz-Carlton Café and The Ritz-Carlton Pool Bar, The Ritz-Carlton, Macau, Galaxy Macau, Estrada da Baía da Nossa Senhora da Esperança, Cotai
How much: MOP $2,988 for two persons (includes a bottle of Perrier-Jouët Brut Reserve champagne, a choice between one of the above mentioned lobster dishes and a moisturizing hand treatment and spa gift from ESPA)
For more information and reservations, call +853 8886 6608 or check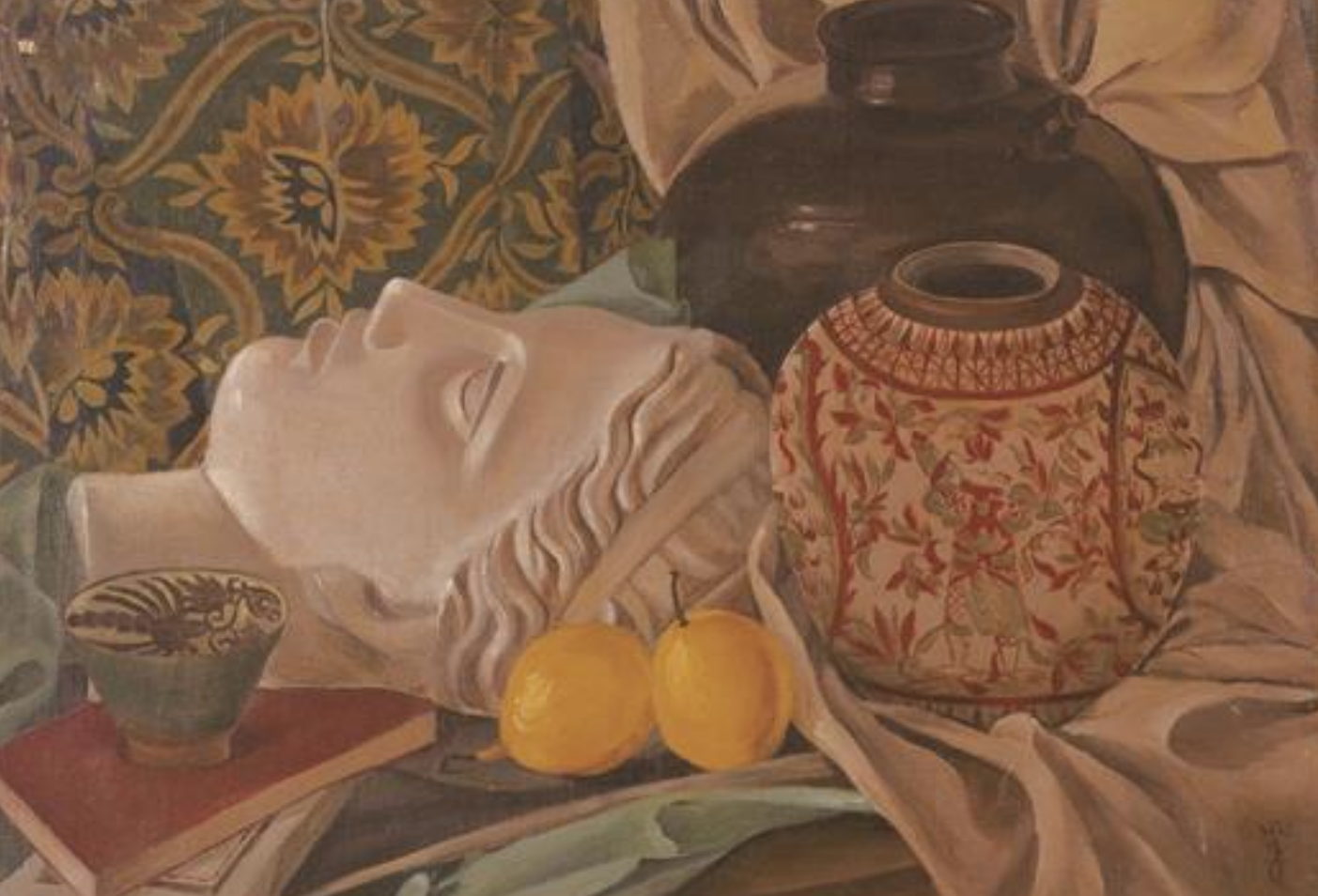 The "Beauty in the New Era" exhibition, held from May 4 to July 28, features nearly 90 masterpieces by various contemporary masters from the collection of the National Art Museum of China (NAMOC), including masterpieces by Qi Baishi, Zhang Daqian, Xu Beihong, Liu Haisu, Lin Fengmian, Fu Baoshi, Li Keran, among others, providing a comprehensive overview of the development of Chinese art over the past hundred years. Originally debuted in NAMOC in 2017, the exhibition had a great success facing endless queues of people of all backgrounds and age that were coming to appreciate the art works.
Wu Weishan, Director of the National Art Museum of China, is particularly proud of this exhibition, which is brought to Macau as a token of close relationship of Macau with the People's Republic of China. According to the organizer of the showcase, "Macau is a dazzling bright pearl inlaid in the beautiful mosaic of China", which provides a major opportunity to show art to all. Asia is boldly highlighted here; landscapes are taken to a new level and people can almost feel the paintings coming to life. The works of Xu Beihong, for instance: having studied in the West to search for a new meaning in Chinese arts, the artist returned to motherland trying to introduce Western realism into Chinese paintings. "War Horse" and "A Group Gallop" are two of the artist's highlights, depicting figures of horses like few have.
When: 10:00am–7:00pm, Tuesdays–Sundays, May 4–July 28, 2019
Where: Macao Museum of Art, Avenida Xian Xing Hai, NAPE, Macau
How much: Free admission
For more information, call +853 8791 9814, email [email protected] or visit Art Macao's website

The intense flavors of Penang are coming to Feast International Buffet Restaurant at Sheraton Grand Macao Hotel, Cotai Central this summer with a limited-time special 'A Night in Penang' menu, featuring a selection of authentic dishes prepared by the culinary team from Penang and a celebration of durian varieties including the famed Musang King.
'A Night in Penang' menu showcases the very best of Penang's culinary heritage, featuring signature dishes including asam laksa, Penang nasi kandar (Indian curry rice), Georgetown dim sum, satay, hokkien hae mee (prawn noodles), Gurney Drive rojak–a Penang interpretation of fruit salad–and colorful nyonya desserts. Durian lovers will be able to indulge themselves with eight different durian varieties on offer at Feast outdoor 'durian farm' offering them all-you-can-eat, including the famed Musang King, succulent D24, bittersweet 'red prawn' D175, aromatic XO, silky sweet D13, golden sweet D101 and more.
When: 6:00pm–10:30pm, daily, July 12–August 11, 2019
Where: Feast, Level 1, Sheraton Grand Macao Hotel, Cotai Central, Estrada Do Istmo, Cotai
How much: Dinner buffet (Monday–Thursday) – MOP $438 per adult; (Friday–Sunday) – MOP $488 per adult; MOP $200 per child
All-you-can-eat durian – Add-on MOP $200 per adult; MOP $318 total per child
Extra Musang King durian – MOP $258 per kilogram
Loyalty members enjoy special discounts on buffet prices, excluding extra order of Musang King durian
For more information and bookings, call +853 8113 1200 or send an email to [email protected]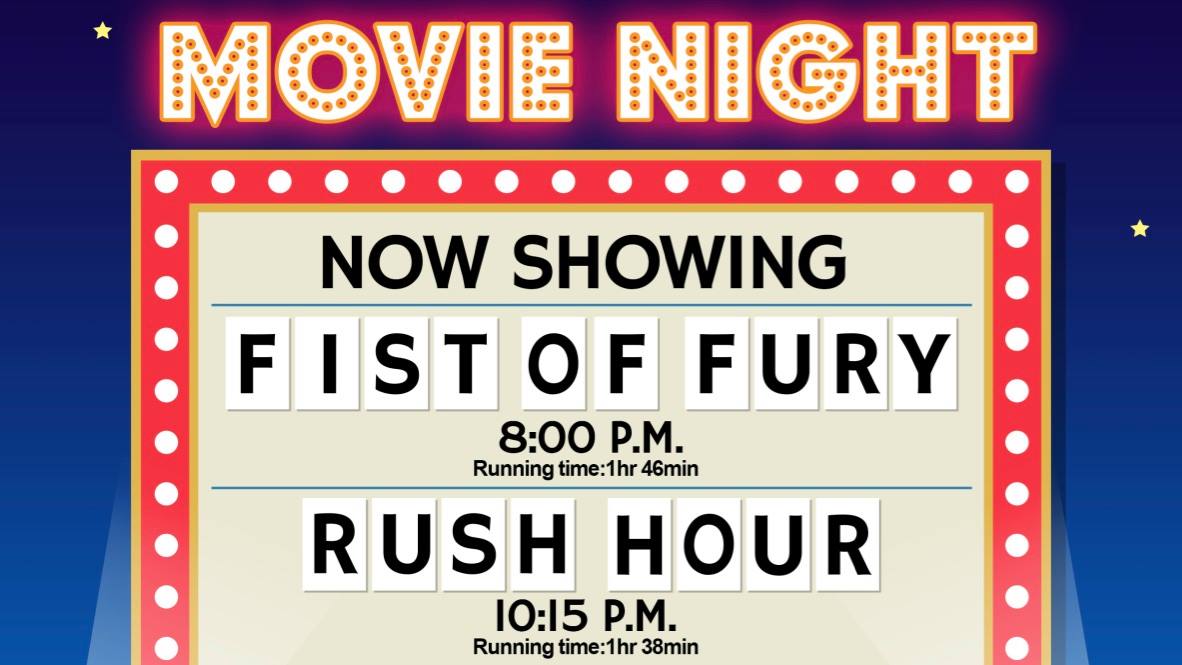 Open air cinema in Cotai? Why not! The Roadhouse Macau is here to keep you entertained! On July 22, they bring some old school classics to our big outdoor screen. Grab your friends and enjoy the films with delicious movie night specials. Get set for Fist of Fury at 8:00pm and for Rush Hour at 10:15pm.
If you're not familiar with these, here's a tiny bit of info: Fist of Fury is the story of Chen Zhen (Bruce Lee) a student of renowned martial arts teacher Huo Yuanjia, returning to Shanghai to marry his fiancée. He discovers his sifu has died. During the funeral, members of a local Japanese dojo show up and insult the Chinese students. The bullying continues, with Chen fighting back, but when he discovers the truth–that his teacher was poisoned on the orders of the dojo's master–he sets off on a doomed mission of revenge.
When: 8:00pm onwards, Monday, July 22, 2019
Movie sessions – 8:00pm and 10:15pm
Where: The Roadhouse Macau, E-G016-G019 Broadway Food Street, Broadway Macau, Avenida Marginal Flor De Lotus, Cotai
How much: Free admission
For more information, check the event's Facebook page
Tags