The easy-breezy days make it perfect for a weekend of checking out some monuments and historic sites! Take our advice for this weekend and visit places such as Mount Fortress, check out MGM Macau's Octopus Valkyrie installation, go for a Portuguese dinner at Petisqueira, or have some waffles! We bet there's a lot in our beloved city you haven't explored yet.
"The explicit charm of Portugal" Sketches of Portugal exhibition is ending this month, so be sure to check it out before it goes! Also, you'll only be able to enjoy The 8's–at Grand Lisboa–lavish menus The 8 Classic Flavors and The 8 Gourmet until Sunday. Book a table to experience a luxurious dinner!
Macau's Mount Fortress is one of the city's oldest constructions and part of the Historic Centre of Macao, classified by UNESCO as a World Heritage Site. Covering 8,000 square meters, it took the Jesuit missionaries nine years to build it from 1617 to 1626. It was initially constructed for military protection purposes and the whole area was commonly known as Macau's acropolis.
The construction replaced a previous, more fragile fortress created to prevent the Dutch from taking over the city. At first, it included St. Paul's school and church. Later, it also served as the quarters to Francisco Mascarenhas (the first Portuguese governor) until 1746. At the time of its appearance, it was far more majestic. In 1695, the buildings were damaged by a small fire and had to be renovated; however, the church's renovations were only completed in 1602 due to its massive improvements. From then on it was known as "the Vatican of the East." Want to know more? Well, there's only one way: head there with friends and family and snap an amazing 360 degree view of the city.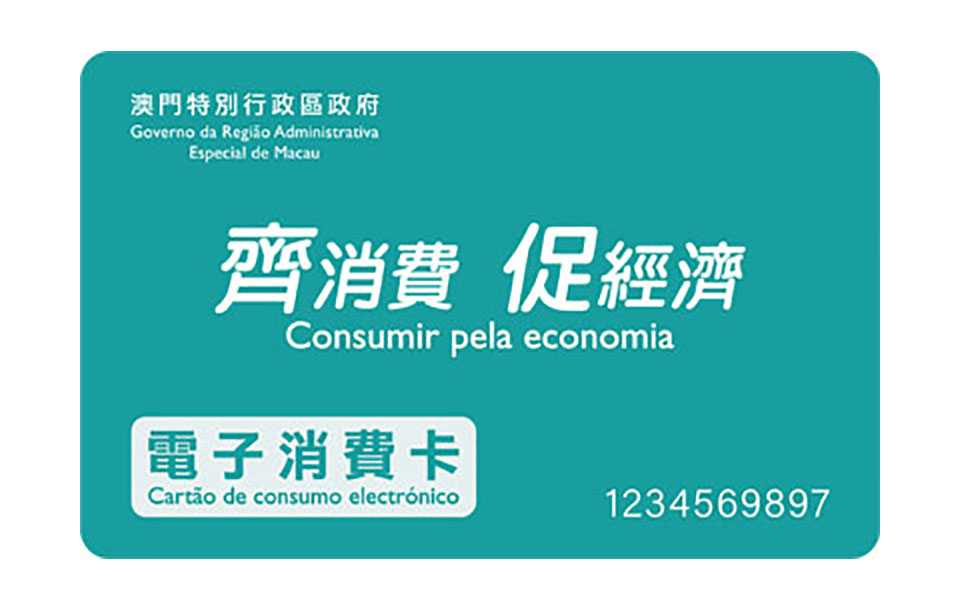 It's time to reclaim that wonderful feeling of going out in Macau and dining in our favorite restaurants! While our city may have fallen on hard times recently, it's up to us to show our support and encourage positive joy in our community once more. Here at Macau Lifestyle HQ, our love for Macau continues to grow; we've said this last month and we'll say it again. "There's no better way to rediscover the beauty of Macau than to spend your holidays here, dine in your favorite restaurants, stay at our world-class Macau hotels and explore the beautiful sights once again while buying local products from our homegrown brands".
Take that first step now because it's time to leave the comfort of your homes for a culinary experience that's more meaningful now more than ever. Live a life that's less in lockdown and reconnect with family and friends over a healthy and delicious dining experience. Restore your faith in 2020 with these mesmerizing meals and use your electronic consumption vouchers distributed by the Macau government. For more information on these e-vouchers, click here.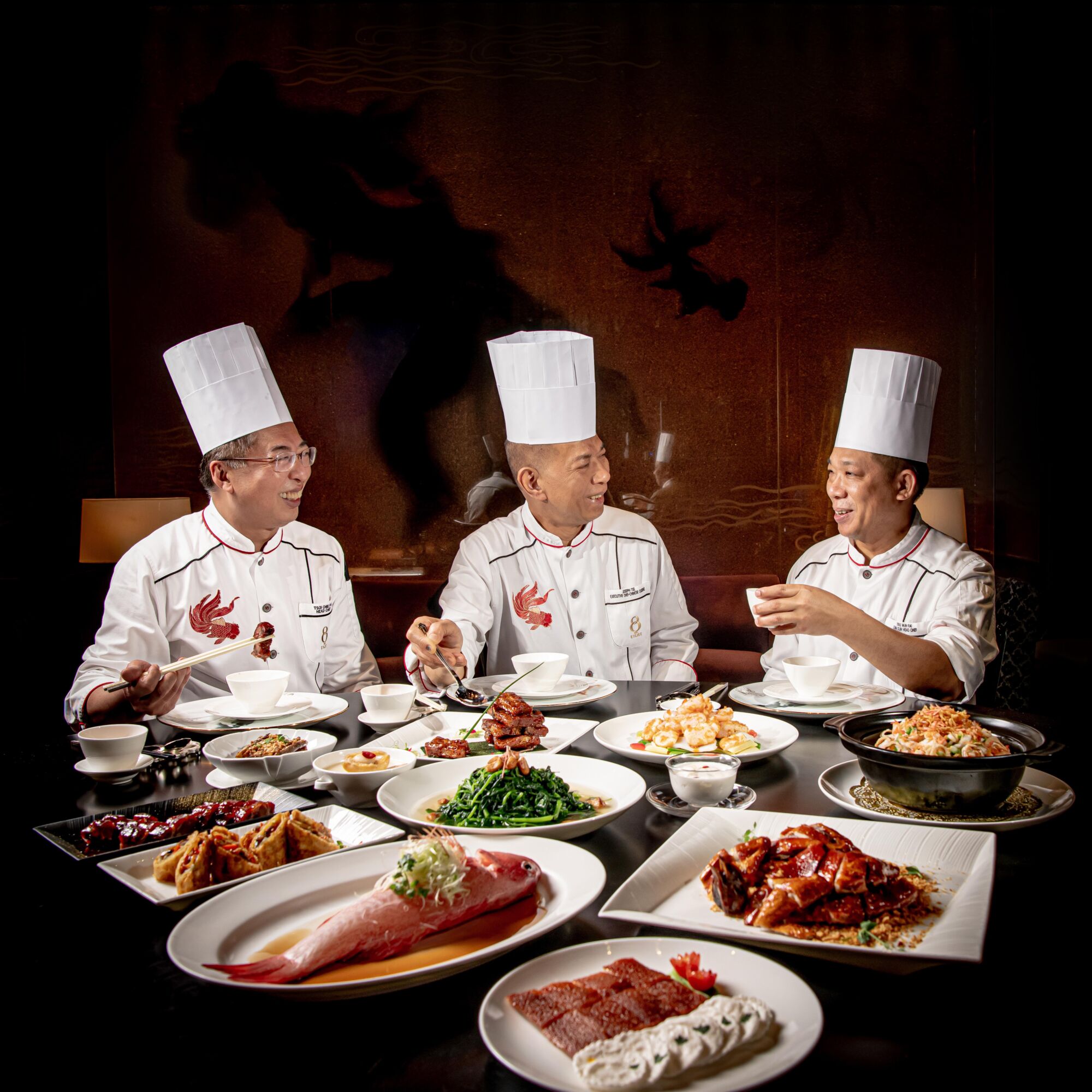 Treat your beloved ones to an exceptional three Michelin star dining experience at The 8. Executive Chef Joseph Tse and his team have crafted two special dinner menus–The 8 Classic Flavors and The 8 Gourmet–featuring fresh and premium dishes. The 8 is of the most sumptuous restaurants in town, and it's ready to treat you, your family and friends to a dining experience to remember.
The 8 Classic Flavors menu starts with pan-fried bean curd sheet rolled with assorted mushrooms chilled marinated jellyfish head with vintage black vinegar barbecued suckling pig. Continuing on with braised winter melon soup with crabmeat and conpoy, sautéed shrimps and scallops in homemade chili sauce with cashew nuts, steamed whole sea garoupa, poached chicken in homemade soy sauce, poached seasonal vegetables with thickened broth, amongst other fantastic dishes. Dessert is double-boiled red lotus soup with hasma.
Their nine-course menu includes some of the dishes from the previous menu, but also seafood fried rice topped with sakura shrimps and double-boiled lily bulbs and coconut milk with hasma for dessert.
When: May 1–31, 2020
Where: The 8, 2/F, Grand Lisboa Hotel, Avenida De Lisboa, Macau
How much: The 8 Classic Flavors dinner menu (8-course) – MOP $2,080
The 8 Gourmet dinner menu (9-course) – MOP $5,080
Prices are subject to 10% service charge.
For more information and reservations, call +853 8803 7788 or check their website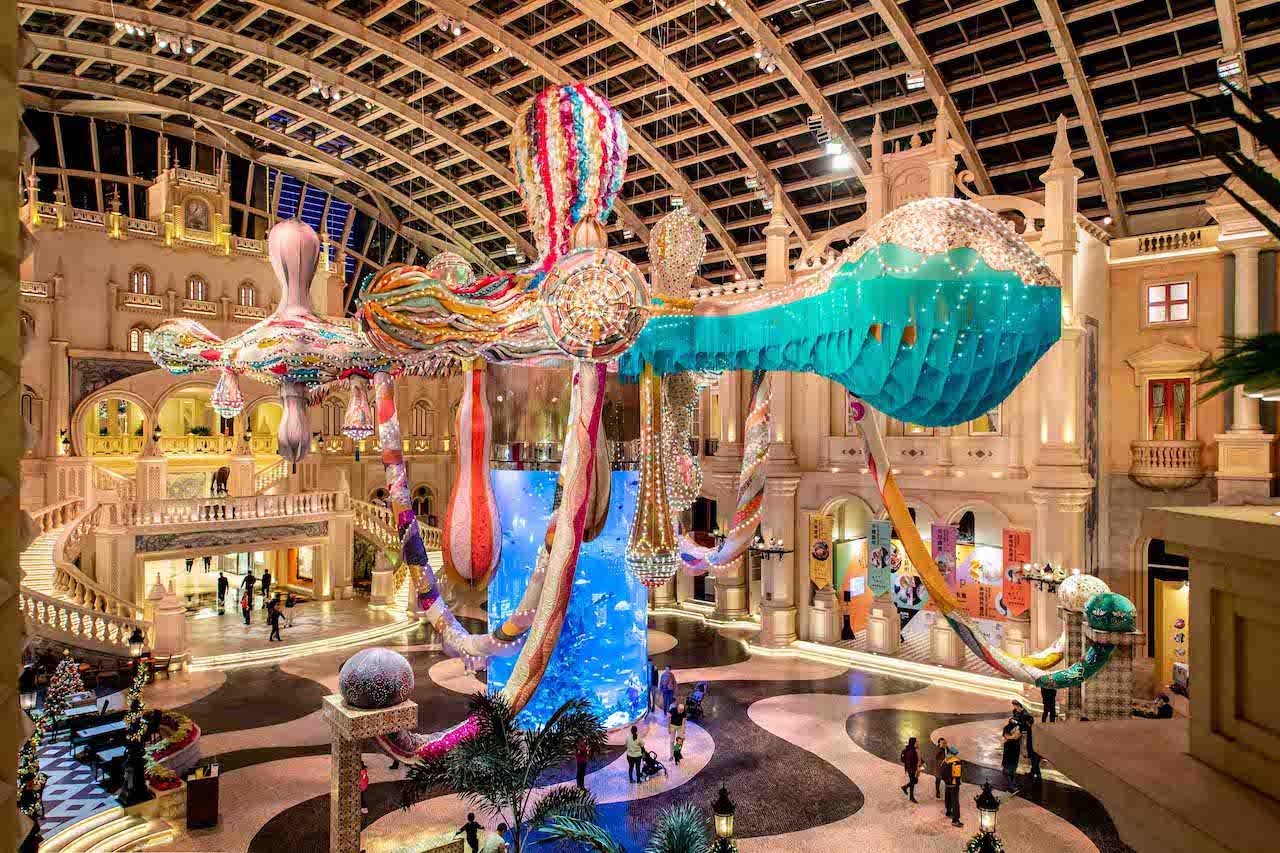 If you've been to MGM Macau, we're sure you've seen the Octopus Valkyrie hanging from the ceiling. Its colorful and huge form makes for amazing photographs and doesn't seem out of place at all in the opulence of MGM Macau. In fact, the one in Macau is the biggest Valkyrie so far! The talented maker behind it is Joana Vasconcelos, a Portuguese artist whose art is a collection of her personal experiences. We sat down with her to find out more about the art scene and being a female, Portuguese creative.
Head to MGM Macau to check out this beautiful art installation–which allows for great photos–and if you're in for a bit of reading, click the title and read about this piece of art in an interview with the artist herself!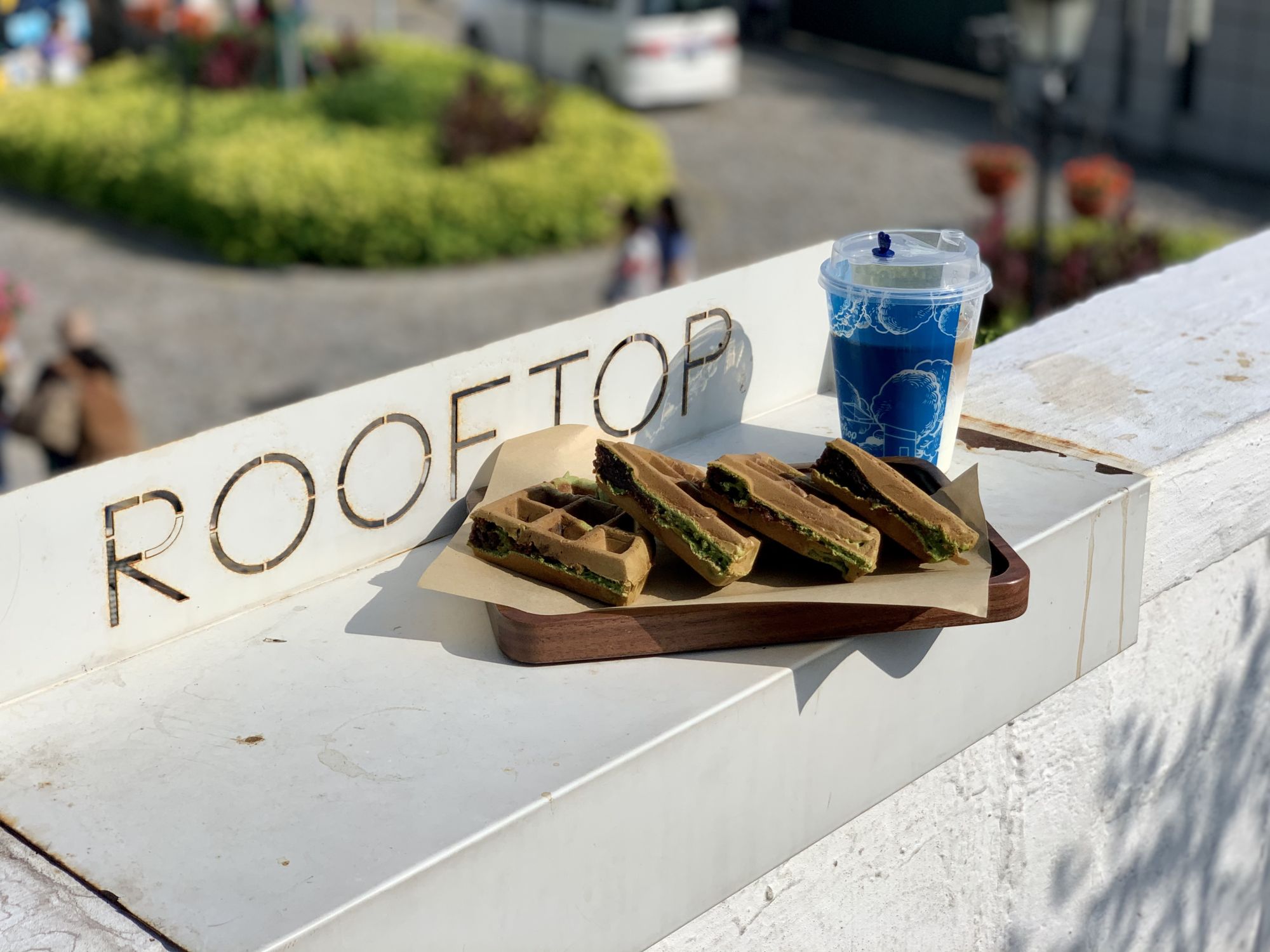 If you've been living in Macau for a while then you'd be familiar with the local egg waffles but Western waffles are just as good. No matter the shape or form you prefer, what's not to love about waffles? The airy, slightly spongy texture and crispy surface simply topped with melted butter and sweet syrup are just perfect for brunch or afternoon tea.
Have it with a scoop of ice cream for extra decadence! Best shared with your friends or perhaps on a first date, here are the best waffle places in Macau for your next catch up session over this weekend. Check out this article and find out where the best places for waffles are. Plan ahead and be sure to have a sweet afternoon!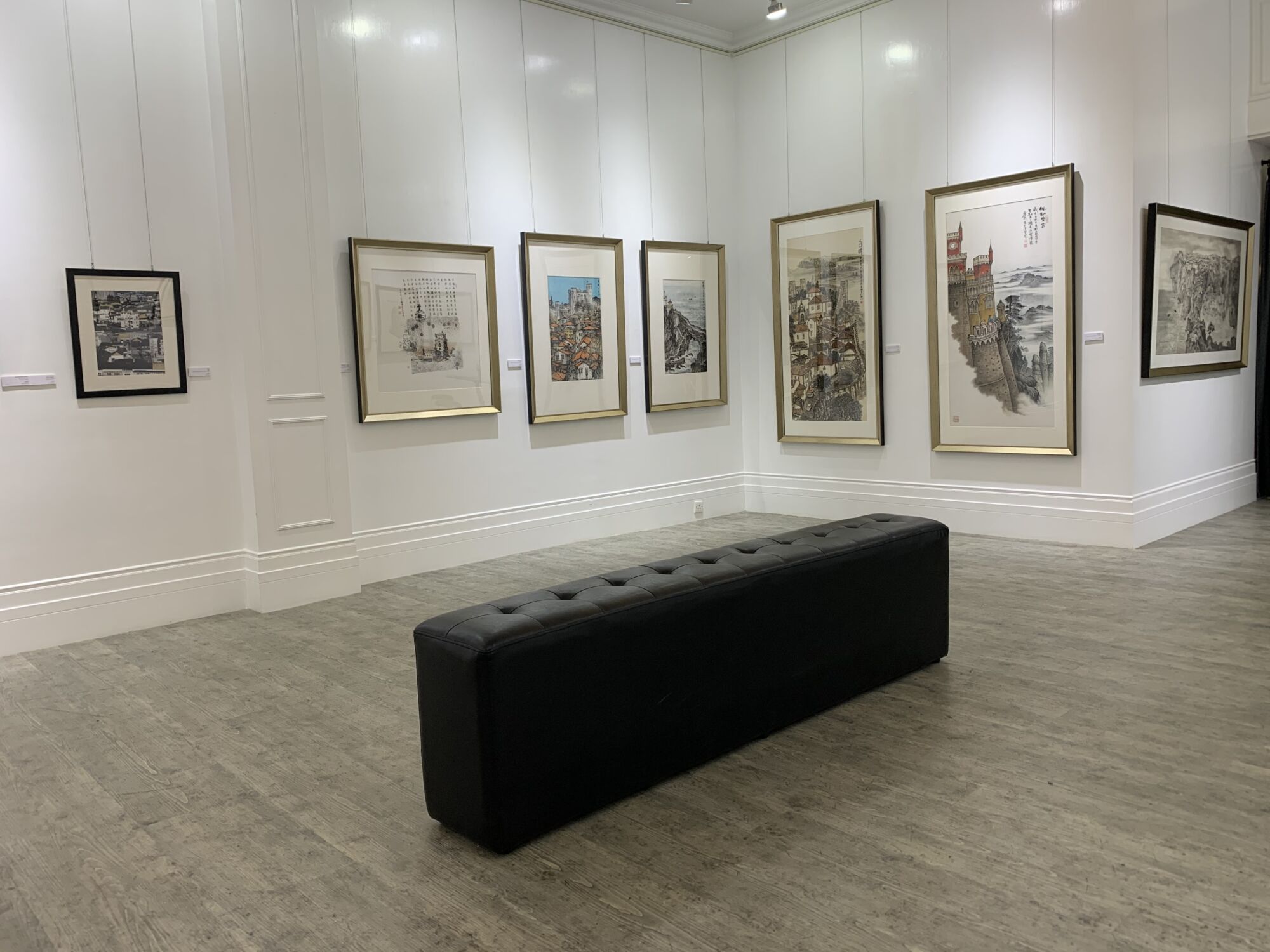 As one of the largest and oldest art groups in Macau, the Macau Artist Society was invited by Delegação Económica e Comercial de Macau, in Lisbon, to send an art exchange group consisting of more than 20 members to bring 30 masterpieces from members of all ages to Lisbon, Portugal for "Art Exhibition and Celebration for the 20th Anniversary of the Macao Special Administrative Region" in the late spring of March, 2019.
During the trip, the artists collected and sketched in Lisbon and many Portuguese cities. From the pleasant climate of the Iberian Peninsula as well as the rich and colorful cultural heritage, infinite creative inspiration was brought to the artists. After returning to Macau, the artists created a large number of artworks based on this trip to Portugal. It is the first time "The explicit charm of Portugal" Sketches of Portugal by the Macau Artist Society is to be held in Macau in Galeria Lisboa, which makes it more extraordinary and memorable. 64 sets of masterpieces including watercolors, oil paintings, Chinese paintings, sketches, acrylic paintings, and calligraphy by a total of 41 artists will be showcased in this exhibition.
When: May 1–30, 2020
Where: Galeria Lisboa, Macau Fisherman's Wharf, Avenida da Amizade e Avenida Dr. Sun Yat-Sen, NAPE, Macau
How much: Free admission
For more information, call +853 8299 3514 or check their Facebook page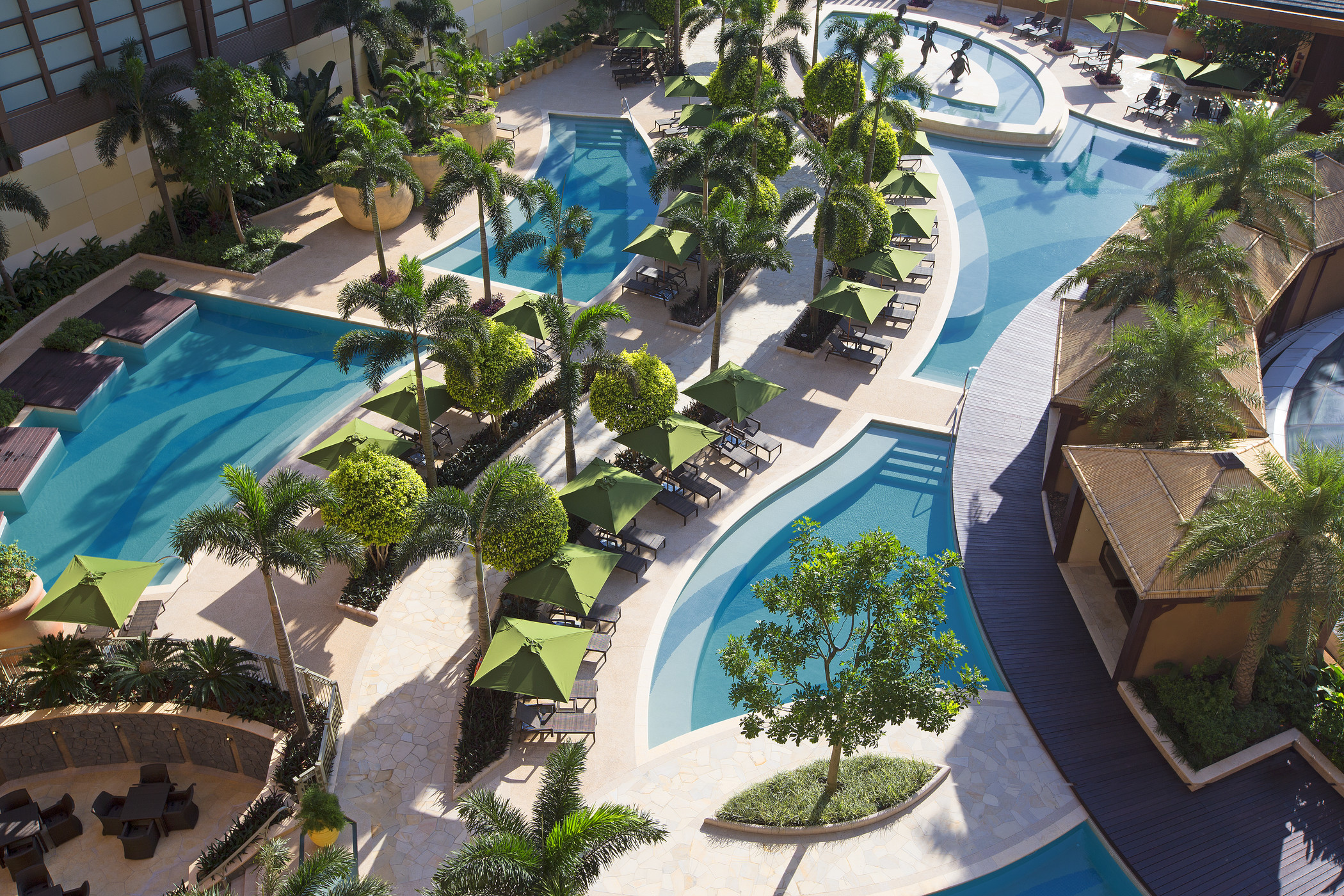 Sheraton Grand Macao, Cotai Strip and The St. Regis Macao, Cotai Strip are inviting locals to take advantage of their exclusive Staycation Packages, valid from now through June 30, 2020. Featuring the best of Sheraton Grand Macao, Cotai Strip and The St. Regis Macao, Cotai Strip in the prime location of the vibrant Cotai strip, these staycation packages are ideal for families and friends looking for a relaxing weekend getaway or mid-week break.
Guests will enjoy a one-night stay in a spacious deluxe king or twin room with complimentary breakfast for two, dine at their lavish restaurants, enjoy a whole day of sunbathing at the swimming pool, and much more. From now until June 29, when booking the Sheraton Staycation Package, you be able to enjoy accommodation for two in a deluxe king or twin room, complimentary room upgrade to the next category, daily breakfast for two, daily MOP $200 dining credit (redeemable at Yum Cha, Sala Pool, and all-day in-room dining), plus early check-in (at 12:00pm) and late check-out (at 6:00pm)!
The Staycation Package at The St. Regis Macao, Cotai Strip includes the same amenities as above, but the daily MOP $200 dining credit is redeemable at The Manor, the swimming pool, and private dining.
When: May 13–June 30, 2020
Where: The St. Regis Macao, Cotai Strip and Sheraton Grand Macao, Cotai Strip, Estrada Do Istmo, S/N, Cotai
How much: Sheraton Staycation Package – from MOP $988* per night
The St. Regis Staycation Package – from MOP $1,528* per night
Additional 1,000 Marriott Bonvoy points per stay for bookings through official website
For reservations or more information about Sheraton Staycation Package, please visit this link
For reservations or more information about The St. Regis Staycation Package, please visit this link
(*Subject to a 10% service charge. Terms & Conditions apply)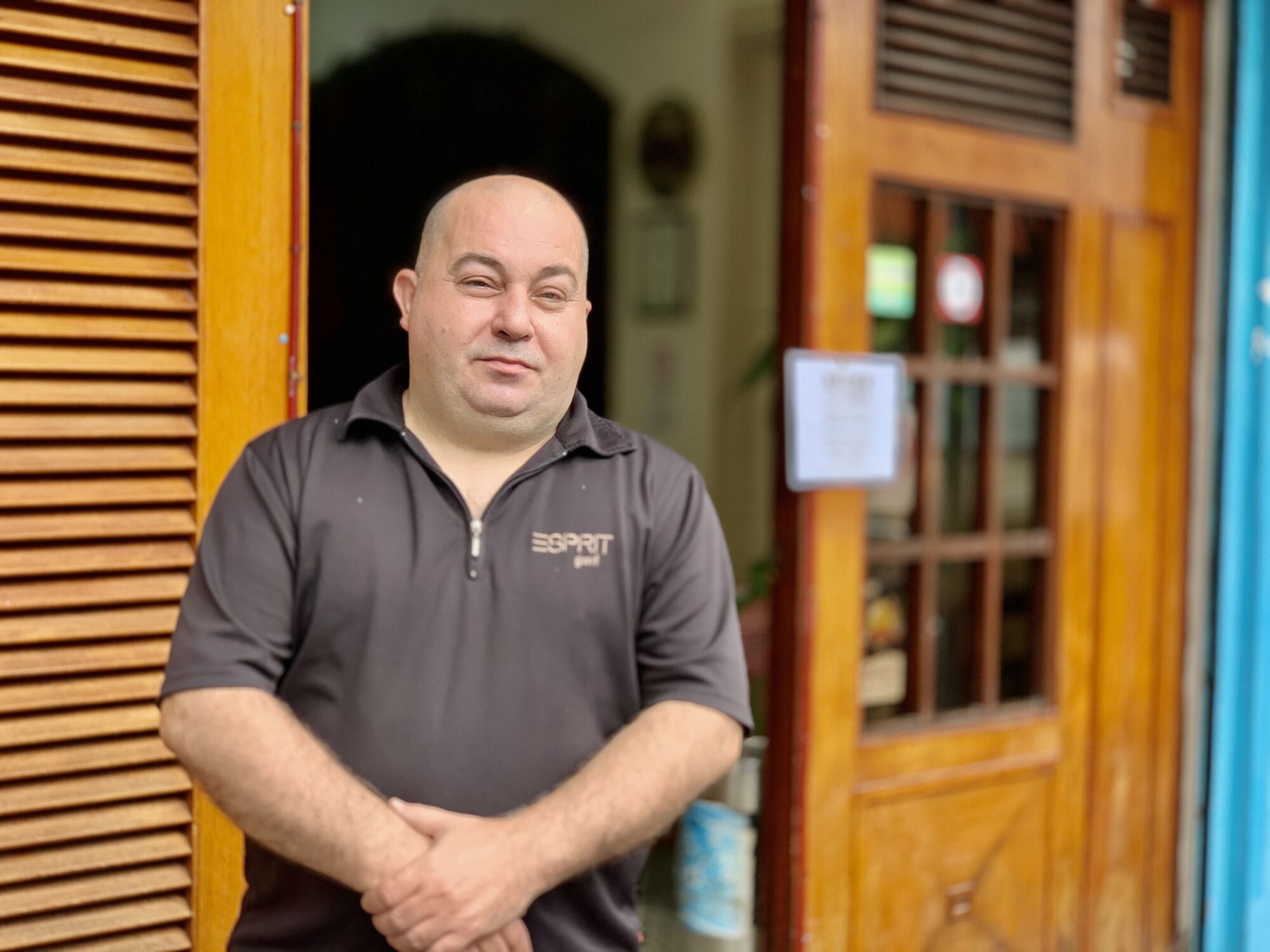 Painted in bright yellow and blue, the wooden corner house set in Taipa Village is unmistakable. Petisqueira has become synonymous with tradition, comfort food, and a home for everyone looking for the most authentic experience of Portuguese dining. With chequered table cloths, decorative fruits on the walls and a board with the specials menu, this is definitely a to-go place when searching for the best that Portugal has to offer.
In the beginning, plans didn't include their now so famous Portuguese codfish or charcoal-grilled sardines and steaks, nor their great "cozido"; what was it then? We sat down with one of the owners, Eusébio Tomé, to find out more on how Petisqueira kicked off, what are their most requested dishes and why is this restaurant so homely to both local Portuguese and tourists.
This quirky Portuguese restaurant has been in the same place for almost 30 years and it's a landmark when it comes to lusophone heritage on this side of the world. Standing more than 10,000 km away from Portugal, Petisqueira has become a home for some, looking for a familiar place, face, and flavors.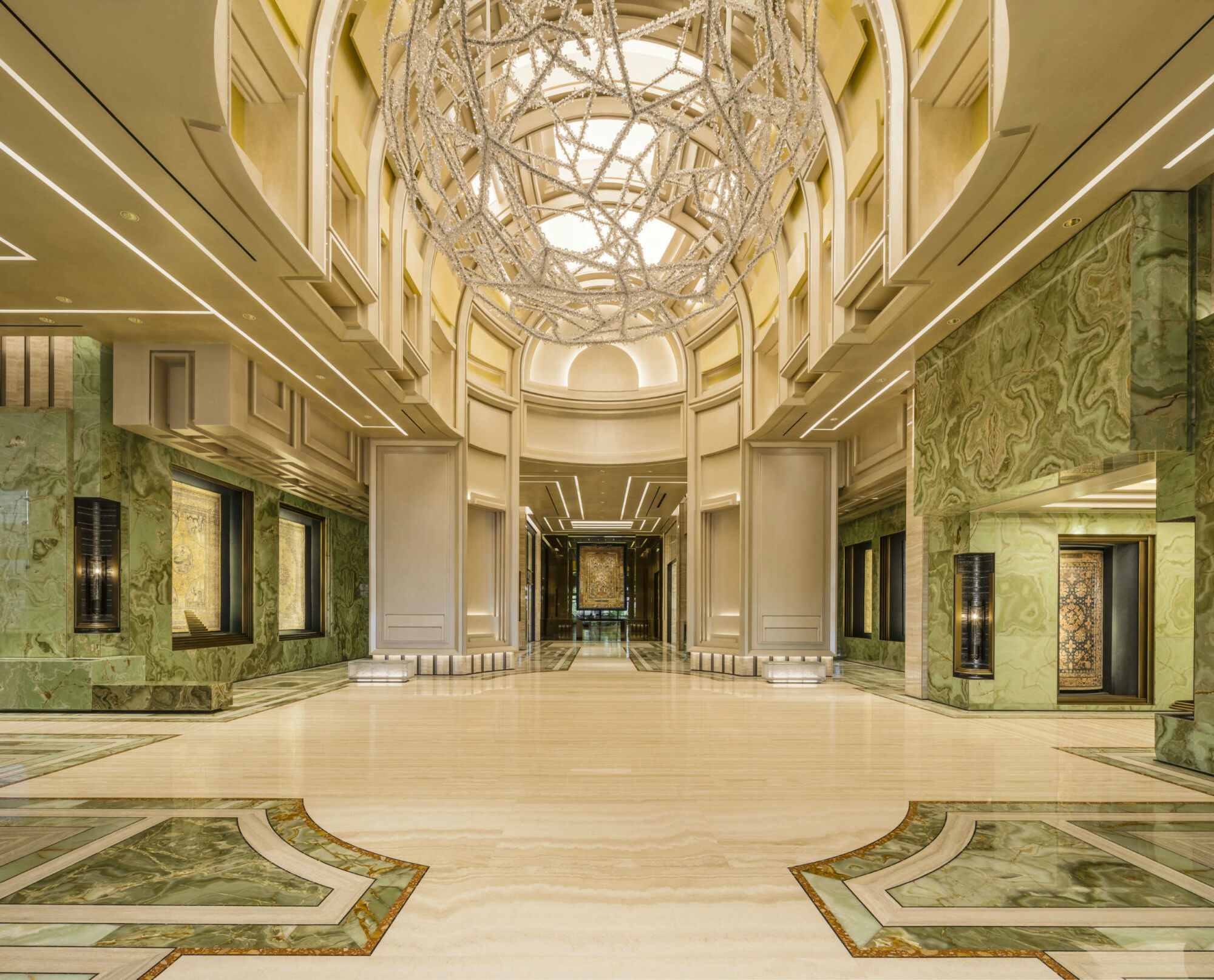 Stop what you're doing and join this incredible giveaway immediately! Macau Lifestyle is partnering up with MGM Cotai for a fabulous giveaway rewarding two lucky winners the chance to live the high life at the iconic hotel property. Going away for a while or taking a vacation does not necessarily mean you have to travel very far. Right here in the heart of our city is one of the most aesthetically stunning hotels in the region and also a state-of-the-art green building at that. It has one of the world's largest indoor gardens with over 100,000 plants and we honestly need the picturesque greenery and calmness of nature in our lives. The resort also provides guests a distinctive retail experience through its selection of more than 35 shops, ranging from lifestyle, beauty to fashion, jewelry, and more.
Enjoy a one-night stay at the glittering jewel-like structure located in the Cotai Strip. Unwind from the stressors of life and explore the world's largest collections of sensory digital art on display. Explore world-class restaurants with dining concepts curated by world-renowned celebrity chefs. The "Foodcation" package is priced at MOP $1,288 that also includes in-room breakfast for two and MOP $800 dining credits. It's available from now until June 30, 2020. The prize is valid until June 30, 2020. This giveaway ends on June 4, 2020 and the winner will be notified directly via email. Good luck!
MGM Cotai Macau Ave. Da Nave Desportiva, Cotai, Macau +853 8806 8888, www.mgm.mo
Tags