Food is an integral part of Chinese New Year. Dishes are often meticulously curated to depict prosperity and good fortune. Whether it's poon choi, dishes with traditional elements or a festive menu with a modern twist, these restaurants have prepared a truly memorable feast to be shared with family and friends. Treasure this special moment of the year and book a table at these dining spots!
(Featured image above)
Chinese New Year is simply an excuse to dine at The St. Regis Macao's The Manor and savor their seafood dining experience, Stories of the Sea – The Fourth Chapter. The Manor's culinary artisans have crafted eight dishes, including bluefin tuna loin served on a crispy potato bacon pillow with stracciatella cheese. The main courses include tiger prawns in cedar bark topped with Moroccan argan oil, and the sustainably sourced Glacier 51 toothfish from the deep icy waters off the coast of Australia, served with fresh wasabi cream, yuzu curd and topped with nameko mushrooms from Japan.
The eight-course menu is priced at MOP $888 per person, or MOP $1,288 per person with the cocktail and wine pairing. It's the perfect Chinese New Year celebration with family or friends gathering. In-house guests are also in for a treat with the renowned Chinese banquet delicacy "Buddha Jumps over the Wall" soup. It is available from January 24 to February 29 for guests through the private dining and priced at MOP $688 per person.
The Manor The St. Regis Macao, Cotai Strip, Estrada do Istmo, Cotai, +853 2882 8898, www.stresgismacao.com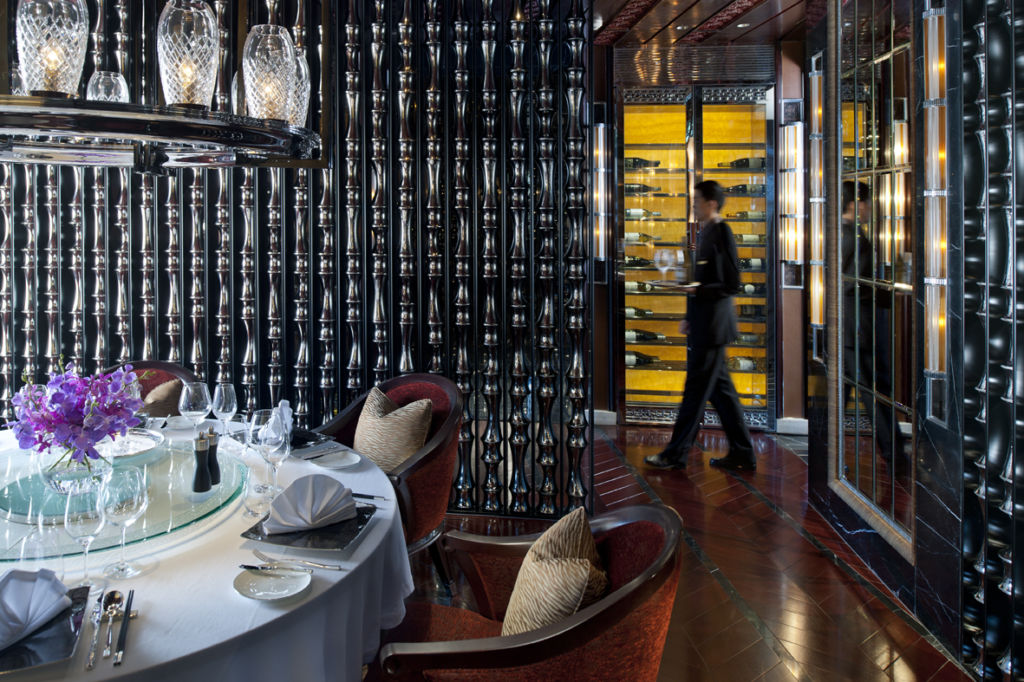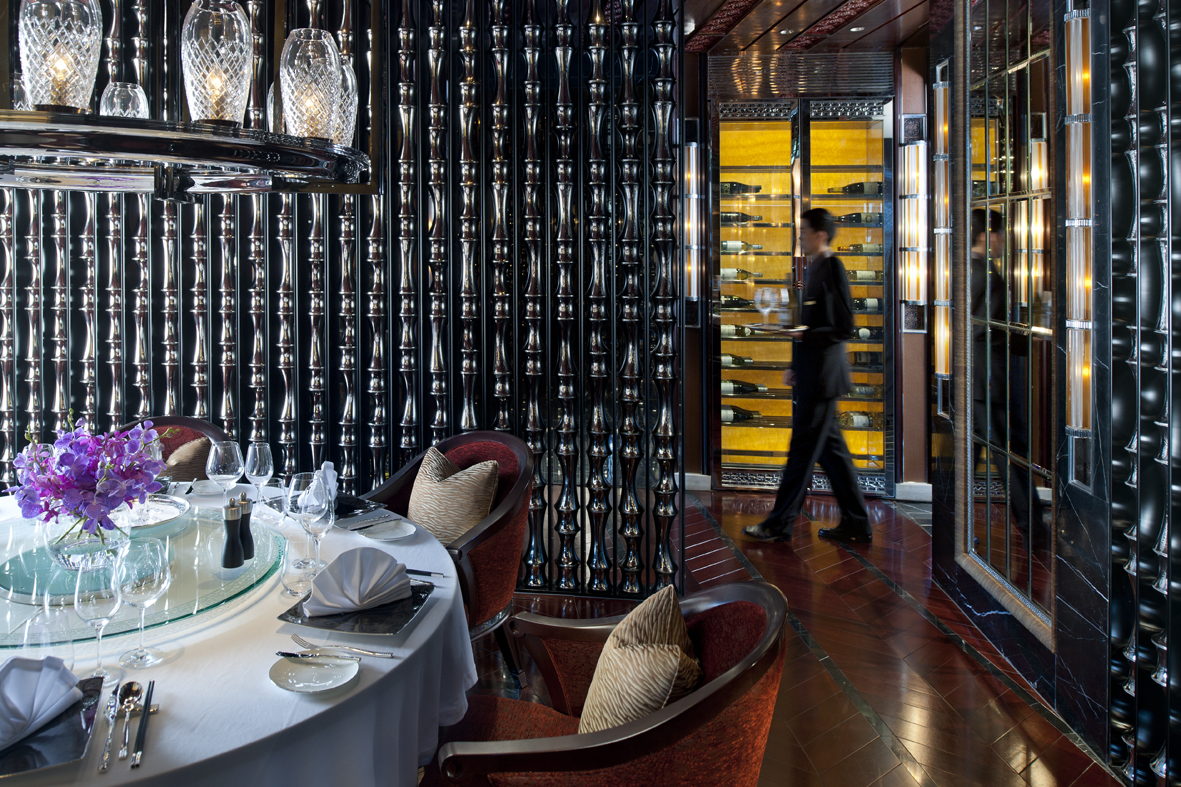 With stunning views of Macau's majestic skyline, Mandarin Oriental's Vida Rica Restaurant is where we want to be this Chinese New Year with our loved ones and so should you! This dining destination is always a special place for get-togethers with family and friends. This year, they've prepared an amazing array of menus, offers and takeaway goodies. They even have a Savory Spring Festival to celebrate a prosperous new year at the Lobby Lounge. It includes an exclusive Chinese New Year-themed afternoon tea and prosperity lunar MO Express menu.
You'll find everything you need and want at Vida Rica Restaurant even for the most discerning diner or picky little eaters. From dim sum menus to western-style ones, there is something for everyone and lots of flavors to experience. The Prosperity family set for lunch is priced at MOP $3,588 for four persons for a six-course menu. The Fortune dim sum set is priced at MOP $588 per person for a six-course menu. While the Western set is priced at MOP $438 per person for a three-course menu. The family set dinner is priced at MOP $3,588 for four persons for a six-course menu. The Prosperity Chinese New Year menu is priced at MOP $888 per person for a six-course menu and the Western Degustation is priced at MOP $888 per person for a four-course menu. Everything is available from January 22 to February 8.
Mandarin Oriental, Macau 945 Avenida Dr. Sun Yat Sen, NAPE, Macau, +853 8805 8888, www.mandarinoriental.com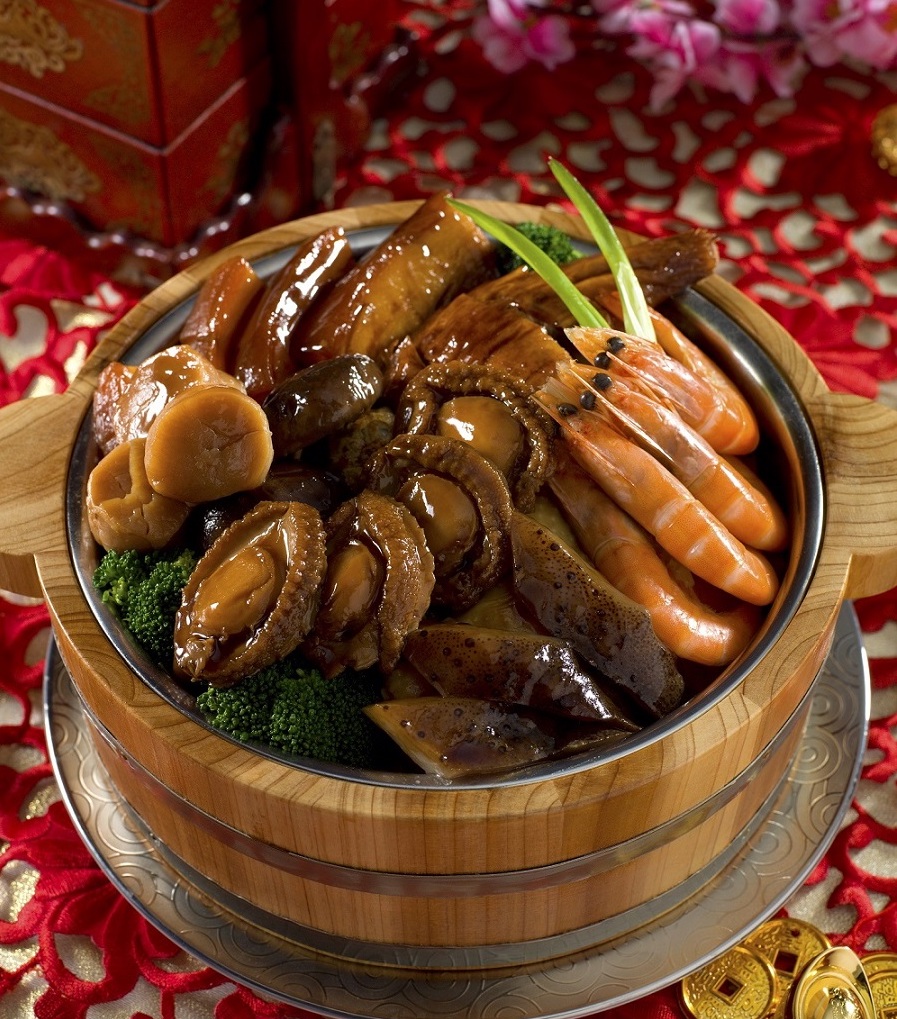 Conrad Macao
Chinese New Year is all about achieving harmony when it comes to family life. Bring your loved ones to Conrad Macao's Dynasty 8 where you'll find three exceptional nine-course Chinese New Year set menus for lunch and dinner that are both delicious and healthy. Explore the combination platter of foie gras, sea whelk, braised goose and more. The menu also offers double-boiled soup, several seafood dishes, wok-fried orzo pasta with preserved Chinese sausage, scallops and prawns and more starting from MOP $9,888 for eight guests or more.
For smaller parties, Dynasty 8 also offers other options for set menus. You can also opt to enjoy a classic Poon Choi for four to six people including prawns, six-head abalone, conpoy, dried oysters, goose web and fish maw rolls. It is available at MOP $1,988. It can also be ordered as a festive takeaway to enjoy at home with your family and friends.
Conrad Macao Estrada do Istmo, S/N, Cotai, +853 2882 9000, conradhotels3.hilton.com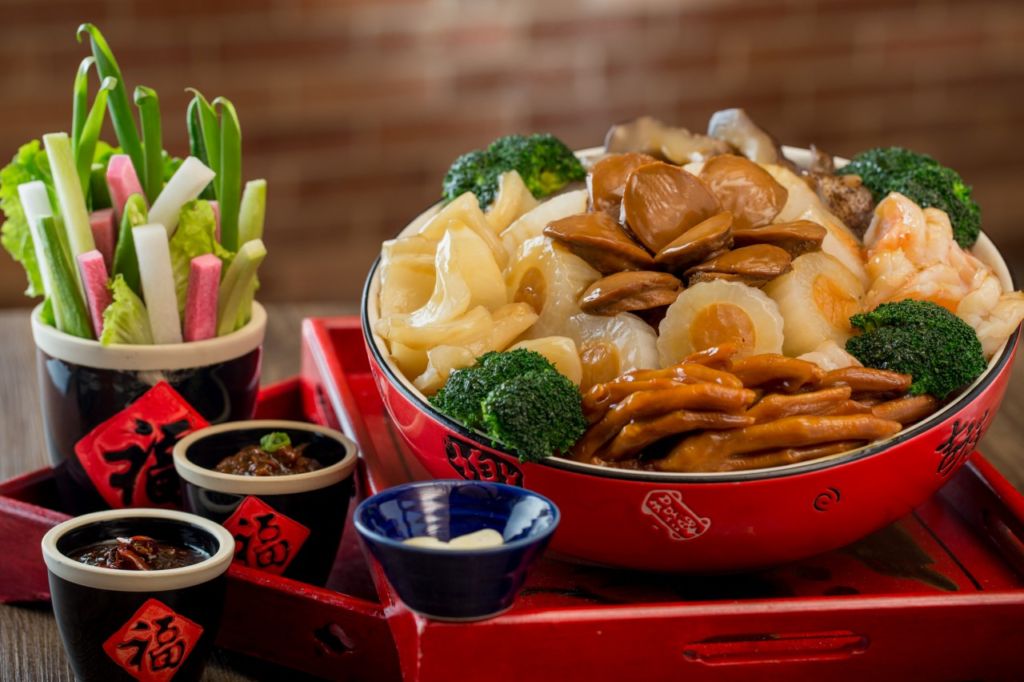 Grand Hyatt Macau
Beijing Kitchen is the quintessential location for Chinese New Year dining. We love that it offers multiple areas for privacy where guests can partake in authentic and refined Northern Chinese cuisine. The talented culinary team has crafted the Big Bowl Feast priced at MOP $1,988 for four guests and MOP $3,888 for eight guests this year. It is filled the heartwarming goodness of delicious treats including braised whole South African abalone, pork, mixed herb, oyster sauce; braised sea cucumber, fish maw, oyster sauce; sautéed prawns, chili, bean paste sauce and more. It is available from January 23 to February 2.
You will also find three carefully curated menus at Beijing Kitchen. It presents guests with a gourmet twist on classic Lunar New Year dishes. The multi-course menus include Beijing Kitchen's renowned traditional Beijing style duck, poached chicken with Sichuan peppercorn, chili sauce, deep-fried soon hock, chili sauce, and lots more.
Beijing Kitchen Grand Hyatt Macau, Estrada do Istmo, Cotai, +853 8868 1930, www.cityofdreamsmacau.com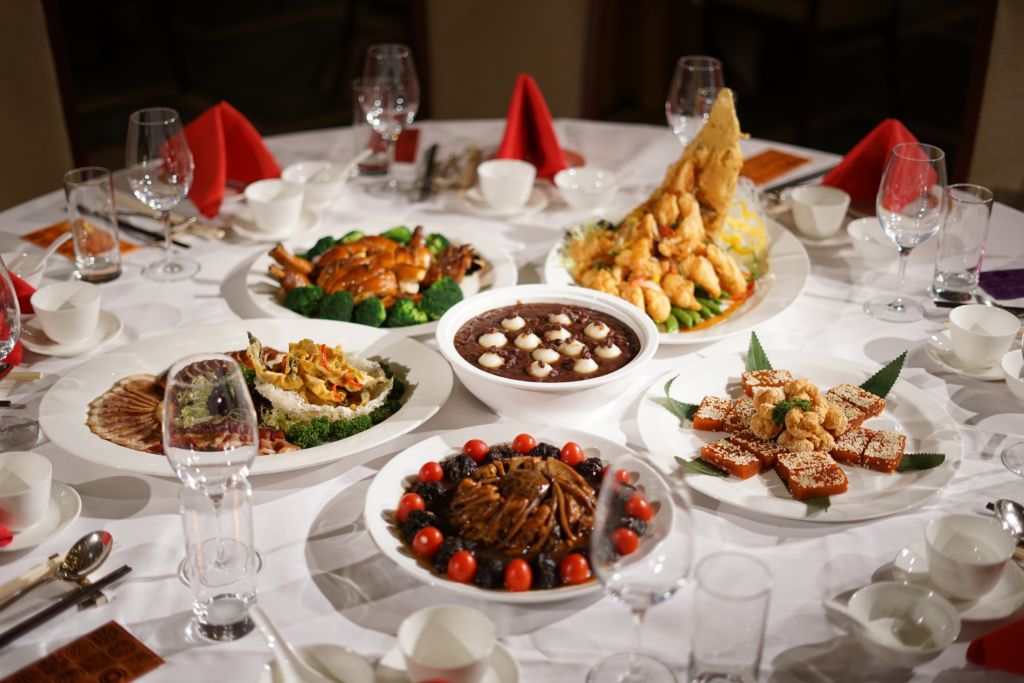 Grand Lapa, Macau and Grand Coloane Resort
Enjoying a special meal with loved ones is the most important element of the Chinese New Year. That is why Grand Lapa and Grand Coloane Resort have upped their ante by focusing on quality dishes and not quantity. We crave the taste of lou hei, a must-have Chinese New Year gastronomic delight which epitomizes the depth of Cantonese culture. It does not only symbolize good luck for the new year, but it's an ideal treat to indulge in with your family and friends. From January 3 to 27 guests can enjoy complimentary lou hei at Kam Lai Heen Chinese restaurant in Grand Lapa when booking a table of six and above on a la carte dinner menu or family reunion dinner on January 24 to 27. The family reunion dinner set is priced MOP $1,750 for four persons, MOP $2,398 for six persons and MOP $4,498 for twelve persons.
Embrace the tradition of poon choi or the Big Bowl Feast with the special people in your life. During Lunar New Year, the Chinese restaurant, Kwun Hoi Heen in Grand Coloane Resort will offer the Prosperity Poon Choi set between January 10 to February 8. It is priced from MOP $2,388 for six persons. Enjoy this great opportunity to savor Cantonese delicacies during this lovely holiday season.
Grand Lapa, Macau Avenida de Amizade, Macau, +853 2856 7888, www.grandlapa.com
Grand Coloane Resort 1918 Estrada de Hac Sa, Coloane, +853 8899 1127, www.grandcoloane.com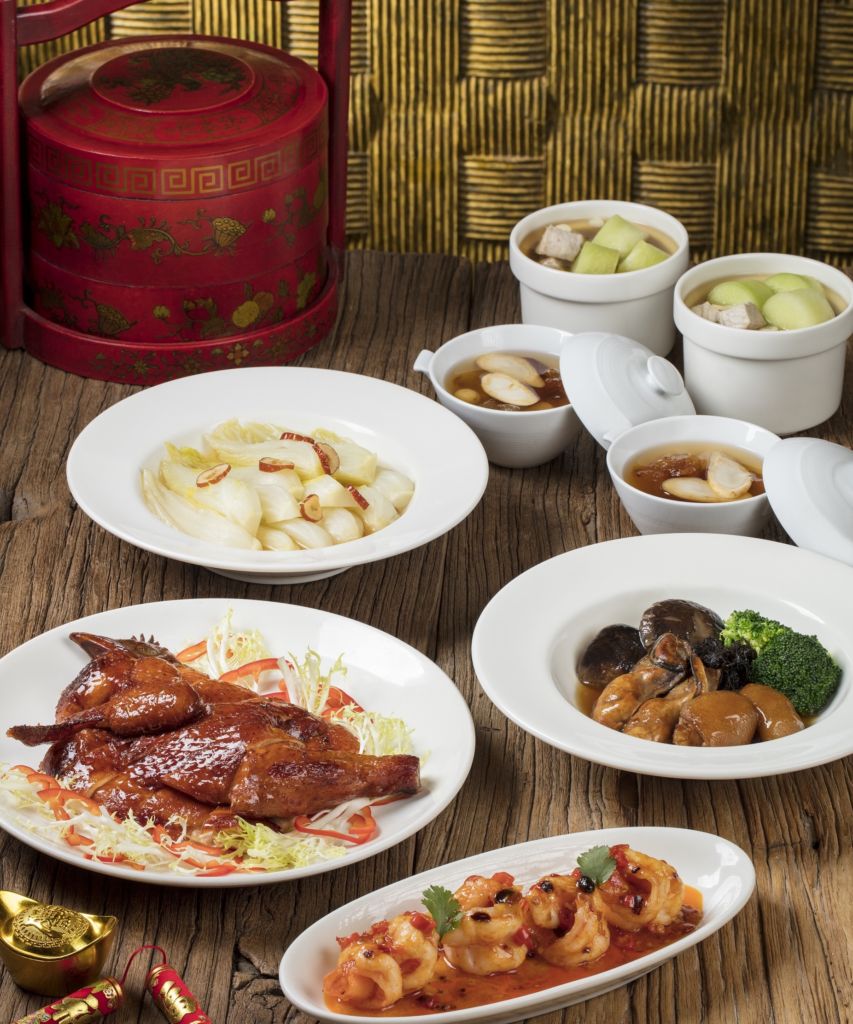 Sheraton Grand Macao, Cotai Strip
During Chinese New Year, food shared on a table emphasizes a deeper meaning. The wonderful season is synonymous with family reunions and a hearty poon choi is essential. Avoid the stress of cooking and preparation and head to Sheraton Grand Macao's Yum Cha for a taste of their Fortune Poon Choi. It features nearly 20 ingredients, including whole South African abalone, Japanese sea cucumber, fish maw, and dried oysters, and is ideal for two people to share. You can enjoy it from January 20 until February 3, 2019.
Don't miss Yum Cha's Chinese New Year season set menu for two featuring six traditional Chinese dishes, including double-boiled pork broth with almond kernel and honeydew, crispy free-range chicken served country style, traditional braised pork trotter with dried mushroom, sea moss and dried oyster, wok-fried prawns with Sichuan chili bean sauce, and baby Chinese cabbage with red dates in superior stock. We recommend the classic steamed peach gum with Korean ginseng, which not only tastes delicious but has the added benefit as a beauty tonic in traditional Chinese medicine. The exquisite Chinese New Year set menu is priced at MOP $488 for two people.
Sheraton Grand Macao Hotel, Cotai Strip Estrada do Istmo, Cotai, +853 2880 2000, www.sheratongrandmacao.com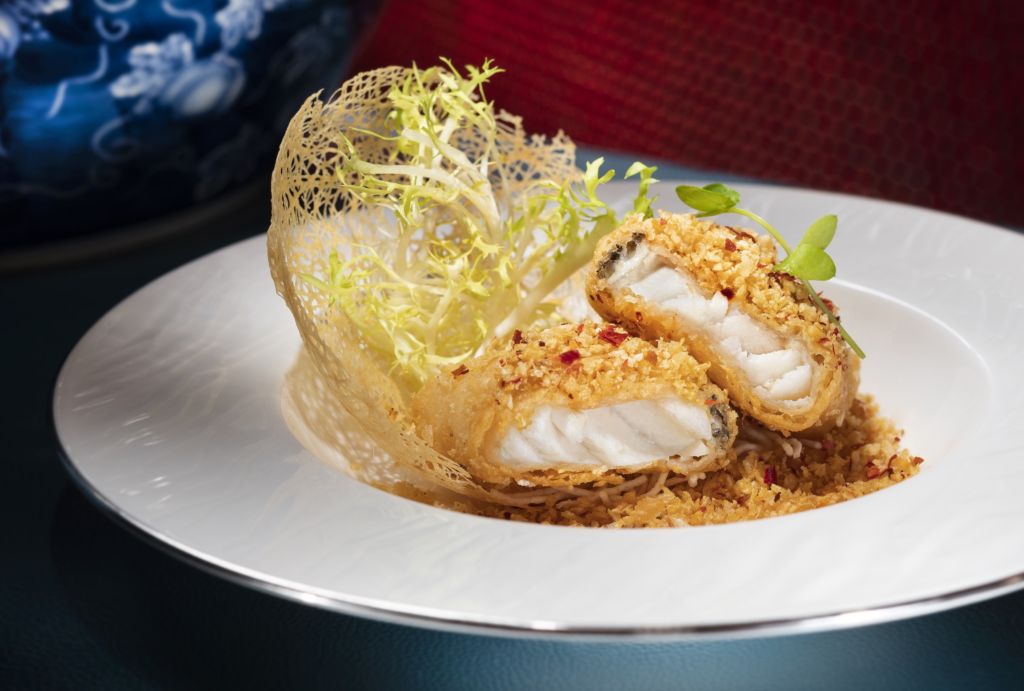 The Ritz-Carlton, Macau 
Renowned for A-list quality dining experience, the Michelin-starred restaurant Lai Heen at The Ritz-Carlton, Macau is one of the most special places to be during Chinese New Year with your loved ones. Dine and delight in the six-course Chinese New Year lunch menu, including the signature deep-fried codfish fillet with crispy garlic. It symbolizes abundance in traditional Chinese culture and it's priced at MOP $688 per person. For dinner, prepare to be mesmerized with an eight-course feast of contemporary Cantonese specialties priced at MOP $2,388 per person.
Taste the divine flavors of dishes such as the sliced pork and hairy mousse accompanied by air-dried oysters. Moreover, Chef Ho presents an ultimate deluxe nourishing soup exclusively for the festive period with 10 luxurious Chinese ingredients like cordyceps, Ganoderma, Kanto sea cucumber, Yoshihama abalone, fish maw and more. The magnificently crafted made-to-order soup needs a 24-hour advance order and it's priced at MOP $3,888 per person.
Lai Heen 51F, The Ritz-Carlton, Macau, Galaxy Macau, Estrada da Baia de Nossa Senhora da Esperanca, Cotai, +853 8886 6868, www.ritzcarlton.com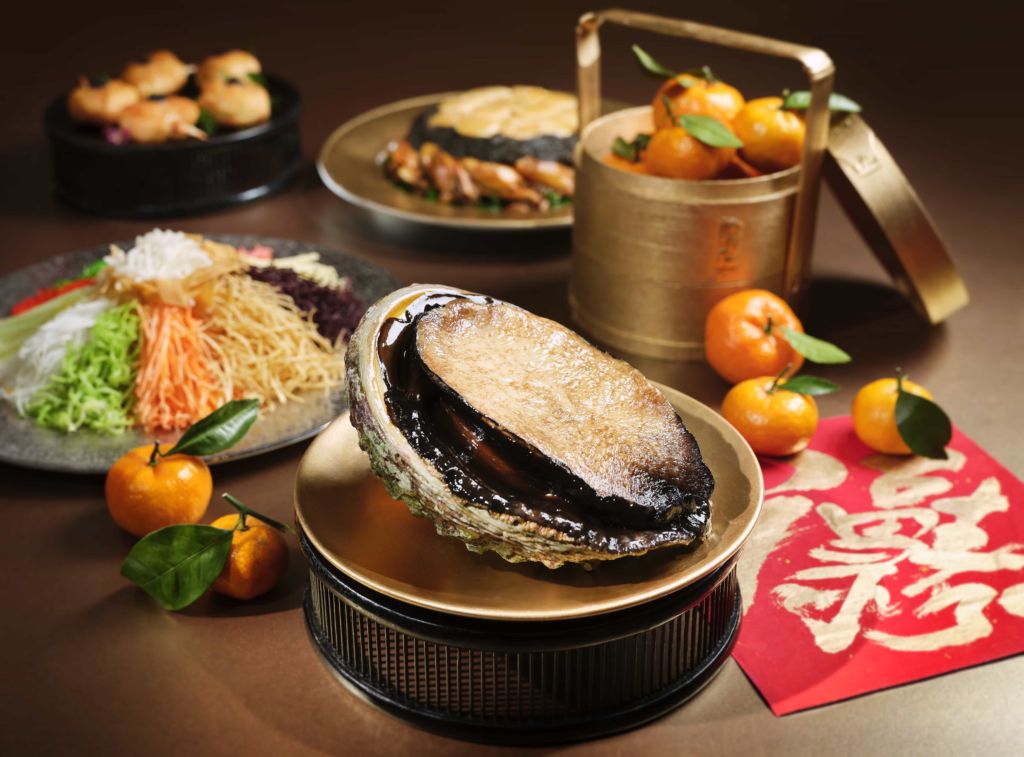 JW Marriott Hotel Macau
Be surrounded in an elegant setting while dining with the whole family for Chinese New Year at Man Ho Chinese Restaurant. The special set menu is priced from MOP $3,688 for six guests or from MOP $8,888 for 12 guests. The delicious feasts offer favorite elevated Chinese dishes like braised pork knuckle with pork tongue, baked Boston lobster in "kam heong" style and baked crab claw with caviar.
Try something different and sample the auspicious New Zealand king abalone salad, which features the traditional Lunar New Year "lo hei" dish in an opulent way. During the festive period, the a-la-carte menu will also be available so you have plenty of choices at this beautiful dining location.
Man Ho JW Marriott Hotel Macau, Galaxy Macau, Estrada da Baía da Nossa Senhora da Esperança, s/n, Cotai, +853 8886 6228, www.marriott.com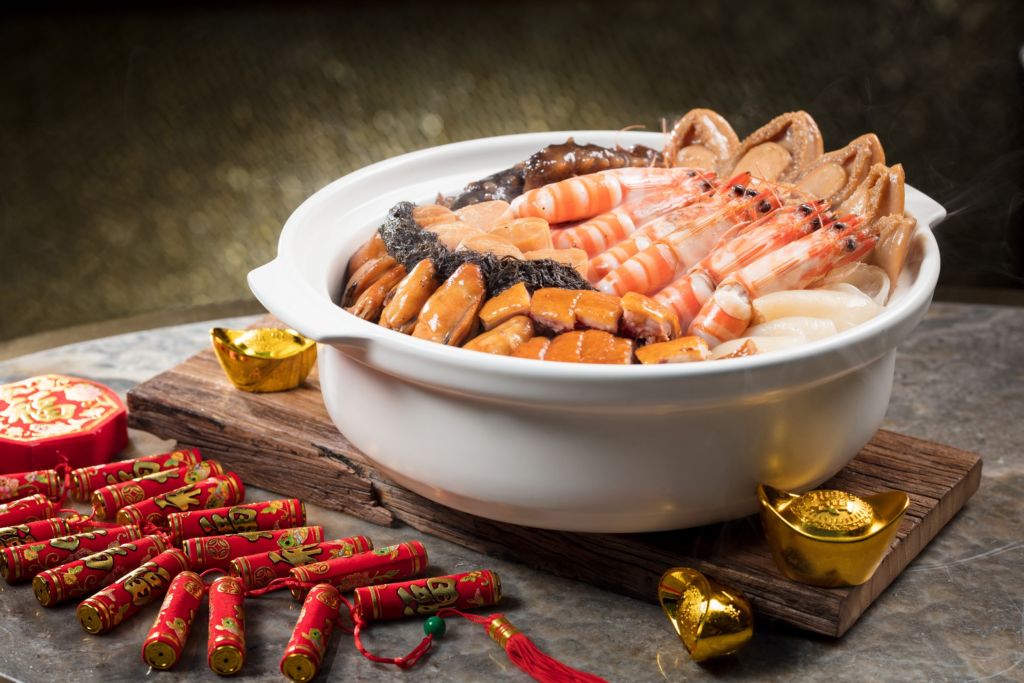 MGM Macau
Gathering the whole family can be a challenge but for moments like this, Imperial Court at MGM Macau is the perfect place to be. Imperial Court's meticulously curated set menu is crafted with luxurious seasonal ingredients. It includes dishes that symbolize good fortune, such as wok-fried Boston lobster with chanterelle mushroom, X.O. sauces and spring onion, and steamed oasis giant garoupa with cordyceps flower and lily bulbs. The set is available from January 24, priced at MOP $6,888 for six people. The restaurants also offer a celebratory a-la-carte and dim sum dishes, tailor-made for the joyful spirit of Chinese New Year.
You can also warm your bellies with the hearty delight of poon choi, or the Big Bowl Feast. It symbolizes affluence and togetherness, making it a perfect treat for any friends and family gathering. From January 13 to February 2, the Imperial Court will offer two kinds of Big Bowl Feast set, priced from MOP $1,580. Both sets are packed with abalone, fish maw, Japanese dried scallop, sea cucumber, and over ten other luscious ingredients.
Imperial Court MGM Macau, Avenida Dr. Sun Yat Sen, NAPE, Macau, +853 8802 2361, www.mgm.mo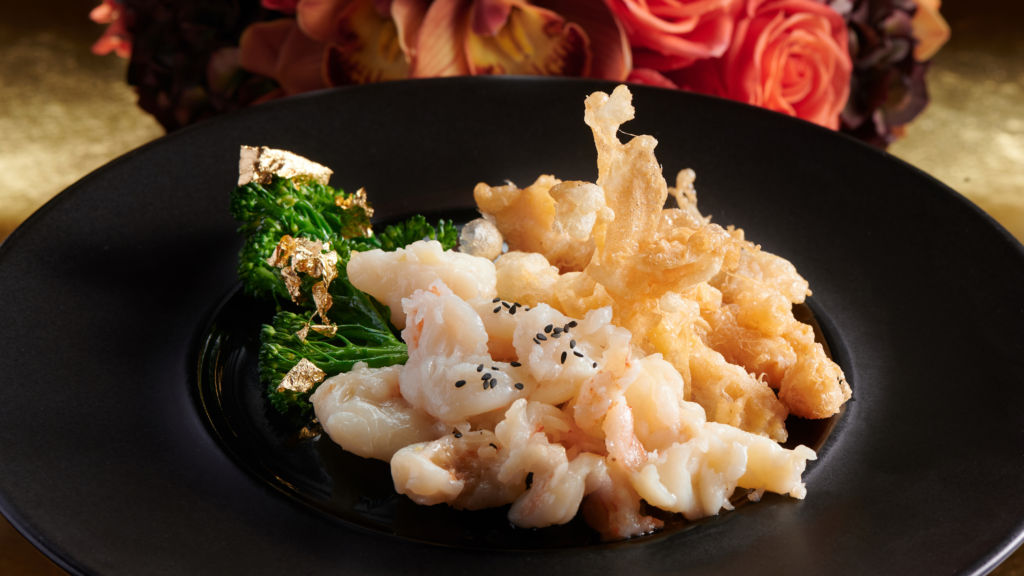 Wynn Macau
Spoil your loved ones and take them to Wynn Macau's signature restaurant, Wing Lei this Chinese New Year. This award-winning, Michelin-starred restaurant is a place of beauty with elegant decor and meticulous plating. We always love the extensive a la carte offerings but don't miss the Michelin two-starred Cantonese restaurant's special dishes in honor of Chinese New Year.
The stir-fried prawn and sea limpet dish combine Malaysian giant tiger prawns and delicately fried osmanthus mussels. These two ingredients are a perfect match and signify the reunion and good fortune of family and friends this Lunar New Year. Each one of the Chinese New Year dishes on offer at Wing Lei is distinctly Cantonese in flavor and displays ingenious technique when it comes to cuisine. The Chinese New Year Specialties are available from January 25 to 31, 2020.
Wynn Macau Rua Cidade de Sintra, NAPE, Macau, +853 2888 9966, www.wynnmacau.com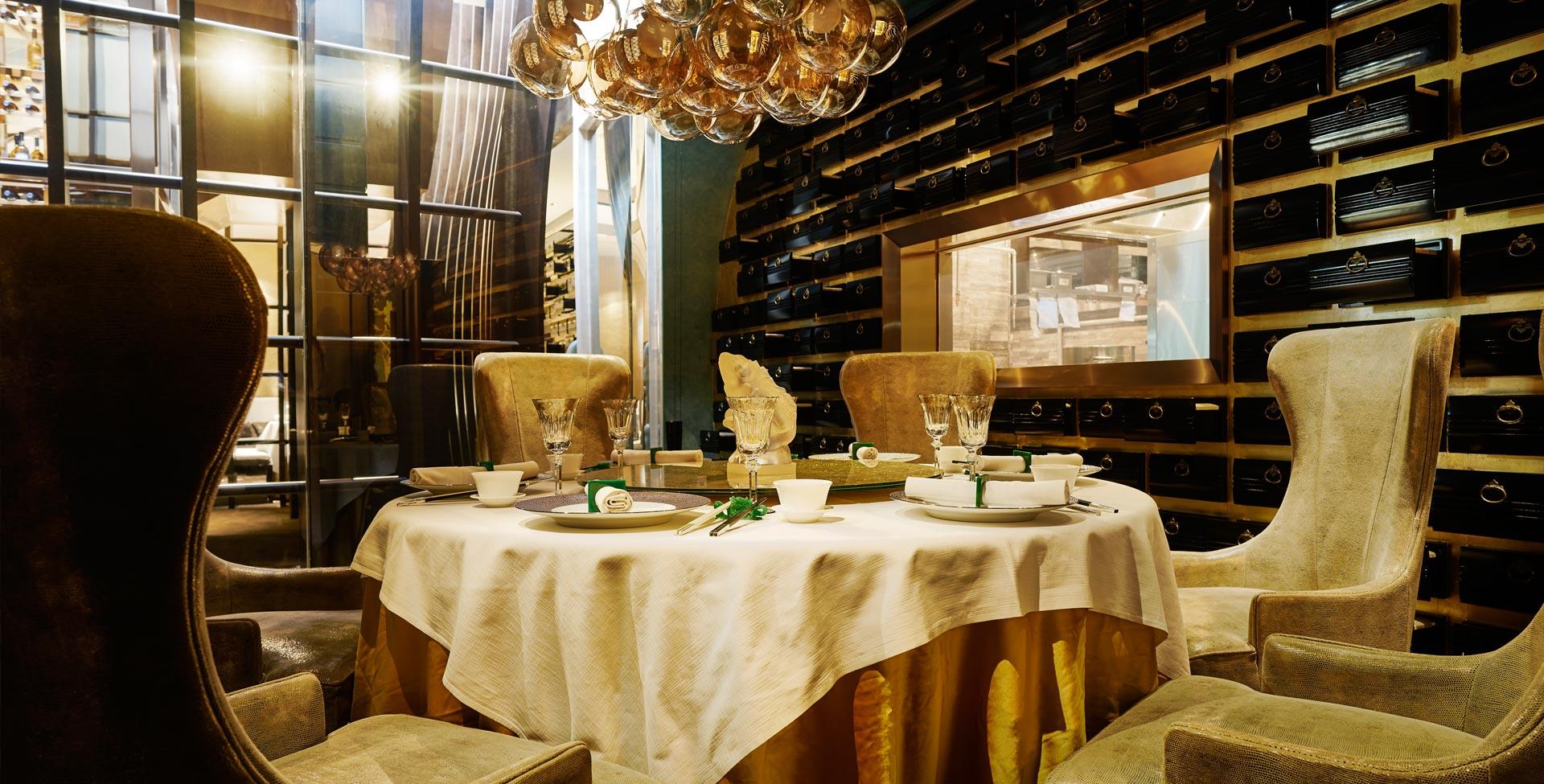 Jade Dragon at City of Dreams
Enter the year with an unforgettable meal at the two Michelin-starred Chinese restaurant, Jade Dragon at City of Dreams. Indulge in culinary masterpieces that have made this dining destination one of the best fine dining locations in Macau. The Chinese New Year set menu is comprised of dishes that will captivate your senses.
Begin your menu with the tossed Hokkaido sea cucumber, jellyfish and sweet pickles with homemade plum sauce and end it with chilled milk pudding with bird's nest, black truffle, and gold leaf. The dishes in between will surprise your tastebuds. The exclusive menu is priced at MOP $3,980 for two persons. It's available from January 24 to February 2.
Jade Dragon Estrada do Istmo, Cotai, City of Dreams Macau, +853 8868 2822, www.cityofdreamsmacau.co
Tags
Related Posts