Featured image: Braised Boston lobster with hairy crab roe and tofu from MGM Cotai's Chún
Did someone say "hairy crab"? We've been exploring the city looking for the best dining deals offering this delicacy. Why? Well, because it's hairy crab season, that's why! This Chinese crustacean can be found on China's Yangcheng Lake and it's usually eaten steamed. However, several restaurants in Macau have been raising up their game, offering state-of-the-art dishes made with sumptuous ingredients to really bring out the crab's flavor. We've made a selection of places you should visit to make the most of your hairy crab experience this autumn! Keep reading and find dumplings, soups, appetizers, and so many other wonderful dishes to taste.
MGM Macau & MGM Cotai
(See featured image above)
Hairy crabs come to full maturity in the ninth and tenth months of the lunar calendar, which means it is the best time of the year to feast on the much-loved crustaceans. Here in MGM, every hairy crab served is deliberately selected, ensuring all are in their best quality, well-packed with heavenly golden roe and sweet flesh.
The best way to enjoy hairy crab simply has to be steamed in a whole, which best preserves the taste of freshness. Both Imperial Court and Chún provide crab peeling service for guests to fully savor the unshelled goodness, so be sure to check these out if you're into steam seafood. At Imperial Court, you'll be able to have a braised fillet of Macau sole with hairy crab roe in casserole, which really elevates the sweetness of the crab roe with the soft and fresh seasonal local sole. Served in a sizzling hot stone pot, it's an unmissable delicacy! Giving a little creative twist to the classic crab roe noodle dish, their braised buckwheat noodles with scallop and hairy crab roe add a unique flavor to the luscious crab roe with the pairing of hearty, al dente buckwheat noodles. The deep-fried sesame-coated glutinous rice dumplings with crab roe wraps crab roe into its chewy and crispy glutinous rice shell, also enriching the layering of flavors and texture like never before.
At Chún, you'll be able to have the hairy crab's full flavor on a sumptuous and luxurious setting. The classic steamed crab roe dumplings are stuffed with heavenly crab roe and soup in a thin layer of dumpling skin, making it truly a flavor explosion in one bite. The braised bean curd with hairy crab roe is a true delicate indulgence too. The creamy crab roe and the soft bean curd make a good pair to double the goodness of silky, melt-in-mouth texture.
When: October 15–November 30, 2021
How to book: Call Imperial Court at +853 8802 2361 and Chún at +853 8806 2388, or check the promotion's website
Imperial Court MGM Macau, Avenida Dr. Sun Yat Sen, Nape, Macau, and Chún MGM Cotai, Avenida da Nave Desportiva, Cotai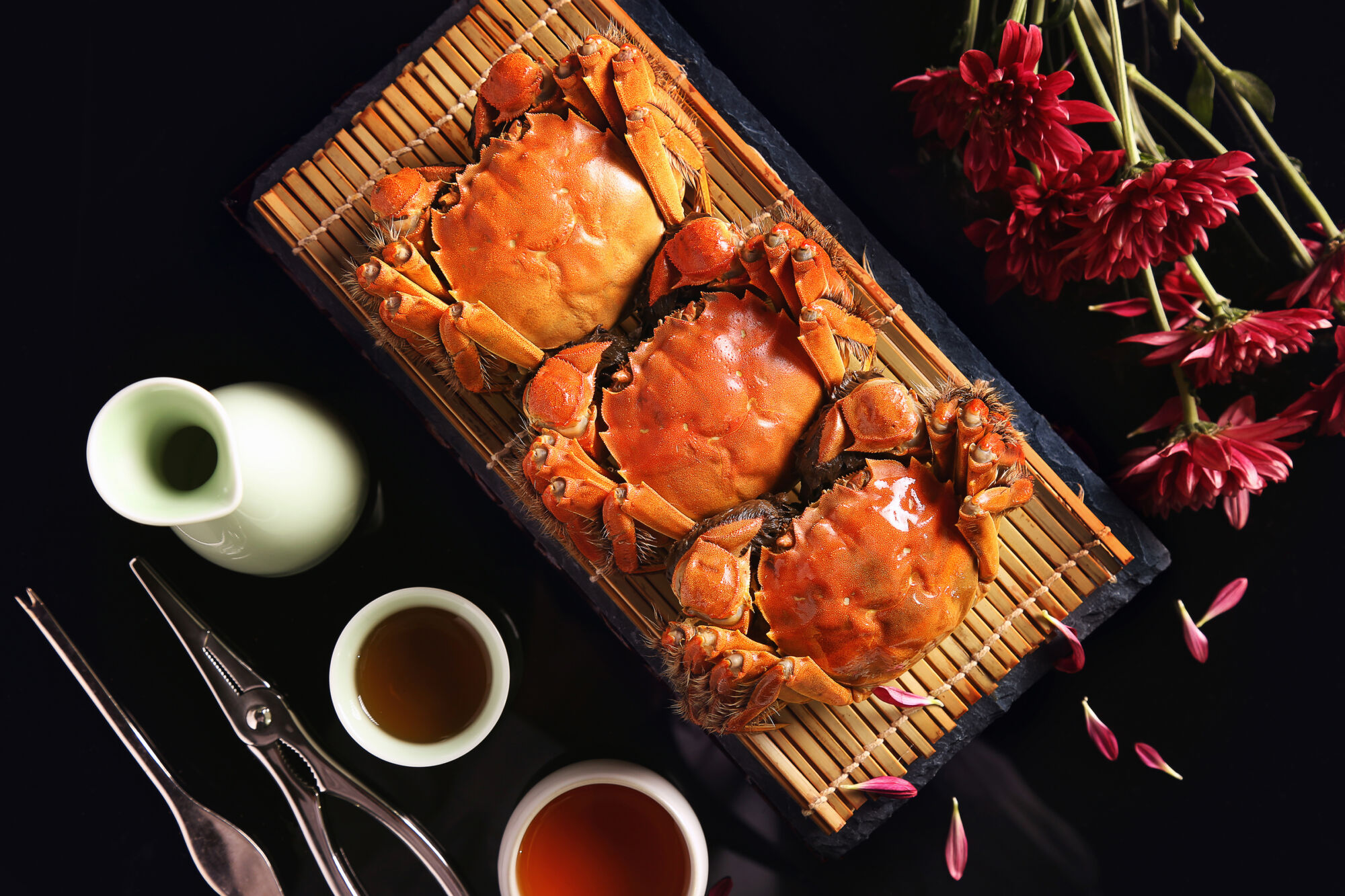 Beijing Kitchen at Grand Hyatt Macau
Hairy crabs usually reach their full size around September, which means they're ready to be savored from then till the start of December. Some people wait the whole year to have this delicacy, so be sure to book your table as well. While some places only serve them steams, Beijing Kitchen took the time and effort to create original dishes, exclusive to the restaurant. Some of these include variations such as crab meat terrine with pork, and pumpkin, but also marinated crab with soya bean, coriander, ginger, and chili, or boiled hairy crab with mandarin fish, sea cucumber, bamboo pith, pork, and baby cabbage.
At Beijing Kitchen, you can also have the traditional, as this eatery is offering guests the chance to choose their favorite cooking method: steamed, wok-fried with other ingredients such as soy sauce, ginger, garlic, spring onion, red chili, "Hunan" pepper, soy or salt egg yolk. To further enhance the sweetness of the crab, you may also pair these dishes with an aged Gu Yue Long Shan 8-Year Shaoxing yellow rice wine.
When: From now till November 30, 2021
How to book: Call +853 8868 1930 or click here
Beijing Kitchen Level 1, Grand Hyatt Macau, City of Dreams, Estrada do Istmo, Cotai
Chalou at Grand Palace Lisboa
The newly opened Chalou, at Grand Palace Lisboa too is crafting some hairy crab specialties for everyone to enjoy! Besides classic steams crustaceans, they're also having exclusive dishes including highlights such as giant hairy crab roe with sea urchin braised homemade noodles, hairy crab soup in a mini pumpkin, stuffed chicken wings with hairy crab, or handmade hairy crab soup dumplings.
Chalou has selected high-quality Jiangsu freshwater hairy crabs to make dishes not only with sweet crab meat but also decadent roe. Other special seasonal dishes include hairy crab braised rice noodles, baby spinach topped with braised hairy crab and Ibérico ham, and fresh hairy crab and pork dumplings. Guests can also enjoy crabs by choosing male or female and having them steamed with perilla leaves. Hot ginger tea or Chinese yellow wine are two drinks said to enhance the natural flavors of the crabs, so be sure to pair the seafood with these.
When: From now till November 30, 2021
How to book: Call +853 8881 1320
Chalou Level 1, Grand Lisboa Palace Macau, Rua do Tiro, Macau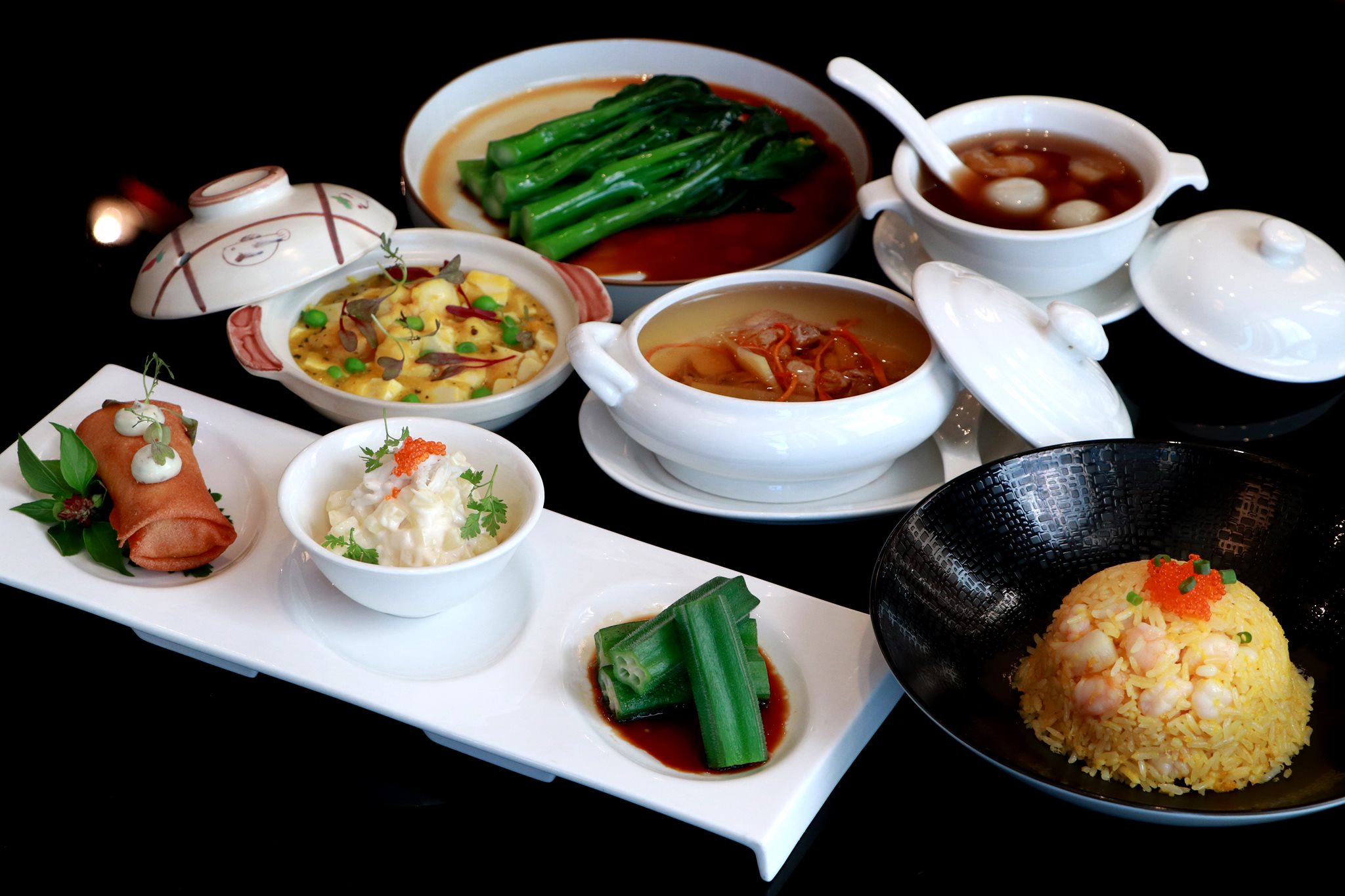 Le Chinois at Sofitel Macau At Ponte 16
Hairy crab lovers are in for a real treat at Le Chinois! While most properties offer selected dishes or a hairy crab tasting, Sofitel Macau At Ponte 16's Cantonese restaurant is having a whole set menu entirely dedicated to this delicacy! We really recommend heading here for a delightful meal surrounded by friends and family. This is also the ideal choice if you want to eat hairy crab in made in different ways mixed in with other ingredients.
Thought for large groups, there's even an unmissable deal of "buy 5 get 1 free" for their set menus. For MOP $388 per person, you'll get appetizers (potato crab meat salad, crab meat and roe spring rolls, and cold okra with wasabi soy sauce), a young duck with fish maw and sea snail broth, three main dishes, and dessert–brown sugar ginger tea with rice balls.
When: Daily, 6:00pm–9:30pm, November 1–30, 2021
How to book: Call +853 8861 1001
Le Chinois Sofitel Macau At Ponte 16, Rua das Lorchas e Rua do Visconde Paço de Arcos, Macau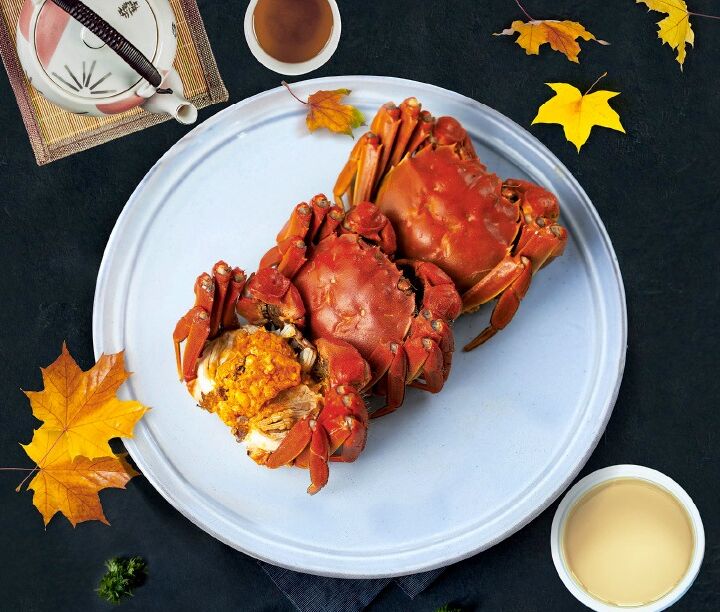 La Chine at The Parisian Macao
La Chine might just be the perfect setting to try hairy crab for the first time or even to experience a whole new way of having these delicacies. The restaurant's team is crafting something special. Sink in this fall's seasonal delight at La Chine, while they craft sumptuous hairy crab promotion menus available from today till the end of the month.
Featuring signature dishes–steamed hairy crab served with aged vinegar and ginger tea, hairy crab meat terrine with tobiko and balsamic vinegar and stir-fried scallop for a touch of east-meets-west fusion, and milk and egg white topped with hairy crab meat and roe–this time-limited deal is perfect for everyone who's been waiting for this seafood secret. Head there with family and friends and have a hairy crab feast surrounded by the ones you love most! Dishes start from MOP $168.
When: From now till November 30, 2021
How to book: Call +853 8118 8822, send an email to [email protected] or check here
La Chine Level 6, Eiffel Tower, The Parisian Macao, Lote 3, Estr. do Istmo, Cotai Strip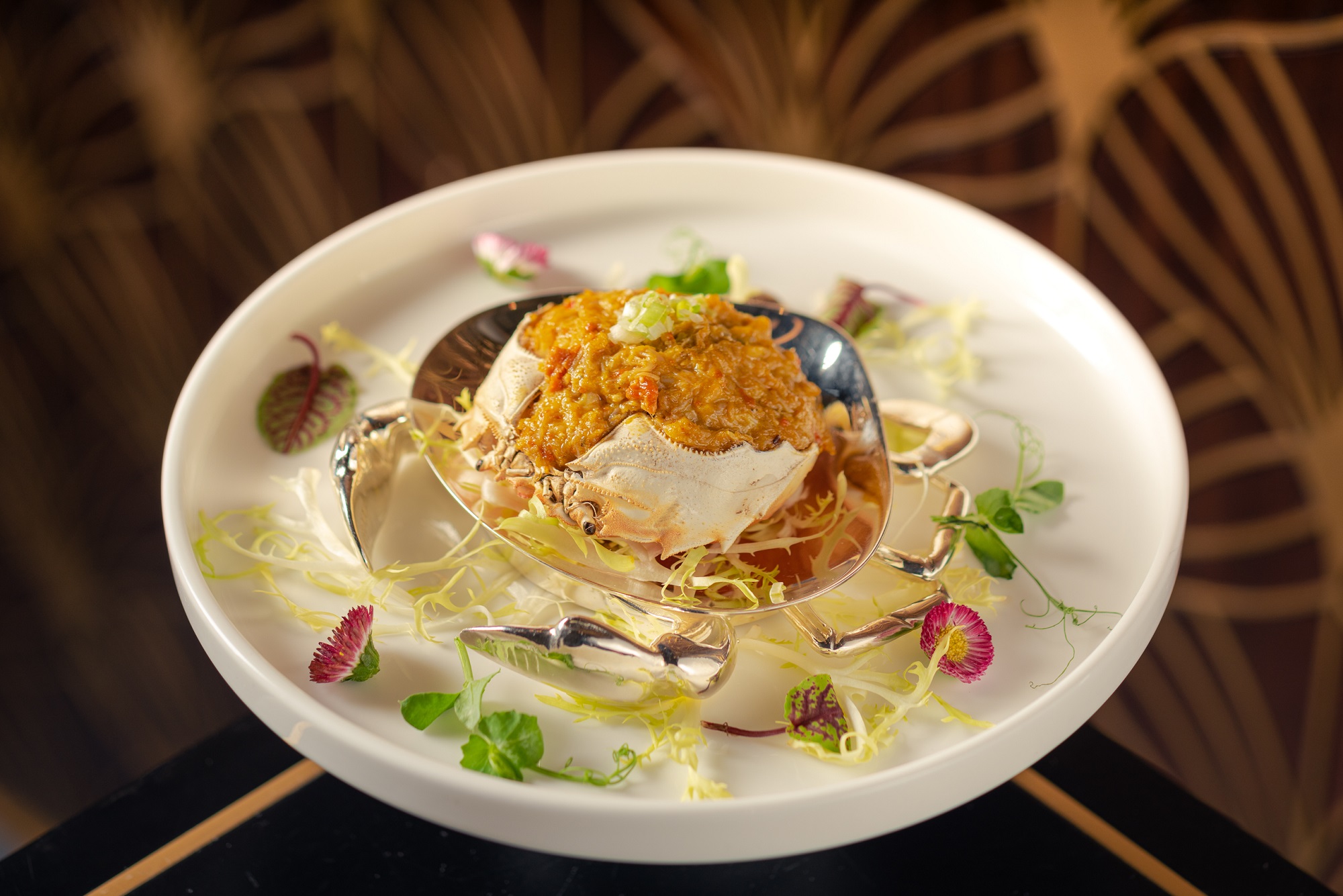 Zi Yat Heen, Four Seasons Hotel Macao
This autumn, executive Chinese chef Charles Cheung selected hairy crabs of superb quality from Yang Cheng Lake to create an array of dishes that showcases culinary savoir-faire, paying tribute to Cantonese cooking traditions as well as regionally inspired finesse. In addition to the traditional steamed Yang Cheng Lake hairy crab, this year's menu highlights sautéed king prawn with hairy crab coral. Shaped like a fully bloomed chrysanthemum, the perfectly sautéed prawn's texture is firm, contrasting the creamy and thick hairy crab coral. The combination expresses layers of umami's distinctive characteristics, surprising the palate. baked stuffed crab shell with hairy crab coral features Cantonese cuisine's unique method of baking to retain moisture and heat, enabling subtleties in consistency and flavors to blend and unfold, slowly revealing their essences with each and every spoon.
As for drinks, there're options for both wine lovers and those who prefer non-alcoholic drinks. Hairy crabs are said to go perfectly with Chinese yellow wine but also hot ginger tea because it creates a contrast of flavors. For this reason, Zi Yat Heen's team is pairing these wonderful dishes with the regional wine, but also recommends that guests choose the Chardonnay from Domaine Rolet. Non-alcoholics can also enjoy hand-brewed organic sparkling tea selections from Copenhagen Sparkling Tea Company. Besides ginger, aromas such as jasmine, chamomile, and citrus–from BLÅ–pairs beautifully with the various hairy crab dishes.
When: From now till December 15, 2021
How to book: Call +853 2881 8818, send an email to [email protected], or check the organizer's Facebook page
Zi Yat Heen Four Seasons Hotel Macao, Cotai Strip, Estrada da Baía de Nossa Senhora da Esperança, Taipa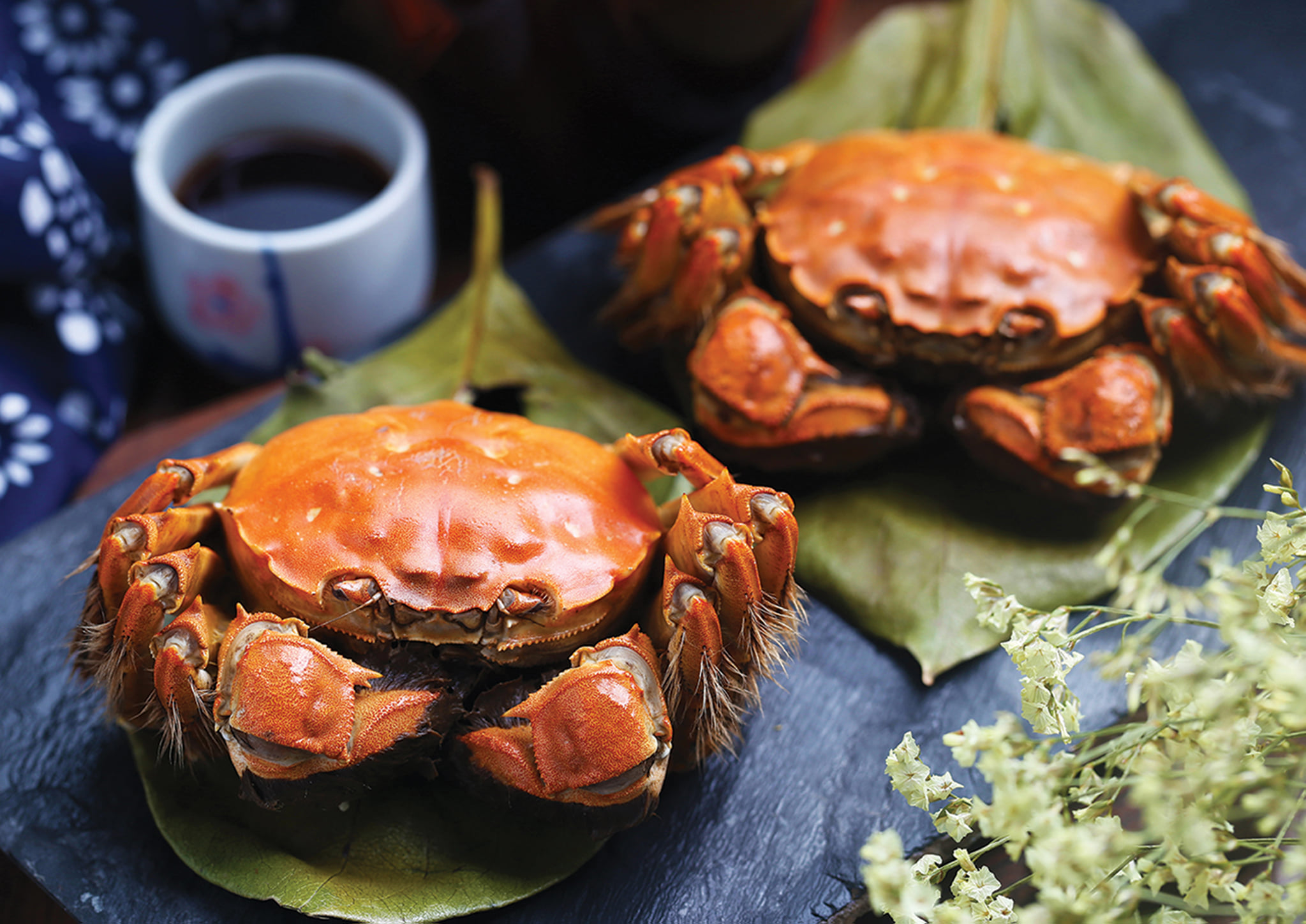 Ying Cantonese Restaurant at Altira Macau
Michelin-starred Cantonese restaurant Ying is bringing everyone an autumn set menu starring the highly sought-after Tai Lake hairy crab. Ying's chef has created a special eight-course set menu featuring these delicacies with other signature dishes including steamed Shanghainese dumplings with crab roe, flambé Iberico pork char siu, double-boiled black bone chicken with sea coconut and Chinese herbs, and more.
The star of the show, Tai Lake hairy crab is steamed to perfection, followed by a peach with perilla and ginger sorbet and sweet glutinous dumplings in ginger soup to help clear your palate and balance the cool nature of the crab meat. This set menu is priced at MOP $868 per person with a minimum booking of two persons.
When: October 28–November 30, 2021
How to book: Call +853 2886 8868 or check the promotion's official website
Ying Cantonese Restaurant 11F, Altira Macau, Avenida De Kwong Tung, Taipa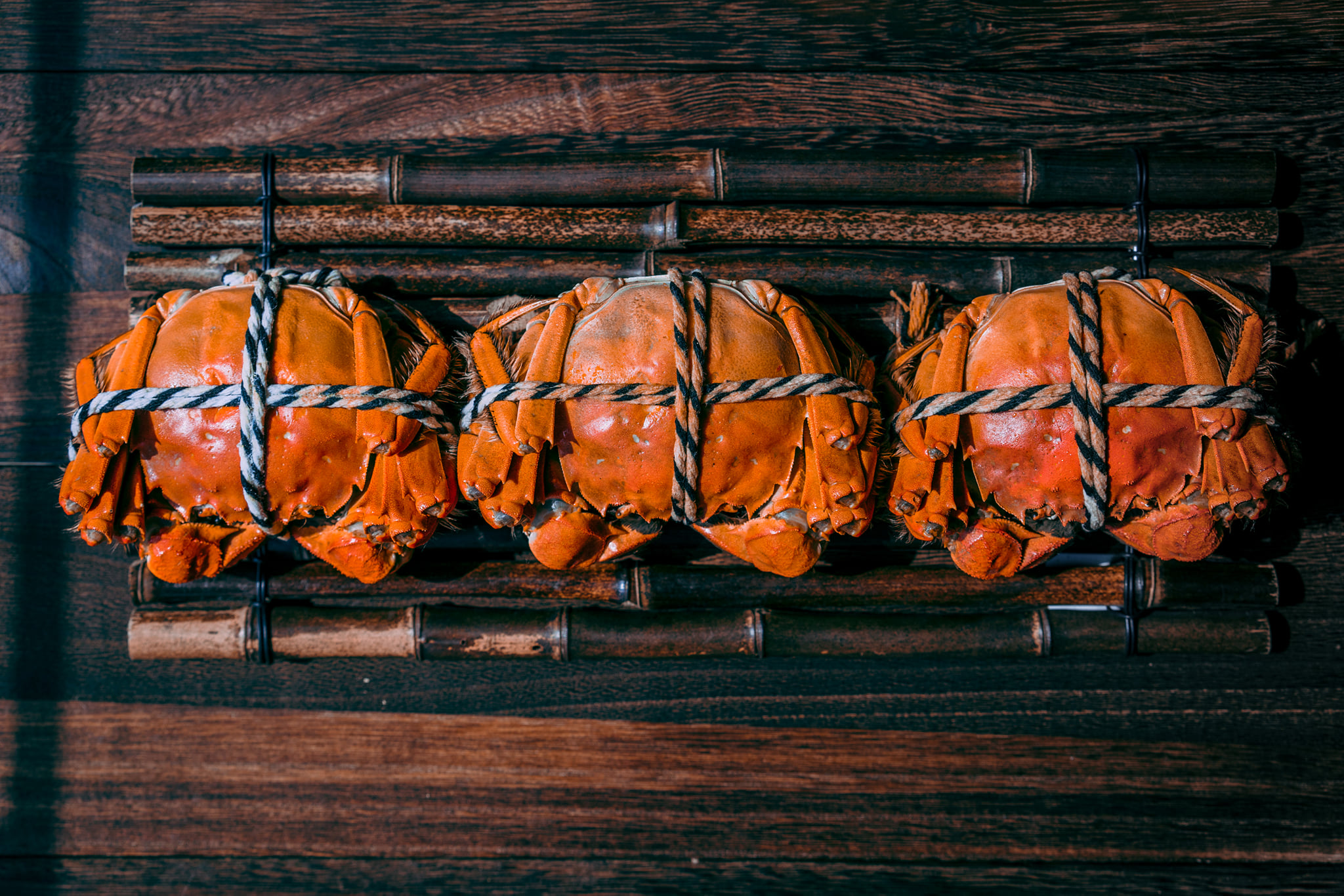 Bi Ying at Studio City Macau
This autumn's star is also checking in Studio City: yes, we're talking about hairy crab, a Chinese delicacy only available this season. Did you know that the male hairy crab is known for its sweet golden roe? At Bi Ying–famed for its regional Chinese cuisines–presents three provincial methods of savoring the creaminess of male crab roe. Each is first steamed to perfection and served with either Chinese basil and yellow wine, Sichuan green pepper, or "Chilled Drunken". A glass of "Gu Yue Long Shan" Aged Hua Diao wine is also included to make a perfect complement to each crab and balance the cool nature of crab meat.
When: November 1–30, 2021
How to book: Call +853 8865 6650
Bi Ying Shop 1182, Level 1, Casino at Studio City, Studio City Macau, Estrada do Istmo, Cotai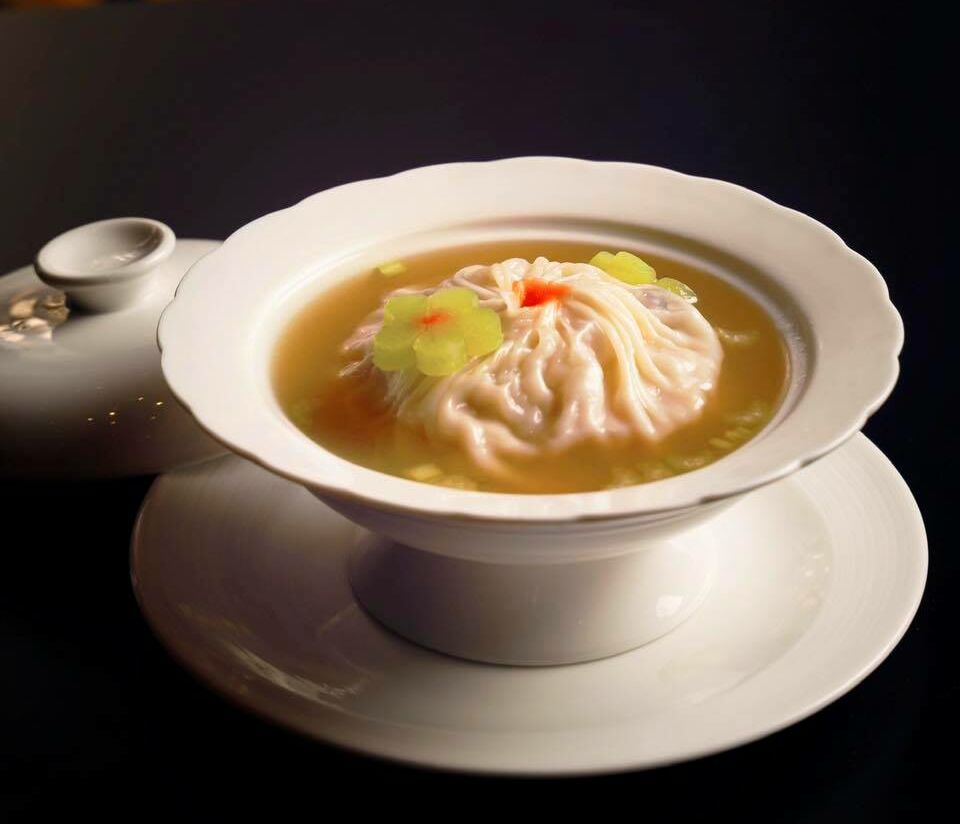 The 8 at Grand Lisboa Hotel
At Michelin-starred restaurant, The 8, expect state-of-the-art dishes to celebrate this hairy crab season. Their executive chef Joseph Tse and dim sum head chef Yah Wah Fai joined hands to present a series of hairy crab cuisines and dim sum. The deep-fried prawn dumplings with hairy crab roe, the steamed cristal blue shrimp dumplings with superior broth and hairy crab roe, and the steamed pea sprouts dumplings with hairy crab roe are exclusively served during lunch.
The popular steamed Shanghainese dumplings with hairy crab roe and the Vietnamese spring rolls filled with shrimp, black fungus, and hairy crab roe are served during both lunch and dinner. Another must-try is their steamed whole hairy crab from Yang Cheng Lake in Suzhou, but also the double-boiled minced pork in supreme broth with hairy crab roe.
The skillful chefs at The 8 are careful to follow the traditions of Huaiyang cuisine by conserving the rich flavors of the hairy crabs, which simply melt on the palate. The feast also features baked giant king prawn with hairy crab roe, steamed garoupa fillet with fresh hairy crab roe, and handmade Chinese noodles tossed with hairy crab roe.
When: From now till November 30, 2021
How to book: Call +853 8803 7788
The 8 2F Grand Lisboa Hotel, Avenida de Lisboa, Macau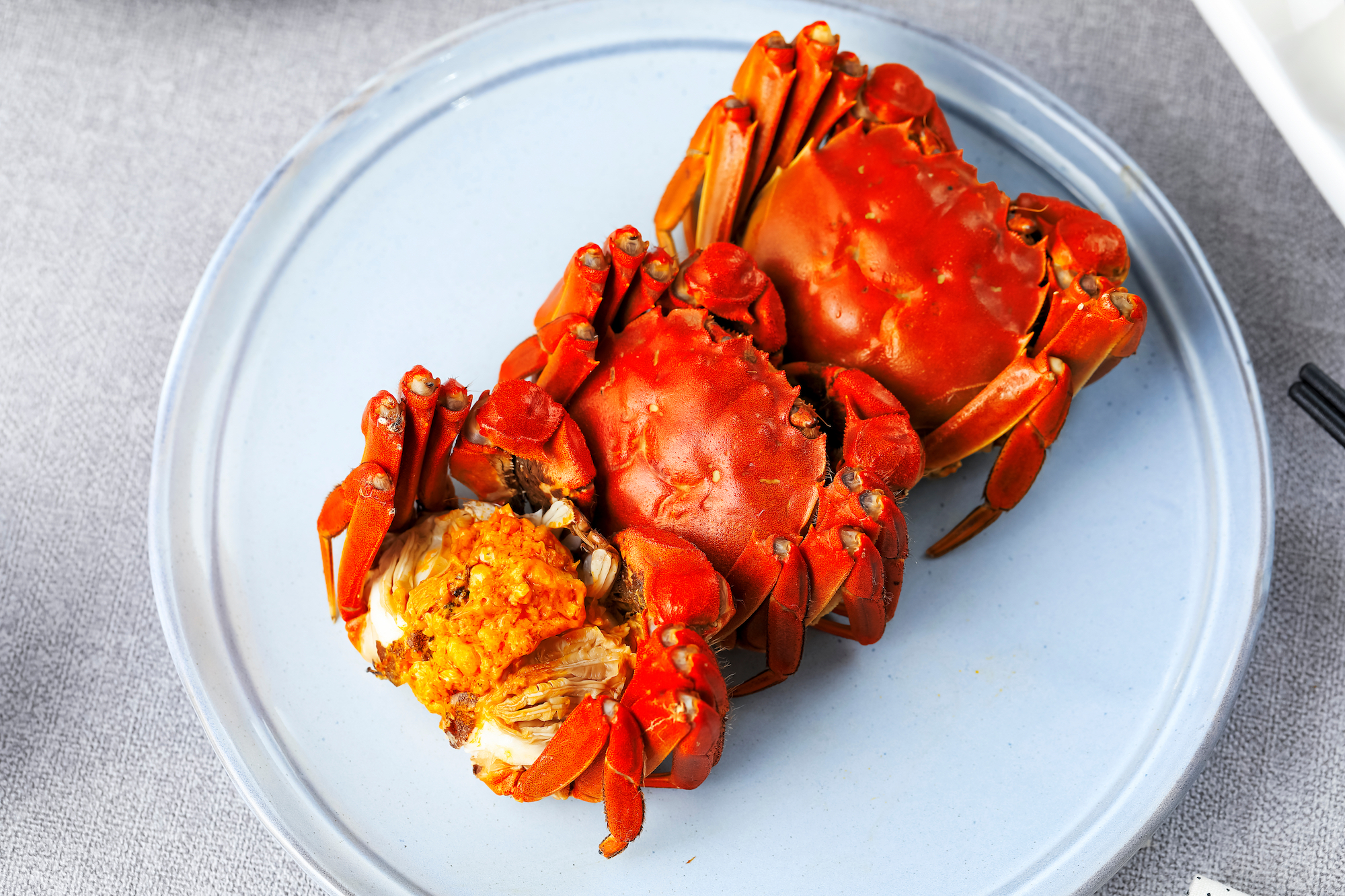 Lotus Palace at The Parisian Macao
Another venue where you'll feel warm and cozy is Lotus Palace, also at The Parisian Macao. Their hairy crab seasonal menu includes stir-fried scallop with milk and egg whites topped with hairy crab meat and roe, but also steamed shrimp paste stuffed with fish maw and hairy crab meat and roe, and deep-fried shrimp pancakes with hairy crab meat and roe.
If you're more into the traditional cooking method of this seafood, there are also steamed whole-crab dishes to enjoy. Rejoice in this delicacy cooked with ginger and vinegar, and steamed hairy crab. And as tradition demands, pair this with a 20-year-old Huadiao wine.
When: From now till November 30, 2021
How to book: Call +853 8118 8822 or send an email to [email protected]
Lotus Palace The Parisian Macao, Estrada do Istmo, Lote 3, Cotai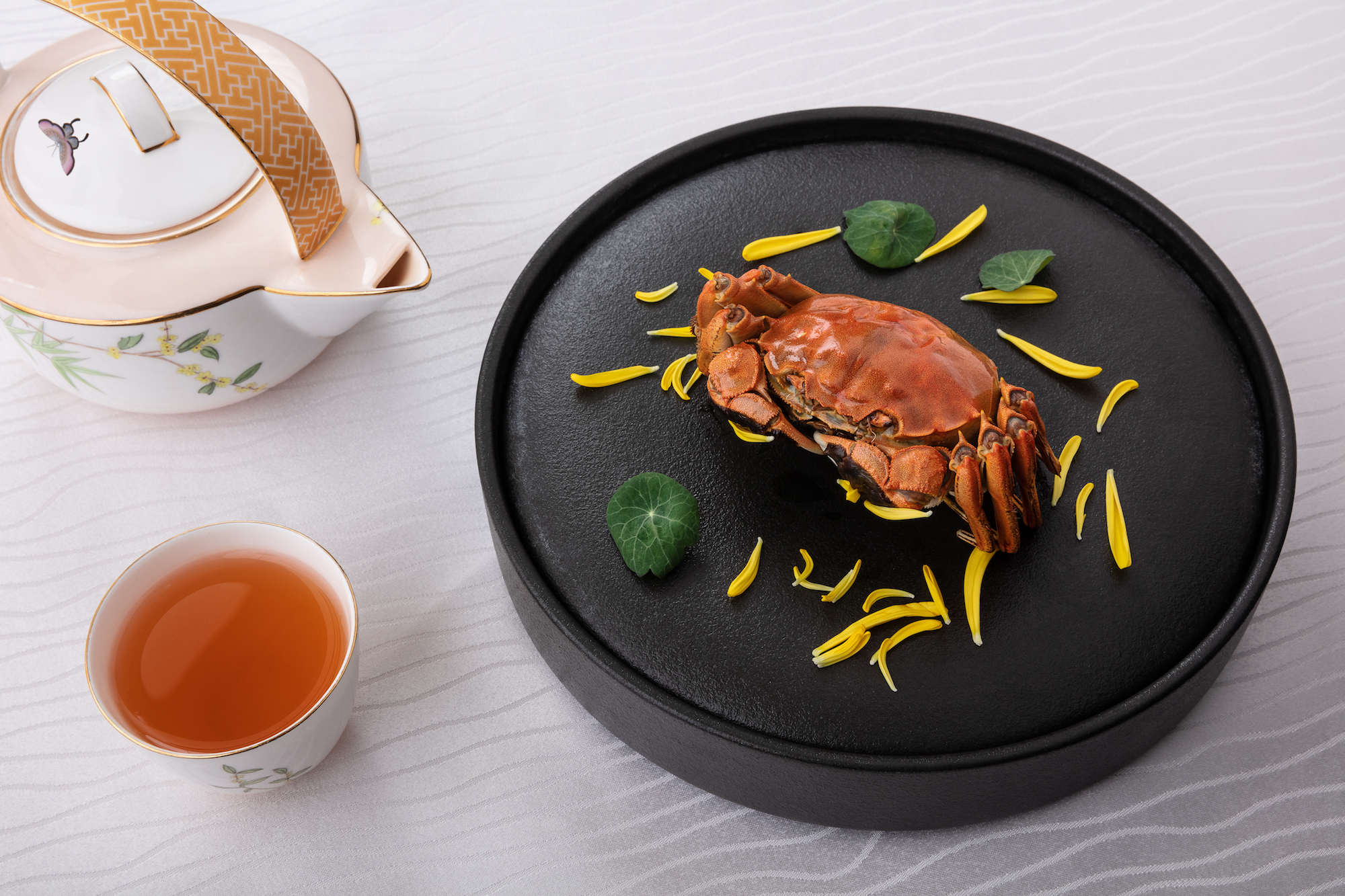 Golden Court at  Sands Macao
At Golden Court, guests will be able to taste different hairy crab dishes. These include steamed hairy crab accompanied with ginger tea, bird's nest, and hairy crab roe supreme broth, braised hairy crab roe, and crabmeat with pea sprouts, braised hairy crab roe with bean curd, and more. Enjoy a night out with friends or family, while teaching the little ones about one of the best seasonal fresh products in China!
When: From now till November 30, 2021
How to book: Call +853 8118 8822
Golden Court 3/F, Sands Macao Hotel, 203 Largo de Monte Carlo, Macau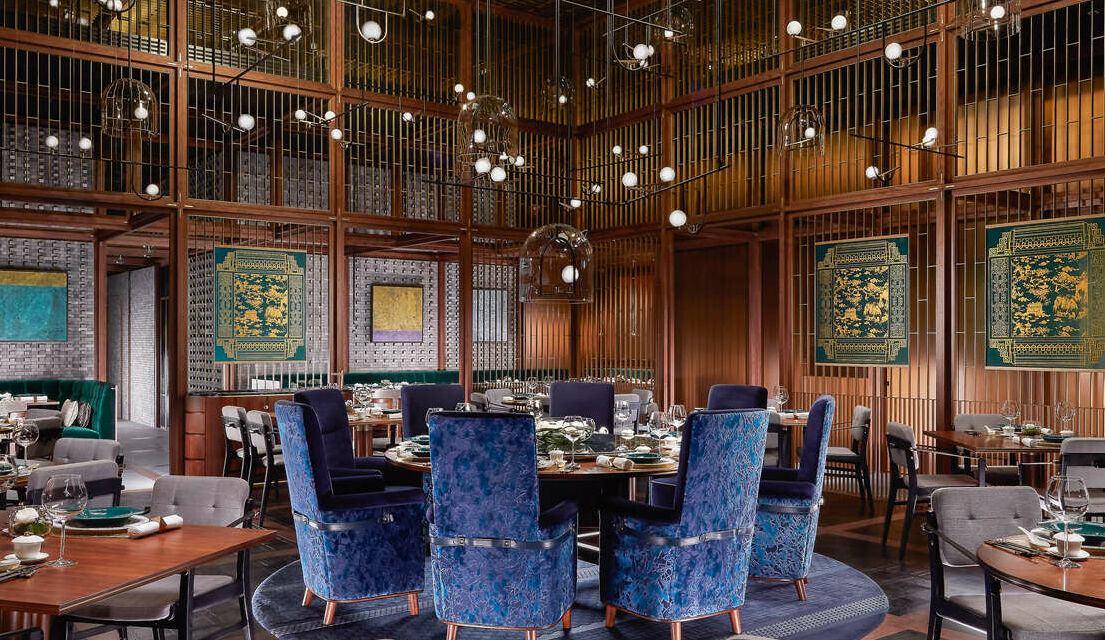 Jiang Nan by Jereme Leung at The Venetian Macao
State-of-the-art Jiang Nan by Jereme Leung restaurant is also serving hairy crab dishes, including a set menu and a la carte. Step into this marvelous venue and have a luxurious dining experience featuring all things hairy crab! Start of with freshly wrapped marinated hairy crab sushi hand rolls with Kaluga caviar, and keep going with a hairy crab meat broth with "Fenghua" taro, baked hairy crab meat and roe with Burrata cheese, a dim sum delight (crispy hairy crab glutinous dumpling with grated sea moss), and their exclusive sumptuous dessert, homemade soufflé with hairy crab meat and roe.
The menu comes with wine pairing for a high-quality meal where flavors are perfectly balanced. The set menu is available for MOP $630 per person (plus a 10% service charge), while a la carte dishes start from MOP $145. These include baked hairy crab with sea salt, crispy hairy crab glutinous dumplings with grated sea moss, and more.
When: From now till November 30, 2021
How to book: Call +853 8118 8822 or send an email to [email protected]
Jiang Nan by Jereme Leung Shop 1078, Level 1, The Venetian Macao, Estrada da Baía de Nossa Senhora da Esperança, Cotai
Tags
Related Posts