Featured image above: Nam Van Theatre (circa 60s), Macau. Source: Wikipedia
Macau's main attraction these days is casinos and hotel properties and resorts, which pump entertainment and family fun like no other. Swimming pools and dining experiences are also a must in town. And then there are less crowded activities, such as going to the cinema. How long has it been since the last time you went to the movies? Unfortunately, online streaming sites have taken over, letting great cinema venues be forgotten with time.
Thankfully, we believe that history is to be preserved. Did you know that Macau used to have lots of cinema halls? Some were just shut down and something else opened in its place, others were demolished. Let's take a stroll down memory lane and find out a bit more about the history of this beautiful town!
Also read: Fantastic Venues for Film & Cinema Enthusiasts in Macau
Cinema screening in the city can be traced to the start of the 20th century. Back then, the inner harbor was a busy area with lots of commercial, cultural and entertainment activities, such as Chinese opera and acrobatics shows. These took place in outdoor areas, but also existing theater halls. This is where films started being screened after some of the theater owners filed for cinema licenses. After the opening of Victoria Theatre, Chit Seng Theater's owner and another local business, Loc Hung Kuang, applied for the establishment of cinema screening in open areas, namely the inner harbour. They were granted permission but were closed before 1920. Dom Pedro V Theatre was also a popular venue in the territory.
Also read: Famous Films Shot in Macau
Another important mark of Macau cinema history is the end of the 1920s. Local theaters only had silent movies and businesses started to struggle–some even closing down–with the competitive environment of Hong Kong, where there were already sound movies and people would take the ferry just to experience it. Capital Theatre (Teatro Capitol, recently revamped and reopened) opened in 1931 and was the first spot with sound movies and its first screening was "The Love Parade".
Rise & Fall
The 20th century was fruitful in terms of the cinema industry in Macau. The 30s and the start of the 40s were great times for the film industry in town: there were around seven cinema halls licensed to broadcast films from Chinese and western companies, including Paramount and MGM. With around 13 operating cinema halls, the 60s were a prolific era for this industry in the territory.
During the 30s, people would flock to three major markets in Rua do Tarrafeiro, Praia do Manduco and San Kio, which were the pioneer infrastructures for modern shopping malls: with shops, restaurants, and cinema, they had everything to do with fun. Contrary to what one would think, World War II brought great prosperity to this business. Major capitals were being attacked and Macau was neutral, welcomed a lot of refugees and became avid in terms of cultural outlets. Somewhere in the mid-1940s through to the 60s, the city experienced great times in cinema. With Robert Mitchum and Jane Russell, "Macao" had a remarkable international effect when it comes to the world getting to know the city.
Unfortunately, there was bad news coming this industry's way. In the 70s, television's popularity was peaking and people would rather watch their preferred show sitting on their sofa than to head to a cinema hall; investing in real estate was also a valuable business, which meant some cinemas disappeared and transformed into buildings. Once grandiose, Roxy, Cidade de Ouro, Oriental, Victoria, Lai Seng and Taipa theaters would eventually have to face their own last curtain call.
In the mid-80s, the Hong Kong cinematographic scene was booming in the filmmaking and production departments, which meant a new era for cinemas in Macau. Anxious to watch the latest in the movie section, they would fill up entire theater halls to check out the newest flick from the neighboring region. All the way into the 90s, Macau cinemas screened known movies such as , "Police Story" (1985), "Last Romance" (1988), "A Better Tomorrow" (1986),"Eight Teals of Gold" (1989), among others.
However, this would be a short-term golden age, as cassette tapes were winning everyone's hearts for being easy to rent and a comfortable means to watch movies. Local cinema houses weren't able to afford air-conditioning bills and others because they weren't filling even half the available seats. Some were forced to close down, including Lido, Nam Van, Cheng Peng, and Apollo. The 90s was a prosperous decade for small halls, called mini-theaters: they had fewer seats and tickets were cheaper, so it was easier to fill. They also have the advantage of being located inside shopping arcades, making food, entertainment, and shopping available to customers.
Then came laserdiscs, VCDs, and LP (long-play discs) that were essentially rented from shops, popping up in Macau like mushrooms. In 2000, the last ones standing were Cinema Alegria, Theatre of Macau (now called Cineteatro) and UA Theatres, now managed by Galaxy Macau. Alegria has survived due to its flexibility in terms of programming. Mainly a cinema hall, they also had theater pieces, Chinese opera, and other shows and rented out the place to other companies. 19 years have passed and these three companies still live on, with a great recent addition: a refurbished Capital Cinema. Standing in the same place where it was first inaugurated, it is up and ready to start hosting cultural activities again.
Victoria Theatre
Victoria Theatre (Teatro Vitória in Portuguese) was the first Macau cinema ever. Inaugurated on January 8, 1910, it screened its first movie the next day. It was firstly located at Calçada Oriental, where the screen was in the middle of the auditorium and seating on both sides: this meant people who bought cheaper tickets–behind the screen–saw the movie in reverse.
Its construction represents the start of a strong cultural movement: from then on, going to the movies became a popular activity for all Macau residents. It is also known for being the first sound-movie and stereoscopic-film cinema in the region. In 1921, the theater moved to a corner of busy Avenida de Almeida Ribeiro, and people entered through a small alley in Rua dos Mercadores.
In 1931, new equipment was added to enable the screening of sound movies. It didn't take long for the cinema hall to consider renovations due to obsolete equipment and bad hygiene, thus being renovated and reopening in 1935. This time, it was updated and transformed into a multi-facilities space, including a modern cinema, casino, a nightclub, and a restaurant. The first cinema in Macau closed its doors in November 1971 and was later demolished. The building is now Tai Fung Bank's main branch.
Apollo Theatre
Can you spot the Esprit store, right on Avenida de Almeida Ribeiro, close to Senado building? Yes, that's the location of the former Apollo Theatre, which opened in February 1935 and closed down not long ago, in 1993. This was one of the Macau cinemas with the longest life, all of them closing down before the 2000s.
The English language motion picture "The Merry Widow" was the first to be screened there. Apollo Theatre's building was highly recognizable due to the installation of a huge Coca-Cola advertisement neon bottle in it (as the photo above shows).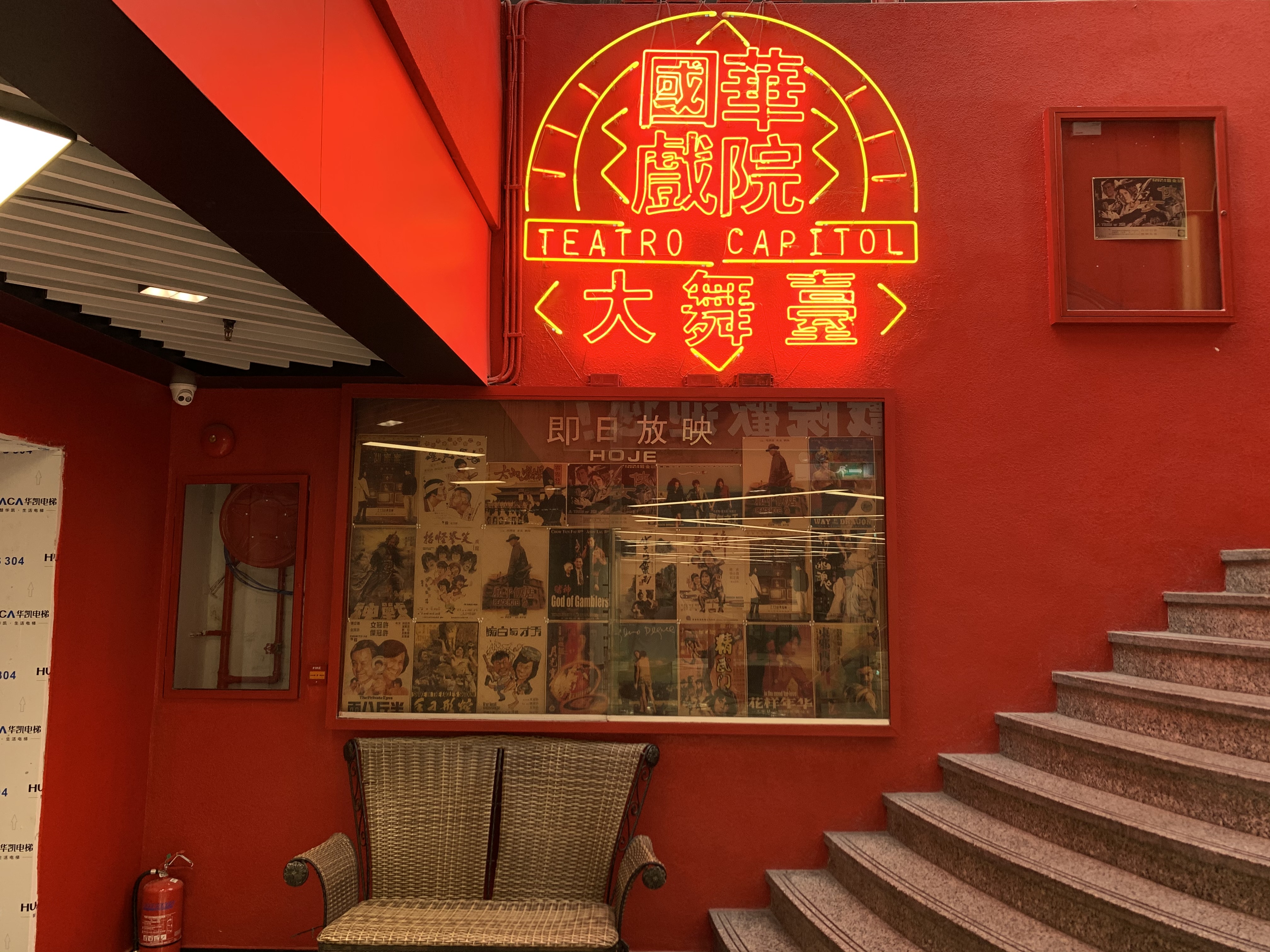 Capital Theatre
The only cinema to be listed on the government's cultural heritage list, Capital Theatre (located in a building known as Capitol) has been inactive for decades, until now (2019), when its management decided to refurbish it and restart showing movies there. Inaugurated in 1931 screening "The Love Parade", it had the capacity for more than 800 people. The building is still quite recognizable because of its particular façade: painted in bright red with an irregular pattern, it was built to match the style of the existing cinemas in Canton and Hong Kong during the first decades of the 20th century.
By the end of the 80s, Capital Theatre closed, while the structure was kept open and functioned as a shopping mall. In the 21st century, only the lower floors and basement were used, mainly to house a games arcade and some food stalls.
Alegria Theatre
It opened in February 1952 and still shows movies, which makes Alegria Theatre the oldest active cinema in Macau. Besides screening movies, they organize theater plays, Chinese opera shows and also rent their rooms for local associations to have events, including sports. This is probably how they were able to survive so many years through the numerous changes this industry suffered along the years.
The People's Republic of China had been created just three years before (1949) and the theater was built thanks to a group of rich men living in Macau: Ho Yin, Ma Man Kei and Chan Chek San–all of them with strong roots to the city and its history. Alegria Theatre was known for screening patriotic movies from China, Russia, North Korea and Vietnam, having been enlarged not long after its opening. It is said to be a great example of an Art Deco style cinema. The place was renovated in 2005 and it's still functional.
Nam Van Theatre
Once Macau's largest cinema hall, Nam Van Theatre opened in November 1964 and closed its doors in 1995, exactly where now sits The Macau Square shopping mall at the intersection of Avenida de Almeida Ribeiro with Rua do Dr. Pedro José Lobo. Its inaugural pieces were "The Big Business" and "Copacabana Palace", a pretty popular Italian comedy from 1962.
Nam Van Theatre's screen was the widest in town, which was complemented with a 1,600 seat auditorium. One relevant incident was a bomb exploding close to the theatre's screen, in the 70s, sometime after the managers were reportedly approached by local gang members.
Nan King Theatre
Located on the intersection between Rua de Cinco de Outubro and Rua do Visconde Paço de Arcos (close to Rua dos Mercadores, in the city center), Nan King Theatre was quite popular. Having opened in the 30s, it remained that way for almost three decades. The building featured a market of fresh goods at the lower level, with the cinema on top of it.
It is said that it came with great expectations of being of the most important cinema screening halls in town; unfortunately, it became just a neighborhood cinema, where people from that area would go to watch Chinese movies. It closed in the mid-50s to give place to another theater in 1956: the Workers' Entertainment Centre, which didn't have a regular screening schedule but did sell cheaper tickets. The site now remains empty.
Tags
Related Posts