The history of a city can be seen through its costumes, traditions, language, streets, and people, but also its architecture. The Portuguese arrived in Macau sometime in the 15th century, but the city had a life of its own before that. A trace of that are the dozens of temples built all around and here we have a story on some of the oldest buildings in Macau. 
Religious and warfare structures such as Buddhist temples, Catholic churches, and the fortress are undoubtedly some of the oldest in Macau, but there are others with stories worth sharing! Catholic churches and other European buildings are elements of a clear connection with the western world–Portuguese, Italian and Macanese architects, and engineers were responsible for bringing to Macau a scent of the other side of the world. That's why there are so many buildings resembling some in Lisbon or Oporto cities. Most have been modernized or refurbished and can be visited. Dive into some of Macau's oldest buildings and start planning your next historical visit!
A-Ma Temple, 1488
(See featured image above)
Built in 1488–during the Chinese Ming dynasty to commemorate and pay homage to Mazu, the sacred sea goddess, protector of the fishermen–this is one of Macau's oldest temples and buildings. Colorful, immense and full of history, it's a must-visit when in the city. Did you know it was also one of the first buildings to ever be photographed?
According to its history, Portuguese sailors arrived at the coast in front of the temple, asked what its name was and locals replied "A-maa-gok", meaning 'The Pavilion of the Mother'. The temple is divided into six sections: the Gate Pavilion, the Memorial Arch, the Prayer Hall, the Hall of Benevolence (the oldest part of the temple), the Hall of Guanine and Zhengjiao Chanlin–Buddhist Pavilion.
A-Ma Temple Barra Square, Macau
Also read: A-Ma Temple: Where it All Began
Also read: The Goddess and the City: The Legend Behind Macau's Name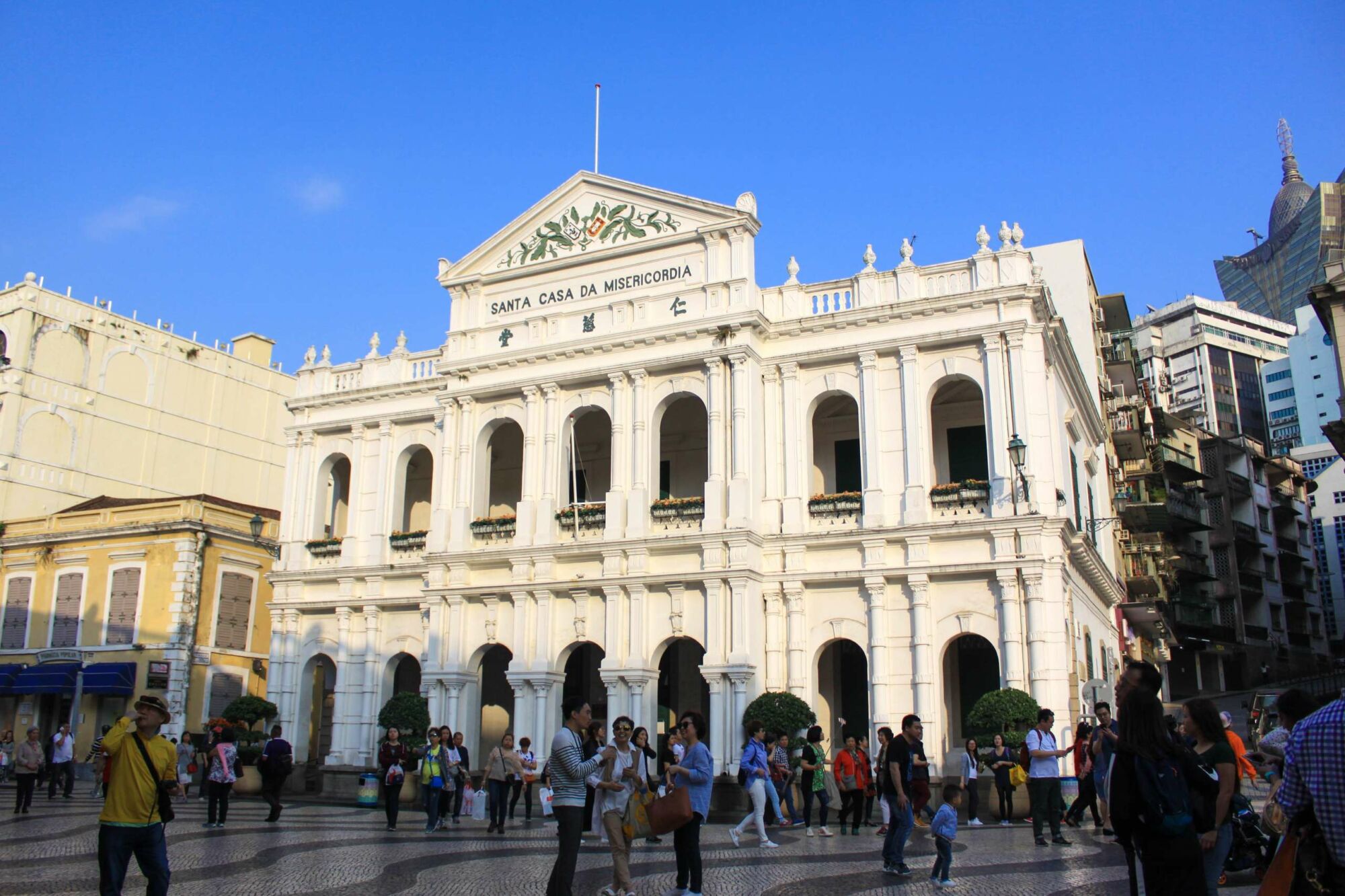 Holy House of Mercy, 1579
From 1579, this is one of the greatest traces of Catholic presence in the east and Macau. Located right in the middle of Senado Square, this impressive two-storey building is still being used as the Holy House of Mercy's headquarters. It was established as per requested of then Macau's bishop, Belchior Carneiro Leitão. The building is also a beautiful reminder of the Portuguese presence: painted white and full of European and Christian elements, it's a great way to get to know this culture.
The bishop arrived in Macau the previous year and immediately noticed a lack in the provision of social services for the less fortunate in town, hence the creation of the institution–which already existed in Portugal–in the city. For more information on this NGO, you can read more here on the 450-year-old history of this incredible building. 
Holy House of Mercy 7 Travessa da Misericórdia, Macau +853 2833 7503, www.scmm.mo
Also read: Macau Holy House of Mercy: 450 Years of Charitable History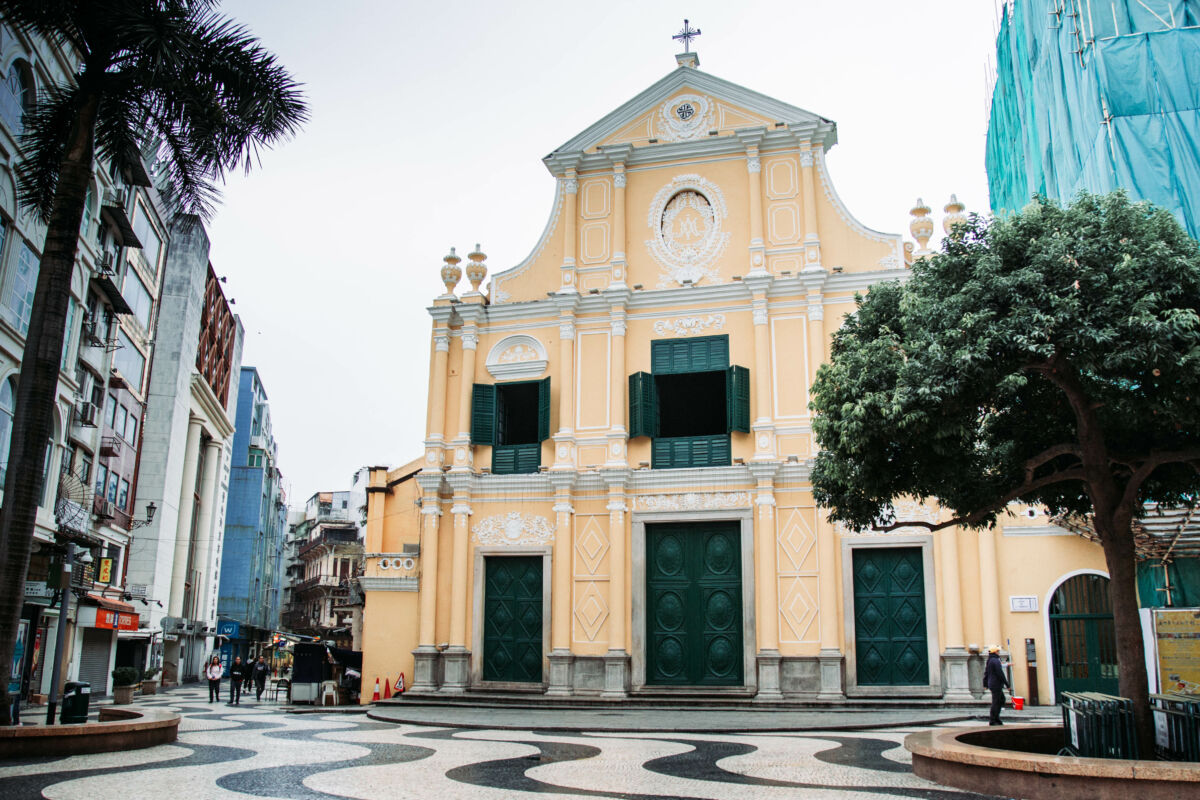 St. Dominic's Church, 1587
This one might surprise you: did you know that the yellow church in the middle of Senado was founded in the 16th century by Spanish friars from Mexico? Chinese locals call it "Pan Cheong Miu", which means wooden pagoda since its first version was made of this material. Also interesting is the fact the first Macau newspaper ever was published (called A Abelha da China, China's Bee), on September 1822. Painted yellow and green, it has a neoclassical aspect to it, as well as corinthian inspirational motifs.
With religious decoration and statues, its interior is mainly baroque and has several figures, namely Virgin Mary, Jesus, Christ, St. Dominic, among others. The church suffered from a termite-like plague, forcing its closure. It reopened in 1997 fully refurbished and modernized, now including a sacred art museum.
St. Dominic's Church St. Dominic's Square, Macau, www.wh.mo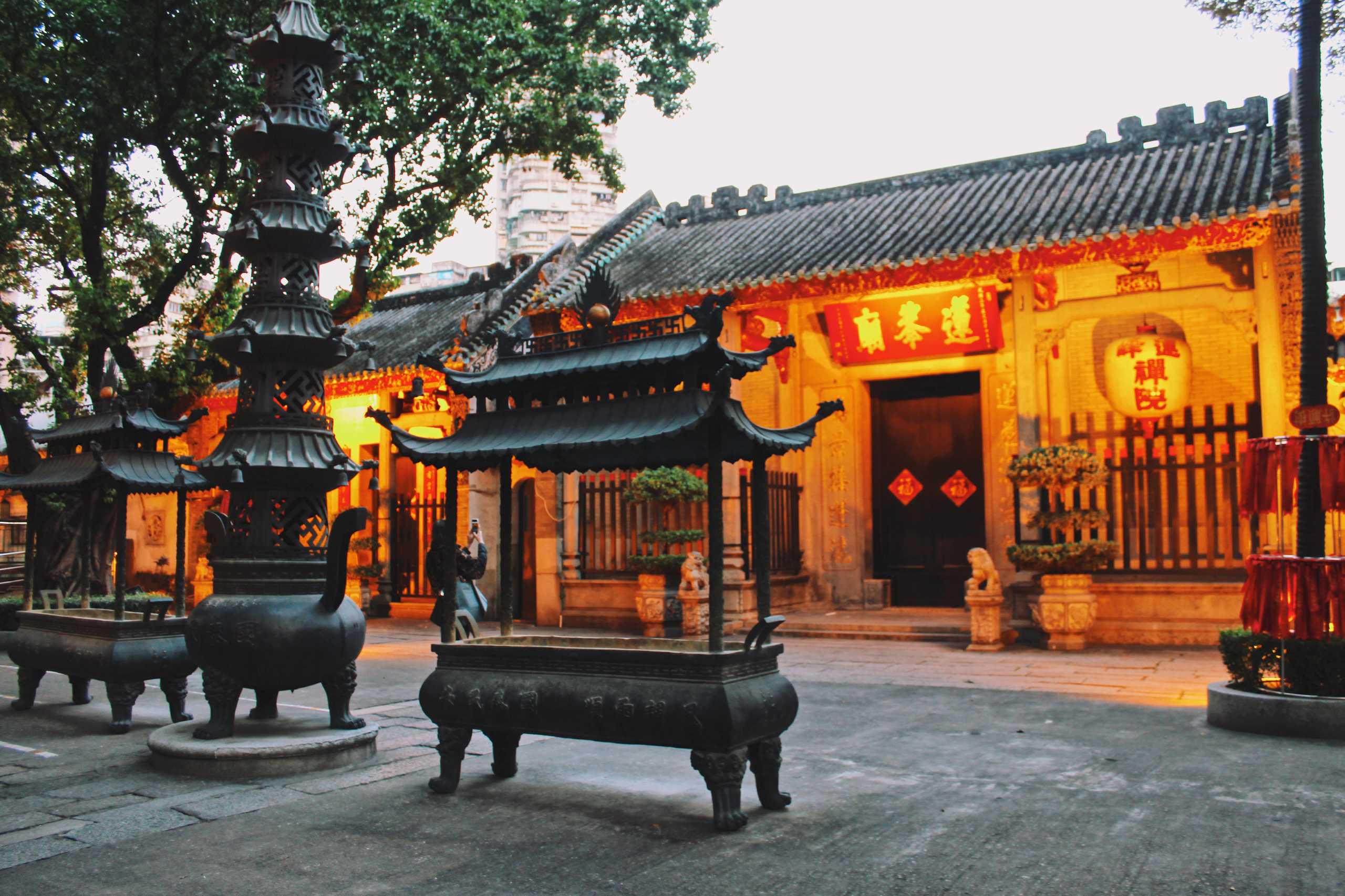 Lin Fong Temple, 1723
Lin Fong Temple was made possible–in 1723–due to the joint efforts of the Chinese government and local wealthy businessmen. It's one of Macau's three oldest Chinese temples. It has always been dedicated to deities Tin Hau and Kun Iam, but the name changed over time: originally called Palace Chi Hu, it then changed to New Temple of Nheong Ma, finally adopting its present denomination. Besides main chambers dedicated to Tin Hau and Kun Iam, smaller ones focus on other gods and goddesses: Kuan Tai (god of war and wealth), I Leng (god of medicine) Shen Nong (god of agriculture), and Kum Fa (goddess of golden flowers, patron of children).
However, this temple held more purposes than just worshipping: it was also thought to host Chinese officials who came to the region for work like it happened with Lam Chak Choi (envoy of the Emperor) and Canton's governor, Tang Teng Chen. Both visit Macau in the 19th century to meet with the Portuguese counterparts and stayed at Lin Fong Temple.
Lin Fong Temple Avenida do Almirante Lacerda, Macau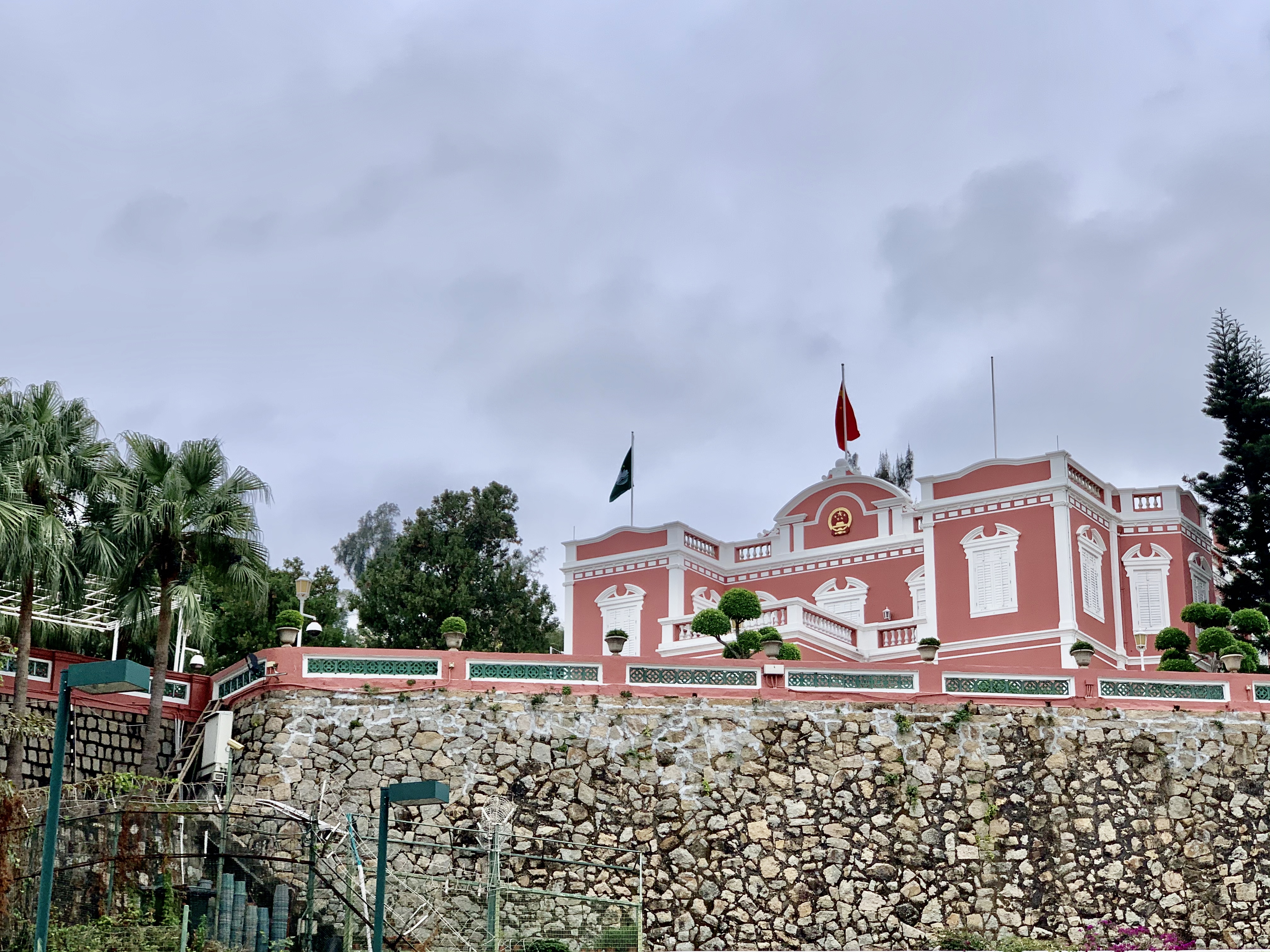 Santa Sancha Palace, 1846
Can you spot a bright pink two-story building on top of Penha Hill, overlooking the rest of the city? That's Santa Sancha Palace, presently used as Macau chief executives' residence. However, its history goes back to the mid-19th century: projected by architect José Agostinho Tomás de Aquino in 1846, it was part of local Cercal's family estate, but also served other purposes.
Besides having been a children's hospital, public services and more. In 1983, English opium trader, Herbert Fullarton Dent, bought the property. Most Macau Portuguese governors chose Santa Sancha as their main residence.
Santa Sancha Palace Estrada de Santa Sancha, Macau
Also read: Santa Sancha Palace: Abode of Barons, Governors & Chief Executives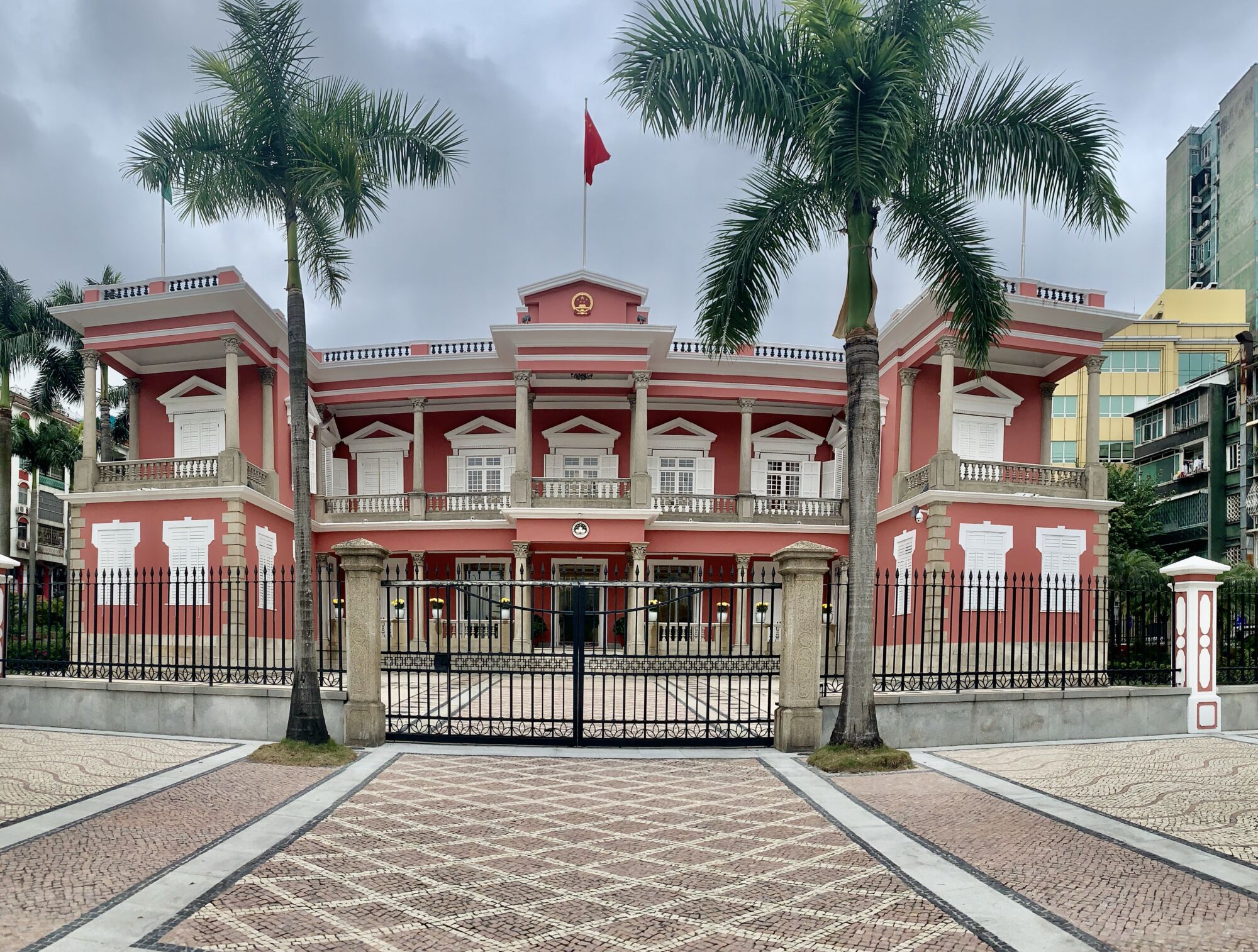 Macau Government Headquarters (Praia Grande Palace), 1849
Also built by Tomás de Aquino, the emblematic pink building standing tall in the middle of Praia Grande avenue and overlooking Nam Van Lakes, was built in 1849 by request of the Baron of Cercal. The structure is very similar to Santa Sancha Palace: also pink and with the same exterior architecture, it's built in a Pombaline style, very popular in Portugal during the 18th and 19th centuries.
People who lived in Macau up until the 90s, knew this building as the Governor's Palace, as it was the Macau leaders' official office. It's now the official headquarters of the local government. Its interiors can be visited once a year, usually on an October weekend.
Macau Government Headquarters Sede do Governo da RAEM, Avenida da Praia Grande, Macau, +853 2856 5555 / 2872 6886, www.sasg.gov.mo
Also read: A Brief History of Macau's Government Headquarters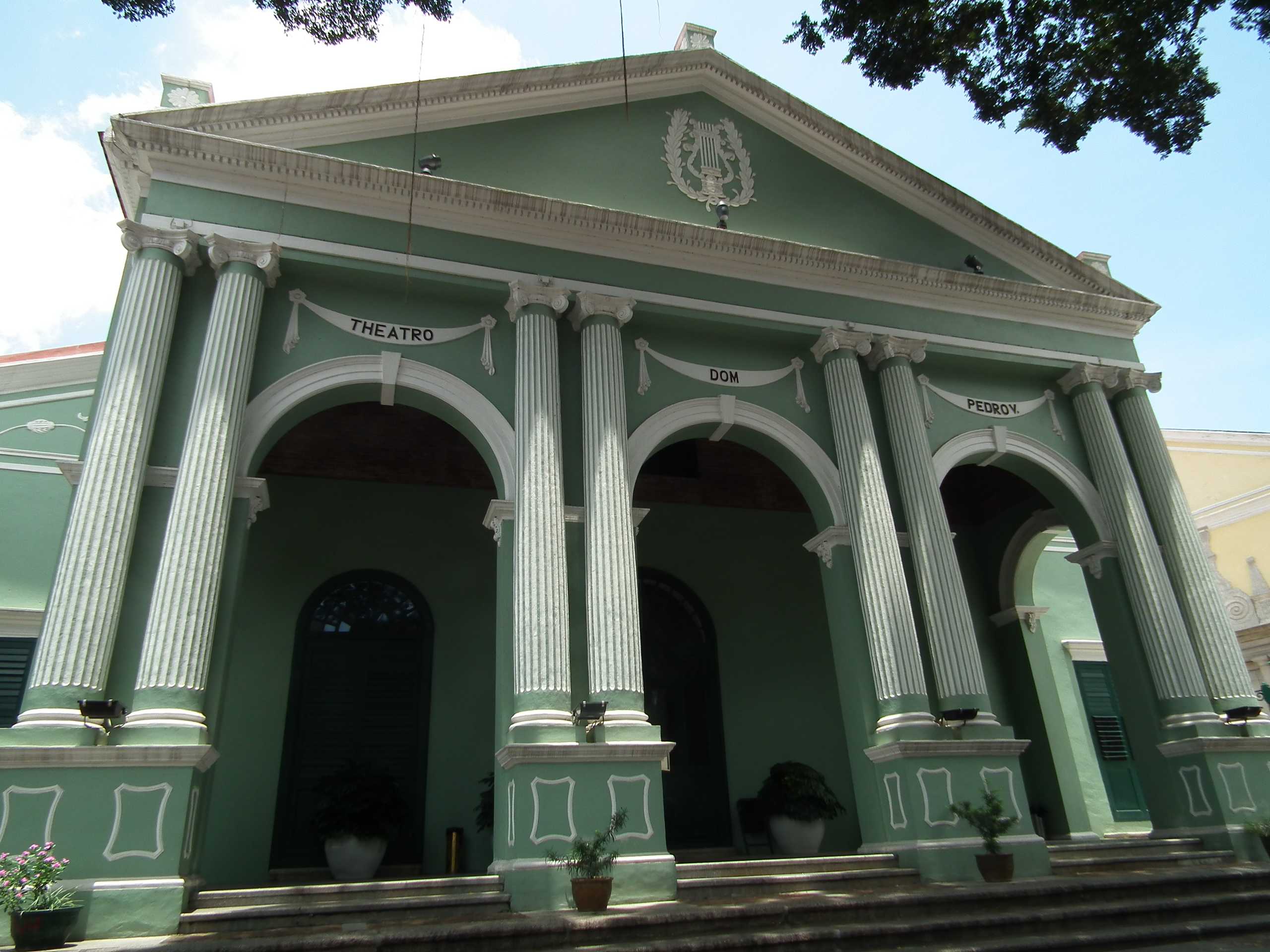 Dom Pedro V Theatre, 1860
Painted light green, with Portuguese inscriptions on top and a well-preserved interior, Dom Pedro V is one of Macau's most beautiful halls. Erected in 1860 with a draft by Portuguese architect Pedro Germano Marques, it's known as one of China's first western-style theaters. Hosting all kinds of shows including classical music concerts, plays, Cantonese opera and cabarets, it was highly frequented by Portuguese and Macanese middle and upper-class individuals, including some well-known families.
Its neoclassical style, the crystal lamp at the entrance, the velvet seats and the vintage stage takes us back to feathered dresses, colonial stories and a great sense of nostalgia rarely found in Macau nowadays. The building is included in UNESCO's list of Macau's historical heritage.
Dom Pedro V Theatre Largo de Santo Agostinho, Macau, www.wh.mo/theatre
Also read: Dom Pedro V Theatre: China's First Western Theater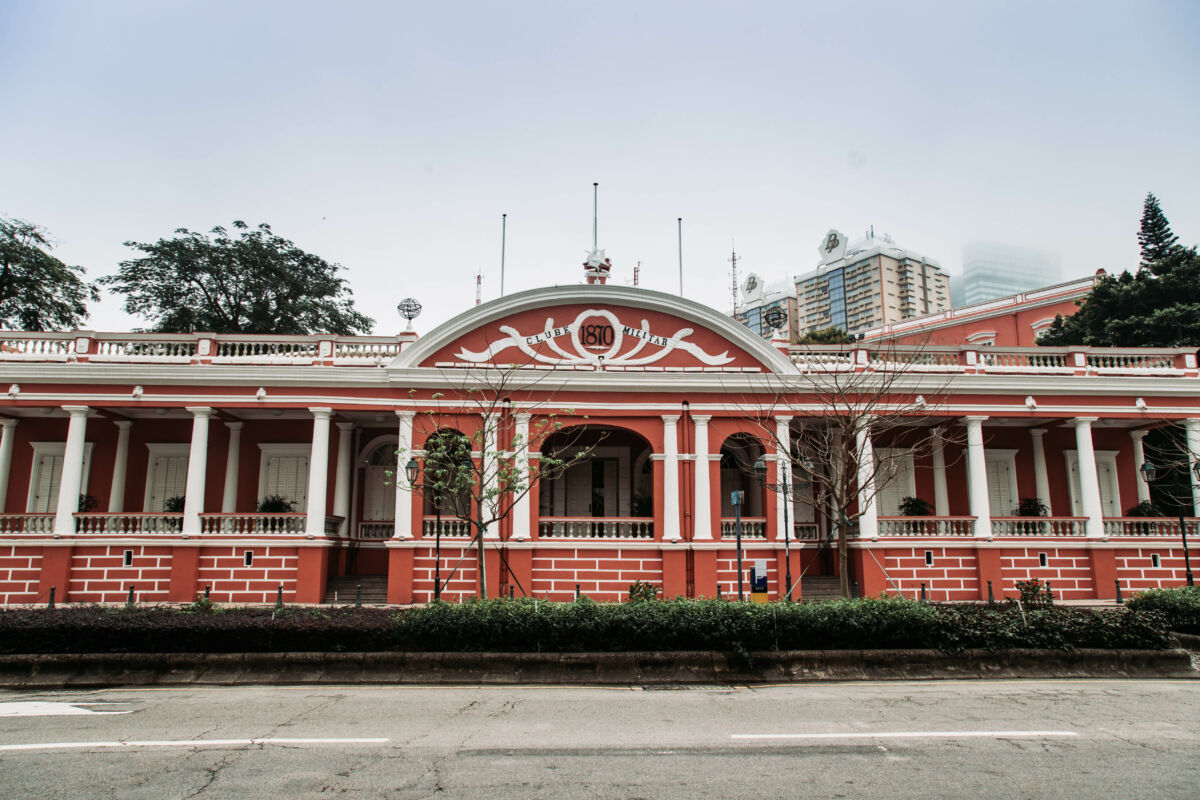 Macau Military Club, 1870
The Macau Military Club is yet another very pink Portuguese building situated in the city center. The project–by the Baron of Cercal–is also neoclassical and was inaugurated in April, 1870. At first, it was only opened for military men, later letting in public servants as well. However, the Pacific War prompted Macau to become a sheltering area for war refugees, although it was neutral territory. Thus, the then Military Fraternity was used to shelter these people. This building was also used as a public service office. It wasn't until 1951 that the fraternity went back to being a members-only organization. In the 50s, it changed its name to "club", remaining so until today.
This is also a place where one can feel a certain nostalgia of bygone times. Before entering the dining room, notice a disclaimer on your right side: a paper letting visitors know what kind of clothing is appropriate to wear at the club. Pretty fancy, right? You can become a member of this club–which used to be quite exclusive, by the way–and enjoy discounted meals, play bridge with your friends on proper tables or just chill in the living room while sipping a hot coffee.
Macau Military Club 975 Avenida da Praia Grande, Macau
Also read: Dine in One of Macau's Most Historic Buildings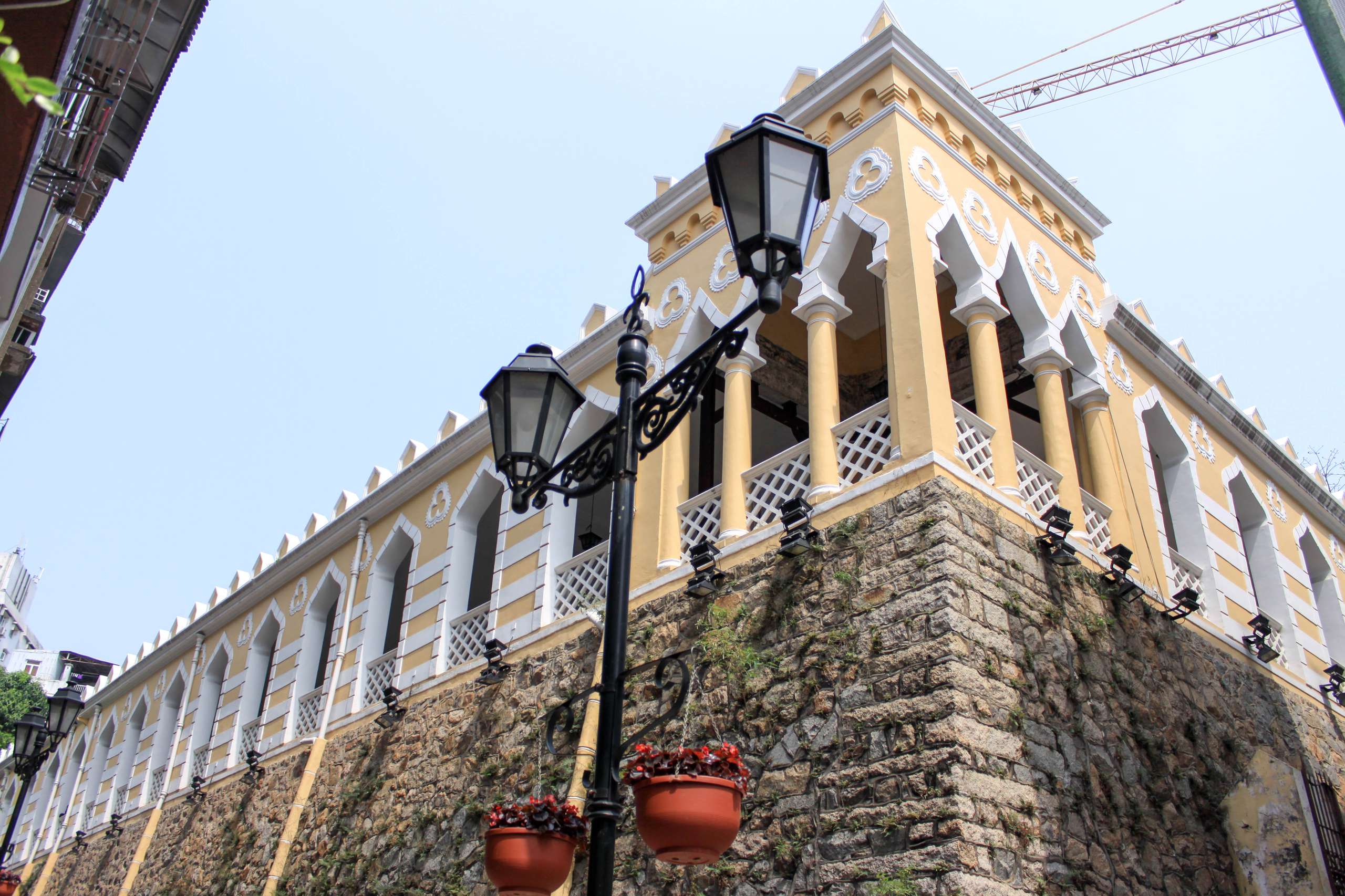 Moorish Barracks, 1874
Dating back to 1874, this neoclassical structure was created to house a military regiment previously stationed in Goa, India. The project has been credited to Italian architect Cassuto, who remains quite unknown. It is also part of UNESCO's preserved heritage list.
Painted in bright yellow, its interiors cannot be visited, but it's worth heading to the terraced area, as well as the surroundings, which were revamped and now have a beautiful modern staircase leading to the city center. It also served as the local Port Authority office, currently housing the Macau government's Marine and Water Bureau. To learn more about this historical building, check our article on it.
Moorish Barracks Calçada da Barra, Macau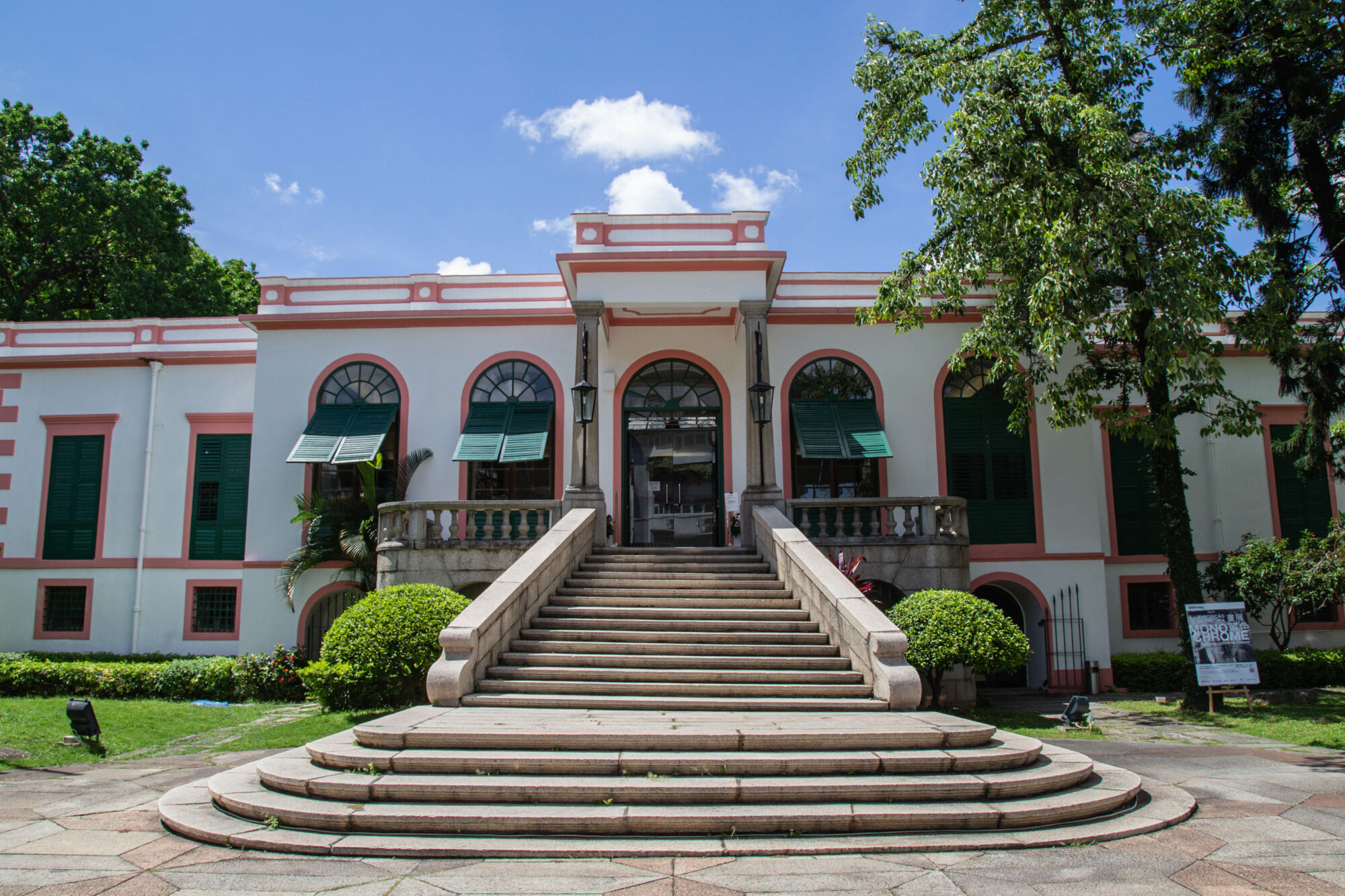 Casa Garden, 1770
From 1770, this colonial-like villa used to house the headquarters of the British East India Company, now serving the same purpose for the Orient Foundation, where the organization hosts cultural and social events, also having a residence where artists and such can stay upon invitation.
Portuguese merchant Manuel Pereira is believed to have been one of Casa Garden's first owners, later being rented out to William Fitzhugh, who then established the trading company. In 1885, the Portuguese government bought this land and in 1937, Luís de Camões Museum was established there. The present aspect of the building is a project by Macanese architect, Carlos Marreiros. The surroundings also include a beautiful lake, the residences' structure in the back and Macau Protestant Cemetery.
Casa Garden 13 Praça de Luís de Camões, Macau
Also read: Casa Garden: Home for Counts, Merchants & the Orient Foundation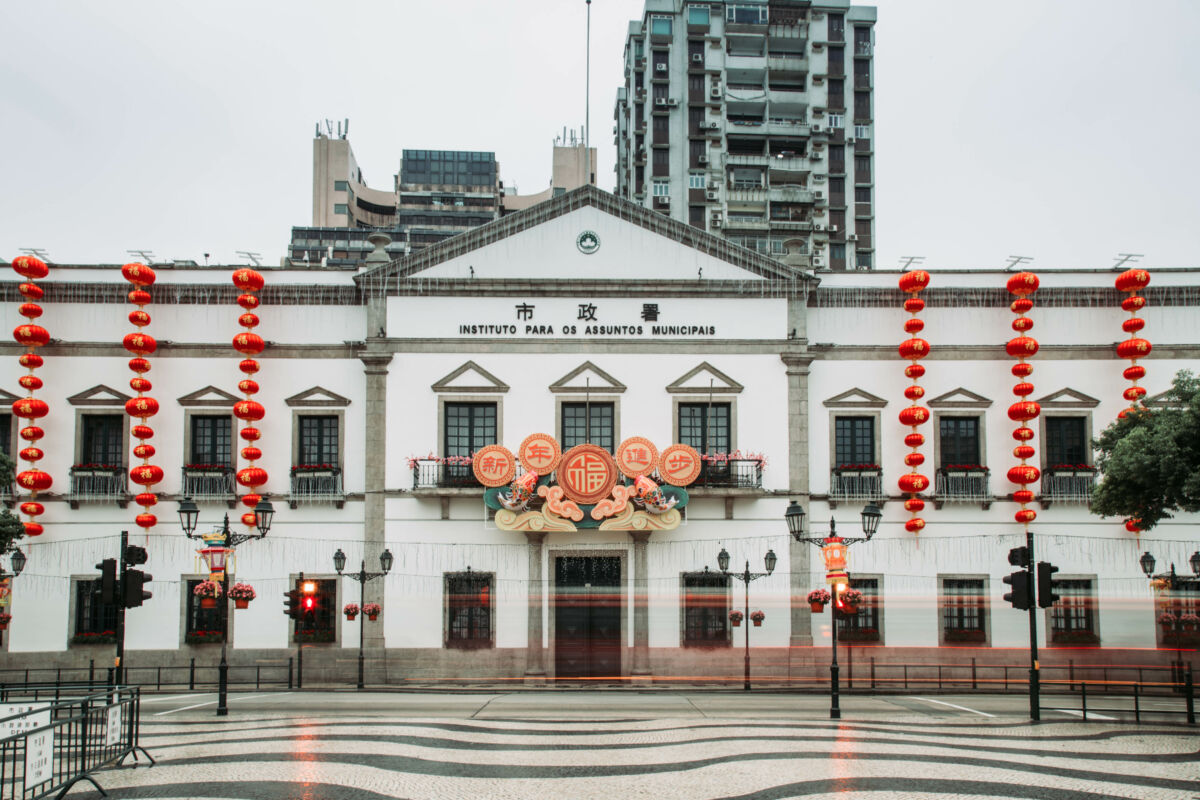 Leal Senado, 1784
Popular Senado Square (San Ma Lou in Cantonese) is named after the building proudly standing on the left-hand side of Almeida Ribeiro avenue. Its history dates back to the 16th century and you might not know this, but bishop Belchior Carneiro Leitão is related to it. The building started with the same purpose it now has: housing the city's municipal chamber. Founded in 1784, its literal meaning reads "Loyal Senate", named so because of the description Portuguese king D. João IV gave of Macau (in 1654): "City of the Name of God of Macau, The Loyalest of All". But why loyal? The king was exiled in Brazil and Macau still remained its loyalty to the monarch.
The building's main entrance is decorated with doric-style columns and French-style windows. The first floor is comprised by a big hall followed by a small chapel and one of the greatest libraries in the city: strongly inspired by Mafra Convent's library (one of the most well-known ones in Portugal and Europe due to its size and number of books), it includes antique manuscripts and books, as well as other relics worth seeing.
Leal Senado 163 Avenida Almeida Ribeiro, Macau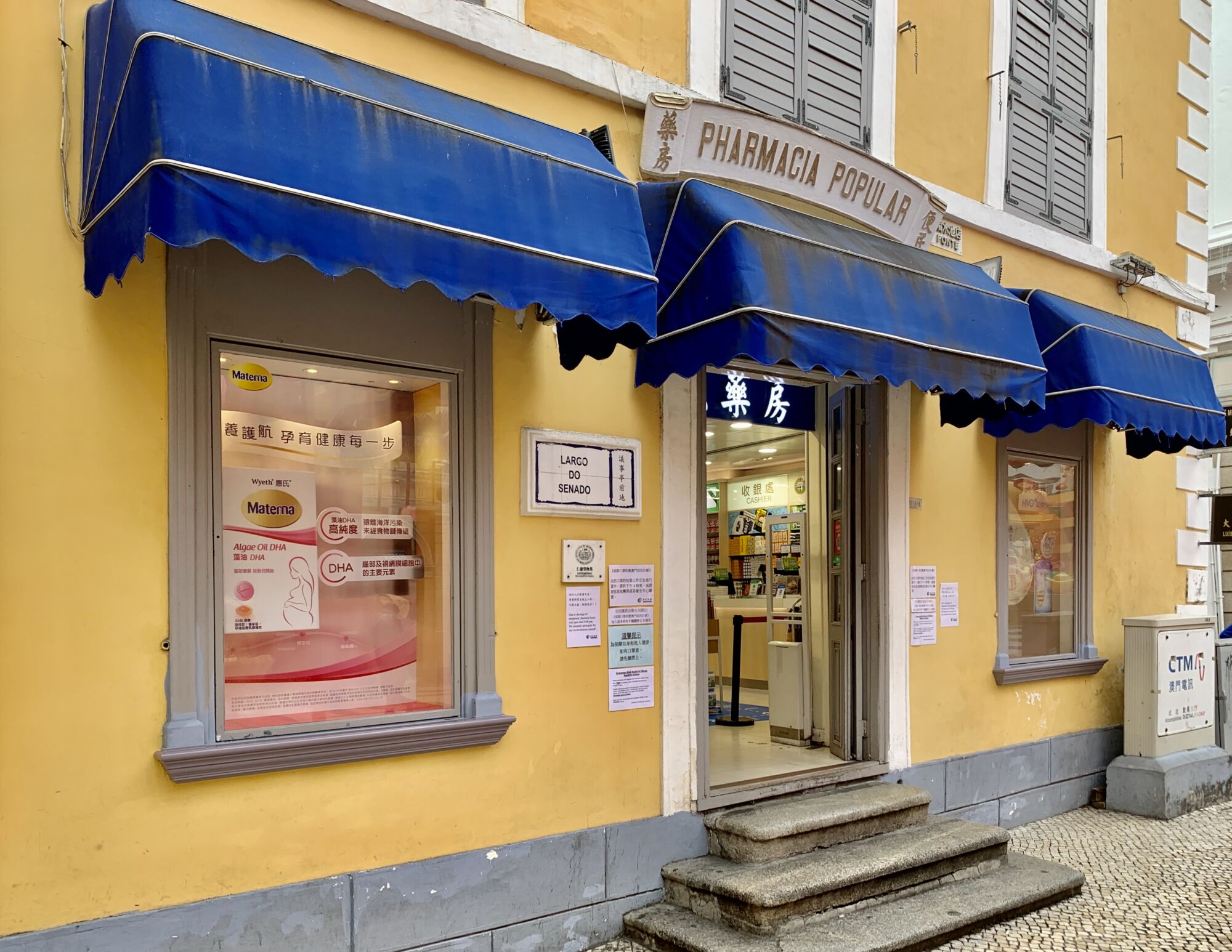 Farmácia Popular (Popular Pharmacy), 1895
If you walk towards the Ruins of St. Paul's, you'll have Farmácia Popular on your right. Founded in 1895 by pharmacist and lawyer Henrique Maria Nolasco da Silva, this was the first-ever pharmacy in the city and still offers the same services as before. The building remains unchanged: painted in bright yellow, with grey colored wooden window shutters. Two-stories high, it fits perfectly with its surroundings: on the left side, the Holy House of Mercy and then all the shops and restaurants denoting the evolution the city has undergone throughout the years.
Popular Pharmacy now belongs to Grupo Popular of the HN Group Limited, a group that owns several other pharmacies and healthcare services in Macau. This was the first pharmacy offering western consultations by Portuguese pharmacists. At the time, Chinese medicine was the one people sought most.
Farmácia Popular 16 Senado Square, Macau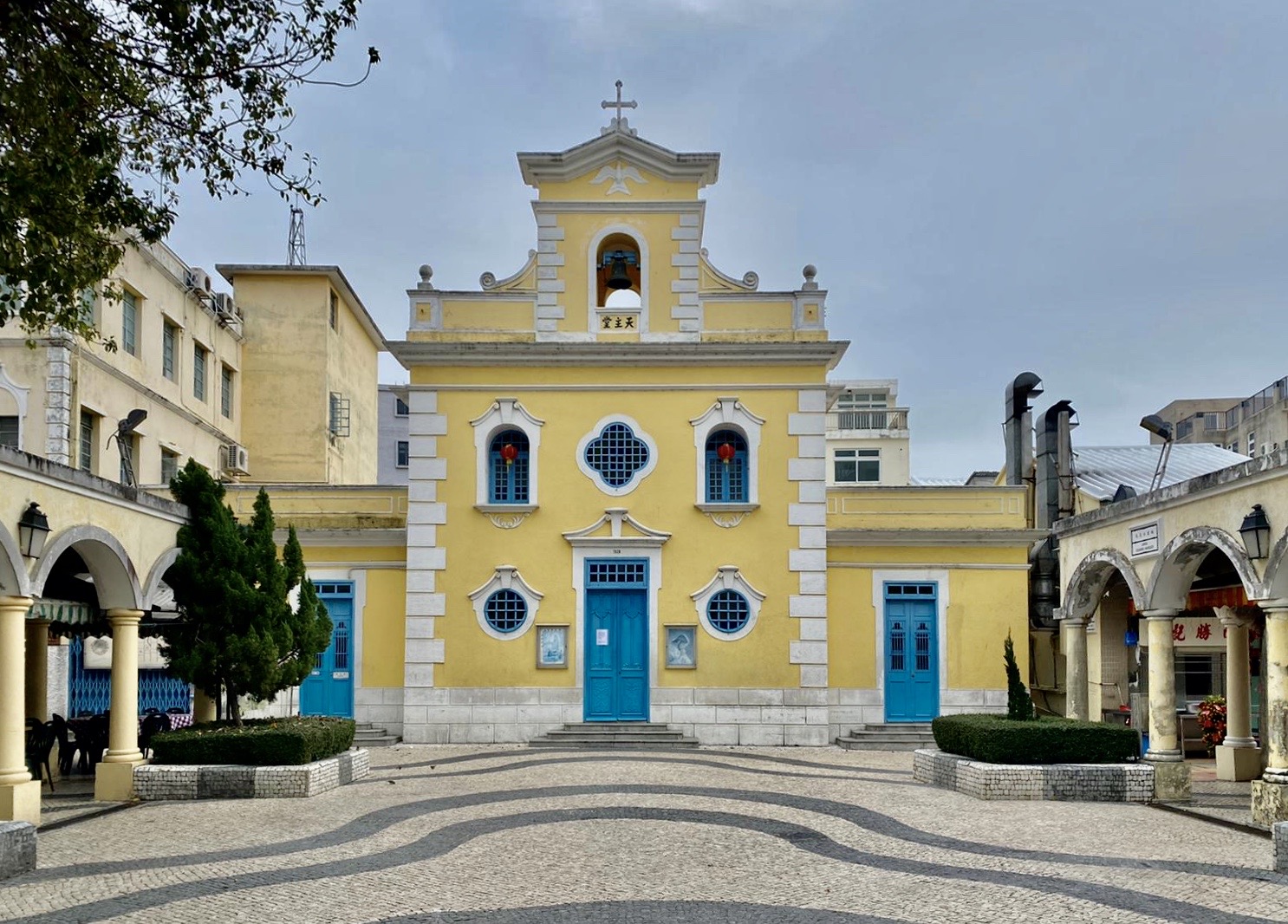 Chapel of St. Francis Xavier (Coloane) – 1928
Set in a square in the middle of Coloane village, this is one of Macau's most colorful and beautiful churches. Built in 1928 in a European style, it's painted bright yellow and blue on the outside and bears a rich and interesting history. The church was built in celebration of the victory of locals against sea pirates in 1910. It used to include the remains of almost three dozen Catholic priests who were crucified in Nagasaki in the mid-20th century.
A bone of St. Francis Xavier himself was also housed in this church until it was moved to St. Joseph's Church. The yellow and blue building is one of Coloane's most emblematic structures, which attracts hundreds of tourists and Catholics to the area for photographs and praying. Set close to a popular local restaurant–Nga Tim–and the seafront, it's ideal for a weekend visit and a relaxing time.
Chapel of St. Francis Xavier Rua do Caetano/Largo Eduardo Marques, Coloane Village
Tags
Related Posts