Source: Wikimedia Commons
Macau is a city of balance with the hustle and bustle of the city center contrasted with lush green gardens that offer a peaceful respite. Here, we take a look into Macau's must-visit gardens, some in the peninsula, and others in Taipa. Go on a tour of the beautiful green gardens of Macau and see a different side of this wonderful city. You won't regret it!
Flora Garden
(See featured image above)
First up is Flora Garden, one of Macau's biggest and most interesting gardens. Inaugurated in 1959, it has several animal and plant species to visit and learn about, occupying an area of almost 20 kilometres. Sitting high up in Flora Hill, there are two ways to get up there: you can either walk or take the cable car (which is pretty cute, by the way). Its location allows astonishing views of the city from different angles, but it's also a great place to jog, run or hang out with friends.
There are also some sports equipment and fields. Check online for availability for these and you might be able to catch a Macau sunset while exercising. Located at Guia Hill's foothill, there is a pathway leading to the lighthouse, which is unfortunately usually closed (it only opens during certain periods). The garden used to be part of a Portuguese mansion, the Flora Palace.
Opening hours: Daily, 6:00am–8:30pm
Flora Garden Avenida do Sidónio Pais, Macau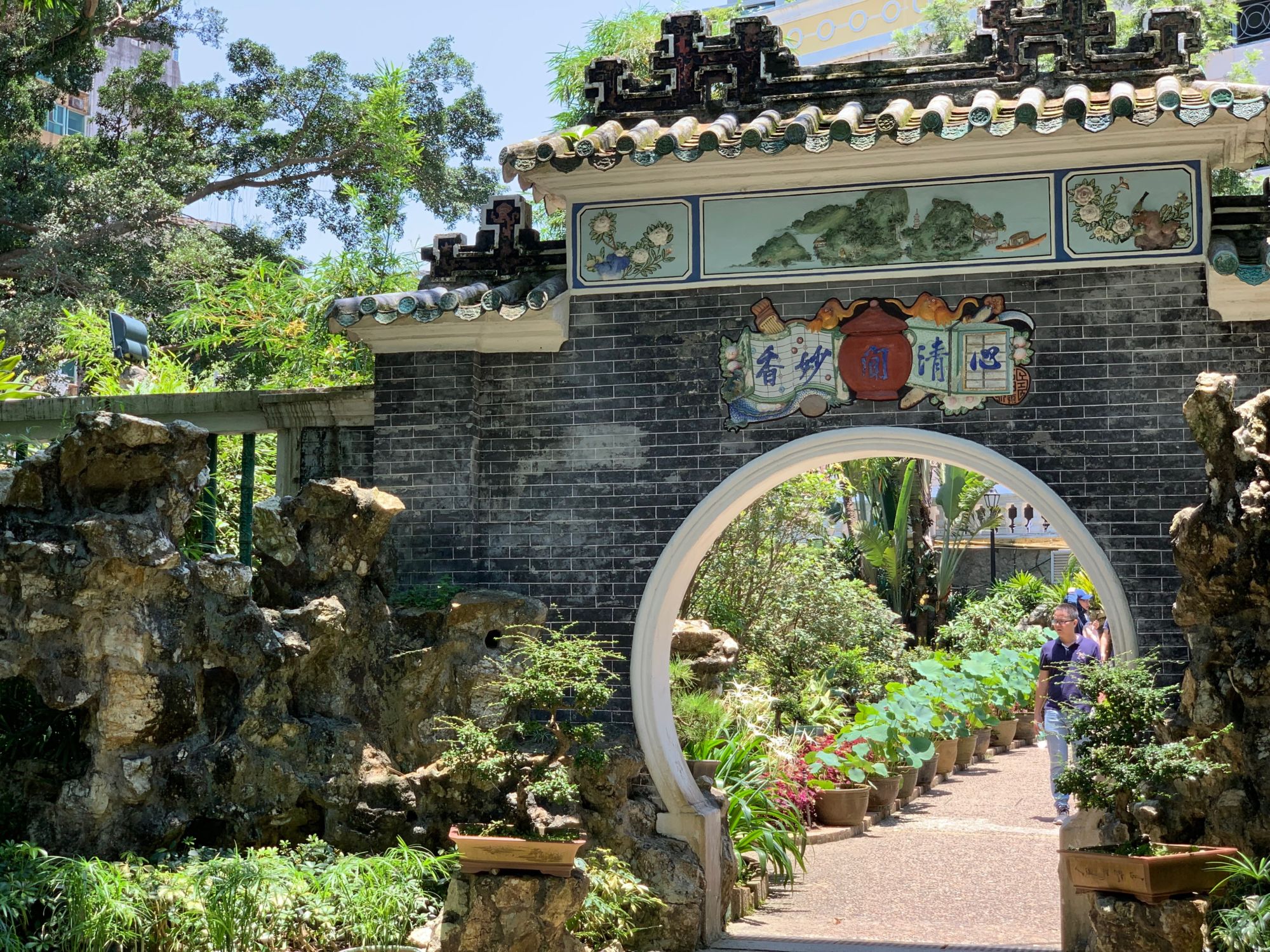 Lou Lim Ieoc Garden
It's almost magical the feeling one has once inside this garden: although located right in the city center, with lots of traffic and shops within its surroundings, Lou Lim Ieoc Garden has a calm atmosphere and one can feel the fresh air in here. Featuring lots of interesting things such as an art gallery, beautiful bridges painted in bright red (same as the benches along the way), large ponds with fish, little pagodas and a mini-collection of bonsais, this place is a landmark in Macau's contemporary life, but also its history.
In Chinese, the garden is called Lou Kau (or Lou Cau) Garden and has a curious past, linked to the 19th century: the garden was named after one of Macau's most relevant figures. The 19th-century Chinese merchant, Lou Kau was the first to ever own a gaming monopoly in the city. Want to know more about the history of this place? Check out our article on it here!
Opening hours: Daily, 6:00am–00:00am
Lou Lim Ieoc Garden 10, Estrada de Adolfo Loureiro, Macau
Also read: Lou Lim Ieoc: The Garden With a Troubled History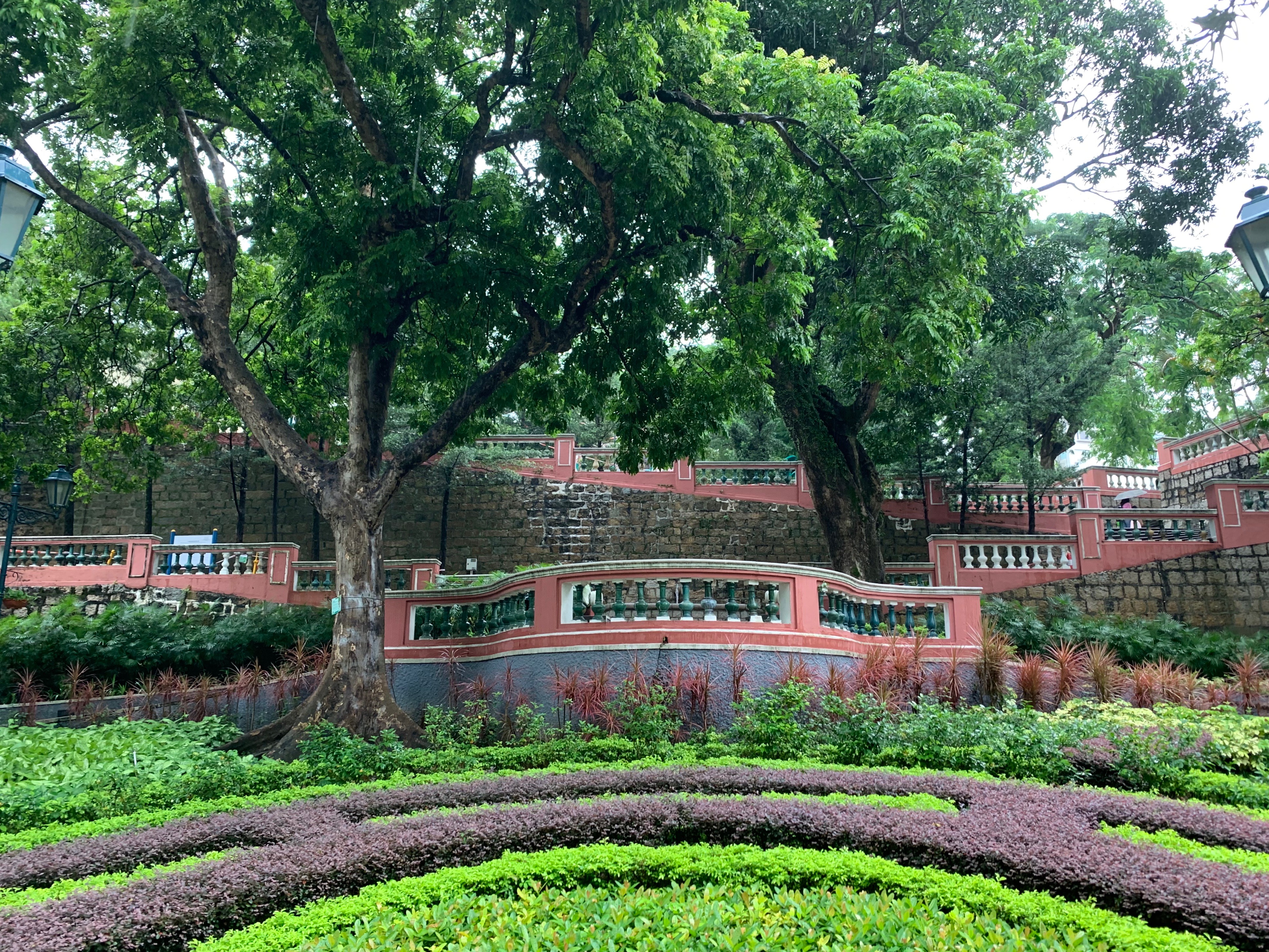 S. Francisco Garden
Arts Garden
Inaugurated in 1999, the Arts Garden got its name from the array of statues it has along its path. Amongst them is Adé dos Santos Ferreira (a Macanese poet) by Carlos Marreiros, Luís Gonzaga Gomes, Zheng Guanying and also Portuguese writer Camilo Pessanha. Besides these art pieces, there is also a children's playground, several benches to relax on and many different plant species to see.
Although much more "urban" when compared to others on this list, Arts Garden is just as beautiful. Surrounded by casinos and hotels, it shows a different perspective of the city within a relaxing atmosphere. Surrounded by the memory of notable local artists, it's easy to overlook the hustle, bustle and bright lights of Macau. Try heading there at sunset and capture some nighttime shots of the city as well!
Comendador Ho Yin Garden
With contemporary architecture and design, this garden is one of our favorites across town. Spread across NAPE, it leads the way to Kun Iam's statue and features benches along the way, but also swaths of grass, beautiful ponds, shade, chess tables, a tiny café, and even a library! Trees beautify the pathway, which is finished with Portuguese stones. If you look up, you'll see residential and office buildings on both sides of the garden. Easily accessible, it is some of the locals' first choice to chill, read the newspaper, or simply relax in the shade.
This garden is part of Dr. Carlos d'Assumpção garden, even though both have very distinctive features. Opened to the public in 1993, it pays homage to deceased Macau Chinese community leader, Ho Yin. He was crucial in the diplomatic dealings between the People's Republic of China and the Portuguese regime (from 1933 to 1974) of Estado Novo. Ho Yin died in 1983.
Opening hours: Daily, 6:00am–11:00pm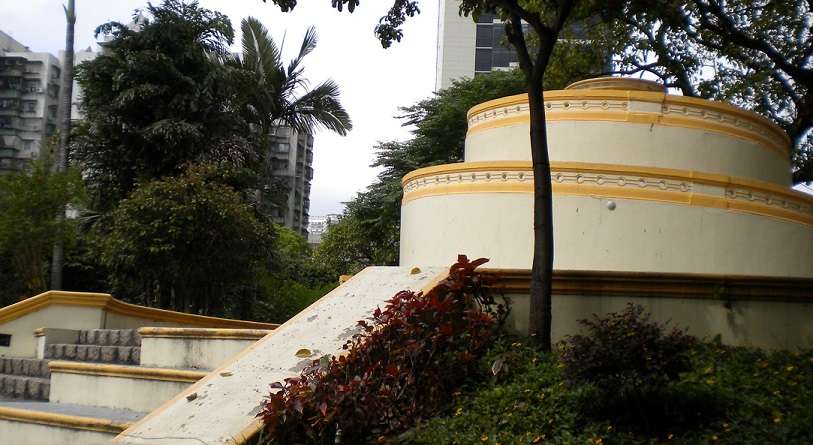 Montanha Russa Garden
Situated on a hill close to Dom Bosco College, this is a beautiful and incredibly secluded park. The name is inspired by a spiral-like path that ends at the top of the garden. It is a place favored by lovers and elderly people looking for some peace and quiet. There are lots of trees and plants here properly labeled in both Latin and Chinese for those who are interested.
Remember to take your camera with you to take great shots from high above! There is also a very quaint little café that serves snacks, desserts, and beverages.
Mount Fortress Garden
Surrounding the Macao Museum and stretching almost until the Ruins of St. Paul, this is one of Macau's most minimalist gardens. Although with fewer details and fine architecture, there is loads of history there. Old cannons point to the city from inside the park and once upon a time were used to protect the city in case of an attack. The breathtaking view is surely worth the steep climb one has to do to reach it.
It was one of Macau's first militarized areas: the Society of Jesus erected it to defend São Paulo Mount during the start of the 17th century. This, plus St. Paul College and Church, were known as Macau's "acropolis" and was the city's main defensive structure, especially during the Netherlands invasion of 1622. The nicest part of this garden is its lighting made of natural shade and trees, but also the 360º view of Macau one can capture from up above.
Opening hours: 24-hours
Mount Fortress Garden Rua do Monte, Macau
Also read: 5 Original Museums in Macau
Luís de Camões Garden
Set beside Casa Garden, this one is definitely a must-visit in Macau. Spread across a large area, it goes up a hill, leading the way to ravishing views of old Macau. This place is popular with high schoolers and the elderly looking to exercise with tai chi and others. The garden is huge, so be sure to have those legs made for walking!
With an impressive array of rare trees and plants, it also features a pagoda and a grotto in honor of famous Portuguese poet, Luís de Camões. In the 18th century, what now is the garden was part of the British East India Company's land, which also included Casa Garden and the Protestant Cemetery. The Chinese pavilion, stone tables, and stools were also put there, where local men gather to play Chinese chess and take a nap from time to time.
Opening hours: Daily, 6:00am–10:00pm
Luís de Camões Garden Praça de Luís de Camões, Macau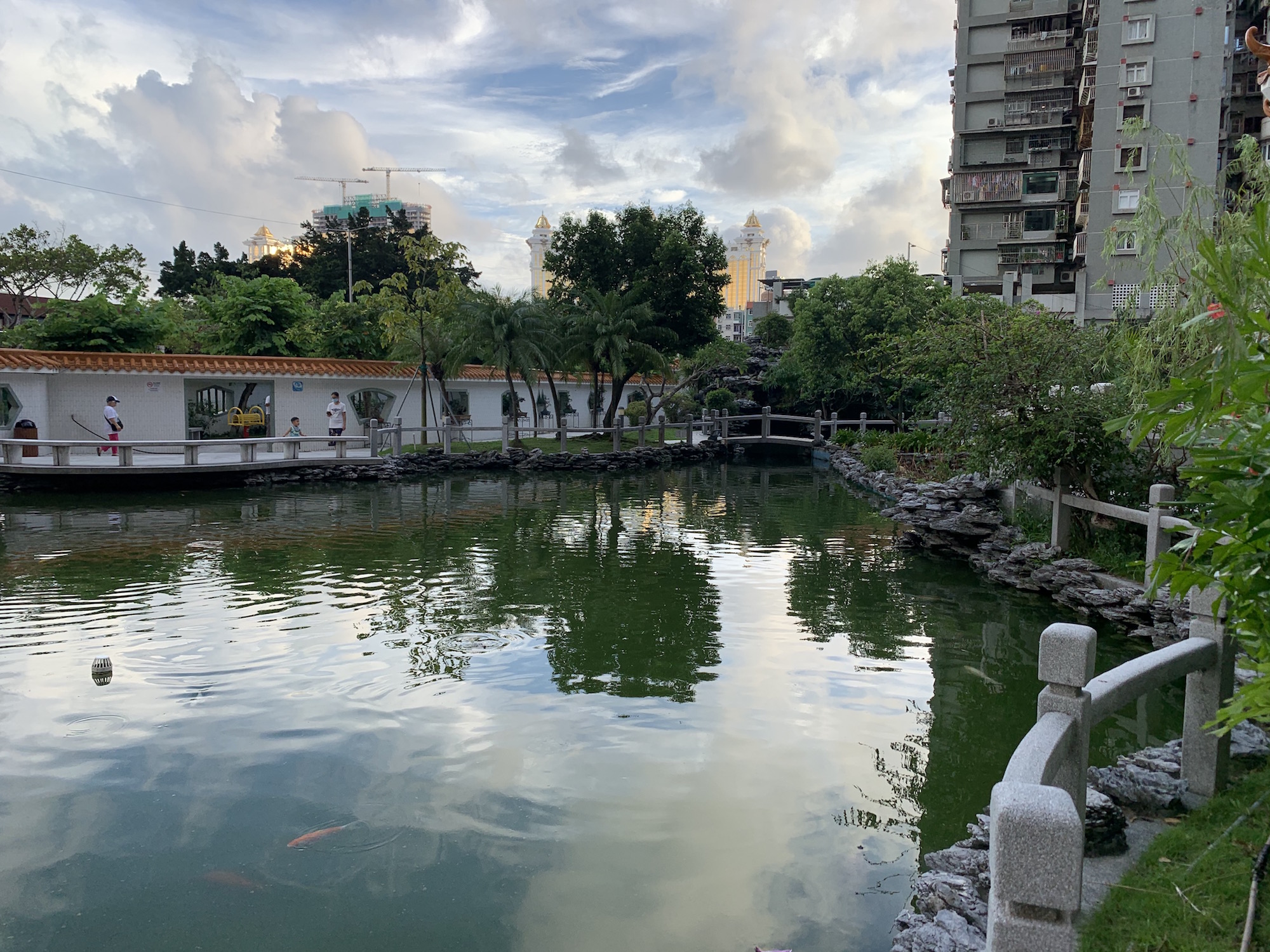 Garden of Flower City
The smallest of the gardens listed here, this one is located in the middle of Taipa and its best feature is a zigzag bridge that crosses the whole garden. There is a lake that, even though it isn't exactly clear, it's nice to photograph. Be bold and experiment with different camera angles, with and without the bridge. The whole park looks like a labyrinth with traditional lotus ponds and small Chinese-style pavilions, a children's playground, and a skating and scooter area.
Opening hours: Daily, 6:00am–10:00pm
Garden of Flower City Rua de Évora, Taipa
Seac Pai Van Park
Three Portuguese men (Jorge Cruz Galego, Álvaro Prata Mendes and Arnaldo Alves Leal) will stay in the territory's history forever. In 1986/87, they were the first ones to fly from Portugal to Macau. Seac Pai Van Garden greets visitors with the plane used for this trip. The light Sagres aircraft stands right at the entrance. The park used to have a restaurant, very popular amongst the Portuguese and usually quite full on weekends and when the weather was good.
Nowadays, it is crowded with local families and tourists due to its main attraction–pandas! If you are interested in seeing one, this is your chance. The indoors Macao Giant Panda Pavilion is located inside the park and free entry. There are also other animals to check out since it is also considered to be the region's biggest zoo with Seac Pai Van Park covering an area of almost 20 square kilometers.
Opening hours: Seac Pai Van Park, Garden of Medicinal Plants & Garden of Exotic Plants – 8:00am–6:00pm
Macao Giant Panda Pavilion & Pavilion of Rare Animals– 10:00am–1:00pm and 2:00pm–5:00pm (Tuesday– Sunday)
Reptile Zone, Macao Giant Panda Information Centre & Natural and Agrarian Museum – 10:00am–5:00pm (Tuesday–Sunday)
Macao Giant Panda Gift Shop – 9:30am–5:30pm
Seac Pai Van Park Estrada de Seac Pai Van, Macau
Tags
Related Posts