While some like their whiskey straight or on the rocks, preferably enjoyed at a private mansion in front of a fireplace or at least at a fancy lounge bar, others go crazy for whiskey-based cocktails. Among the mixology classics, there are plenty of concoctions with that caramel-colored liquor as its main ingredient: the Old Fashioned, Whiskey Sour, Sazerac, or Manhattan, to name a few. We found some interesting combinations at Macau bars that deserve your attention so time to paint the town red. 
Tastemaker at The St. Regis Bar Macao
(See featured image)
Laphroaig 10 years, lemon juice, ginger syrup, thyme
When you wish to experience New York vibes and travel back to The Prohibition era, but with more quality liquors, head to The St. Regis Bar Macao. Their bartenders perfected the craft of mixology and presentation. Add live jazz and flawless service to that and here you have a recipe for one of the best drinking establishments in town. Check their signature cocktails from the Art of Concoction menu, such as the Tastemaker, a whiskey sour-like drink spiced up with a tangy note of ginger and aromatic thyme.
The St. Regis Bar Macao 2F,The St. Regis Macao, The Londoner Macao, Estrada do Istmo, s/n, Cotai, +853 2882 8898, www.thestregisbarmacao.com
Also read: The St. Regis Bar Macao: The Hottest Spot in Town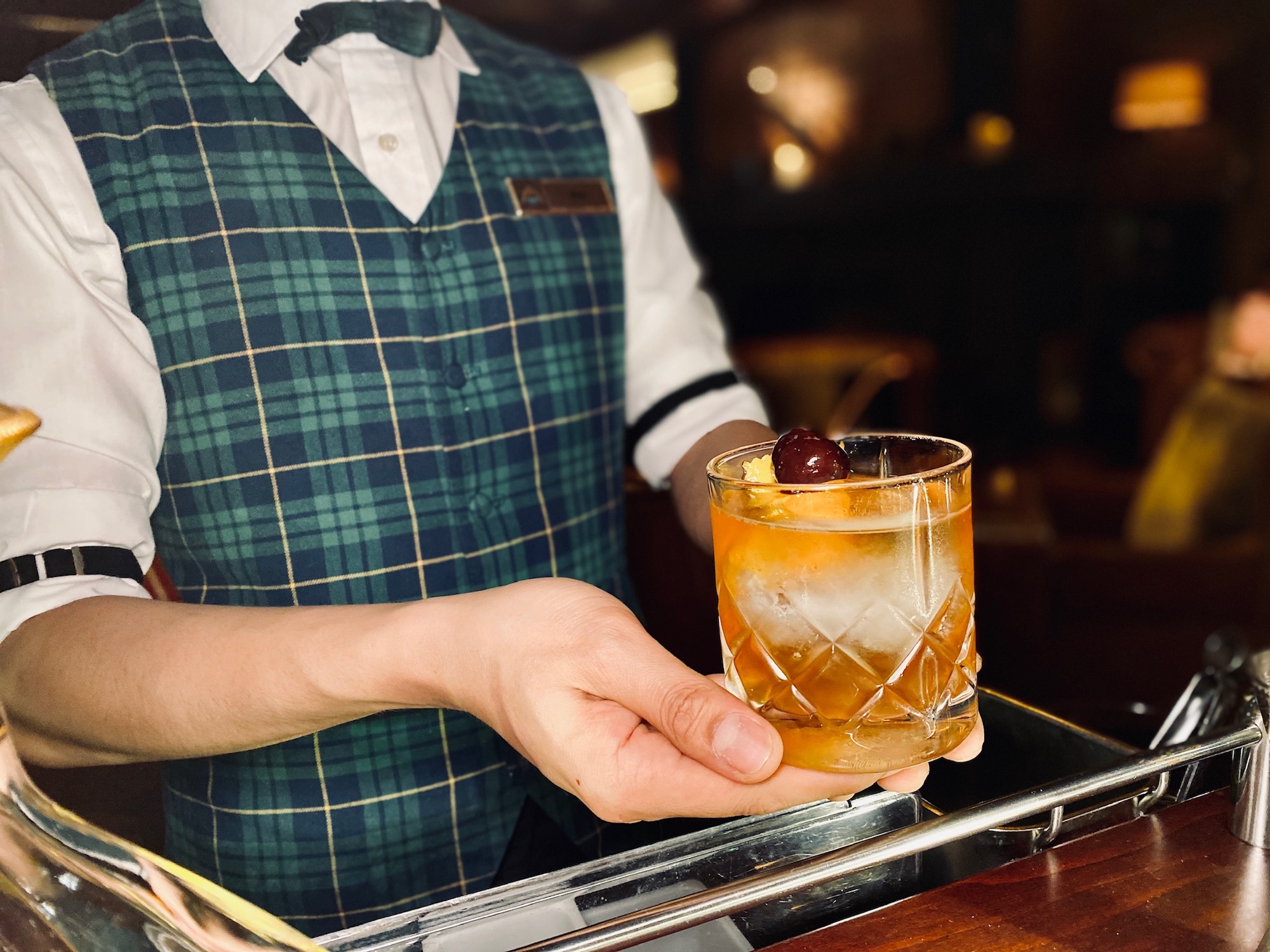 The Old Fashioned experience at The Macallan Whisky Bar & Lounge 
The number one go-to spot for whiskey connoisseurs in Macau, The Macallan Whisky Bar & Lounge has over 400 bottles and a full page of whiskey-based cocktails. However, there is one more feature that you won't find anywhere else in town. We are talking about the Old Fashioned experience. Ask the bartender about it, and he will roll in a trolley of liquors and ingredients to craft a delicious variation of The Old Fashioned based on whatever you choose. There is cognac, bourbon, rum, and, of course, Scotch and whiskey with a range of The Macallan's finest offerings.  
The Macallan Whisky Bar & Lounge 203, 2/F, Galaxy Hotel, Galaxy Macau, Estrada da Baía de Nossa Senhora da Esperança, Cotai, +853 8883 2221, www.galaxymacau.com, www.facebook.com/galaxymacau
Also read: Match Made in Heaven: Pairing Whisky and Chocolate With The Macallan Harmony Collection Rich Cacao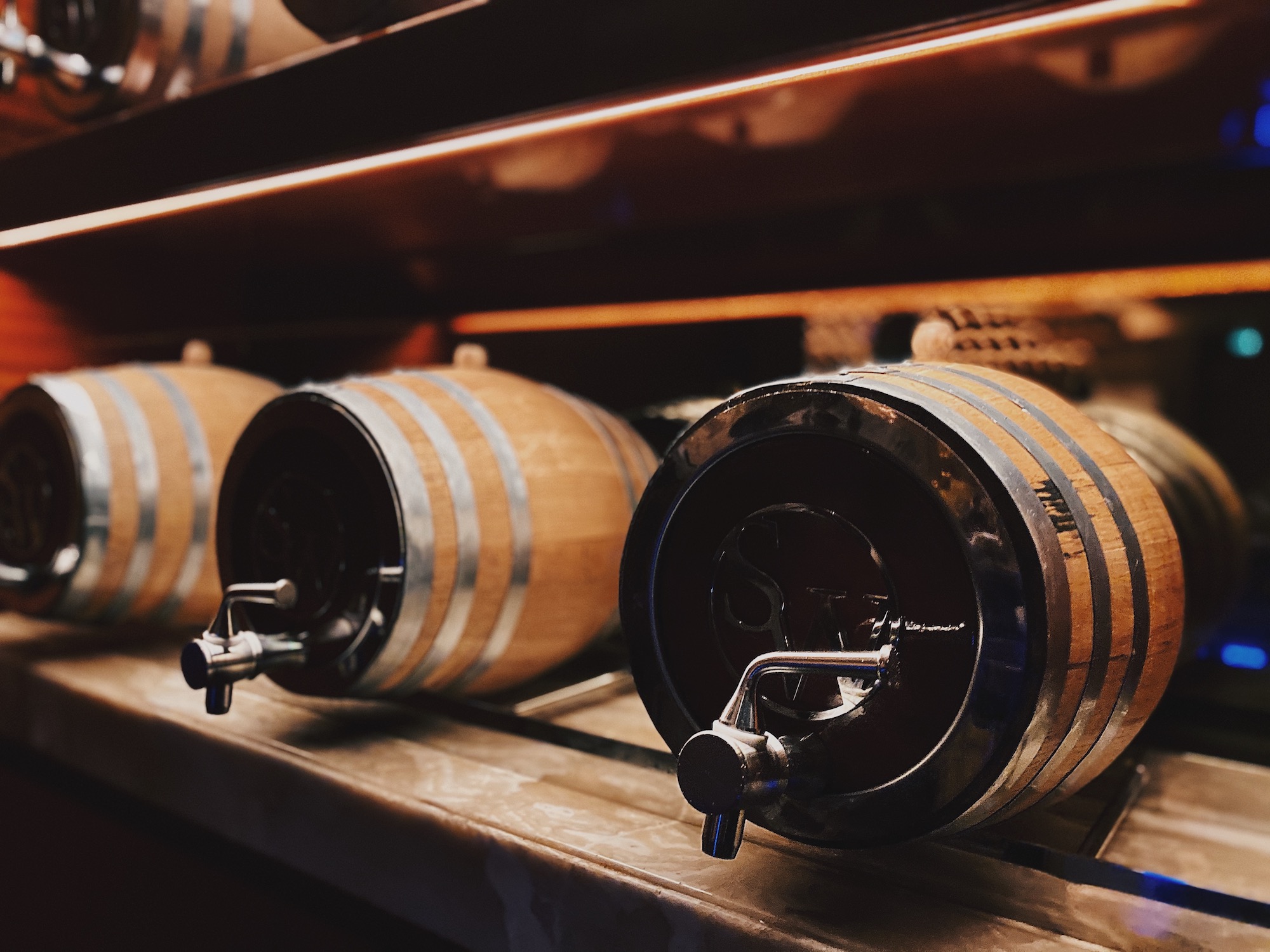 Holly Smoke by HIMKOK at SW Steakhouse
Lagavulin 16 years, Cocchi Torino vermouth, chocolate bitters 
SW Steakhouse is somewhat a hidden gem in Macau, as not everyone knows that it is a great spot for cocktails, not only for juicy ribeyes. They offer a bar menu that would interest any cocktail aficionado and if you do get hungry for something meaty, check out the bar bites section! SW's bartenders are absolute masters when it comes to barrel-aged cocktails. Kept inside oak barrels to mature and achieve that mellow flavor, aged cocktails deserve your attention. One of them is Holly Smoke, a twist on Manhattan with chocolate bitters, whisky, and red Cocchi Torino vermouth from Italy. 
SW Steakhouse Wynn Palace, Avenida da Nave Desportiva, Cotai, +853 8889 3663, www.wynnpalace.com
Also read: SW Steakhouse Bar at Wynn Palace: Home of Barrel-Aged Cocktails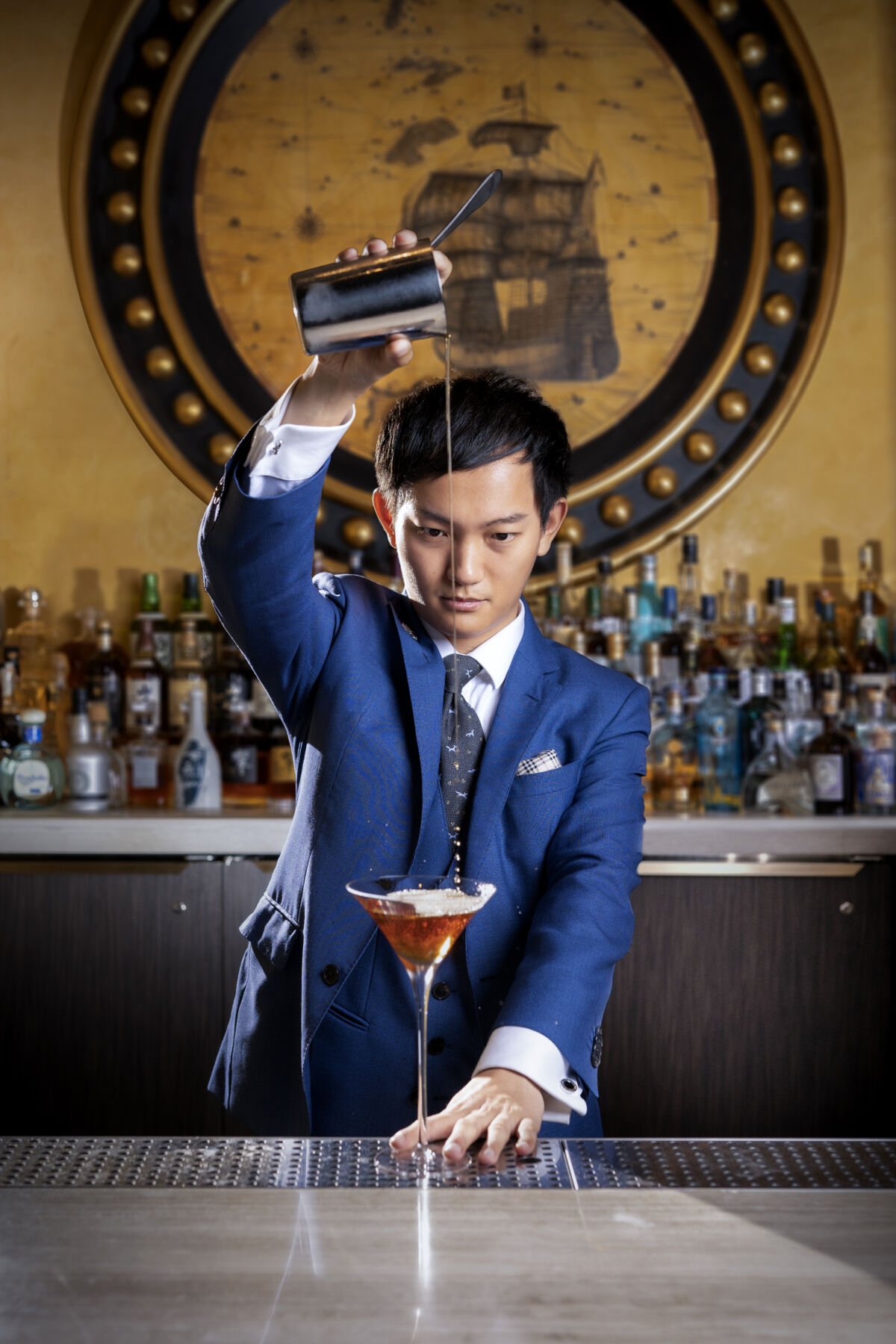 Old Fashioned at

Bar Patuá
Vanilla-infused bourbon whisky, Yiwu handcrafted brown sugar, Angostura bitters, chocolate bitters
With awarded bartender Paul Zhang behind the counter, Bar Patuá at MGM Cotai is one of our favorite destinations for a cocktail. A cozy bar with a stunning design and a decent collection of liquors, including some rare ones, attracts hotel guests and Macau residents alike. Visit Bar Patuá if you are looking for bartenders who have both impressive mixology skills and a story or two to share. Paul's forte is combining Chinese spirits with Western selections, but he is also really knowledgeable about whiskies. Give his Old Fashioned a try, a twist with vanilla-infused whisky, angostura, and chocolate bitters, yum!
Bar Patuá MGM Cotai, Avenida da Nave, Deportiva, Cotai, +853 8802 8888, www.mgm.mo
Also read: Bar Patuá at MGM Macau: Language of Mixology

Illegalist at Vida Rica Bar
Wax-aged whisky, limoncello, Tao Jiao syrup, and orange bitters
Vida Rica Bar is known for its innovative approach to mixology and creative cocktail menus. Their Arts and Mixology series has attracted the attention of Macau bar-goers and the international professional community, bringing a few awards to the bar. The second volume of that menu was inspired by Macau arthouse films. One of our favorite cocktails featured on the menu is the Illegalist with smoky and sour notes of wax-aged whisky, limoncello, Tao Jiao syrup, and orange bitters.
Vida Rica Bar Mandarin Oriental, Macau, 945 Avenida Dr. Sun Yat Sen, NAPE, +853 8805 8928, www.mandarinoriental.com
Also read: 5 Reasons Why We Love Vida Rica Bar at Mandarin Oriental, Macau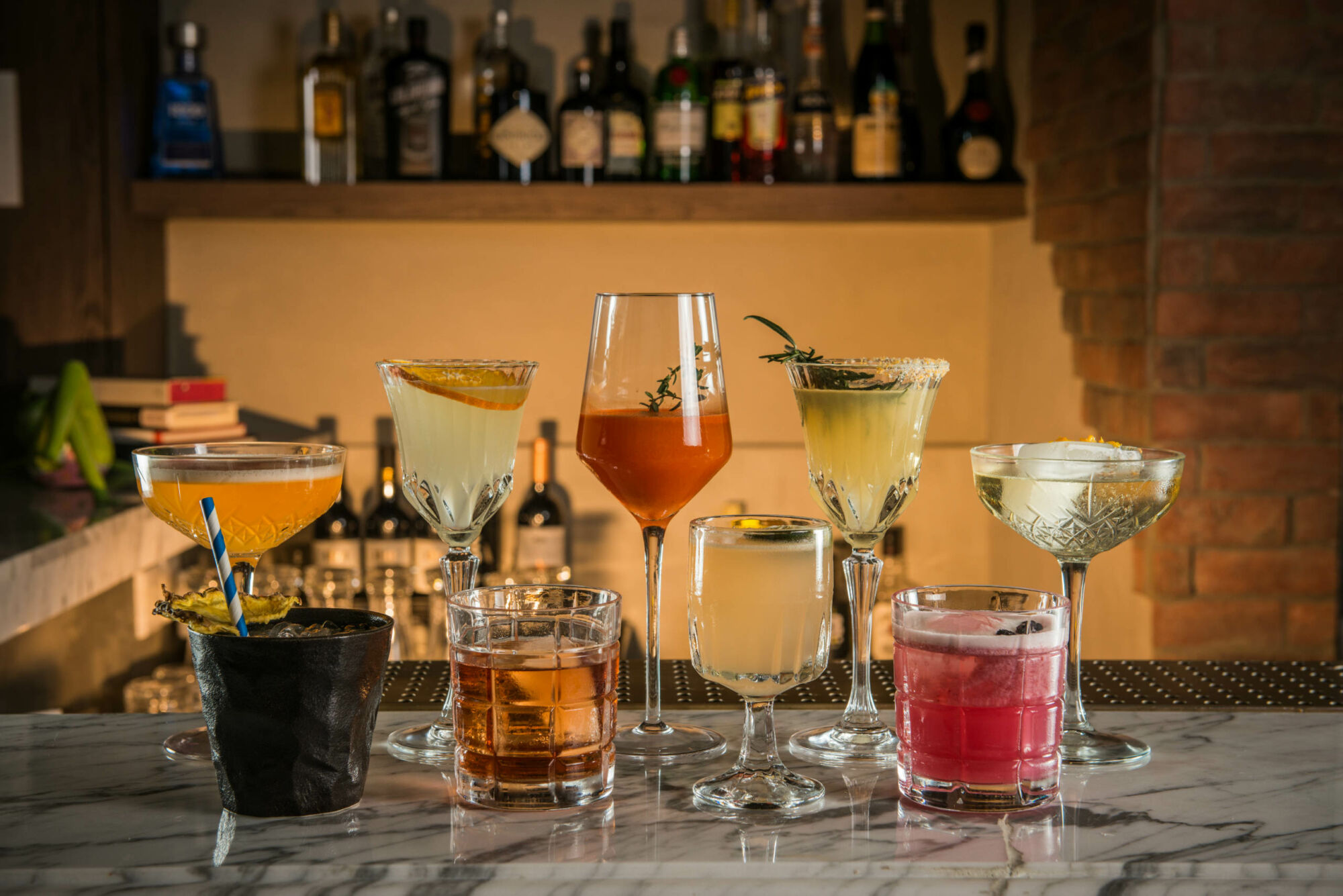 Old Taipa Village at Goa Nights
Whiskey sous vide, caramelized banana elderflower liqueur, cinnamon syrup
A colorful cozy restaurant and bar at Taipa Village, Goa Nights serves delicious Indian tapas and excellent cocktails. Whether you order one of the classics or something signature made by the local bartending tram, you won't be disappointed. However, we do recommend tasting one of the cocktails from the menu inspired by Goa and Macau. The Old Taipa Village cocktail is a must-try. It is a sweet yet balanced cocktail with cinnamon syrup, caramelized banana, elderflower liqueur, and whisky sous vide.
Goa Nights, 118 Rua Correia da Silva, Taipa Village, +853 2856 7819, goanights.com

Also read: Show Me the Way to: Macau's Best Cocktail Bars
Related Posts