The health movement in Macau is thriving and growing day by day. Whether you're trying to lose, gain, maintain your weight, or simply improve your lifestyle, eating smart is the best way you can achieve a healthier outlook towards life in general. We tracked down these special spots to help you begin a wellness journey that will transform your dining habits in Macau.
● All About Health ●
Fit in the Box
What if you are willing to step on the fitness path but lack cooking skills or simply free time? There is a place in Macau that targets people like you, called Fit in the Box. Basically, their menu includes strictly healthy well-balanced dishes like salads and drinks such as smoothies. Our favorite feature here though is their customized "three-step" boxes. By choosing protein, carbs, and vegetables of your liking you will get a guilt-free meal for a tempting price. Their boxes look appetizing and taste even better. Moreover, they deliver all over the city, so you can hit the gym and order your healthy fuel while on a treadmill. By the time you finish, the food will be waiting for you!
Opening hours: Monday-Friday, 11:00am–8:00pm; Saturday–Sunday, 11:30am–7:30pm
Fit in the Box 253 R. de Roma, Macau, +8536881 5960, www.facebook.com/fitintheboxmacau
Habitbox
Nutritionists argue whether breakfast is, in fact, the most important meal of the day or it is merely a beautiful saying. Nonetheless, anyone will hardly argue that if you do have breakfast, might as well have a delicious and healthy one. For that, head to Habitbox, a tiny takeaway shop with a few seats on vibrant Rua dos Ervanarios. Choose a smoothie bowl from their list (açai bowl is highly recommended) or combine what you love the most and customize your own. But it's not only smoothie bowls they offer. For lunch and dinner, they do healthy and colorful boxes packed with nutrients and minerals based on your preferences or fitness goals. Even their sandwiches are on the healthy side, top it up with hot soup and a cold-pressed juice, and you are all set.
Opening hours: 11:00am–8:00pm, Monday–Saturday; 12:00pm–8:00pm, Sunday
Habitbox 44, Rua dos Ervanarios,+853 6586 8613, www.facebook.com/habitboxmacau, www.instagram.com/habitboxmacau
Also read: Start Your Day Right: Best Places for Healthy Breakfasts in Macau
● Vegetarian and Vegan ●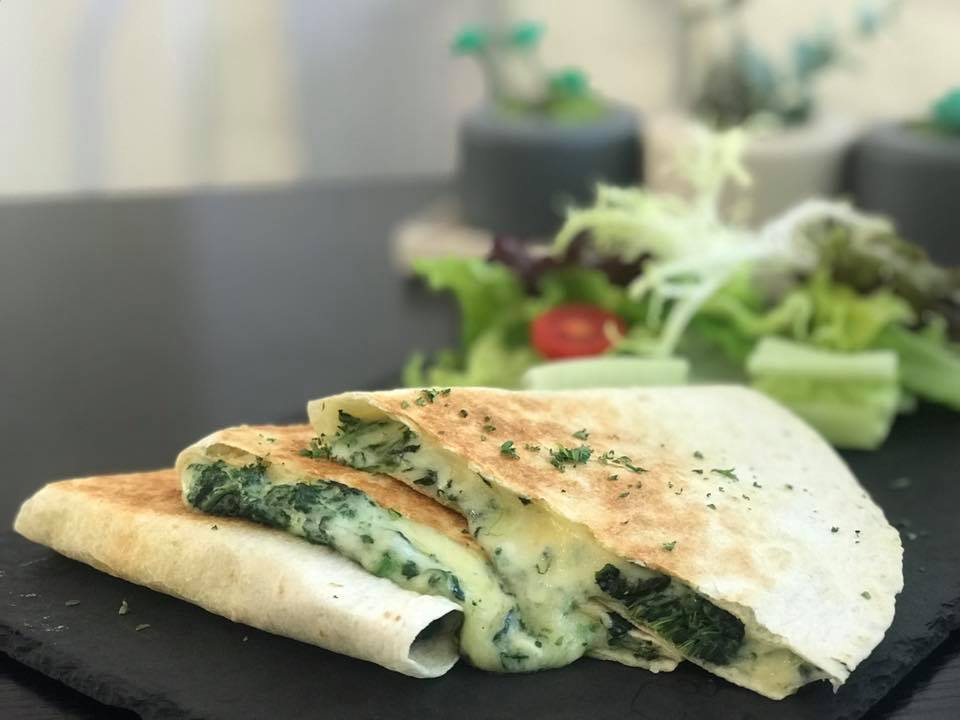 Veggie Macau
Tucked away behind Tap Seac Central Library, Veggie Macau is a great option for everyone looking for something light yet fulfilling. Veggie Macau offers vegetarian, lacto-ovo vegetarian, and vegan choices. Their menu features a mix of national cuisines with dishes like tofu tikka masala, pineapple, and vegetarian "meat" quesadilla, baked vegetarian bolognese spaghetti with cheese. The cafe even makes its own soybean cheese and sauces. If you still have room for desserts after this feast, go guilt-free with their vegan chocolate walnut brownie or raw chocolate cake.
Opening hours: Wednesday–Monday, 12:00pm–9:00pm
Veggie Macau 1-3 Rua do Tap Seac, +853 2872 3751, www.facebook.com/VeggieMacau
Also read: Best Vegetarian and Vegan Places in Macau
Puffin Café
Easily a winner of Macau's cutest eateries contest, Puffin Café is every vegetarian's dream come true. With a wide list of vegetarian and vegan options, there are also a few delicacies for those who want more greens in their diet. So head there with friends and family and confirm what's been said about it. It's great for everyone, their juices are some of the freshest in town–and have some original flavors–and the plant-based burgers are delicious and juicy. We also suggest trying the spinach quesadillas and one or two of their desserts. Not everything is meant for someone who's dieting, but it sure has several options for all kinds of people with or without dietary restrictions.
Opening hours: Thursday–Tuesday, 11:00am–9:30pm
Puffin Cafe 16A Rua de Santo António, Macau, +853 2883 6663, www.facebook.com/puffincafebaron
The Blissful Carrot
Located at Old Taipa Village, this bohemian style spot* with welcoming warm colors and shades of a paradise feel is where you go to chill out and eat healthily. Enjoy a wide variety of beverages with numerous health benefits, including cold-pressed juices, kombuchas, and smoothies. The menu is extensive and diverse and includes rice bowls, salads, sandwiches, pasta, wraps, tacos, all-day breakfast, and an open display of their raw and healthy bakery goodies. They regularly introduce seasonal and limited-time dishes to try out, so there is no way to get bored with the selection here.
Their Blissful Carrot cake will surely tempt you every time you visit. It's even harder to say no because it's guilt-free and healthy, as most of their flavorsome dishes. Ready for a piece of good news? The Blissful Carrot is crafting its own homemade dishes with the newest "vegetarian meat" in town: Beyond!
Opening hours: Daily, 11:00am–8:00pm
Blissful Carrot 79 Rua Direita Carlos Eugenio, Taipa Village, +853 6298 8433, www.facebook.com/blissfulcarrot
*The Blissful Carrot is no longer operating as a shop. However, they still sell vegetarian and vegan dishes, as well as their in-house-made pantry items such as coconut yogurt and kombucha via Aomi and MFood. If you have any questions, hit them up on Facebook and WhatsApp, but orders are to be placed via the delivery applications. For their Juice Detox program and private catering, contact The Blissful Carrot on Facebook or WhatsApp.
● Plenty of healthy dishes ●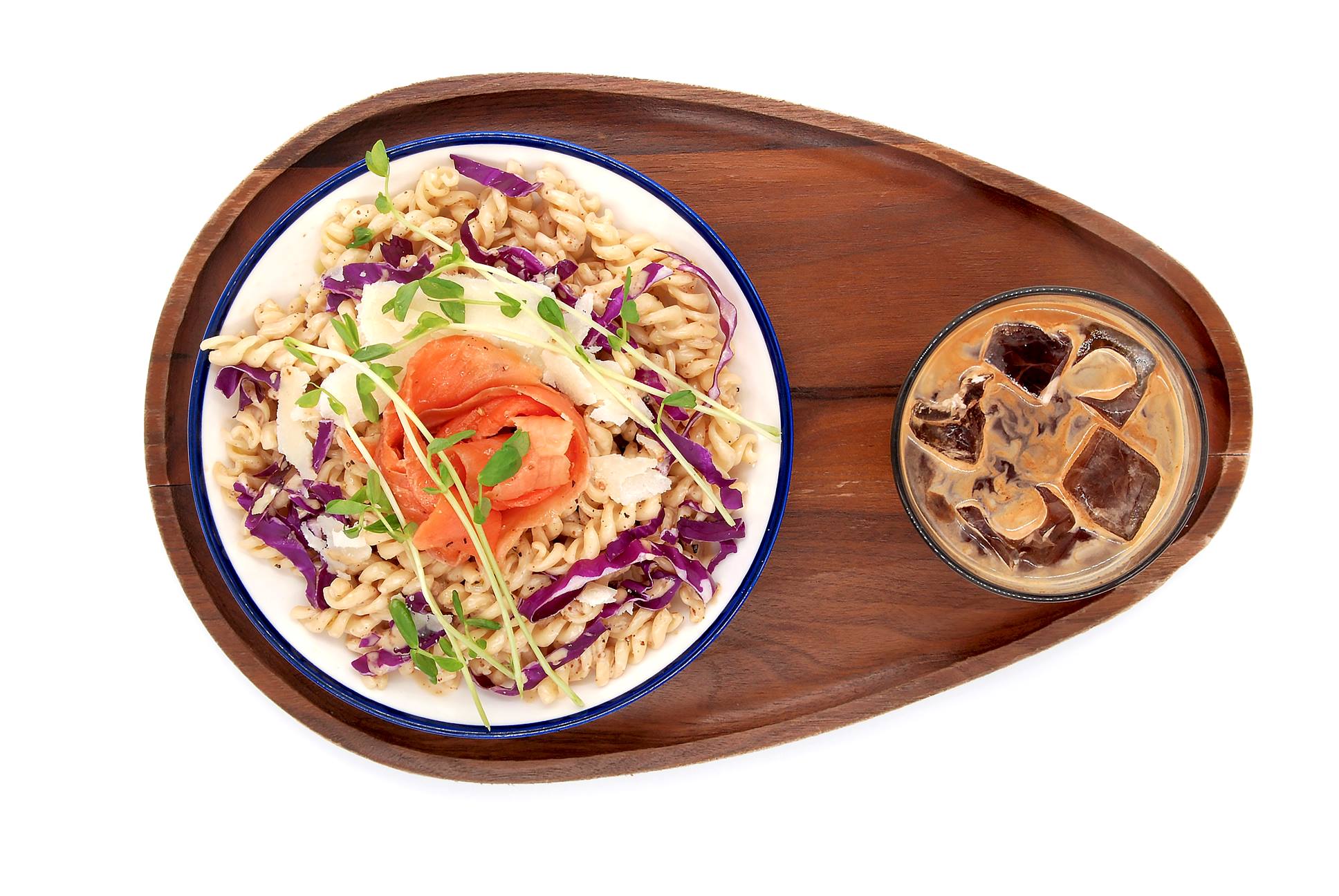 Communal Table
Does healthy food always mean no carbs, no added sugar or salt, no fish or meat? Well, we don't believe so. That is why Communal Table is included on this list: with fresh and savory ingredients, it crafts simple and tasty dishes, that get your belly some comfort. Accompany their salmon and pasta salad with a coffee-based drink, which you can order with a milk substitute, by the way.
Their menu is not as vast as some other restaurants listed here, but the food sure is good, and the location is perfect. A few minutes away from Leal Senado square and some seconds from Rua do Campo, it's ideal for a quick healthy fix without sauces, salt, or other heavy ingredients getting in the way of mealtime.
Opening hours: Monday–Friday, 7:45am–6:00pm; Saturday and Sunday, 10:00am–7:00pm
Communal Table 29 Rua Formosa, Macau, +853 6677 9985, www.facebook.com/communaltablecoffee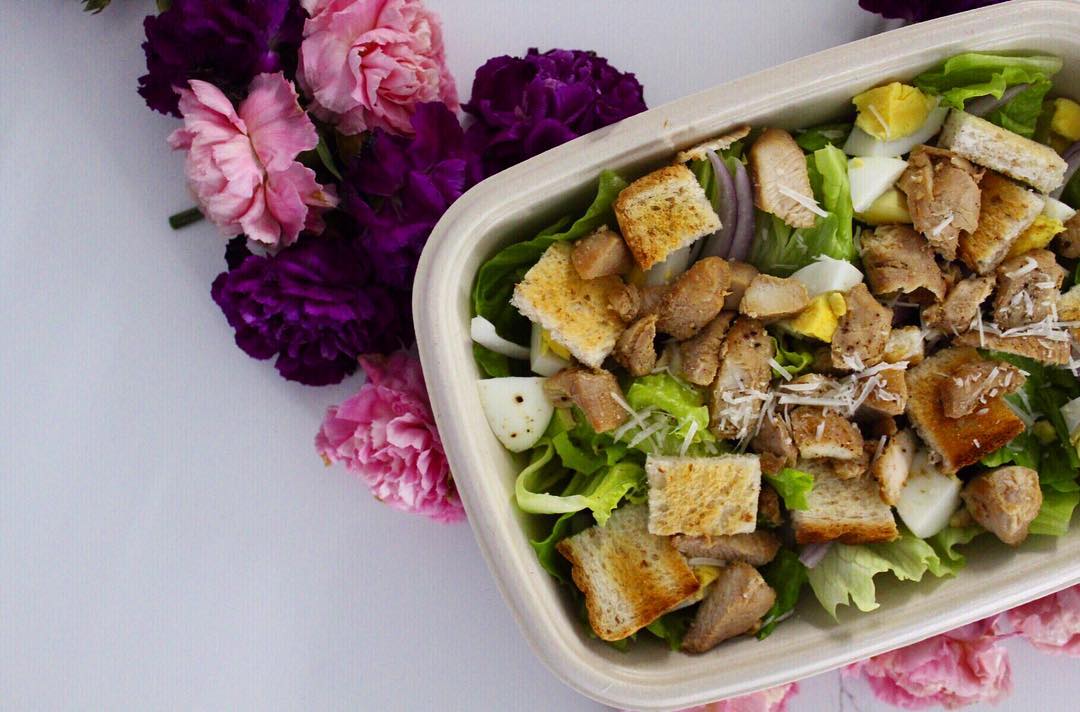 Larry's Place
With a name taking us back to someplace with a sense of home, that's precisely what Larry's Place offers: homey and comfort food without being heavy. From veggie burgers to rice bowls, there are lots to try. The owner, Larry, also organizes a series of themed food parties, like Mexican, where tacos and burritos are a must, with variations of vegetarian ingredients as well. The bowls and salads are a must-try but don't stop there: because it's cheap and easy to access, head to Larry's Place and try everything on their menu.
It might not be an extensive one, but it sure is one made with lots of dedication and love for the city and its people. Larry has Macanese blood and his genuine friendliness can be seen from afar. Check out the freshly made juices as well. Combos are great to take away or order for delivery (it might take a bit, so be sure to do it by calling or requesting on the website sometime before lunchtime). Take lunch to a garden and eat it with your loved ones or grab a quick bite at the office amongst colleagues.
Opening hours: Monday–Friday, 8:00am–8:00pm; Saturday, 8:00am–4:00pm
Larry's Place 2C Beco do Gonçalo, Macau, +853 6528 9786, www.facebook.com/larrysplacemacau, www.facebook.com/larrysplacemacau
Also read: Larry's Place: Healthy and Happy Food

Café Esplanada 
A charming cafe with an alfresco seating area surrounded by lush gardens, Café Espalanda is located at the stylish Wynn Macau. However, its popularity spreads beyond Wynn's guests. While there are some guilty pleasures such as juicy burgers and fluffy pancakes on the menu, there is a wide variety of healthy choices, as well. Go for their fresh and colorful salads or hearty soups for a balanced lunch. If you are aiming for Asian cuisine, there are healthy oriental dishes that will satisfy your cravings. Moreover, there are vegetarian and vegan menus that feature plant-based dishes, including traditional recipes like pad thai, but without any animal protein.
Opening hours: Daily, 11:30am–10:30pm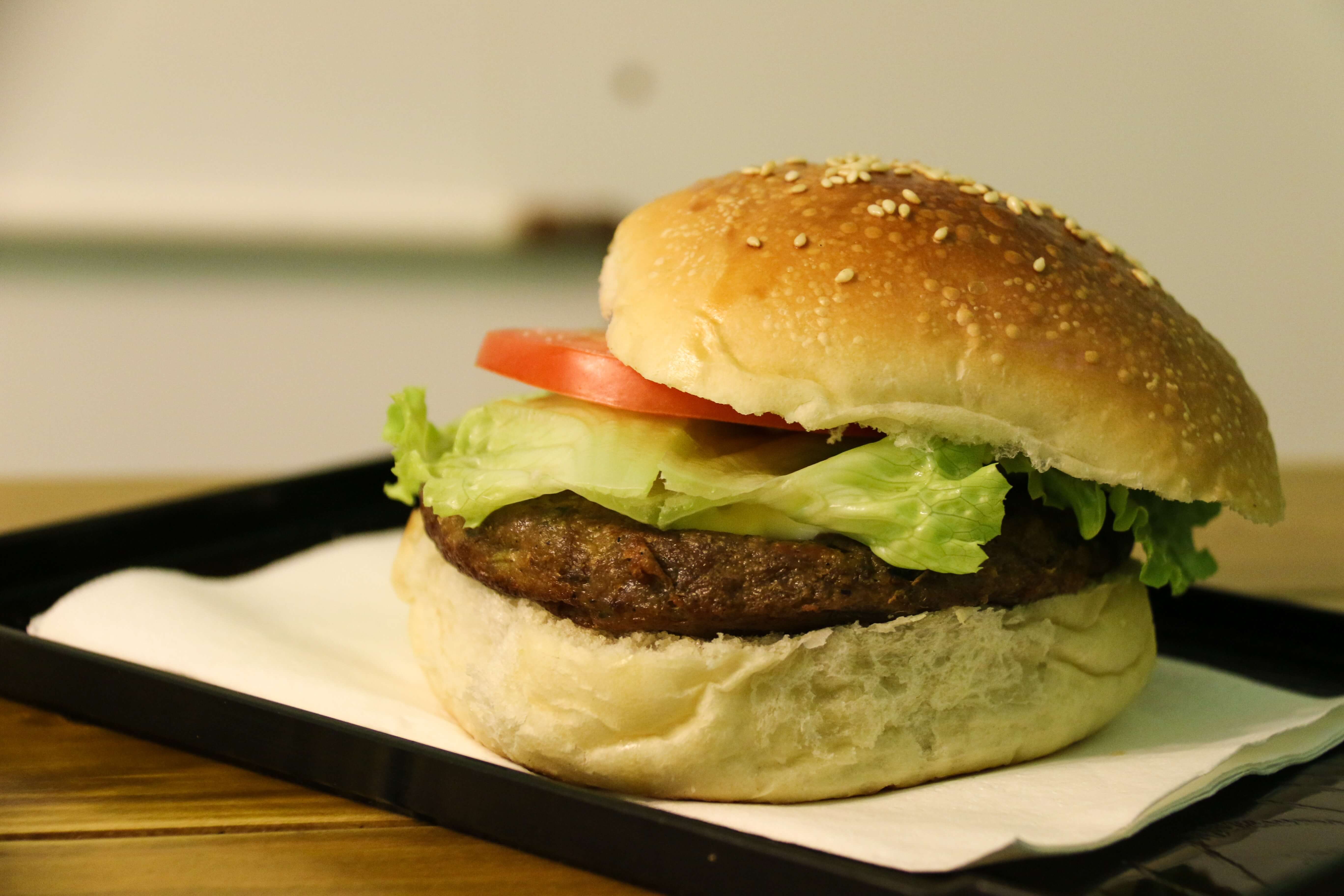 Ting Ting Cafe
Close to the heart of town, it has a good range of healthy choices for burgers and drinks. Reasonably priced and adequate space for open-air lunch and light snacks, Ting Ting Cafe has two spots: the first one to open is smaller in size and has no outdoor area; the second is a tiny kiosk located opposite the Old Court Building in a public park.
You can easily grab and go or enjoy your meal al fresco in the park. Popular with locals within the area, do expect long queues during lunch hours. Along with fresh juices, Ting Ting's offerings include chestnut sushi and several variations of veggie burgers. All satisfying, all vegetarian, and all reasonably priced.
Opening hours: Ting Ting Café Kiosk – Monday–Friday, 8:30am–7:00pm; Saturday, 9:30am–7:00pm
Ting Ting Café – Monday–Sunday, 10:00am–10:00pm
Ting Ting Café Kiosk Praça de Jorge Álvares, Macau, +853 6387 7345, www.facebook.com/TingTingCafe
Ting Ting Café 4 Beco das Caixas, Macau, +853 6698 3483
Also read: Ting Ting Café: Homemade Vegetarian Burger in Macau
Cha Bei 
Cha Bei at Galaxy Macau has been all over Instagram since its opening as their desserts look as cute as their collection of teacups. Even though they do focus on tea with cakes, pies, echolocate and all the calorie-packed treats, there is enough on the menu to not feel guilty in front of your personal trainer. Check their poke bowl, brown rice topped with fresh vegetables, edamame, tobiko, and pickled cabbage. So here you have your protein, carbs, healthy fat, vitamins, and minerals well-balanced in one dish. Apart from this Hawaiian dish, you will find plant-based burger and spaghetti Bolognese, quinoa salad, and comforting miso soup. Whatever they cook, Cha Bei's team is dedicated to making the order look fantastic and taste delicious. For your daily portion of antioxidants and vitamins, have one of their fruity teas, smoothie, or cold-pressed juice.
Opening hours: Daily, 11:00am–6:00pm
Cha Bei 1047, 1/F, Galaxy Macau, Estrada da Baía de Nossa Senhora da Esperança, Cotai, +853 8883 2221, www.galaxymacau.com/cha-bei
Also read: Where to Get Poke Bowls in Macau
Lobby Lounge at Mandarin Oriental, Macau
Combining the best of Asian and Western cuisines, the selection of dishes at Lobby Lounge is anything but boring. Following the healthy diet trend, the chefs here often introduce new dishes that will make your doctor proud of you. On a side note, even those of us who love meat would not miss it here, thanks to Impossible meat specials such as dan dan noodles or avocado burger. The latter is made with a juicy plant-based patty and avocado "buns" instead of bread, what a brilliant substitution to a traditional beef burger! If meat, real or not, doesn't make your mouth water, there are several other things to try out, like soups and salads.
Opening hours: Daily, 9:00am–10:00pm
Lobby Lounge Mandarin Oriental, Macau, 1/F, 945 Avenida Dr. Sun Yat Sen, NAPE, +853 8805 8888, www.mandarinoriental.com/lobby-lounge
This article was originally written by Bel Faustino in August 2016 and updated by Leonor Sá Machado in August 2019, by Ksenia Kuzmina in August 2020 and February 2022.
Photo credits: Healthy Habits Superfood Cafe, Greens Kitchen & Juicery Facebook page, Fit in the box, Larry's Place website, Ting Ting Café Facebook page, Veggie Macao Facebook page, Communal Table Facebook page, Ksenia Kuzmina.
Tags
Related Posts