Is there a more popular and beloved French pastry than the almighty croissant? While it won't fit in with what healthy diet practitioners nag you to follow, it is hard to say no to its buttery goodness, especially when paired with a cup of fresh coffee in the morning. Almost every bakery and cake shop in Macau sells them, but where should you go to savor the best ones? We doubled our fitness hours and tried dozens of pastries to come up with this list of the best croissants in Macau.
Élysée Bakery 
Inspired by traditional French patisseries, Élysée sells crunchy baguettes, pain au chocolat, delicate macarons, and all kinds of French pastries. Notably, their bakers use European raw materials and classic French recipes. In the morning, we love coming there to grab Élysée's freshly baked airy croissants with a cup of latte to have quick, satisfying breakfast outside or bring it home.
Élysée Bakery Edificio Hio Fai, 52 Rua de Pedro Coutinho, +853 2852 7763, www.facebook.com/ElyseeBakery
600 Avenida Olímpica, Edificio Va Fai, Taipa Village
Shop K302, Place Vendome, The Parisian Macao, Estrada do Istmo, Lote 3, Cotai
G/F, Block O, Kam Loi Building, 1 Rua do Comandante Mata e Oliveira, Avenida de Almeida Ribeiro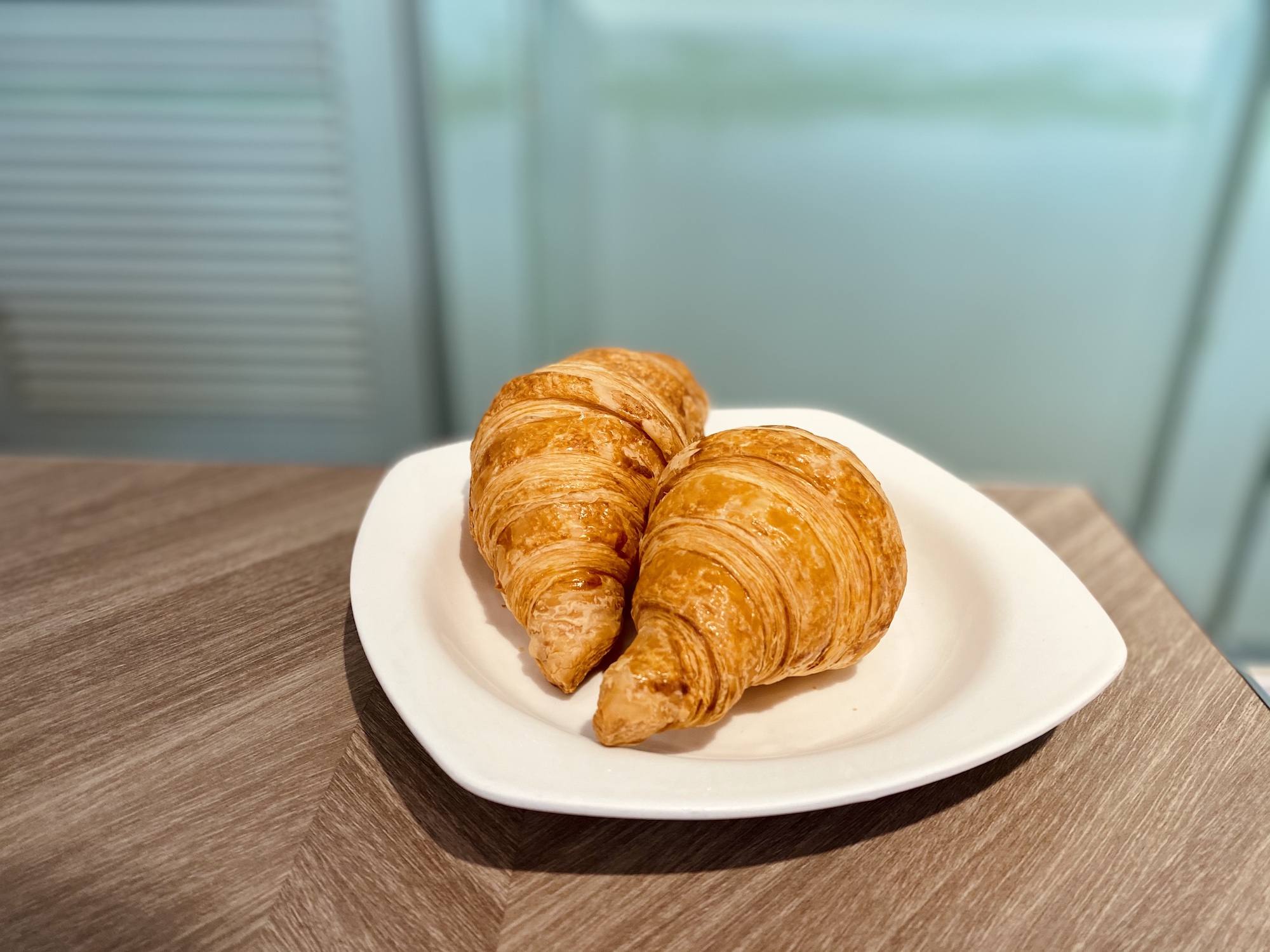 Jam & Butter
Which Coloane resident doesn't know Jam & Butter? If there is one, quickly send them a memo: Jam & Butter has some of the best freshly baked bread and croissants in Macau! Plain, chocolate, or cheese–whichever one you chose, they come perfectly fresh and fluffy. By the way, after 7:00pm, one hour before closing time, the bakery has a tempting 1+1 promotion where you get one item for free for every one you buy!
Jam & Butter Estrada de Seac Pai Van, One Oasis, Shop 12–13, Cotai,+853 2877 2628, www.facebook.com/Jam-Butter 
Also read: Good Morning Macau: Best Cafes for Breakfast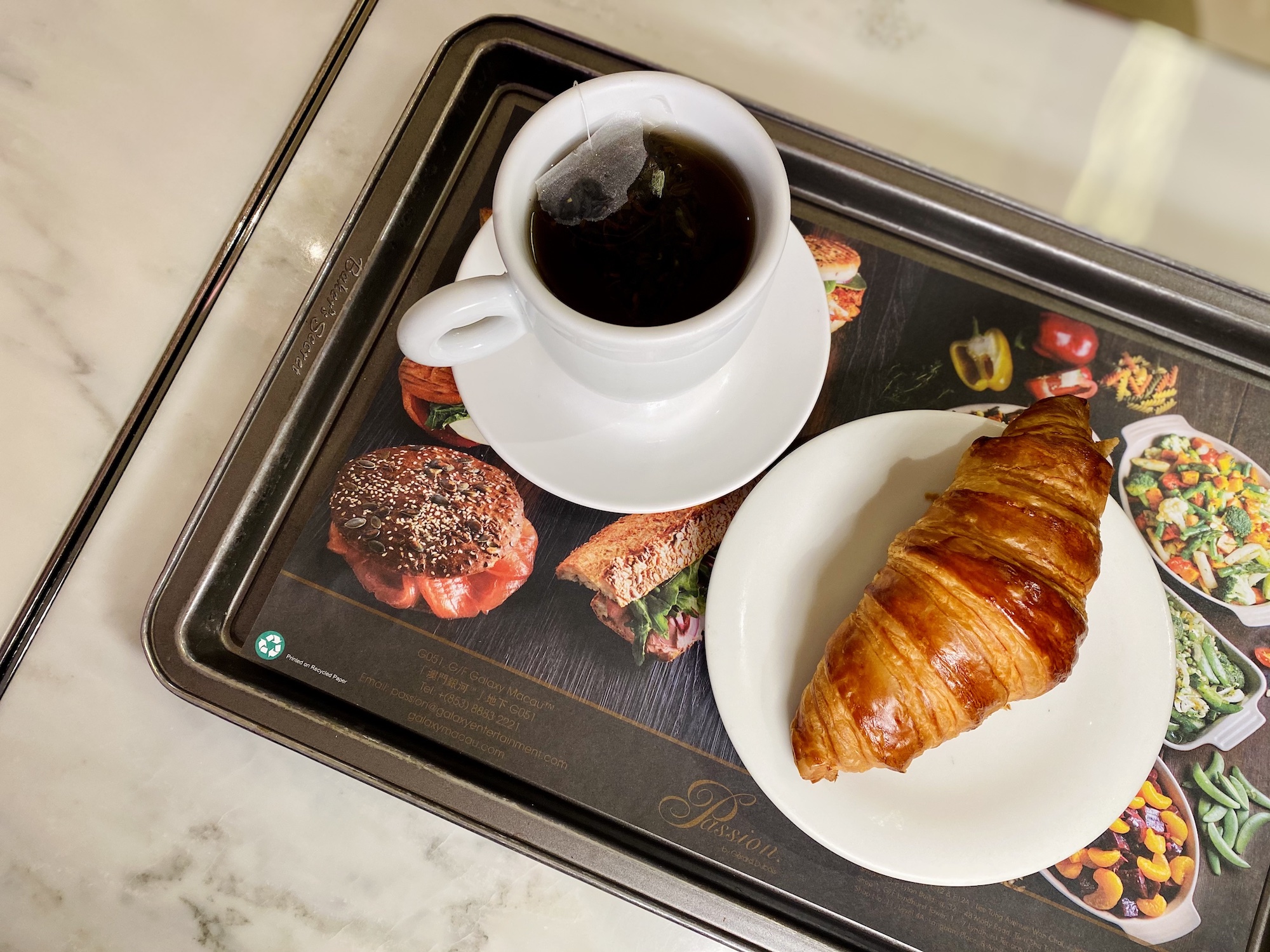 Passion. by Gérard Dubois
The first branch of Passion by Gérard Dubois opened in 2012 in Wan Chai, and since then, has grown in a chain of French cafes available in Hong Kong and Macau. Passion becomes a life-saving option when you crave a fresh salad or pasta and don't have much time to wait. From all-time favorites to exquisite tarts and cakes, their dessert range fits every sweet tooth's taste. Passion's airy croissants go exceptionally well with their signature chocolat chaud.
Passion. by Gérard Dubois G/F Starworld Avenida de Amizade, Macau, +853 8290 8685, www.starworldmacau.com
G051 G/F, Galaxy Macau, Cotai, +853 8883 2221, www.galaxymacau.com
Also read: Let Them Eat Cake: Macau's Best Cake Shops

Buns & Bubbles
Like every establishment of Wynn Palace, Buns & Bubbles makes a striking first impression with its colorful funky design. While it catches passers-by's eye with the decor, they stay for the pastries, of course. Grab a couple of their chocolate croissants, large and puffy with chocolate on top. Curiously enough for Westerners, bubbles in the name stand for the Taiwanese bubble tea, not sparkling wine.
Buns & Bubbles Wynn Palace, Avenida Da Nave Desportiva, Cotai +853 8889 3663, www.wynnpalace.com
Also read: Macau's Best Ice Cream Spots

Common Table
Known as the ultimate brunch spot in Taipa, Common Table offers various breakfast and lunch options, decent coffee, and laid-back vibes. It is a fun cafe for get-togethers with friends. When you are looking for a romantic date restaurant, Common Table won't disappoint either with the dinner menu or the atmosphere.
The croissants they bake are fat, flaky, and taste as impressive as they look! Common Table's croissants are some of the cheapest and best croissants in Macau! The price is a pleasant surprise for its quality.
Common Table Shop A, Nova City, Avenida de Guimarães, Taipa, +853 2885 6601, www.facebook.com/commontablemacau
Also read: Common Table's Dinner Menu: From Snails to Steaks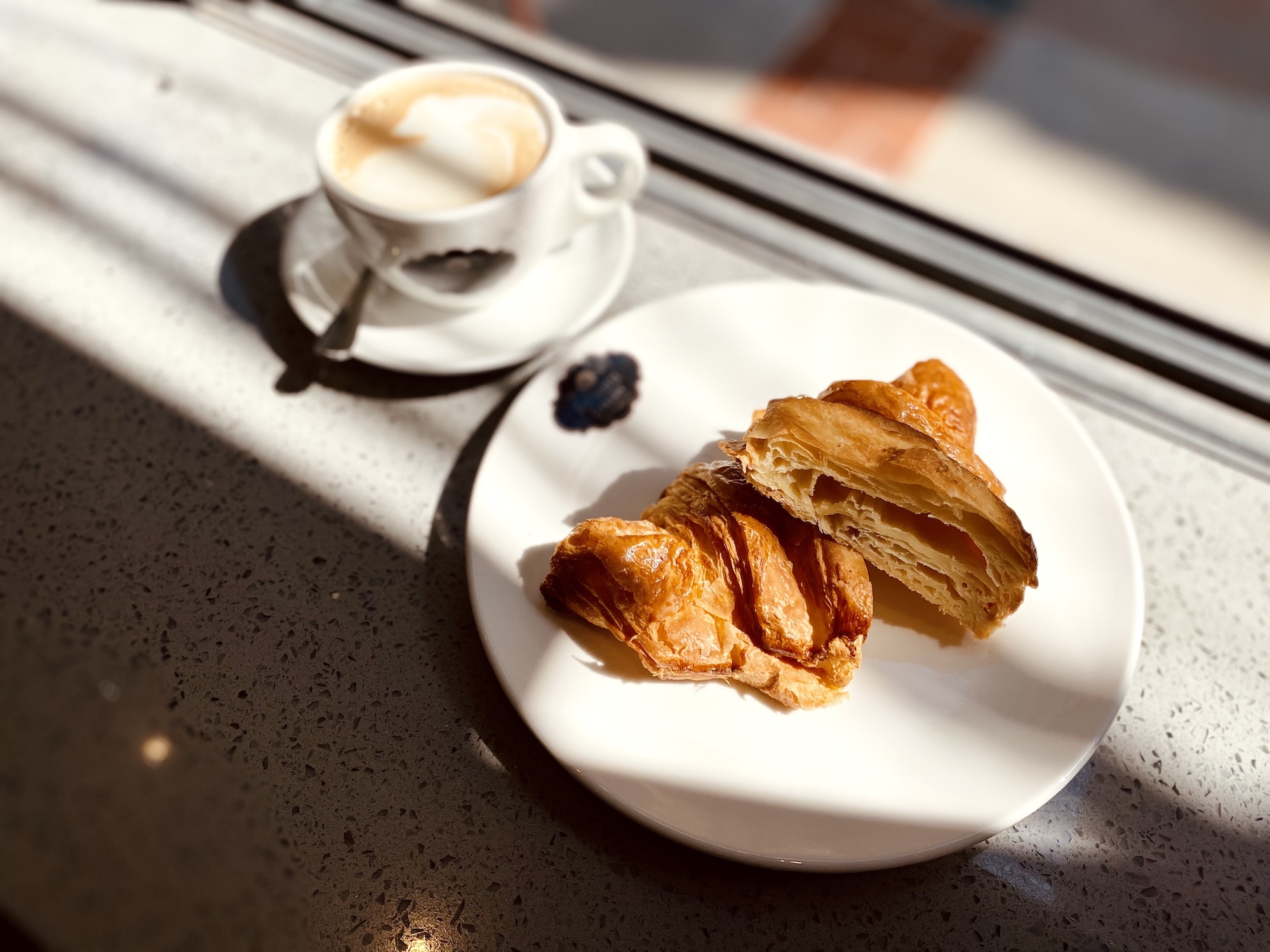 Portuguese Bakery
Tasty croissants are not only the prerogative of French pastry chefs. To taste a Portuguese interpretation, there is no better place than at Portuguese Bakery. This chain is one of the most beloved among the Luso community in Macau. They use high-quality Portuguese ingredients for baking bread and pastries. Moreover, they deliver freshly baked bread to your door!
Portuguese Bakery 22 Beco do Sal, Macau, +853 6280 8274, www.portuguese-bakery.com
Rua dos Clérigos, 29AA, Taipa Village
Shop B11, Basement 1/F, Nova Mall, Avenida de Kwong Tung, Taipa
Rua de Évora, No 199, Flower City (Edf. Lei Tou), R/C, Taipa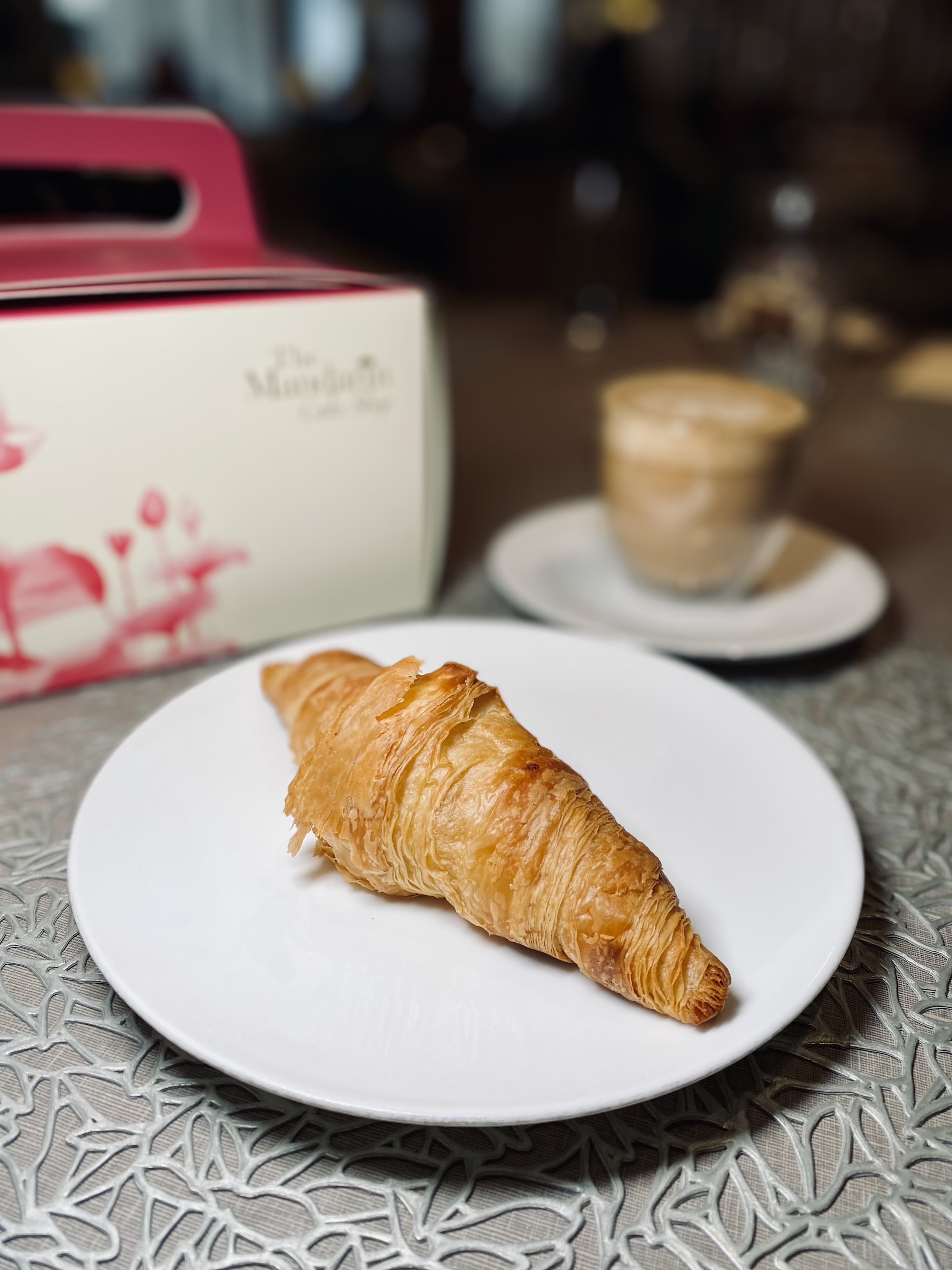 The Mandarin Cake Shop
Looking for the authentic taste of Parisian bakeries? Find a place with a French pastry chef! The Mandarin Cake Shop at Mandarin Oriental, Macau, is precisely the cake shop you need. Under the supervision of chef Sebastien Bernis, the pastry team here bakes perfect croissants, smaller and thinner than most ones on our list. Grab some for takeaway or take a seat in the comfortable armchairs of the Lobby Lounge and munch on the buttery goodness of thier croissants.
The Mandarin Cake Shop Mandarin Oriental, Macau, Avenida Dr. Sun Yat Sen, NAPE, Macau, +853 8805 8948, www.mandarinoriental.com, [email protected]
Also read: That Takes the Cake! The Mandarin Cake Shop's Cakes for Every Taste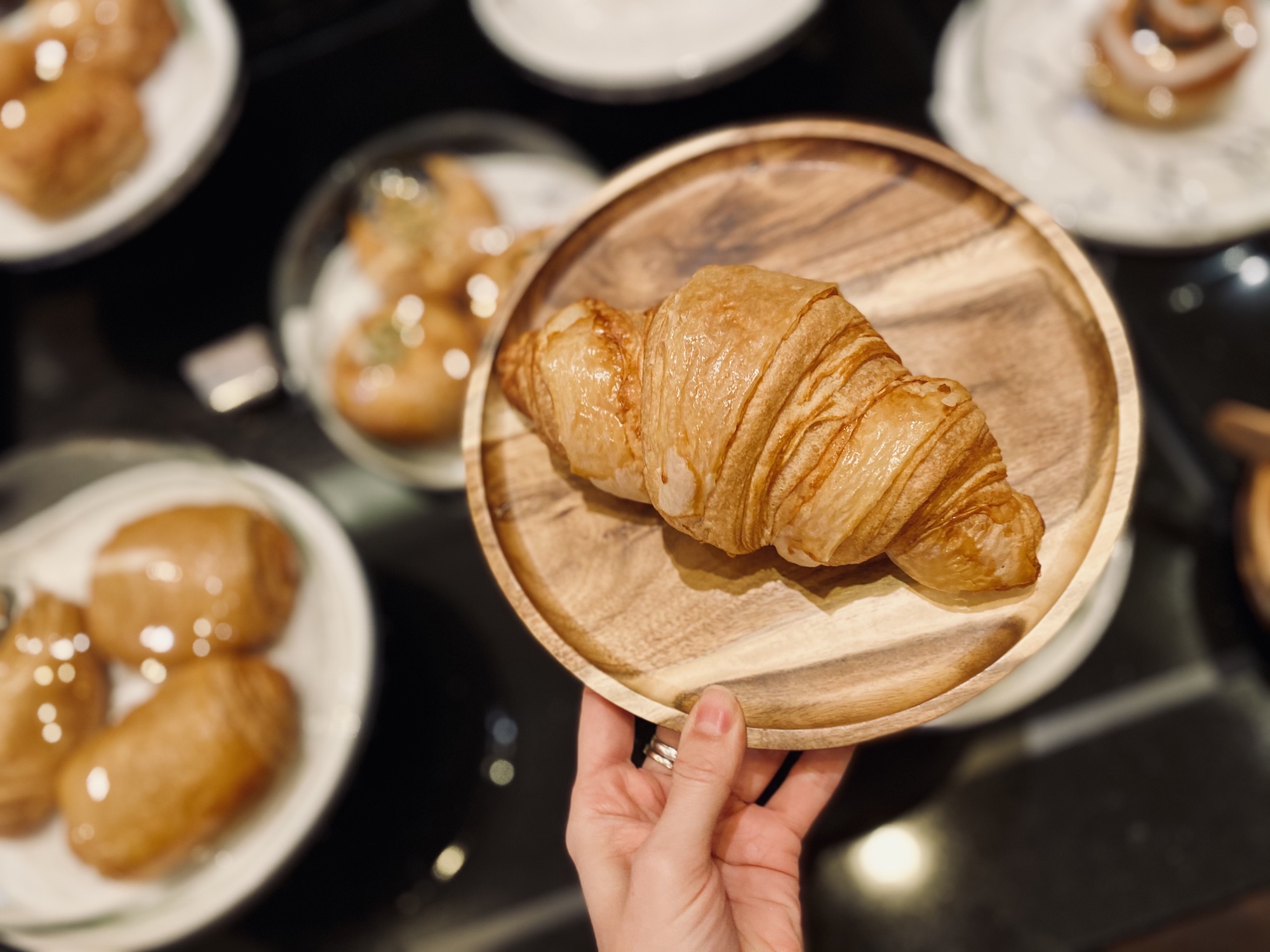 Pastry Bar
Some of the airiest, plumpest, and the best croissants in Macau are waiting for the pastry fans at the Pastry Bar at MGM Macau. Resting between pineapple buns and muffins, they invite you to choose one or two that look the most appealing. Pastry Bar is also an ideal shop to buy sweets as gifts (their cakes are perfection), seasonal treats, and dessert sets. If you feel like sitting down and enjoying a piece of berry cheesecake or a sandwich, there are plenty of tables to take a break and enjoy your meal.
Pastry Bar MGM Macau, G/F, Avenida Dr. Sun Yat Sen, NAPE, Macau, +853 8802 2324, www.mgm.mo

Lord Stow's Garden Café
Visit Lord Stow's… but not to eat the famous Portuguese egg tarts? Apparently, it is legal. If you pass by the long queue to the bakery and turn around the corner, you will find yourself at the charming Lord Stow's Garden Café, where you can sit down and have breakfast or lunch. Some of us would argue that the best breakfast option is a plain croissant with aromatic coffee and a glass of freshly squeezed orange juice. Well, that combo is waiting for you at Lord Stow's Garden Café!
Lord Stow's Garden Café G/F C Houston Court 21 Largo do Matadouro, Coloane Village, Macau, +853 2888 1851, www.lordstow.com/macau-outlet/lord-stows-garden-cafe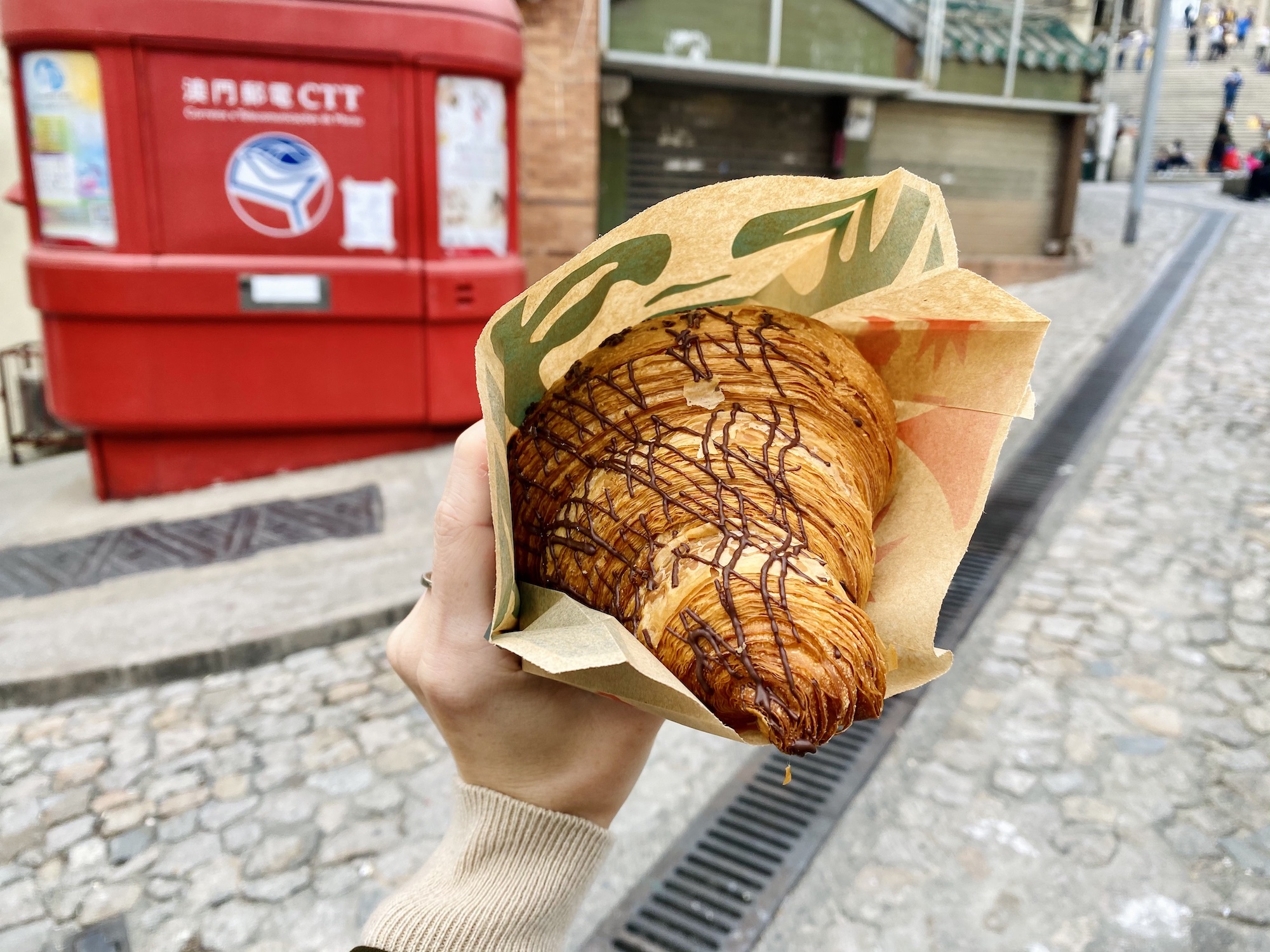 Starbucks

 
The mega-popular coffee chain from Seattle might not have the cozy atmosphere of small local coffee shops or sell artisan pastries. However, they offer consistent quality in everything they serve, including muffins, sandwiches, and croissants freshly made every day. Moreover, there are many Starbucks branches around Macau, so when you need to grab a bite, it's easy to locate. Almost every resort has one, and there are a few scattered around town as well.
Starbucks R. de São Paulo, www.facebook.com/StarbucksMacau
Also read: The Ultimate Guide to Macau's Best Coffee Shops
Photos: Ksenia Kuzmina
Tags
Related Posts