Easygoing yet flavorsome; made with simple ingredients, yet fulfilling. We're talking about hot dogs! The ultimate sandwich to have when you're hungry and craving something quick and tasty. Originally made with German-style sausage sandwiched into a soft bun with choice of sauces on top, we believe this is a very underrated delicacy. Nurture a passion for hot dogs with these amazing hot dog joints in Macau that range from original tasting, to fresh twists and even healthy ones too. Plan a hot dog tour around town with this list!
FW Rio Grill & Capriccio Coffee Shop – Classic hot dog
(See featured image above)
Serving international food with a focus on Italian-style pasta and snacks, FW Rio Grill & Capriccio Coffee Shop, located at Macau Fisherman's Wharf has a breathtaking view across the Pearl River Delta and the bridge, perfect for those looking to dine while enjoying the sea breeze. Very close to the German original, their hot dog comes with lettuce and very fresh tomato, plus ketchup, mayo, and mustard on top.
What we also really loved is the side of freshly fried french fries! The sausage is authentic, with a crunchy skin and soft interior, allowing an interesting experience. Pair this with a classic cocktail or an ice-cold beer and you'll have yourself a perfect early dinner. It's a great area to visit if you're not into crowds, so dine at Cappricio–indoors or outdoors–and have their hot dogs plus a cocktail. With different promotional deals from time to time, gather some friends after work and see the night settling into the sky.
Opening hours: Tuesday–Sunday, 12:00pm–9:00pm
FW Rio Grill & Capriccio Coffee Shop Macau Fisherman's Wharf, Avenida da Amizade e Avenida Dr. Sun Yat-Sen, NAPE, +853 8799 6338, www.fishermanswharf.com.mo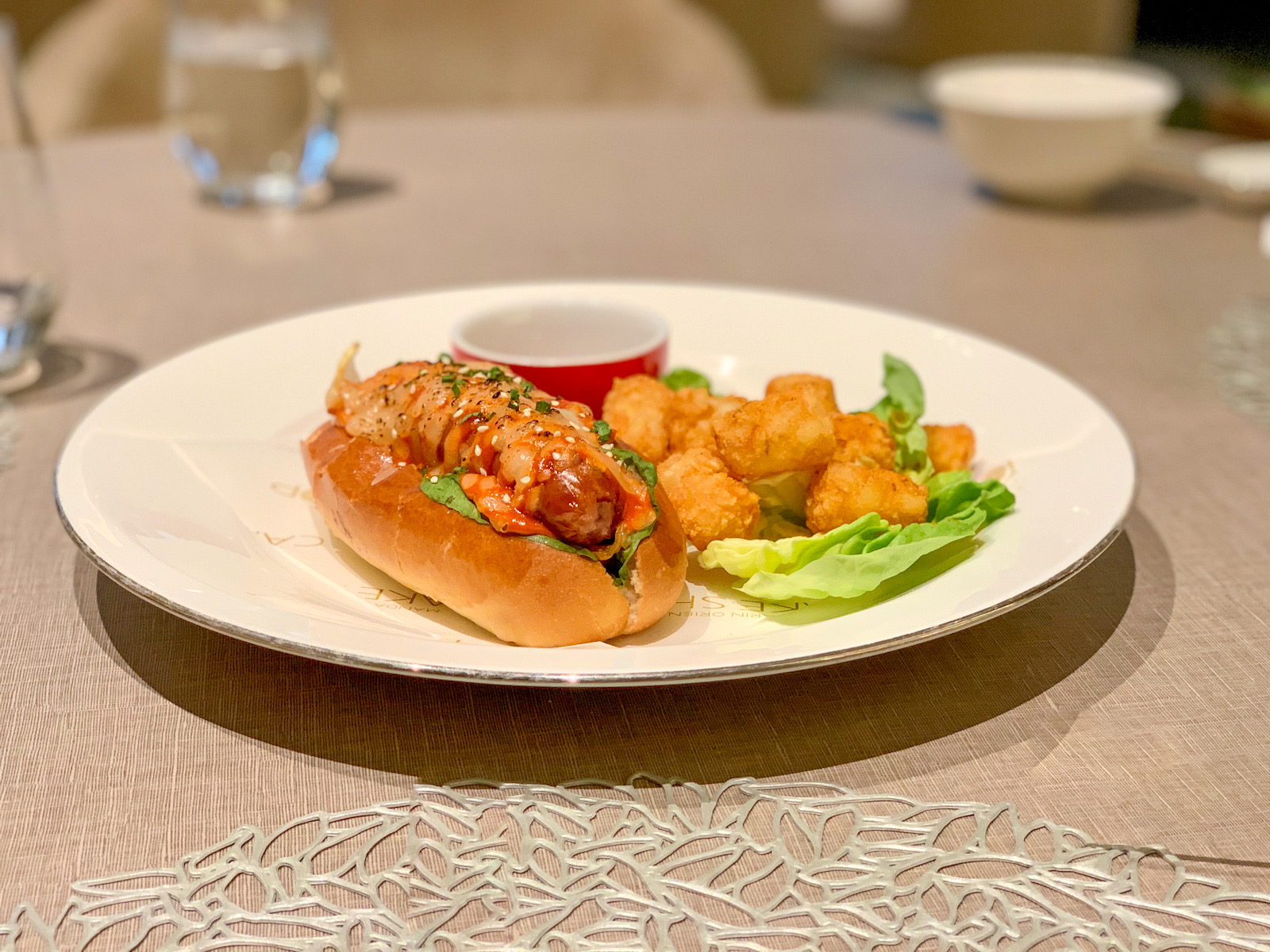 Lobby Lounge at Mandarin Oriental, Macau – Kimchi hot dog
All hail one of Lobby Lounge's newest items: a wholesome kimchi hot dog that will surely fill your desire for something strong yet light on the stomach. Made with original hot dog sausage, it comes with deep-fried tots, giving the dish a very original touch. The latter are soft at first and clearly homemade, as one can feel the potato bits inside, still fresh.
Mandarin Oriental, Macau is known for its playful and creative approach to food, so you'll never be bored with any of the offerings. Their kimchi hot dog is named so because it comes with melted cheese and kimchi sauce on top, giving it a very original flavor. The combination of a very "American" food, topped with Asian condiments is just what you might be looking for.
Opening hours: Daily, 9:00am–10:00pm
Lobby Lounge Mandarin Oriental, Macau, 945 Avenida Dr. Sun Yat Sen, NAPE, +853 8805 8888, www.mandarinoriental.com/macau/fine-dining/lobby-lounge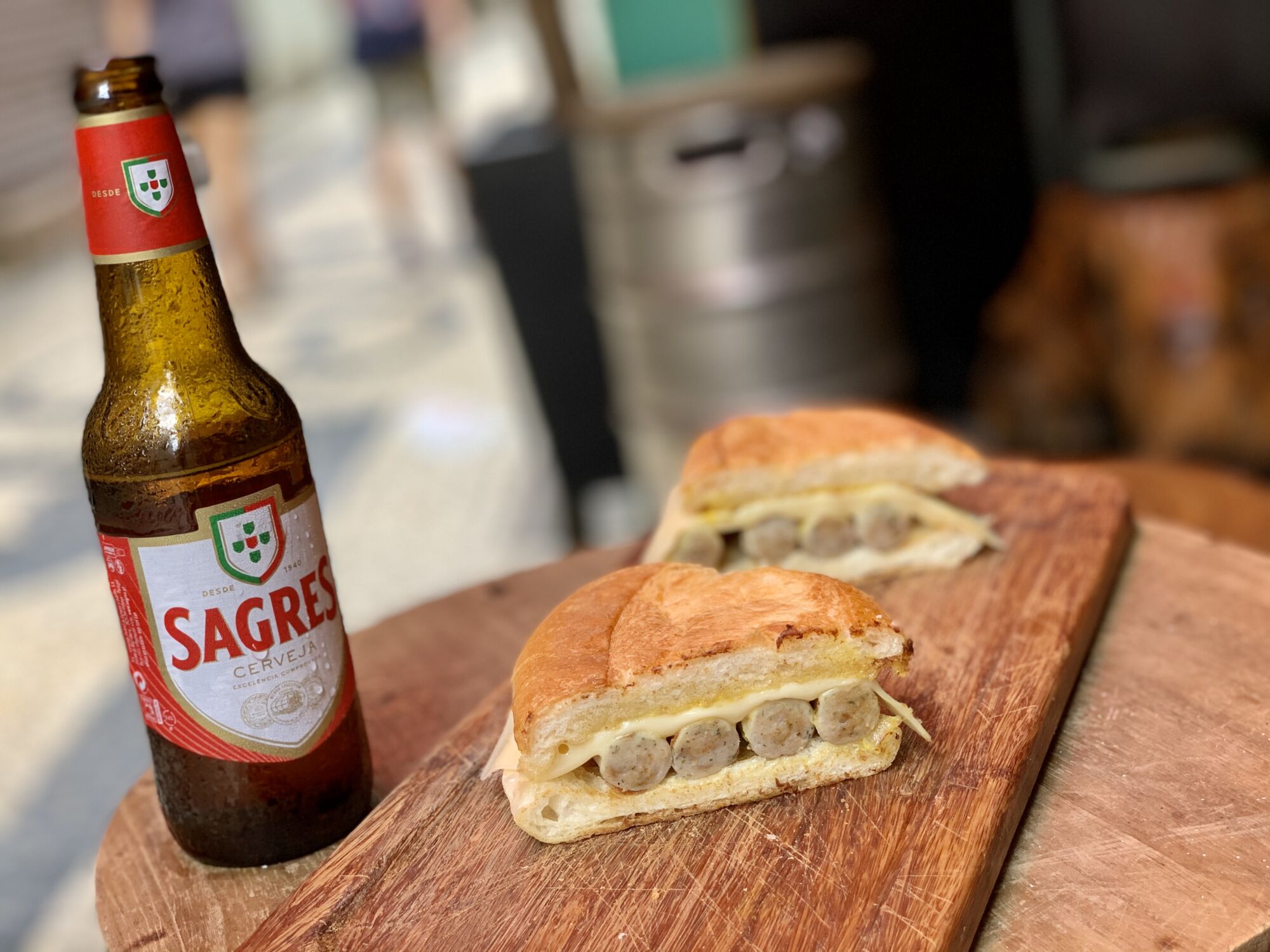 Food Truck Company – Portuguese-style hot dog
Owned by a Portuguese man with a great love for food and the art of serving it well, the Food Truck Company offers a variety of dishes, with the meat sandwiches being the most popular ones. This time, we went for their hot dog "like it's done in Portugal". Instead of the classic long hot dog bun, this eatery uses a single, round bread loaf to which an Austrian brand sausage is added, plus cheese (if desired) and sauces–ideally, just mustard, so the overall taste isn't overpowered by the sauces' strong flavor.
Served warm with cheese oozing from the bread sides, it's best enjoyed with a cold beer on the side: and yes, this is the Portuguese way of having a summer meal. The price is also super wallet-friendly at only MOP $38 per hot dog! Why not head there with a bunch of your closest friends and share a few of their specialties? They also serve Portuguese-style pork chop bun, steak bun (called prego in Portuguese), cold cuts and cheese platter, and larger dishes. Ask for both Sagres and Super Bock beer brands so you can discern which suits you best. Looking for the best hot dog in Macau? You can't miss the Food Truck Company!
Opening hours: Sunday–Thursday, 12:30pm–10:00pm, Friday and Saturday, 12:30pm–3:00am
Food Truck Company 26 Rua de Nossa Senhora do Amparo, Macau, +853 2821 0312, www.facebook.com/foodtruckcompany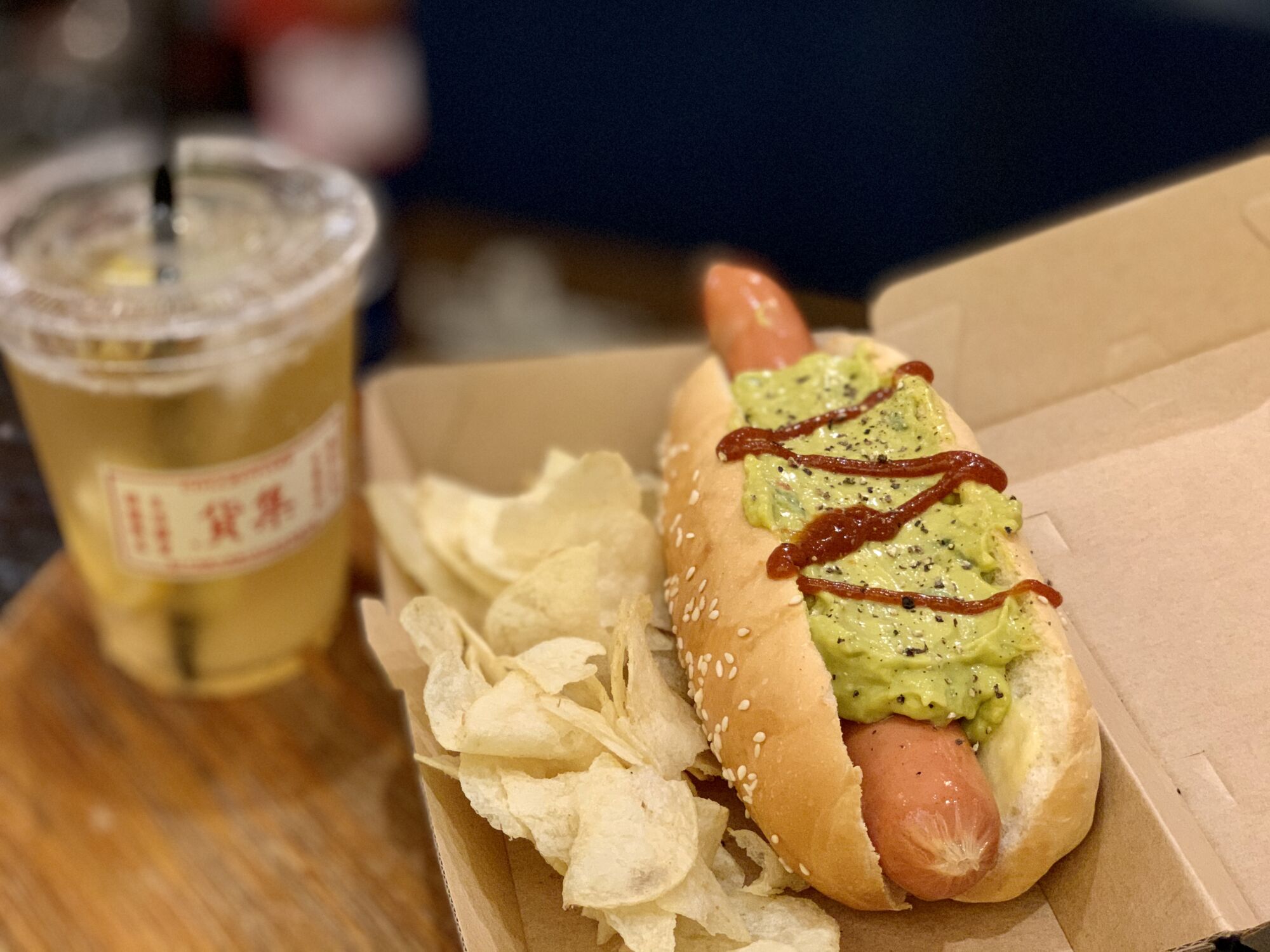 Collectore – Avocado hot dog
Here's the most creative hot dog we tried on our quest! Made with original German-like sausage, its crunchiness goes very well with the mashed avocado they put on top. Sprinkled with pepper and topped with hot sauce, this approach is very interesting. Now think of the surroundings and you'll get the perfect meal. Pair this with a lemonade fizz or one of their coffee-based options and we promise you'll love the combination. The price for a hotdog plus drink is MOP $78.
They also serve other original mixes, such as a hot dog with Chinese noodles on top, or with a cabbage sauce recipe. Collectore is a vintage homeware store selling everything from vinyl to memorabilia–lots of McDonald's Happy Meal collections–cups and tins, plates, and many other things. We visited this shop and here's what we have to say about it.
Opening hours: Thursday–Tuesday, 2:00pm–9:00pm
Also read: Collectore: Macau's Ultimate Vintage Shop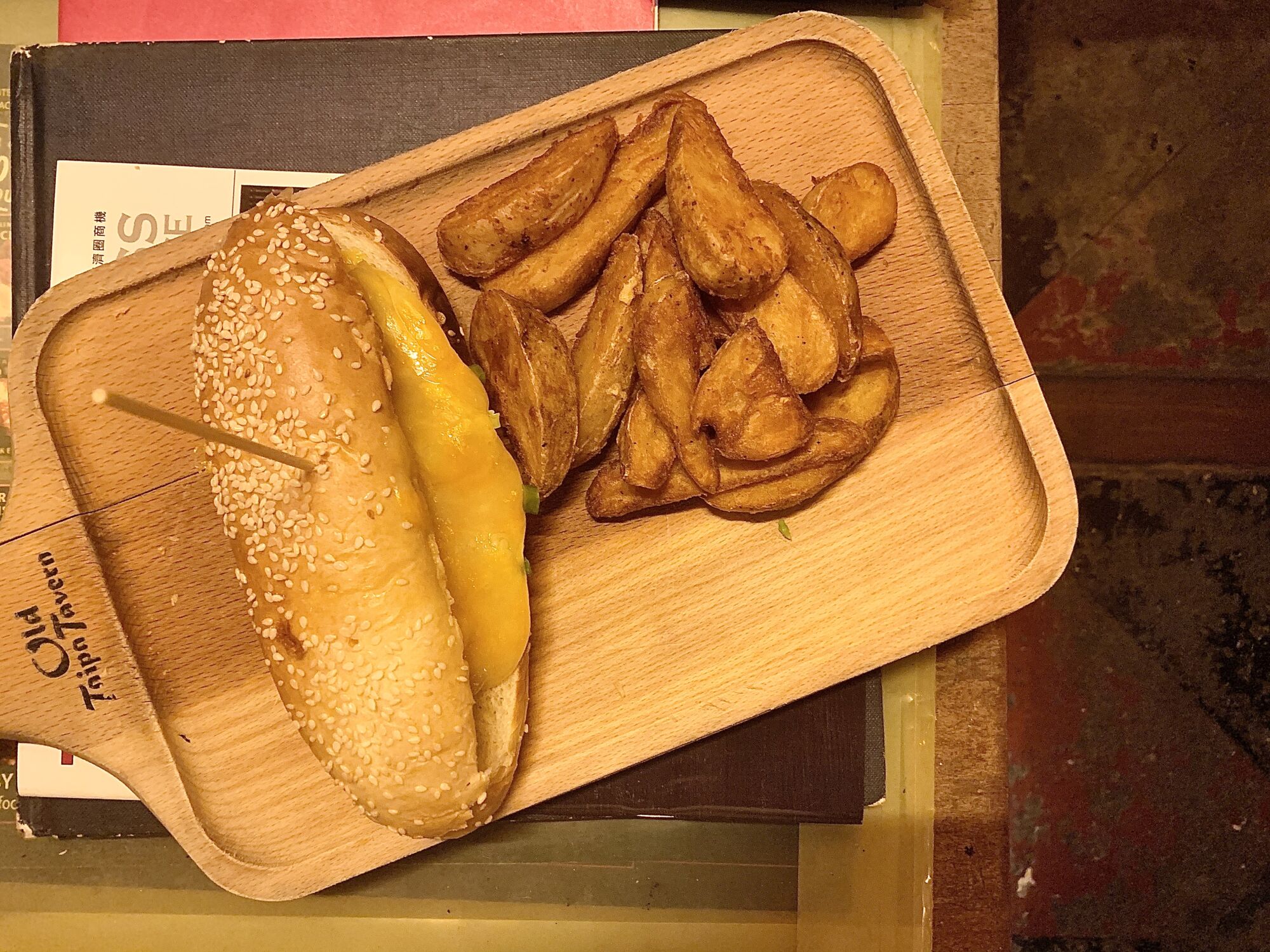 OTT – Onion hot dog
Known for its never-ending menu of wholesome snacks, OTT–set in Taipa Village–is the perfect setting to start a hot dog craze. It might be unnoticed in the middle of the fajitas and hamburgers, but OTT's onion hot dog is certainly a must-try. Made with a German-style sausage and a traditional hot dog bun, it goes into the oven to cook the onions and the cheese on top melts gorgeously. With a slightly spicy note, OTT has created a wonderful snack that's filling and just simply tasty! Also, it comes with freshly fried potato wedges, which we also find delicious!
Opening hours: Daily, 2:30pm–2:30am
OTT 21 Rua dos Negociantes, Taipa Village, +853 2882 5221, www.facebook.com/ottmacau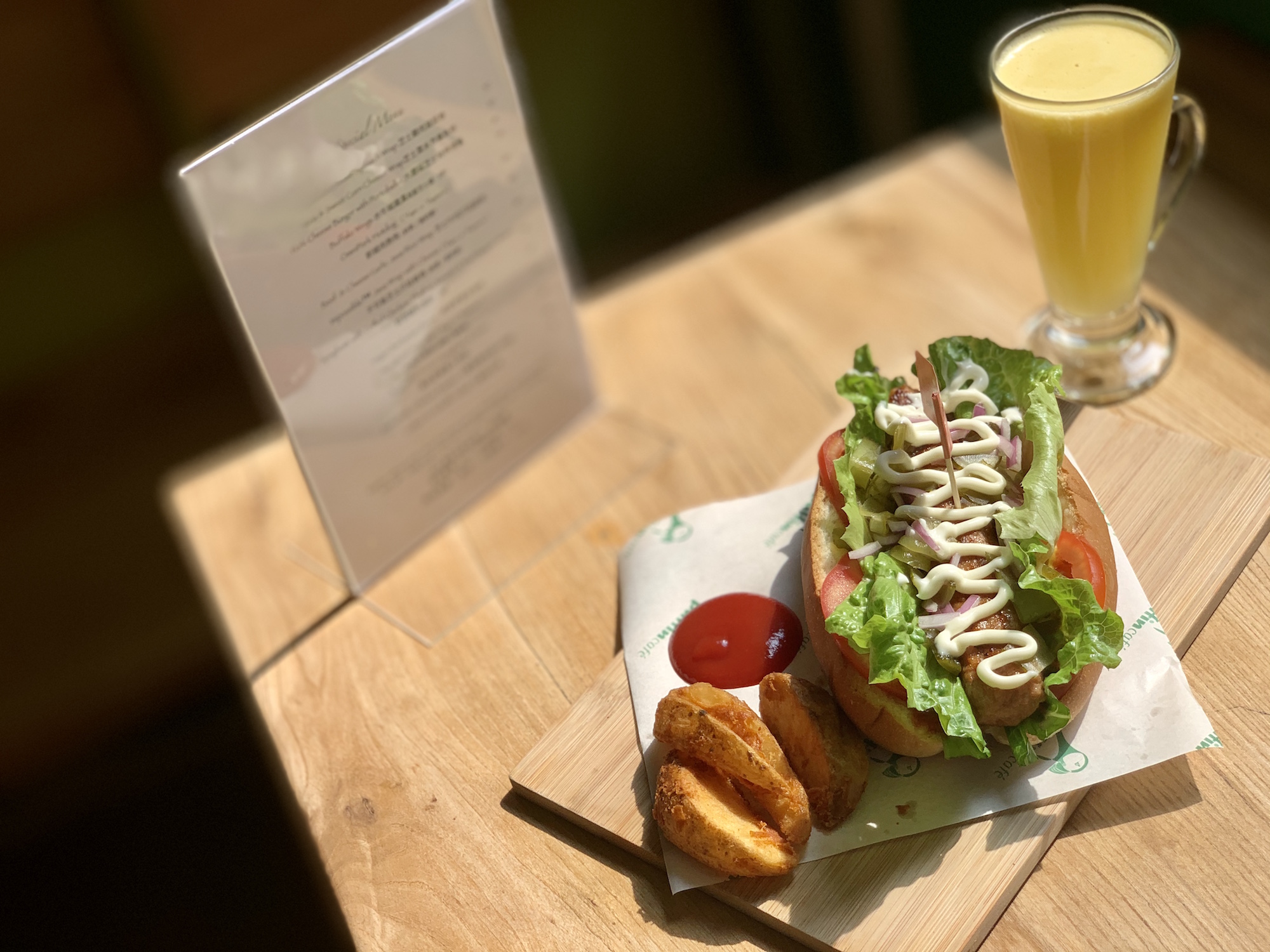 Puffin Café – Omnipork Vegetarian Hot Dog
With a crispy bun on the outside, this vegan hotdog is one of the best we've tried! A creation by Puffin Café and made with Omnipork–a brand that makes food with a substitute of real meat–it surely satisfies any burger craving. However, this one's packed with healthy stuff! Melty cheese and mustard stuck to the insides of the bun, followed by fresh lettuce and tomato, grilled sausage topped with onion, and lots of gherkins! All this with some mayo to top it off. Amazing choice, this one. We had it with the lemongrass and apple juice, one of their many pressed juices options. There are tons of other drinks, with a focus on fresh juices and coffee-based ones to complement your meal!
Opening hours: Thursday–Tuesday, 11:00am–9:30pm
Puffin Café 16A Rua de Santo António, San Wan Building, Macau, +853 2883 6663, www.facebook.com/puffincafebaron
Also read: Macau's Best Veggie Burgers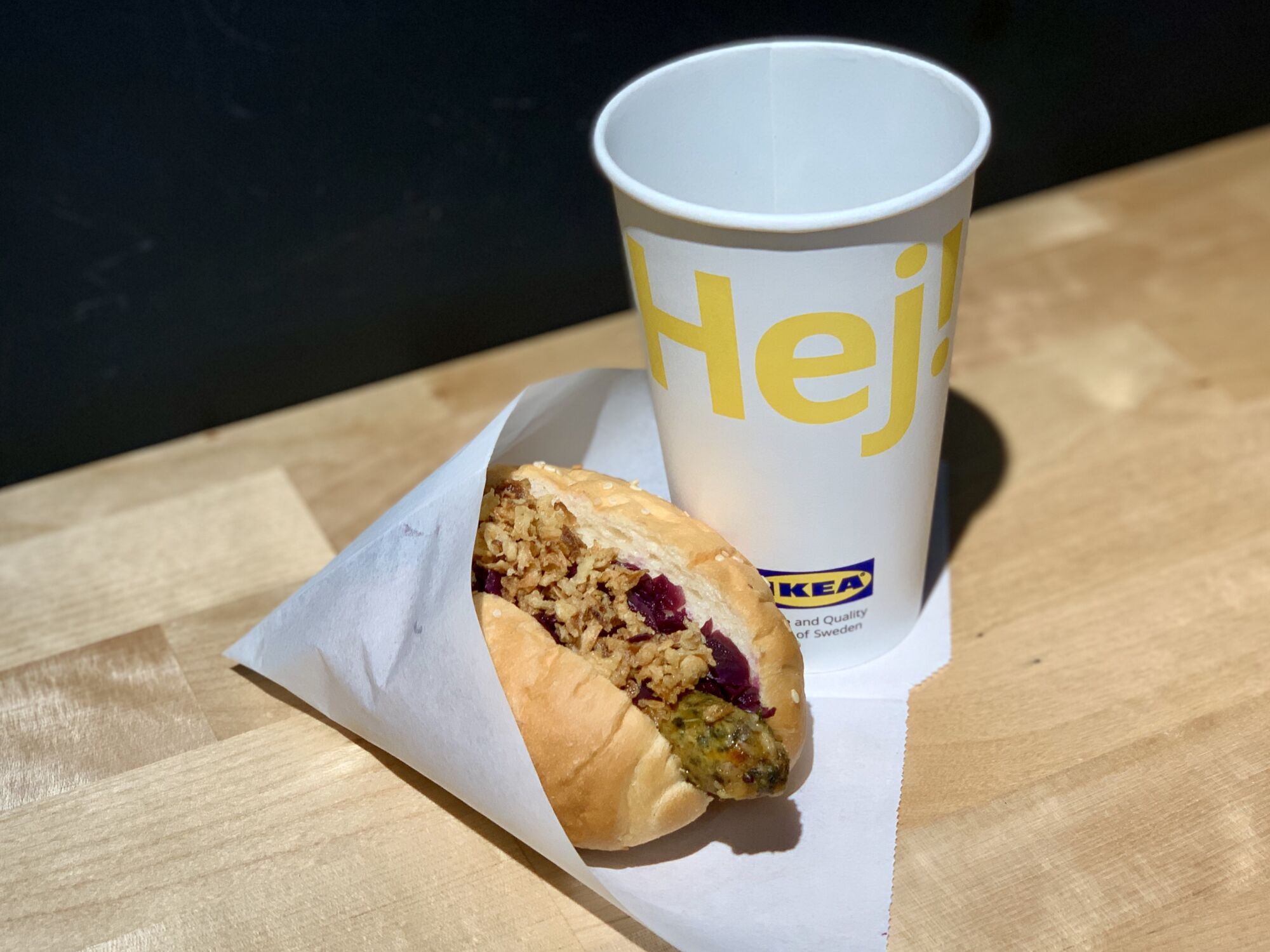 IKEA – Vegetarian hot dog
If you're an IKEA fan, you're almost certainly an enthusiast of their food as well: their famous meatballs, hash browns, and the grilled salmon are all very popular dishes. Ever had IKEA's hot dogs? They now have a vegetarian version! The sausage is made of vegetables and each bite reveals lots of spices and condiments–we also tasted lentils. The light sweetness of the sausage is greatly balanced with the sauerkraut–fermented cabbage–on top, plus the crunchy fried onion, a classic served in Sweden, where IKEA is from.
However, if you're not into this veggie option, then just go for the original. Made in the simplest of ways, it has a warm German-style sausage stuffed into a hot dog bun. Add your favorite sauces and much away! Have it with a soft drink and it's just MOP $4 more. How amazing is that you can have a full meal for just MOP $12?
Opening hours: Daily, 10:00am–10:00pm
IKEA Food Bar, 2/F, Shop 101 & 2/F, Shop 201, NOVA Mall, Avenida de Kwong Tung, Taipa, +853 0800 347, www.ikea.com.hk
Tags
Related Posts