The act of giving during Chinese New Year is all about passing on good wishes and luck. It's an important annual tradition and to get ahead of the festivities, we've rounded up the best Chinese New Year gifts you need to get and give to the special people in your life.
The St. Regis Macao, Cotai Strip's Limited Condiment Set
It's always the warm thoughts behind a gift that count and the act of gift-giving is in itself a warm gesture too! The St. Regis Macao has created a thoughtful gift box that will delight even the most strict aunt or difficult cousin. The Manor has specially designed a limited condiment set featuring Piri-Piri sauce, XO sauce, and Himalayan pink rock salt. Every piece represents wealth, status and exclusivity. This gift is what you need for a fuss-free Chinese New Year celebrations, sure to delight any recipient. These limited condiment sets are available from January 2, at The Manor and priced at MOP $688 per set.
The Manor The St. Regis Macao, Cotai Strip, Estrada do Istmo, Cotai, +853 2882 8898, www.stresgismacao.com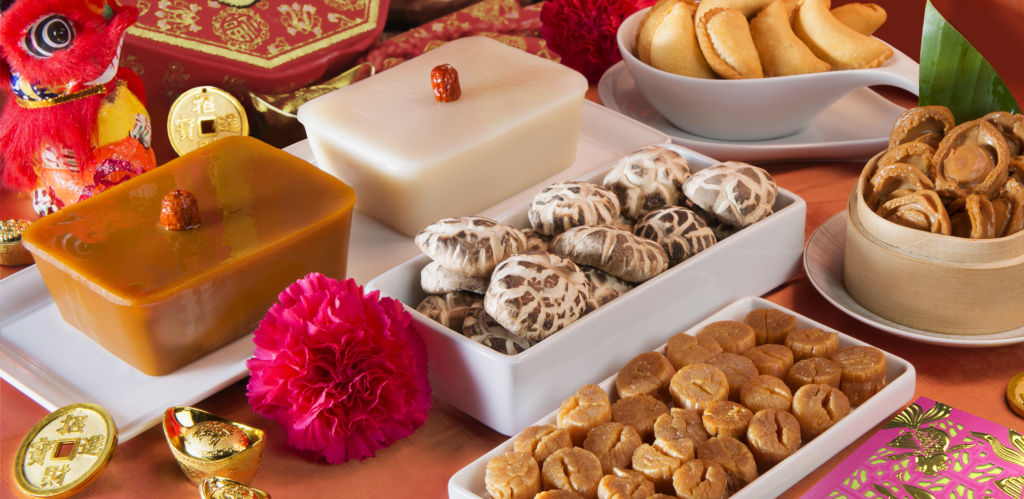 Sheraton Grand Macao, Cotai Strip's Chinese New Year Pudding Set
Treasured treats await at Sheraton Grand Macao. Having designed the perfect Chinese New Year gift set for family and friends, the Chinese New Year Pudding set is a fantastic find. It includes ginger and almond milk flavored pudding. Splurge a little and give your close relatives the Supreme Chinese New Year Hamper. It also includes premium food items and snacks, such as dried scallops, dried shiitake mushrooms, nine head abalone, crispy peanut rissois plus the pudding set. It is available from now until January 31 with prices starting at MOP $388. There's a great variety of gifts to choose from for your entire clan.
Sheraton Grand Macao Hotel, Cotai Strip Estrada do Istmo, Cotai, +853 2880 2000, www.sheratongrandmacao.com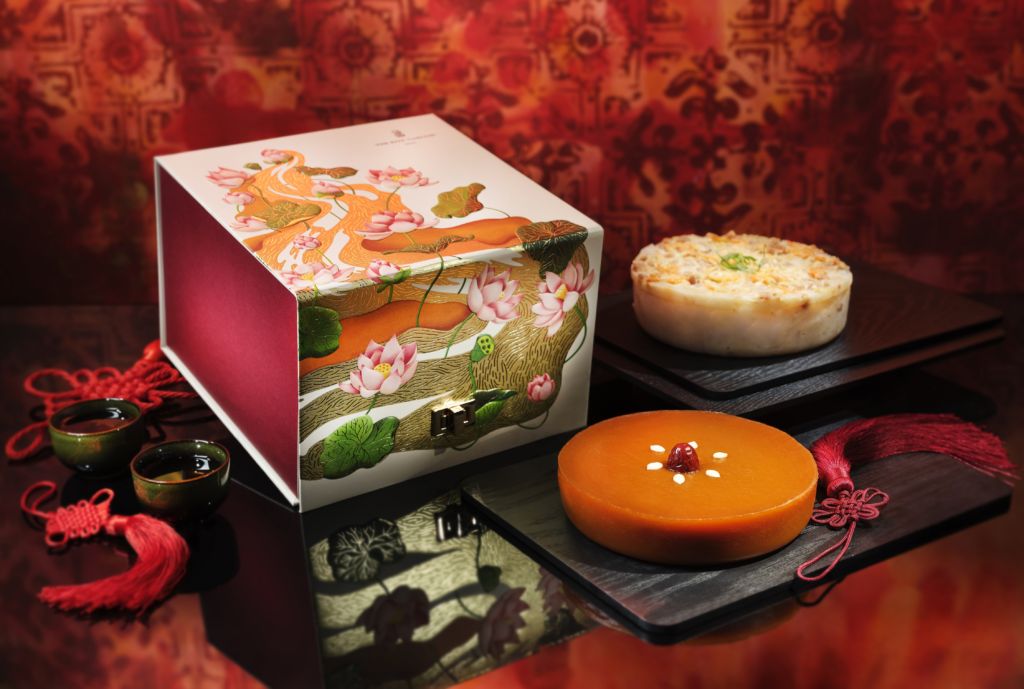 Lai Heen's Rice Pudding Treasure Box
2020 marks a new decade and with it dubbed the Year of the Golden Rat, The Ritz-Carlton, Macau, has prepared festive gourmet delicacies that should be on your Chinese New Year gift shopping list. The luxurious restaurant of Lai Heen offers the uber glamorous Rice Pudding Treasure Box. It features their classic turnip cake and glutinous rice pudding. These delicacies are the best present to bring your loved ones during Chinese New Year. The Rice Pudding Treasure Box is priced at MOP $528 per set and is available from now until January 28.
Lai Heen 51F, The Ritz-Carlton, Galaxy Macau, Estrada da Baia de Nossa Senhora da Esperanca, Cotai, +853 8886 6868, www.ritzcarlton.com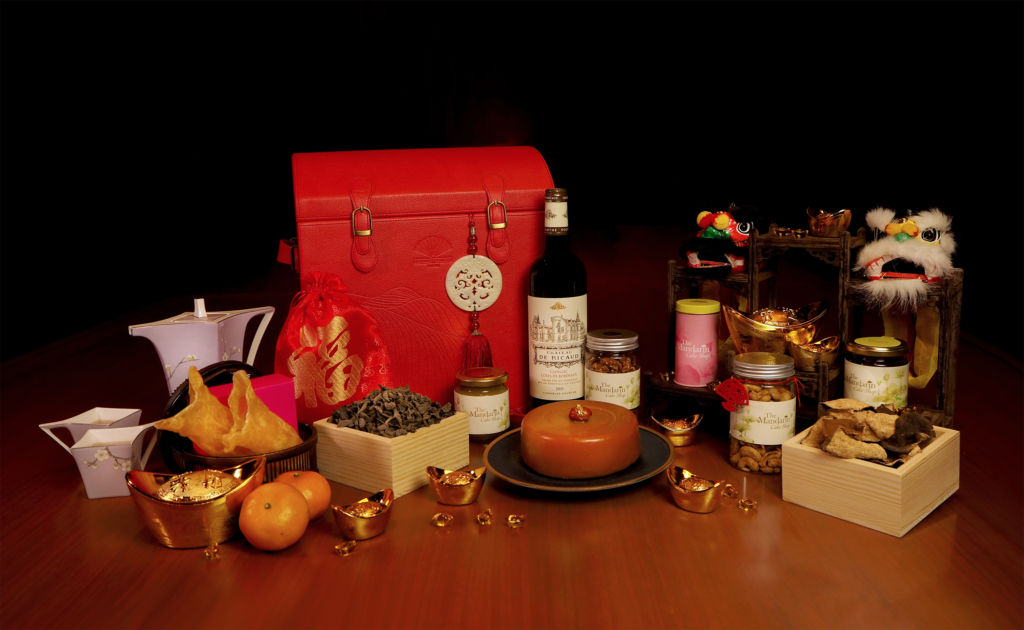 Mandarin Oriental, Macau's Prosperity Gift Set
It is a time for giving gifts as a token of respect and affection. The Mandarin Oriental, Macau has crafted an array of menus, offers and takeaway goodies for people to celebrate this Chinese New Year. The Mandarin Cake Shop presents festive hampers and traditional homemade Chinese delicacies. These gourmet seasonal treats make for the perfect gifts.
We love the Prosperity Gift Set comprised of glutinous rice cake with red dates and golden dust. It also contains Mandarin Oriental's exclusive tea blend. It's priced at an affordable price of MOP $328. If you want to splurge a bit, the Deluxe Hamper is priced at MOP $3,398 filled with delicious and healthy options to welcome the year.
Mandarin Oriental, Macau 945 Avenida Dr. Sun Yat Sen, NAPE, Macau, +853 8805 8888, www.mandarinoriental.com
Grand Lapa Macau's Prosperity Hamper
The festive season is all about giving back to the people closest to your heart. There is a good reason Grand Lapa is one of our favorite places for cakes no matter the celebration. Their creations are always beautiful and delicious making every gathering a momentous occasion. From traditional glutinous cake, turnip cake to deep-fried sesame balls, walnut cookies, there is a wider variety of delightful bites. You can also get the New Year Hamper and Prosperity Hamper that are available at Kam Lai Heen Chinese Restaurant, Café Bela Vista and Vasco Bar & Lounge in Grand Lapa with the prices starting from MOP $1,988.
Grand Lapa Avenida de Amizade, Macau, +853 2856 7888, www.grandlapa.com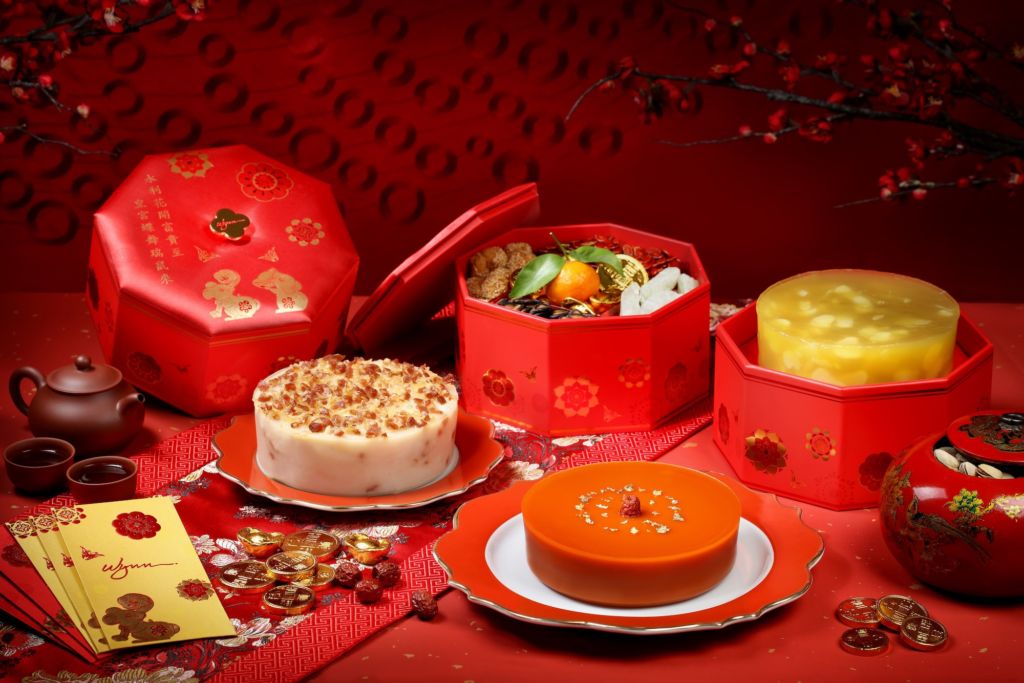 Wynn Macau's Chinese New Year Cakes
If you're like us with a long list of relatives and friends to shop for this Chinese New Year, don't worry and head to Wynn Macau. You'll find thoughtfully packaged traditional Chinese New Year Cakes that will save you all the trouble of getting gifts from different places. The gift box designs are not only inspired by the golden rat and Wynn's iconic dancing butterflies and flowers but they are also carefully created to be sustainable. Each gift box can be transformed into a Chinese New Year candy box filled with all kinds of festive sweets.
The four varieties of Chinese New Year Cakes on offer are Wynn's classic turnip cake and taro cake priced at MOP $428 per box and the sweet Chinese New Year coconut cake and water chestnut cake priced at MOP $368 per box. From now through January 24, Chinese New Year cakes and vouchers are available at Wynn Macau's Wing Lei and also Sweets at Wynn Palace.
Wynn Macau Rua Cidade De Sintra, NAPE, Macau, +853 2888 9966, www.wynnmacau.com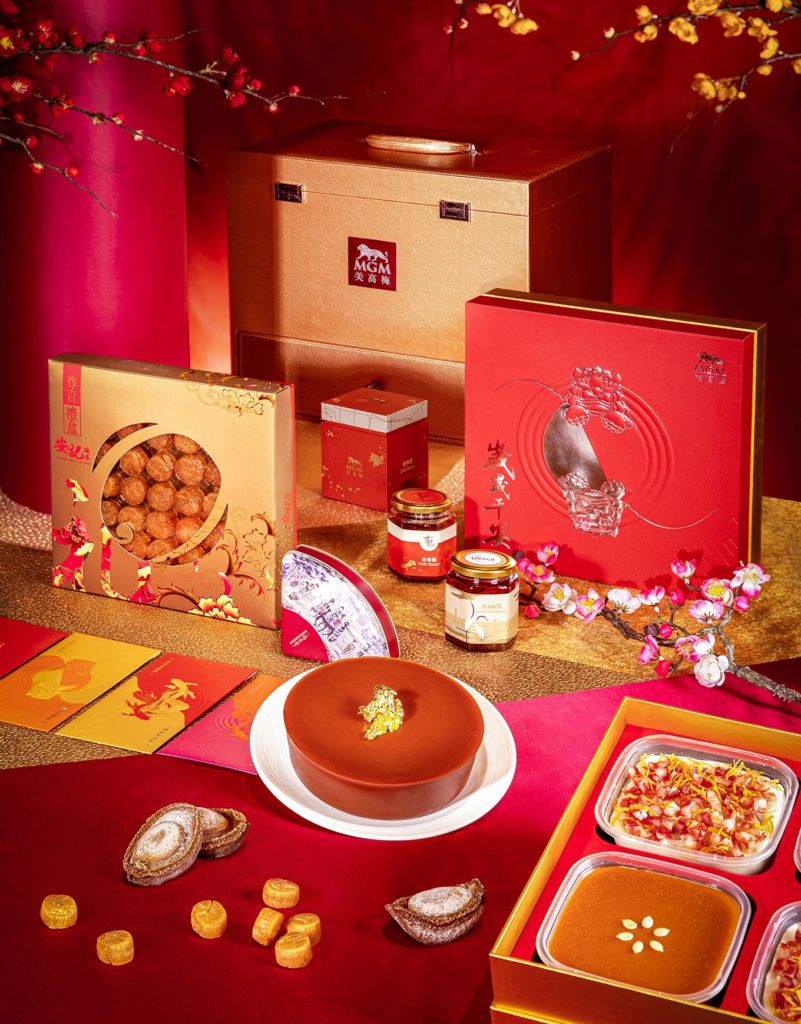 MGM Macau's hampers and gift vouchers
Every family table needs a tasty dessert on Lunar New Year. Make a stop at MGM Macau and you'll find the finest of homemade festive puddings that will no doubt be the centerpiece of the celebrations. Discover delightful gift hampers that are also ideal presents for relatives and friends. On top of the classic flavors like coconut and ginger pudding and turnip pudding, the new organic earl grey tea pudding has been added to the delicious lineup this year. This exquisite new pudding is infused with bold earl grey flavor in a base of brown sugar pudding. These precious pieces will no doubt bring joy to the hearts of your loved ones. Gift vouchers are also available for sale from now until January 23 at Pastry Bar of MGM Macau.
MGM Macau Avenida Dr. Sun Yat Sen, NAPE, Macau, +853 8802 8888, www.mgm.mo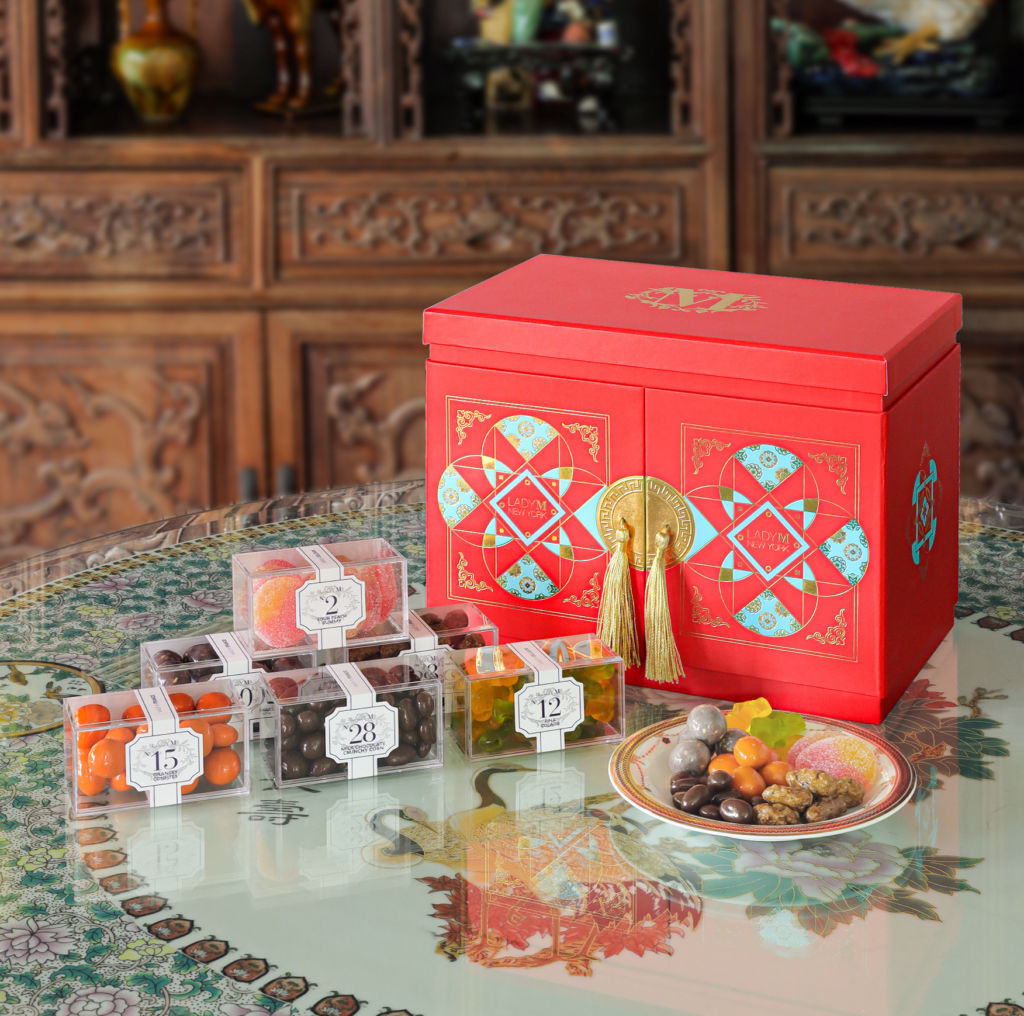 Lady M's Jewelry Candy Chest
The new decade ushers in new twists to our usual gifting options. As always, Lady M's "cheun hap" candy chests is a coveted gift this season, Designed by Lady M's headquarters in the United States, the Lady M Jewelry Candy Chest celebrates the year of the rat with a contemporary Chinese cabinet design that can be reused as a jewelry box after the festivities.
Meticulously designed with Lady M's signature quality, it represents the harmonious relationship of the young and old. Each box contains six types of original candies that have been crafted to perfection in Europe. We love the sour peach, pina colada, orange confit, and the milk chocolate crunchy corn. It's priced at MOP $880 and available from January 9 to 30.
Lady M K2, Grand Canal Street, Level 3, Shoppes at Venetian, Taipa, +853 2825 8320, www.ladym.com
Lady M Shop 2203b, Level 2, Shoppes at Cotai Central, Sands Cotai Central, The Cotai Strip, Taipa, Macau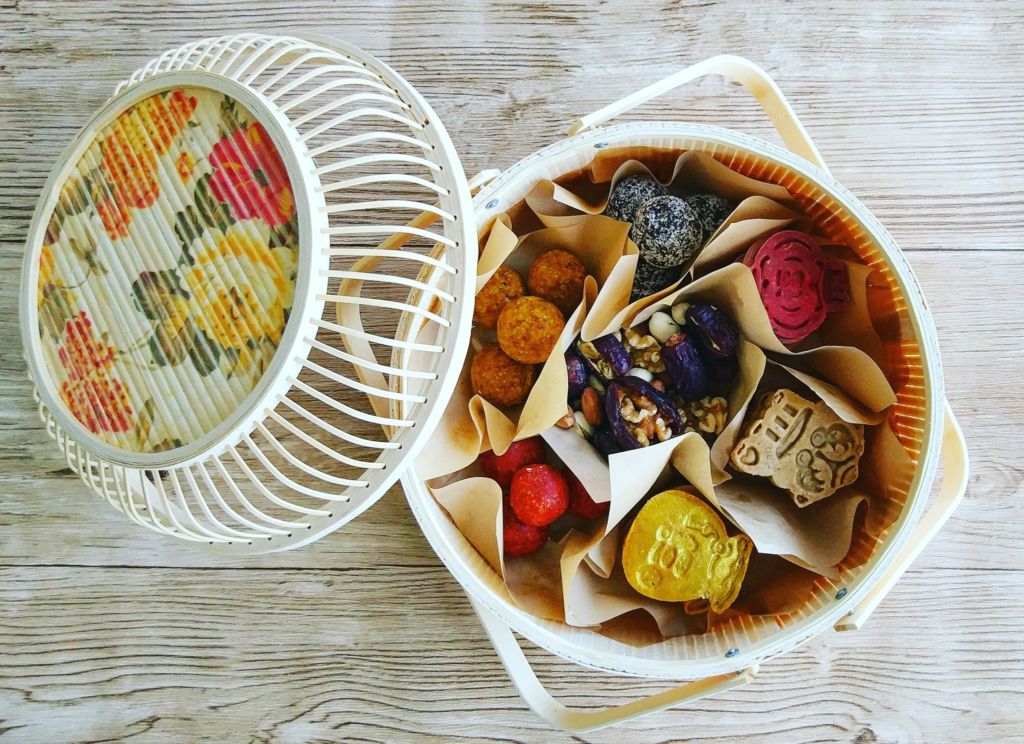 Rawlicious and Concept H's special gift box
Begin the New Year with healthy choices that are probably the best gift you can ever give anyone. Rawlicious and Concept H have joined forces to create a healthy, vegan and very special gift box for Chinese New Year. It contains delightful vegan cookies and desserts, dried fruits and nuts. You'll find joy in the diversity of flavors created by talented plant-based chef Andreea Apostol. You'll also feel guilt-free knowing that the packaging uses a non-bleached bamboo basket that's totally reusable. The gift box is priced at MOP $288 per box. You can order now until January 18.
Rawlicious +853 6338 8328, berawlicious.com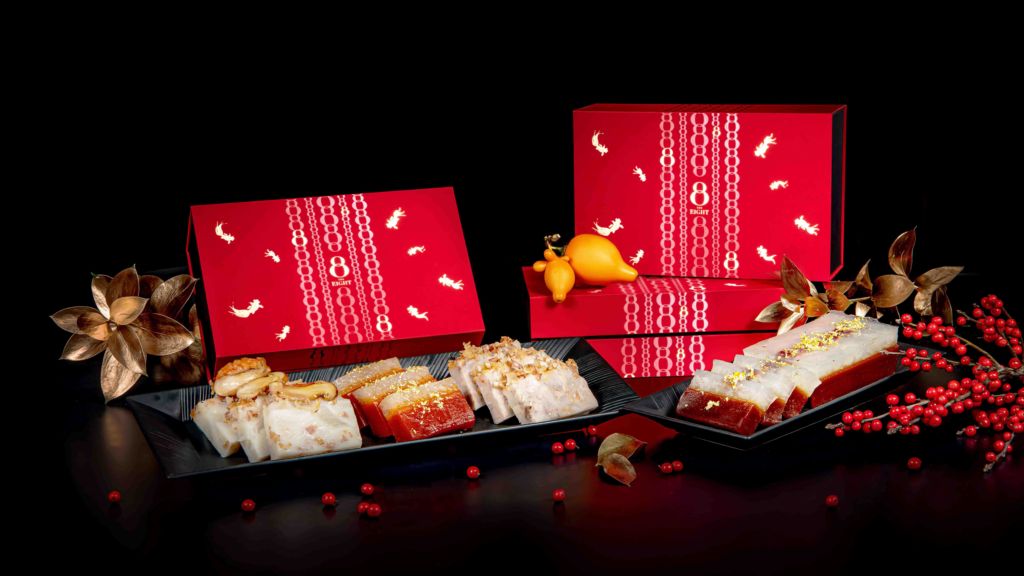 Grand Lisboa's Chinese New year Cakes and Hampers
Take your Chinese New Year gift to the highest level and surprise family and friends with Chinese New Year cakes from Grand Lisboa's The 8. Indulge in a healthy red date cake with hasma and lotus seed. This nutritious new year cake is not only made with red dates and lotus seed, but it also features a healthy dose of Japanese brown sugar. And for those who love The 8's classic cakes–you need not fear–the premium cane sugar cake with bird's nest and coconut juice; turnip cake with matsutake flavored in fish broth and taro cake with conpoy, morel mushroom, and preserved meat are still available for purchase. The Grand Lisboa Chinese New Year cakes are priced at MOP $380 per box.
You'll also find exquisitely curated gift hampers full of premium gifts that are perfect for the Chinese New Year. This year, the "Grand Lisboa Chinese New Year Deluxe Hamper" features abalone, fish maw, sea cucumber, home-made X.O. mushroom sauce from The 8, wine and more for MOP $3,600. You may purchase these goodies in the hamper or individually at the "Hamper House" in the lobby of Grand Lisboa. The hampers and goodies may also be purchased now through January 24 at the hotel lobby Hamper House.
Grand Lisboa Avenida de Lisboa, Macau,+853 2828 3838, www.grandlisboa.com
Tags
Related Posts