It's the wellness routine many celebrities and supermodels swear by. From Gisele Bundchen's immaculate body to Kate Hudson's mindful meditation, the benefits of yoga are immeasurable. For starters, this ancient practice of wellness boosts the immune system, reduces stress, increases flexibility and the list goes on. The only way to learn what yoga brings to your well-being is to start practicing it! If you're visiting or staying in Macau for a bit, check out our list of the best yoga places in Macau.
Yoga Loft
Located in a colonial building on Senado Square, Yoga Loft offers tranquil energy in contrast to its hectic touristy surroundings. The historic location comes with a rare overview of one of Macau's most iconic landmarks. 
But first and foremost, Yoga Loft is a studio where Macau yogis will find balanced practice by qualified teachers. Its founder Rita Gonçalves learned various yoga and yoga-related practices in places around the world. Then, she brought all her rich knowledge and expertise to share it with students in Macau. Rita's favorite type is Ashtanga Vinyasa, but she also teaches gentle Hatha, Sivananda, and postural yoga, a necessary practice for those who spend most of their time at the computer desk. 
The classes are never overcrowded to make sure everyone gets the teacher's attention and guidance. Rita's teaching style is straightforward but caring. She strives to help out every student to get the asanas right and to reap the most from practice.  
Occasionally, Yoga Loft hosts wellness workshops and classes such as movement awareness or self-empowerment courses. Apart from yoga, meditation, and pilates, you can choose from several massages and therapies too. For more updates on lessons and courses, check out their Facebook page.
Opening hours: Monday–Saturday, 1:00pm–2:00pm, 6:00pm–9:00pm
Yoga Loft Travessa S. Domingos, Edificio Centro Comercial Lek Tang, 2-A, 4/F, Macau, +853 6362 8004, www.yogaloftmacau.com
Also read: A Mind and Body Journey – Meet Yoga Loft's Rita Gonçalves
V Studio
Not easy to find but worth the effort, V Studio is the epicenter of Indian culture in Macau. The studio is on the 13th floor of an industrial building. If your GPS fails you, send V Studio a message on Facebook and they will happily direct you.  
Victor Kumar, V Studio's founder, and headteacher came to Macau in 2008 to introduce Bollywood dance. After years of studying in India and Hong Kong, he also became a certified yoga instructor. He opened V Studio in 2013 to make it the headquarters for the Indian culture that welcomes all. Thanks to their hospitality and friendly vibes, the studio became multi-cultural, with instructors from China, Spain, Brazil, and India, each contributing their share of knowledge and expertise. 
In V Studio, they teach dance, fitness, meditation, and yoga classes. Choose from alignment, embodied flow, chair, wheel, or aerial yoga. Whether you are a beginner or an experienced yogi, there is a class for everyone. Check their Facebook page for this month's schedule.
Being part of the Indian Culture Association Of Macau (ICAM), V Studio enlightens the local community on Indian culture. Do not miss their celebrations of important Indian traditions and events such as the Holi Festival, Diwali Light Festival, and Bollywood showcase. 
Opening hours: Daily, 11:00am–11:00pm
V Studio Rua do Patio da Concordia, no. 19, Fabrica Wang Kai, 13/B, +853 6393 2002, www.vstudiomacau.com
Yoga Life – Vedanta Wellness
"Vedanta" consists of two Sanskrit words "ved" (knowledge) and "anta" (complete) that comprise the meaning "complete perceivable knowledge". That name reflects the Yoga Life–Vedanta Wellness concept of a holistic wellness provider. Besides yoga classes, they offer a full spectrum of wellness activities and practices–Indian dance, breathing and meditation, Ayurveda wellness consultation. You can also purchase yoga, Ayurveda, and organic wellness products at the studios. The basis of the services is the principles of yoga and Ayurveda, an ancient system of medicinal knowledge and principles with historical roots in India.
Between two locations, one on the Macau side near Old Court Building in Macau and another one in Taipa, they offer a wide variety of yoga activities for all ages. There are kids and aerial kids yoga, pre, and postnatal yoga, yoga classes focused on specific muscle groups and body parts, such as yoga core and hip and shoulder opening.
Opening hours: Depends on class schedule and appointments. Check their Facebook page for schedule updates
Vedanta Wellness Avenida da Praia Grande no. 429, Edificio Centro Comercial da Praia Grande, 5A, +853 6659 8049, www.vedantawellness.com
Warrior Fitness Macau
It is not just about combat fitness at this Taipa gym. Although it is mainly known for boxing, martial arts, and intense workouts, there is a place for those of us who enjoy the spiritual flow and benefits of yoga. Warrior Fitness offers yoga classes three times per week, taught by Kerill Ezzy. Led to the practice to conquer her back problems, Kerill knows how therapeutic yoga can be for different kinds of physical issues, as well as mental health. Thus, alignment and body awareness are the key elements of her teaching. Being a yoga therapist and working with physios, she is qualified to help students recover from injuries. The classes are from 6:00pm on Monday and Wednesday. Keep an eye on the website for the schedule. Expect positive energy, smiles, and gentle guidance. Check their Facebook page for the latest updates. 
Opening hours: Monday–Friday, 6:00am–10:00pm; Saturday, 8:00am–6:00pm; Sunday, 5:00pm–10:00pm
Warrior Fitness Macau Va Nam Bldg, Avenida Olimpica, Taipa, +853 6223 1511, warriormacau.com
Macao Fitness
Located in the heart of Macau's business district, AIA Tower on the 4th floor, Macao Fitness is a convenient and fully equipped gym with a full spectrum of sports activities. You could even charge your phone in lockers while you take a device-free moment session. Don't be intimidated by the gym status. If you are not ready to commit to an annual membership, you can still attend their classes on a day-pass basis.
Among fitness activities for all levels from beginners to advanced, there is a surprisingly large variety of yoga classes, considering it is not just a yoga studio. They include hot yoga, aerial yoga, wheel yoga, and yoga classes focused on particular yoga styles or types of asana. To learn when their classes are, check their website. The instructor who will be immersing you in the world of yoga is Viru Badwal, whose list of achievements and certificates in the field is as long as movie credits. For the latest updates, check their Facebook page.
Opening hours: Monday–Saturday, 6:00am–12:00am; Sunday: 8:00am–10:00pm
Macao Fitness 4/F AIA Tower, 251A–301 Avenida Comercial de Macau, Macau, +853 2875 1189, macao-fitness.com 
Yoga Light
Yoga Light provides a variety of yoga classes like yin yoga, gentle stretch, hatha yoga, chakra yoga, yoga swing, and more. Their main focus is to promote the importance of yoga and how it can positively affect your health, mind, and soul. The studio was founded by Ritesh Kumar, a professional and passionate yoga teacher. One of their signature classes is chakra yoga where students learn how to use seven different kinds of energy flows in the body. This class uses yoga poses, visualization, and breathing techniques to help bring balance to each of the chakra (energy) locations in your body. Besides small group classes and private sessions, Yoga Light also holds workshops, retreats, teacher training, and other yoga-related events. For schedules and other updates, follow them on their Facebook page.
Yoga Light 16K Praca Kin Heng Long, Alameda Dr. Carlos d'Assumpcao, Macau, +853 2875 2797, www.facebook.com/yogalightmacau
Life Project
Another gym on the list, Life Project offers a facility equipped with bodybuilding machines and group classes available for everyone. To accommodate different needs, they have a number of membership programs from one-month to five-years, as well as packages just for group class attendees and a day pass. Life Project's yoga classes include ashtanga, Hatha, yoga chill, and vinyasa. They have recently been working on a new yoga studio so once it's open, more yoga classes will follow. To find out more, check out their Facebook page.
Life Project R/C AI 277 Jardim Hoi Wan, Estrada Almirante Magalhães Correia, Taipa, +853 6684 2299, www.lifeprojectmacau.com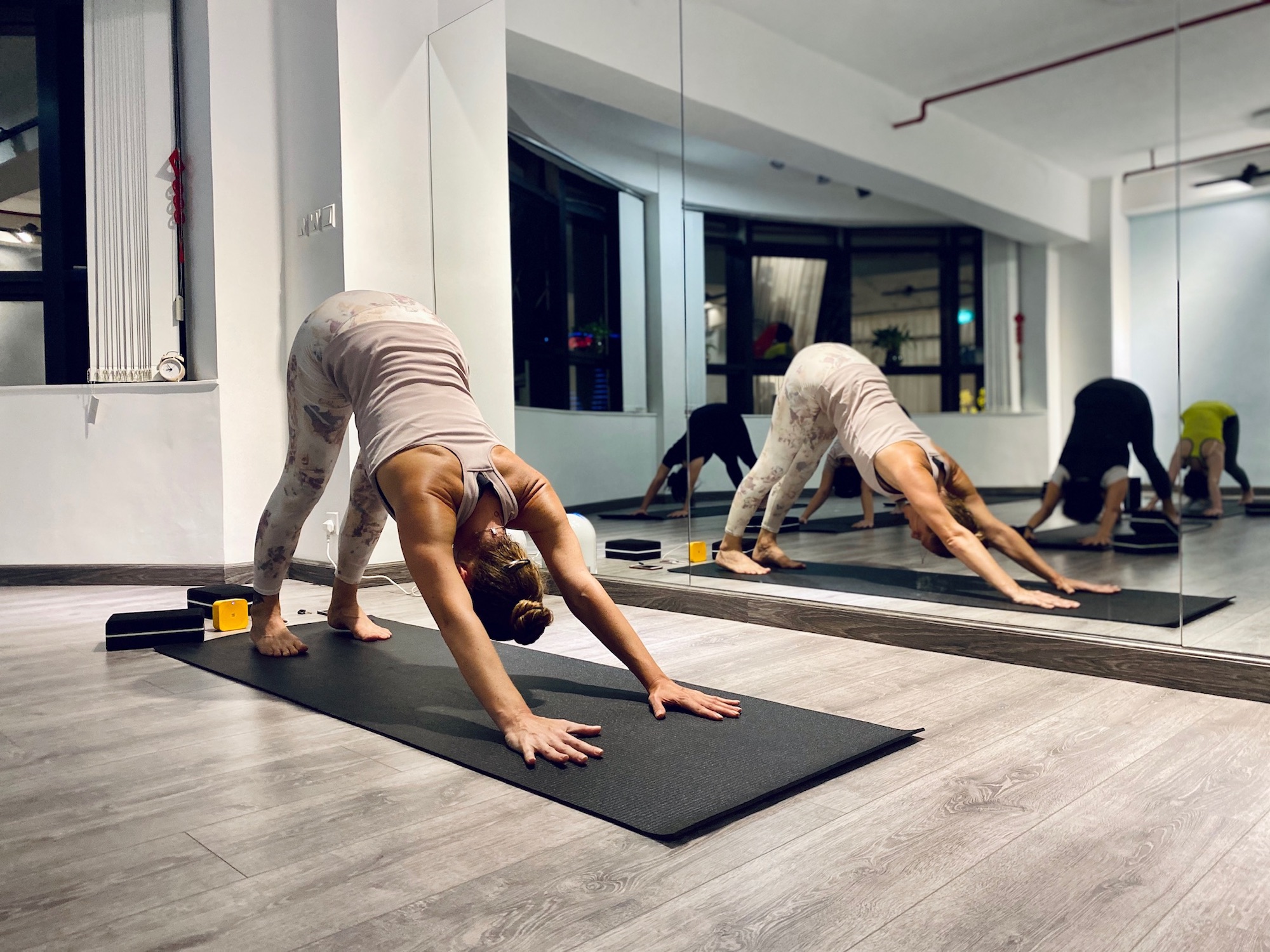 J&R Yoga 
A modern studio with large panoramic windows, J&R Yoga offers a range of classes, including yoga, mindfulness meditation, and Tabata workout. Located on the 16th floor of the commercial center, it is close to the Macao Polytechnic Institute and right next to the Rio Hotel. To make sure every participant has everything they need, there is brand new equipment available, free for everyone to use during a class. That includes Lululemon mats, wheels, brick, and ropes. You can store your belongings at the studio lockers, also free of charge.
J&R yoga sessions are based on a combination of different yoga styles, rather than focused on a particular one. If you wish to work on your core and muscle strength, try their Yoga Fit class. If flexibility is your goal, don't miss Stretch Yoga. Both of these classes are taught by Julianna, a Brazilian instructor who teaches in English. The classes are suitable even for beginners and with soothing guidance of instructions, you will surely progress session by session, becoming a better version of yourself. 
J&R Yoga Edificio Centro Commercial First Nacional, Floor 16, 576 Avenida do Dr. Rodrigo Rodrigues, Macau, +853 6650 0709, www.facebook.com/JRYOGAMACAO
Yoga World
Located in the city center–Rua do Campo–this studio in a building focuses on various kinds of yoga classes for people looking for easier and harder levels. From flow to aerial, Hatha to ashtanga, there's an array of yoga classes to frequent here. Besides these, Yoga World also offers body combat, body pump, and several dance classes like belly dance. This studio includes some fitness machines and it's exclusive for women, so feel free to check it out if privacy and fitness are two important words for you!
Yoga World 78 Rua do Campo, Macau, +853 2838 9154, www.facebook.com/YogaWorldMacau
This article was originally written by Bel Faustino in August 2016 and updated by Ksenia Kuzmina in April 2020. 
Tags
Related Posts