There is more to the sparkling lights of the casino city hub Macau. Though it is often dubbed as a shopping destination to most of the international high end and luxury fashion brands,  it is not all about glitz and glamour here thanks to its free port status. Brand label clothes, sneakers, jewelry, cosmetic goods, antiques, and home furnishings can all be bought at significantly lower prices. Whether you are a bargain hunter, antique collector or real big spender, Macau sets the stage for some conspicuous consumption that makes the perfect destination for any type of shopaholic. In this list, we included the most popular shopping spots across the islands of Macau and Taipa to maximize your Macau shopping experience.
Shopping Paradise at Senado Square
(See featured image)
Downtown Macau, particularly the streets at Senado Square, is hard to miss when traveling in Macau. This place is widely popular among tourists as it gives both pre and post-colonialism vibes with its mix of Portuguese and Chinese aesthetics and infrastructures. It is a great place to kick off your Macau shopping experience as clusters of stalls surrounding the area specialize in selling Cantonese street delicacies and oriental goods. This major shopping district conveniently promises an insight into the old Macanese lifestyle as well as offering the best mainstream brands at a reasonably cheaper price, perfect examples are products from Pharmacy Popular. Specifically located on the northern side of Avenida Almeida Ribeiro where the main bustle of Macau happens, Senado Square is best known for cheap clothing finds, discounted watch and eyewear brands, shoes, and Korean and Japanese cosmetic shops. It surely won't disappoint any shopaholic!
Senado Square Largo do Senado, Macau
Rua do Campo's Sneakerhead Heaven & Avenida de Horta e Costa's Cheap Thrills 
Not far from the Senado Square shopping district, Rua do Campo is perfect for the sneakerheads where almost all the sports and sneaker brands are displayed window after window. Prices are about the same but when sale seasons come, prices drop to as low as 80% off! Just be wary of how busy this sneaker lane can get as it is located on the long pavement sidewalk of the main road.
Moving to the shops along the Macau inner harbor, you'll find yourself bargaining at different stalls and shops in this culturally vibrant shopping area. Markets here are focused on local shoppers and offer inexpensive products. Locally known as the Red Market area, the long stretch of Avenida de Horta e Costa is another of the city's main shopping streets specializing in electronics, clothes, jewelry, and cosmetics. The renowned Sam Jan Dang–Three Lamps District begins at Rotunda de Caros da Maia covers several blocks. This is where visitors can immerse themselves in a network of enthusiastic street vendors and quaint shops selling various goods at competitive prices. Being an extension of the actual market place, it is important to note that bargaining is acceptable in this area–just make sure you have a reasonable asking bargain price and you're set!
Red Market Avenida do Almirante Lacerda
Three Lamps District Rotunda de Carlos da Maia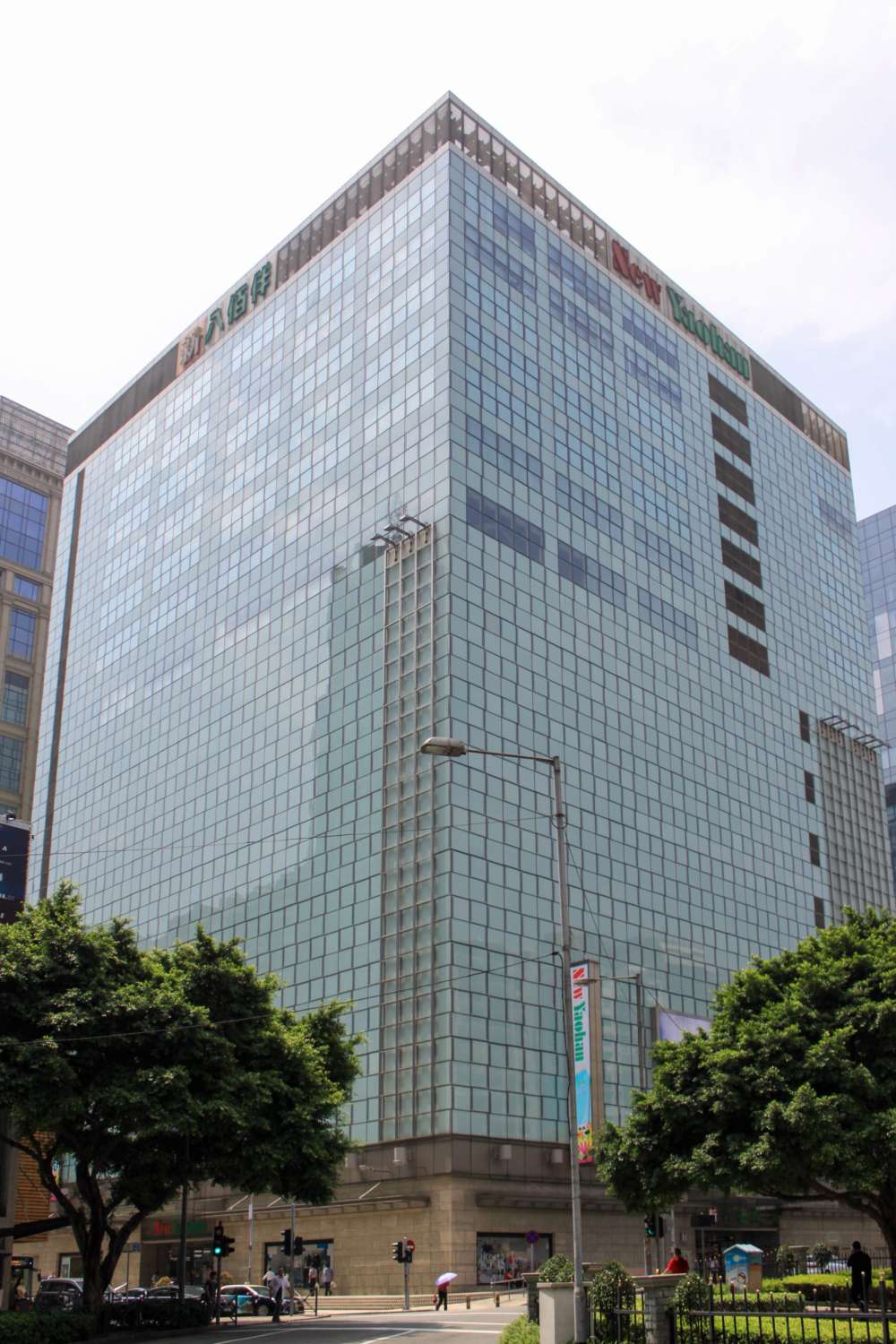 New Yaohan: Small Mall, Big Deals
Aside from the duty-free stores in many of the casino-hotels in Macau, the biggest and perhaps only shopping mall here in Macau is the New Yaohan Department Store. Located at Avenida Doutor Mario Soares, Praia Grande with one outlet store at Outer Harbour Ferry Terminal, the New Yaohan Department Store is filled with a full range of Japanese electronic appliances and cameras along with clothes and cosmetics. Inspired by the typical Japanese department store design, the building brings a touch of Japan to Macau. Our personal favorite would be its grocery store with international brands of a variety of food choices and their impressive food court. It is also a great place to check out when it's their "VIP Day", where all products from the mall drop to as low as 90% off. Now that's a steal!
New Yaohan 90 Avenida Doutor Mário Soares, Macau, +853 2872 5338, www.newyaohan.com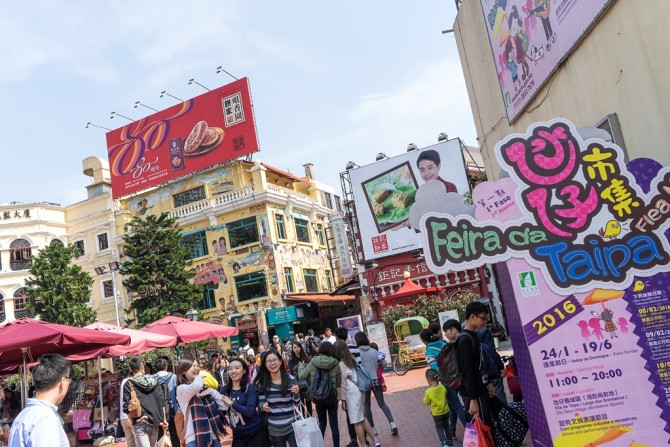 Thrift shopping at Old Taipa Town
Old Taipa sees crowds that work their way through the high quality produced crafts, leather, jewelry, clothes, different types of cuisines and all sorts of local street food. In particular, the weekly flea market, located in the heart of Taipa Village, where stalls line up against each other, literally spilling with bits and bobs to be bought up at market prices–or less if your bartering skills are up to scratch. Compared to the basic malls, the charm of this shopping lane is that it takes place outdoors which shows a peek at the old Macanese lifestyle. Taipa's weekly market offers ample opportunities to pick up fresh produce, traditional gifts, toys, and clothes while taking in its cultural and recreational treats. To cap of this weekly shopping trade fair, we recommend taking a bite of the Macanese sweet confections called the egg tart that's totally worth the long queues.
Taipa Village Taipa Village, Rua do Cunha, Macau, +853 2857 6083, www.taipavillagemacau.com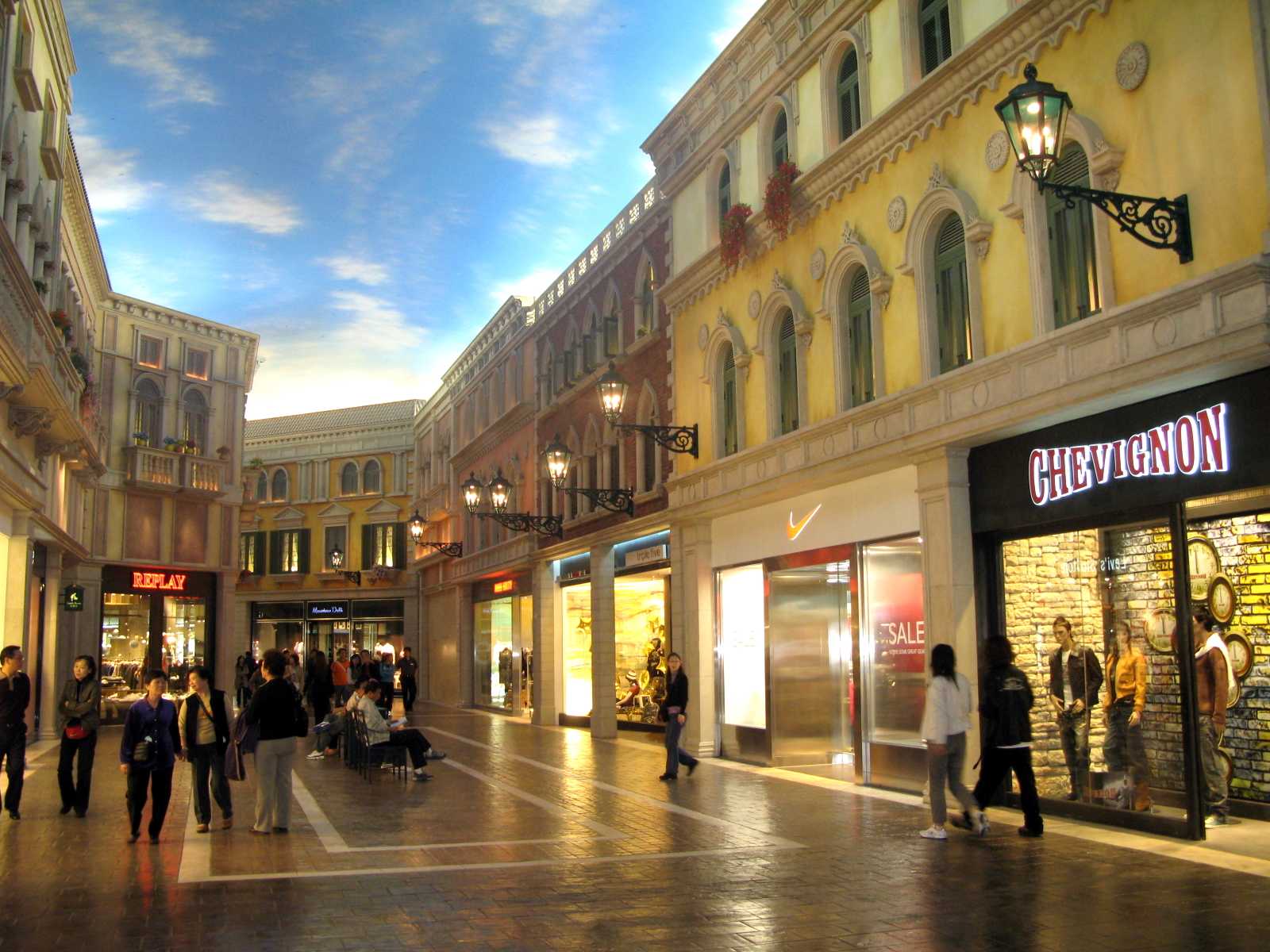 Shopping for Labels and Love at the Gambling Strip
Of course, the Macau shopping experience wouldn't be complete without mentioning the shops within the long stretch of the Cotai area where casino-hotels are sprouting year after year. With Macau's status as a gambling hub, high-end shopping options naturally follow suit. Nearly all of the recently opened casinos include shopping areas where the world's leading brands can be bought at duty-free prices such as stores at City of Dreams, Galaxy Macau, Wynn, and MGM just to name some of the major properties. At the Shoppes at The Venetian for example, where shoppers can bask in the illusion of strolling and shopping by a Venetian canal. It houses the most illustrious labels both locally and internationally. As it may look like shopping here is mostly on the luxurious side, there are still some mid-range brand stores. With everything from underwear, accessories, men and women's clothing, utilities and furniture on offer, the Cotai strip is not only a gambler's dream hub but also a shoppers' paradise.
Cotai Strip Estrada do Istmo, Taipa, Macau
Featured Image Source: http://licarish.com/
Tags
Related Posts