The world of mixology often proves to be as diverse and surprising as the one of gastronomy. Exercising talent and immense creativity, Macau's bartenders keep creating signature cocktails that impress us with both flavors and presentation. If you are tired and bored with mojitos and negronis and need tips on what else to try, check out our guide to Macau's best cocktails. 
Maria do Leste at 

The St. Regis Bar Macao
Vodka, tomato juice, tabasco, lime juice, Worcestershire sauce, black pepper, Piri Piri chili, paprika chili, cinnamon powder, celery salt
(See featured image above)
The newly reopened St. Regis Bar Macao brings the Jazz-Age and Prohibition-Era New York to Macau. Its ancestor, King Cole Bar in the first-ever St. Regis Hotel is a renowned establishment that introduced Bloody Mary to the world. Since then, all the luxury chain's bars across the globe work on an original recipe that reinvents the classic Bloody Mary through the local gastronomy lens. To honor the rich and diverse heritage of Macau's gastronomy, The St. Regis Macao team of mixologists created Maria do Leste. With chourico from Portugal, pink peppercorns and limes from Brazil, spices from African and South-East Asian countries, this savory cocktail takes you on an exciting journey through the flavors that shaped Macau. The balance of spicy, smoky, fresh, and salty notes makes it a complex concoction with a strong character. Maria do Leste is served with the symbolic egg tart with lobster on the side. 
The St. Regis Bar Macao 2F,The St. Regis Macao, The Londoner Macao, Estrada do Istmo, s/n, Cotai, +853 2882 8898, www.thestregisbarmacao.com
Also read: The St. Regis Bar Macao: The Hottest Spot in Town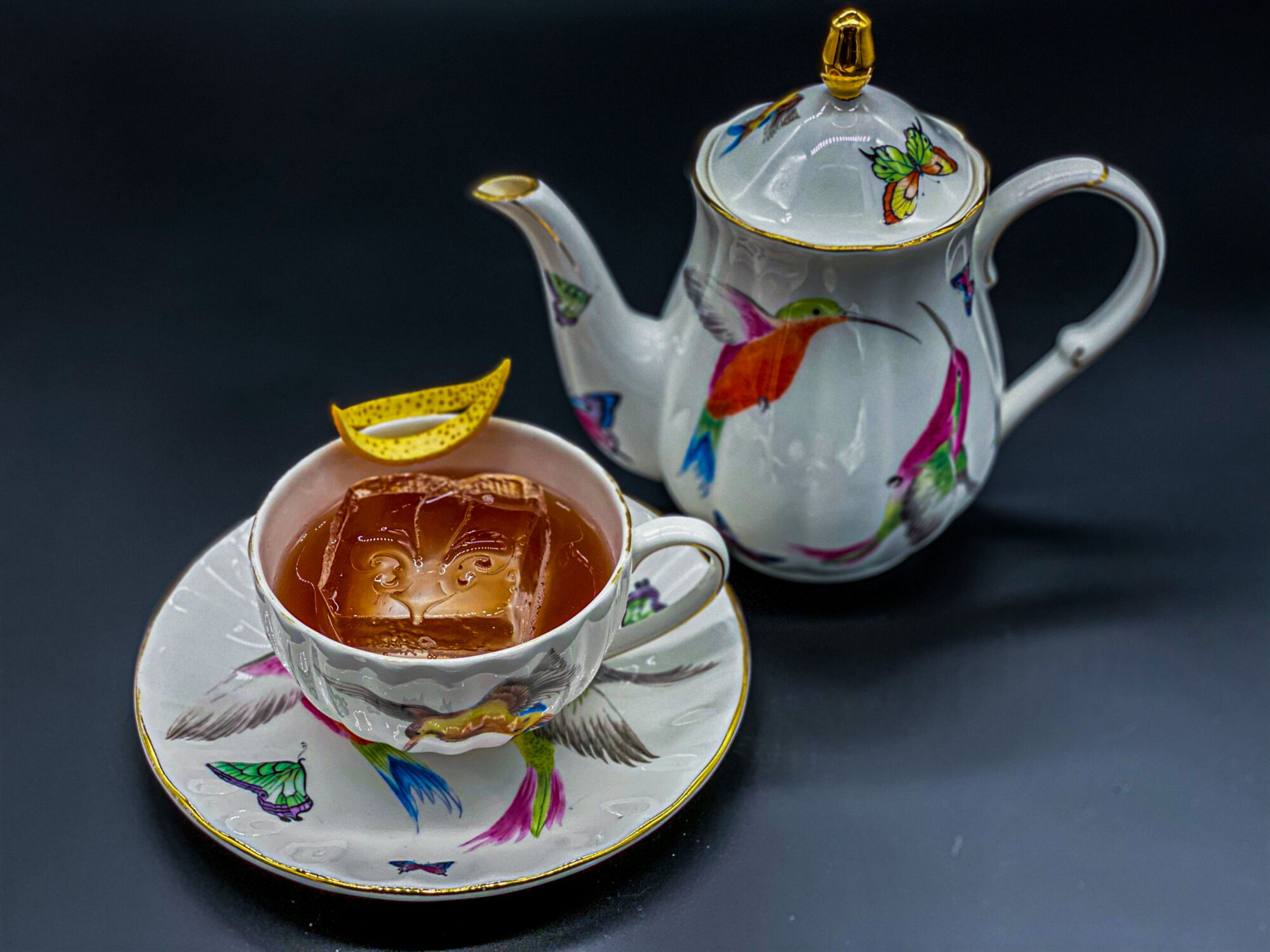 Colonial Punch at Antica Trattoria 
Aguardente Mouchao, Tawny port, colonial syrup, lemon, Pedras saltwater, orange zests
Bruno Santos, the owner of Antica Trattoria and the founder of UBCM (Union of Bartenders & Cocktails of Macau), is always at the top of his game. Working on the restaurant's drink menu, he combined his mixology expertise and the appreciation of Macau's heritage to create the Little Red Cocktail Book. Inspired by the historic events known as the 12-3 incident, six cocktails tell a story of social conflict. Each one is dedicated to a particular aspect or chapter.
If we had to pick one, it would be the Colonial Punch. The presentation of a teapot with a teacup pays homage to the cha gordo tradition. The drink's main ingredient is port wine, mixed with a little bit of aguardente, a traditional Portuguese distilled liquor. Then, Bruno adds the in-house-made colonial syrup with cardamom, ginger, and vanilla. After, he tops it with sparkling water and citrusy notes of orange zest and lemon. All in all, it's an easy-to-drink cocktail with a distinctive character and a cultural context. 
Antica Trattoria 40-46 Edificio Vista Magnifica Court, Avenida Sir Anders Ljungstedt, Macau, +853 2875 5102, www.facebook.com/anticatrattoriamacau
Also read: At the Bar With Bruno Santos of Antica Trattoria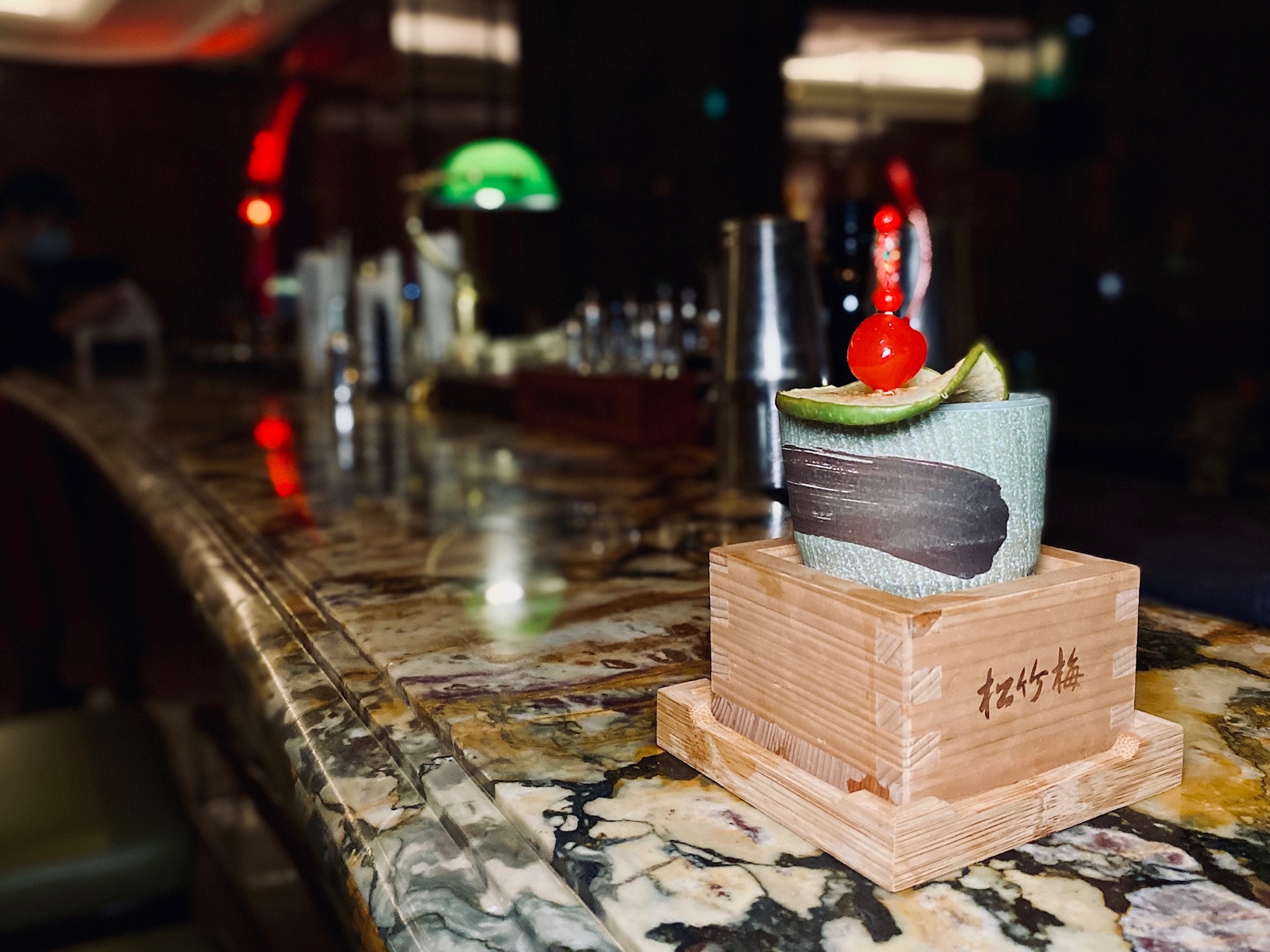 Sawayaka at The Ritz-Carlton Bar & Lounge 
Yuzu infused Beefeater Gin, Maraschino, lemon, apple, and vanilla shrub
The renowned bar on the 51st floor of The Ritz-Carlton, Macau hotel attracts many visitors every night, for the stunning view of Cotai, live performance on weekends, and most importantly, for the cocktail list. The impressive collection of spirits combined with the bartenders' knowledge guarantees they will mix up anything you might ask for. If you prefer your cocktails sweet and fruity, the Ritz bar is your kind of spot. Most of the signature cocktails here have a sweet profile. The must-try is Sawayaka, a drink inspired by Japan and Japanese flavors. The name means refreshing, crisp and it does reflect the citrusy and sour profile, mainly achieved with yuzu infused gin. The Asian citrus gives the cocktail that Japanese character, but one can also trace the influence in the presentation that somewhat resembles Japanese architecture and design. 
The Ritz-Carlton Bar & Lounge Galaxy Macau, Estrada da Baía de Nossa Senhora da Esperança, Cotai, +853 8886 6712, www.ritzcarlton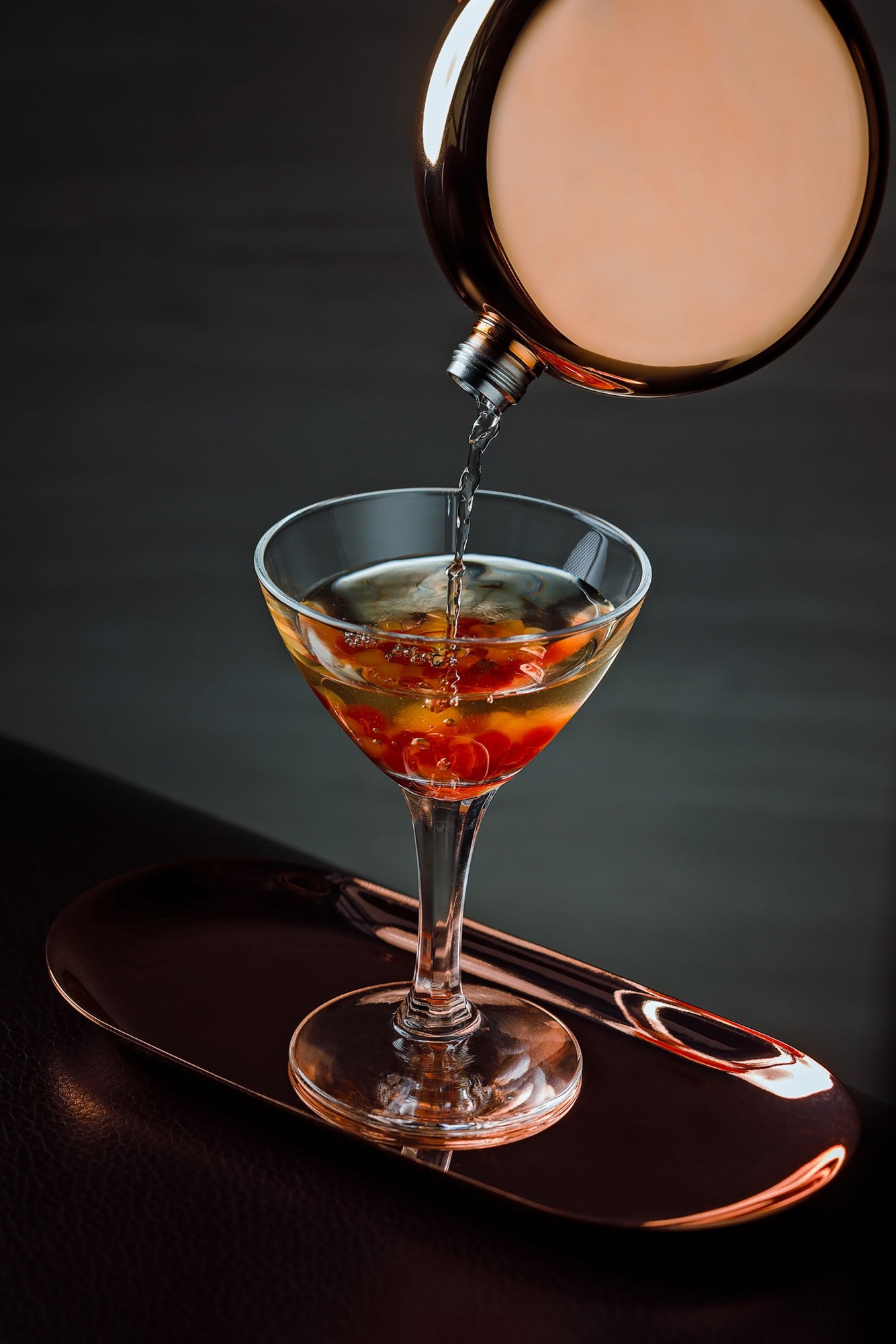 Gin, Sake, and Margarita at Vida Rica Bar
Gin, sake, margarita mix, lemon bitters
Year after year, Vida Rica Bar at Mandarin Oriental, Macau snatches awards for their exceptional mixology and hospitality achievements. Hands down, it's well-deserved. Hiring the best bartenders worldwide and giving them all the creative freedom resulted in two volumes of the signature cocktail list under the Art in Mixology concept. The second volume available at the bar now is a joint venture with Cinematheque Passion, the place for cinema fans who prefer independent films to blockbusters.
Every cocktail in that menu features the name of a movie directed by local filmmakers with the flavors inspired by the plot. While all of them deserve attention, Gin, Sake, and Margarita has earned a special place in our hearts, both for the elegant presentation and balanced flavors. It is a clarified cocktail prepared with a milk wash technique that gives it a creamy taste and makes it transparent. Vida Rica's mixologists prepare it in advance in batches and it's served in a flask. Then, they pour the drink into a simple martini glass with "caviar" made of strawberry, mango, and passion fruit. 
Vida Rica Bar Mandarin Oriental, Macau, 945 Avenida Dr. Sun Yat Sen, NAPE, +853 8805 8928, www.mandarinoriental.com 
Also read: And the Oscar Goes to… Art in Mixology. Volume 2 – Movies & Cocktails, by Vida Rica Bar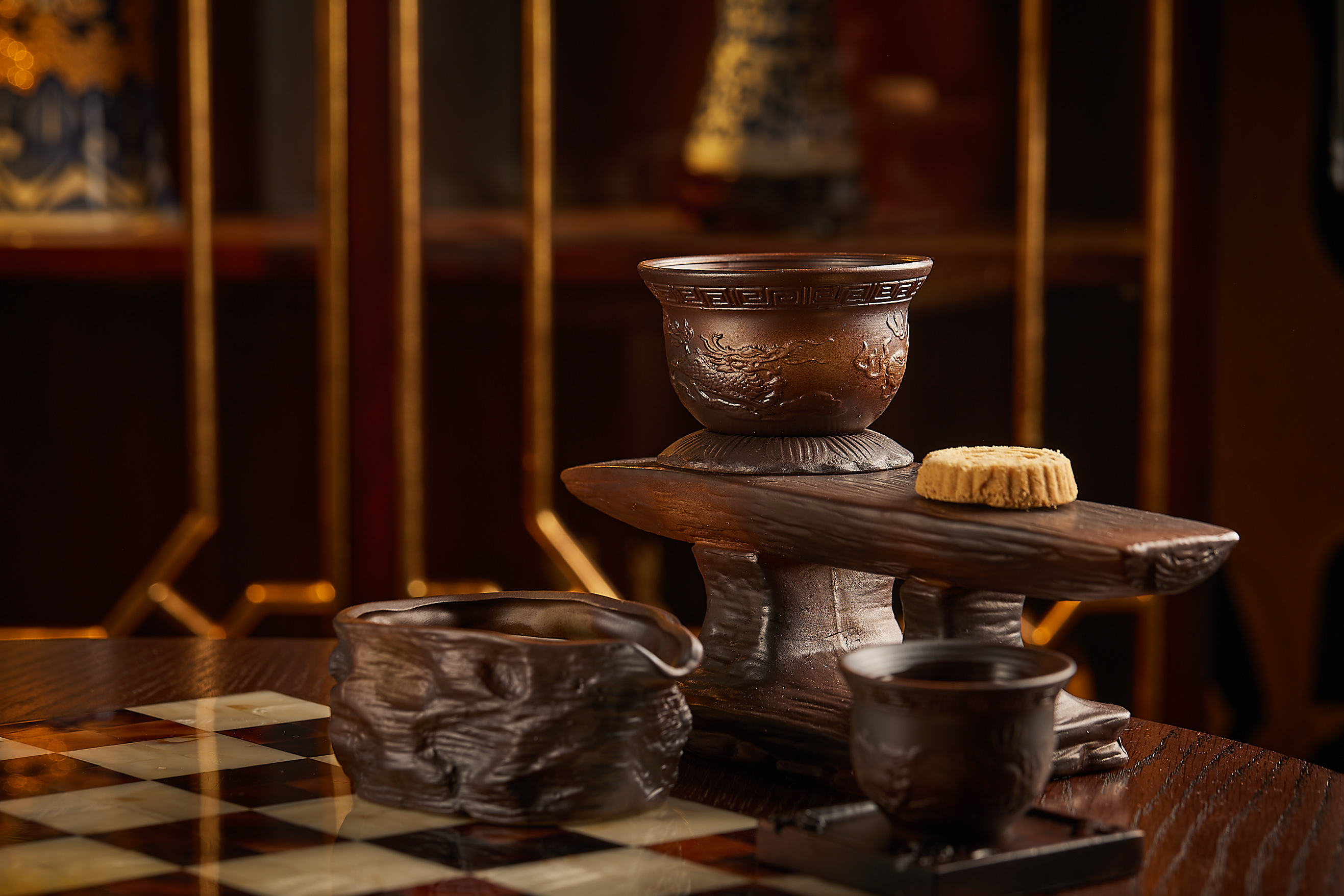 Patuá at Bar Patuá
Macao Fachau Baijiu, Porcelain Mandarin Gin, Niepoort 10 Years Old Tawny, Pei Pa Koa
MGM Cotai's signature bar might not have a ton of awards yet, but it deserves all the attention of cocktail lovers. The stunning interior in shades of beige and gold with scarlet accents, plush sofas, and spiky chandeliers is an attraction of its own. The bar has intimate corners to snuggle in for a romantic date or comfortable chairs to have a few drinks after work with colleagues.
If you can't decide what to order or want to chat with a bartender, sit at the bar counter where Paul, Wikipedia of mixology with immense knowledge of spirits and flavors, will be ready to help and talk. He is passionate about Chinese traditions. To reflect the unique blend of Macau cultures, he crafted Patuá, a cocktail with baijiu, Chinese distilled liquor, and Portuguese port. Like patuá, the language that absorbed elements of European and Asian languages, this fusion unites contrasting components creating a beautiful and balanced symphony.
Patua is a complex cocktail with layers of herbal, sweet, and sour flavors. Moreover, the presentation of Patua deserves special recognition as it is served in traditional tea ceremony crockery.
Bar Patuá MGM Cotai, Avenida da Nave, Deportiva, Cotai, +853 8802 8888, www.mgm.mo
Also read: Bar Patuá at MGM Macau: Language of Mixology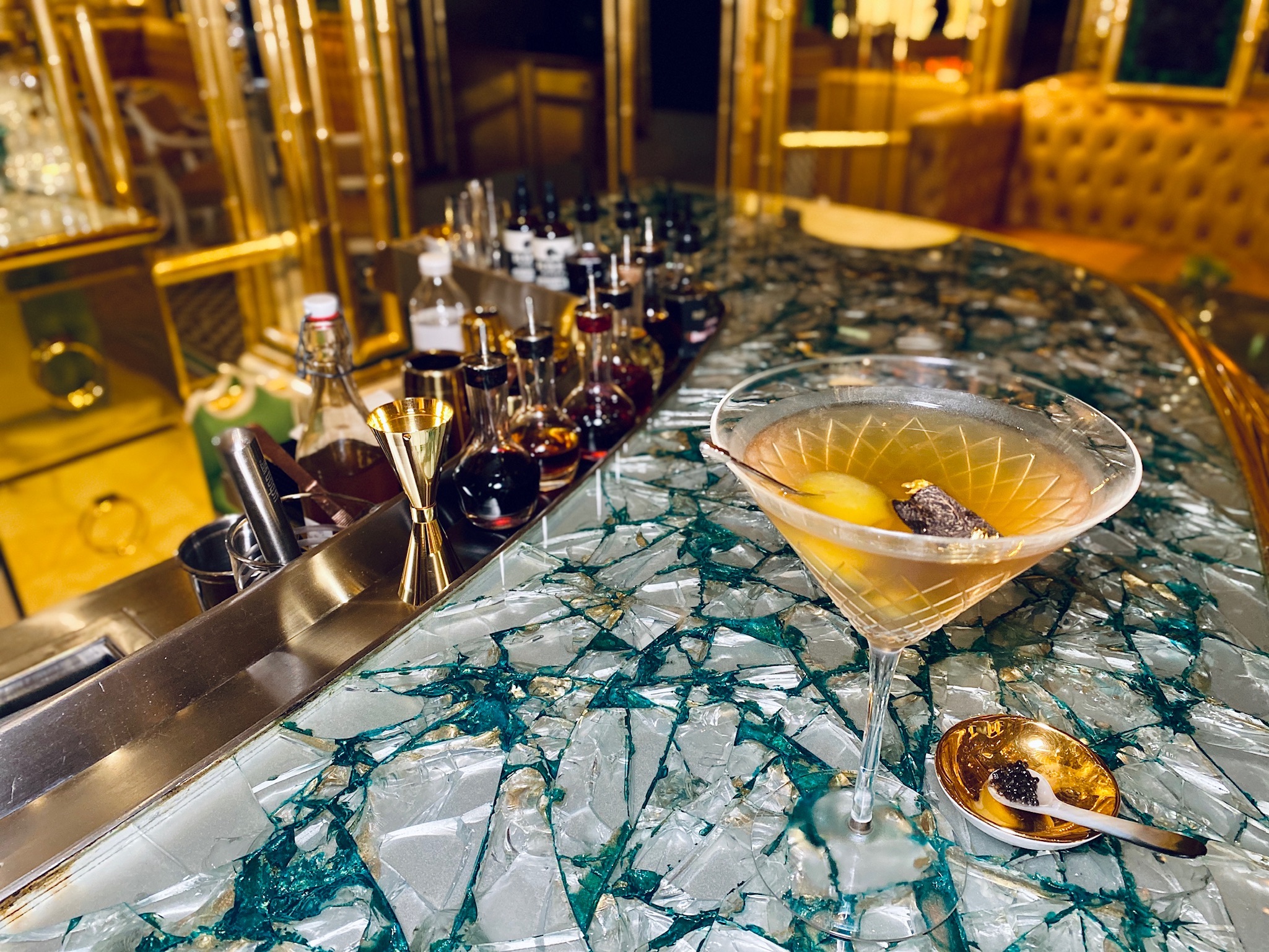 Million Dollar Baby at Wing Lei Bar
Vodka, truffle fat wash-vodka, vermouth, olive, caviar
We advise you to put on your fancy attire to have a few drinks at Wing Lei Bar. As stylish as everything else at Wynn Palace, Wing Lei Bar will surprise you with the lush decor. Plush emerald counter, golden wall panels, 18th-century chandelier, and semi-precious stones in the decor are the reason why this bar's nickname is "jewel box". Among their collection of precious things, is the signature cocktails that the team of mixologists has carefully crafted.
The most expensive and decadent one is Million Dollar Baby that embodies luxury and indulgence. It's a martini, but with a twist–instead of regular vodka, they use truffle fat wash-vodka. To make it even more aromatic (and extravagant), they garnish it with truffle shavings, golden flakes, and olives, and served with a side of caviar. You'd love it if you are fond of martinis with a savory flavor profile.  
Wing Lei Bar Wynn Palace Cotai Avenida Da Nave Desportiva Cotai, Macau, +853 8889 3663, www.wynnpalace.com/en/wing-lei-bar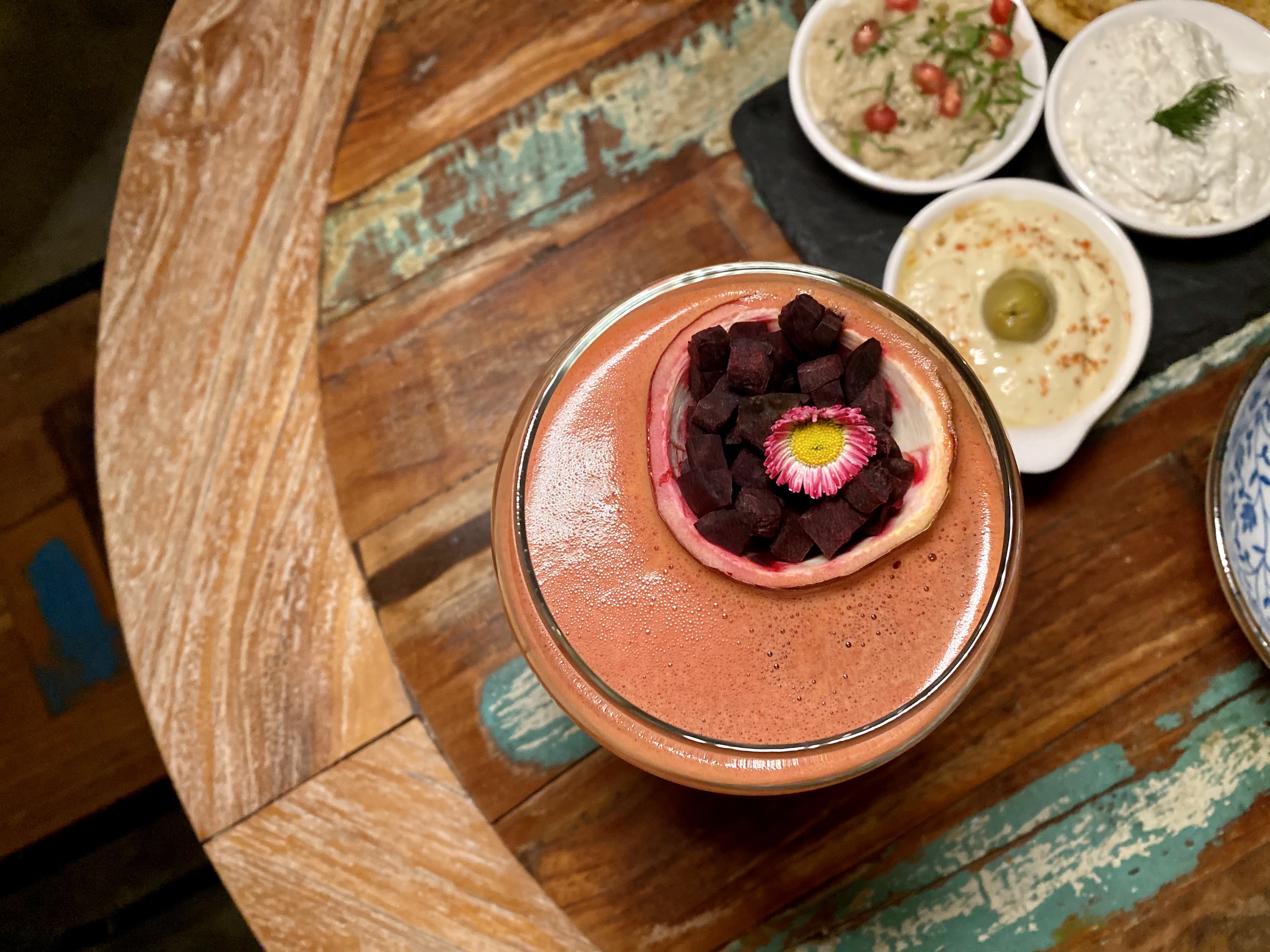 Happy Street at Goa Nights
Beetroot infused gin, coconut water, honey water, lime, passion fruit, tonic
An authentic Indian tapas and cocktail bar, Goa Nights is one of the best places in Taipa Village for a casual meal and hands down, the best one for an original drink. Besides their short yet excellent list of classic cocktails, there is a menu of signature creations influenced by the voyages of Vasco da Gama. Featuring ingredients typical for different parts of the former Portuguese empire, these cocktails embody a rich culture of Lisbon, Macau, Goa, and other distinguished cities. The one that we especially recommend not to miss out is Happy Street, named after Macau's vibrant landmark, Rua da Felicidade. Light and refreshing, Happy Street has become a patron favorite for its balance of sweet and sour, a subtle earthy note from the beetroot, and simple but beautiful presentation. 
Goa Nights 118 Rua Correia da Silva, Taipa Village, +853 2856 7819, www.facebook.com/goanightsmacau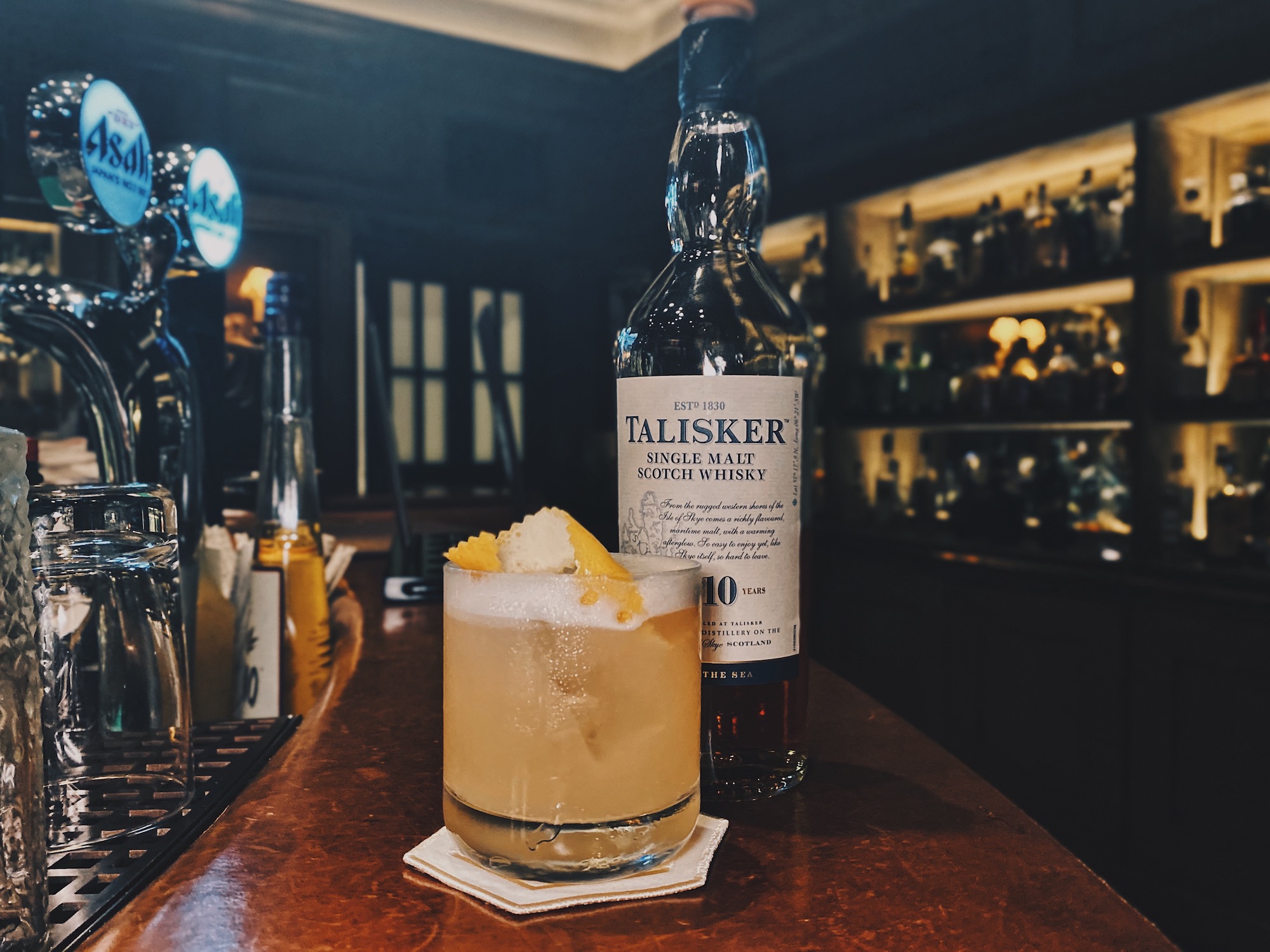 Smokey Sour at The Macallan Whisky Bar & Lounge
Talisker 10 years old, fresh lemon juice, angostura bitters, egg white
What makes a good sour? The key factors are a high-quality spirit as a base, a perfect balance of flavors without the overpowering sourness, or the dominating taste of egg white. The bar that knows how to shake a fine sour is Macallan at Galaxy Macau. With around 400 bottles of whisky, they are experts in the liquor when it comes to serving it neat, on the rocks, or using it as an ingredient in a cocktail. To elevate a classic Whisky Sour, they use 10-year-old Talisker. The single malt from Isle of Skye in Scotland gives the drink a sophisticated smoky-sweet tone. Hence, Macallan's version is aptly named Smokey Sour. 
The Macallan Whisky Bar & Lounge 203, 2/F, Galaxy Hotel, Galaxy Macau, Estrada da Baía de Nossa Senhora da Esperança, Cotai, +853 8883 2221, www.galaxymacau.com, www.facebook.com/galaxymacau
Also read: Best Places for Happy Hour in Macau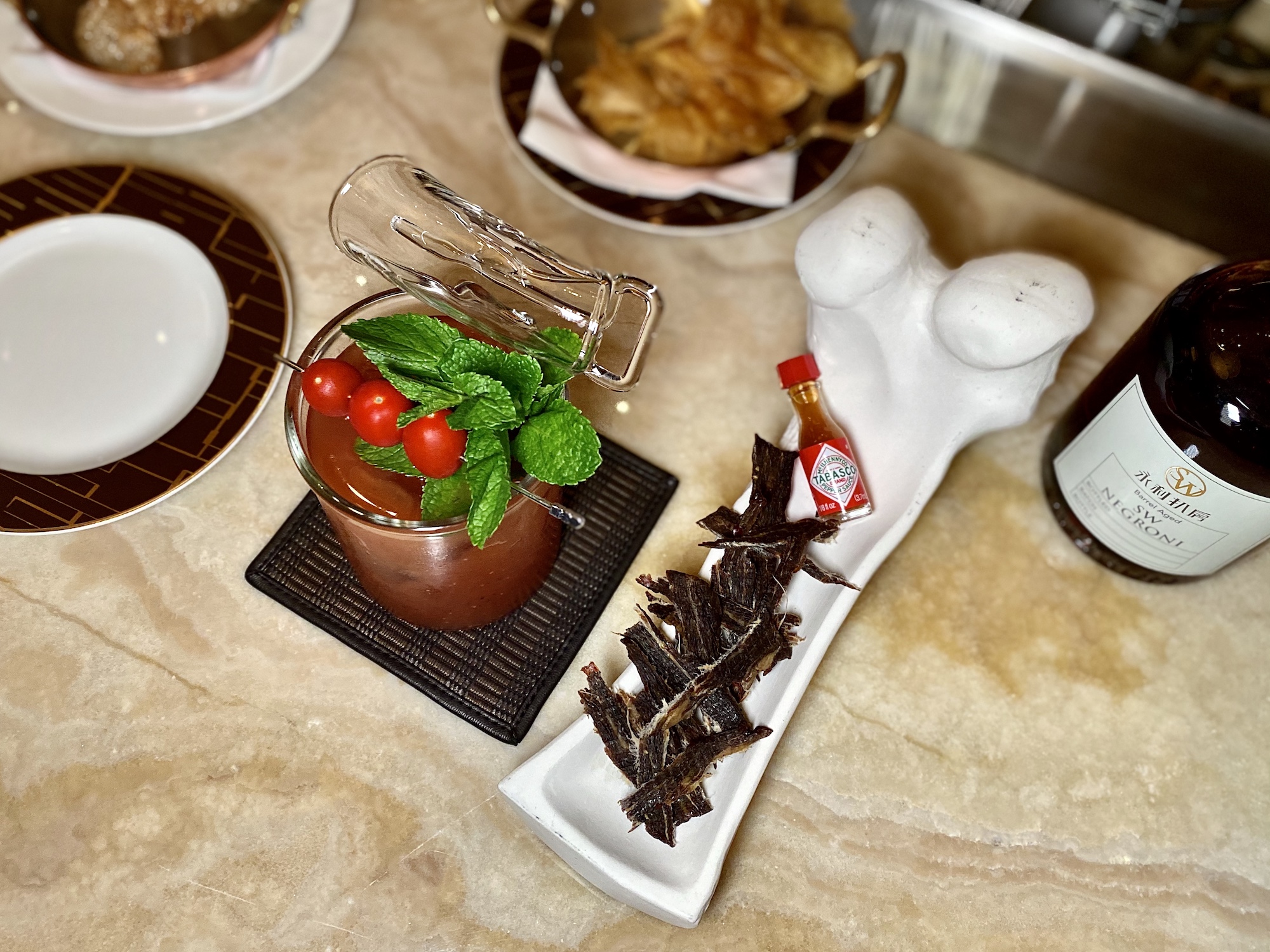 The Bone Doctor at SW Steakhouse 
Bone marrow fat-washed vodka, tomato and jalapeno reduction, ruby port, citrus, Himalayan pink salt, homemade Worcestershire sauces, beef jerky
Between oak barrel-aged cocktails and signature creations that SW Steakhouse offers, it is not easy to pick one that stands out from the rest. Even though SW is mainly known for its incredible steaks and amusing theatrical animation, the cocktail menu is equally superb and deserves an honorable mention. Merit goes to the bartending team and their expertise in combining the best of mixology and gastronomy.  
One of the best recipes created in the bar is The Bone Doctor, an original Bloody Mary interpretation. The classic version is a savory drink that has become a popular hangover cure and one of the brunch specials alongside mimosas. Mixologists at SW introduced an unorthodox ingredient for a cocktail, namely roasted bone marrow. They infuse vodka with it using fat-washing, a technique that helps to give spirits savory tones. Fatty bone marrow is balanced with spicy jalapeno reduction, acidic tomato, salt, and the refreshing aroma of mint. Needless to say, this cocktail is the ideal company for a juicy steak.  
SW Steakhouse Wynn Palace, Avenida da Nave Desportiva, Cotai, +853 8889 3663, www.wynnpalace.com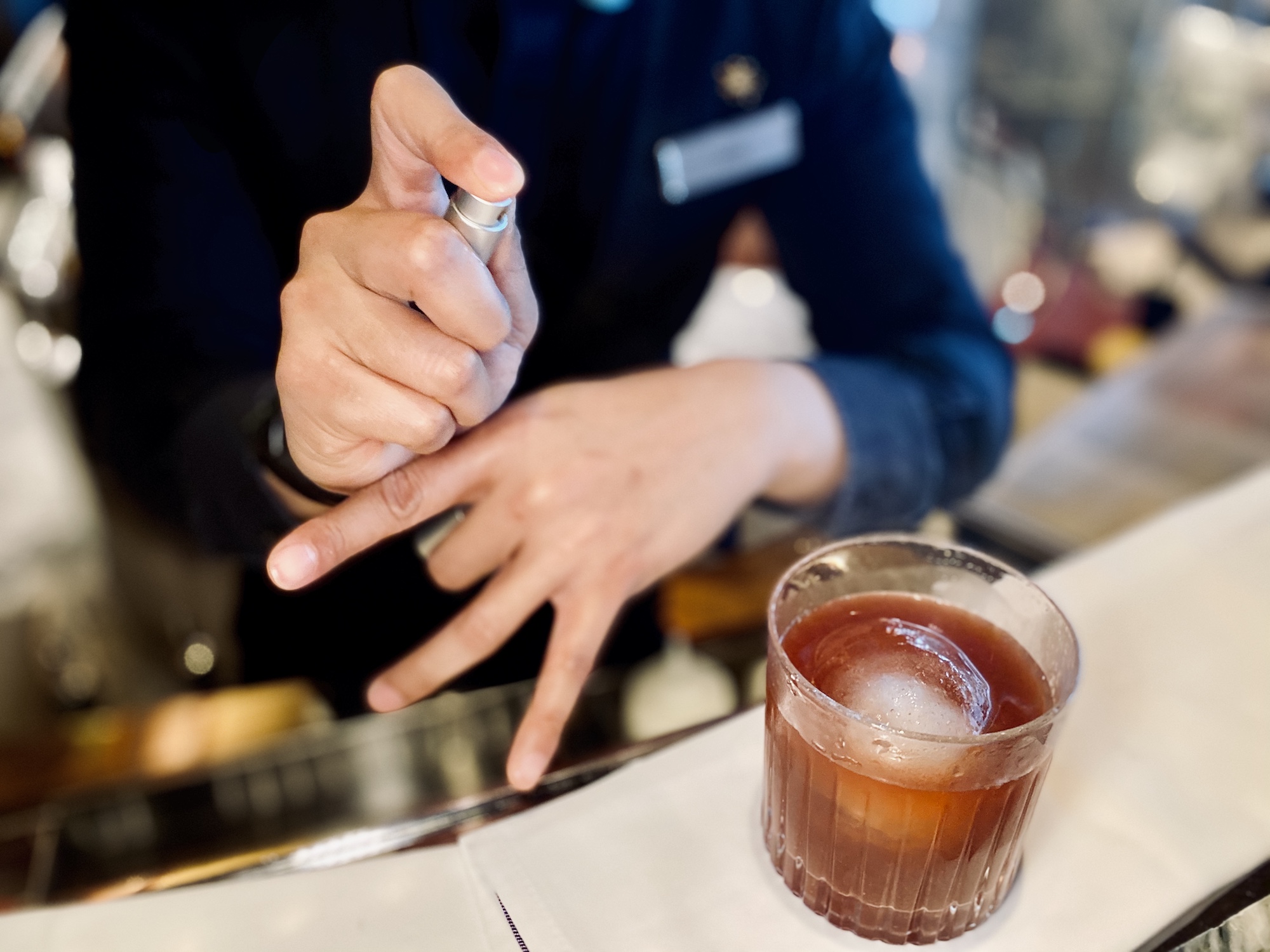 Oui Chef at L'Attitude
Tanqueray London Dry Gin, Campari, Mancino Rosso, Mancino Chinato, Fernet Branca, kalamansi puree
Offering a French bistro experience in a chic setting, L'Attitude at Morpheus Hotel is a brilliant restaurant for a casual lunch or celebratory dinner. Should you fancy a drink or two, stop by the ash grey bar counter for a signature cocktail. We strongly recommend tasting the one that master chef Alain Ducasse favors. Featuring gin, sweet and bitter vermouths, herbal Fernet-Branca liquor, and citrusy kalamansi puree, Oui Chef is an Italian style cocktail from the negroni family. Notably, the story behind its name is pretty diverting. As the bartenders say, when monsieur Ducasse comes to the bar, he asks for his usual choice. So, the bartenders reply "Oui, chef!" If you prefer bold flavors and strong drinks instead of fizzy, fruity, and light, Oui Chef would be an excellent option. 
L'Attitude City of Dreams Macau, Estrada do Istmo, Cotai, +853 8868 6688, www.cityofdreamsmacau.com
Also read: Show Me the Way to: Macau's Best Cocktail Bars
Photo credits: Antica Trattoria; Mandarin Oriental, Macau; Goa Nights; Ksenia Kuzmina 
Tags
Related Posts