September is ending, which means it's time to celebrate fall and the Mid-Autumn Festival! There are lots of things to do around the city, including lots of dining offers: don't miss your last chance to experience The Manor's Stories of the Sea – The Fifth Chapter, which is about to end. There are also free activities to enjoy with the kids, such as the Macao Light Festival 2020 or the Tray Race on World Tourism Day 2020. Mandarin Oriental, Macau has also crafted an American cheeseburger pop-up for everyone to take a bite of this globally loved delicacy, while Macau Fisherman's Wharf presents the 11th International Culture and Food Festival with an array of different foods to try. Don't miss out on all the cool things happening in Macau this last weekend of September!
(See featured image above)
September 2020 got even more interesting and it's all thanks to Mandarin Oriental, Macau! Until October 1, experience a classic dinner at Vida Rica Bar: this venue is offering a classic, irresistible American-style cheeseburger where a homemade Wagyu patty is topped with secret sauce and cheese. Hungry? Reserve a table and have an interesting meal of classic cheeseburgers with your burger-loving friends and family!
When: September 23–October 1, 2020
Where: Vida Rica Bar, Mandarin Oriental, Macau, 945 Avenida Dr. Sun Yat Sen, NAPE, Macau
How much: Starting from MOP $96
For more information and booking, call +853 8805 8928, or check their website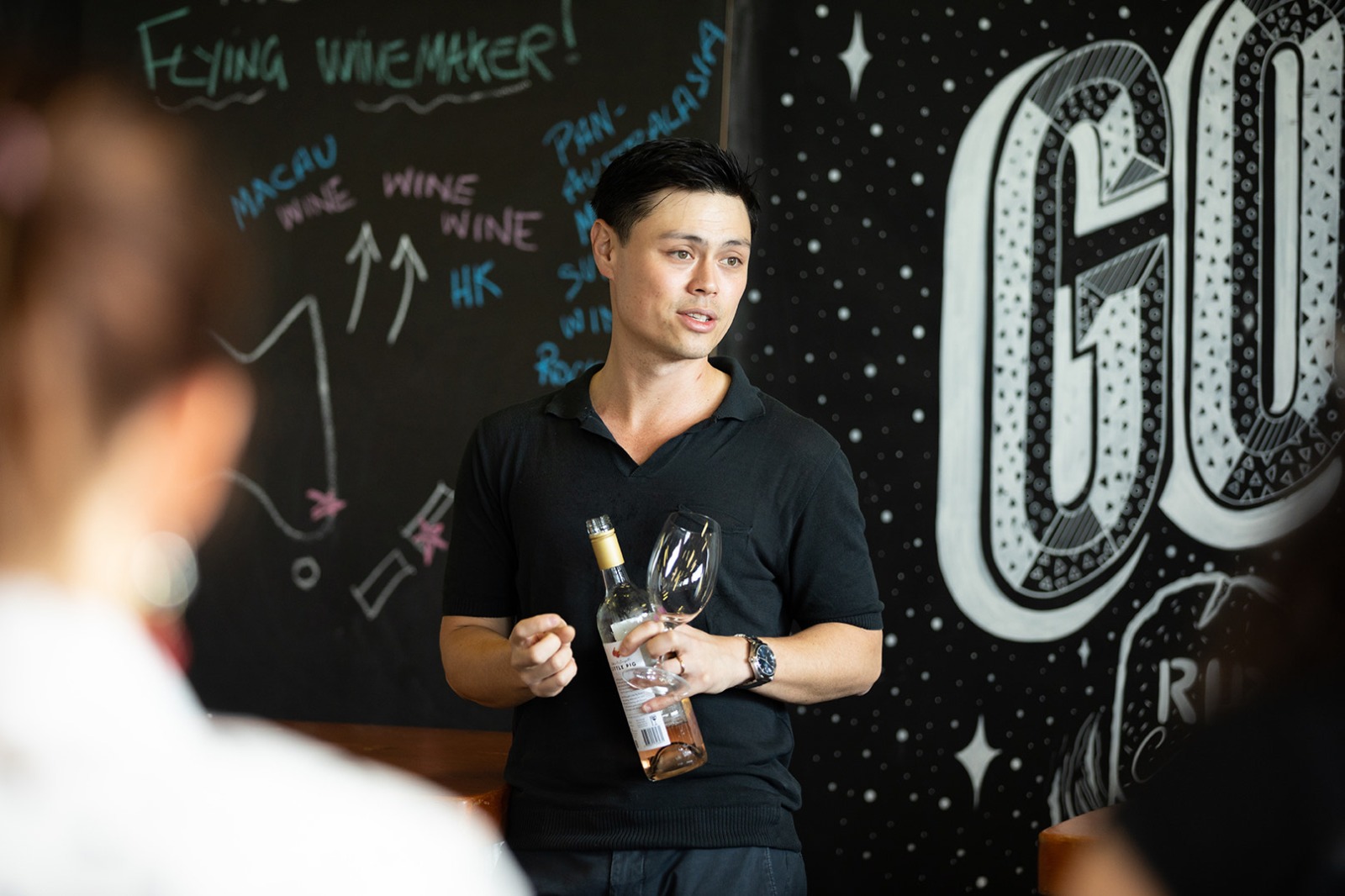 The Flying Winemaker is bringing an exclusive and one-day-only crash course on wine for all who are interested and aficionados to learn more! This course includes need-to-know aspects of winegrowing, tasting, and reading labels, but also the sampling of 16 different wines featuring world-famous brands. Participants will also receive an exclusive educational manual designed and published by The Flying Winemaker and have the chance to end this activity with some delicious appetizers, pizzas, and pasta from Caffé B.
The course–in English with Cantonese translation, if needed–takes place at the beautiful and classy Caffé B, overlooking Nam Van Lake. Gather some friends or make this an interesting date with your loved one and join this entertaining wine course that will surely make you shine the next time wine is being discussed! Eddie McDougall is an award-winning winemaker and the face behind The Flying Winemaker, one of Asia Pacific's most dynamic wine brands. There are only 12 seats available, so hurry up and book yours now!
When: 3:00pm–6:00pm, Saturday, September 26, 2020
Where: Caffé B Macau, Lake View Mansion Block 1, 744G-H Avenida Panorâmica do Lago Nam Van, Macau
How much: MOP $1,800 (singles' fee)
MOP $3,000 (couples' fee)
For more information and reservations, send an email to [email protected] or send a message through WhatsApp to +852 9838 2576
The Manor at The St. Regis Macao, Cotai Strip presents the latest evolution of its renowned, ocean-inspired dining experience "Stories of the Sea – The Fifth Chapter", featuring an all-new six-course set menu crafted by new executive sous chef, Michele Dell'Aquila. Continuing the success of the previous iterations of the Stories of the Sea menus, Chef Michele has brought together the finest ingredients from the seas of the world with his extensive culinary expertise to indulge guests with a highly refined dining experience without peer in Macau.
Showcasing the finest seafood, including bluefin tuna, black Bouchot mussels from France, and "Glacier 51" toothfish, the signature dish of the fifth chapter of the Stories of the Sea is Kamchatka king crab and langoustine (sourced from Russia and Australia). Chef Michele serves the king crab as handmade fresh tortellini, filled with crab meat to highlight its sweet flavor and tender texture, and then accompanies it alongside a grilled langoustine garnished with lemongrass to impart a uniquely Asian-inspired citrus flavor.
Guests looking to elevate their Stories of the Sea dining experience even further are encouraged to select the optional wine pairing menu that features a carefully selected range of premium wines from France, Italy, New Zealand, and Portugal, specifically to highlight the freshness of the sea ingredients and enhance the flavor experience.
When: 6:00pm–11:00pm, July 1–September 30, 2020
Where: The Manor, The St. Regis Macao, Cotai Strip, Estrada Do Istmo, S/N, Cotai
How much: MOP $788 per person, MOP $1,188 per person with wine pairing
For more information, visit their website and for reservations, call +853 2882 8898 or send an email to [email protected]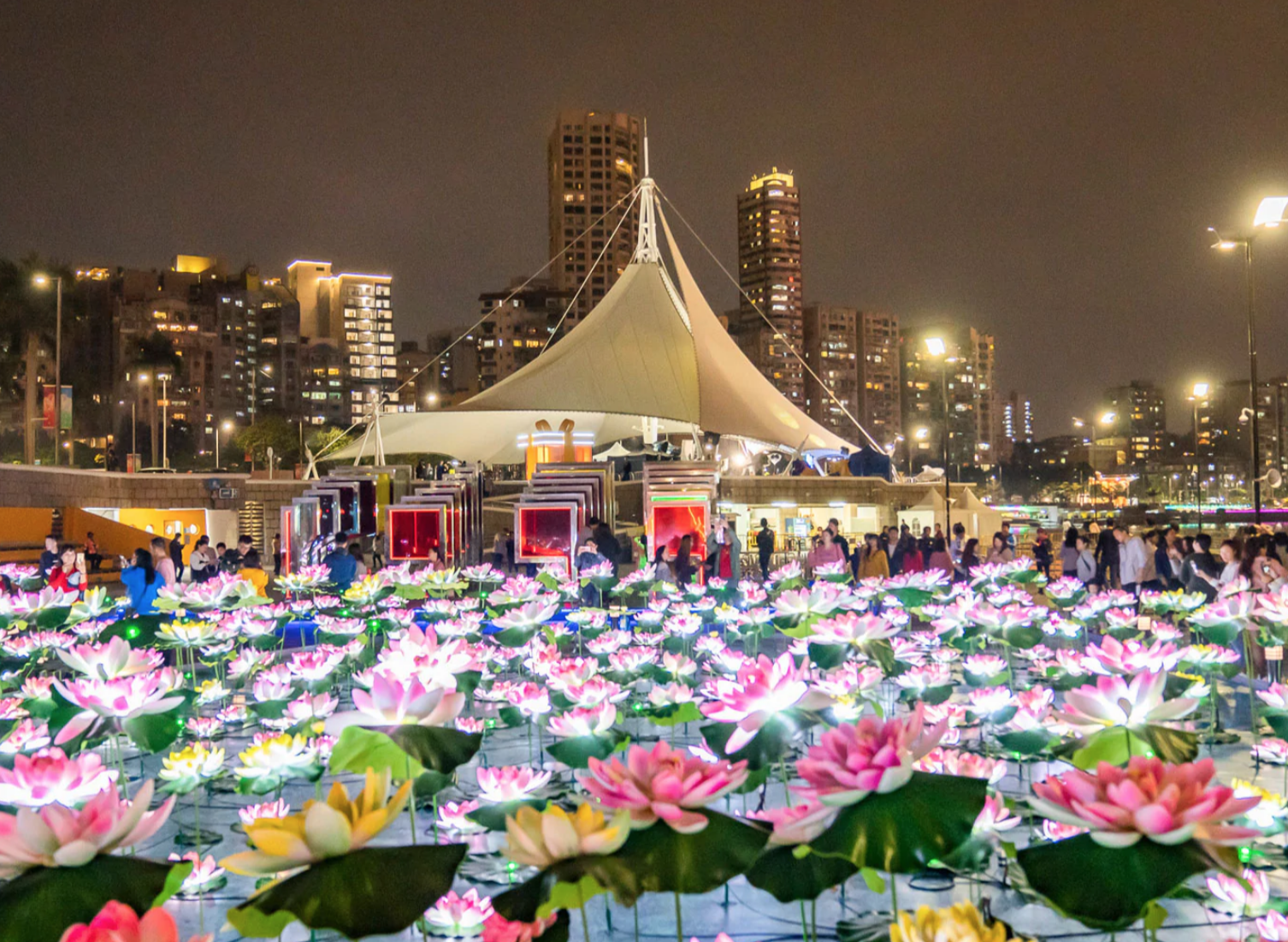 The Macao Light Festival 2020 is bringing light installations, interactive games and projection mapping shows, accompanied by music, to brighten the city every night between September 26 and October 31, 2020. Among the highlights of the festival are the projection mapping shows, with projections at heritage buildings in Tap Seac Square featuring as one of the main spots this year. The shows will also "paint" once again the façades of the Macau Yat Yuen Canidrome, formerly a dog racing track; and the Cozinha Pinocchio restaurant at Largo dos Bombeiros in Taipa Village, along with two other new sites on this edition, namely the China Products Company building in Hong Kung Temple Square and the Wong Ieng Kuan Library in Areia Preta Urban Park.
This year's Macao Light Festival shows the rich culture and urban charm of Macau while demonstrating that the city is a safe place to visit during the COVID-19 pandemic. The features of the festival highlight the beauty of the World Heritage architecture Macao possesses, the characteristics that distinguish the various communities that make up the city, and manifestations of the status of Macau as a UNESCO Creative City of Gastronomy. Now into its sixth year, the Macao Light Festival is a signature event. The annual festival helps diversify the products and experiences Macau has to offer residents and tourists, in line with the aim to make Macau a world center of tourism and leisure.
When: Every day, 7:00pm–10:00pm, September 26–October 31, 2020
Where: Tap Seac Square, Avenida do Conselheiro Ferreira de Almeida, Macau, Spots around Taipa Village and Anim'Arte Nam Van, 744B Avenida Panorâmica do Lago Nam Van, Macau
How much: Free admission
For more information, call +853 2833 3000 or check their website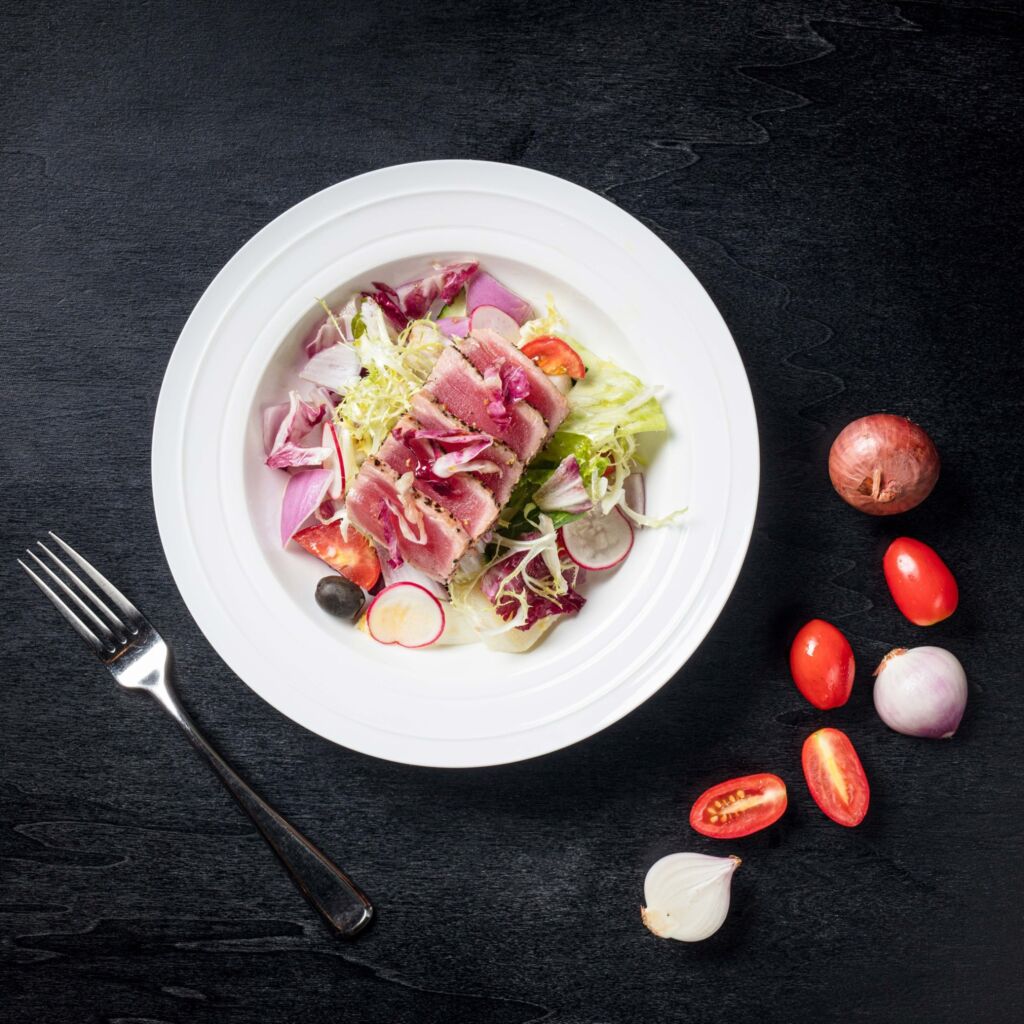 The International Culture and Food Festival (ICFF) intends to showcase the diversity of culture with activities and wide-ranging highlights such as catering, retail, exhibitions, and tourism. It is a cultural and food feast worth looking forward to! Taking place at Macau Fisherman's Wharf from the end of September till the start of October, it features a series of food from all over the world for everyone to check out and get to experience different cuisines, tastes, and flavors.
Through this event, organizers hope to enrich local tourism resources, stimulate the consumption of tourists and local residents, and actively cooperate with the government's development positioning Macau as a "world tourism and leisure center". Four "gourmet nights" have been specially added to this year's edition of the festival to improve the service and strength of the local catering and retail businesses.
When: 3:30pm–10:30pm, September 25–October 4, 2020
Where: Legend Boulevard, Macau Fisherman's Wharf, Avenida da Amizade e Avenida Dr. Sun Yat-Sen, NAPE, Macau
How much: Free admission
For more information, call +853 6628 8804, send an email to [email protected] or check the event's Facebook page

Improving flexibility and joint mobility, this treatment expertly compresses and stretches the body using firm acupressure of the palm while releasing body tension with forearm kneading. This is just the perfect way to end a workday or start the weekend in full bloom and relaxation.
When: From now until October 31, 2020
Where: The Spa at Mandarin Oriental, Macau, Av. Dr. Sun Yat-Sen, Macau
How much: MOP $2,000 for a 90-minute treatment
*From now until September 30, 2020, receive a complimentary 30-minute energizing body scrub when you book this treatment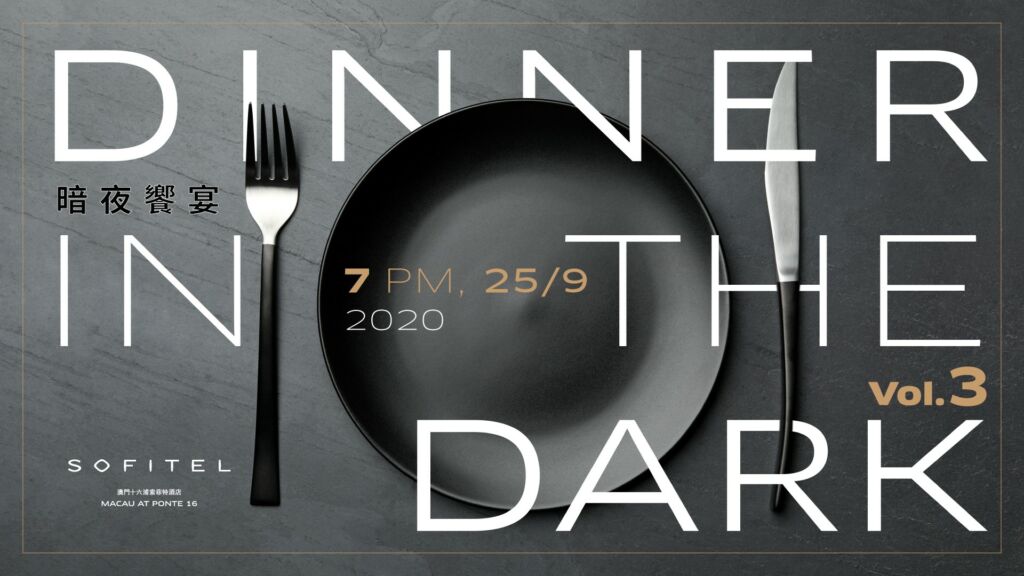 Incite your senses of delicacy with Privé's newest five-course Wine Dinner in the Dark! Put on a blindfold and embark on an unparalleled culinary journey with your other senses. The chef's special five-course menu with exquisite cuisines and five pairing wines will surely inspire your infinite potential of smell, taste, feeling, and imagination! The menu contains the best ingredients from the land and the sea and is paired with the finest selection of wines from around the world. And, of course, the menu is a surprise until you taste it and try guessing it. Also, hurry up and make a booking because there are only 20 seats available!
When: Starting at 7:00pm, Friday, September 25, 2020
Where: Privé, Sofitel Macau At Ponte 16, Rua do Visconde Paço de Arcos, Macau
How much: MOP $688 per person
For more information and bookings, call +853 8861 7210 or check the event's Facebook page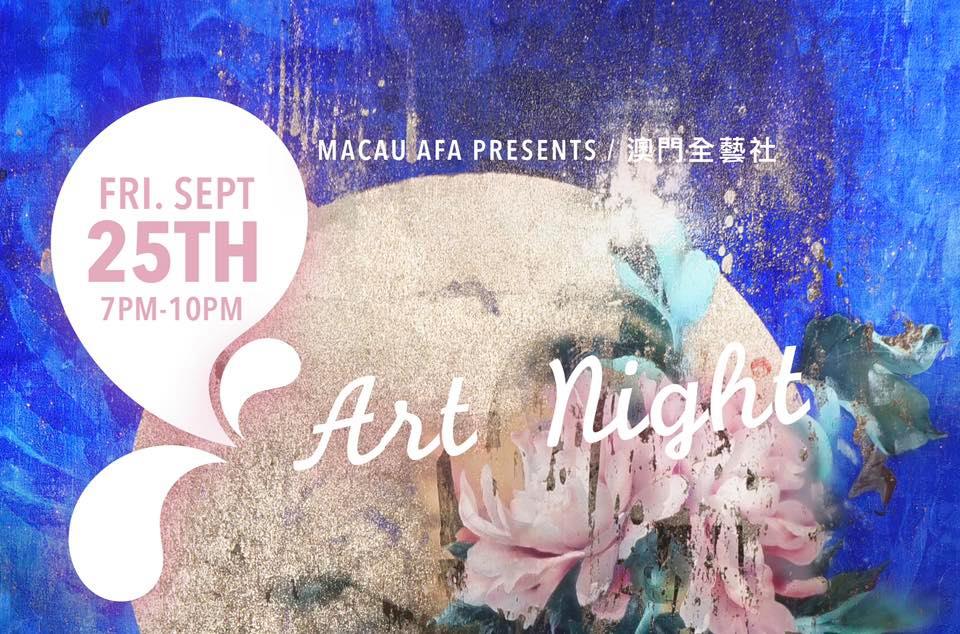 AFA – Art For All is organizing a one-night-only event where art lovers can appreciate studio, artworks but also a good time on an evening amongst friends by joining this exclusive event happening on a Friday. At the Tak Chun Macau Art Garden, people will have access to an art exhibition tour and presentation, be able to visit their studios, witness a music performance, but also munch on good food and sipping on glasses of wine while having fun amongst interesting people.
When: 7:00pm–10:00pm, Friday, September 25, 2020
Where: AFA, 4F Art Garden, 265 Avenida Dr. Rodrigo Rodrigues, Macau
How much: MOP $380 per person
For more information and bookings, click here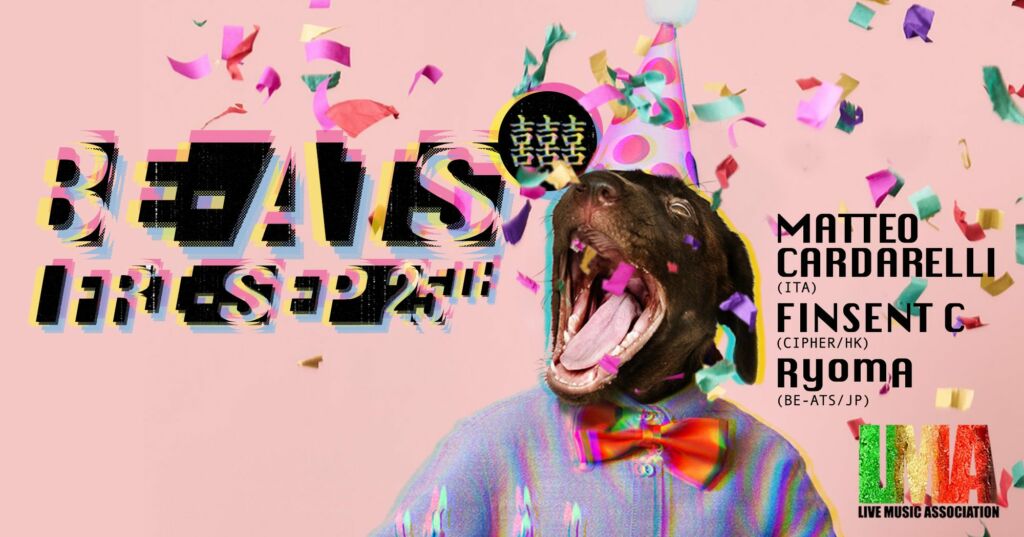 Last time, BE-ATS took place at a different location, but the next one returns to its usual spot: Live Music Association. "Il Festeggiato" will celebrate the anniversary of their Italian regular DJ, Matteo Cardarelli! His set at D2 was massive and really made that night.
The idea this time is to witness the power of music with Matteo on the wheel from 3:00am to 5:00am and celebrate his birthday by taking the dancefloor. Another noteworthy detail is that Finsent C (cipher/HK) is back at their decks too! Besides Matteo and Finsent C, RyomA will also be putting up some beats. You can expect a night filled with house, techno, minimal, and indie dance.
When: Starting at 11:00pm, Friday, September 25, 2020
Where: Live Music Association, 50 Avenida do Coronel Mesquita, San Mei Industrial Building 11B/F, Macau
How much: MOP $100 (before 00:00am with one drink); MOP $150 (after 00:00am with one drink)
For more information, check the event's Facebook page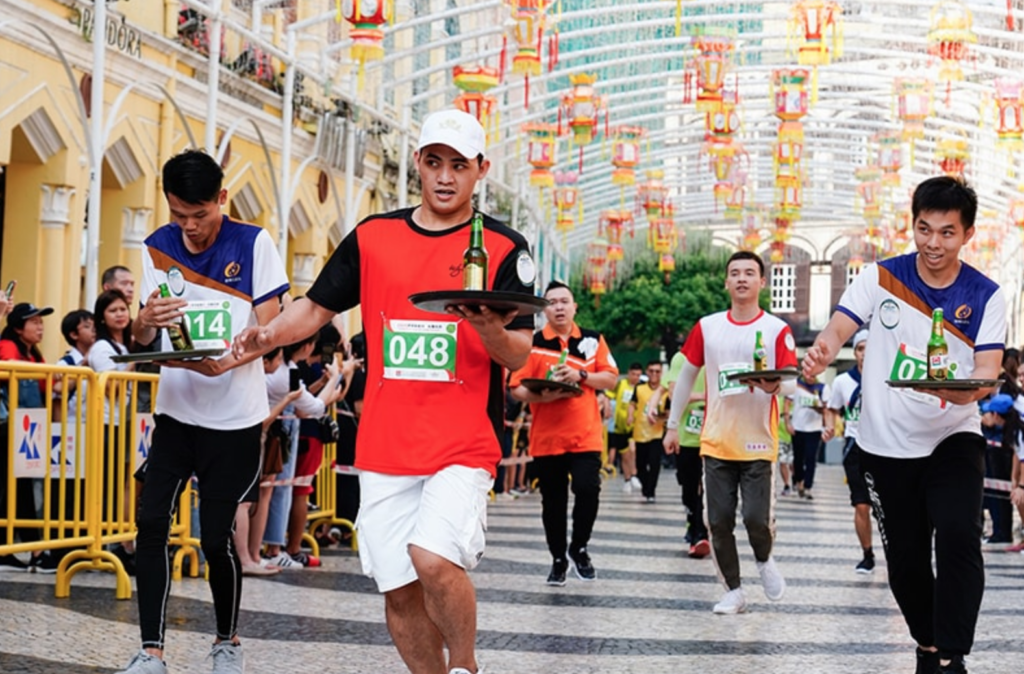 In celebration of the annual "World Tourism Day", the Tray Race sponsored by Macao Beer is set to bring in a fun-filled afternoon in the heart of the historical city on 27th September. Come along for the thrills and spills, as a group of participants, representing some of the city's top hotels and restaurants, make their way through Ruins of St. Paul's all the way to Senado Square while balancing a bottle of Macao Beer on a tray.
The Race is divided into male and female categories with prizes given for the winners, first runner-up, second runner-up, and the Best Costume carrying this year's theme of "Tourism and Rural Development" for each group. There will be music performances and a prize-giving ceremony at the event. This year's celebrations will be appropriate to the conditions brought about by the COVID-19 pandemic.
When: 3:00pm, September 27, 2020
Where: Ruins of St. Paul's, Company of Jesus Square to Senado Square, Largo do Senado, Macau
How much: Free admission
Tags