This weekend is so full of amazing events we don't even know if there is enough time to attend them all! The weather is getting awesome outside, which makes it the perfect time to head out and enjoy some wine at events like MGM's Rose Revolution or at Sofitel's Wine & Music with the sunset in the background. However, since temperatures are still high during the day, you can also head to a photo exhibition and take in some inspiration and culture that way. Here are our picks for this weekend's best events!
(See featured image above)
It's time to paint the town pink again – Rosé Revolution is returning to Macau and it's bigger and better than ever!
Celebrating all things great about the subtly sweet lavender-toned wine, there will be a VIP lounge, a masterclass area, express spa treatments, pink cocktails, plus a lot of lucky draw prizes and plenty of rosé to go around. As possibly the oldest known type of wine, rosé is a lovely and light – it gets the light pink strawberry tone because it absorbs some of the color from grape skins, but not enough to qualify it as a red wine. For the occasion, MGM Macau has also designed a Pink Dim Sum menu at Imperial Court, which is actually available now but also on the day. Along with awesome snacks and a live grilling station on the day of the festival, there will be plenty to eat.
When: 4:00pm—8:00pm, Saturday, October 6, 2018
Where: MGM Macau, Vista, Avenida Dr. Sun Yat Sen, NAPE, Macau
How much: Standard: MOP $290, VIP: MOP $470
For more information and details please visit the ticketing or event site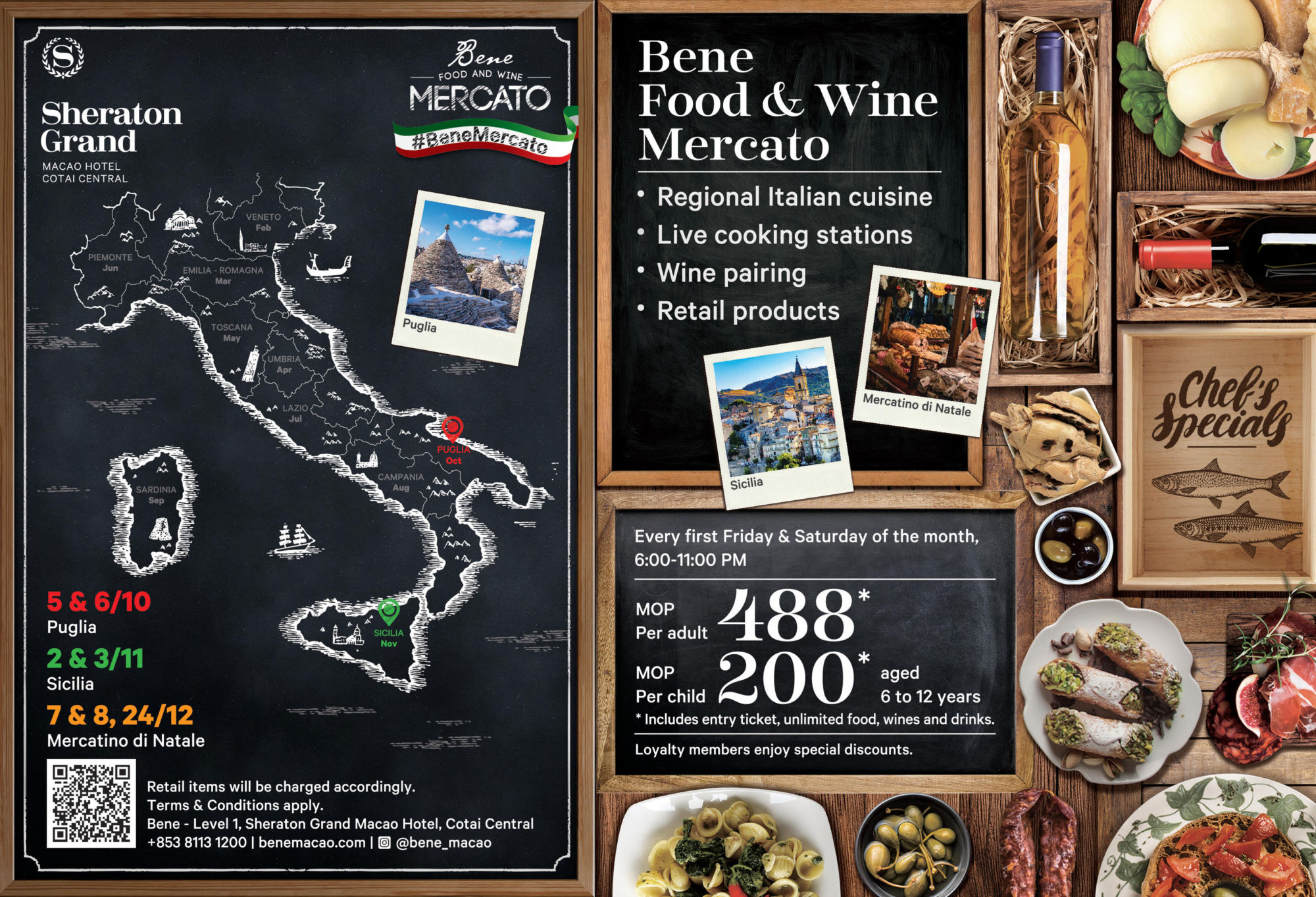 A TASTE OF PUGLIA AT BENE'S FOOD & WINE MERCATO
Take your taste buds on a journey to Puglia! Bene's Food and Wine Mercato is back and this time they will take you to the rocky, fertile plains of Puglia on October 5–6. Known as the 'heel of Italy,' Puglia is famous for its unique pasta dishes, crusty bread and mouthwatering seafood from the Adriatic Sea. Puglia's cuisine (cucina Pugliese) pays homage to the freshest ingredients sourced within the region itself, famous for its abundant seafood, produced from the rich soils of its fertile plains, with some of the finest olive oil in the world. Discover authentic Italian food paired with the best Italian wines in a bustling market atmosphere in Puglia Food and Wine Mercato. This edition will include extensive Italian cuisine, live cooking stations, wine pairing, and retail products.
Sample orecchiette rape e salsiccia (a traditional pasta in 'little ear' shapes tossed with turnip tops, housemade sausages and pecorino cheese) or try classic street food with the panzerotti con scamorza pomodoro e basilico (a deep-fried folded pizza stuffed with scamorza cheese, tomatoes and basil). Seafood lovers can savour delicacies such as cernia al sale ed erbe (grouper baked in salt and herb crust) orriso, patate e cozze (mussels and potatoes baked rice). Meat eaters can feast on pancia di manzo e verdure arrosto, a slow-roasted black Angus brisket with roasted seasonal vegetables. All dishes are carefully paired with hand-picked wines imported from Puglia.
When: 6:00pm–11:00pm, Friday and Saturday, October 5 and 6, 2018
Where: Bene, Sheraton Grand Macao Hotel, Estrada Do Istmo, Cotai
How much: MOP $488 (adult), MOP $200 (children, 6–12 years). Price includes entry ticket, unlimited food, wine, and drinks. Retail items will be charged accordingly. SPG members enjoy a special discount.
For inquiries, call +853 8113 1200 or email them – for additional info, check Bene's website or follow Sheraton Grand Macao on Facebook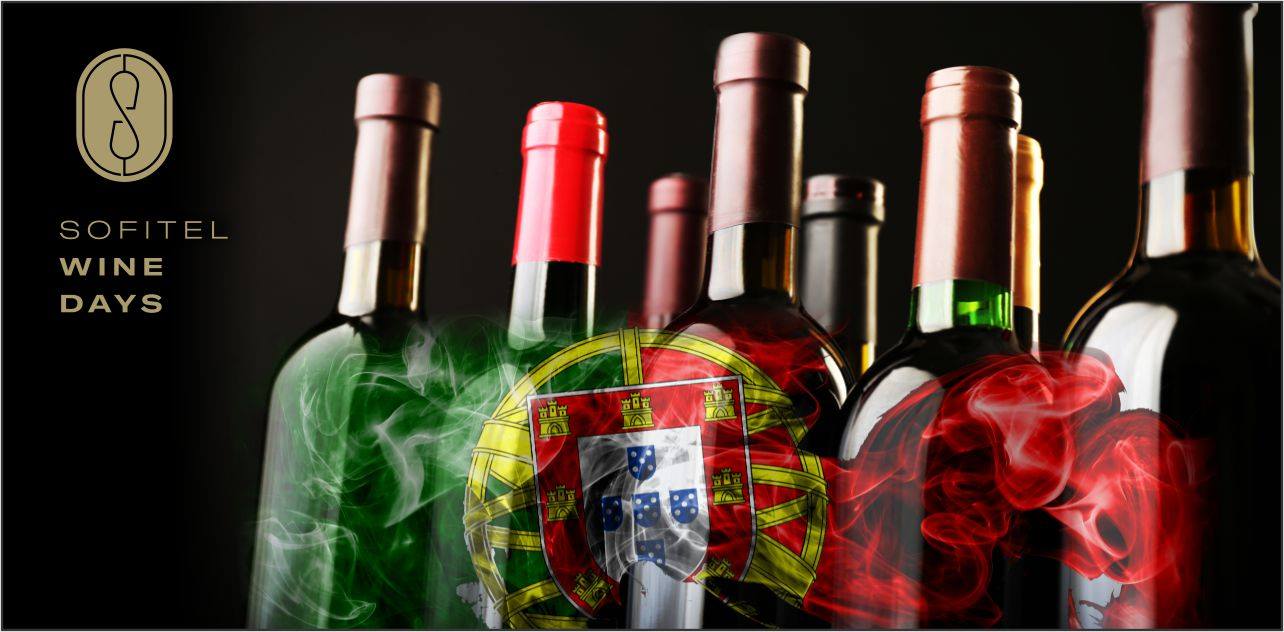 Last February, Sofitel dedicated its Wine & Music to South America. This time, it's Portuguese culture time! Treat yourself to a true taste of Portuguese culture at a venue offering both al fresco and indoor space! In conjunction with the annual Sofitel Wine Days, this edition of 'Wine & Music' is treating guests to their favourite Portuguese wine and delicacies with wines coming from two varying wine regions, Dão and Douro. If you are a fan of the exquisite flavour of Bordeaux, try the wine collection from Dão with red and white wines from Quinta de Saes and Flor de Viseu from Ares do Dao. For those who prefer full-bodied wine, don't miss out on red wines from Quinta da Pacheca and Lua Nova em Vinhas Velhas of the Douro region. As the soothing sound of Portuguese music plays in the background, guests can embrace the complete Portuguese experience and savour the unlimited supply of Portuguese and Macanese delicacies.
When: 7:00pm–10:00pm, Friday, October 5, 2018
Where: Mistral Restaurant, Sofitel Macau at Ponte 16 Rua das Lorchas e Rua do Visconde Paço de Arcos, Macau
How much: MOP $198 per person
For additional information, visit the event's Facebook page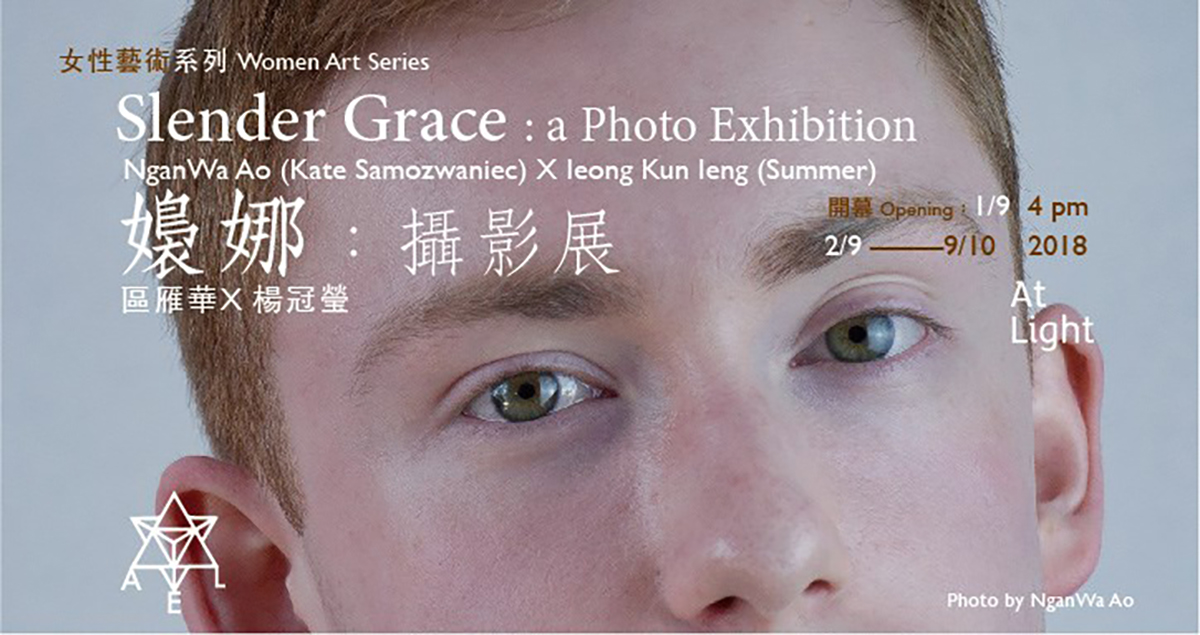 Slender Grace: a Photo Exhibition is part of the Arts Empowering Lab's Women Art Series. One of the contributing young female artists invited to take part in the exhibition is Kate Ngan Wa Ao. She was born in Macau, and is now studying photography in Poland. Her work tries to redefine mainstream gender values, namely by showing the feminine side of male subjects. The other participating local artist, Summer Ieong Kun Ieng, looks at sexuality and sensuality from a woman's perspective.
When: September 2–October 9, 2018
Opening hours: 12:00pm–7:00pm; closed on Wednesdays
Where: At Light Arts Empowering Lab, 1 G/F Pátio do Padre Narciso, Macau
How much: Free admission
Learn more on the event's Facebook page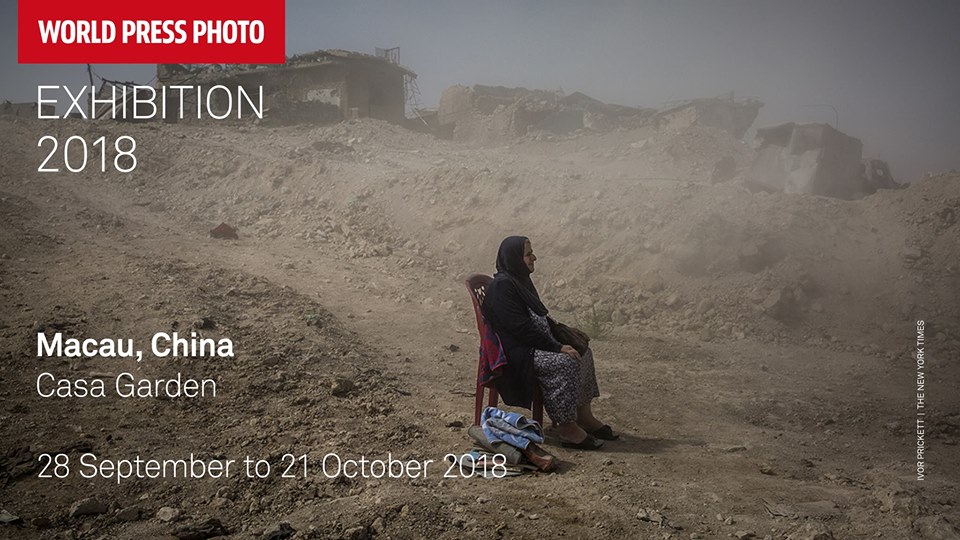 See some inspirational photography and get updated with what has been happening all over the world at the World Press Photo Exhibition 2018 at Casa Garden on its worldwide tour showcasing stories that matter with photography from the 61st annual contest. These winners were chosen independently by a jury that has reviewed more than 73,000 photographs by 4,548 photographers from 125 countries.
When: 10:00am—7:00pm, September 28—October 21 (closed on Mondays)
Where: Casa Garden, 13 Praça de Luís de Camões
How much: Free admission
For more details and information please call +853 2872 6828 or visit their Facebook page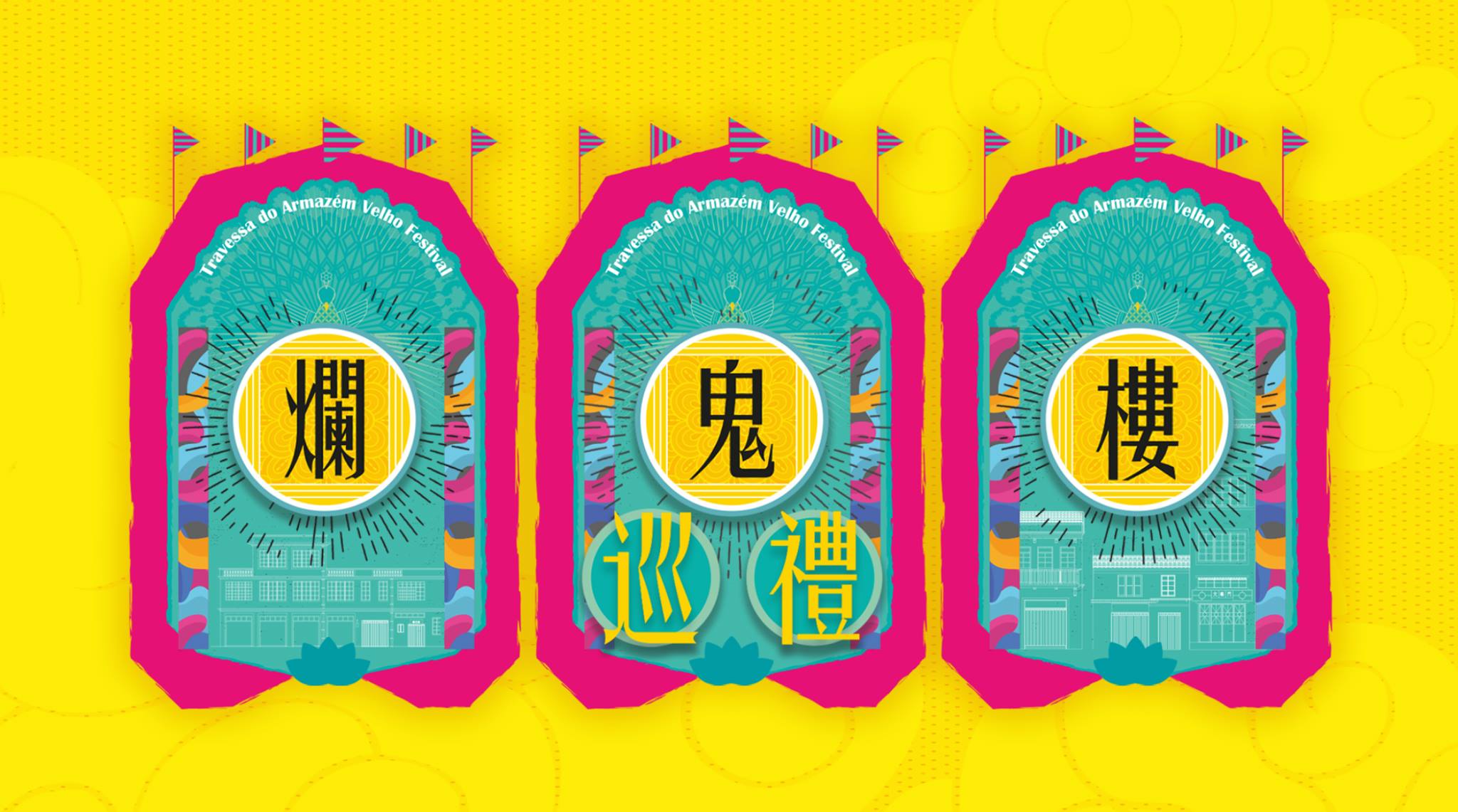 The purpose of this event is to promote the most original place-based local cultures of this old business district and, at the same time, to showcase elements of the former industry and rising creative entrepreneurship activities as well. It is expected to attract locals and inspire them to revisit this historical community.
When: Every Saturday and Sunday, October 6–October 28, 2018
Where: Travessa do Armazém Velho, Rua dos Ervanários, Macau
How much: Free admission
For more information visit the event's Facebook page
---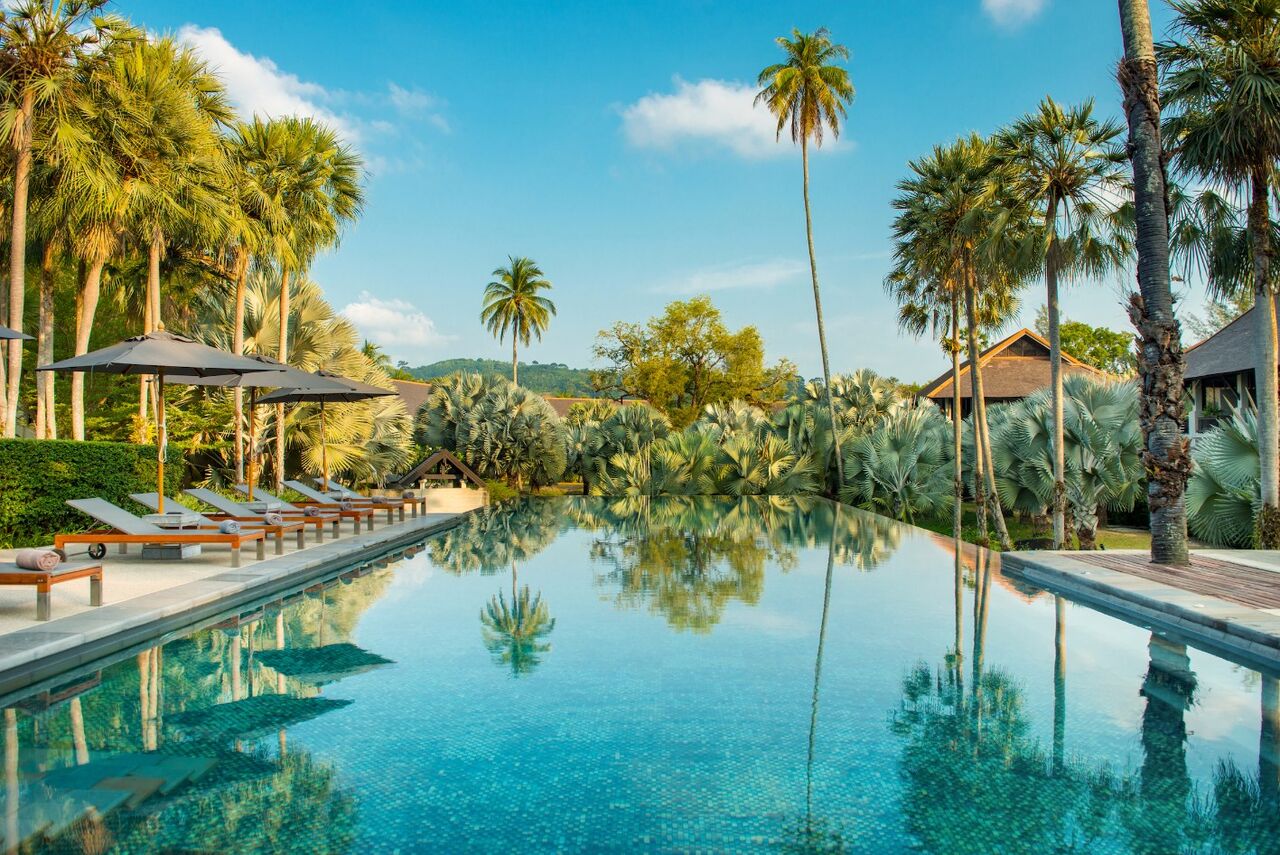 We're always on the lookout for good deals, bargains and prizes for our readers. Since the temperatures haven't quite dropped enough yet, we thought we'd give you the chance to extend your summer with a stay at one of the most distinctive resorts in Phuket, The Slate. Phuket is only a short flight away, and you could be there checking in, in less than half a day if you enter our super exciting giveaway!
The luxuriously-crafted resort is nestled on the sheltered shores of Nai Yang Beach and cradled by Sirinat National Park. Boasting an all-suite and villa setup, The Slate is inspired by Phuket's tin mining heritage. They offer 177 accommodation choices, with seven exquisite Private Pool Villas, eight dining venues, three swimming pools, an award-winning spa and a host of other facilities and services across a 35-acre Bill Bensley designed landscape.
If you win our giveaway, you could be stepping into the open-air lobby, which is technically just a few hours away from Macau. After you check in you will be whooshed to your Pearl bed suite studded with sophistication, featuring fine interiors and amenities. Don't hang in the comfortable room too long, as magical dining destinations and stunningly-designed azure pools (yes, more than one) around the resort await you. You can have all this and call it home for three days and two nights for free. This once in a lifetime competition has a total value of THB $30,000 which converts to MOP $7,403.69! How's that for a holiday treat! What are you waiting for? Enter now! Good luck!
GIVEAWAY DETAILS
Includes three days and two nights in The Slate's Pearl Bed Suite
Includes daily breakfast for two guests
Round trip airport transfer
Does not include flight tickets or other meals.
Conditions:
Validity from November 1st, 2018–October 31st, 2019
Blackout dates: December 10th, 2018–February, 10th, 2019
Subject to availability and advance reservations are required via 

[email protected]

Please see additional terms and conditions on the giveaway page
Tags