With a myriad of things to do in Macau this month of July, mark your calendar to experience the best of the summer season. We're excited about the wonderful kid-friendly activities happening around the city along with art exhibitions, musical acts, and dining adventures!
(Featured image above)
The Photographic Society of Macao is a non-profit organization established in 1958, the earliest photographic organization in Macau. The goal of the society is to organize friends of photography to promote the art of photography.
The First Macao International Salon of Photography was held in 1981 and has become a major international biannual activity with participants from over 50 countries. Awards in these salons are also accredited internationally. See the annual exhibitions on the works of talented members.
When: 9:00am–7:00pm, July 16–28, 2017
Where: Chun Chou Tong Pavilion, Lou Lim Ioc Garden, 10 Est. de Adolfo Loureiro
How much: Free admission
For more details, contact +853 2857 2770 or www.salon.psm.org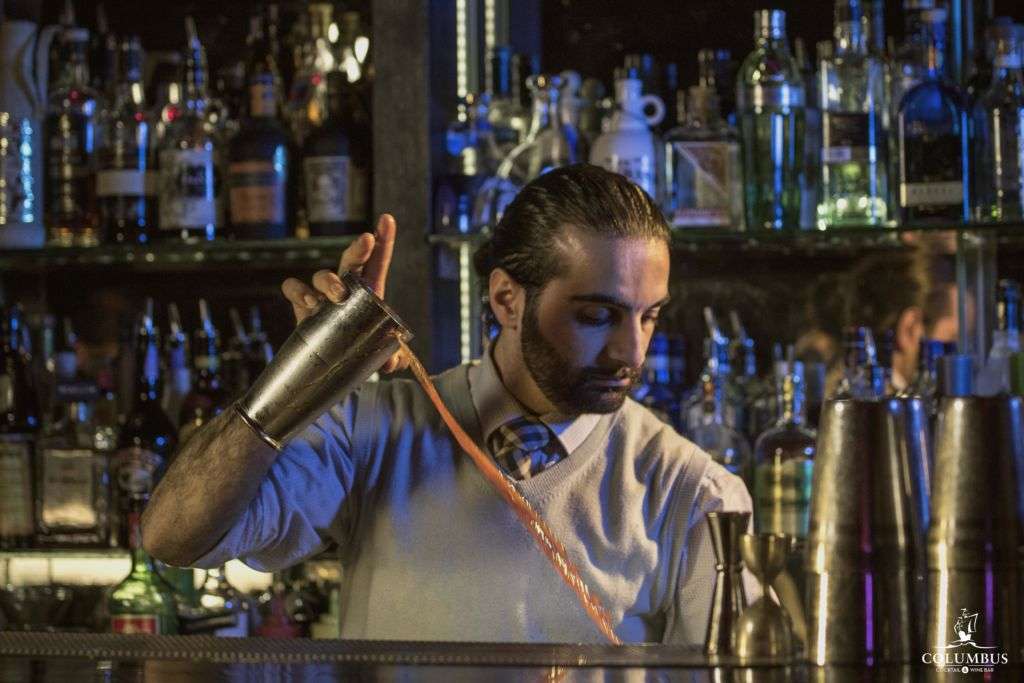 Luca Cinalli of London's Oriole bar in Smithfield and previous head bartender of highly acclaimed Nightjar bar, will be showcasing his innovative cocktails at The Ritz-Carlton Bar & Lounge from July 14 to 17.
Expect his visit to Macau to be truly memorable with his renowned skill in making exclusive cocktails that are inspired by the culture of the city.
He is also set to conduct a private masterclass on July 15  and July 16 (for industry professionals). Take this opportunity to learn from his ingenuity and get a glimpse of his exquisite intricacy and accuracy when it comes to mixology. The Ritz-Carlton Bar & Lounge is the spectacular setting for this exciting event. Garbed in style and sophistication, sip signature cocktails by Luca as the sun sinks down in an impressive night of delightful drinking.
When: 9:00pm – 12:00am, July 14 – 17, 2017
Where: The Ritz-Carlton Bar & Lounge, The Ritz-Carlton Macau, Galaxy, Estrada da Baia de Nossa Senhora da Esperanca, Cotai
How much: Cocktail starts at MOP $118, masterclass on Saturday: MOP $198, masterclass on Sunday: MOP $238 (for industry professionals)
For more details, contact +853 8886 6706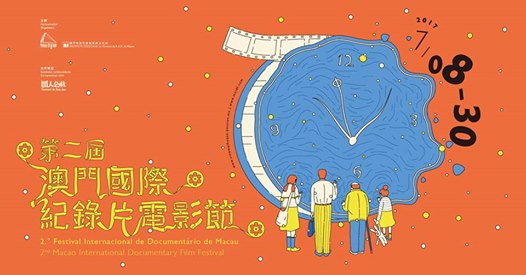 The 2nd Macao International Documentary Film Festival (MOIDF) is a collaboration between Cinematheque Passion and Comuna de Han-Ian. With "Time" and "Growth" as the two main curatorial concepts, and "Image of Time" as the theme, 27 outstanding documentary films from different places in the world will be featured in Macau.
The festival will also feature other award-winning documentary films, including "Still Tomorrow" (Best Chinese Documentary at the Amsterdam Film Festival), "Life, Animated" (nominated for the 89th edition of the Oscar Awards), "Le Moulin" (Best Documentary at the Golden Horse Awards 2016) and "Snuggle" from Hong Kong.
When: July 8–21, 2017
Where: Cinematheque-Passion, 13 Travessa Da Paixao, Macau
How much: MOP $60
For more details, contact +853 2852 2585 or visit www.cinematheque-passion.mo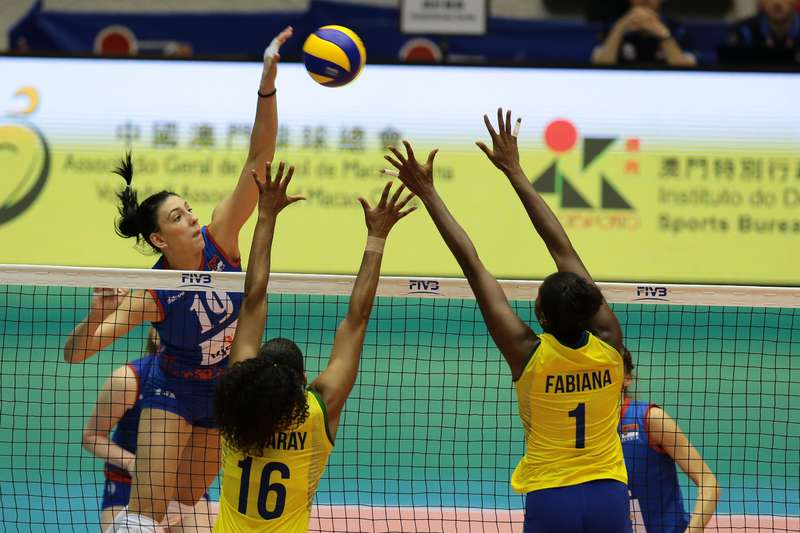 The Macau Forum has hosted the spectacular Federation Internationale de Volleyball (FIVB) World Grand Prix for almost two decades. It has twice hosted the finals and the event always guarantees hard-fought sporting action for local and international spectators. The televised FIVB World Grand Prix has not only created a platform for volleyball stars to excel on but generated great interest in the sport locally, plus generated unparalleled excitement for fans in Macau who have a golden opportunity to see their heroines up close and personal.
When: July 14–16, 2017
Where: Macau Forum, Avenida Marciano Baptista, Macau
How much: MOP $150
For more details, visit www.macaowgp.com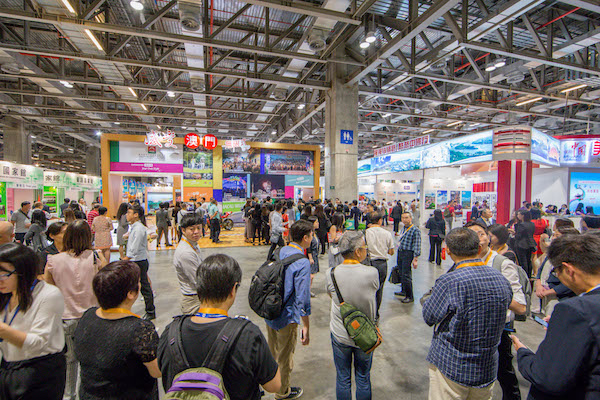 A significant annual gathering for the tourism industry in Macau, the expo addresses the six major tourism categories of dining, accommodation, transportation, entertainment, sightseeing, and shopping. It will feature travel agencies, hotels, scenic spots, world heritage, intangible cultural heritage, tourism transportation, tourism-extended services, tourism supermarkets, tourism media and tourism e-commerce, as well as other tourism-related services. Participants include tour operators and other tourism-related entities and enterprises from mainland China, Hong Kong, Macau, and overseas. Learn more about the rich tourism resources of Macau and other participants at the Expo.
When: July 7–9, 2017
Where: Hall D, Cotai Expo of The Venetian Macao, Estrada da Baia de Nossa Senhora da Esperanca, Taipa
How much: Free admission
For more details, visit www.cmitc.com or contact +853 2870 3707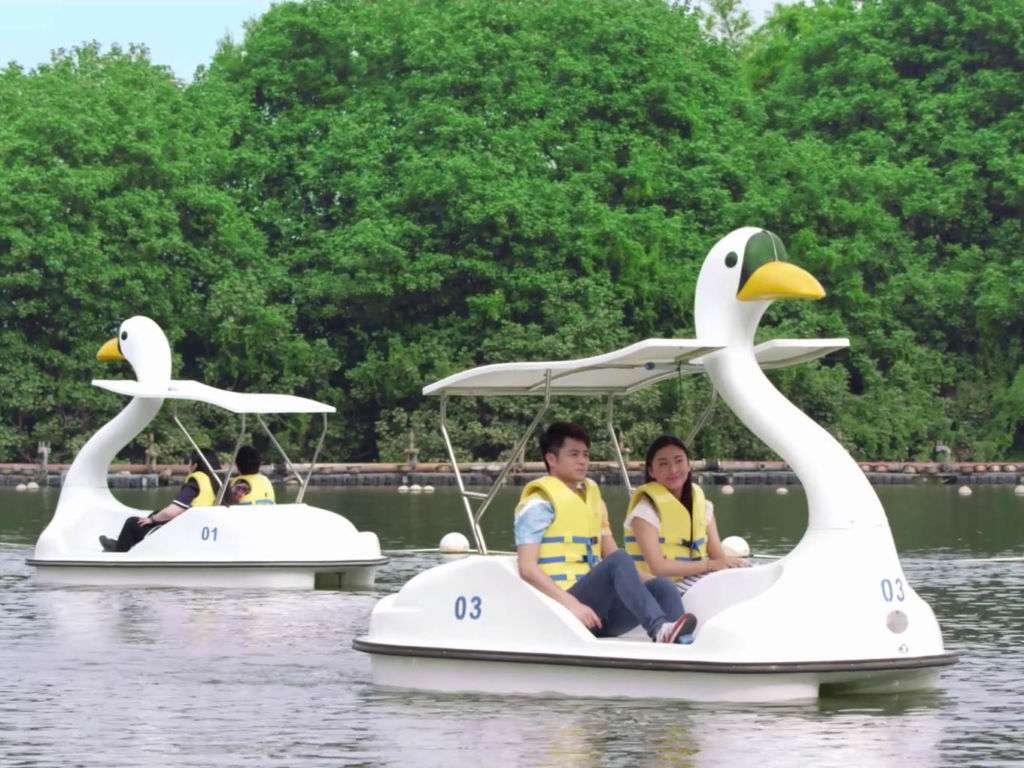 Anim'Arte Nam Van is located on the pristine Nam Van Lake waterfront along the Praia Grande Promenade. It is one of the city's favorite family attractions—featuring an arts pavilion, cultural and creative shops, IFT Café, weekend craft market, graffiti display area and much more, while boat paddling means fun on the lake!
Check out the smiling workshop, outdoor weekend craft market, and laser projection at Nam Van Lake during weekends.
When: July 1–31, 2017
Where: Anim'Arte Nam Van, 744B Avenida Panoramica do Lago Nam Van, Macau
How much: Free admission
For more details, contact +853 2833 7676, www.macaotourism.gov.mo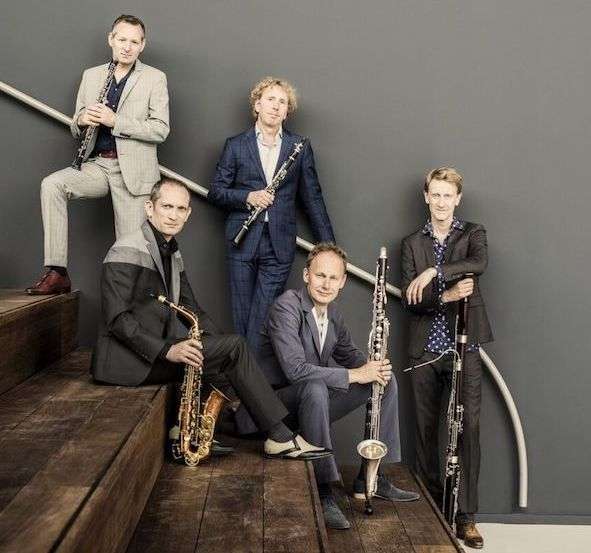 Running from June to September this year, the Macau Band Fair features a series of concerts by accomplished local musicians. Check the complete list of performances here.
The Fair also features three indoor concerts on July 3, 10 and 31 at 8:00pm at the Macao Cultural Centre. Admission is free, with tickets available from Macau Ticketing Network Counters and Macau Band Directors Association, limited to two tickets per person. Best for those aged 6 or above. Local and foreign bands.
When: July 2–31, 2017
Where: Macao Cultural Centre, Dom Pedro V. Theatre, Colegio de Santa Rosa de Lima English Secondary Chapel
How much: Free admission/MOP $100 (Some shows are free, some have admission charge, please check for ticketing options below)
For more information, contact +853 2825 2825 or www.mbda.org.mo. For ticketing details, contact +853 2855 5555, www.macauticket.com
One of the oldest and important traditions in Macau, the Parish of St. Lazarus will celebrate the Feast of St. Roque—"The Patron Saint against the Plague"—with a solemn mass at 9:30am, followed by a procession of the statue of St. Roque around 10:30am, which will wind through the surrounding streets of the district. Prayers and music ensembles will accompany the procession.
When: July 9, 2017
Where: St. Lazarus Church, 11 Adro de Sao Lazaro, Macau
How much: Free admission
For more information, contact +853 2837 3094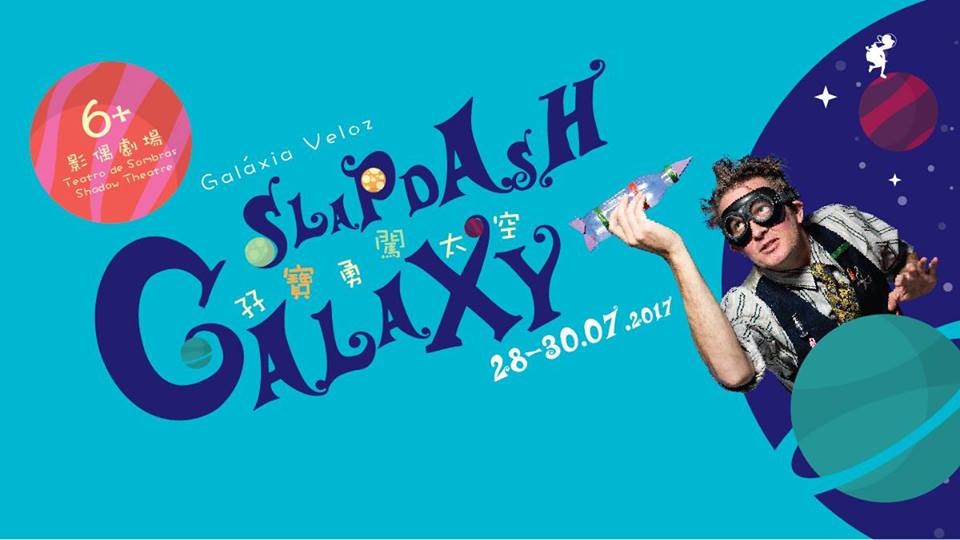 One day, Sam and Junior are forced to flee their barren planet, embarking on an epic adventure across the galaxy. Join the two brothers on their journey through the stars and lose yourself in the craziest shadow puppet show you've ever seen! The award-winning company Bunk Puppets brings us the hit Slapdash Galaxy, a show where performers put together all their wizardry to transform old boxes, bubble wrap, drinking straws, tennis balls, ping pong bats and used household items to tear open your imagination.
Dedicated to innovative, quirky, and exciting performances for groovy kids and their families, the Australian troupe has garnered acclaim in recent tours around the world, taking their theatrical, comical approach to enchant all audiences, from Egypt, Japan, and China to the UK, Germany and the US.
When: July 28–30, 2017
Where: Macao Cultural Centre, Avenida Xian Xing Hai, NAPE, Macau
How much: MOP $180
For more details, visit www.macauticket.com or contact +853 2840 0555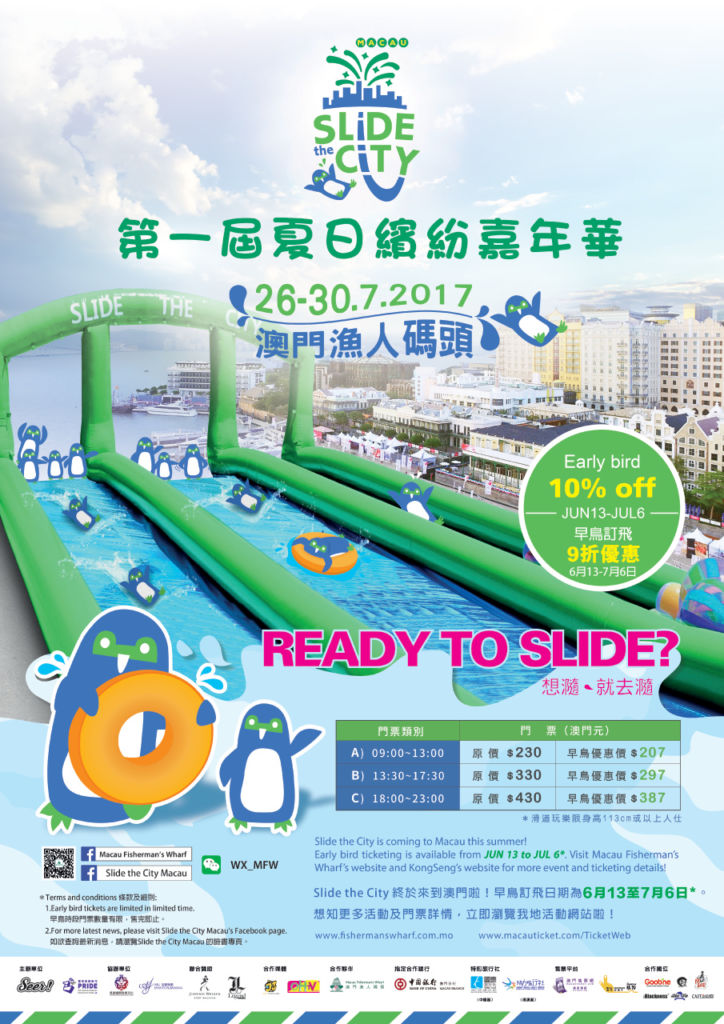 Invite your friends and family for inflatable fun at Macau Fisherman's Wharf. It's the coolest thing to do this summer. Besides the mind-blowing experience sliding down from a 6-meter high platform followed by a furious 100-meter long ride on the gigantic water slides, there are also great local treats for foodies, classic fairground games for fun-lovers, and a jungle gym for your kiddies (little monster).
The tickets are categorized by dates and various time slots. Enjoy unlimited number of slides during the respective time slot.
When: July 26–30, 2017
Where: Macau Fisherman's Wharf, Avenida da Amizade E Avenida, Dr. Sun Yat Sen, Macau
How much: MOP $230, MOP $330, MOP $430
For more details, visit www.macauticket.com

Classic Sanrio characters are more than just Hello Kitty! Keep the kids entertained at Studio City with these adorable characters—over 400 created by Sanrio since 1960.
Embark on a journey through time, unlock your memories, and spend a great day with Sanrio friends and the whole family!
When: July 28–September 3, 2017
Where: Studio City, Estrada do Istmo, Cotai
How much: MOP $150 (standard price ticket), MOP $90 (students, seniors and handicapped), MOP $110 (Macau resident and group ticket with valid Macau ID)
For more details, visit www.studiocity-macau.com or contact +853 2855 5000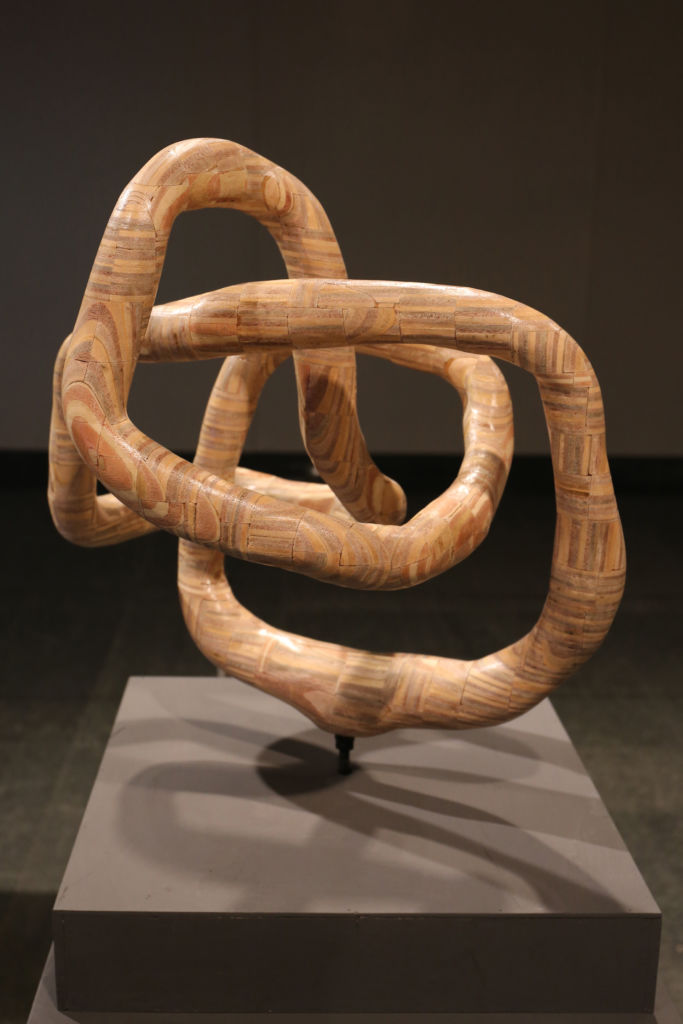 This summer, Taipa Village Cultural Association proudly presents local accomplished artist Tong Chong's wooden sculpture exhibition Restless Nature.
He showcases his new collection reflecting three years of meticulous research into sculpting with plywood. In this new series of sculptures, each piece took at least four to six months to finish due to gluing procedures, while the sculpting itself is a process which requires physical and psychological stamina that cannot be taken lightly.
This tells us about Chong's character, as it is embodied in each piece: the perseverance to achieve his goals and a restless soul eager to evolve and perfect his technical skills.
When: July 5–September 6, 2017
Where: Taipa Village Art Space, 10 Rua dos Clerigos, Taipa, Macau
How much: Free admission
For more details, contact +853 2857 6118 or visit www.taipavillagemacau.com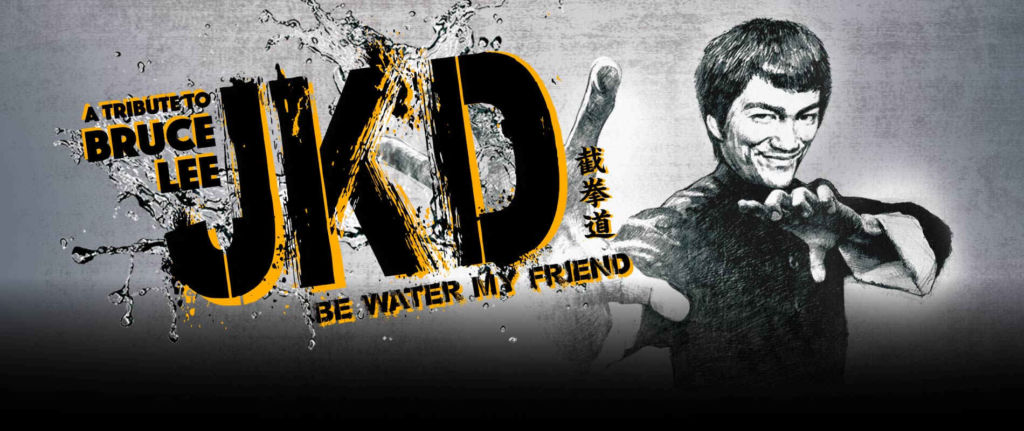 This tribute to legendary master Bruce Lee celebration event is for global martial artists to come together to celebrate and remember his lifetime achievement and his contributions to martial arts. It is a tribute to his theory in martial arts known as Jeet Kune Do. An extraordinary one-night event combined with seven different types of live martial arts battles with professional live music performance and DJ.
When: 8:00pm, July 8, 2017
Where: Cotai Arena, Venetian Macao, Estrada da Baia de Nossa Senhora Esperanca, Cotai
How much: VIP Reserve—MOP $1,680, A Reserve—MOP $1,280, B Reserve—MOP $380, C Reserve—MOP $280
For more details, visit www.venetianmacao.com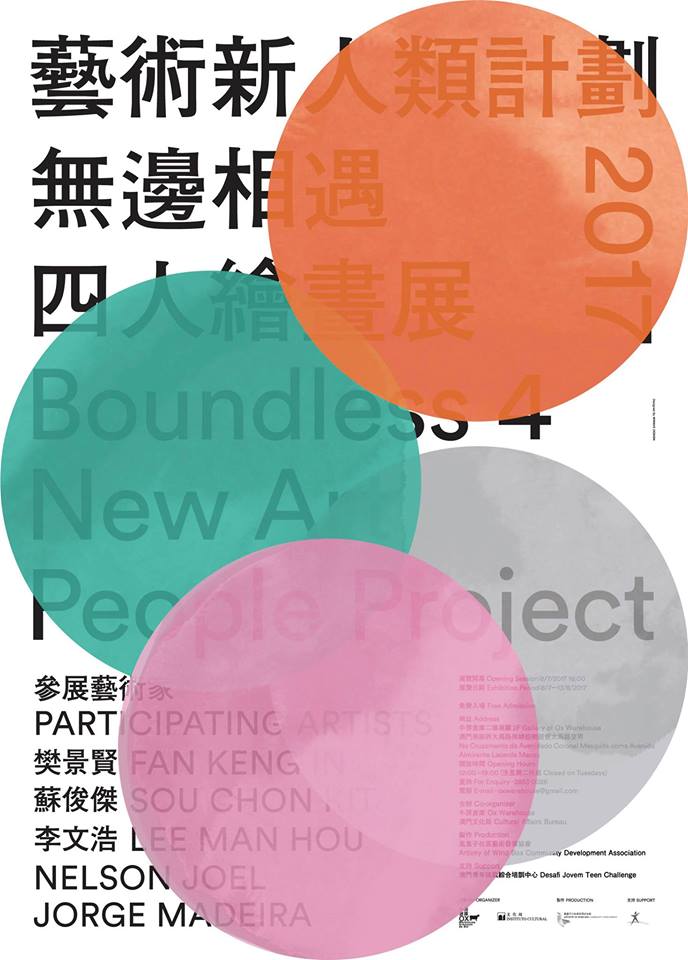 Four fantastic artists unite in an exhibition entitled New Art People Project, by Ox Warehouse. The participating artists are Nelson Joel Jorge Madeira, Sou Chon Kit, Fan Keng In, and Lee Man Hou.
The four started the exploration of oil painting under the guidance of artist Cai Guo Jie and incorporated painting as part of their life. Looking back, it was certainly a meaningful journey from the beginners' exploration to more matured and peculiar styles.
The Ox Warehouse aims to help the public to better understand this group of passionate youth and explore the boundless possibilities through painting.
When: July 8–August 13, 2017
Where: 2F Gallery of Ox Warehouse, No Cruzamento da Avenidado Coronel Mesquita coma Avenida Almirante Lacerda, Macau
How much: Free admission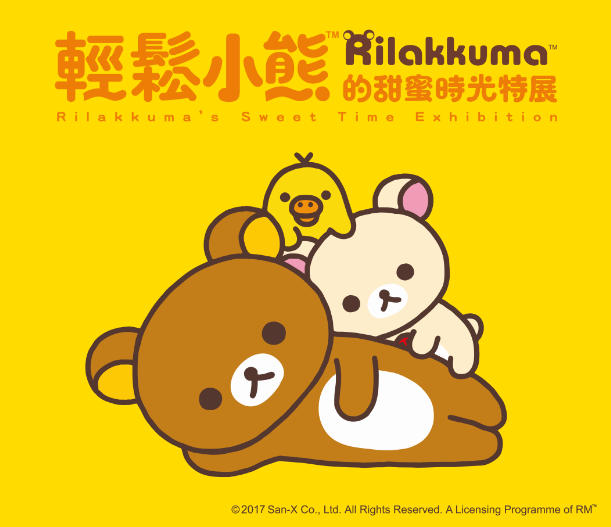 Whether lying down or sitting, every cute action and expression makes people relaxed. Rilakkuma is coming to Broadway Macau from June 30 to August 31, bringing fun to kids of all ages, and kids at heart, in the city. Don't miss the cuteness overload at Broadway!
When: June 30–August 31, 2017
Where: Broadway Macau, Avenida Marginal Flor de Lotus, Cotai
How much: MOP $80–MOP $120
For more details, contact +853 6288 9485 or visit www.broadwaymacau.com.mo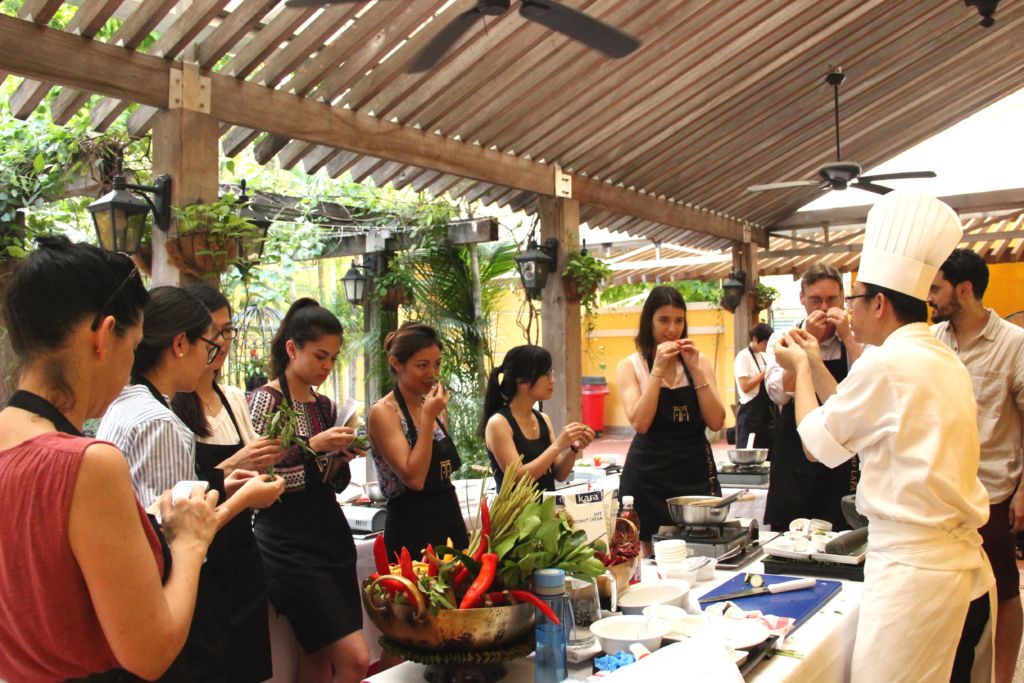 Get a chance to learn how to cook classic Thai dishes with Executive Chef Mr. Pairoj at the garden of Michelin-recommended restaurant, Naam. It's a great opportunity to master your cooking skills and to dine with a charming view of the beautifully landscaped swimming pool and lush tropical gardens, while savoring magnificent tastes of authentic Thai cuisine.
When: Every Sunday, 3pm–6pm, July 9–August 27, 2017
Where: Grand Lapa, 956-1110 Avenida da Amizade, Macau
How much: MOP $600 per person per class
Inquiries: +853 2856 7888, www.grandlapa.com

Conductor Pang Ka Pang and the Macao Chinese Orchestra present a beautiful evening of Chinese music in its 2016–2017 season's closing concert Encounter with Chinese Music. The program highlights include "A Moonlight Night on the Spring River", "Rain on Banana Leafs", and "Zhongruan Concerto Blossom", making for a perfect ending to the season.
When: 8:00pm, July 21, 2017
Where: Dom Pedro V Theatre, 3 St. Augustine's Square, Macau
How much: MOP $60–MOP $80
For more details, visit www.whatson.macaotourism.gov.mo or contact +853 8399 6679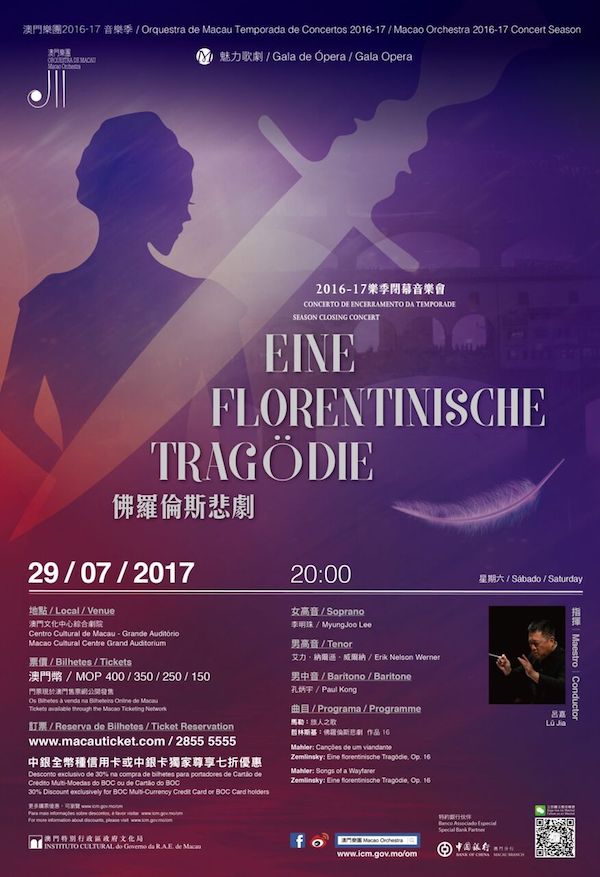 Macao Orchestra concludes the 2016-17 season with the concert edition of Eine Florentinische Tragödie, Zemlinsky's most notable opera. Based upon an uncompleted play by Oscar Wilde, the opera, set in Florence during the Renaissance period, recounts a duel between a wealthy merchant and a nobleman over a love affair. The delicate and lively music, coupled with the exciting and tense plot of the one-act opera have made it the most frequently performed opera of Zemlinsky.
When: 8:00pm, July 29, 2017
Where: Grand Auditorium, Macao Cultural Centre, Av. Xian Xing Hai, NAPE
How much: MOP $150–MOP $400 (Best for those aged 6 or above)
For more details, visit www.om-macau.org or contact +853 2853 0782
•••
NIGHTLIFE 
•••
Share
Tags