When you seem to have walked all the touristy paths, seen every significant historical landmark, and visited the best restaurants in Macau, it feels like something is still missing. It is time to provide food for the soul and spend one day in Macau exploring its art scene. There is no shortage of paintings, murals, and sculptures to admire, from museums and galleries to resorts and alleyways. Although Macau's art scene is rich, you do need a knowledgeable guide to tell you where to look. Let us be your guide with this one-day itinerary covering the must-see art spots in Macau.
Breakfast: Café Bela Vista
Before a long day of art exploration, it's necessary to fuel up with a breakfast at a beautiful and relaxing place. Our recommendation would be Café Bela Vista at Artyzen Grand Lapa Macau. With rattan furniture, large open windows facing the garden, and overall vacation vibes, it would be a majestic way to start your day. Furthermore, it's only ten minutes away from the first stop on our itinerary. 
Artyzen Grand Lapa Macau is known for freshly baked pastries and cakes, so why not order a steaming cup of coffee with a couple of croissants on the side?   
On your way out, spot the astonishing wooden artwork on top of the hotel lobby staircase. Created by artisans from Lisbon's famous Fundação Ricardo Espirito Santo, this is a replica of the chapel window in the Convent of Christ in Tomar, founded in 12th century Portugal. Even though the original, this piece is still a show-stopper. 
Artyzen Grand Lapa Macau 956-1110 Avenida da Amizade, Macau, +853 8793 3871, artyzen.grandlapa.com/cafe-bela-vista

Stop 1: The Macao Museum of Art 
A part of a cultural cluster, Macau's only art museum stands far from other attractions. Hence, it would make sense to begin your journey here. The admission is free for everybody, as for most of the museums and galleries in the city. Walk freely through the entrance and check what's on. They always have one or two temporary exhibitions, often brought from major Chinese and European museums. While the permanent collection is not extensive, it's worth checking out, especially the watercolors of old Macau. 
Macao Museum of Art Avenida Xian Xing Hai, NAPE, Macau, +853 8791 9814, www.mam.gov.mo
 Also read: Free Things to Do in Macau

Stop 2: MGM MACAU
It might be surprising to see a resort on this list. However, it's common to spot impressive art objects on hotel and casino premises in Macau. One of the art movement pioneers is MGM, which collected hundreds of pieces, from paintings to sculptures. Made by acclaimed artists, some of them could easily have been crown jewels of art museums. Luckily, MGM's guests can enjoy them free of charge. Begin your art journey at the main entrance that faces Avenida Dr. Sun Yat-Sen with Alice in Wonderland, a sculpture by Salvador Dali. While this eccentric Spanish artist is recognized mainly for his surrealist paintings, his genius covered more than one medium. Go ahead and step into MGM Macau to see yet another masterpiece by Dali, Dalinian Dancer. Above the bronze Flamenco lady is a hand-blown glass artwork by Dale Chihuly, an American sculptor.
Follow the signage to find your way to Grand Praça, where Valkyrie Octopus by Joana Vasconcelos dominates the atrium. This enormous textile mollusk sits on top of the eight-meter tall aquarium with colorful embroidered tentacles spread around Grand Praça. Joana Vasconcelos is a Portuguese artist known for her colossal installations. She was also the first female and the youngest artist exhibited at the Palace of Versailles and the first Portuguese artist to have a retrospective at the Guggenheim Museum in Bilbao, Spain.
MGM Macau Vista, Avenida Dr. Sun Yat Sen, NAPE, +853 8802 8888, www.mgm.mo/en
Also read: MGM's Art Collection: From Imperial Carpets to a Knitted Octopus

Stop 3: Grand Lisboa Macau 
Undoubtedly, Grand Lisboa has become one of Macau's architectural symbols and a prominent part of its skyline. That said, this hospitable resort also hosts quite a collection of art in the lobby. Contemporary sculpture connoisseurs would appreciate the Taichi series by Ju Ming, a Taiwanese master. Frozen in taichi poses, the figures made of bronze blocks seem monumental and refined at the same time. 
Don't discount the stunning carved in mammoth tusk and jade sculptures if you are into traditional Chinese art. Each of them depicts a Chinese legend and represents awe-inspiring craftsmanship and dedication. For example, between research and carving, it took artists over six years to make the fine mammoth tusk carving of the Great Wall. 
Grand Lisboa Macau Avenida de Lisboa, Macau, +853 2828 3838, www.grandlisboahotel.com
Also read: Art Masterpieces in Macau You Did Not Know Existed

Stop 4: Around Praça de Ponte e Horta 
Street art adds a vibrant touch to architectural ensembles and urban landscapes in general. In Macau, the epicenter of graffiti is Praça de Ponte e Horta and the streets surrounding it. In 2018, this area became the canvas for international and local graffiti artists in the Outloud Street Art Festival, forever changing it into a funky neighborhood with amazing murals. One of the highlights is the mural by Vhlis, a well-known Portuguese artist whose signature style is carving portraits into city walls. Other notable works not to miss are by Macau-based Pibg2038, Vance DNA from China, and the gigantic colorful graffiti by three artists–Kenji, Rukkit, and Gus (see featured image above). 
Also read: Your Ultimate Macau Art Guide

Lunch: Goa Nights 
After exploring the key wonders of Macau's side art world, it is time to travel across the bridge to Taipa. First things first, fuel up at one of Taipa Village's gastro bars, Goa Nights. Offering Indian small plates with a modern twist, this small two-story spot is a hit among foodies. It stands right in front of the Taipa Village Art Space conveniently enough.  
Goa Nights 118 Rua Correia da Silva, Taipa, +853 2856 7819, www.goanights.com, www.facebook.com/goanightsmacau
Also read: Great Places to Eat in Taipa Village

Stop 5: Taipa Village
Taipa Village cannot boast any world-famous art museums or galleries, yet it rightly bears the title of the city's cultural neighborhoods as the platform for Macau-based artists. Start with the Taipa Village Art Space, a tiny gallery tucked between restaurants. It serves as a space to promote local talents. So from photography to watercolors and puppets, it always has a fascinating ongoing exhibition to enjoy, free for all. Then, let yourself get lost in Taipa Village's narrow alleyway stumbling upon murals and graffitis and snapping photos of them. 
Taipa Village Art Space 10 Rua dos Clérigos, Taipa, +853 2857 6212, www.taipavillagemacau.com/taipa-village-art-space-2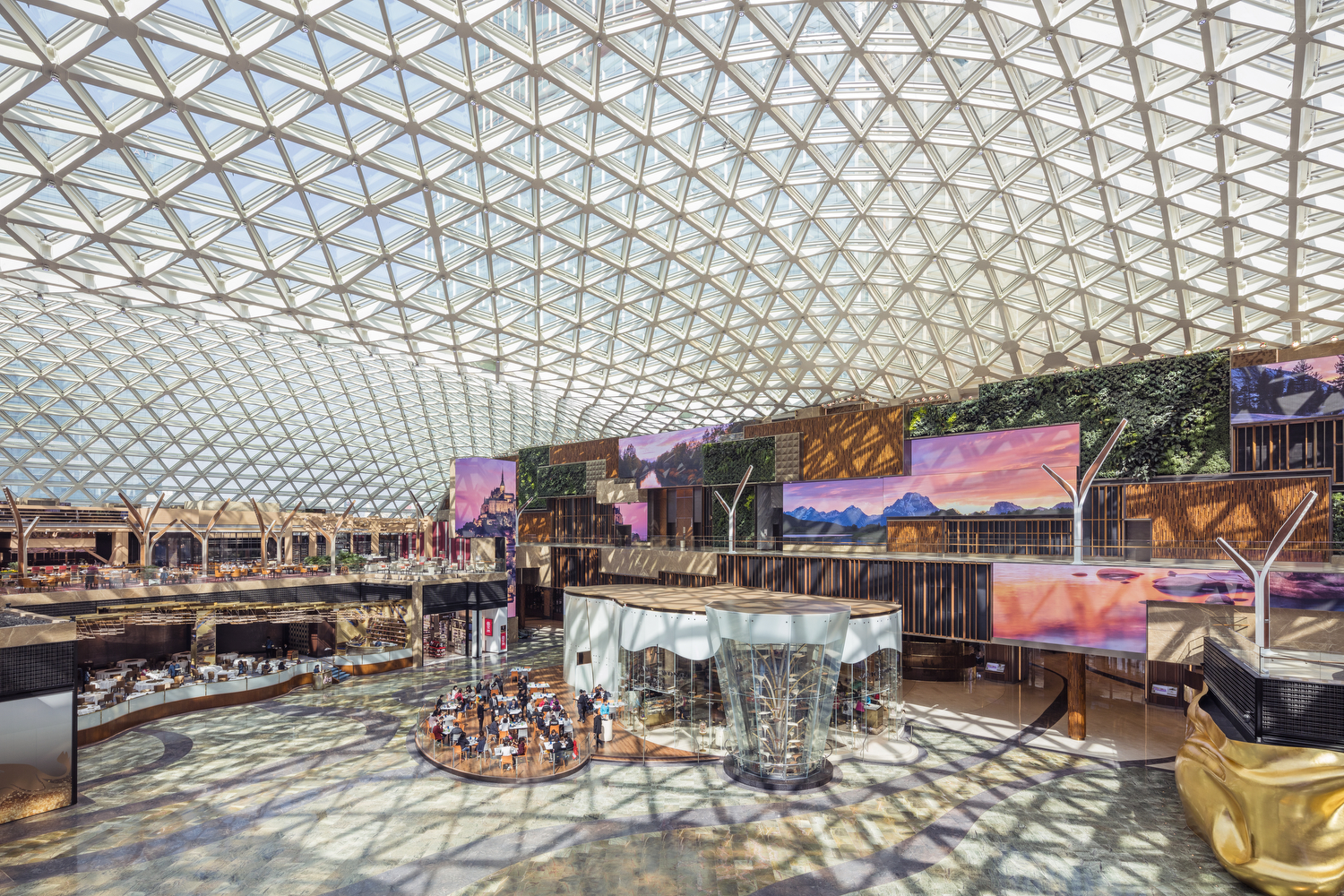 Stop 6: MGM COTAI
After the charming vibes of the authentic Taipa Village, bustling Cotai would be an electrifying contrast. But avoiding it on your art itinerary would be a crucial mistake. Make MGM Macau's sister resort your first stop here. The building itself is a piece of architectural art. Opened in 2018, it established itself as progressive and contemporary, hosting events, exhibitions and revealing a collection of over 300 art pieces scattered around the 280,000 square meters. 
Kick off the Emerald Lobby to see the Qing Dynasty Imperial carpets, from the royal pavilions of the Forbidden City to the hotel lobby. Out of 300 carpets that survived to this day, 28 are at MGM Cotai. From traditional to contemporary, check out some of the latest additions to the MGM's Chairman collection–two paintings by Cai Guo Qiang, a Chinese artist who uses explosives and gunpowder as his tools and sky as his medium. 
The part that MGM Cotai is probably most proud of is its Spectacle. This spacious atrium hosts restaurants, cafes, shops, and a multitude of LED screens showcasing over seven hours of mesmerizing footage from National Geographic nature photography to UNESCO sites in China. 
MGM Cotai Avenida da Nave Desportiva, Cotai, +853 8802 8888, www.mgm.mo
Stop 7: Wynn Palace 
Across the road from MGM stands magnificent Wynn Palace, slightly on the outskirts of Cotai. From the dazzling fountain show to the flamboyant interiors filled with live flowers, Wynn Palace totally justifies its royal name. And to amuse guests even further, the resort acquired some splendid art pieces. The crown jewel is four Buccleuch Vases, an elegant Qing Dynasty porcelain masterpiece. There is no other place in the world to see this type of vases quartet. Only Queen Elizabeth II owns a similar set, but obviously, her collection is off-limits. Another porcelain work worth seeing at Wynn Palace is expressionistic Amphora III by Viola Frey, a prominent contemporary ceramicist.
Walk around the resort's bright-colored corridors and follow the map not to miss its main landmarks, such as the most photographed floral installations by designer Preston Bailey.

Stop 8: Morpheus Hotel 
Designed by Zaha Hadid Architects, Morpheus Hotel is an architectural cherry on top of Cotai's eclectic ensemble. Its unique structure made this building a mecca for anyone who admires remarkable architecture. But admiring Morpheus exterior is not enough–you should step inside to see the futuristic interior design and its collection of contemporary art. Italian Paola Pivi, Japanese Shinji Ohmaki, Austrian Erwin Wurm, Argentina-born gather of kinetic art Julio Le Parc have contributed to the gorgeous Morpheus setting. To see the most famous piece of the collection created by KAWS, you will need to be lucky or know a secret path because it is usually not available to visitors.
Morpheus Hotel City of Dreams Macau Estrada do Istmo, Cotai, +853 8868 3432, www.cityofdreamsmacau.com/morpheus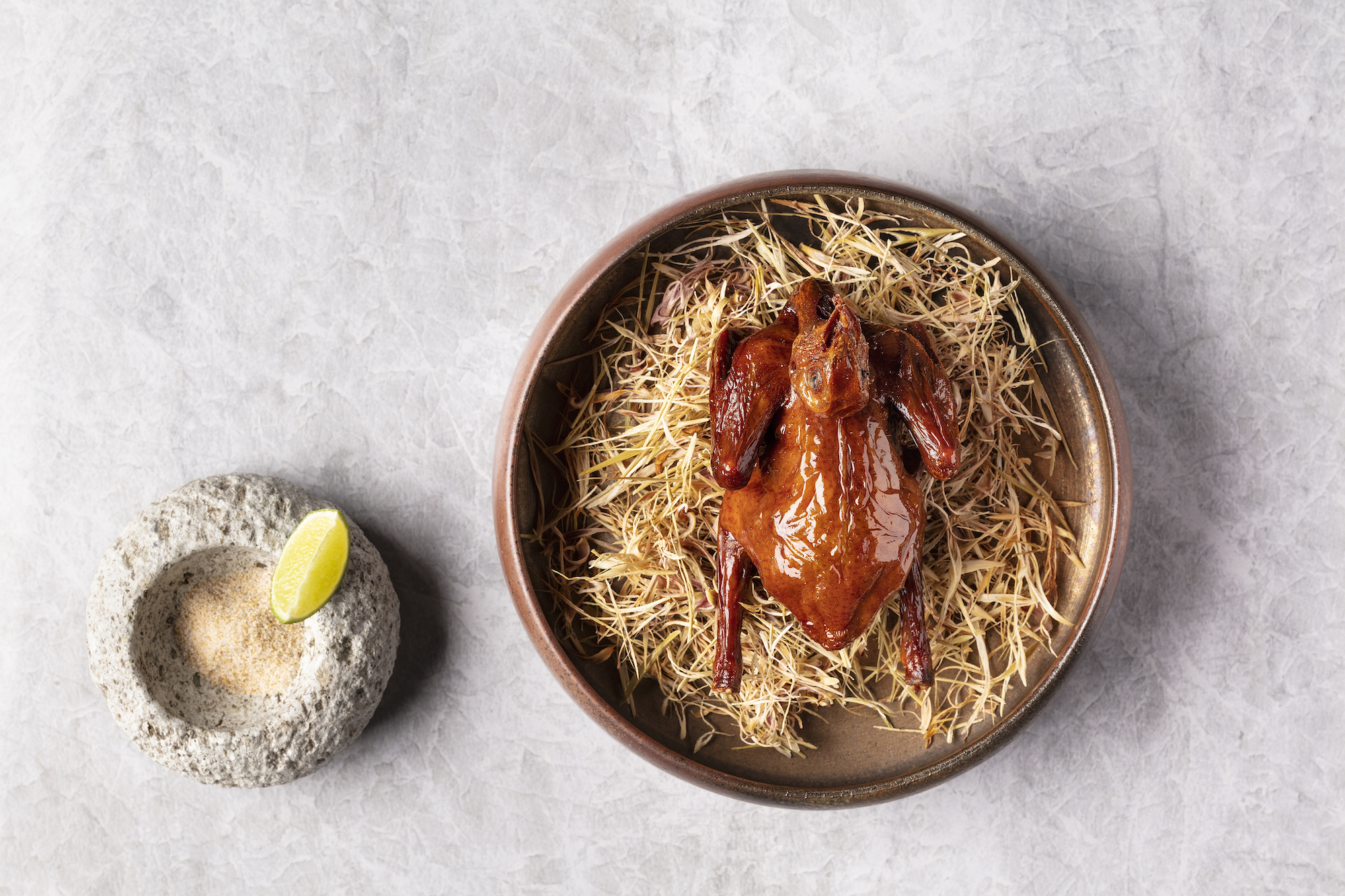 Dinner: Yí
One of the ways to see KAWS' sculpture "Good Intentions" from up close is to book a table at Yí, a contemporary Chinese restaurant with striking design. The artwork is located just above it, so the restaurant's hostess can escort you there. But of course, food for your soul is not the only reason to dine at Yí. The menu here changes every month and is based on the Book of Changes, an influential ancient Chinese text. While the concept is compelling, the refined flavors, complex techniques, stunning presentation, and flawless service are what make the dining experience here memorable.
Yí Level 21, Morpheus Hotel, City of Dreams, Estrada do Istmo, Cotai, +853 8868 3446, www.cityofdreamsmacau.com/yi
Also read: Yí at Morpheus: Chinese Haute Cuisine & the Book of Changes
Tags
Related Posts