There are many ways to explore Macau without spending a lot. Actually, there are many ways to discover the city for free. Yes, you heard that right! This can be a budget-friendly destination, and trust us when we say there are many beautiful things to see in Macau without the hefty price tag it's often associated with. We pull out the 10 best free things in this region for a memorable time!
Hotel Sightseeing and Casino Hopping
(See featured image above)
Well, it won't be the Las Vegas of Asia without some hotel sightseeing and casino hopping. Macau is home to the biggest casino in the world at The Venetian Macao. Explore the hotel for free and you'll certainly be impressed by the stunning interiors with its gondolas inside the shopping mall, painted ceiling, and an opulent golden fountain right at the entrance. Head over to The Parisian Macao's Eiffel Tower and be entertained by the evening light show. A newcomer to the scene is also Wynn Palace Cotai: watch the dancing fountain and hop on to the cable car for free. It takes you to the hotel where you can do some shopping, dining, and sightseeing.
Sightseeing across the city by shuttle bus is also a great way to incorporate this visit. You don't even need to pay for transportation if you're smart about your budget. Macau has lots of free shuttle services that will take you to all the major tourist spots. These shuttles are provided by many hotels and the biggest properties with casinos offer frequent shuttle services to their hotels as well. You don't need to be a guest of the hotel to board their buses. It's just a hop on and hop off kind of service reaching sites such as Macau central area, the ferry terminals, and the Hong Kong-Zhuhai-Macau Bridge entrance, as well as hotels in Macau, Taipa, and Cotai areas. Galaxy Macau, for instance, has a shuttle circulating from Starworld Hotel (Macau) to Cotai hotels and the border gate, while Sands Macao also does similar routes. There's also a shuttle roaming through Cotai, taking you on an overall trip that includes Broadway Macau, Studio City Macau, The Parisian Macao and many others. For more details, visit the hotels' websites for information on routes and schedules
The Venetian Macao Estrada da Baía de Nossa Senhora da Esperança, Cotai, +853 2882 8888, www.venetianmacao.com
The Parisian Macao Estrada do Istmo, Lote 3, Cotai, +853 2882 8833, www.parisianmacao.com
Wynn Palace Cotai Av. da Nave Desportiva, Macau, +853 8889 8889, www.wynnpalace.com
Also read: The Heart of Macau Entertainment: A-Z of Cotai Strip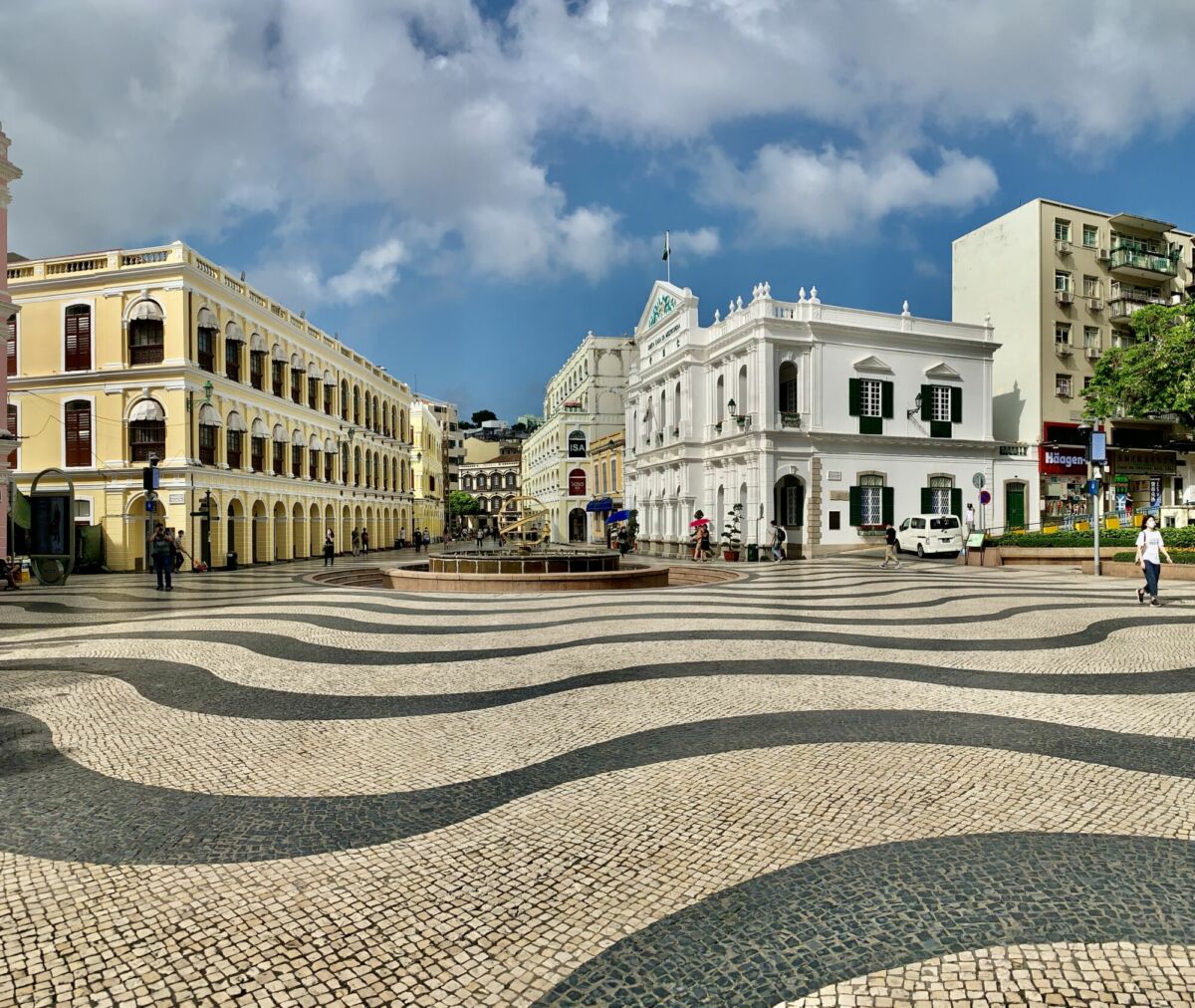 Get to know the city center: Senado Square
Senado Square–Largo do Senado in Portuguese–is an iconic place in the city. Immerse in the architecture surrounding the area included in the UNESCO heritage landmarks. With the mosaic-tiled floors and neo-classical buildings, it's impossible to ignore the European vibe. Besides this open-air venue, there are also quite a few cool things around to look at and visit. The square is not just a beautiful place to explore but it's a historical destination for tourists too. Try the street food offerings for affordable prices if you get hungry.
There's an accessory, clothes and fruit street market and also an indoor one–St. Dominic's Market–with a food hall offering all sorts of local delicacies for wonderful prices! From iced lemon tea to some of the best milk tea in town, there're also eel and chicken rice to taste, as well as stir-fried noodles, sandwiches, and more. If you walk further, you'll also spot catholic St. Dominic's Church (also free admission), a great remainder of the Western culture and architecture.
Senado Square Largo do Senado, Macau
Also read: Ultimate Guide to the Historic Centre of Macao
Also read: Macau Landmark: Leal Senado Building
Also read: Lesser Known Historical Stories of Macau
Enjoy nature at the Hac-Sá Reservoir Country Park
A visit to Coloane island means immersing yourself in nature. Enjoy BBQ facilities, walking trails, and outdoor adventures. You'll find the mountain forest area splashed in gorgeous green while near the reservoir dam you can also find a plant maze, picnic and camping area, family trail and fitness trail, and more.
Hac-Sá Reservoir Country Park also has an array of places and activities to enjoy with the little ones, so don't be afraid to take them on a great adventure through Macau greenest side! Hac-Sá Beach and other places are also a short walk away. Some other cool spots include the Long Chao Kok Coastal Trail–connecting Hac-Sá Beach to a residential condo close to Cheoc Van Beach–that can be done with minor effort and even with some picnic foods to stop and have a blast on the way.
Hac-Sá Reservoir Country Park 1918 Estrada de Hac Sá, Coloane
Also read: Best Things to Do around Hac Sá Beach
Also read: Top Outdoor Activities to Do With Kids in Macau
Also read: Guide to Coloane's Hiking Trails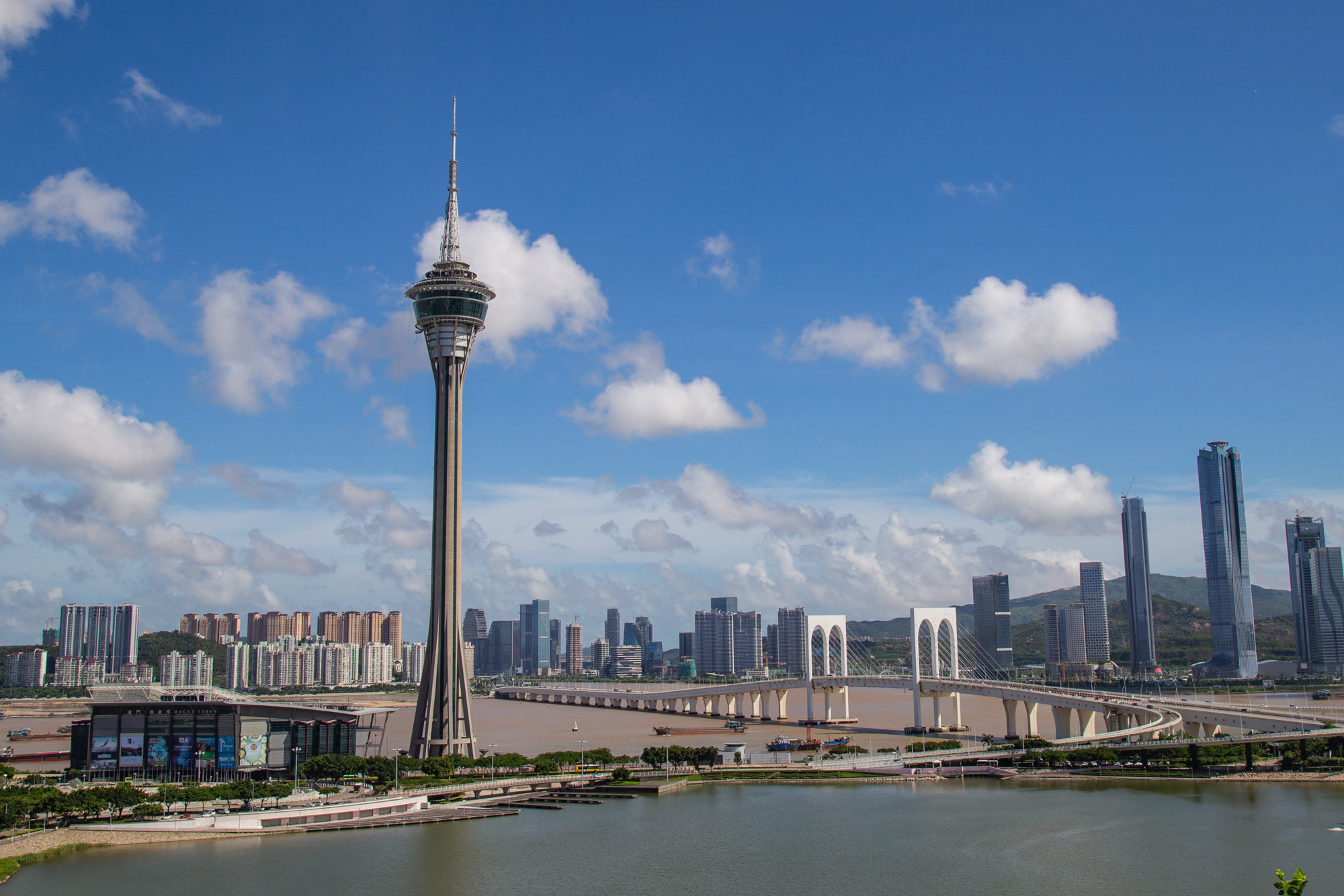 Witness Panoramic Views at the Macau Tower
It's free to enter the Macau Tower grounds and why not? You'll see the towering infrastructure from every part of the city. It has 63 floors and definitely dominates the Macau skyline. Stroll around and if you fancy dining, head to the restaurants and shopping mall which has plenty to enjoy here! If you're a fan of heights, experience breathtaking views from their top floors and even some adventurous things such as bungee jump or climbing all the way to the tower's very top. The bungy jumps and tower walking adventures do come at a cost but since you're up there, why not?
Macau Tower Largo da Torre de Macau, Macau, +853 2893 3339, www.macautower.com.mo
AJ Hackett Macau Tower Level T2 – Adventure Zone, Macau Tower, Macau, +853 8988 8656, www.ajhackett.com/macau
Visit A-Má Temple
With its history dating back to the 15th century, this beautiful and majestic temple is a great piece of the city's history (and story). Besides being free admission, A-Má Temple is the perfect way to learn about Macau, its architecture, traditions, and even religious beliefs. The temple is set on a vast ground facing the Pearl River Delta, boasting beautiful views over this old area of the city.
Get a sense of nostalgia around the Barra area and set off on an adventure that will surely teach you a lot of secrets and curiosities about this beautiful land. There are other attractions nearby that you can also visit for free, including Lilau Square, the Moorish Barracks and Mandarin's House.
A-Má Temple Barra Square, Macau
Lilau Square Largo do Lilau, Macau
Moorish Barracks Calçada da Barra, Macau
Mandarin's House 10 Travessa de António da Silva, Macau
Also read: Off the Beaten Path: Exploring Barra
Also read: A-Ma Temple: Where it All Began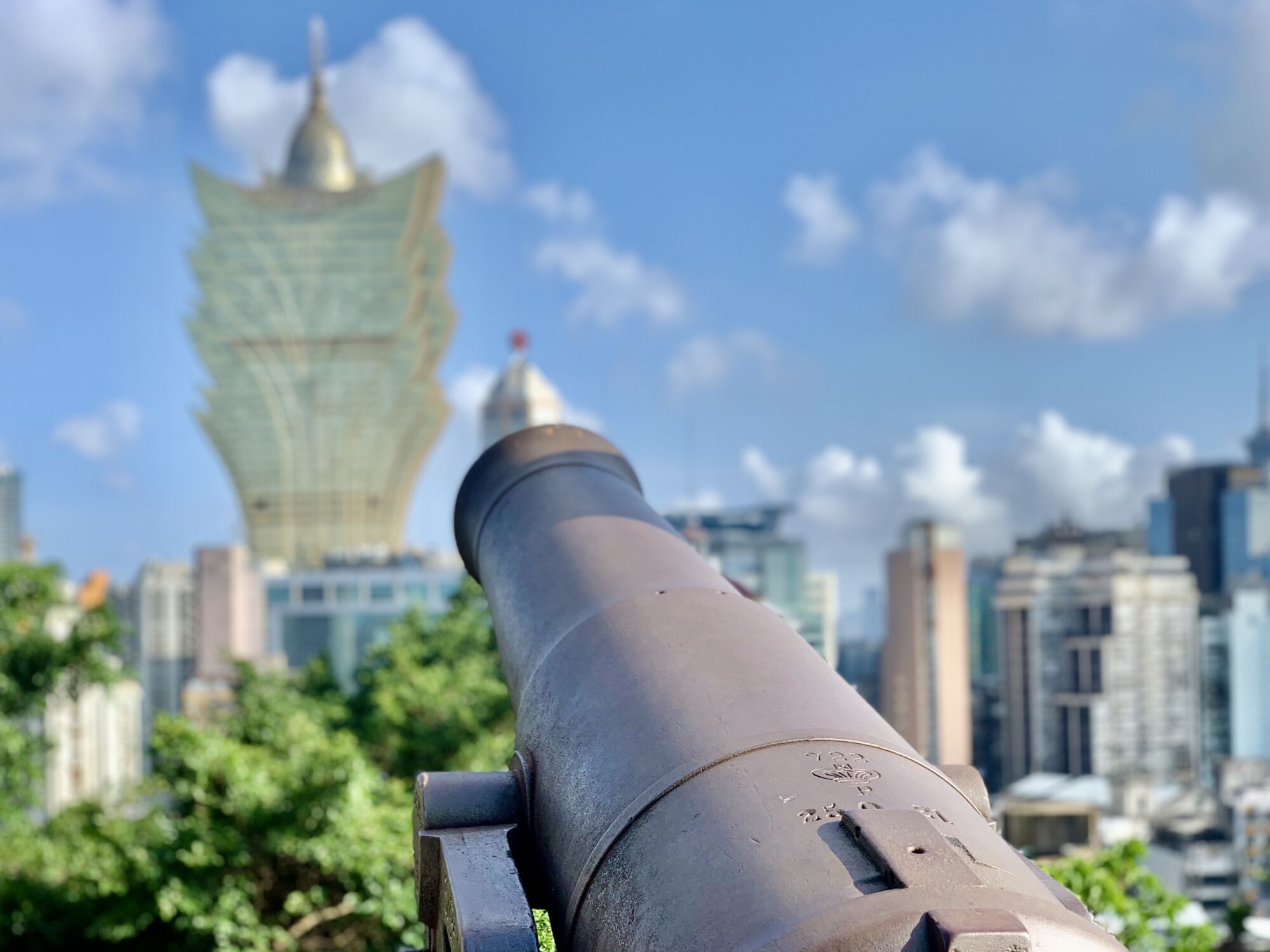 Climb to the top of UNESCO's Guia Fortress
Standing proudly at the tallest peak of the Macau Peninsula, Guia Fortress provides beautiful panoramic views of the metropolis, nearby islands, and even mainland China. The 15-meter-tall lighthouse takes most of the attention as the most arresting structure that tourists can see even from a great distance.
Beside it stands the Chapel of Our Lady of Guia that houses valuable paintings. The lighthouse and the chapel were built in 1865 and 1622 respectively. The Guia Cable Car is a popular means of reaching the site, but walking is a great alternative for the physically fit and extremely budget-conscious. For more details, visit www.macaotourism.gov.mo.
Opening hours: 9:00am–6:00pm
Guia Fortress Rampa Da Guia, Macau, +853 2859 5481, www.macaotourism.gov.mo
Also read: Macau's Mount Fortress: The Vatican of the East
Also read: Haunted Places Around Macau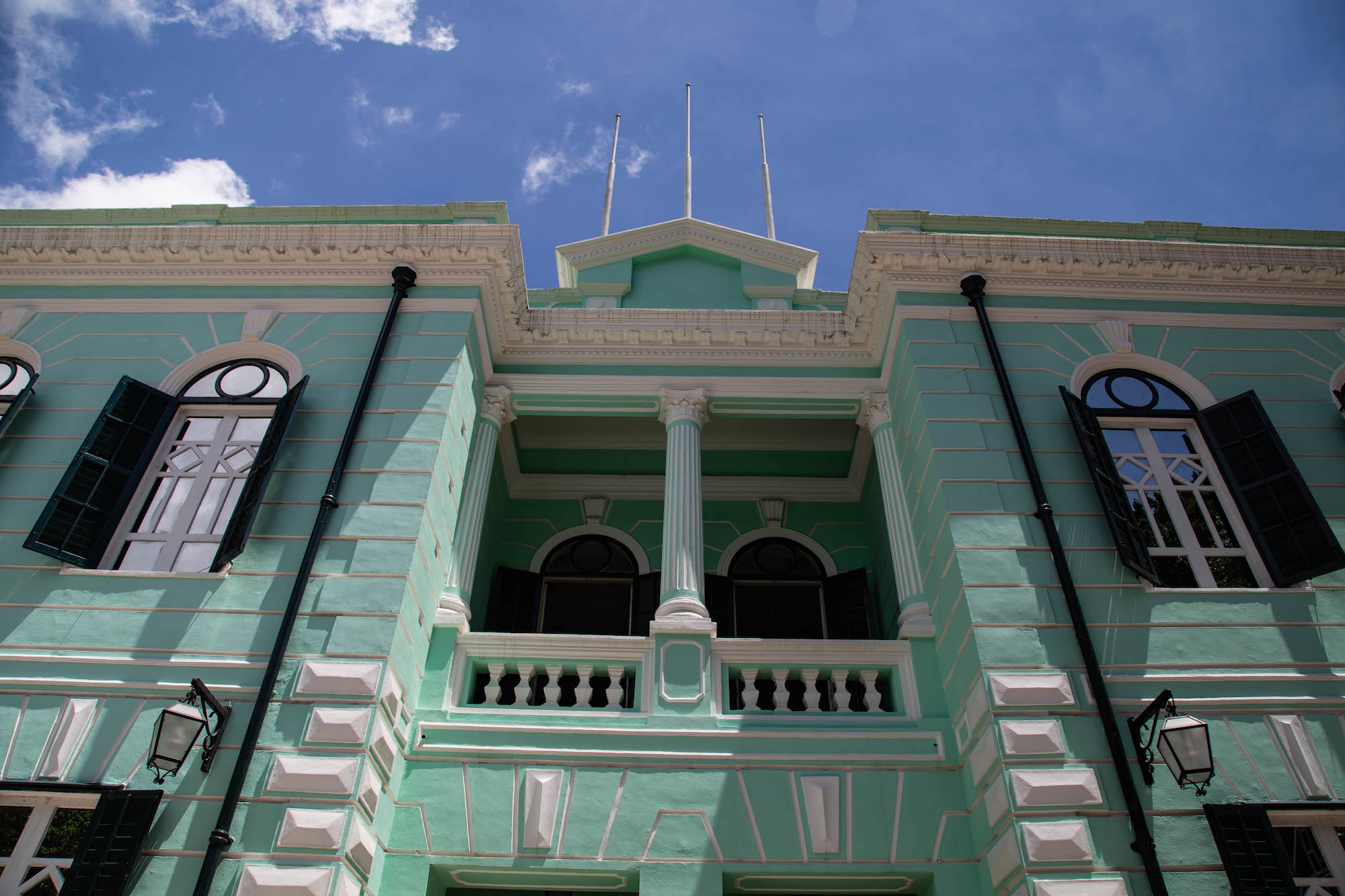 Learn Local History at Free Admission Museums
The Macao Museum of Art is a must-visit not just for art enthusiasts but for all Macau visitors. It's free entry and features five floors with seven different exhibition galleries. Stop and admire the Gallery of Chinese Calligraphy and Paintings and Gallery of Chinese Ceramics located on the fourth floor. Situated on the second and third floors are galleries for temporary exhibitions that display various artist's collections from Macau and around the world.
You can get quite a great scope of knowledge in the city: the Museum of Taipa and Coloane History (in Taipa Village) and the Tak Seng On Pawnshop (in bustling Avenida Almeida Ribeiro) are also admission free, meaning you can learn all about Taipa and Coloane and one of Macau's oldest and formerly profitable businesses, pawnshops. When visiting the one in Taipa Village, take the time to check out some of the most colorful buildings in the area, plus what else to do here.
Macao Museum of Art Avenida Xian Xing Hai, NAPE, Macau, +853 8791 9814, www.mam.gov.mo
Museum of Taipa and Coloane History Rua de Correia da Silva, Taipa Village, +853 2882 5631, www.museum-of-taipa-and-coloane-history
Tak Seng On Pawnshop 396 Avenida Almeida Ribeiro, Macau, +853 2835 7911, www.macaumuseum.gov.mo
Also read: The Best Free Museums in Macau
Also read: Most Instagrammable Buildings in Macau
Also read: The Best Things to Do in Taipa Village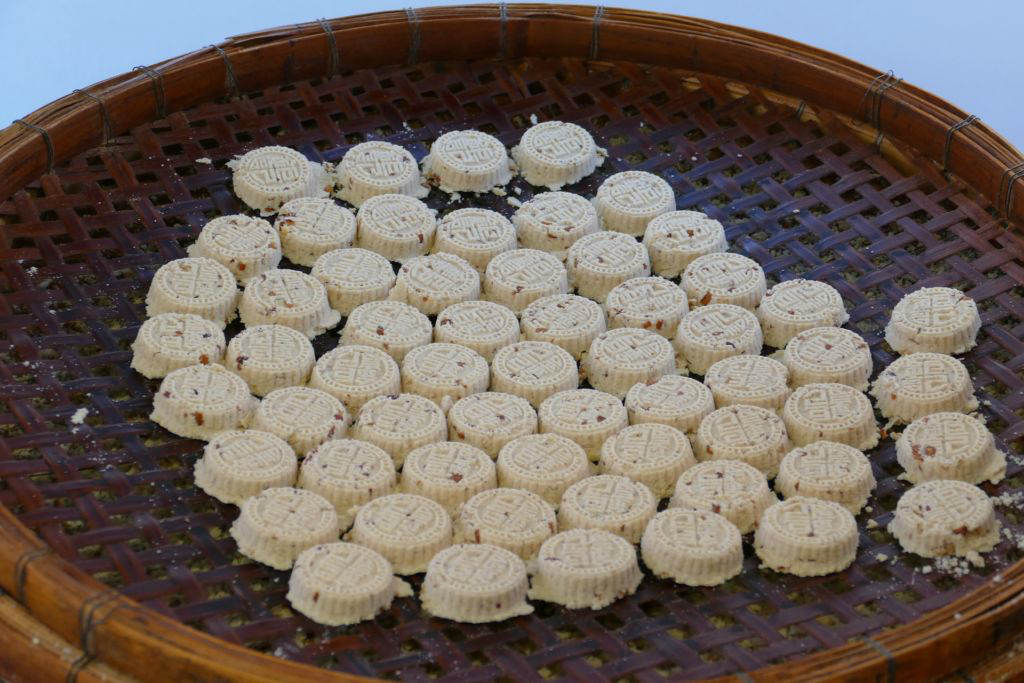 Taste Must-Try Treats around Macau Streets
As you walk your way to the Ruins of St. Paul's, the street is lined up with pastry shops offering a free taste of their delicious delicacies such as almond cookies, pork jerky, eggnog, biscuits, and other treats. Try them for free and decide what to actually get as souvenirs for your family and friends. By the time you reach the Ruins of St. Paul's, you'll be stuffed!
However, there're also some more around Rua do Cunha, Taipa Village's busiest street! Head there to check out cool restaurants and cafés, but also free street food to try, like ice cream, almond biscuits, and beef jerky. Durian is also a must-try if you're a first-timer when it comes to this popular, exotic Asian fruit.
Taipa Village Taipa Village, Rua do Cunha, Macau
Also read: Fascinating Facts About The Ruins Of St Paul's
Also read: Macau's Must Try Snacks
Also read: Macau's Best Street Food
Also read: Colorful Macau: Best Street Art Hotspots
Also read: Eat & Drink on Rua do Cunha in Taipa Village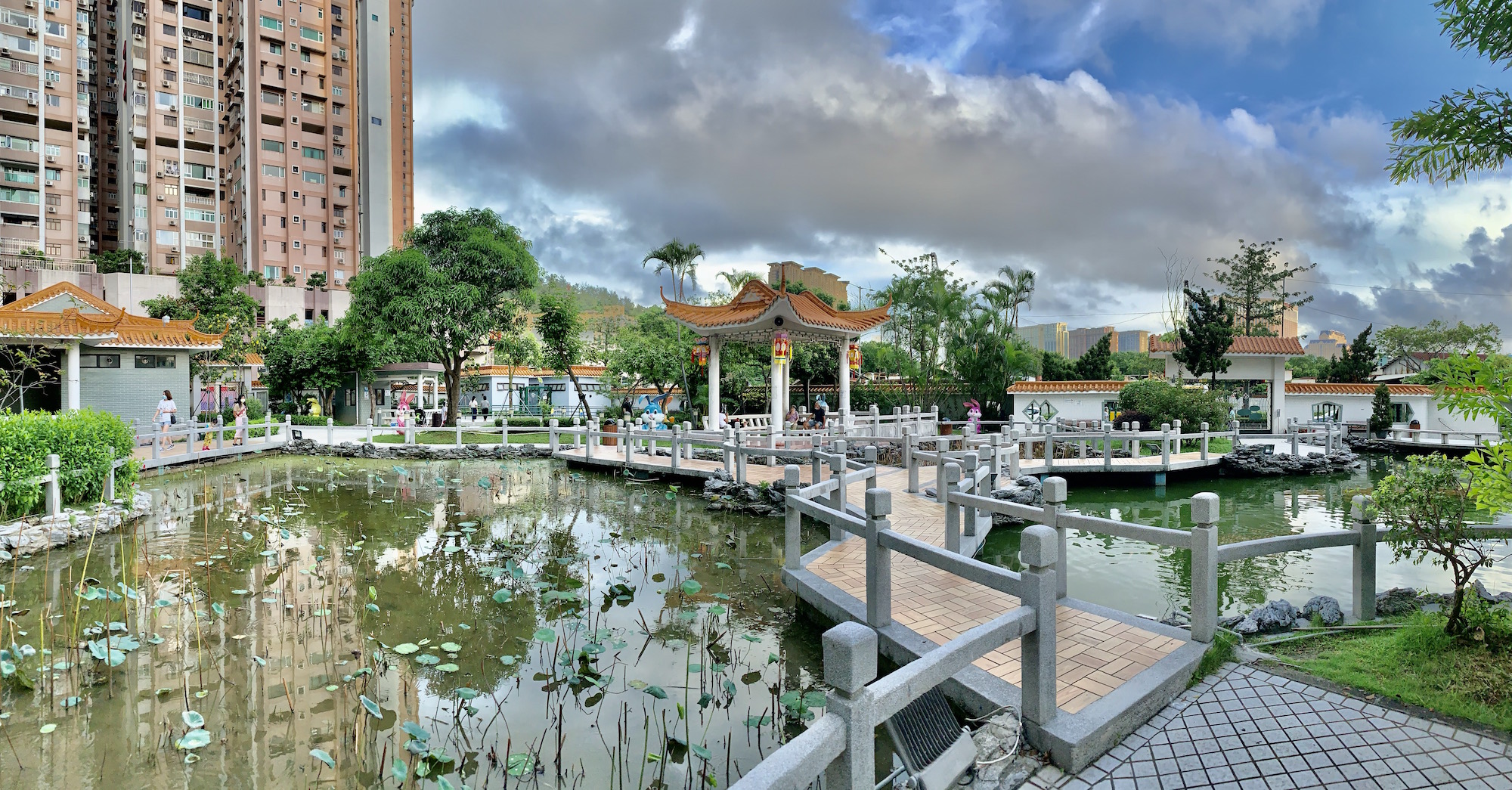 Visit some cool gardens & parks in town
Just off the top of our head, we can think of at least six amazing–and unmissable–parks and gardens around Macau that will take you on beautiful journeys across Portuguese poetry, Chinese culture, Buddhist traditions, local lifestyle and so much more! Our recommendations include Camões Garden, São Francisco Garden, Lou Lim Ieoc, Sun-Yan Sen Garden, Flower City Garden, and Dr. Carlos D'Assumpção Park. Some have an urban vibe, others are so calm they relieve stress and let you enjoy nice views.
Camões Garden, for instance, is dedicated to internationally acclaimed Portuguese poet and write with the same name. Camões is believed to have passed through Macau and there's even a cave inside with verses by this author. Locals–mainly the elderly and youngsters–gather here to take power naps, play chess or mahjong and take evening strolls. Lou Lim Ieoc boasts Chinese-style architecture, a beautiful lake with fish and water lilies, plus a small exhibition gallery. Ideal for urban people seeking solace and peace.
All the other we mention are also great for a stroll or simply relaxing and some even feature fitness equipment that you can use for free! Kids are also more than welcome, as there are playgrounds at some as well. Taipa Central Park includes a public library with books and the latest magazines and newspapers, while São Francisco Garden is perfectly located close to venues such as the Macau Military Club, some hotels, and more.
Camões Garden Praça de Luís de Camões, Macau
São Francisco Garden Rua Nova À Guia, Macau
Sun-Yat Sen Garden Avenida Comendador Ho Yin, Macau
Dr. Carlos D'Assumpção Park Alameda Dr. Carlos d'Assumpção, Macau
Lou Lim Ieoc Garden 10 Estrada de Adolfo Loureiro, Macau
Taipa Central Park 7 Rua de Seng Tou, Taipa
Flower City Garden Rua de Évora, Taipa
Also read: Must Visit Gardens in Macau
Also read: Where to Find Outdoor Fitness Equipment Around Macau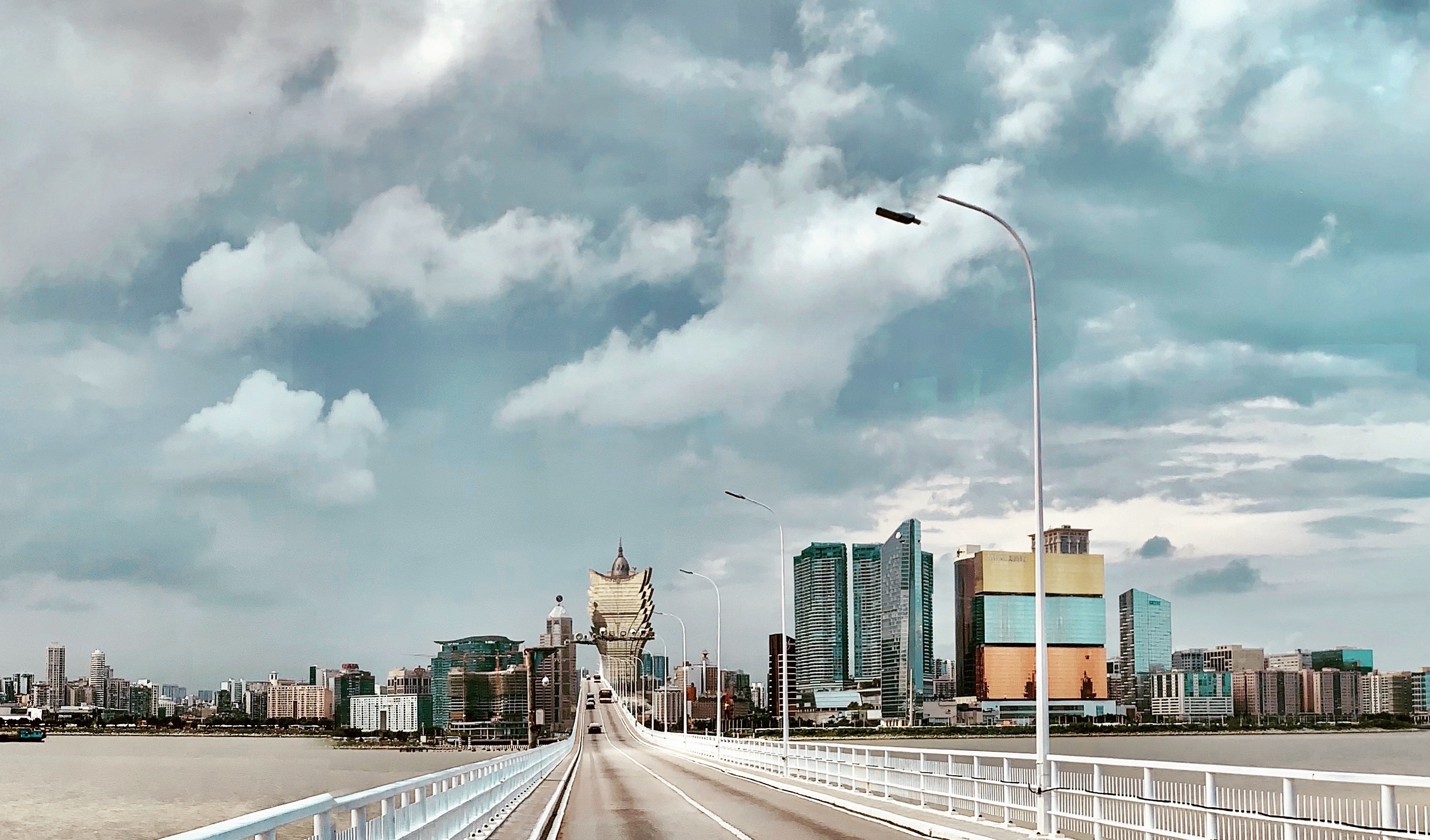 Cross Nobre de Carvalho Bridge for Panoramic Views
It might take you 45 minutes–maybe a bit more–but it's a great ride if you're into walking and taking cool photos. Well, one hour by foot is way better considering reaching Taipa used to take about the same amount of time by boat, before the bridge was built. It's clearly a free thing to do and it might just be what you're looking for outside the busy city center and away from the casinos in the Cotai area.
This bridge connects the Macau peninsula to Taipa–like how Cotai links Taipa to Coloane–so just be aware of buses and taxis passing by and you'll be fine! By the way, the bridge can't be used by pedestrians during strong winds or typhoons days.
Governor Nobre de Carvalho Bridge Pte. Gov. Nobre de Carvalho, Macau
Also read: Five Things Macau Guide Books Won't Tell You: Part 2
Also read: Top 5 Running Routes in Macau
This article was originally written by Apple Salangsang in April 2018 and updated by Leonor Sa Machado in November 2020.
Tags
Related Posts