Macau is known as a perfectly mixed city for a reason: besides casinos and bright, neon-signed pawnshops, this well-loved city also has centuries of history and plenty of narratives to tell. This time, we take a tour around St. Augustine Square. Nestled on top of a steep sidewalk, it's a corner filled with western buildings, with an ancient Catholic church, the first-ever European style theater in China, but also a quiet seating area outdoor, a modern library, and much more.
There is no better proof of that than the fact that the square itself–as well as the four buildings we will look at–were inscribed into the UNESCO World Heritage Site list on July 15, 2005. In fact, this became the 31st designated World Heritage Site in China. It is surely one of the great places to visit and enjoy exploring when you're in Macau.
You can reach the square going up the Calçada do Teatro where you immediately see Dom Pedro V Theatre, easily identified by the green stucco on your left. On your right-hand side, you'll spot St. Augustine's Church in pale yellow, all this surrounded by Portuguese cobblestone with patterns, very popular on streets everywhere in Portugal–especially older areas of city centers. As we will see, most of these buildings have a neoclassical influence.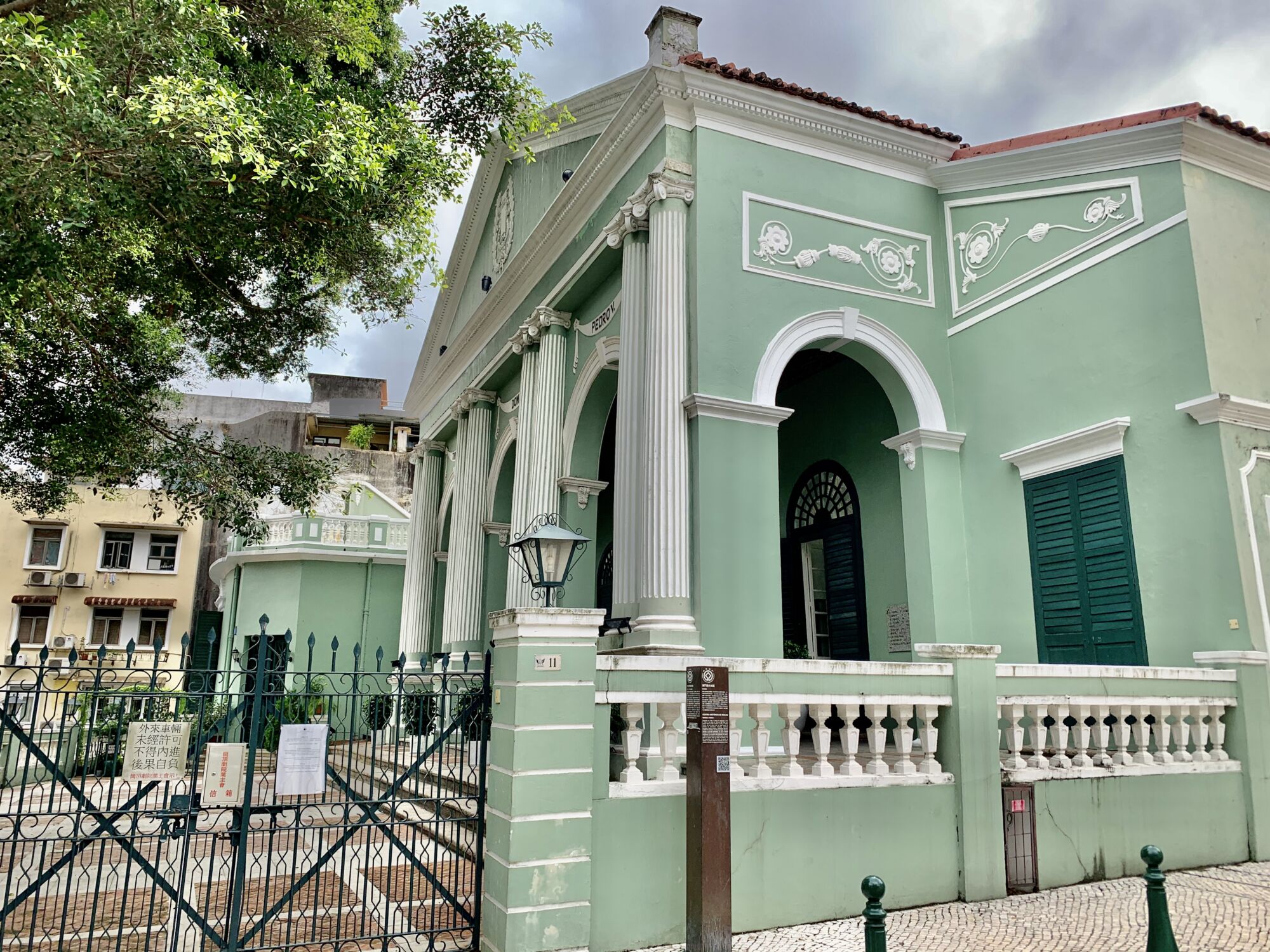 Dom Pedro V Theatre
The theater, built in 1860, was referred to as the first Western-style theater in China. Still regularly used today for classical music concerts, theatrical pieces, and other cultural happenings, it was built to commemorate the reigning King D. Pedro V. It incorporates a portico front on a rectilinear plan, with a façade (only added in 1873) topped with a triangular pediment supported by Ionic columns in white with pedestals.
The theater was also known as a place where things started: the first patuá shows took place here, as well as the Crazy Paris Show, the first cabaret performance of its kind in Macau, directed by Frenchman, Guy Lesquoy. A dancer and choreographer, Lesquoy was involved in the show from its start, which later moved to Lisboa Hotel. Some of the adjacent church's priests even went to the shows and congratulated the organizers for bringing such a different performance to the city. While we roamed through this beautiful area, we got the chance to know more about this building and write about its history, which you can read here.
Dom Pedro V Theatre Largo de Santo Agostinho, Macau, +853 2893 9646, www.wh.mo/theatre/en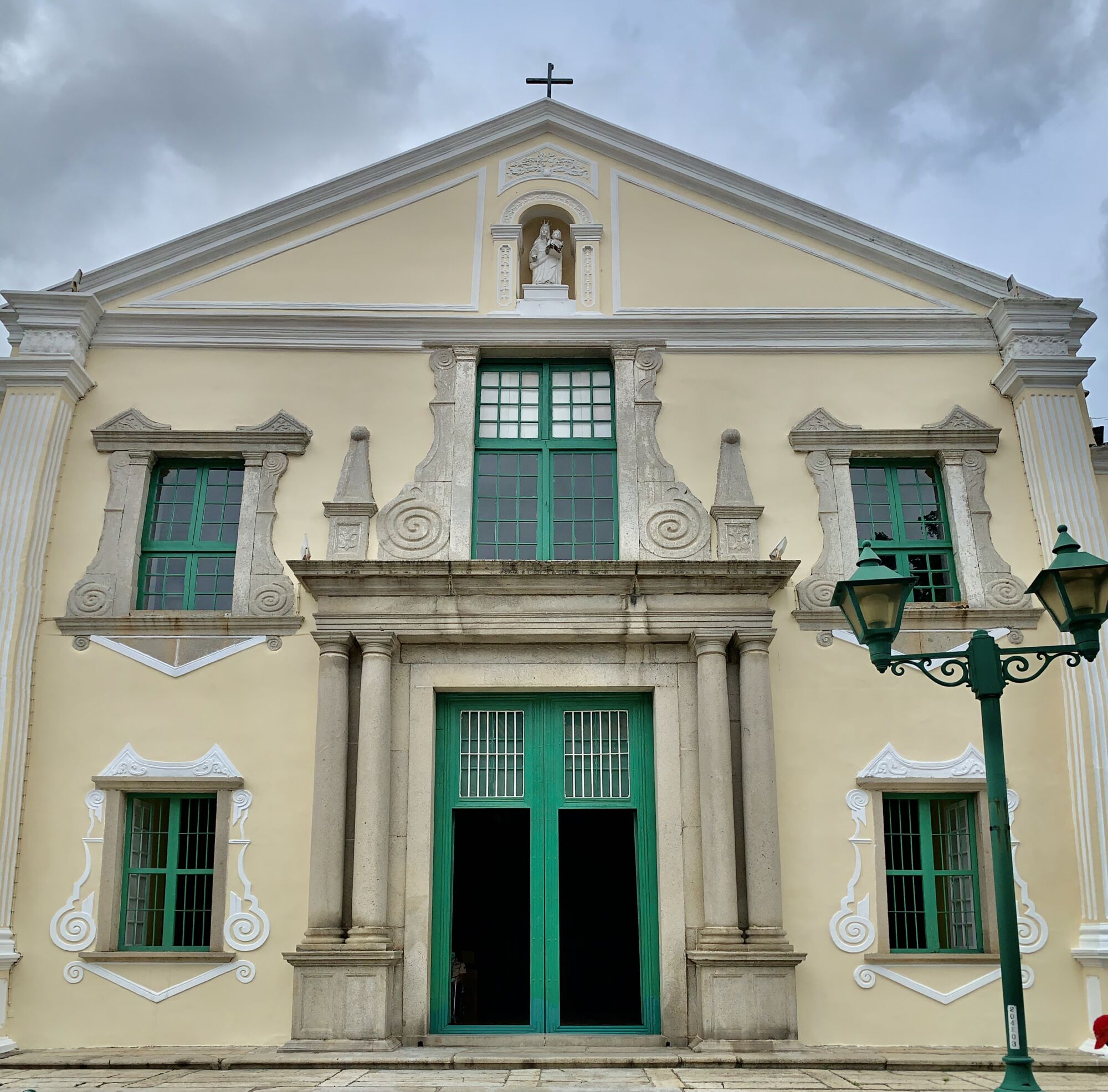 St. Augustine's Church
As for St. Augustine's Church, which was built in 1591, again a triangular pediment can be noticed on top. This time the columns are Doric type, built in granite, and only surround the main entrance. Of affirmed Catholic descent, this church is just one of the many scattered across the city, denoting a strong presence of Jesuits and other religious orders related to Catholicism.
Established by Spanish Augustinian priests, it's still open to the public and operating as a church, performing services and hosting masses in four languages: Portuguese, English, Cantonese, and Tagalog. This attracts different communities to the church. Inside, it's also painted in bright yellow, has a vast set of praying benches and imagery related to the Bible, like Jesus Christ, saints, and Our Lady. At the far end of the square, there are another two buildings or complexes engraved with a lot of Macau's history.
St. Augustine's Church 2 Largo de Santo Agostinho, Macau, +853 2836 6866, www.culturalheritage.mo

Sir Robert Ho Tung Library
Sir Robert Ho Tung Library was built in 1894 in a Macanese style, bought by Sir Robert Ho Tung (grand uncle of Macau's casino mogul, Stanley Ho) in 1918 and left to the Macau government in his will to be used as a public library. The building façade is composed of pilasters with Ionian-inspired capitals with details in white stucco, featuring a wall arcade with balustrades, all painted in ochre yellow.
The library has various modernization projects, now exhibiting a mix of modern and classic elements. It's one of the only libraries in the territory with an outdoor area, where flowers and plants grow. Besides the outdoor scenery and the front patio where one can sit and relax, there's also a vast asset of books and documents!
Sir Robert Ho Tung Library 3 Largo de Santo Agostinho, Macau, +853 2837 7117, www.library.gov.mo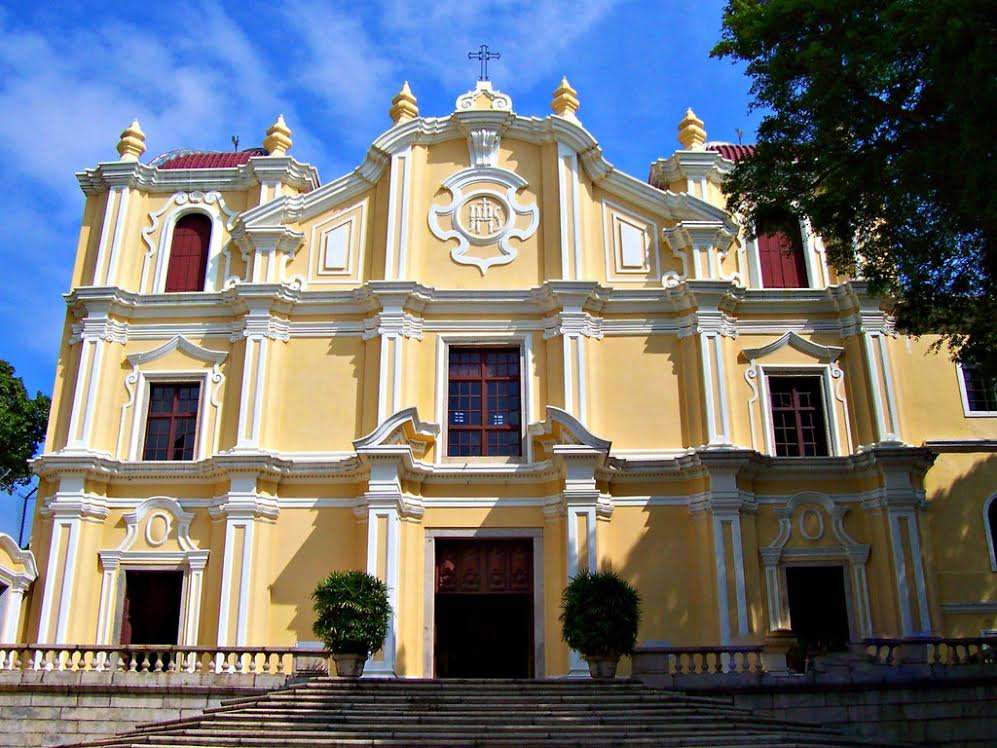 St. Joseph's Seminary & Church
St. Joseph's Seminary and Church–built in 1758–was our last stop in the square. The church is, together with the Ruins of St. Paul's, the only example of Baroque architecture in China. One of its most relevant characteristics is the broken arch at the main entrance. The church displays a curved pediment and the facade again incorporates the contrasts between yellow and white.
The seminary, with much simpler construction, in a neoclassical style, was built primarily with grey bricks standing on granite foundations. Of all the buildings mentioned, the seminary is the only one that does not allow visitors.
St. Joseph's Seminary and Church Rua do Seminário, Macau, www.wh.mo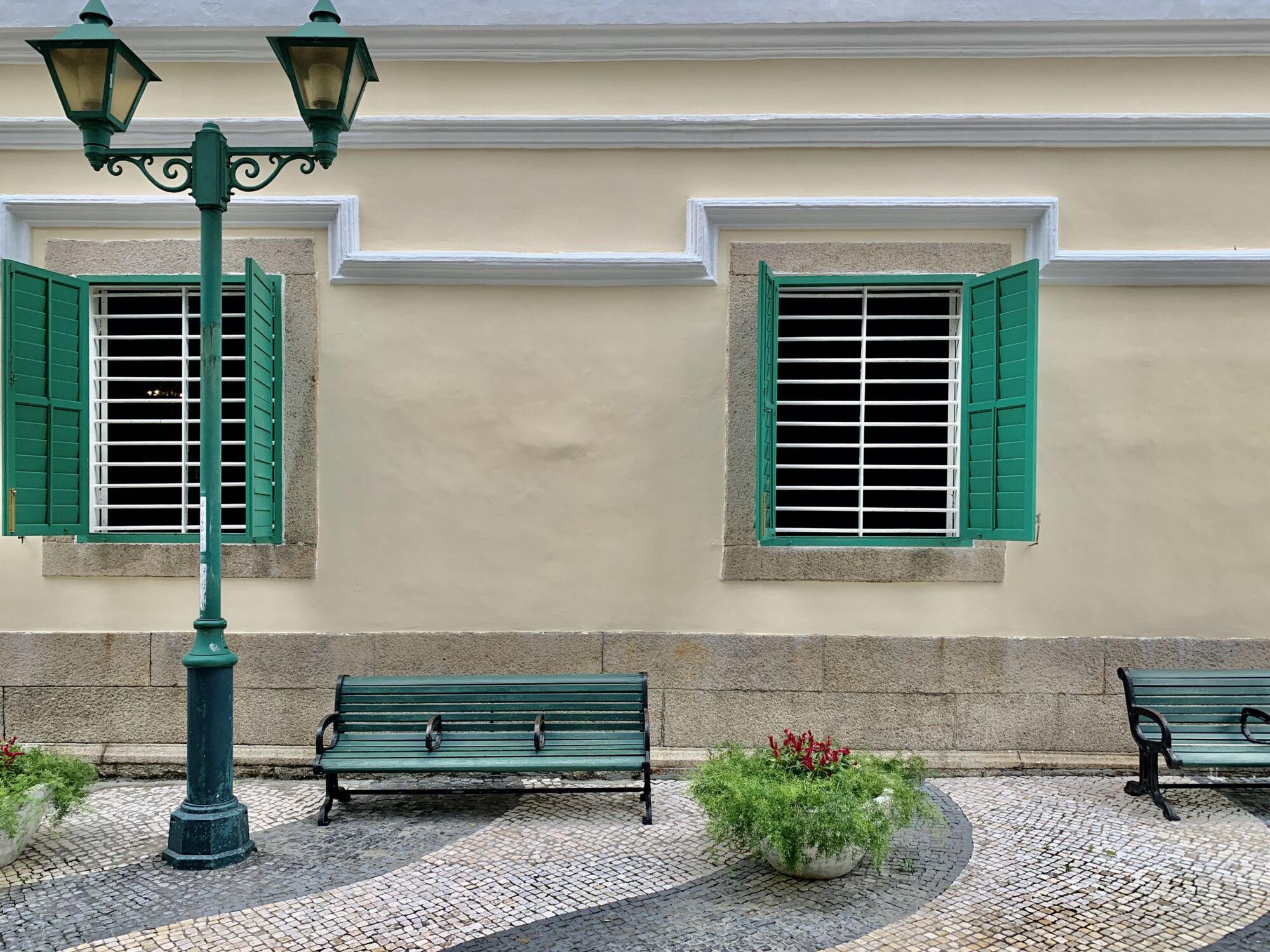 A visit to the square is enjoyable on many levels. Just minutes walk from the sights and sounds of the present day, the square and the buildings which inhabit it are a direct link to a time and place that would usually seem so far away, but here in an afternoon visit seem just within reach.
There's also a cute little kiosk selling simple beverages, as well as some local eateries and a coffee place. If you're willing to walk a bit more, head to Terra Coffee House or eat at one of the several restaurants leading to St. Lawrence's Church, which stands one street below St. Augustine's Church when you go down the street in from of the theater.
This article was originally written by Rui Barbosa in 2017 and updated by Leonor Sá Machado in June 2020.
Tags
Related Posts