On our second architectural tour in Macau, we again choose a neighborhood full of history, heritage and culture—St. Augustine's Square. There is no better proof of that than the fact that the square itself, as well as the four buildings we will look at, were included in the Historic Centre of Macau World Heritage List on July 15, 2005. This became the 31st designated World Heritage Site in China. It is surely one of the great places to visit and enjoy some time in Macau.
You can reach the square going up the Calçada do Teatro where you immediately see the Dom Pedro V Theatre, easily identified with green stucco, on your left and St. Augustine's Church in pale yellow on your right. As we will see, most of the buildings have a neoclassical influence.
The theater, built in 1860, has been referred as the first Western style theater in China. Still regularly used today, it was built to commemorate the reigning King D. Pedro V and incorporates a portico front on a rectilinear plan, with a facade (only added in 1873) topped with a triangular pediment supported by Ionic columns in white with pedestals.
As for St. Augustine's Church, which was built in 1591, again a triangular pediment can be noticed on top. This time the columns are the Doric type, built in granite, and only surround the main entrance.
At the far end of the square, we find another two buildings/complexes engraved with a lot of Macau's history. First the Sir Robert Ho Tung Library, built in 1894 in a Macanese style, bought by Sir Robert Ho Tung (grand uncle of Macau's Casino mogul Stanley Ho) in 1918 and left to the Macau government in his will to be used as a public library. The building facade is composed of pilasters with Ionian-inspired capitals with details in white stucco, featuring a wall arcade with balustrades, all painted in ochre yellow.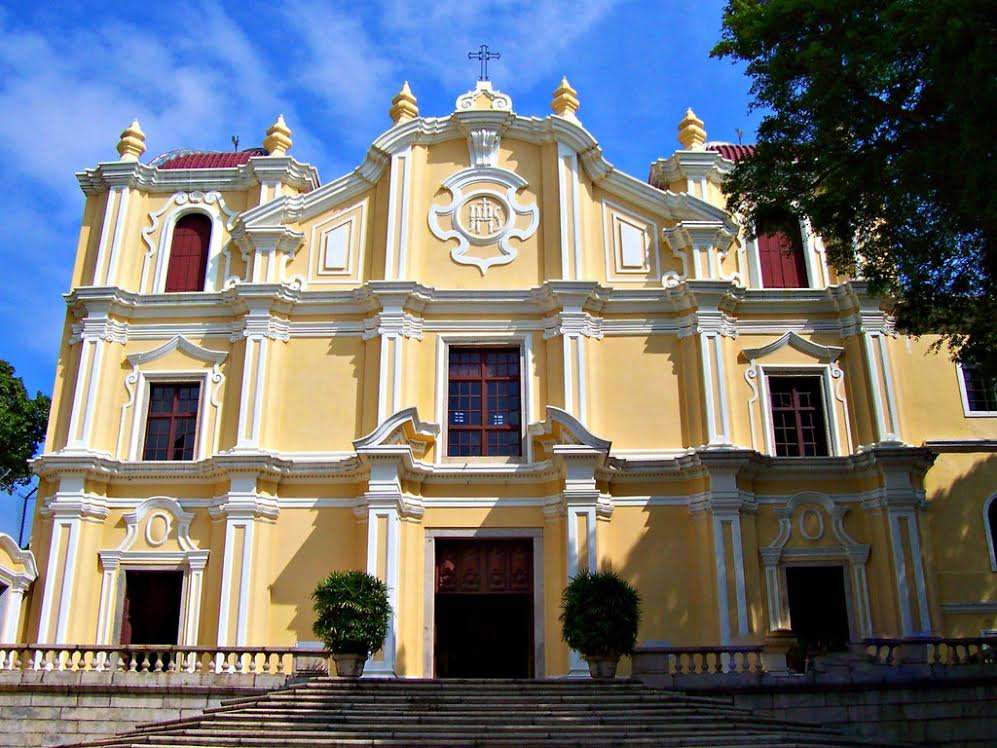 St. Joseph's Seminary and Church, built in 1758, is our last stop in the square. The church is, together with the Ruins of St. Paul's, the only example of Baroque architecture in China. One of its most relevant characteristics is the broken arch at the main entrance. The church displays a curved pediment and the facade again incorporates the contrasts between yellow and white. The seminary, with much simpler construction in a neoclassical style, is built primarily in gray bricks standing on granite foundations. Of all the buildings mentioned, the seminary is the only one that does not allow visitors.
A visit to the square is enjoyable on so many levels. Just minutes walk from the sights and sounds of the present day, the square and the buildings which inhabit it are a direct link to a time and place that would usually seem so far away, but here in an afternoon visit seem just within reach.
---
For any inquiries about interior design or fit-out works, don't hesitate to contact Rui Barbosa:
KPM Project Management Ltd. 14-02 Si Toi Commercial Bldg, 619 Av da Praia Grande, Macau, +853 6675 2499; [email protected]
*All views expressed are the author's alone
Share
Tags
Related Posts