Tucked away close to Taipa Village lies Carmo, an area made of green, yellow and other bright colors remind us of the Portuguese presence in Macau. It's just when you get to the top of a set of stairs or take the shortcut at the old military quarter that you'll see a beautiful area filled with greenery and old constructions: it's called the Carmo area. It's known as such because of a church and another small building with the same name. Here, we let you in on the story behind these structures. Read on and find out more about this zone!
Our Lady of Carmel Church: A Holy Place Since the 19th century
Taipa's only church, Our Lady of Carmel Church, opened its doors in September, 1885. This Catholic site features a beautiful interior with religious figures and other details tracing back to the 19th century. Located on one of Taipa's quietest and most relaxing places–the Carmo area–it's surrounded by nature and cute paths very popular amongst residents and tourists. It's also quite sought-after for weddings and other important religious happenings, like baptisms. Carlos da Maia avenue is where it's located, a street named after Portuguese José Carlos da Maia, Macau's 105th governor. There's also another toponymic remain with this name: the now busy roundabout located close to Horta e Costa Avenue, also known as Three Lamps Roundabout.
Built in 1885, the structure occupies 186 square meters and even includes a steeple. There's a big cross made of stone on top of the hill, built before the church to ensure the land was stable enough for such a big construction. The cross's erection was mandated by bishop D. Manuel Bernardo de Sousa Enes and former Portuguese governor, Tomás de Sousa Rosa.
First came the cross
It's hard to miss the church, painted in bright yellow. The inside is divided into three areas: the main nave, the choir, and the bell tower. There's an image of the Virgin Mary in the middle, while the laterals are decorated with guardian angels, placed there on the church's 100th anniversary. Built in a Western, baroque style, it fits 200 people. According to priest and historian Manuel Teixeira, there were less than 40 Christians living in Macau, which concluded the local government was keen on spreading Catholicism and fostering it.
Upon its construction, the view was of the sea on one side, and old Taipa village–made mainly of small houses and barracks, plus some firecrackers factories–which greatly contrasts with the one we can all witness today: built on a small hill, it faces the Taipa Houses-Museum, as well as the swamp protected areas, from where one can even have a nice perspective to Cotai, namely The Venetian Macao and more.
Also read: An Insider's Guide to the Taipa-Houses Museum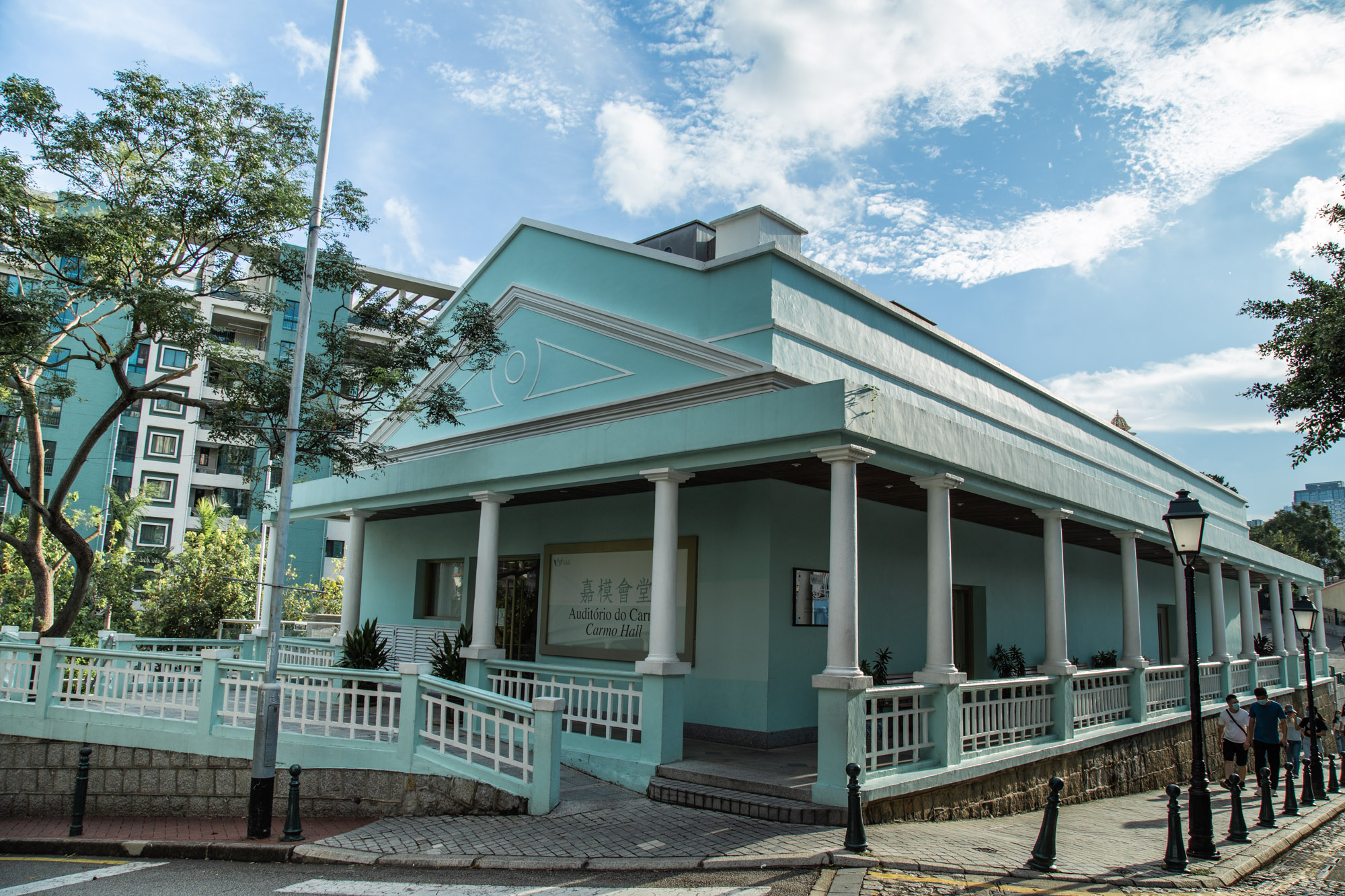 Carmo Hall: Power Plant before being Cultural Hub
When passing by Carlos da Maia avenue, one notices the long line of teal-colored houses on the paved street leading to nowhere. These houses form the Taipa Houses-Museum. But you might've noticed another one, painted in the same color, a bit further up. Known as Carmo Hall, it usually houses art exhibitions, small fairs, and other cultural happenings like concerts and performances.
Also read: The Best Things to Do in Taipa Village
However, it didn't always serve this purpose. This bright teal one-story building was constructed with a very specific aim: to power the entire (then) island of Taipa. Carmo Hall was in fact a power plant, managed by the Macau Electric Lighting Company Limited (MELCO). At the time, it was the only public power plant supplying electricity to the island's residents. It's believed to have served that purpose till the mid-20th century.
Built in a colonial style as well, it's an all-time favorite venue for pre-wedding and influencers' photos when in search of outdoor pictures in "vintage" sites. There's nothing much on the inside but a center stage and a wide space for exhibitions and events. On the outside, a beautiful, long porch contrasts with the strongly-colored building. There are also some benches where people can sit and enjoy the environment.
The whole area is a must-visit for everyone looking to know more about the European remains in Macau, as well as about its colonial past. Portuguese architecture is quite present at these two sites, but also at the Taipa Houses-Museum, built to house Macanese families working for the public service at the time, mid-20th century.
Also read: Cool Cafes in Taipa
One of them now serves as a museum, where interested people can visit it as a house, with different sections and areas, such as bedrooms, living room, and bathrooms. There's also a lot of information available in English, Portuguese, Cantonese, and Mandarin. Entry to all these attractions is free, although the church can have different directives.
There's also an array of different eateries to try out, including cafés, street food, cute restaurants, traditional Portuguese delicacies, nice terraces serving international food, and much more in Taipa Village.
Also read: Best Places for Coffee in Taipa Village
Also read: Best Portuguese Restaurants in Taipa Village
---
Our Lady of Carmel Church & Carmo Hall Avenida de Carlos da Maia, Taipa, +853 2882 7566
Tags
Related Posts