A cafe is more than its coffee because what is a coffee break without food? Instead of sitting down at a restaurant and stuffing yourself silly, a quick bite to go with your cup of coffee or tea sounds just about right. We scoured the streets of Taipa for some of the best cafes that serve up great coffee and also delicious food to go with it. Stop by any of these cafes while you're in Taipa, take in the view while indulging in food that tastes just as lovely as they photograph!
Also read: Best Places for Coffee in Taipa Village
Rooftop Macau
(See featured image above)
With an incredibly tiny, yet well-decorated terrace, Rooftop Macau might not be the best place for people with mobility issues as the staircase is steep, but it's surely a to-go spot when looking for somewhere relaxing, hidden away but from where one can check out the hustle and bustle of Rua do Cunha, in Taipa Village. Ice chocolate or matcha latte are some of their specialties, while our all-time favorite is the original rose coffee latte.
Also read: Best Waffle Spots in Macau
As for food, Rooftop Macau has some very special delights: waffles! However, these are quite different than most–instead of chocolate or ice cream, they're filled with unique ingredients such as avocado or sweet potato. Try both and see which you like best. The creaminess of the avocado combined with the sweet taste of the waffle dough is a great combination, while the sweet potato option offers a soft and welcoming feeling to the stomach in each bite.
Also read: Best Rooftops in Macau to Relax At
Also read: The Ultimate Guide to Macau's Best Coffee Shops
Opening hours: Monday–Thursday and Sunday, 11:30am–8:00pm; Friday and Saturday, 1:00pm–10:00pm
Rooftop Macau 49 Calçada do Quartel, Taipa, +853 6252 6387, [email protected], www.instagram.com/rooftopmacau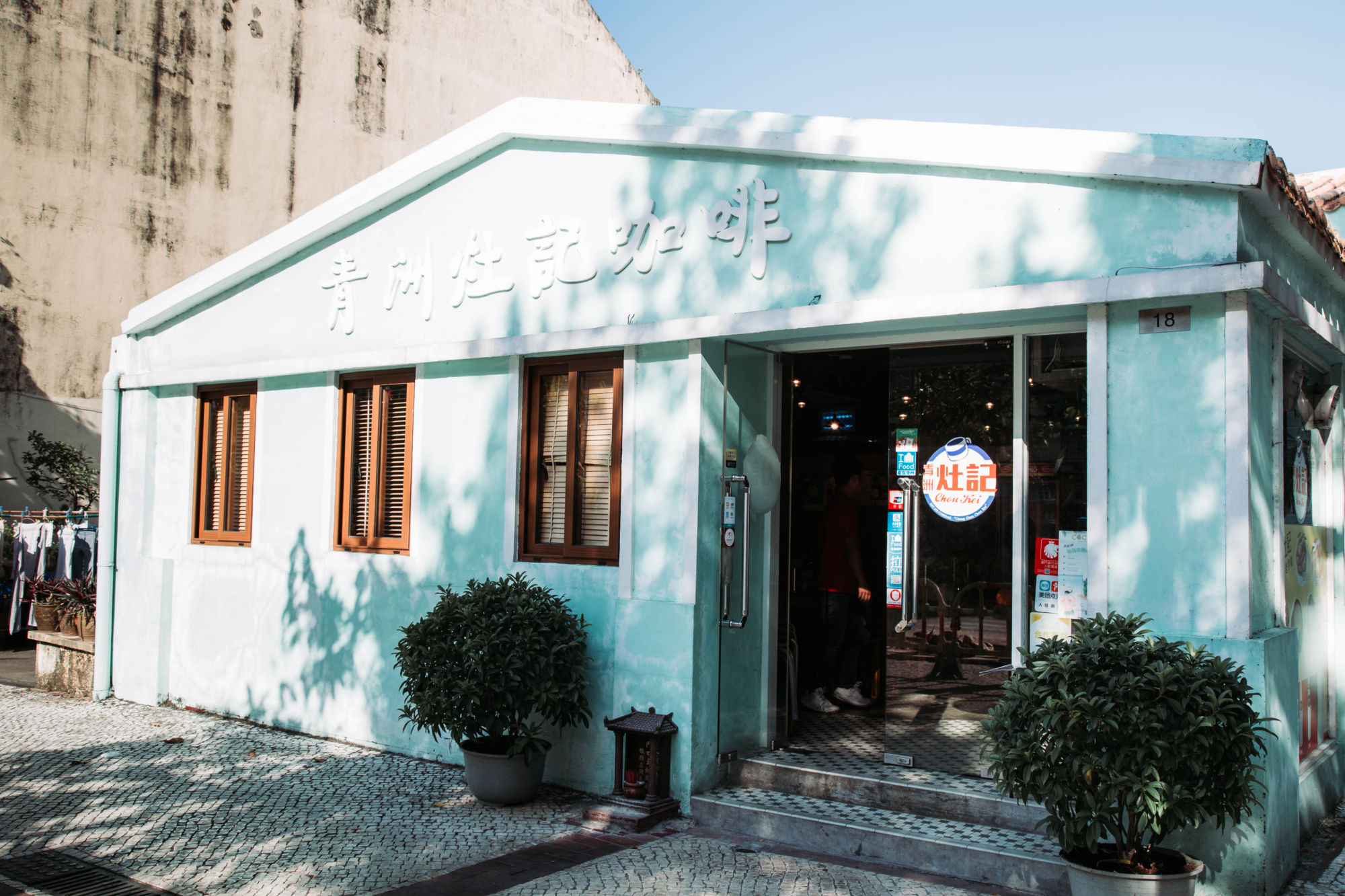 Chou Kei
Besides the incredible peanut butter French toast and some other local dishes (wonton noodle soup and sandwiches), Chou Kei has some pretty good local coffee, including a delicacy only found in Macau and Hong Kong: "yuenyeung" (鴛鴦), a mixture of coffee and tea, which is surprisingly good and a very well appreciated drink by locals. Try it and you won't be disappointed. However, this is rarely found in more modern coffee shops, so be sure to experience it at this traditional Macau cafe.
Also read: Local Eats: Where to Have Instant Noodles With Egg & Luncheon Meat in Macau
Also read: Best Places to Find Authentic Milk Tea in Macau
Also read: Must-try Food at a Cha Chaan Teng
As for the food menu, you might notice that English is missing, so be sure to screenshot some of your favorite dishes and snacks to order at the table. The staff is friendly and serves all day. Go for a classic noodles soup with preserved meat and a fried egg on top, then get to the peanut butter and condensed milk french toast, a well-known delicacy in these parts. Chou Kei features an outdoor area as well.
Opening hours: Daily, 7:00am–8:30pm
Chou Kei 18 Rua Governador Tamagnini Barbosa G/F, Taipa Village, +853 2857 6128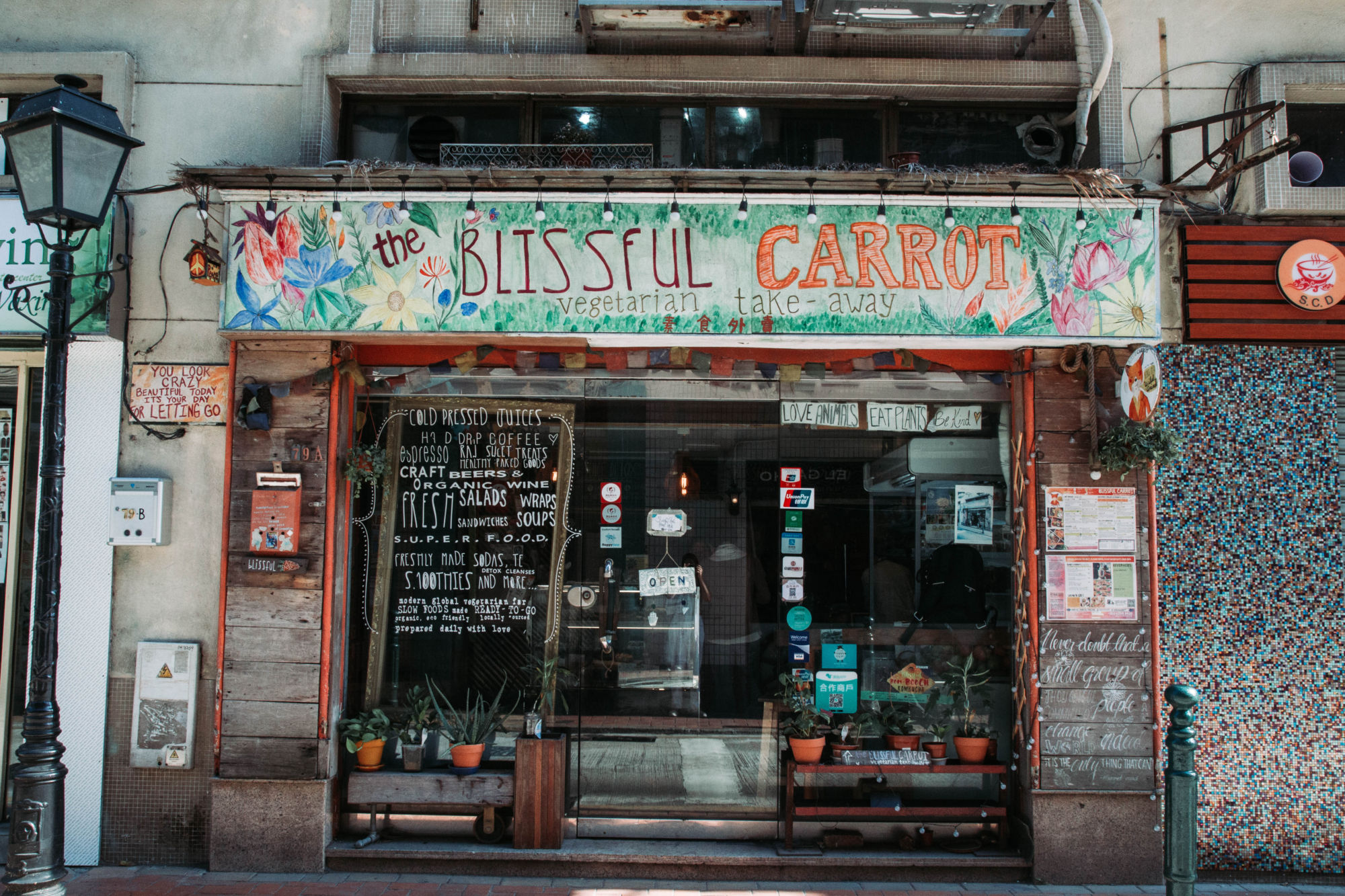 The Blissful Carrot
Walking to The Blissful Carrot* is half the fun as you pass by the sights of Taipa Village. Fall in love with everything on The Blissful Carrot's menu as we did. Although it's the hand drip organic coffee that brings in the long-time customers, the coconut milk-based latte and the chai spiced coffee are sure to cater to some fans as well.
Also read: The Blissful Carrot: Vegetarian Food in Macau
Also read: Best Places for a Healthy Meal in Macau
This vegetarian shop has everything from salads and soups to sandwiches, smoothies, and other healthy options. We suggest their hot bowls (burro or Indian curry are great) or if you're in a rush and want something to eat on the way, ask for one of the wraps or sandwiches. With the option of bread, tortilla or cabbage wrap, choose from daily market, Mexican grilled cheese, curried egg, BLT, California or Rueben. Blissful's breakfast burrito is also pretty amazing. Health-conscious customers are in for a treat with their diverse options of coffee that include their highly popular range of dairy-free milk options like almond and coconut. If savory food isn't your thing, there are also plenty of sweet options, such as gluten-free pancakes or an açaí bowl.
Also read: Start Your Day Right: Best Places for Healthy Breakfasts in Macau
Also read: Alyson & Syen: Sustainability & Conscious Living with The Blissful Carrot
Opening hours: Thursday–Tuesday, 10:00am–8:00pm
The Blissful Carrot 79 Rua de Carlos Eugénio, Edf. Goio Fai Kok G/F B. Taipa Village,  +853 6298 8433, www.facebook.com/blissfulcarrot
*The Blissful Carrot is no longer operating as a shop. However, they still sell vegetarian and vegan dishes, as well as their in-house-made pantry items such as coconut yogurt and kombucha via Aomi and MFood. If you have any questions, hit them up on Facebook and WhatsApp, but orders are to be placed via the delivery applications. For their Juice Detox program and private catering, contact The Blissful Carrot on Facebook or WhatsApp.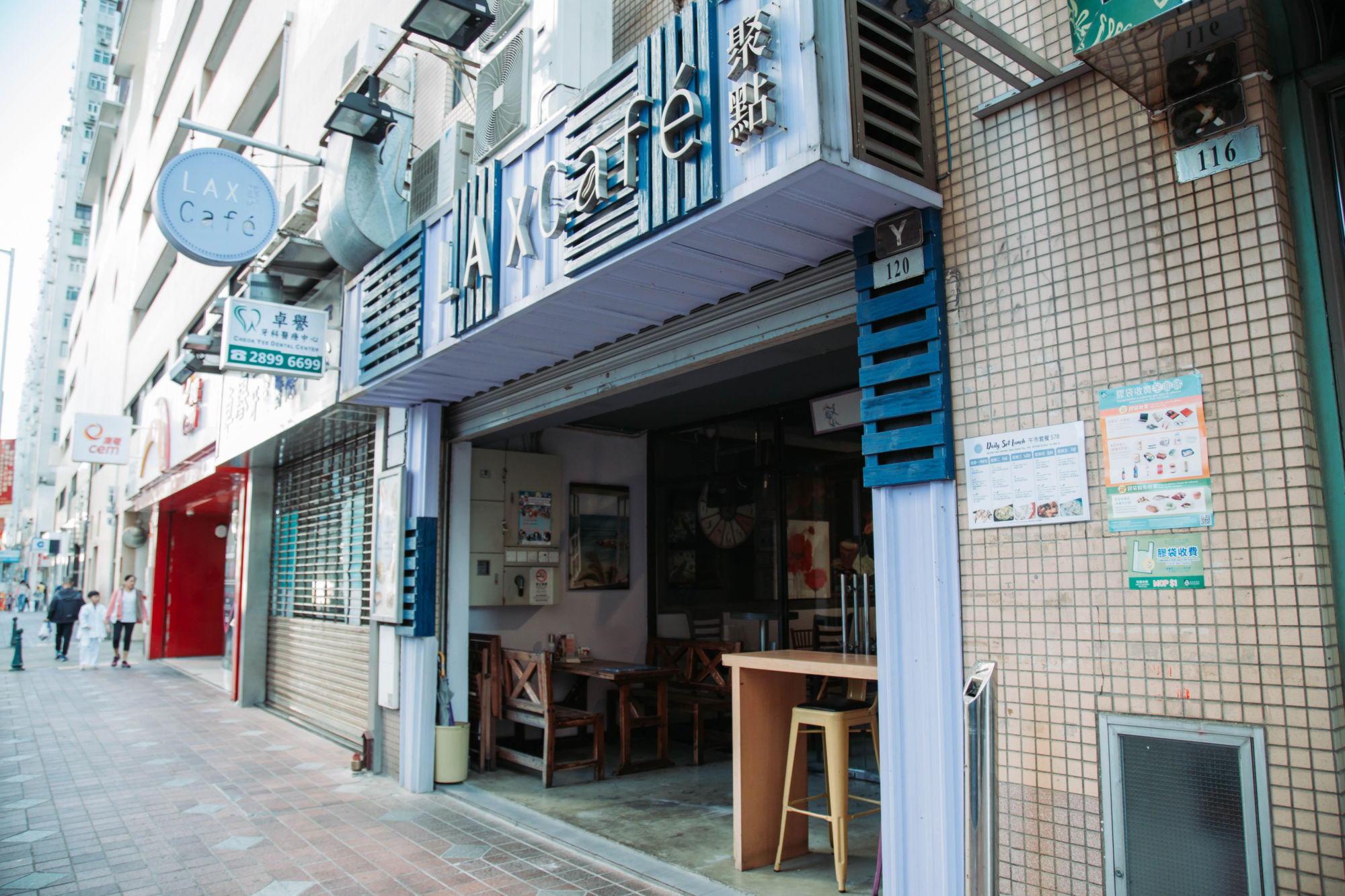 LAX Cafe
LAX Cafe is located in a less busy area of Taipa and has loads of vegetarian and some vegan dishes. Most of their menu is quite healthy and full of wholesome things. There's an all-day breakfast available, plus toasts, sandwiches, pancakes and much more to eat. When it comes to coffee, it's a no-brainer: from espresso to macchiato, americano to mocha, there's something for everyone. Why not try some interesting flavors such as tiramisu, peppermint, hazelnut, Irish cream and others to your cup! They even have certain days where you can take your dog and he can eat too!
Also read: Great Power Breakfast Spots in Macau You Have to Try
Also read: The Best Cafes to Work From in Macau
Also read: Best Pet Friendly Cafes in Macau
There is also LAX 2 Go, a takeaway-only concept window shop, located in Taipa as well! Here, you can grab your food and head to a nearby park to enjoy a peaceful lunch or snack time. From couscous salads to sandwiches or pasta, fresh juices, and coffee, LAX is a great brand with lots of longstanding fans in the region.
Opening hours: (LAX Cafe) Daily, 9:00am–9:30pm, (LAX 2 Go) Daily, 8:00am–8:00pm
LAX Cafe 120 Rua de Bragança, Supreme Flower City, Taipa, +853 2884 3093, www.facebook.com/LAX.Cafe.Macau
LAX 2 Go 613–625 Rua de Fernão Mendes Pinto, Taipa Village, +853 2857 6759, www.facebook.com/Lax2Go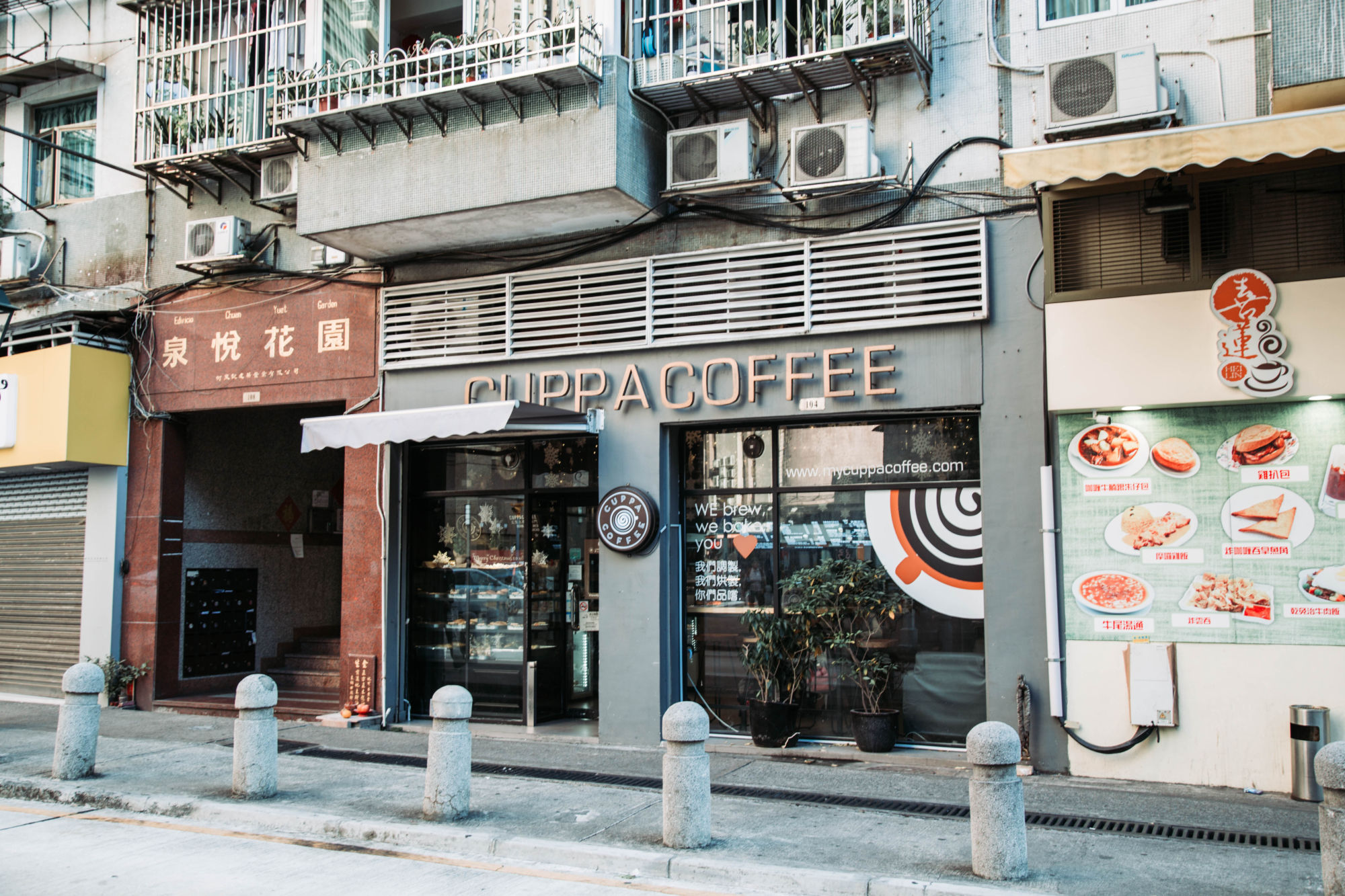 Cuppa Coffee
Settle in one of the cozy corners at Cuppa Coffee and you're in for a productive day. You can also choose to hang out at the loft-type second level where you'll get a bit more privacy if you need to study or work on your laptop. Whether you want your brews for take-away or dine-in, the fresh aroma will fire up your senses for a long day ahead!
Also read: Best Freshly Baked Bread in Macau
Also read: Where to Find the Best Portuguese Egg Tarts in Macau
Be careful when at Cuppa Coffee especially if you're hungry because your eyes might be "bigger than your stomach" and you'll end up ordering all the pastry and bread in store. From fresh warm-pressed croissants with ham and cheese, to Portuguese egg tarts, fruit bowls, donuts and light meals, there is a wide choice for those looking to grab something to eat while drinking coffee. Non-lactose options are also available, as well as healthy food.
Opening hours: Daily, 7:30am–7:30pm
Cuppa Coffee 104 Rua Fernão Mendes Pinto, Taipa, +853 2882 5201, www.facebook.com/cuppacoffee
This article was originally written by Apple Salangsang in 2017 and updated by Leonor Sá Machado in December 2020.
Tags
Related Posts