Macau has a rich local gastronomy, but minchi might be its best local dish hands down. The late Anthony Bourdain gave it his seal of approval when he was in Macau and it combines Macanese and Chinese influences perfectly. The name originates from the English word "mince", since minced meat is at the heart of the dish (traditionally beef or pork). It's a comforting, flavorsome dish which mixes soy sauce and sweetened minced meat with fried potatoes and an egg on top. Almost every local establishment will have minchi on the menu, but a true foodie will want to try the best in town. Here are our top five places to have minchi in Macau.
Café Esplanada
(See featured image above)
The name of this restaurant might be misleading since it seems like they might only serve coffee and snacks. However, Café Esplanada is one of the best places in town for lunch or dinner since it's one of the few restaurants with an alfresco space. Their menu can be puzzling, since they offer a wide range of Asian dishes, including Korean, Indonesian, Chinese and Thai. Nevertheless, we suggest you try their minchi. Esplanada's take on the classic dish is quite exquisite and different from the version found at a lot of local joints. Here, you are not only paying for the chef's artistry and the quality of the ingredients, but also the opportunity to enjoy their alfresco area.
Café Esplanada Wynn Macau, Avenida 24 de Junho, Macau, +853 2888 9966, www.wynnmacau.com/cafe-esplanada

A Vencedora
Named "the winner" in Portuguese, this restaurant is centrally located on Rua do Campo. It offers several dishes, but their minchi is undoubtedly one of the best in town. They also do boiled codfish with vegetables and beef steak served with french fries and rice. This a great place to head to when you're in a rush and the only thing on your mind is to quickly have a good, fulfilling and savory meal on the table. Definitely one of our favorite places for minchi in Macau.
A Vencedora 264 Rua do Campo, Macau, +853 2835 5460
Also read: 10 of the Oldest Restaurants in Macau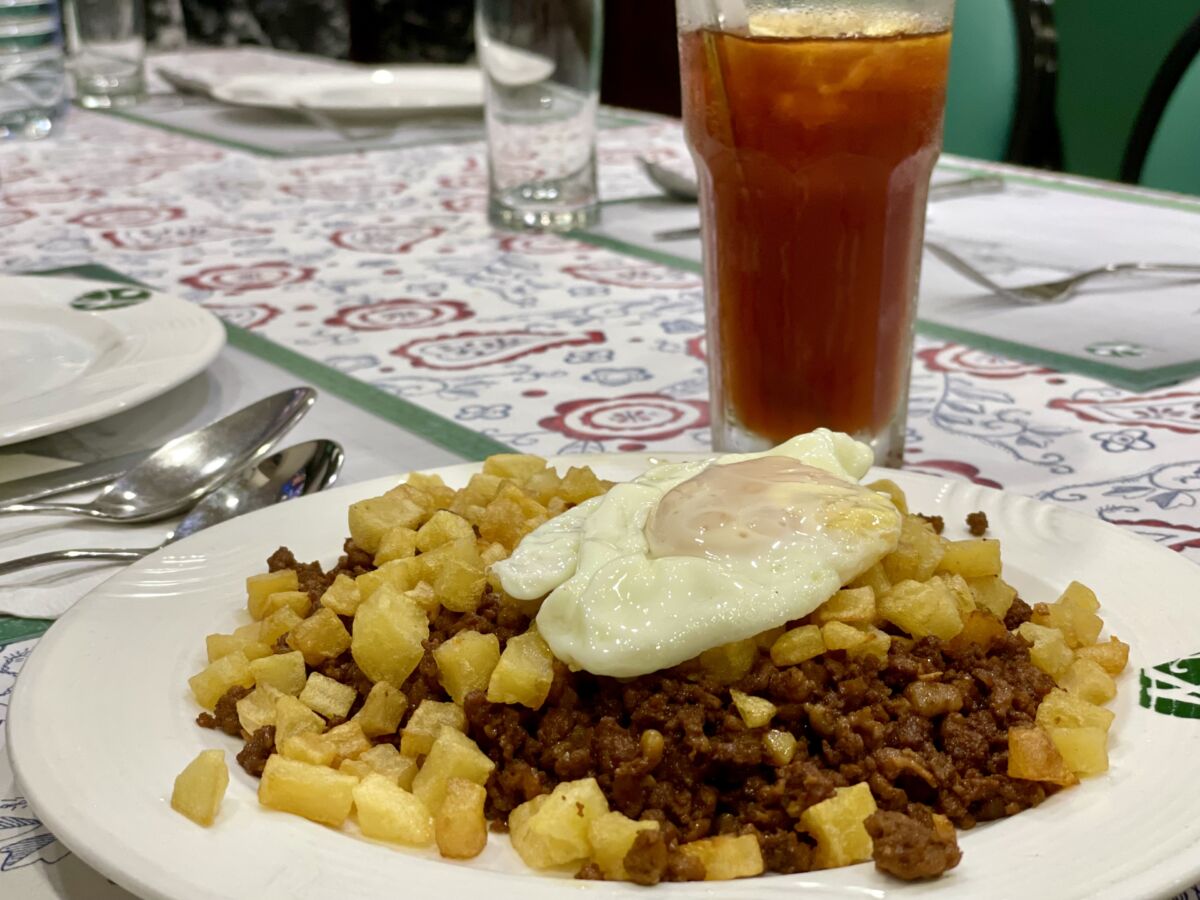 APOMAC 
APOMAC is a local association dedicated to aiding elderly residents with medical and bureaucratic issues and providing recreational services. Founded by three Macanese citizens two decades ago, this association includes a canteen well-loved by locals. Located in Avenida Sidónio Pais just steps away from Riquexó, also listed in this article, APOMAC is one of our favorite eateries when craving for the celebrated Macanese dish. Luckily, in addition to APOMAC members, everyone is welcome to dine at this canteen serving home-style Macanese and Portuguese fare. Unsurprisingly, one of their best-selling dishes is their pork minchi. Combining bits of well-seasoned golden-brown pork and freshly fried potato cubes with a sunny side up on top, APOMAC's minchi comes in a very generous serving.
APOMAC GF 49B Avenida Sidónio Pais, China Plaza Building, Macau, +853 2852 4325, www.facebook.com/apmaccanteen
Also read: APOMAC Taking Care of Our Community Since 2001
La Famiglia
Florita Alves is the owner of this sumptuous yet "familiar" (as the name indicates) restaurants tucked away in Taipa Village. Serving some Macanese dishes one can't easily find everywhere in town, minchi is still one of their fortes. With crunchy potatoes, soft and freshly cooked beef, and a perfectly fried on-point egg, this is surely one of a kind. While there, try some of the sweets on their dessert list, including bebinca and others. If you find yourself in Taipa Village and wanting to try out Minchi, this is a great place for that.
La Famiglia 76 Rua dos Clérigos, Taipa Village, +853 2857 6131, www.facebook.com/famiglia.macau
Also read: A Magical Macanese Menu at La Famiglia by Chef Florita Alves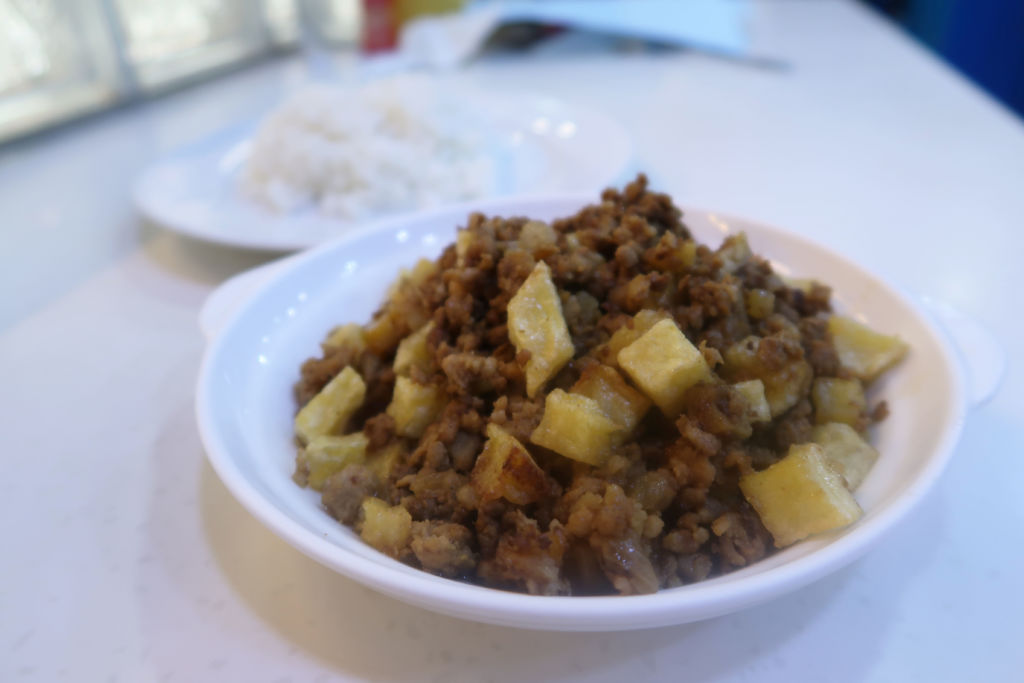 Riquexó
Riquexó is one of the oldest and most renowned food joints in town so trying out their minchi is a must. Aside from their ala carte menu, they also offer daily lunch sets comprising of soup, main dish, dessert, and a beverage–minchi is but one of the options. If you are looking for an affordable meal, look no further, as you definitely won't be spending more than MOP $100 here. Set on Sidónio Pais street–a busy spot in Macau–it has been revamped from a dated, tiny eatery to an ample and welcoming restaurant close to its former location. The menu includes every local's all-time favorites, so don't worry because it's exactly the same soul, just in a different place!
Also read: Riquexó: The City's Trove of Macanese Cuisine
Riquexó 69 Avenida Sidónio Pais, Macau, +853 2856 5655, www.facebook.com/Riquexó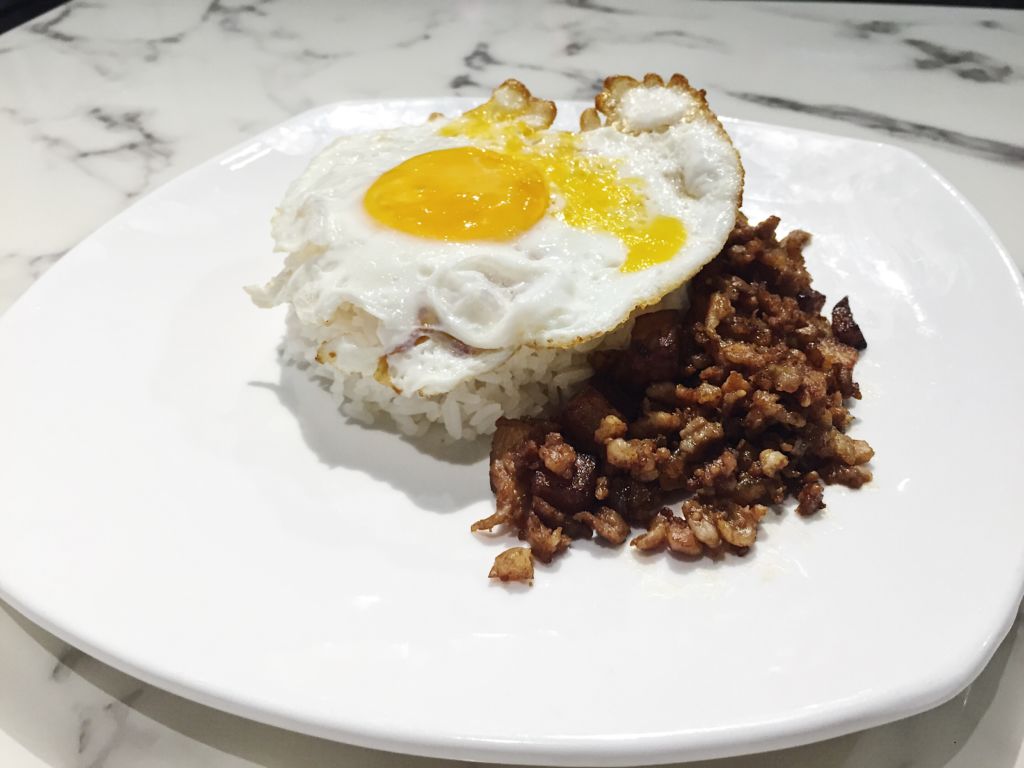 Sab 8 Café
This place is located close to one of the most beautiful areas of the city, Rua da Nossa Sra. do Amparo. If you're visiting the central area and checking out the Ruins of St. Paul's or Mount Fortress, take a break and dive into the hidden alleyways through Rua dos Mercadores and Rua de Tercena to find an array of unique vintage stores and new contemporary ones. If you're looking for some delicious minchi in Macau, head over to Sab 8. Opened in Patio Chon Sau, a world away from all the crowds which is great especially if you want to have a quiet meal. Their minchi is mouthwatering and most importantly, fills you up with warmth and comfort.
Sab 8 Café GF, 10 Pátio De Chon Sau, Macau, +853 2835 8191, www.facebook.com/Cafesab8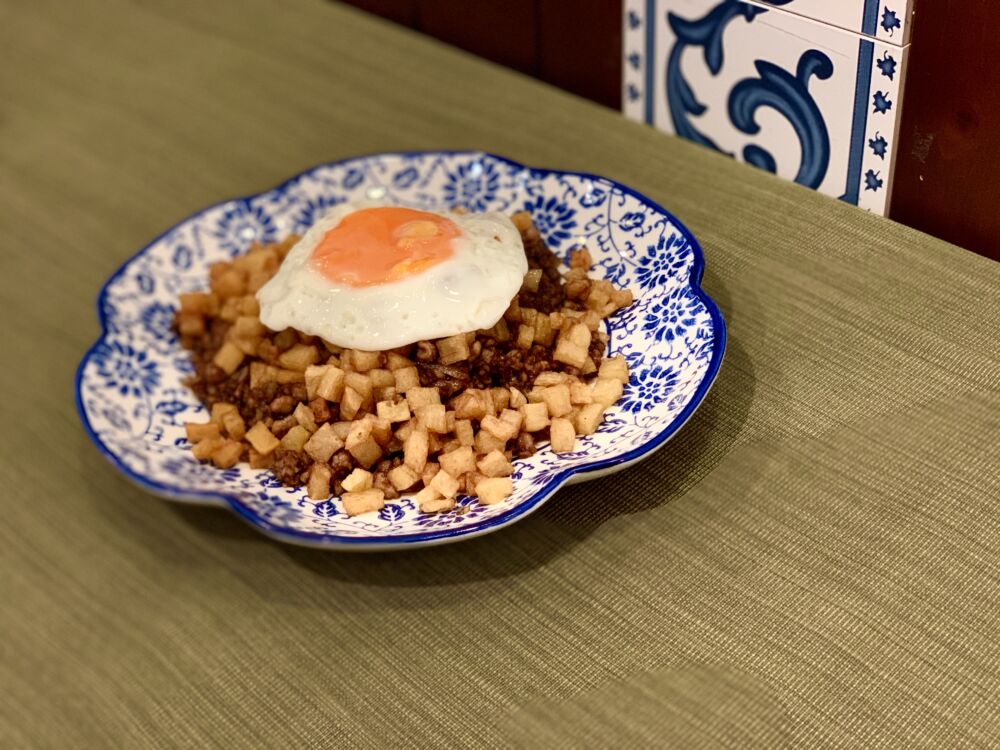 Restaurante Litoral
Named Litoral–coastline in English–this is a to-go spot when in search of Macanese delicacies. The minchi here is very popular amongst locals and tourists, and tastes very good indeed. As most traditional minchis served in Macau, this too is made with lots of care and tradition, based on a family's recipe. With freshly fried potato cubes and tender meat, seasoned with soy sauce and other secrets, it's a comforting dish, very characteristic and worth experiencing it. Be it at their Inner Harbour or Taipa village restaurants, order up a plate of minchi and we're sure you'll be satisfied.
Restaurante Litoral (Inner Harbour) 261 GF-A Rua do Almirante Sérgio, Macau, +853 2896 7878, www.facebook.com/RestauranteLitoralLimitada
53-57 Rua do Regedor, Block 4, Wai Chin Kok, Taipa Village, +853 2882 5255, www.facebook.com/RestauranteLitoralTaipa
Also read: Filipe Ferreira: Macanese Food and Keeping It Authentic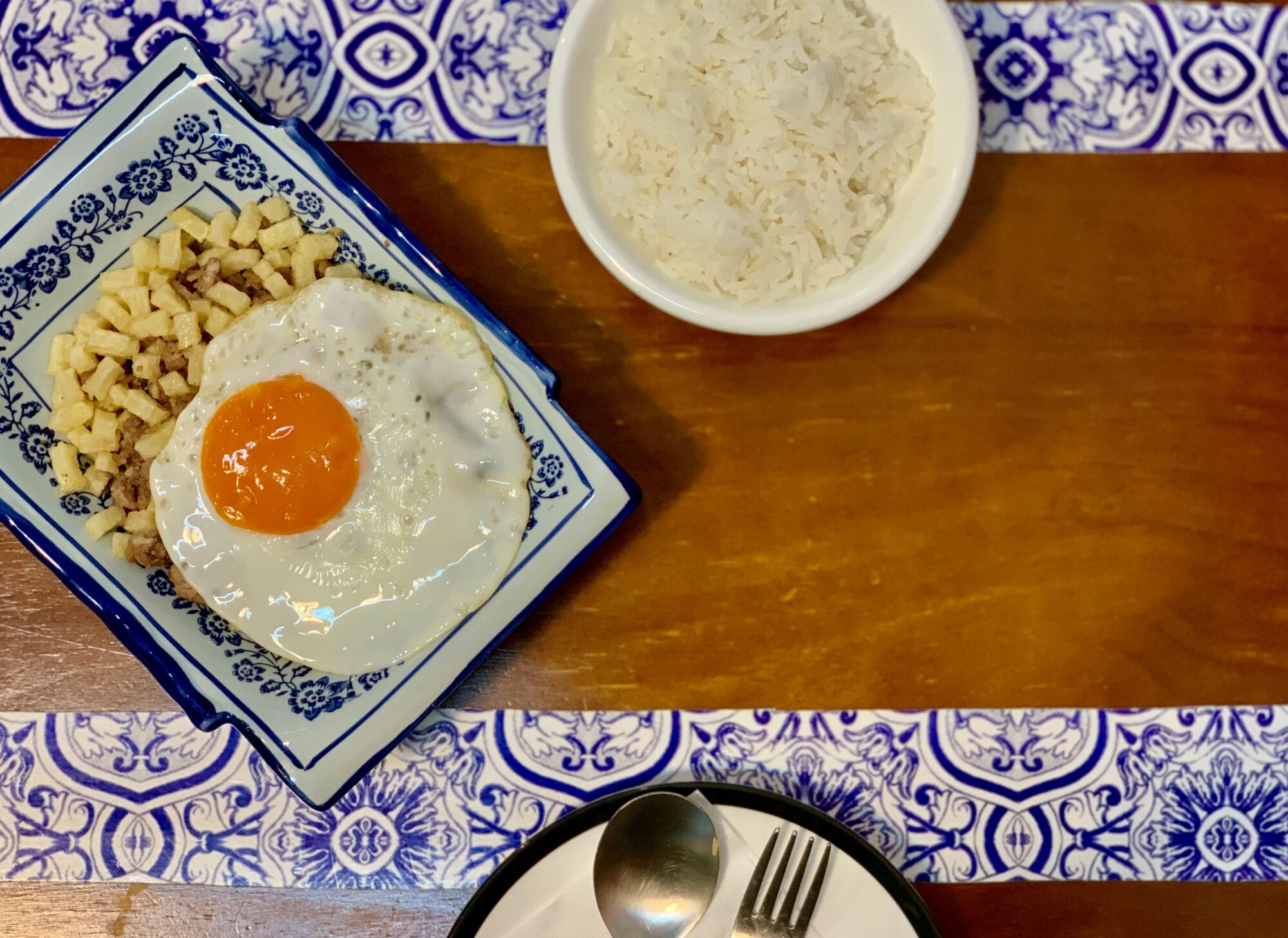 Belos Tempos
Tucked in a tiny entrance on the left side of Rua da Felicidade, there lies Belos Tempos. Besides traditional Macanese dishes such as tacho (mainly served during winter) and many others, minchi is the queen of Belos Tempos' menu. With a beautiful fried egg placed on top of the minced beef and potato mix, it comes with a side of plain rice–just the way we like it! Their minchi has just the right balance of saltiness and sweetness, which goes perfectly well with the plain rice and the fried egg.
Belos Tempos 10 Rua da Felicidade, Macau, +853 2893 8670, www.facebook.com/belostempos
Also read: 10 Must-Eat Macau Dishes
Also read: Belos Tempos Restaurant: The Real Macanese Deal
This article was originally written by Macau Lifestyle in October 2017 and updated by Leonor Sá Machado in June 2021.
Tags
Related Posts