Tacho. Feature image credit: Restaurante Litoral Taipa
Have you ever tried Macanese food? If the answer is no, you should! Macanese is, by definition, Macau's traditional food, an exotic result of Portuguese and Chinese food combined. It is known as the first fusion cuisine ever. With a history dating back to the 16th century, 2012 marks the year Macanese gastronomy was inscribed as an immaterial heritage element of Macau by UNESCO.
History Behind Macanese Cuisine
According to official historical documents, everything started when the first Portuguese sailors came to Macau. With a longing for their hometown and wanting to recreate traditional Portuguese dishes but with no luck, their wives and other family members pitched in to help and started combining the ingredients from the original recipes with things that could only be found in Asia (such as curries, other spices and vegetables). That's when the fusion started. Why exactly? Well, these family members were local, Japanese, Chinese, Malaysian and from other countries nearby and some of the ingredients from those recipes could only be found in Portugal.
Also read: The History of Macanese Cuisine in Macau
The need for comfort food and longing for Portuguese culture then helped to create what we now know as Macanese cuisine. 450 years of history served it well through various refinement techniques through time, different theories and practices, chefs and stories. Although these mixed weddings served as the base for Macanese food, it was also catered by a strong combination of cultures all across the world. The Portuguese were in Africa and Indian Goa as well, and that's why a local's food' kitchen is always so full of exotic colors, scents and flavors. Having said this, it is clear that this enormous and withstanding legacy does not come only from Portuguese and Chinese cultures, but also Indian, Malaysian, Mozambican, among others.
Also read: Macanese Culture: Christmas Traditions and Food
There are two books considered to be the holy grail of Macanese gastronomy which you should buy if you are looking to level up your cooking skills to impress friends and family or even yourself! "Macanese Cooking" (by Cecília Jorge) and "The Cuisine of Macau From my Grandfather's House" (by Graça Pacheco Jorge) are the two must-get Macanese cookbooks. Additionally, "Taste of Macau: Portuguese Cuisine on the China Coast" (by Annabel Jackson) also has a wide list of Macanese dishes to try at home. And now, here is our ultimate list of what to try if you want to experience the city's true taste!
Also read: Best Places for Macanese Food in Macau
Tacho
(See featured image above. Credits: Restaurante Litoral Taipa)
This is one of the most complex and wintery dishes of the Macanese food line up! With variations from recipe to recipe, this dishes usually has Chinese sweet sausage, various meats and cabbage, and sometimes other ingredients. The mix is a unique taste of sweet and sour. It is a bit time-consuming to make it at home, but you can certainly try! If dining out is your thing, the best spot for Tacho is at Casino Lisboa's Noite e Dia or Litoral, in either Barra or Taipa.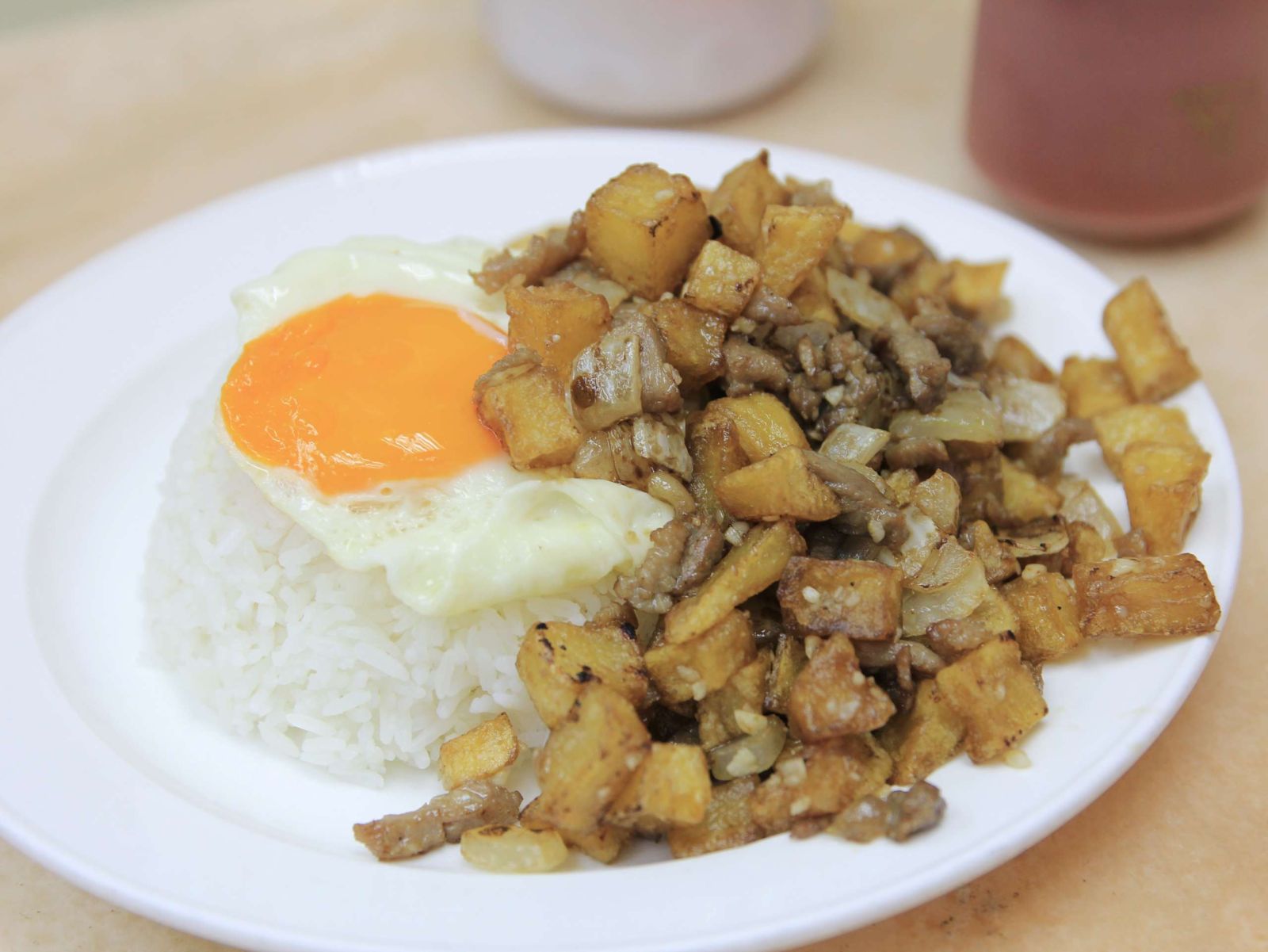 Minchi 
Minchi is a mixture of minced (beef or pork) meat with soy sauce serve with cubed fried potatoes and plain rice. This is an example of a perfect combination of Portuguese and Chinese food. Soy sauce, sugar and plain rice are common Cantonese fare. The minced meat and fried potatoes are clearly something from the west. Try this delicacy if you are looking for a true taste of Macau. It is served in every Macanese food restaurant in town and even some small local joints. Riquexó, APOMAC and Café Esplanada are great places to have minchi.
Also read: Great Places to Eat Minchi in Macau
Tamarind "Balichão" Pork
This dish is traditionally made with the Macau home-made variant of shrimp paste "Balichão". Made with tamarind, it is a Macanese dish very well-known amongst the local community. This is not an easy delicacy to find however, places such as Litoral and IFT Educational Restaurant serve it.
Bafássá Pork
A Macanese pork dish heavily spiced with saffron, báfassá is usually served with steamed rice. Servings at Litoral are generally big enough to share, so be sure to bring your family and friends so everyone can have a bite of everything! The meat is usually very tender and has an exotic taste to it due to the saffron, so be sure to try if you are into oriental spices.
Also read: Filipe Ferreira: Macanese Food and Keeping It Authentic
African Chicken
Interestingly enough, the name has nothing to do with this delicacy's origin. African chicken was born in Macau, but it's named so due to one of its main ingredients—Mozambique chili peppers. This dish is a simple yet happy combination of sweet from peanut butter and sour ingredients, which makes this dish a bit heavier than most on this list. Litoral, Henri's Galley and some others around town are good places to experience this tasteful creation.
Also read: Macanese Craze: Where to Get African Chicken in Macau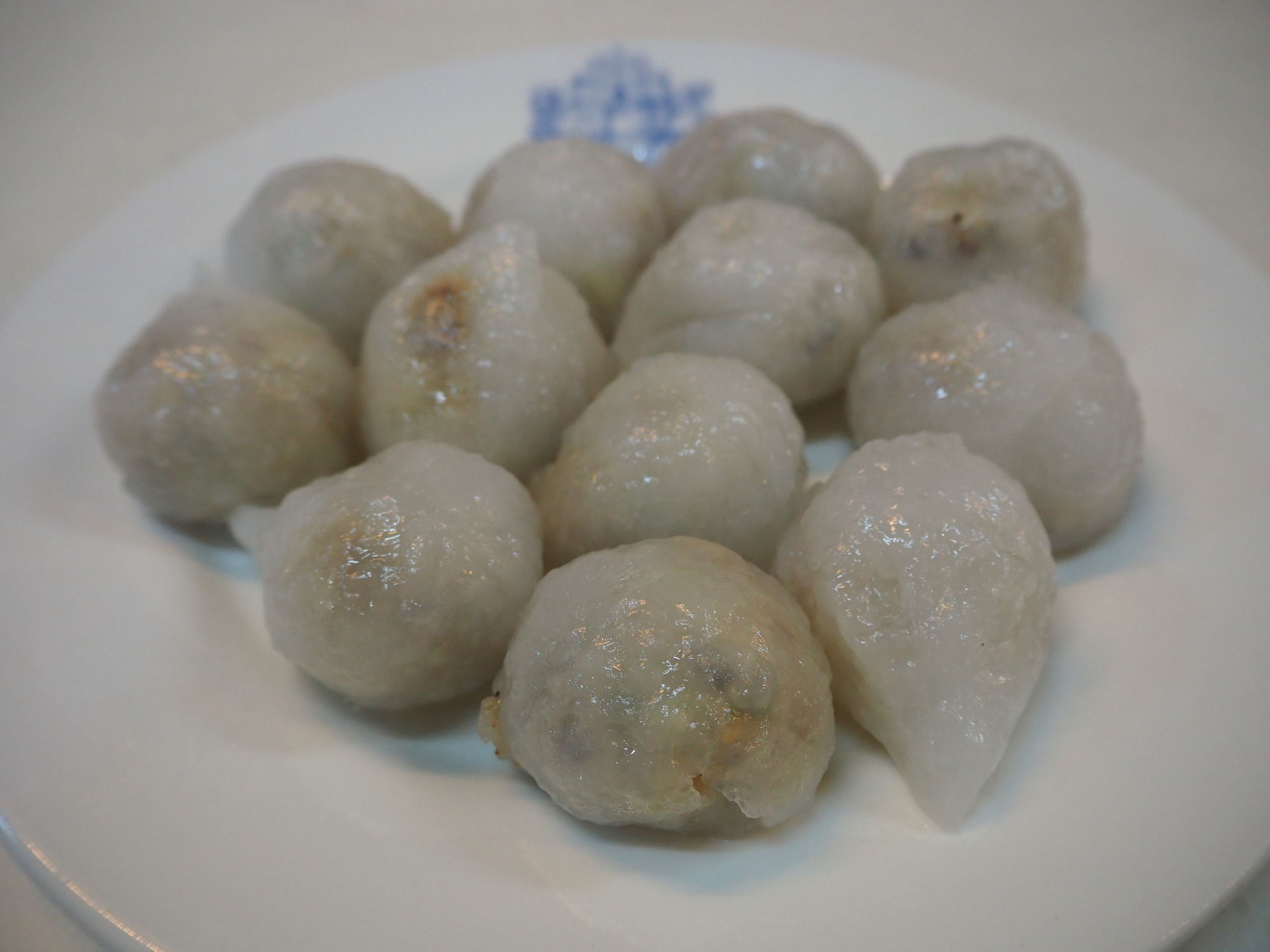 Apa-bico
With a dumpling-like look, apa-bico is usually served at buffets, as an entrée or snack. Made of flour dough on the outside, it is filled with minced meat and is a great mix between east and west cuisines. A great starter if you're into experiencing something different and taking your friends through a cultural and gastronomic journey, apa-bicos are available at Riquexó, a restaurant filled with history and, well, great food!
Also read: 10 of the Oldest Restaurants in Macau
Also read: Riquexó: The City's Trove of Macanese Cuisine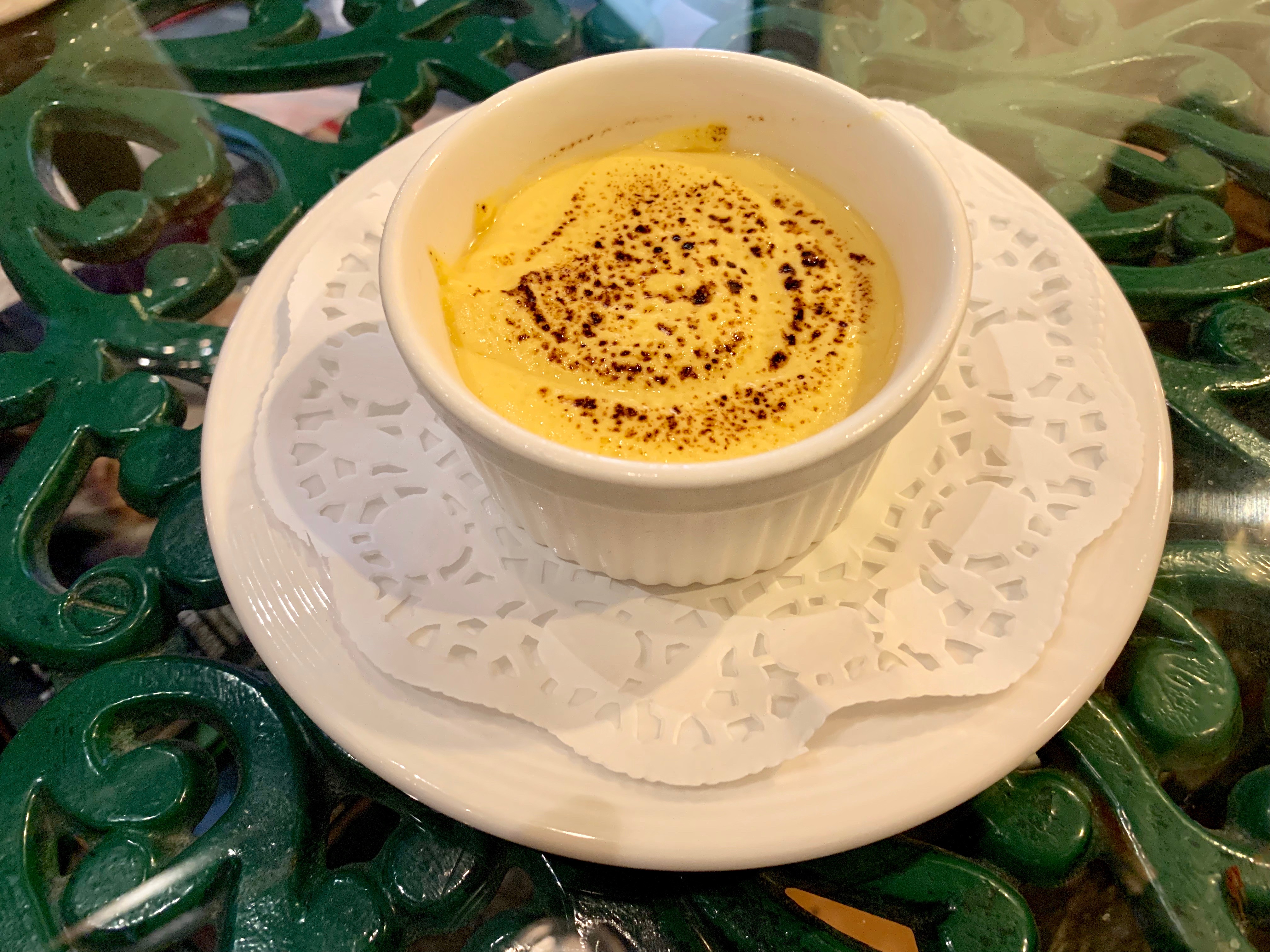 Milk Bebinca
Bebinca is a dish from India that expanded throughout Southeast Asia, especially Malaysia and Macau. Here, there are several types of bebinca, that are sweet and salty. Milk Bebinca is a coconut-milk based dessert with a consistency similar to a pudding. It is tasty enough to be served at the end of a meal but less sweet than most Portuguese dishes. The Manor and Litoral serve this particular dish.
Bolo menino 
Made of almond and coconut, this is a very Macanese cake. Local cuisine is known for mixing what would seem as unusual flavors and ingredients. Sweet and sour is a must, like coconut, condensed milk, almond, different Asian spices, among others. This is a soft and light-flavored cake that can be eaten as dessert at lunch or dinner. It also goes really well with a cup of tea in the afternoon! Riquexó restaurant does this delicacy upon order and it costs MOP $380, so call them and reserve your piece of tradition now! If you can't wait to taste it, try making it at home by following this traditional recipe.
Tags
Related Posts