African chicken might sound everything but Macanese. However, it's a dish that originated in Macau, indeed. Then why this name? It's all about the spices: this dish is called so because it utilizes lots of exotic ingredients from former Portuguese colonies such as Angola or Mozambique, in Africa. As it happens with most Macanese dishes, there are several theories on its origins: some say it was local chef Américo Ângelo's invention, but others argue it's been created by the families of retired Portuguese Army officials who later emigrated to Macau.
This dish is quite simple and very likable: barbecued chicken topped with a thick, textured, and flavorsome sauce essentially made of coconut milk and chili. If you're on the lookout for this delicacy, search no more! We've got you covered on some of the places where you can taste it in Macau. Some do it more on the curry side, while others create a soft and full sauce; some even cook the chicken in the sauce itself instead of pouring it after it's grilled. Check out the differences and have an African chicken tour in the city!
Riquexó
(See featured image above)
From tacho to minchi, this is one of the spots in Macau where you can experience real Macanese food. There are a few of them, but Riquexó's owner, Aida de Jesus has been mixing flavors and ingredients for more than 50 years, allowing for food with history and a lot of knowledge. Their African chicken is done in the "classic way": the chicken is grilled with salt and the thick, orange-colored sauce is poured on top of it. Besides getting the sauce's flavor, the chicken is super tender and freshly barbecued. As for the sauce, maybe one of the best we've had: besides a soft sweetness–due to the very textured real coconut–there's a lot of fresh chilies allowing for a fantastic combination. It usually comes with french fries, but we like adding steamed rice to it and mix the sauce with it.
Opening hours: Daily, 12:00pm–9:30pm
Riquexó 69 Avenida Sidónio Pais, Macau, +853 2856 5655, www.facebook.com/Riquexó
Also read: Riquexó: The City's Trove of Macanese Cuisine
Also read: Eat Like a Local: Ultimate Macanese Must-Try Dishes

Henri's Galley
Another veteran on Macau's restaurant scene, Henri's Galley, was established in 1976 and has been a favorite place for Macanese and Portuguese cuisines among locals since then. Its design features many boat references, and the head waiter is dressed as a captain. Like a good captain, he would guide you through their menu and make sure your dining experience would be the one to remember–the service is excellent here. Don't expect a fancy presentation, as they focus on flavors, so their plates are quite simple and rustic. Henri's is known around town as the place to enjoy a perfectly cooked African chicken. Served with boiled potatoes, the dish is large, so it's ideal for sharing among two-three people. The chicken is tender and juicy but not overcooked, and the sauce is thick, incredibly creamy, and flavorsome. The balance of spices is hard to beat, and the seasoning is on point.
Opening hours: Thursday–Tuesday, 12:00pm–10:00pm
Henri's Galley 4 Avenida da República, Macau, +853 2855 6251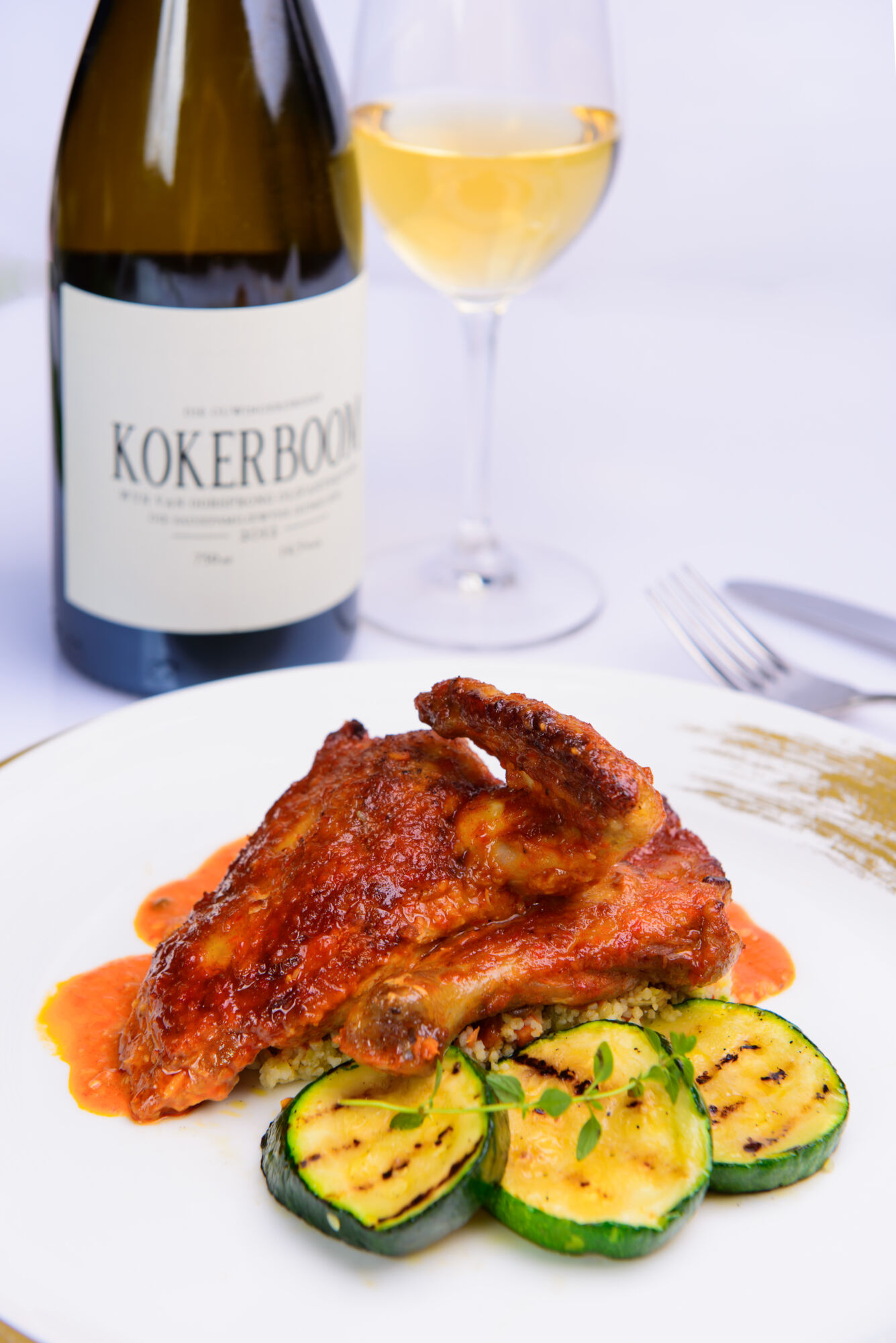 IFT Restaurant
Specializing in teaching cooking, platting and other crafts related to food and hospitality, the Macao Institute of Tourism Studies also has a restaurant serving all kinds of wonderful delights. With a strong emphasis on the Portuguese and Macanese cuisines, it certainly couldn't go on without African chicken. Chilli, salt and pepper and paprika are some of the condiments for the chicken. The sauce includes white wine, lemon skin, milk, coconut grated, coconut milk and tarragon. Carefully marinated, the chicken is then roasted while the spicy sauce is heated. Both are then joined in a happy union in the oven before being platted together with some grilled vegetables and couscous instead of the traditional rice of french fries.
Opening hours: Monday–Friday, 12:30pm–10:30pm
IFT Restaurant Colina de Mong-Há, Macau, +853 8598 3077, www.ift.edu.mo/RESTAURANT

A Lorcha
Frankly, it is a no-brainer that many restaurants on this list happen to be the oldest in town. Usually, decades of existence and success guarantee a certain level of quality and time-tested recipes, some of which have been on a menu since the restaurant's foundation. A Lorcha is yet another eatery with a history and a broad base of loyal customers. They focus on Portuguese food, but the Macanese dishes they offer are equally delicious. Delicate and succulent, their African chicken is floating in a generous portion of sauce, slightly viscous, thick, and rich. The heat level is where it should be–your tongue won't be burning, but you can still feel the spiciness. It comes with a side of French fries and a piece of fresh tomato. We recommend pairing with some Portuguese wine as the wine prices here will surprise you in the right way!
Opening hours: Wednesday–Monday, 12:30pm–3:30pm, 6:30pm–10:00pm
A Lorcha Restaurant 289 AA R/C Rua do Almirante Sérgio, Macau, +853 2831 3193, +853 2831 3195, www.facebook.com/A-Lorcha-Restaurant
Also read: A Lorcha Restaurant: Culinary Anchor of Portuguese Traditions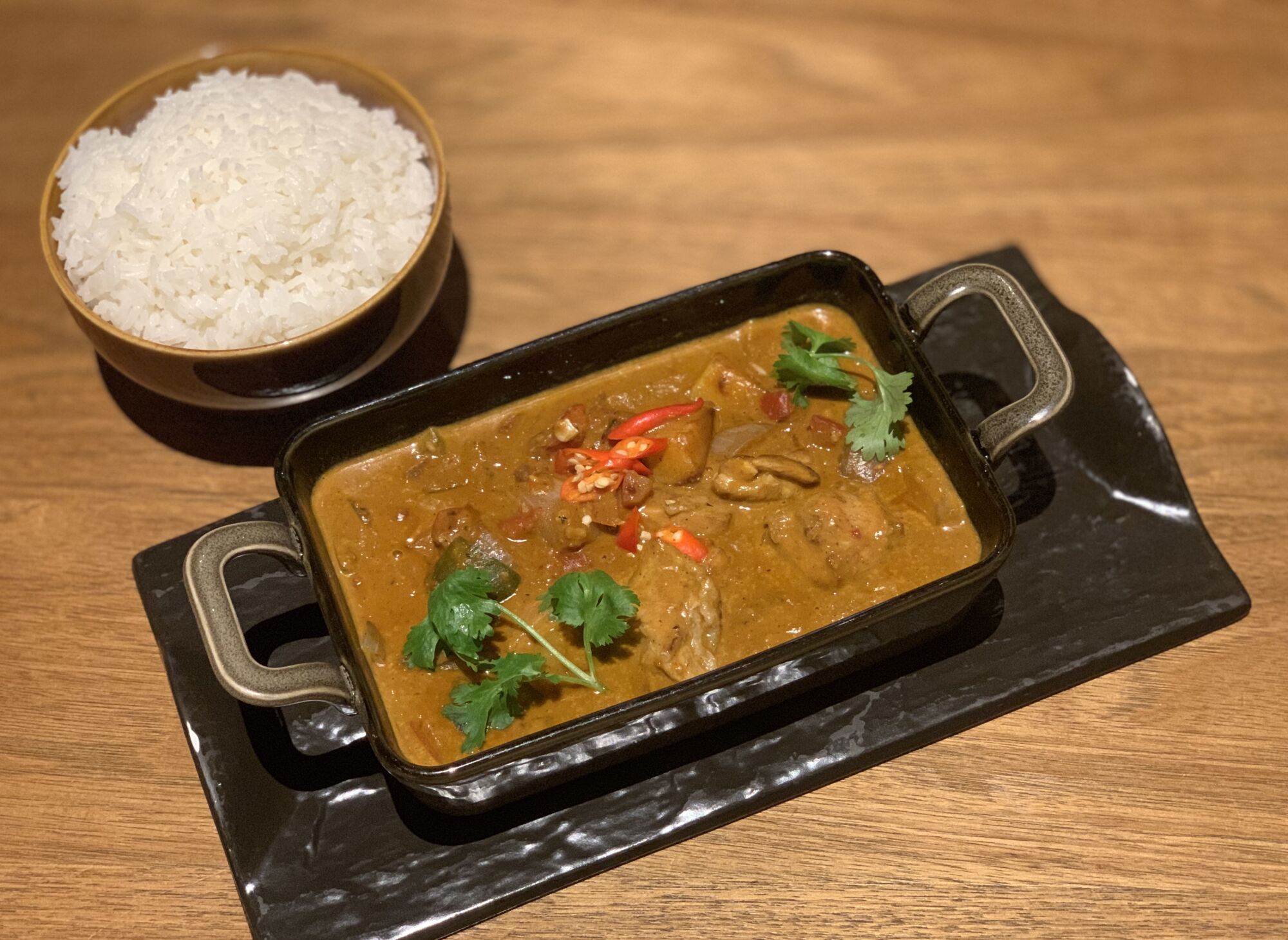 Coast
With steamed rice on the side by default, this African chicken's sauce is less chunky, much more fluid. Also, its flavor is more on the curry side. As you can see, they also included fresh chili in their recipe, since this is one of the essential ingredients of this renowned dish. The chicken comes in bits instead of being served as a whole leg or chest, and with skin. Coast has great dining out vibe and serves the most different kinds of foods, allowing friends and family to all be satisfied: from tuna bowls to American-style milkshakes and burgers, Chinese-inspired dishes, and more, this is one of the Macanese dishes they have in store for all to try out.
Opening hours: Daily, 7:00am–11:00am, 12:00pm–3:00pm and 6:00pm–10:30pm
Coast MGM Cotai, Avenida da Nave Desportiva, Cotai, +853 8806 2328, www.mgm.mo/en/cotai/dining
La Famiglia
Tucked away on a quiet street in the middle of Taipa Village, La Famiglia serves all kinds of Macanese dishes with a traditional flair and that's not easy to find these days. Their African chicken is made by roasting the main ingredient–super crispy skin–plus a sauce that's part chunky, part fluid, and delicious. Also spicy–as it should be–this dish is fulfilling and served with some vegetables on the side, topped with sliced olives. Wonderful recipe and a great place to head with friends and try some other Macanese dishes as well, including lots of appetizers, main that you'll rarely see in other restaurants, and several desserts as well.
Opening hours: Daily, 12:00pm–10:30pm
La Famiglia 76 R. dos Clérigos, Taipa Village, +853 2857 6131, facebook.com/famiglia.macau
Also read: A Magical Macanese Menu at La Famiglia by Chef Florita Alves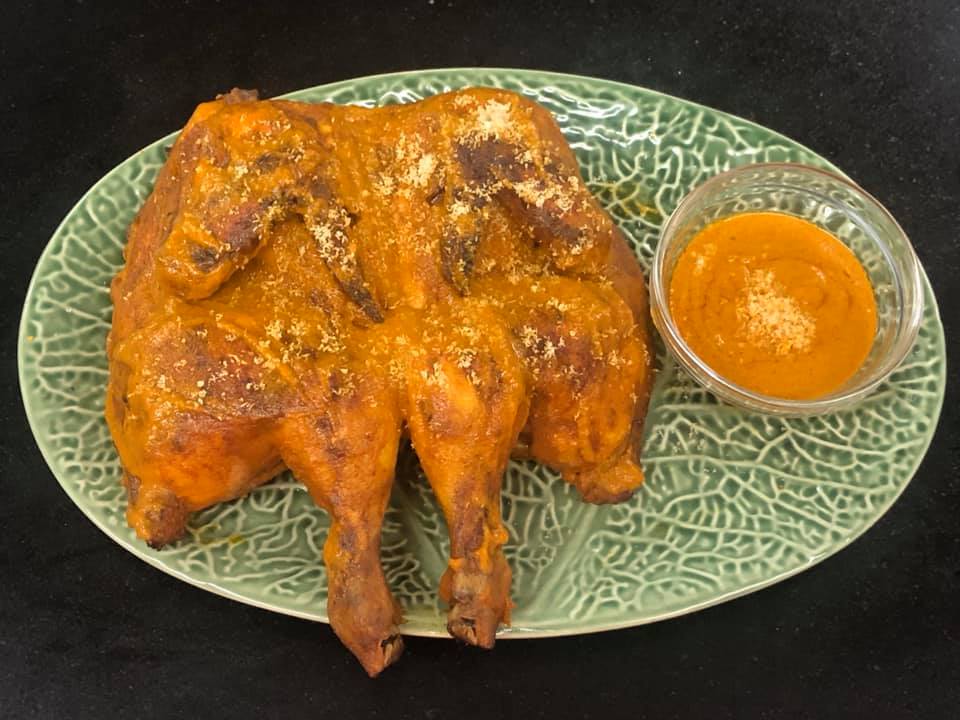 Belos Tempos
Marinated, then roasted in the oven with a bit of sauce, their African chicken is just mouthwatering. Also featuring coconut and chili as main characters of this gastronomic plot, the recipe also includes some extra sauce at the end, since "if one puts the whole sauce roasting with the chicken, it burns quickly", the owner tells us. Juicy–due to having been previously marinated–the chicken is crispy on the outside and strongly flavored from all the spices; the sauce in the end just gives it that extra boost we like so much. Belos Tempos is a nice little joint serving simple and traditional Macanese dishes, set in Rua da Felicidade.
Opening hours: Tuesday–Sunday, 12:00pm–10:00pm
Belos Tempos 10 Rua da Felicidade, Macau, +853 2893 8670, www.facebook.com/belostempos
Also read: Belos Tempos Restaurant: The Real Macanese Deal
Also read: Rua da Felicidade: From Red-Light District to Hip Spot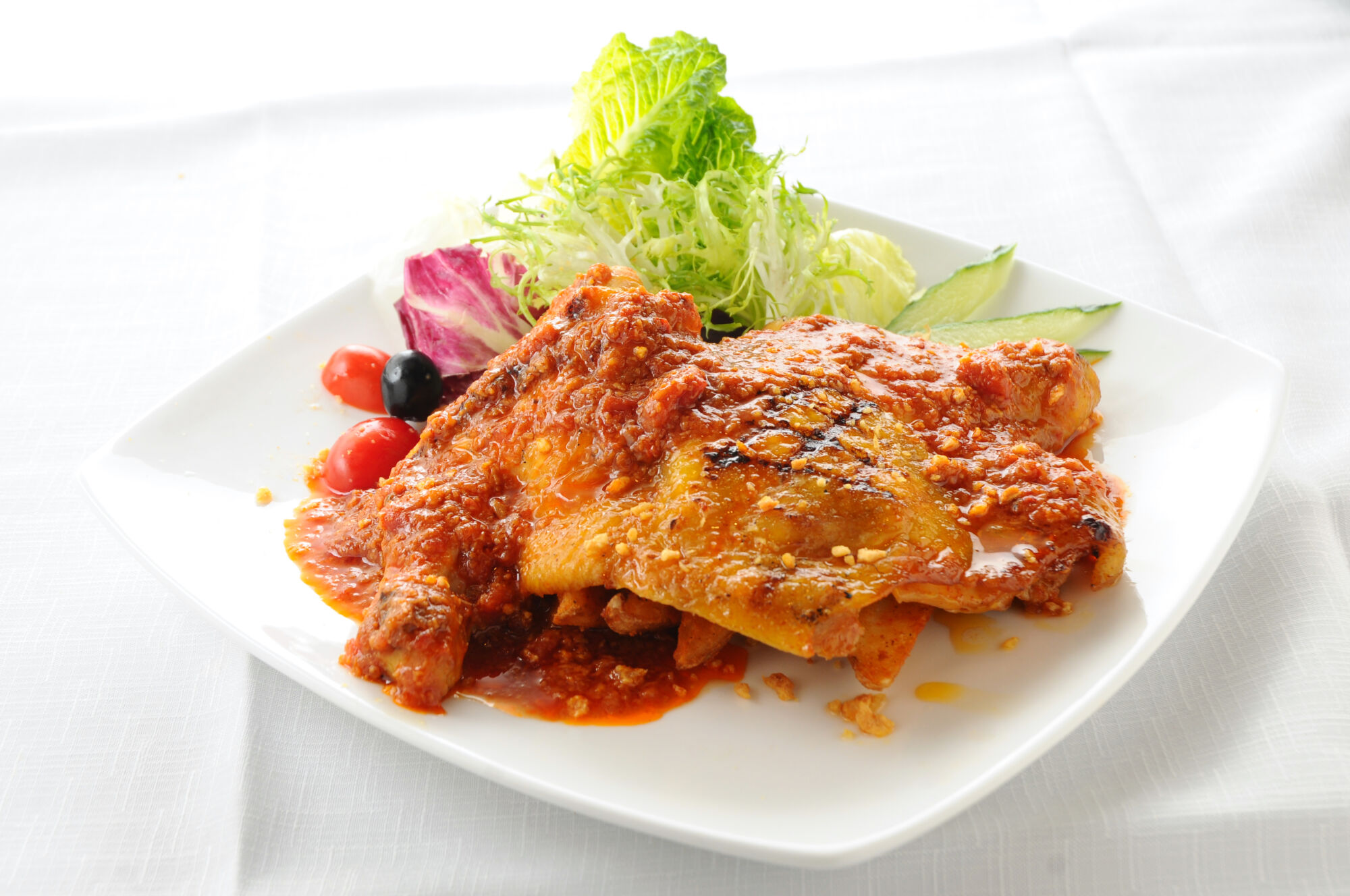 Madeira Portuguese Restaurant
Madeira Portuguese Restaurant is a restaurant in the heart of The Venetian Macao serving Portuguese and Macanese-inspired dishes. Their African chicken is covered in the rich sauce that's made this dish such a famous one. With peanut and chili bits, it's great to have when looking for a sweet and savory–plus spicy–kind of flavor.
Opening hours: Daily, 11:30am–11:30pm
Madeira Portuguese Restaurant Shop 746, Market Street, Level 3, Shoppes at Venetian, The Venetian Macao, Estrada da Baía de Nossa Senhora da Esperança, Cotai, Macau
Restaurante Litoral Taipa
A perfectly roasted chicken leg topped with a freshly poured wholesome sauce. Who doesn't want to try this delicacy? Served with a side of homemade fried potatoes, Litoral's African chicken is not only flavorsome, but a great way to try Macanese food for the first time. Made with a recipe that's been running in the family for years now, this dish is spicy and very exotic. Made with coconut milk and spices, the sauce gives the roasted chicken a flair that's very unique, unlike other chicken dishes.
Opening hours: Daily, 12:00pm–10:00pm
Restaurante Litoral Taipa 53–57 Rua do Regedor, Taipa Village, +853 2882 5255
Also read: Filipe Ferreira: Macanese Food and Keeping It Authentic
Also read: Great Places to Eat in Taipa Village
Cathedral Café
Revamped sometime ago, Cathedral Café has two large floors with foosball downstairs and lots of seating. The menu has also been updated, but their African chicken remains. Served with steamed rice and homemade fried potatoes, the chicken is roasted first, and then the sauce is homemade is added. Made with tomato, some chili, beans, and other exotic ingredients. The chicken is tender as well, as it's roasted in the over. A good place to try out this dish. Also, there are now some chairs and tables in front of the restaurant, where people can have a beer or coffee and sit.
Opening hours: Daily, 7:30am–2:00pm
Cathedral Café 12 Rua da Sé, Macau, +853 6685 7621, www.facebook.com/macauaussie
Tags
Related Posts