In the glittering scene of Macau where luxury is teeming and opulence is normal, there's no shortage of brilliant restaurants. Some are more decadent than others reigning over the city's dining circuit with the coveted Michelin stars. Whether you're visiting or staying in Macau, one must make sure to visit and sample the menu at these world-famous restaurants. Led by acclaimed chefs and award-winning gourmet concepts, these are the places to go for Michelin starred meals in Macau.
Robuchon au Dôme
(See featured image)
The crystal light chandelier made up of over 131,500 pieces of Swarovski cascading from the middle of the ceiling is certainly the kind of welcome that will make all diners feel awed. Robuchon au Dôme has cemented its status as one of the region's top dining destinations. Having been awarded three Michelin stars for eleven consecutive years by the MICHELIN Guide Hong Kong and Macau from 2009 to 2018, the restaurant presents an impressive menu of French gastronomic cuisine, meticulously crafted by the world's most Michelin-starred chef Joël Robuchon.
Prepare to be captivated by divine dishes beautifully presented featuring a wonder of flavors. From the enchanting atmosphere to sophisticated interiors and excellent wine list, Robuchon au Dôme is also renowned for using the best tableware. Dining at this iconic restaurant is simply an unforgettable experience where culinary artistry meets classic luxury.
Robuchon au Dôme Grand Lisboa, Avenida de Lisboa, Macau, +853 2828 3838, www.grandlisboahotel.com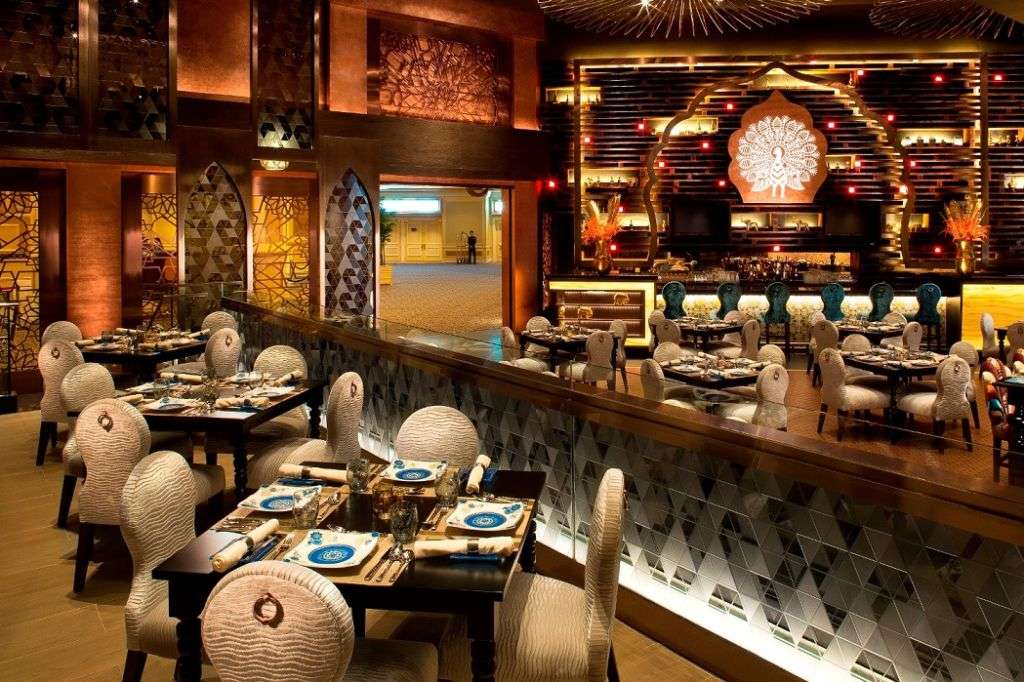 Golden Peacock
There's a reason the likes of David Beckham and Amitabh Bachchan love the food at The Venetian Macao's Golden Peacock. The quality and consistency that Chef Justin Paul takes pride in manifests through every dish sealing its constant one-Michelin star recognition. You'll discover creative dishes that are pleasing to the palate at this Indian restaurant. The menu covers all parts of India and much to the patrons' pleasure, the spices are ground in-house!
We recommend the Kandari murgh tikka, which is a signature dish of the restaurant. The plating is breathtaking as with every bite of the chicken, and the perfect marination complements the seasonal salad. Chef Justin and his talented team uses both local and imported produce from all over the region and most especially, India. There is a wonderful level of originality and yet a dash of tradition in the dishes. The Karawari scallop, Dal Sona Mor (black lentils, fresh plum tomato puree, clarified butter, fresh cream) and Badal-e-jaam (purple eggplant, roasted almond flakes, yogurt, cumin, green chilies, saffron) are among the best-selling choices on the menu. Don't leave without trying the Kashmir Khazana (blood orange ice cream, Arabic dates, Kashmiri saffron) that's a fairytale end to a gastronomical journey at this award-winning restaurant.
Golden Peacock The Venetian Macao, Shop 1037, Level 1, +853 8118 9696, www.venetianmacao.com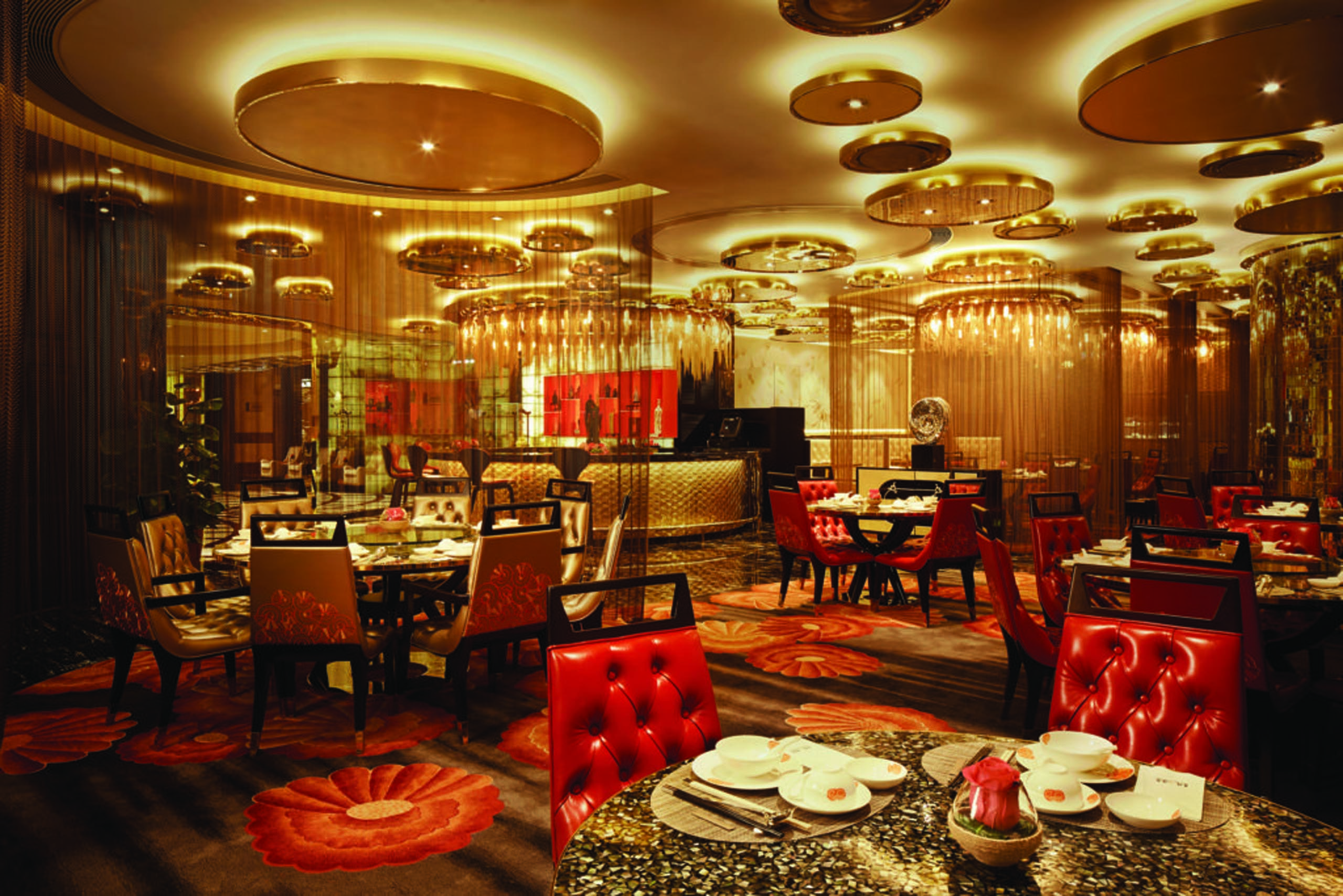 Feng Wei Ju
Feng Wei Ju at StarWorld Hotel has exceeded every expectation making it a topnotch dining destination in Macau with two stars from the prestigious Michelin Guide. Located on the fifth floor, you'll find a stylish yet cozy interior design with massive gold pebble pillars and dark red leather chairs. See the chefs in action from the open kitchen but if you prefer an intimate setting there are also two elegant private rooms for special gatherings. Dive deep into the rich history and culture of Sichuan cuisine with every dish at this restaurant.
The exquisite décor and every element in the restaurant are crafted with meticulous attention to detail that's also echoed in the food on your table. You'll find beautifully presented and meticulously prepared dishes bursting with flavor making Feng Wei Ju a precious pearl of Chinese cuisine. Amongst the must-try dishes are the braised pork belly "mao" style, boiled mandarin fish fillets in chili oil, and northern handmade noodles.
Feng Wei Ju StarWorld Hotel, 5/F, Avenida da Amizade, Macau, +853 8290 8668, www.starworldmacau.com

Alain Ducasse at Morpheus 
One of Macau's latest claim to culinary fame is none other than Alain Ducasse at Morpheus. Located at the heart of the stunning architecture, the setting is stylish and intimate, creating a unique ambiance for diners. Open for only a year, it already has two Michelin stars under its belt! Partake in the legendary dishes of the iconic French chef who is the restaurant's namesake. The menu has a mix of classics and contemporary French gastronomy, which are definitely not to be missed where every dish is simply superb in taste and presentation. The wine list is well-curated and the service, simply exceptional.
Make Alain Ducasse at Morpheus the top of your list of Michelin starred restaurants to visit in Macau. Savor the flavors of great traditions and the finest of French cuisine not just in Macau bit in the region. The restaurant undoubtedly serves an unparalleled presence from the legendary chef. Plan your next date night here and it's bound to be unforgettable!
Alain Ducasse at Morpheus Morpheus, City of Dreams Macau, Estrada do Istmo, Cotai, +853 8868 3432, www.cityofdreamsmacau.com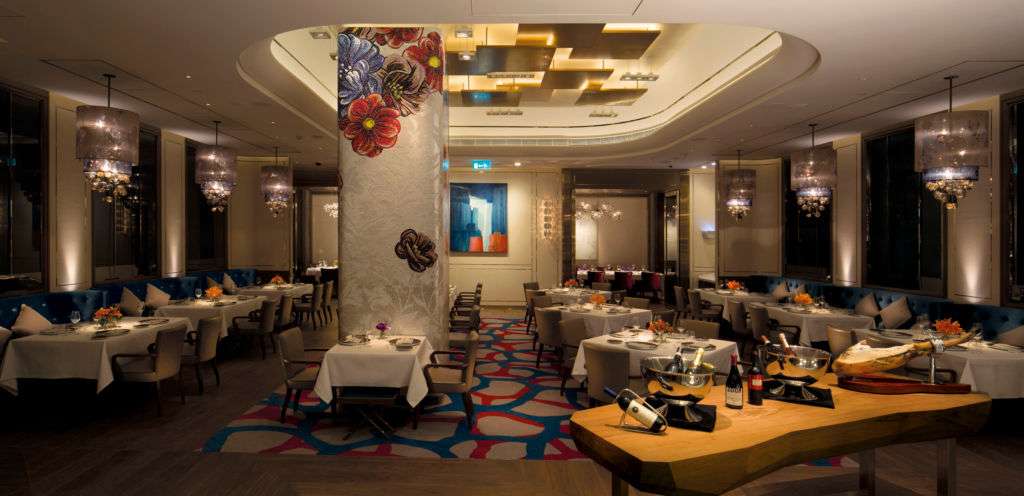 8½ OTTO E MEZZO BOMBANA
True gourmands who visit Macau should always make a stopover at Galaxy Macau's 8½ Otto e Mezzo Bombana. The one-star Michelin restaurant presents exceptional Italian cuisine and attentive service that surpasses all expectations. Be surrounded by elegance and sophistication while savoring the super-rich flavors of Italy.
Make time to arrive a little bit earlier for your dinner and enjoy an aperitif at the stunning central bar. There are a lot of selection on the menu with dishes creatively crafted to sate all senses. Some of the all-time favorites are the homemade tagliolini with butter, parmesan, and Alba white truffle or the scampi carpaccio and Hokkaido king crab with fennel emulsion, Amalfi lemon, and river Beluga caviar. Meat lovers can rejoice at the Mayura M9 sirloin and short ribs with charred artichokes, red wine, and plum sauce or the Aveyron lamb with eggplant roll, bell pepper, and natural jus.
8½ Otto e Mezzo Bombana 1031, 1F, Galaxy Macau, Estrada da Bai de Senhora de Esperanca, Cotai, +853 8886 2169, www.galaxymacau.com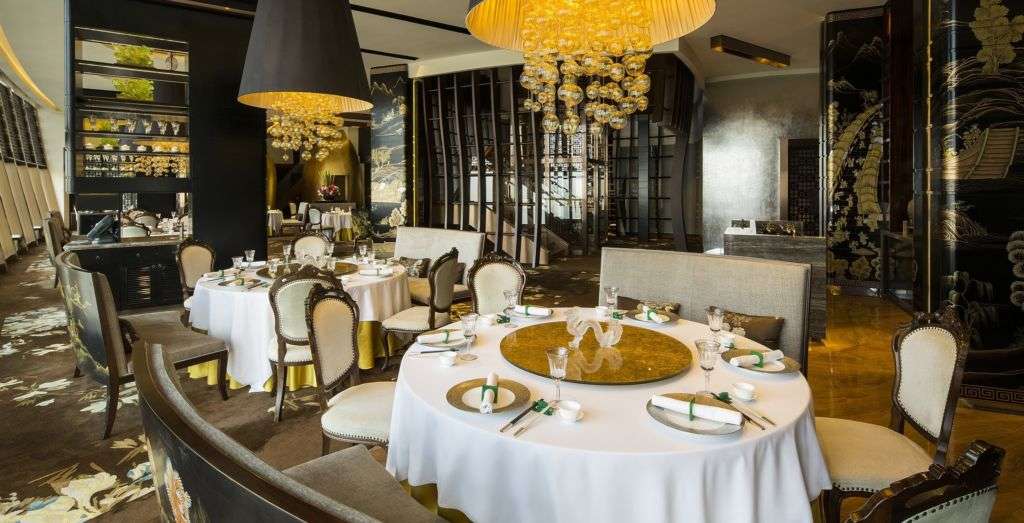 JADE DRAGON AT CITY OF DREAMS
In Macau, Jade Dragon has certainly set the standard for gastronomy by being the only restaurant to receive three stars from the Michelin Guide for the first time this year. The stylish restaurant entered the red guide with one star in 2014 and has held on to two stars since 2016 before claiming the coveted third star this year. Chef Kelvin Au Yeung is cited as the man behind the success of this dining location for authentic Cantonese specialties, made from the highest quality ingredients.
Bask in the beautiful surroundings of crystal, gold, and silver giving you the royal treatment from start to finish of your dining experience. From the carved jade chopstick stands to the glass-clad wine cellar, everything around you is simply stunning. The food is simply unforgettable with dishes like lychee wood-barbecued meat and their double-boiled tonic soups based on herbal medicine. The service is superb in every way making you feel like a king or queen for the day.
Jade Dragon City of Dreams, Estrada Do Istmo, +853 8868 6688, www.cityofdreamsmacau.com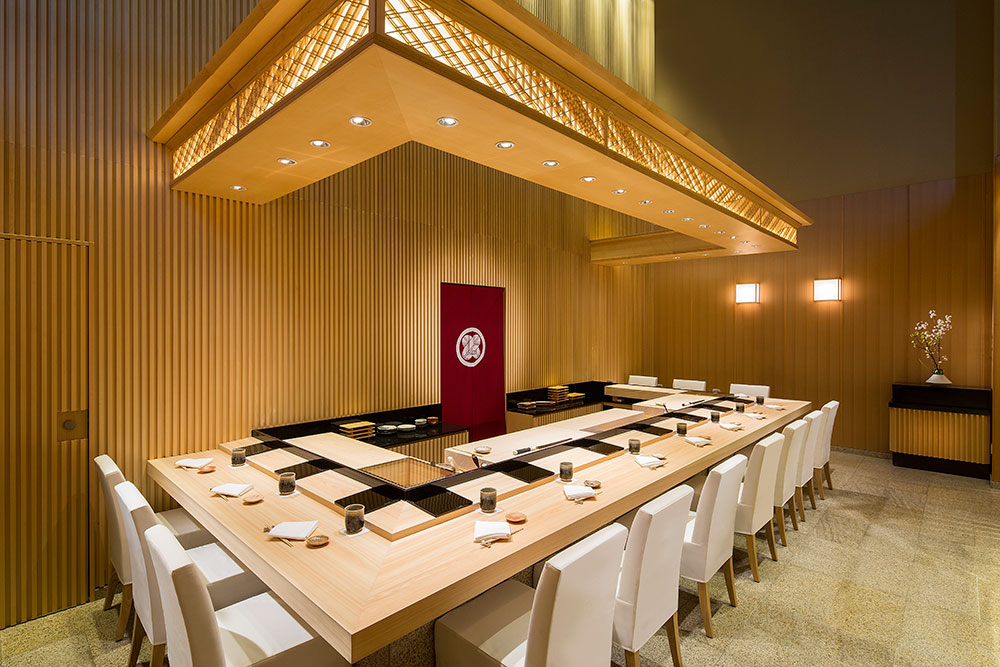 Shinji by Kanesaka
*Closed as of April 2020*
You'll find the true art of perfection when it comes to Japanese cuisine in Macau at the City of Dreams. This luxurious location is home to Shinji by Kanesaka. While the interior is minimalist with a simple and sleek style, the dishes overcompensates for an exquisite presentation. This one Michelin-starred restaurant gives a glimpse of the core of Japanese culture and art as defined by "kata" and "do". Sushi lovers will be enthralled by the finest Edo-style sushi, served at the counter where you can observe the talented work of the chef. Don't leave without a try of the omakase menu where the chef designs your dining experience based on the best ingredients of the season, from cold to hot dishes, from sushi to dessert.
Shinji by Kanesaka City of Dreams, Estrada do Istmo, Cotai, Macau, +853 8868 6688, www.cityofdreamsmacau.com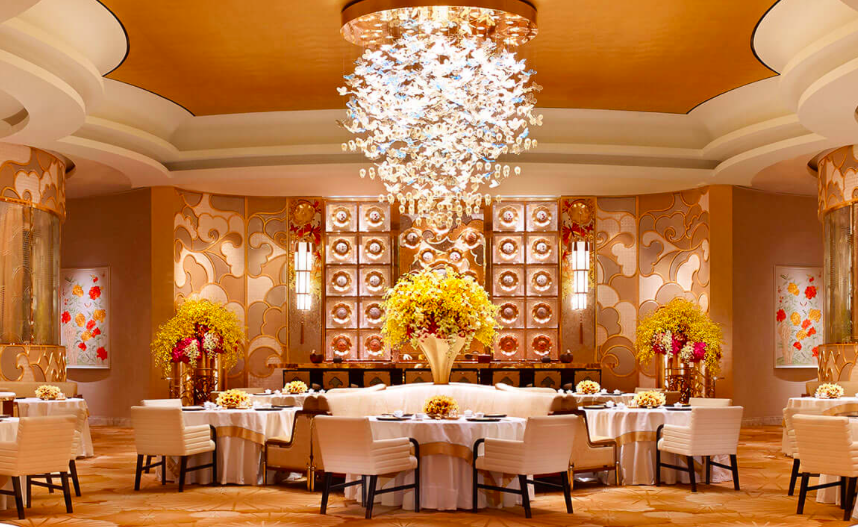 Sichuan Moon at Wynn Palace
Renowned Chef Andre Chiang has made a stunning debut with the launch of Sichuan Moon at Wynn Palace in 2019. Showcasing the unique aromas and flavors of Sichuan cuisine, the highly-acclaimed chef has been recognized widely for his masterful culinary work. He transforms Sichuan cuisine through artistic flair thoughtfully incorporated in every dish. Chef André captures the refined and creative character of this Chinese cuisine that has made waves in the world of gastronomy.
Having gained two Michelin stars, Sichuan Moon is definitely a milestone for Macau as it continues to rise as a global dining destination. Prepare for elegance with meticulously prepared dishes bursting with flavor. Taste the rich history and culture of Sichuan cuisine through Chef André and his value of the highest quality of ingredients. Their ma po tofu, in particular, is a masterpiece that needs to be experienced. You can also sample extraordinarily rare specialty teas that are available for pairing with the dishes. Chef André's goal is simple, he says,  "I want the world to fall in love with Sichuan cuisine through Sichuan Moon."
Wynn Palace Cotai Av da Nave Desportiva, Macau, +853 8889 8889, www.wynnpalace.com
Tags
Related Posts