What is a better way to celebrate French GourMay than diving into the immense world of French cuisine? This time, we suggest not to leave your dessert for later but instead, start your day with a delicious freshly baked French pastry. What should you choose? We rounded up a list of France's best, sweetest, flakiest, and creamiest desserts so you could decide where to get your French dessert fix in Macau. Bon appétit!
Macarons
(Featured image above)
The Duchess of Sussex Meghan Markle herself has pledged her love for macarons. Imagine the perfect harmony of a crunchy biscuit and soft delicate filling blending in your mouth. If there's one thing we learned from sampling and researching macarons, the baking process is not simple and requires patience, precision, and dedication. Macarons are not just trendy but timeless. The fillings variety is immense: from salted caramel to lemon curd, chocolate ganache, and plenty of other creative flavors.
Where to have a bite: Pastry Bar
MGM's pit stop for pastry lovers offers all kinds of sweet and savory treats, from Asian seasonal desserts to French classics. Among them is a mighty macaron. Ask the friendly MGM staff to get you a couple of each flavor for takeaway and share them with friends or colleagues over a lunch break. You could also enjoy them with a cup of fresh coffee at the Pastry Bar for tea time.
Pastry Bar MGM Macau, G/F, Avenida Dr. Sun Yat Sen, NAPE, Macau, +853 8802 2324, www.mgm.mo
Crepes
Avoid the faux pas of comparing crêpes to your ordinary pancakes. Crêpes are bigger, thinner, more delicate, and most notably, French! To cook them, chefs use cast-iron pans to deftly flip the crêpes up in the air. Have them for breakfast, lunch, dinner, or as a street food snack–the variety of fillings, both sweet and savory, allows you to never get bored of them.
Where to have a bite: Aux Beaux Arts
One of the best French restaurants in Macau, Aux Beaux Arts perfectly captures the essence of 1930s French brasserie. Vintage elements of design, mahogany walls, and art deco interior set the scene for a memorable dinner while chef Jerome Deconinck and his team use complicated techniques to prepare excellent French dishes. To elevate your dining experience, try Crêpes Suzettes flambéed with Grand Marnier at your table, a combination of an awe-inspiring presentation and delicate flavors.
Aux Beaux Arts MGM Macau, Avenida Dr. Sun Yat Sen, Macau, +853 8802 2319, www.mgm.mo
Also read: Best French Restaurants in Macau
Also read: Chef Jerome Deconinck: French Art of Living at the Revamped MGM Macau's Aux Beaux Arts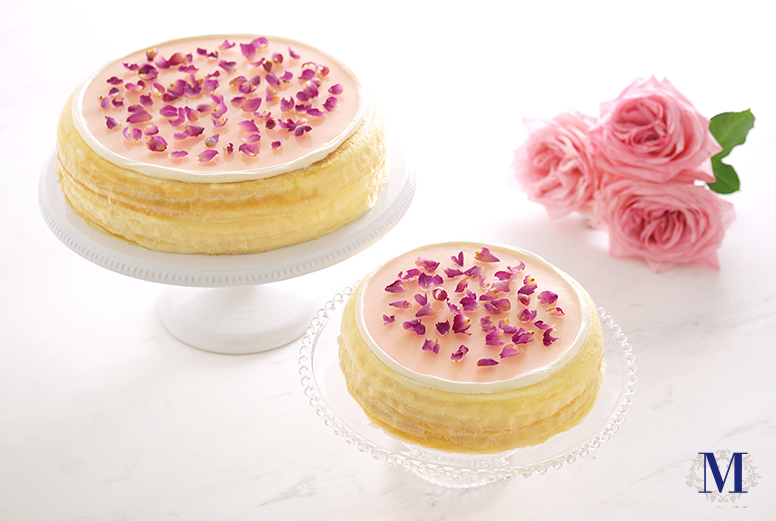 Mille-Feuille
One of the French classics with origins tracing back to the 16th century, mille-feuille, is a dessert with three layers of puff pastry and vanilla pastry cream between them. Then, the top layer is coated with a sprinkling of powdered sugar, icing, chocolate, or fresh berries. Although it is unclear who created the recipe, its modern form is the achievement of Marie-Antoine Carême, a French chef who specialized in the French art of cooking. From Italy, Iran, and the Philippines, this pastry has found a spot in many cuisines for its exquisite taste.
Where to have a bite: Lady M
Lady M built its strong brand on layers and layers of mille crêpes, a twist on the traditional French dessert. The renowned pastry brand hails from New York and made its way to Hong Kong and Macau. Their signature cake features twenty thin mille crêpes with light cream and a golden caramelized top. If you fancy something more unusual, go for a piece of rose mille crêpes cake, banana, or matcha mille-feuille.
Lady M Shop 2203B, Level 2, Shoppes at Cotai Central, Sands Cotai Central, Macau, +853 2855 1680, www.ladymhk.com
K02, Grand Canal Street, Level 3, Shoppes at Venetian, Macau, +853 2825 8320
Napoleon 
Some chefs and pastry aficionados will argue that mille-feuille and Napoleon are two names for one cake. Other meticulous researchers will disagree and call them two different things. Napoleons usually come with almond cream instead of vanilla, while mille-feuille traditionally features pastry cream.
Where to have a bite: The Mandarin Cake Shop
When looking for authentic French desserts, always search for a French chef. While we don't claim only French pastry chefs know how to bake a croissant, they do have that je ne sais quoi element that makes them stand out from the others. That is why you will find some of the best French pastries in town at The Mandarin Cake Shop where chef Sebastien Bernis works his magic. Just one glance at their cake and pâtisserie display is enough to have you cancel your day plans and skip the diets. The Mandarin Cake Shop's Napoleon is one of their bestsellers–decorated with fresh berries and bakes with a lower sugar content than traditional cakes, this dessert deserves all the love and popularity it has in Macau.
The Mandarin Cake Shop Mandarin Oriental, Macau, Avenida Dr. Sun Yat Sen Nape, Macau, +853 8805 8948, www.mandarinoriental.com/macau
Also read: That Takes the Cake! The Mandarin Cake Shop's Cakes for Every Taste
Also read: Of Cakes & Fitness: Mandarin Oriental, Macau's Pastry Chef Sebastien Bernis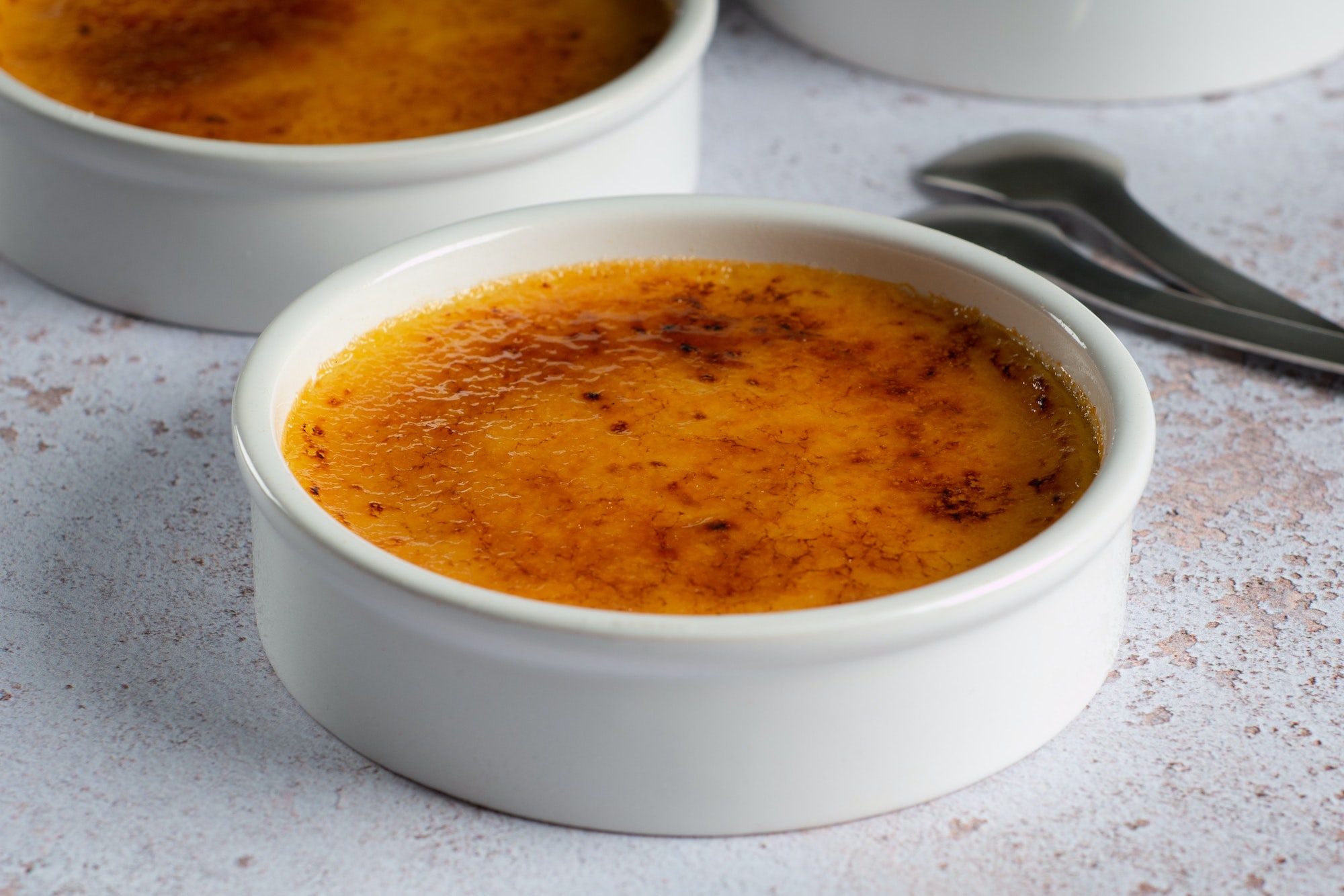 Crème Brûlée & Crème Caramel 
When craving a less filling dessert than a pastry but not as light as sorbet, crème brûlée would be a great choice. Known for centuries, this recipe first appeared in a French cookbook. However, up to this date, several countries claim the origin (Spain with creme Catalana and England with Trinity Cream). Essentially, this dessert is a smooth custard cream with a caramelized top served chilled in individual ramekins. To make the caramelized crust, chefs sprinkle some sugar on top and use a butane torch. By choosing this simple dessert, you are setting yourself up for the ultimate pleasure of breaking the golden crust with a spoon–the sound of indulgence!
Crème caramel is a similar dessert to crème brûlée. The main difference is that instead of the caramel crust it comes with caramel sauce on top. Also, it features a silkier, more gelatinous texture.
Where to have a bite: Café de Paris Monte-Carlo
A sister cafe of the original Café de Paris in Monaco, Macau's outlet offers the atmosphere of a classic French cafe, with the signature Belle Époque design and traditional French dishes on the menu. Créme Caramel is one of the pastry chef Sylvian's signature desserts. So don't hesitate to opt for it if you want something authentic French.
Café de Paris Monte-Carlo Galaxy Macau, Estrada da Baía da Nossa Senhora da Esperança, Cotai, +853 8883 2221, www.galaxymacau.com/cafe-de-paris
Also read: From Monte Carlo with Love: Café de Paris Monte-Carlo, Galaxy Macau
Paris-Brest
The Paris-Brest is meant to be devoured. Invented by chef Louis Durand in 1910 to commemorate the Paris-Brest bicycle race, this heavenly ring of choux pastry is commonly filled with hazelnut and almond cream. This French dessert is shaped round reminiscent of a wheel. It became popular with riders on the Paris–Brest cycle race referring to its energizing nutrients. Although we can't stroll to pâtisseries in France right now, we can have a bite of this sweet treat right in the heart of Macau.
Where to have a bite: Sweets at Wynn Palace
Macau is teeming with cake and pastry shop but there is hardly another one as fun and colorful as Sweets at Wynn Palace. Coincidentally, this is the right spot to find a good Paris-Brest, if you're craving for a taste of France. Their delightful banana passion fruit Paris-Brest will captivate your tastebuds. If you're celebrating an occasion, check their customized cakes menu here.
Sweets Wynn Palace, Avenida Da Nave Desportiva, Cotai +853 8889 3663, www.wynnpalace.com
Soufflé
A soufflé is a baked egg-based dessert made with egg yolks and beaten egg whites. This airy and puffy dessert ("souffler" means to puff in French) looks simple but it's actually not that easy to perfect. When properly baked, soufflé offers light texture and subtle flavors. Sweet or savory, it is a perfect treat to conclude a meal.
Where to have a bite: L'Attitude
One can always expect an unforgettable culinary adventure when visiting L'Attitude. This dining destination offers a haven of all things French and beautiful in the heart of Macau. Guests will find the Grand Marnier souffle on their spectacular menu. It's served in a copper saucer with a citrusy sorbet on the side. Pastry chef Nicolas Dolbeau has created delectable flavors and lightweight texture ensuring that this classic French dessert will be the one to remember. 
L'Attitude City of Dreams Macau, Estrada do Istmo, Cotai, +853 8868 6688, www.cityofdreamsmacau.com
Also read: Voyages by Alain Ducasse: A Visit to a French Bistro
Tarte au Citron
The French-style lemon tart is a popular dessert that transcends beyond the French borders. Coming from a large family of tarts, tarte au citron is basically a buttery crust filled with citrusy custard. What makes this dessert great is the perfect balance of sweet and sour with a sharp lemon flavor. You'll discover that the filling is quite similar to that of a lemon custard but this particular pastry shines on its own.
Where to have a bite: Passion by Gerard Dubois
When looking for a spot to have a quick bite but not willing to sacrifice quality for the speed of service, Passion. by Gérard Dubois is the right place to go. Browse through thick creamy hot chocolate and delicious desserts to your heart's content. This traditional French bakery café echoes the lifelong passion of the owner–Swiss-born pastry chef–Gérard Dubois to deliver the finest quality of food to every customer. Bringing a European vibe to this side of Asia, their Tarte au Citron is a must-try.
Passion by Gerard Dubois at Starworld Hotel, G/F Starworld Avenida de Amizade, Macau, +853 8290 8685, www.starworldmacau.com/restaurant/passion-gerard-dubois
Passion by Gerard Dubois at Galaxy Macau G051 G/F, Galaxy Macau, Cotai, +853 8883 2221, www.galaxymacau.com/en/dining/restaurants/passion-by-gerard-dubois
Also read: Best Freshly Baked Bread in Macau
Croissants
Who doesn't love a good croissant? One bite of this viennoiserie will make your heart sing in French. Whether it's filled with chocolate, cheese, ham, or even just plain, we love this delicious pastry in all forms. You can definitely indulge in an authentic taste of this well-loved obsession of ours here in Macau. These crescent-shaped pastries have existed since the Renaissance period, evolved through the ages, and can now be certified as a continental breakfast staple.
Where to have a bite: Élysée Bakery
You'll know that you're in the right place when you meet a French baker and Élysée Bakery has that exactly. Bringing authentic French pastries to Macau, this beautiful bakery is a popular choice for freshly baked baguettes, croissants, and more. Their pastries are heavenly and their sandwiches are also a hit with the Macau crowd for marvelous taste and huge portions.
Élysée Bakery Edificio Hio Fai, 52 Rua de Pedro Coutinho, +853 2852 7763, www.facebook.com/ElyseeBakery
600 Avenida Olímpica, Edificio Va Fai, Taipa Village
Shop K302, Place Vendome, The Parisian Macao, Estrada do Istmo, Lote 3, Cotai
G/F, Block O, Kam Loi Building, 1 Rua do Comandante Mata e Oliveira, Avenida de Almeida Ribeiro

Pain au Chocolat
Made of the yeast-leavened dough, same as the croissant, pain au chocolate is a flaky roll with a gooey chocolate filling. Eat it at room temperature or still warm from the oven, this pastry will make a great breakfast or an afternoon snack.
Where to have a bite: Jam & Butter
A cozy bakery and cafe at One Oasis residential complex is a common spot to gather for all the Coloane dwellers. Offering fresh juices, breakfast and lunch dishes to enjoy all day, and freshly baked goodies, Jam & Butter seems to satisfy all kinds of hungry visitors. They bake bread and pastries in-house, so when in need of a sweet fix, stop by! Jam & Butter's pain au chocolate is our favorite in town, for its ideal flaky pastry and the right amount of chocolate filling.
Jam & Butter Estrada de Seac Pai Van, One Oasis, Shop 12–13, Cotai,+853 2877 2628, www.facebook.com/Jam-Butter 
Also read: Good Morning Macau: Best Cafes for Breakfast

Profiterole
Small choux pastry balls filled with whipped or pastry cream, custard, or ice cream are as simple as they are dangerous. The danger is that their small size and airy texture fools you into forgetting how many you've already eaten. Topped with chocolate, powdered sugar, caramel, or served plain, they make an ideal dessert to enjoy alone or share with fellow dessert fans.
Where to have a bite: The Ritz-Carlton Café
Everything about the charming The Ritz-Carlton Café radiates French bistro vibes. From the beautiful Carrara white marble surfaces to the art deco-style chandeliers and wall-length mirrors, every detail echoes the timeless vibe of Parisian chic. And when in Paris, don't skip a dessert! Whatever you choose, The Ritz won't disappoint. We strongly recommend their profiteroles, not too filling and perfectly satisfying.
The Ritz-Carlton, Macau Galaxy Macau, Estrada da Baía da Nossa Senhora da Esperança, Cotai, +853 8886 6712, www.ritzcarlton.com
Eclair
A skinnier choux pastry brother of the profiterole, éclair is an essential dessert at every Parisian patisserie. The fillings and toppings variety limits only to chefs' imagination and creativity. From classic vanilla cream with chocolate glaze éclair to tropical combinations, berry fillings, there is something for everyone.
Where to have a bite: Le Goûter
Hands down, Sofitel Macau At Ponte 16 perfectly embodies their concept of French art de vivre. Be it their comfortable rooms, or relaxing spa rituals, or dining establishments–everything here is to satisfy guests' whims and cravings. The cherry on top is Le Goûter, the pastry shops with artisanal chocolate, stunning afternoon tea sets, and, of course, a selection of French desserts. The assortment varies, but usually, you can find several types of éclairs here. If you do, don't think twice! Order a couple and enjoy them with a cup of fresh coffee.
Le Goûter Sofitel Macau At Ponte 16, Rua do Visconde Paço de Arcos, Macau, +853 8861 0016, www.sofitelmacau.com/dining/le-gouter
Tags
Related Posts