We all love good food. But when we enjoy a lavish meal in remarkable interiors, it's an even more memorable experience, isn't it? Luckily for Macau inhabitants and guests, the city has an array of restaurants that, for the same price, will serve a feast for your palate and also for your eyes. So while taste differs and design magazines have their specific ways to award what they think stands out, we at Macau Lifestyle composed our own list of Macau's restaurants and bars with the best design. Read on and find out the best places to dine and snap photos!
L'Attitude 
(See featured image above)
Located at the futuristic Morpheus Hotel by Zaha Hadid Architects, L'Attitude recently dropped its old name yet kept everything else, from the fantastic design to French bistro-style cuisine.
The design bureau responsible for the L'Attitude project is Jouin Manku, a collaboration of Patrick Jouin and Sanjit Manku, neither architects nor designers, as they present themselves. Among their works are the designs for an Air France lounge, luxurious hotels, boutiques, and fancy restaurants.
The shade that dominates the space is persimmon-inspired orange, complemented by foggy blue hues and walnut furniture. That color scheme, along with the large rectangular ceiling lamps, gives L'Attitude somewhat a 60s vibe. Yet, the stunning artworks and a glassed-in garden contribute to the restaurant's contemporary side. The two art pieces are Romain Bernini's Octopus, spreading its giant tentacles over French cuisine lovers, and an installation of acrylic tiles by Léa Maupetit. Notably, the latter features 100 tiles with Alain Ducasse's iconic ingredients and his handwritten notes (as L'Attitude used to be Alain Ducasse's business). Last but not least. the bar counter is a masterpiece of its own, both for the cocktails they have and for the ideal combination of its Italian ash marble counter matches with emerald velvet stools.
L'Attitude City of Dreams Macau, Estrada do Istmo, Cotai, +853 8868 6688, www.cityofdreamsmacau.com/lattitude-bar
Also read: Voyages by Alain Ducasse: A Visit to a French Bistro

Lai Heen
The city's highest restaurant on the 51st floor of The Ritz-Carlton, Macau is also one of Macau's restaurants with the best design. Offering delicious Cantonese cuisine, Lai Heen also satisfies sophisticated guests with the splendor of its dining halls.
The Ritz-Carlton, Macau always incorporates regional heritage into the design of its establishments. Hence, for Lai Heen, they chose a company on the same page with them, Japanese Strickland. Embedding threads of local culture into interiors they create is the agency's signature style. So while chefs work their magic and perform the most complicated techniques to create masterpieces of Cantonese cuisine, Strickland made sure diners get to enjoy another important part of Macau's DNA–the blend of Portuguese and Chinese cultures. Handpicked white and blue porcelain, azulejo on the walls, elegant wooden furniture, carved wall and ceiling panels all speak for superior craftmanship, making Lai Heen a harmonious homage to those cherished traditions.
Lai Heen 51F, The Ritz-Carlton, Macau, Galaxy Macau, Estrada da Baía de Nossa Senhora da Esperança, Cotai, +853 8886 6868, www.galaxymacau.com/lai-heen
Also read: The Most Outstanding Chinese Restaurants in Macau

Five Foot Road 
Inspired by the trade path used to connect Europe with Asia, Five Foot Road offers excellent Sichuan cuisine. Moreover, it is one of Macau's restaurants with the best design. The company behind it is Chhada Siembieda and Associates, a Hong-Kong-based bureau that also designed Banyan Tree Resort & Spa, Galaxy Hotel, and Hotel Okura in Macau, among many other projects.
Ancient traditions with contemporary elements blend in a charming aesthetic. Lightweight and almost transparent glass curtains showcase beautiful art with Sichuan flora, while wall panels depict mountainous landscapes. Well-thought anti-glare lighting design compliments the surroundings and highlights every table. From table decor to textile, every part tells a story of the Silk Road.
If you don't feel like having a full dinner or wish to relax afterward, check out the cozy yet sophisticated tea lounge that pays homage to traditional tea houses in Chengdu.
Five Foot Road MGM Cotai, Avenida da Nave Desportiva, Cotai, +853 8806 2358, www.mgm.mo/five-foot-road

The St. Regis Bar Macao
After a major long-term renovation, the signature bar of The St. Regis Macao reopened, surprising their first guests with a reinvented concept. While its previous version looked like a classic hotel lounge bar to sip whiskey with pleasant piano tunes, the new concept combines a gentleman's club, a stunning jazz venue, and a luxurious chill-out spot. All that beauty was possible thanks to the professionalism and creativity of a high-ranked Hong Kong design bureau, Steve Leung Design Group.
The designers furnished the bar with comfortable leather sofas, plush, and soft textile upholstery to set the relaxing and intimate ambiance. Timber panels, art deco patterns, and dimmed lights move guests back to New York City at the beginning of the 20th-century when alcohol was available only at secret bars, aka speakeasies.
Hands down, the bar's centerpiece is the beautifully lighted up counter with a unique mural explicitly commissioned for The St. Regis Macao. Besides the Macau-inspired canvas, there is a curated collection of art all around the bar. Another stunning part of this place is the Decanter room for guests who prefer more intimacy and even more sophistication. Here they can relax on a plush sofa admiring the 3D ceramic sculpture on the wall while swirling a fine cognac from the wooden cabinet, enveloped in an overall sense of opulence and luxurious comfort.
The St. Regis Bar Macao 2F, The St. Regis Macao, The Londoner Macao, Estrada do Istmo, s/n, Cotai, +853 2882 8898, www.thestregisbarmacao.com
Also read: The St. Regis Bar Macao: The Hottest Spot in Town

Robuchon au Dôme 
Located at the dome of Grand Lisbon Hotel, Robuchon au Dôme is not just a luxurious restaurant but a brand. Macau's establishment is a part of the big international family of top-class restaurants connected with the name of Joël Robuchon, a renowned chef, and restaurateur with the biggest number of Michelin stars.
While the dining experience here is undoubtfully memorable, the interior deserves attention as well. The project was assigned to Alan Chan Design Company and Gwenael Nicolas, a French designer from Curiosity Inc. Inspired by French opera theater, it combines classic and modern elements. With accents of gold and bronze, the interior features brown and black hues. The addition of tinted mirrors, Baccarat floor lamps, etched glass by Riedel and Bernardaud serving plates adds up to the highest class of Robuchon au Dôme.
Robuchon au Dôme Grand Lisboa, Avenida de Lisboa, Macau, +853 2828 3838, www.grandlisboahotel.com
Also read: Robuchon au Dôme: A Tale of Legacy and Exceptional Cuisine
Also read: Michelin Starred Restaurants in Macau to Dine At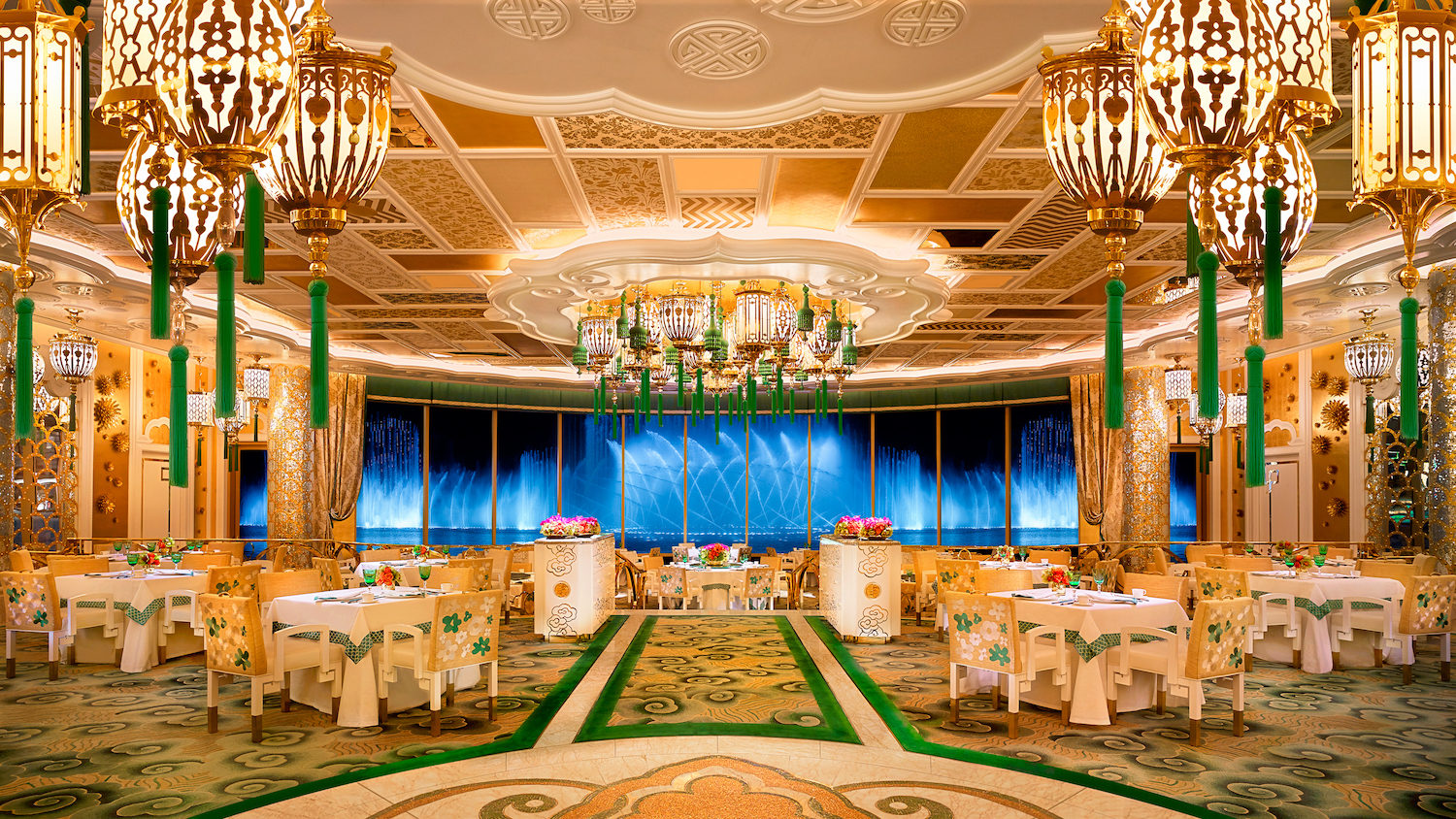 Wing Lei Palace
With Wynn Palace's theme being flowers and blossom, one of its signature restaurants, Wing Lei Palace, echoes that inspiration with a myriad of flower patterns and flower decor. Wynn Design and Development, particularly its chief designer Roger Thomas, was responsible for the striking interior.
To comply with the luxurious affair of Cantonese fine dining, he turned the restaurant into an opulent Chinese mansion. Among its most precious treasures is the panoramic view of the legendary dancing fountains of Wynn Palace, the Performance Lake. Setting that awe-inspiring action aside, there are plenty of other elements to admire. Upon entering Wing Lei Palace, guests go through a corridor of scaled vases with gorgeous live orchids. Champagne, gold, and jade colors dominate the color scheme, while emerald curtains with fringe and golden chandeliers with tassels step up as vibrant accents.
If you have some extra time before dinner, stop by Wing Lei Bar next to the restaurant to admire its "jewel box" design with semi-precious stone-inlaid walls and an antique 18th-century chandelier with a total value of over USD $25 million!
Wing Lei Palace Wynn Palace, Avenida Da Nave Desportiva, Cotai, +853 8889 3228, www.wynnpalace.com
Also read: Best Private Dining Rooms in Macau

Yí
Impressively enough, Morpheus Hotel accommodates yet another remarkable design on its premise. Yí is famous for the Chinese haute cuisine tasting sets that chef Wilson Fam crafts addressing Book of Changes, a text of great significance in Chinese culture. While the gastronomy experience surprises diners with a profound approach, refined presentation,  and mindblowing flavors, the design is an experience of its own.
Like Morpheus Hotel itself, Yí was designed by Zaha Hadid Architects. The 21st floor's sky bridge location brings extra advantages as, instead of a regular ceiling, Yí boasts a geometrical exoskeleton that adds a contemporary side to the design. Golden semi-domes surround every table here, guaranteeing extra privacy to dining parties. They remind us of resting dragons, primarily because of their metal-scaled "skin".
Apart from the golden scales, the restaurant mainly features calm beige hues. The snow-white tablecloth, gorgeous glassware, and custom-made tableware by Monica Tsang Designs become those accents that define Yí as an exquisite establishment that you would need to dress up to visit.
Yí Level 21, Morpheus Hotel, City of Dreams, Estrada do Istmo, Cotai, +853 8868 3446, www.cityofdreamsmacau.com/yi
Also read: Yí at Morpheus: Chinese Haute Cuisine & the Book of Changes
Tags
Related Posts