Macau is home to a series of wonderful parks. Filled with lush greenery and plants, playgrounds for kids, picnic areas, and seating zones, parks are a sought-after necessity in busy and bustling Macau. There might be some similarities in the concepts of parks and gardens, but these are definitely different. While gardens are more of a sightseeing venue with more vegetation and fewer facilities, parks usually feature a children's playground, fitness structures, a snack bar or kiosk, seating areas, perhaps even lakes, swimming pools, trails, and more. Check out some of Macau's best parks!
● Macau ●
Dr. Sun Yat Sen Municipal Park
(See featured image above)
Nestled close to the Gongbei border, this is one of the biggest parks in Macau. Boasting different areas such as a jogging trail, freshly mowed lawns, a giant sculpture of two hands–called Forever Handshake, it was created by Lau Kuai Peng in 1997 and it's a symbol of the friendship between China and Portugal–a children's playground, fitness equipment, a tennis court, a football field, a swimming pool, barbecue area, a performance area, and even a library. For those feeling the smallness of Macau, we recommend heading to this park and spending the whole day enjoying the pool, some jogging or simply strolling through this beautiful wide open-air area.
Dr. Sun Yat Sen Municipal Park Avenida Comendador Ho Yin, Macau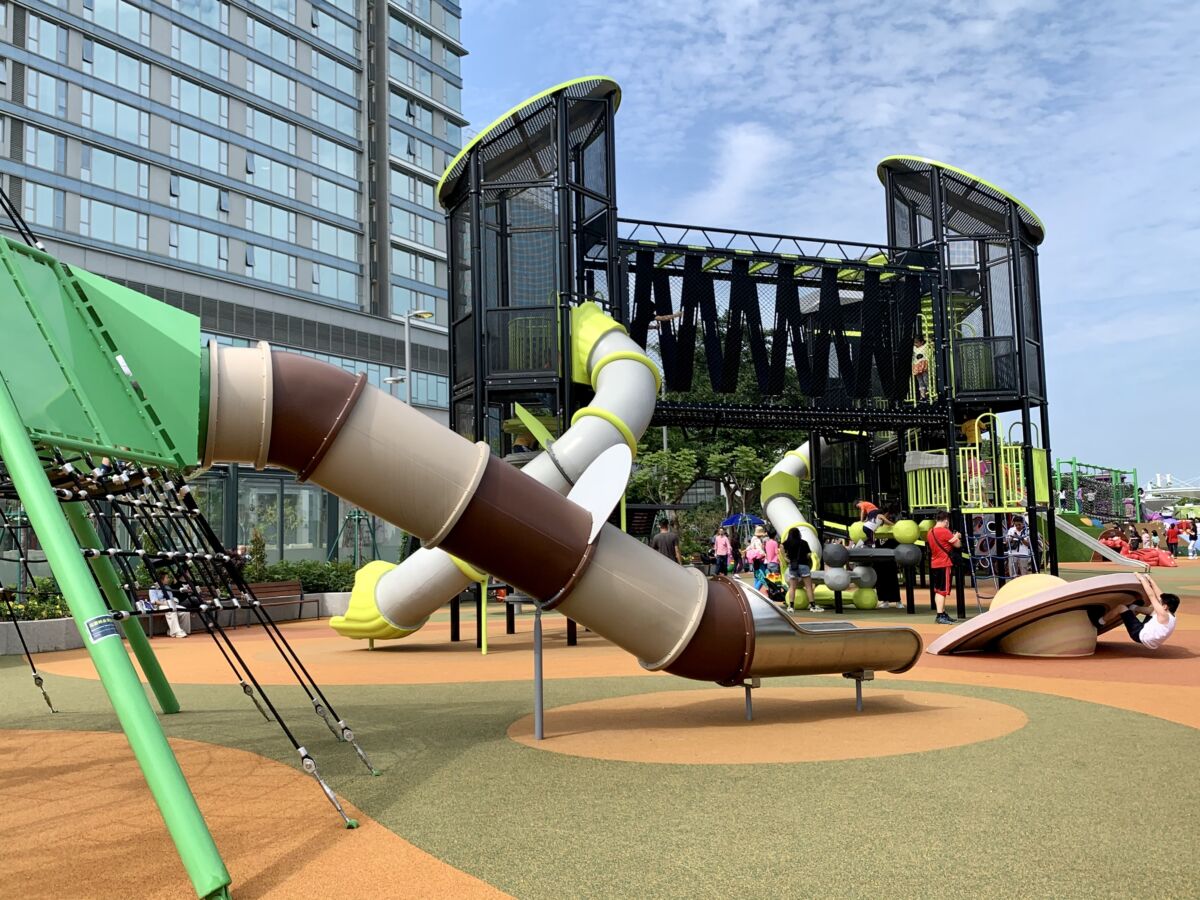 Kun Iam Statue Waterfront Park
Right beside the Macao Science Centre and the iconic Kun Iam bronze statue, this park was inaugurated in 2021 with state-of-the-art structures for kids to play all day long with each other. It covers around 15,000 square meters and also has a walking trail, a multi-functional sports court, a fitness and leisure area, a gateball court, a roller skating rink, a café, and much more. Welcoming and busy, it features an open-air area where the whole family can relax over the weekend or at the end of a day's work. It also allows for a pleasant walk by the river.
Kun Iam Statue Waterfront Park Area Avenida Dr. Sun Yat-Sen, Macau
Also read: The Best Playgrounds for Kids in Macau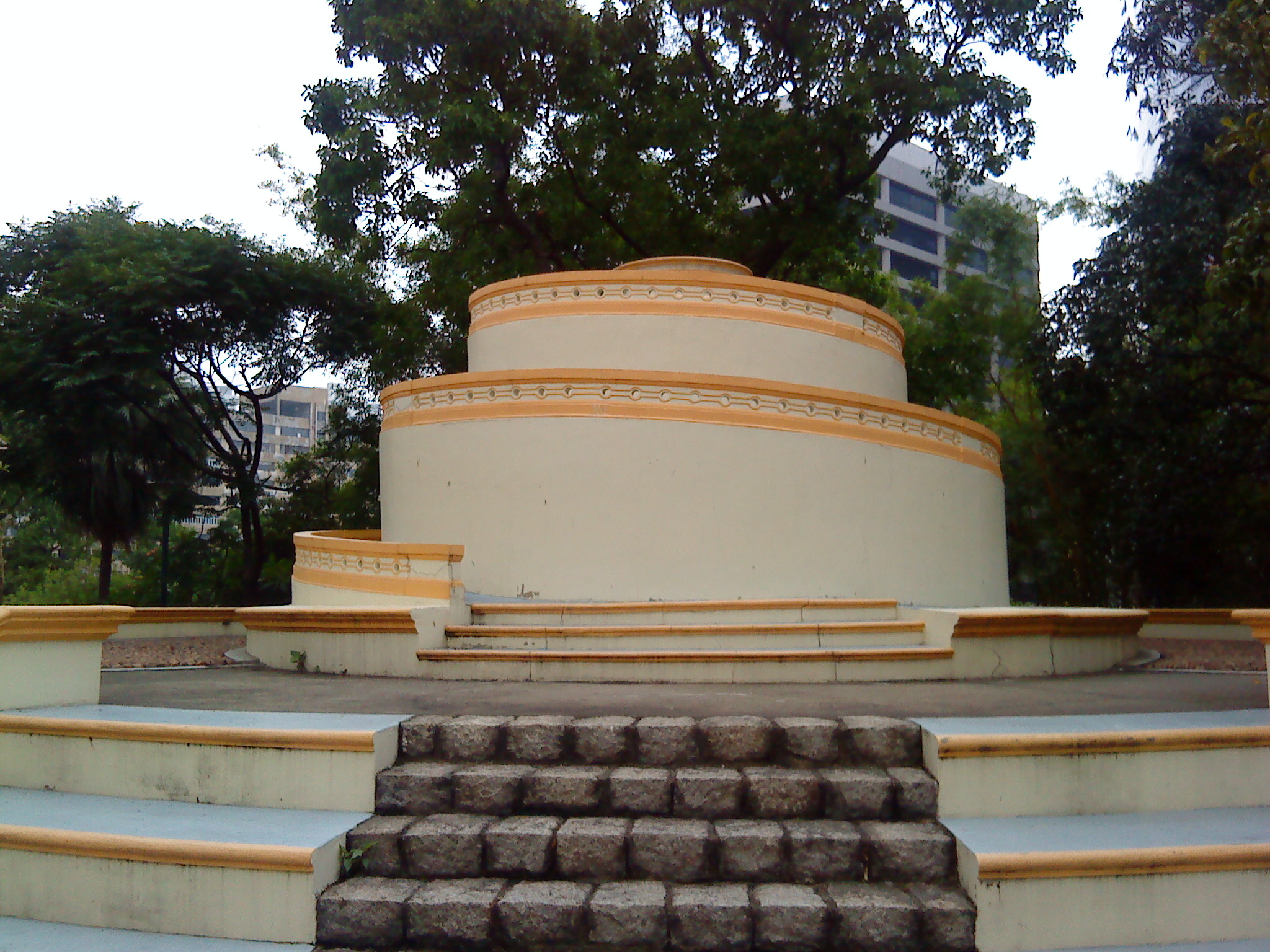 Montanha Russa Park
Located in the northern area of the peninsula, Montanha Russa (rollercoaster, in English) park is called so because of its circular design. Derived from the Chinese word for "snail", "russa" describes the spiral path leading to the top of the park. Fitted with lots of benches and some statues, there's also a lot of trees and flowers throughout the park, all properly labeled in both Portuguese and Latin–ideal for plant lovers!–for all to learn about them. Although located at one of the city's busiest areas, this park allows for peaceful times as it's secluded from all the noise and people. You'll probably spot locals doing tai chi and resting along the park. There's a great snack restaurant next to one of the main entrances, featuring noodles, sandwiches, drinks, and other items.
Montanha Russa Park 22-26 Estr. da Bela Vista, Macau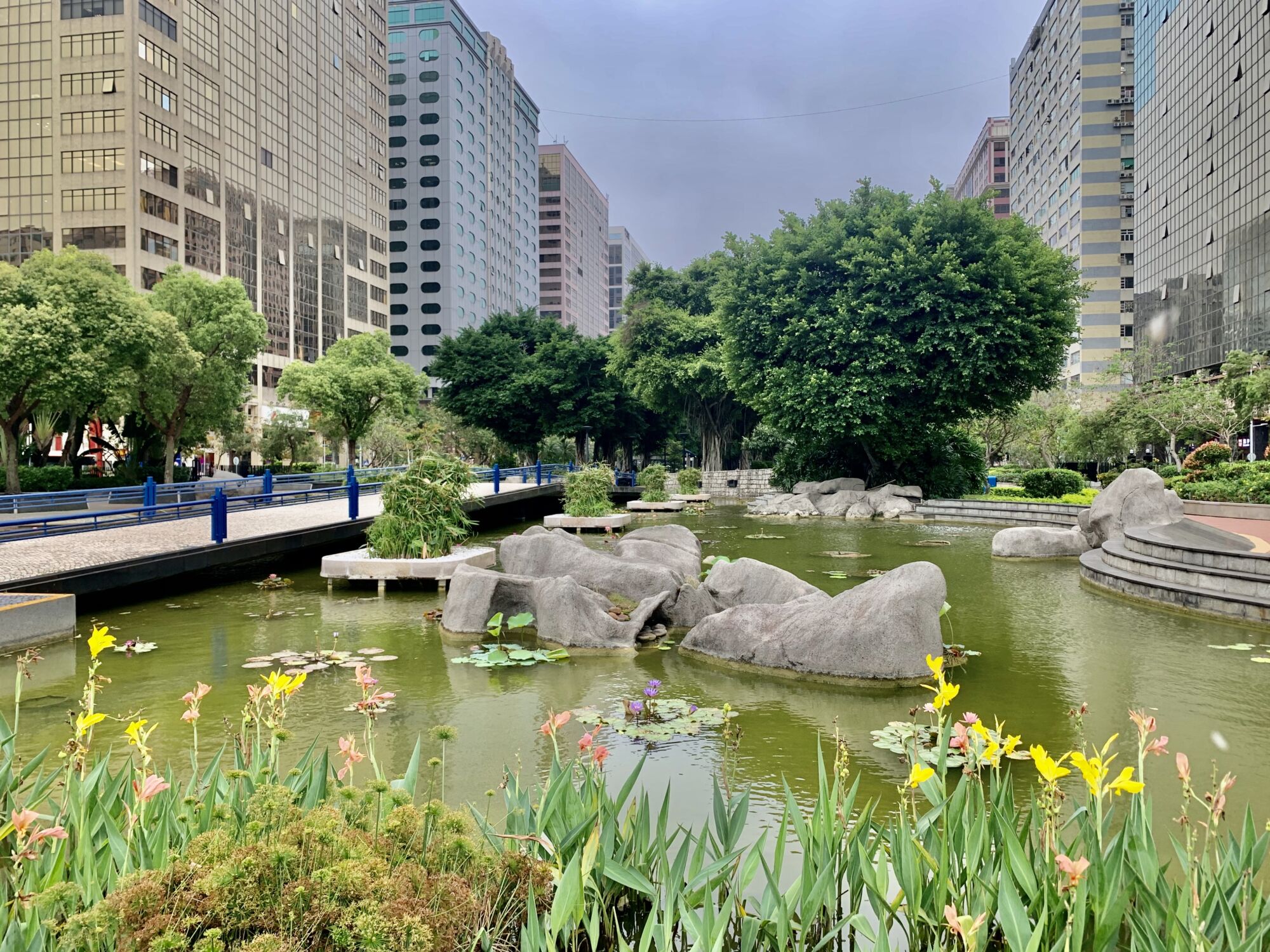 Dr. Carlos D'Assumpção Park
Serene and ample, this urban park in the NAPE area boasts a welcoming atmosphere for everyone looking to stretch their legs, take a stroll with the family, have a romantic escape time, or simply relax at one of the benches with a book in hand. Fitted with a seating area, a kiosk, a beautiful big lake, and a kids' playground, this is a nice area, especially for people working or living nearby. There are quite a few 24-hour convenience stores close by so people can buy some snacks and beers and head to the park to mingle. There's an oriental touch to this venue, which is also great to take some pictures.
Dr. Carlos D'Assumpção Park Alameda Dr. Carlos d'Assumpção, Macau
Also read: 10 Free Things to Do in Macau
● Taipa ●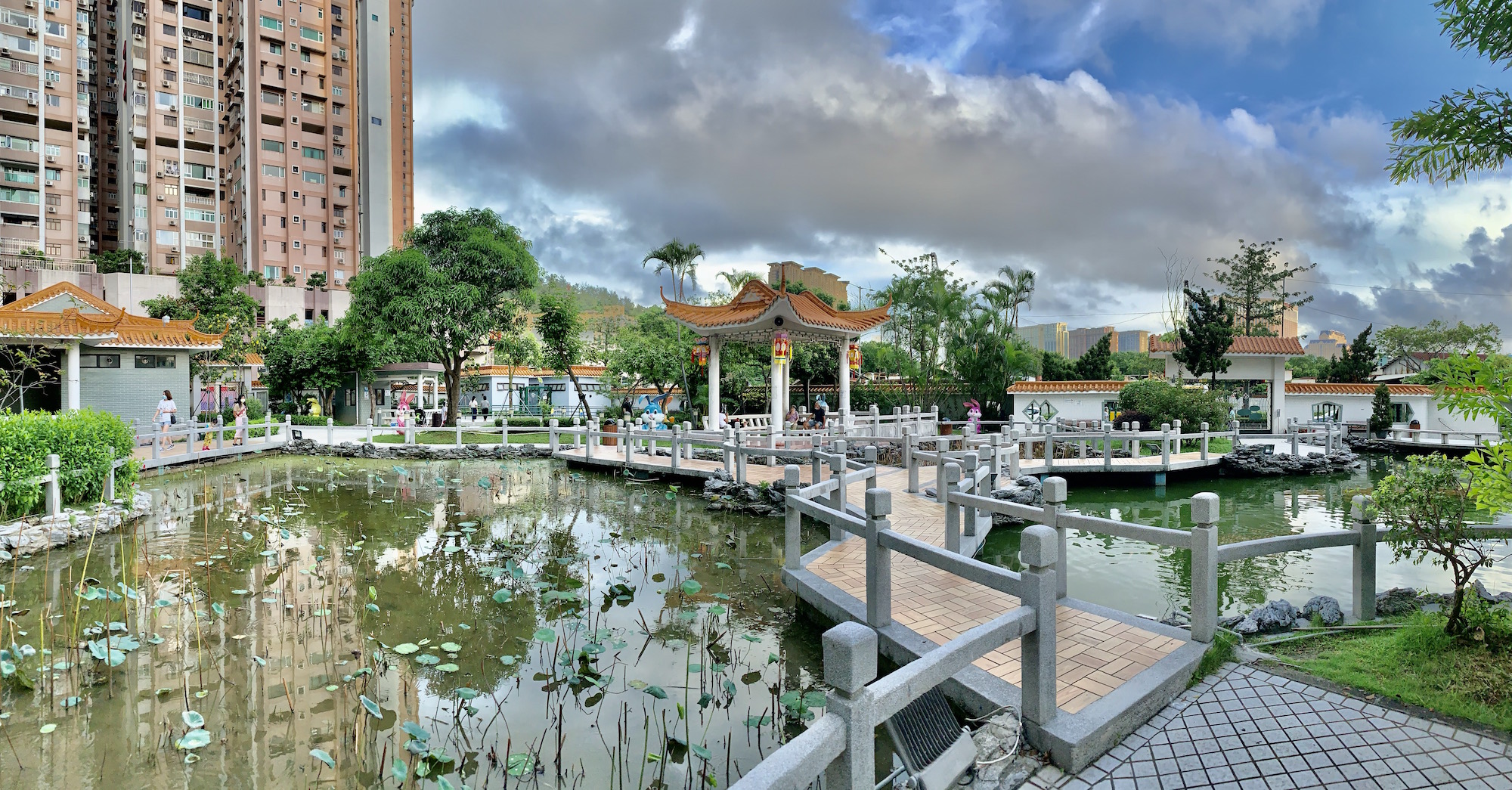 Flower City Park
With a striking big lake filled with fishes and water lilies, Flower City Park is an urban park set in Taipa. Two minutes away from the residential cluster and also Taipa Village, this park is the to-go place for some relaxation time and also to visit a venue with Chinese-inspired decoration and architecture. The bridge's design is similar to the one at Lou Lim Ieoc Garden, but with a more minimalistic touch. Fitted with a kids' playground, pathways, and even a welcoming pagoda with benches, this is also a nice park to visit and relax at.
Flower City Garden‪ Rua de Évora, Taipa, Macau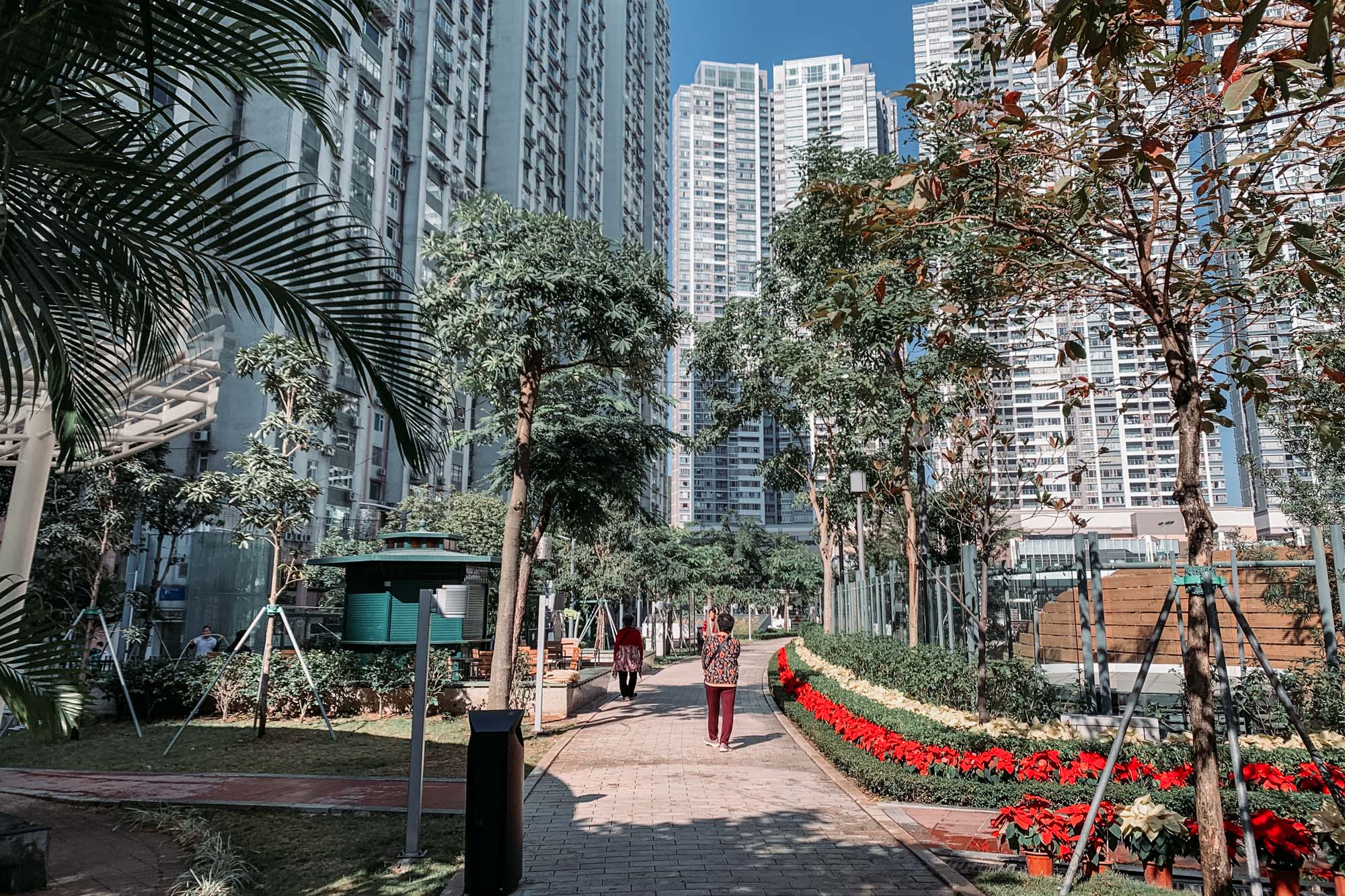 Taipa Central Park
Set in the middle of Taipa's residential area, this urban park has it all: a well-equipped playground for kids, vending machines with drinks and snacks, bathrooms, two dog parks, some sports equipment along the pathways–which are filled with trees–and even a very popular and big swimming pool! Usually quite busy during the day, it's perfect to take your little ones and have them mingle with other kids while you read the newspaper sitting. Some people take early mornings or late nights to jog in and around the park, as these are quieter times. Its design is modern and colorful.
Taipa Central Park 7 Rua de Seng Tou, Taipa
Also read: A Breath of Fresh Air at Flower City Garden and Taipa Central Park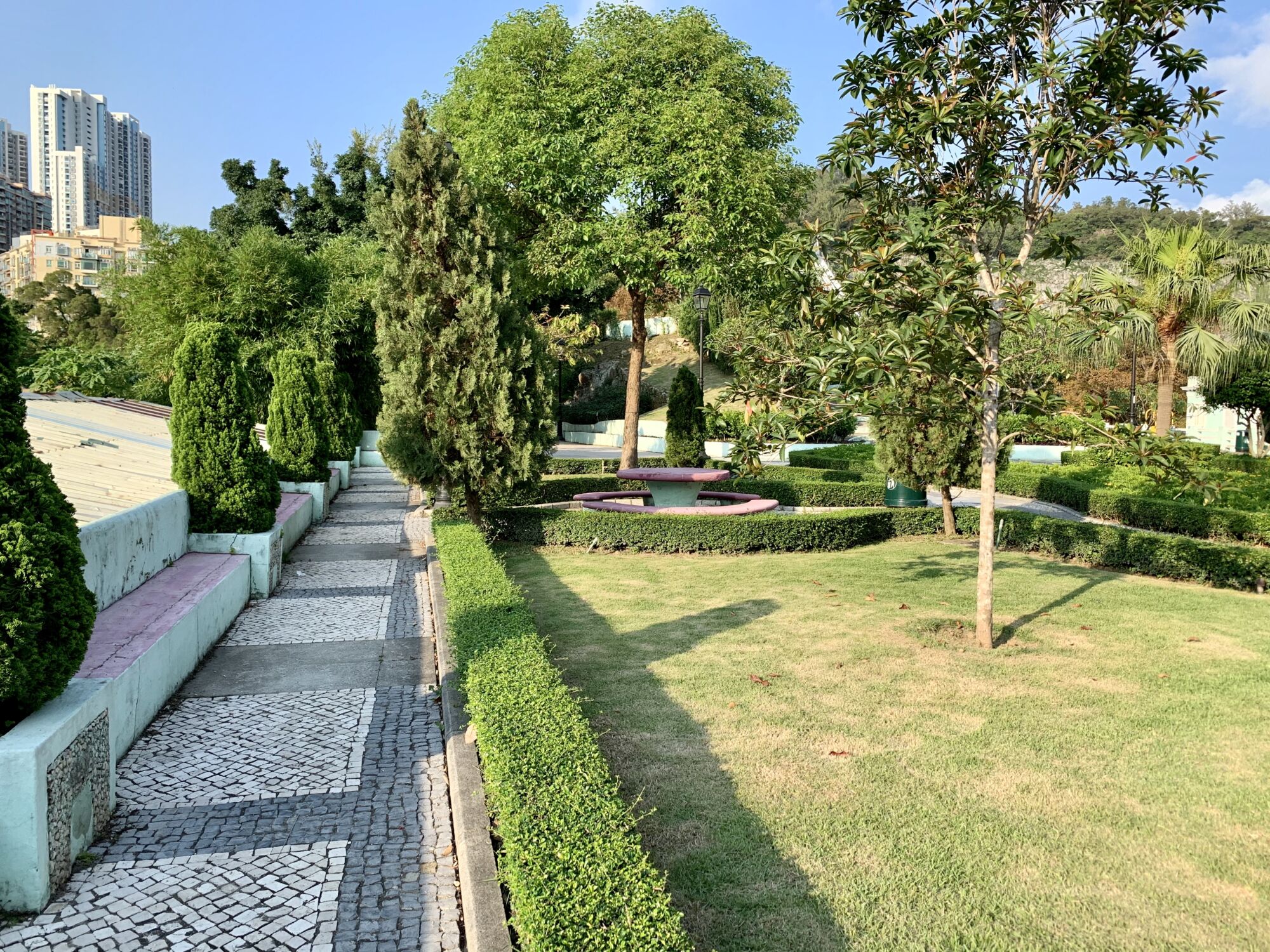 Dra. Laurinda M. Esparteiro Platform
Situated right above the Taipa Houses-Museum, this is a very quiet and cute area filled with green areas such as lawns, trees, and other details. There is a statue of Camões at the top of a flight of stairs from where you can have a beautiful view of Taipa, the lakes and a bit of Cotai even. There are a lot of benches and areas to stretch your body. Take a book and unwind at this beautiful park right in the middle of a traditional and historic area of the city. The garden is also close to Our Lady of Carmel Church.
Dra. Laurinda M. Esparteiro Platform Avenida de Carlos da Maia, Taipa
Also read: Our Lady of Carmel Church & Carmo Hall: Reminders of Portuguese Presence
● Coloane ●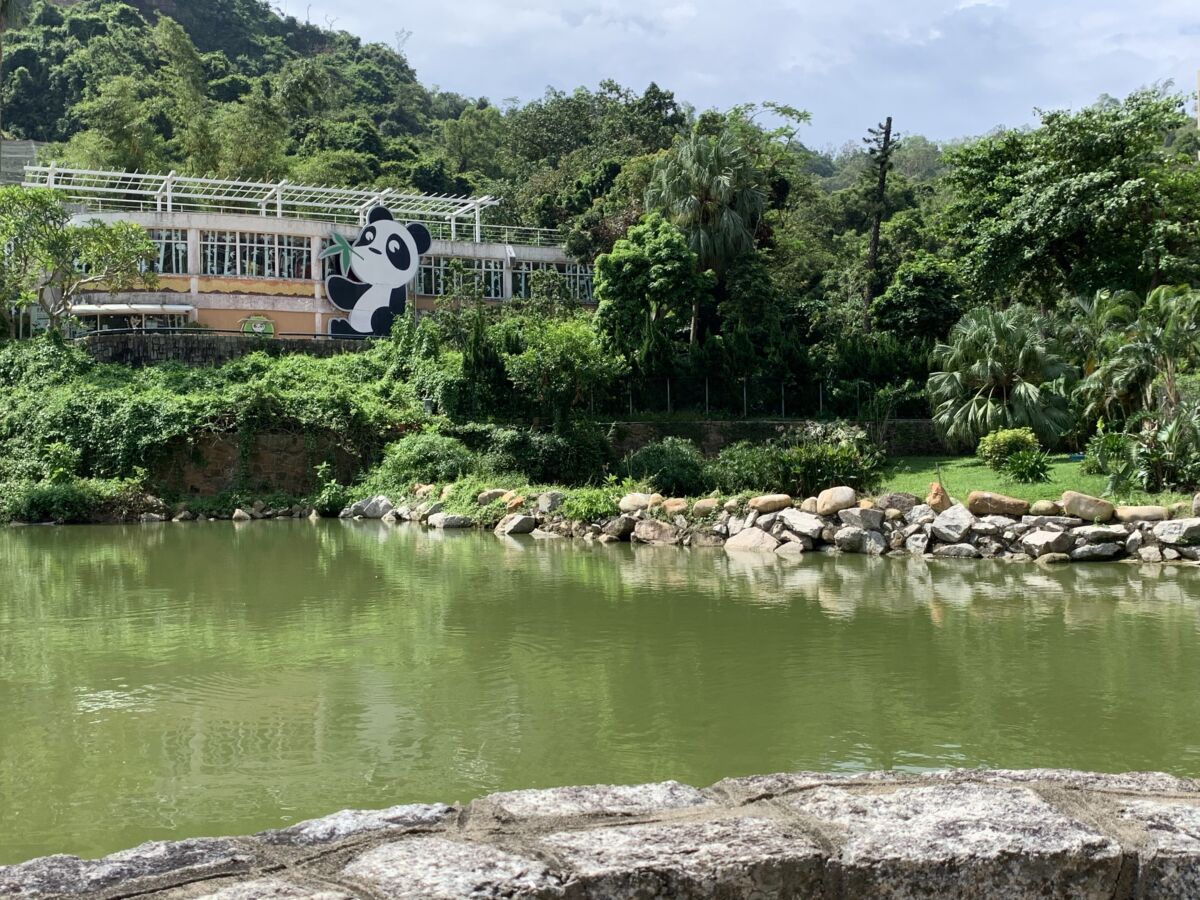 Seac Pai Van Park
Offering both kids and adults a wide variety of sensations, Seac Pai Van Park is home to two giant pandas! Yes, you've heard this right. Everyone is welcome to visit these fellas which are usually sleeping or eating huge chunks of bamboo. In truth, this park is all about the animal world as you'll also be able to see and interact with cute creatures at the local zoo. Ring-tailed lemurs, squirrel monkeys, colorful parakeets, peacocks, and flamingos are some of the examples. There's an educational trail stretching across 1,680 meters with four selected paths. This park is also home to the Natural and Agrarian Museum, a venue telling the story of farming and the geography of Macau, different specimens, among other info. Take a stroll across this park, have a picnic at the designated area, see the pandas, the museum and so much more!
Seac Pai Van Park Estrada de Seac Pai Van, Macau
Also read: 5 Things to Do at Macau Giant Panda Pavilion & Seac Pai Van Park
Coloane Height Park & A-Má Statue
Set in the middle of the Coloane trail, this park is very close to the A-Má Cultural Village and boasts a 20-meter high sculpture of A-Má, the goddess protector of the fishermen, very important to locals and visible from the China sea. Fitted with a children's playground, seating area, and lots of shade, there's plenty of space to wander, play, run and have fun! After a cool walk around the surrounding trails, get to this park and have a rest while overlooking the landscape. There are also bathrooms, picnic areas, and pagodas for people to read and rest.
Coloane Height Park & A-Má Statue Estrada do Alto de Coloane, Coloane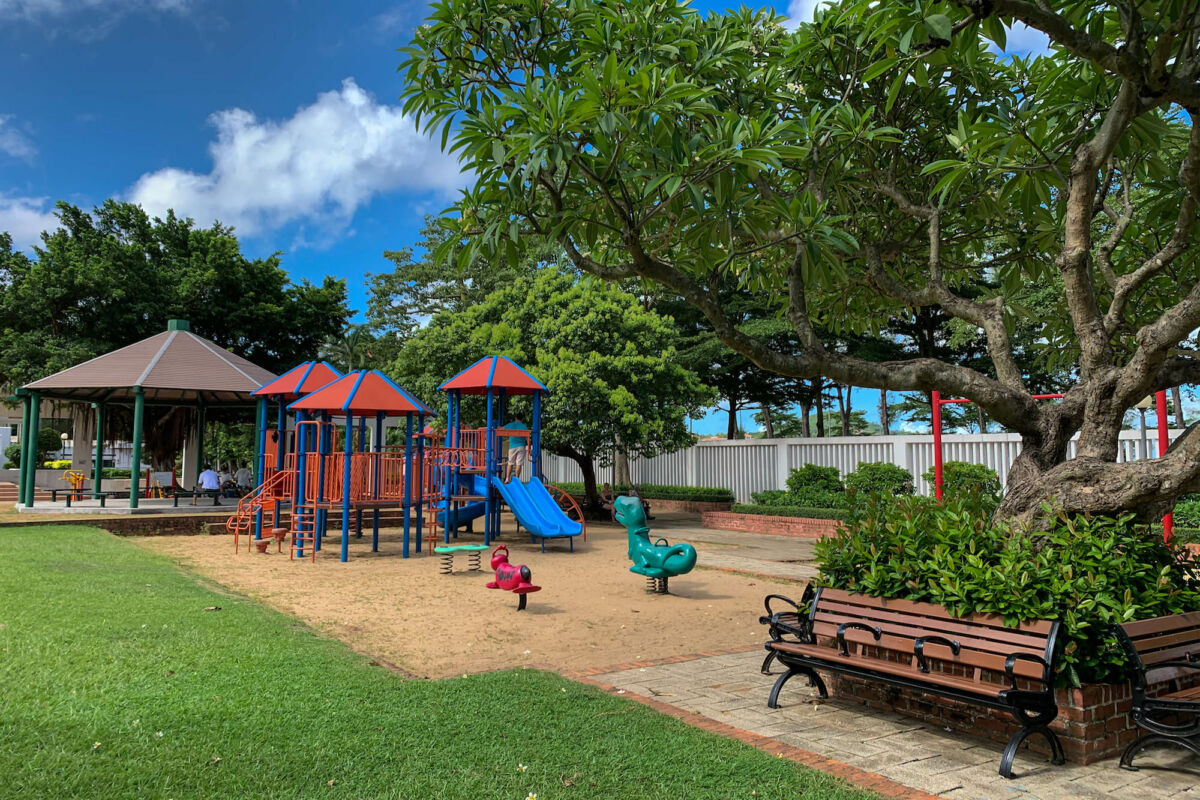 Hac Sá Park
Next to the Portuguese restaurant Fernando, this public park is fitted with one of the biggest and most popular swimming pools in town. It attracts experienced swimmers as it's an Olympic-style pool. This venue also has ping pong tables, a volleyball net, and a performance area. The park itself also includes a children's playground–with a cars track–lots of seating benches and shaded areas where everyone can spend an entire day and head to Fernando for lunch or dinner. Hac-Sá Beach stands right in front of this park, so there's plenty of nature to synch in with here!
Hac Sá Park Estrada de Hac Sá, Coloane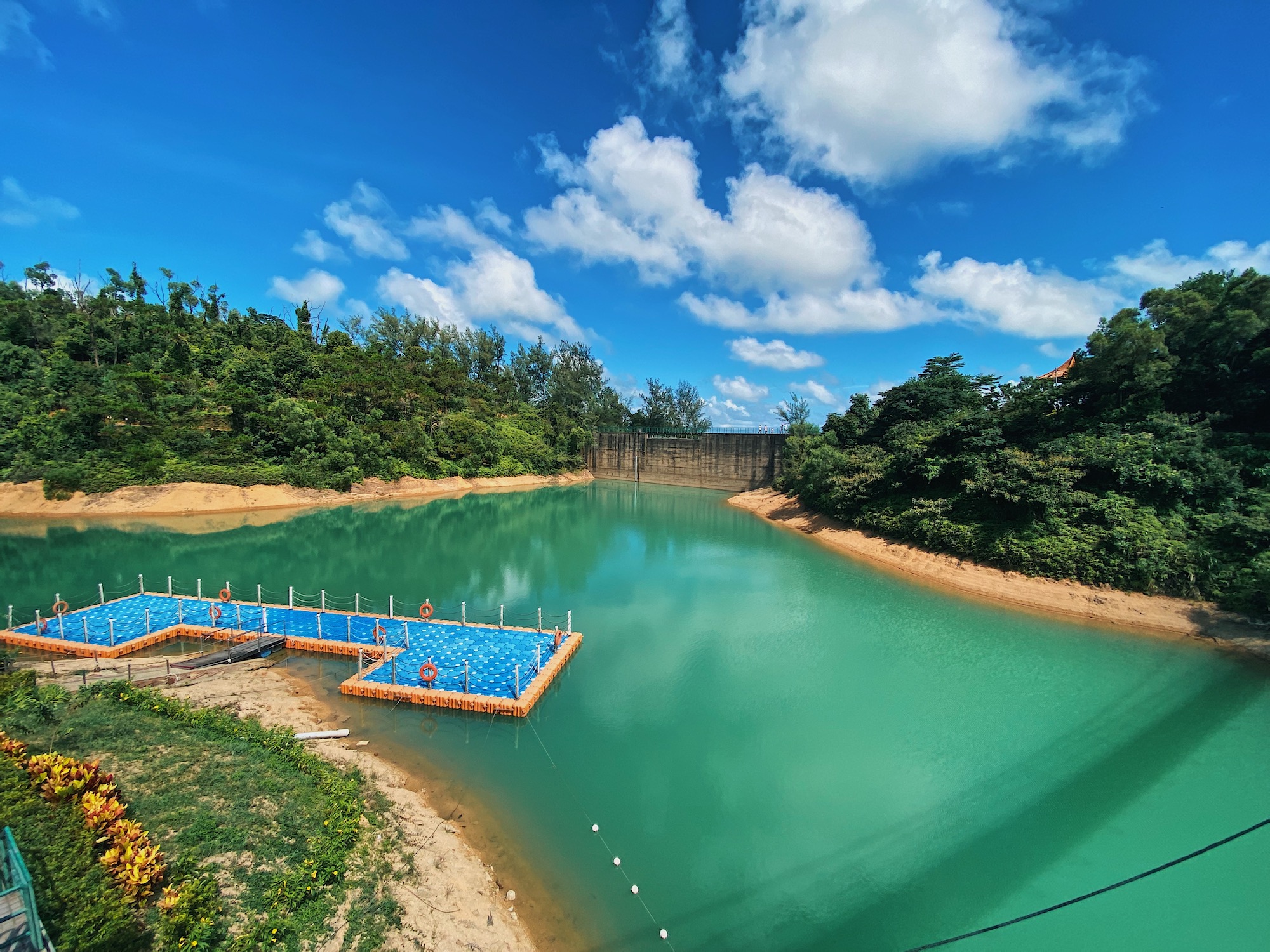 Hac Sá Reservoir Country Park
Well, this one might not be equipped with a children's playground, for there sure are plenty of other cool activities for the whole family. From canoeing to trekking, boat renting, and barbecuing, there's a lot of things to do around here. Besides the stunning views on the way to the park, you'll have lots of fun with your loved ones getting refreshed under Macau's strong sun.
Hac Sa Reservoir Country Park Estrada de Hac Sá, Coloane
Also read: Top Outdoor Activities to Do With Kids in Macau
Tags
Related Posts