If there's one thing we learned last year, it's the importance of self-care. Now more than ever, we recommend that you indulge in a facial treatment that will make you feel good about yourself at the start of 2021. Macau is in fact full of world-class spas making it difficult to choose from all the extensive treatment menus. We suggest you start with our top-notch list of facial treatments in Macau because we've ensured that these ones are worth the splurge!
MORPHEUS SPA
(Featured image above)
If we're talking about extraordinary facial treatments, nothing beats Margy's Monte Carlo found exclusively at Macau's Morpheus Spa. The prominent skincare brand is a firm favorite of the Royal Family of Monaco and renowned worldwide for its superior quality, exclusive formulas, and highly effective anti-aging products. For something really unique, the Collagen Renewal Facial is a must-try treatment. It's the first and only treatment that uses ultrasonic waves for powerful skin-tightening results. Revolutionary ultrasonic waves and controlled warmth to the skin's deeper tissues stimulate the growth of collagen and new elastin to tighten and firm skin and reduce wrinkles. The skin-lifting effect is instantaneous. Lasting 110 minutes of bliss, the Collagen Renewal facial is priced at MOP $3,980.
Morpheus Spa Morpheus Hotel, City of Dreams Macau, Estrada do Istmo, Cotai, +853 8868 3432, www.cityofdreamsmacau.com/morpheus
Also read: Margie Lombard Shares the Secret to Beautiful Skin at Morpheus Spa
THE SPA AT WYNN PALACE
Macau is home to phenomenal places including the Spa at Wynn Palace. Just step in and you'll be transported to a spectacular setting literally. Having already received the coveted Forbes Travel Guide Five-Star Award, you're assured of the best service at this location. Here you'll find the sought-after Diamond Radiance Gemstone Facial. Described as brightening, antioxidant, and age-defying, Knesko's Reiki-infused Diamond Radiance collagen treatment uses proprietary uses GemClinical Technology to reduce fine lines, wrinkles, fatigue, discoloration, and dark circles. It balances your crown chakra and restores inner peace as well. This enhancing treatment is priced at MOP $2,500 for 60 minutes.
Wynn Palace Avenida Da Nave Desportiva, Cotai, +853 8889 3228, www.wynnpalace.com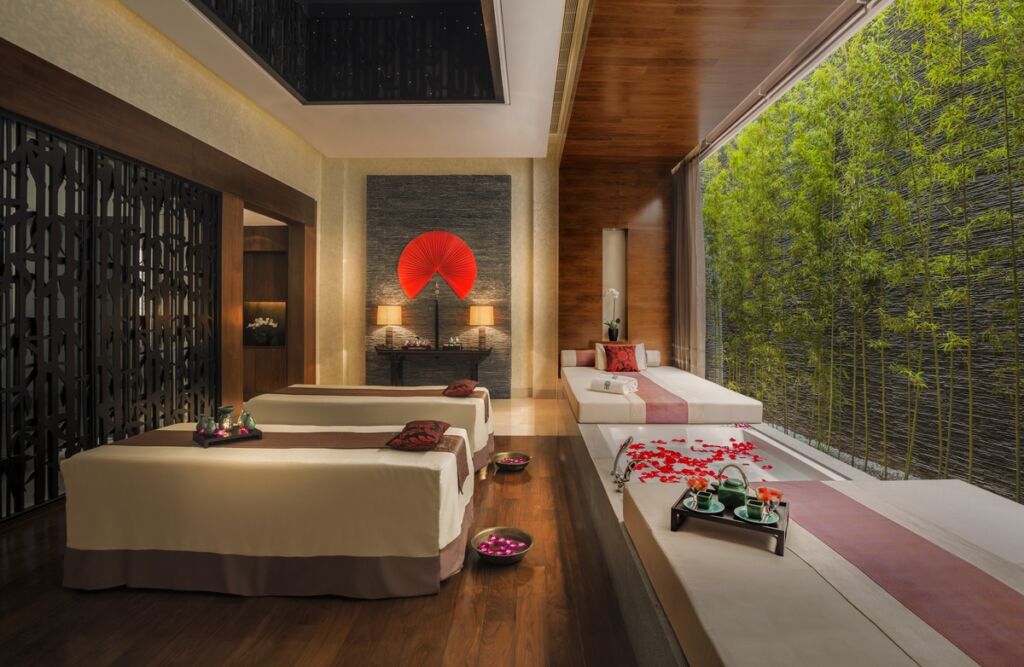 BANYAN TREE SPA
Banyan Tree is already synonymous with wellness and massage but oftentimes the facial treatments are overlooked when visiting. We suggest you make a booking and indulge in the 90-minute treatment called Luminescence Restorer. Your skin will be reborn as it involves an innovative anti-aging treatment to extinguish fine lines, and really hydrate the skin. This is a complete facial ritual for those seeking a sophisticated lifting treatment. The whole process is enriched with skin regenerating and anti-oxidant ingredients to strengthen the skin's natural defense. The standard rate is MOP $2,800 and off-peak rates are MOP $2,600. Each facial at Banyan Tree Macau includes a shoulder and arm massage to complete a wonderful and relaxing experience.
Banyan Tree Spa Banyan Tree Macau, Galaxy Macau, Estrada da Baia de Nossa da Esperança, Cotai, +853 8883 6688, www.banyantree.com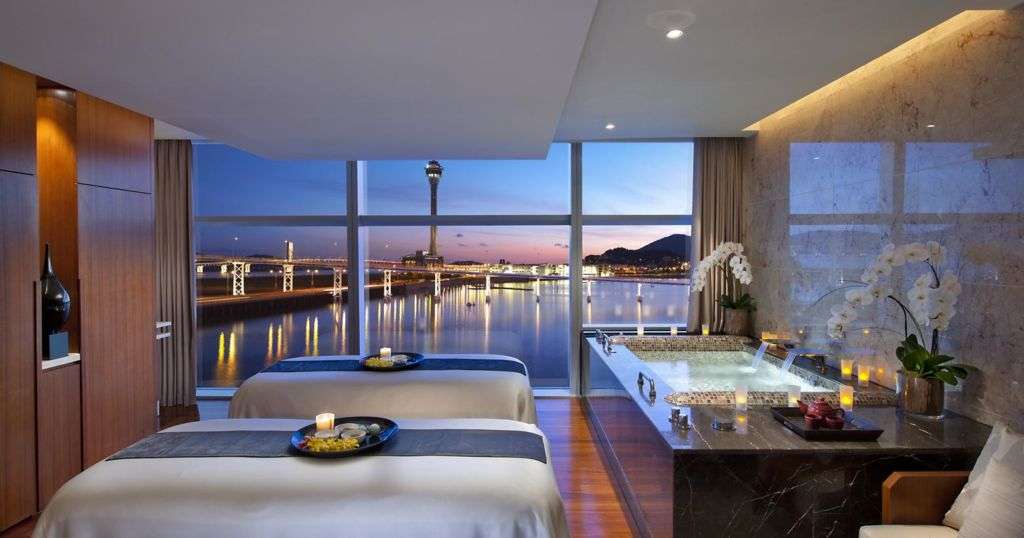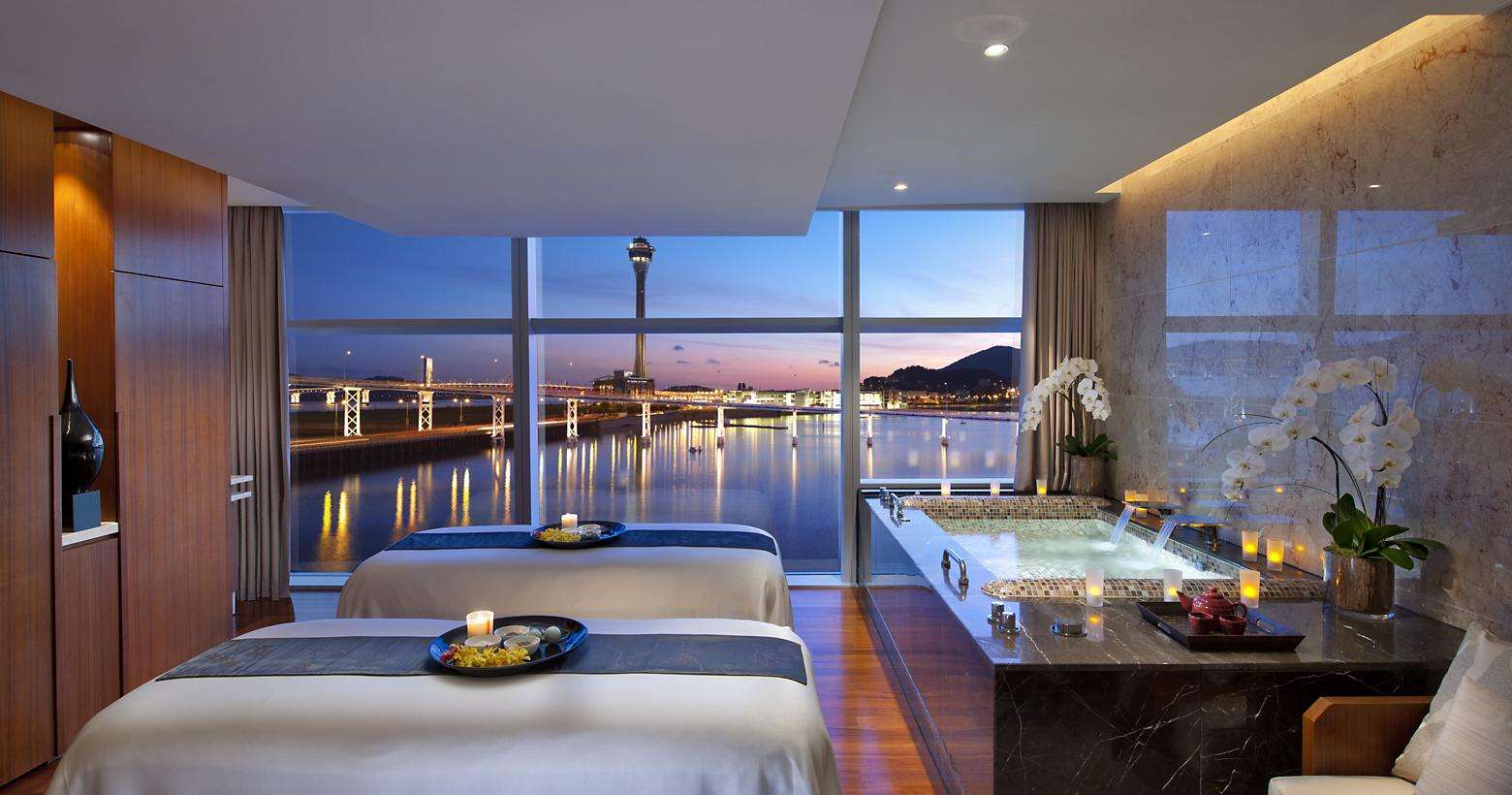 THE SPA AT MANDARIN ORIENTAL, MACAU
Take your skin seriously and if you're looking for a true treatment that will leave you feeling renewed, The Spa at Mandarin Oriental, Macau has all the answers. Sample the Age Repair Treatment for 90 minutes of immaculate service. It's priced at MOP $1,700 during weekdays and MOP $1,800 during the weekend. Soak yourself in an intensive treatment that will alleviate the signs of aging. By using award-winning natural products that are used in conjunction with a unique dual layering of intensive masks, specific lifting, plumping, and firming massage, you are guaranteed instant results. Plus, you can bask in the best view of the city from your treatment room at The Spa.
The Spa at Mandarin Oriental, Macau Mandarin Oriental, Macau, Av. Dr. Sun Yat-Sen, Macau, +853 8805 8588, www.mandarinoriental.com
Also read: Wake Up Here: Mandarin Oriental, Macau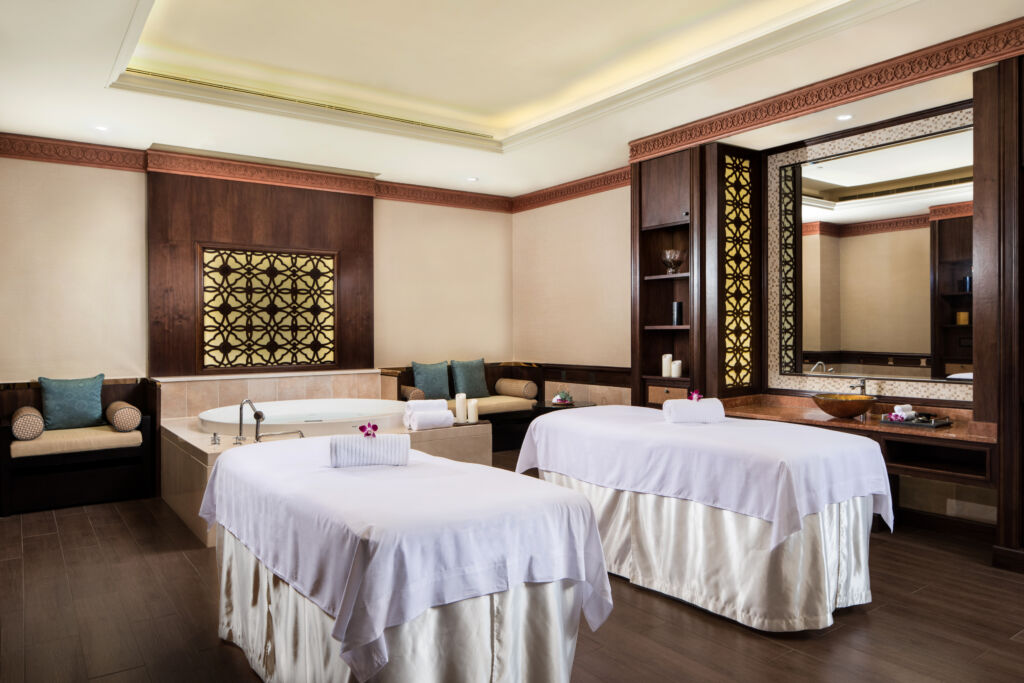 SHINE SPA

AT SHERATON GRAND MACAO
One of our all-time favorite places for a spot of serenity is Shine Spa at Sheraton Grand Macao. The spa menu has all the best treatments whether you need cleansing, hydrating, or much-needed energy support. They always have ongoing offers and promotions making it easy to enjoy the experience with friends and loved ones. The Rejuvenating Age Support Facial is really special. The treatment lasts for 90 minutes priced at MOP $1,580.  It's such a transformational process that addresses the underlying causes of aging. It addresses the skin's nutrition, elasticity, and moisture levels with enzymatic exfoliation incorporating microcurrent and light therapy leaving it more radiant. For light therapy, they use the Bio Lift + Bio Light Machine. These are two cutting-edge skincare technologies in one unit to deliver ultimate instant results. You can also explore their 'Relax and Rewards Package'. Guests can enjoy 50% discount from the a la carte menu within 3 months including this facial for a true pampering experience.
Shine Spa Level 3, Sky Tower, Sheraton Grand Macao, The Londoner Macao, Estrada do Istmo, s/n, Cotai, +853 8113 0222, www.shinespamacao.com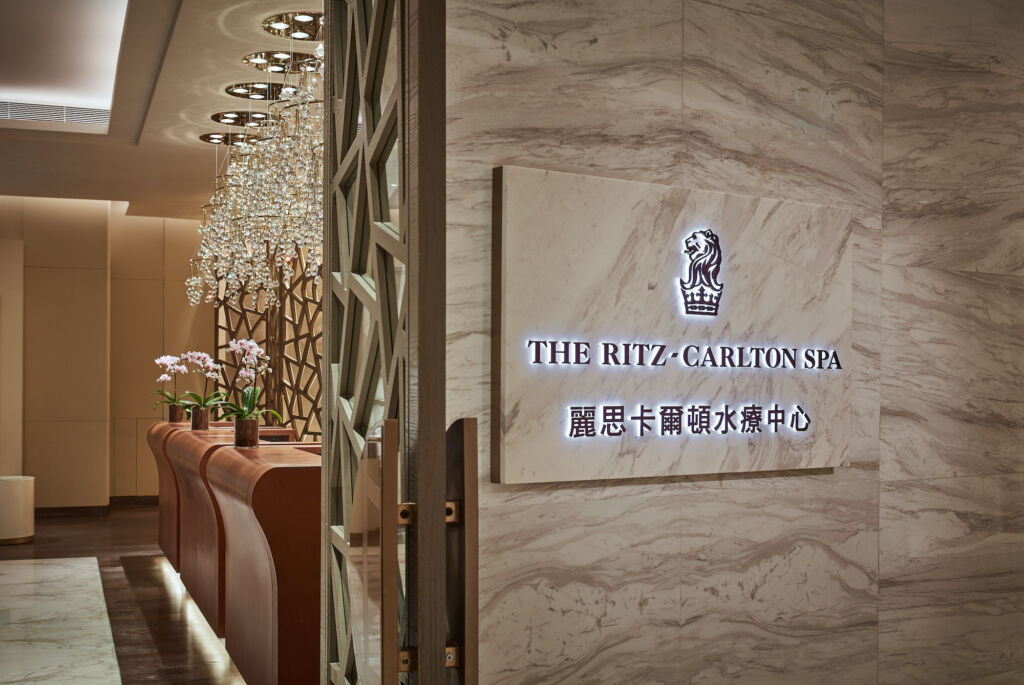 THE RITZ-CARLTON SPA, MACAU
With so many accolades The Ritz-Carlton Spa, Macau maintains a high standard when it comes to wellness. The mind, body, and soul are kept intertwined with unique signature treatments and luxurious new facilities. Here you'll find Carol Joy London, the innovative skincare brand renowned across the globe for its technological breakthroughs in anti-aging with expertise drawn from leading Swiss manufacturing and German engineering. Exclusive only to The Ritz-Carlton Spa, Macau, guests enjoy a truly unique experience. The signature treatments by Carol Joy London include the Caviar and Pearl Experience. This award-winning treatment is a massage-based facial that's deeply hydrating, lifting, and detoxifying. The ritual starts with a decadent facial which calls back to the times of Chinese emperors and empresses, who used pearl powder to rejuvenate and brighten the complexion. It uses precious caviar and pearl with a chilled jade roller to tone and revitalize the skin for radiant looks. It's priced at MOP $3,000 during weekdays and MOP $3,200 during the weekend for 120 minutes.
The Ritz-Carlton Spa, Macau The Ritz-Carlton, Macau Galaxy Macau, Estrada da Baia da Nossa Senhora da Esperança, Cotai, +853 8886 6868, www.ritzcarlton.com
Also read: Wake Up Here: The Ritz-Carlton, Macau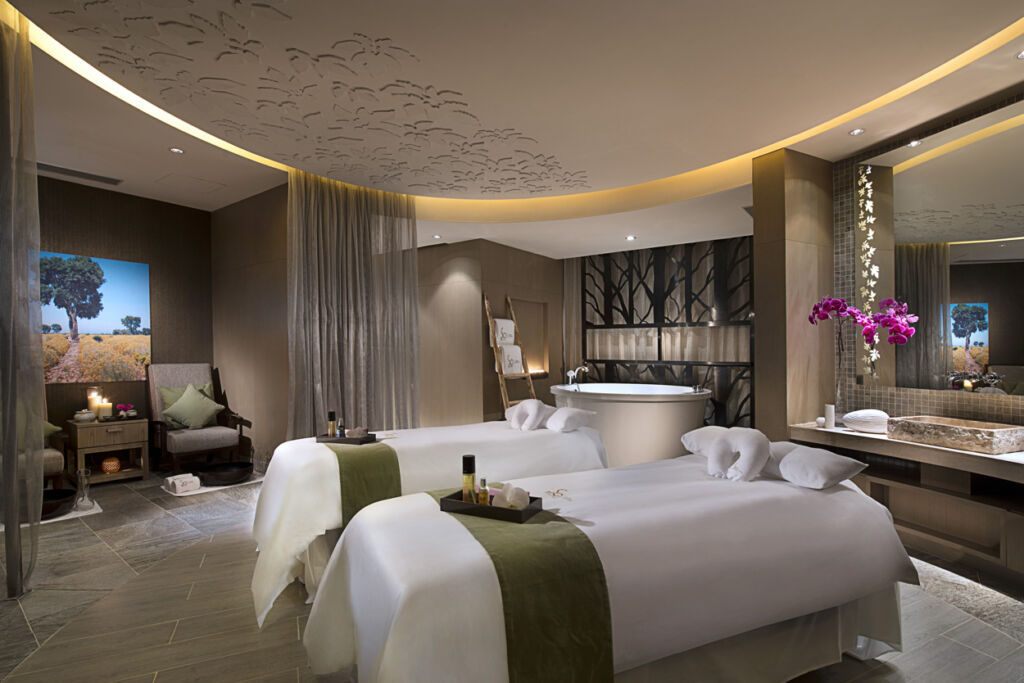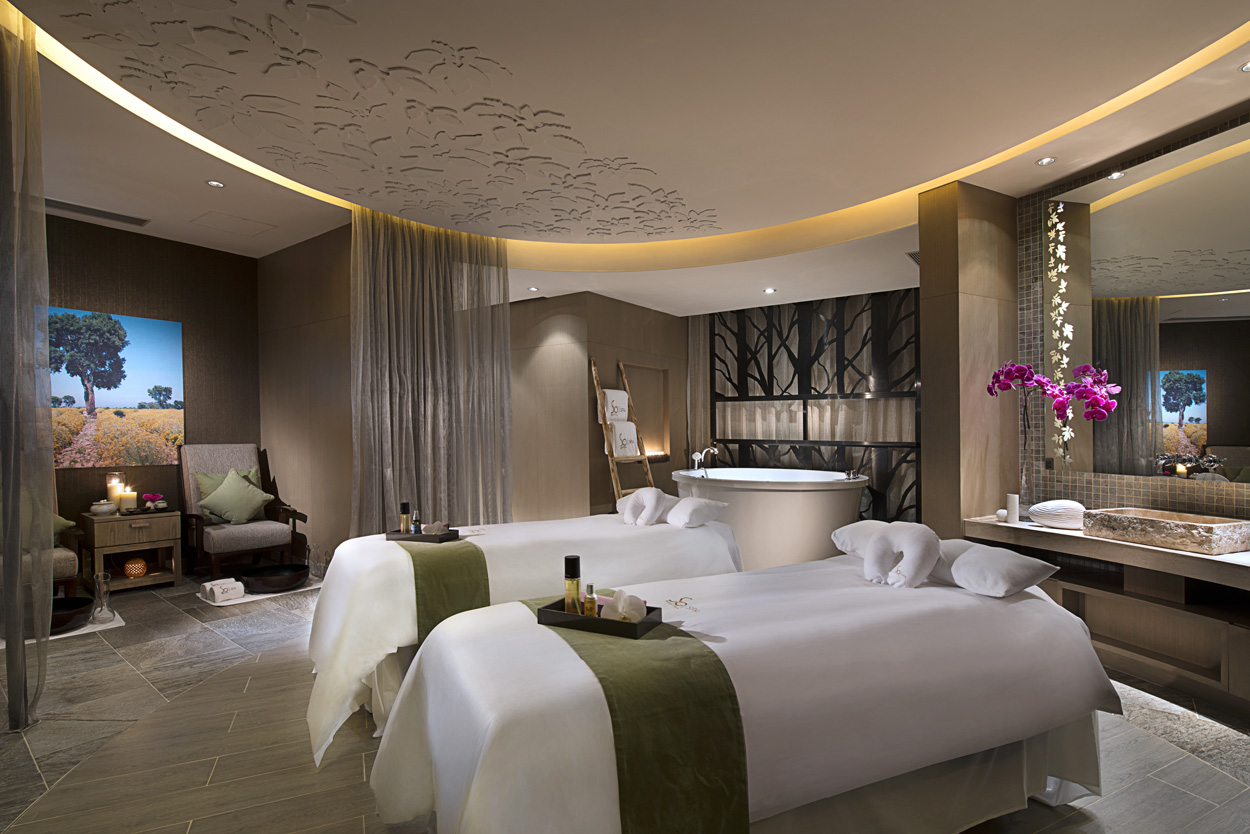 SOFITEL SPA
If you want tranquil surroundings and a pampering time, Sofitel Spa at Sofitel Macau At Ponte 16 is always the best choice. The beautiful setting already rejuvenates the skin and spirit upon entrance. You'll find expert therapists and stylish suites to truly enjoy a day out of self-love. The Firming Youth Facial is a must-try allowing your skin to have a real renewal experience. This luxurious experience is priced at MOP $850. Afterward, we recommend rest for a bit in the relaxation room allowing you to meditate and unwind from all the stress of life.
Sofitel Spa Sofitel Macau At Ponte 16 Rua do Visconde Paço de Arcos, Macau, +853 8861 7801, www.sofitelmacau.com
Also read: Wake Up Here: Sofitel Macau At Ponte 16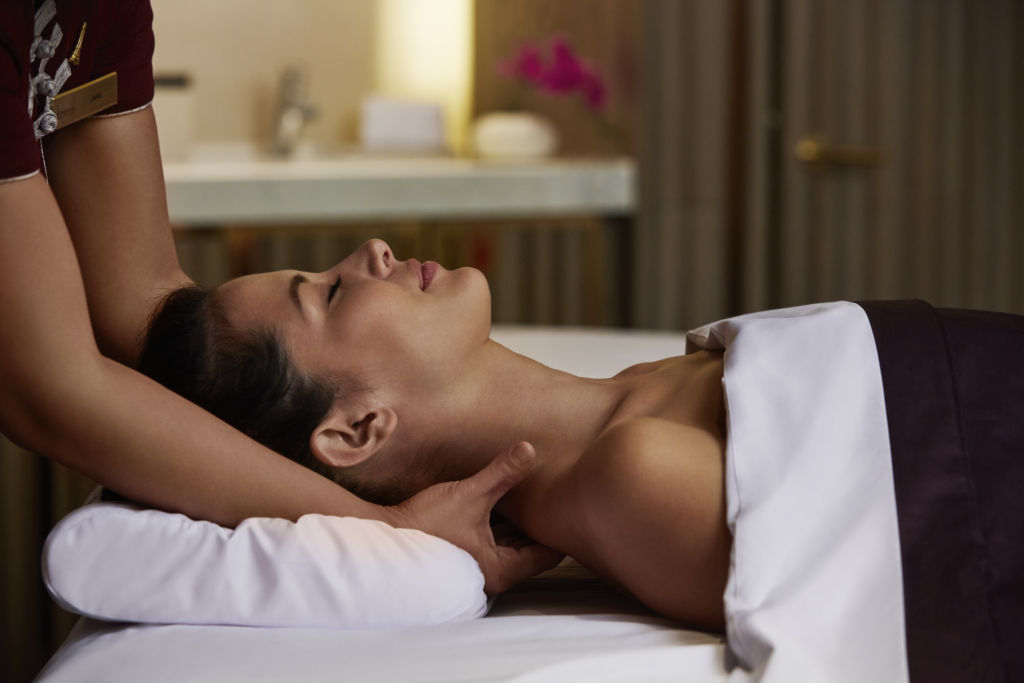 Le SPA'tique
If you haven't visited The Parisian Macao's Le SPA'tique then you're missing out on a fabulous experience. Spend five minutes here and your spirit will be lifted in no time. Moreover, if you book the Ultrasonic Serum Infusion Facial. We love it because it's customized to your specific skin type using ultrasonic technology and derma plane techniques. By using the blend of LING serums dispersed into tiny droplets that penetrate the skin, the result lasts for quite a long time. From the specialized massage and mask, you'll feel firmer skin and brighter eyes. It's priced at MOP $1,550 during weekdays and MOP $1,650 on premium days with a 90-minute duration for the whole treatment.
Le SPA'tique Level 6, The Parisian Macao, Estrada do Istmo, Lote 3, Cotai, +853 8111 1221, www.parisianmacao.com
Also read: Facial Rejuvenation at Le SPA'tique, The Parisian Macao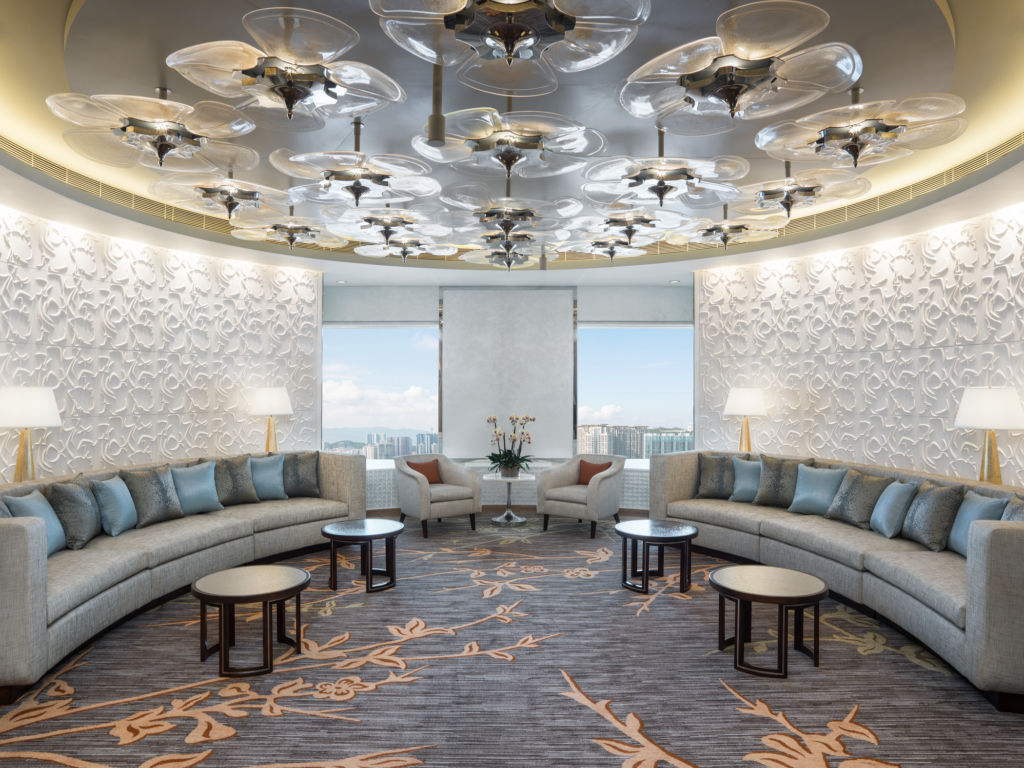 IRIDIUM SPA
Investing in yourself is the best way to welcome the year and where else can you do this in style than at Iridium Spa at The St. Regis Macao. Having been awarded Macao's Best Hotel Spa 2020 at the World Spa Awards for the sixth year running, this is the first place you should be for wellness and facial treatment. Go all out and choose the Timeless Journey. This 90-minute body and facial massage is a wonderful treat. It includes a 60-minute signature massage or Iridium Asian combination massage. Then, the 30-minute anti-aging mineral mini-facial follows allowing a quick but thorough treatment of your skin. It's accompanied by a complimentary Gemstone Shower gel, valued at MOP $220. The total price for the Timeless Journey is MOP $1,480.
Iridium Spa The St. Regis Macao, The Londoner Macao, Estrada do Istmo, s/n, Cotai, +853 8113 4949, www.iridiumspamacao.com
Also read: Macau's Best Spas
Also read: Best Places for Foot Massages in Macau
Tags