Not a fan of those deep tissue body massages, but get super excited when you hear "foot massage"? Well, this article was meant for you! While most spas in town offer regular massages–with lots of different styles–we've decided to go on a search for places entirely dedicated to our soles. Some offer complete treatments that include a foot bath, while others have foot scrubs upon request and so on. Read more and find out where to get the best foot massages in Macau that are sure to ease any kind of fatigue and stress.
Vinca Foot Spa
(See featured image above)
Located at the second level of Studio City, Vinca Foot Spa offers deep expertise on how to relax your exhausted feet and relieve any pain or discomfort. From reflexology to Chinese massage techniques, Vinca's therapists' skills and knowledge guarantee a satisfying experience. Apart from two spacious foot massage halls, they have nine VIP rooms for people looking for privacy and a full-on body massage. While they do offer several other treatments such as full-body, head, neck, and shoulders massage, Vinca's forte is the deep foot massage with the signature 60-minute ritual. It starts with an express upper body massage, followed by a relaxing foot bath and exfoliation. Then the therapist will ask you to pick an essential oil of your liking to use for your treatment. Surround yourself with calming music and vibes and get an hour of full relaxation to face the future.
The best of this spot? They occasionally launch limited-time promos that would motivate you to book an appointment with them ASAP. The most recent one gives you a 30-minute treatment of your choice for free after an hour of foot massage. Follow them on their Facebook page to get updated on the offers.
Opening hours: Daily, 12:00pm–12:00am
Vinca Foot Spa Shop 2003-2008, Level 2, The Boulevard at Studio City, Studio City, Estrada do Istmo, Cotai, www.vincafootspa.com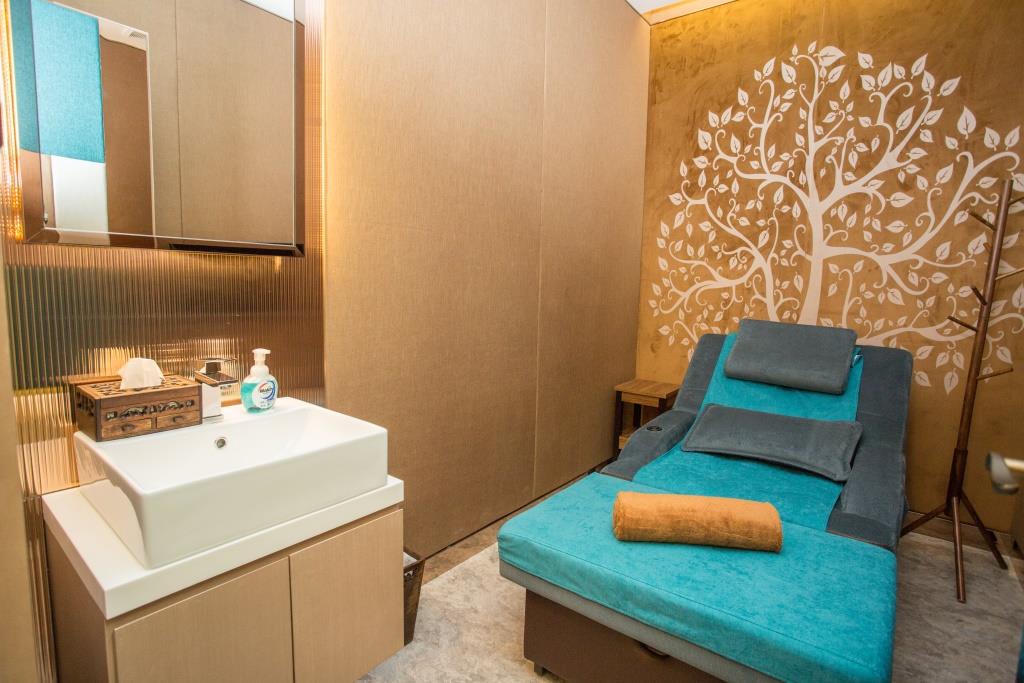 The 16 Foot Massage
Entirely dedicated to our feet, this spa in Sofitel Macau At Ponte 16 caters to the needs of one of our body's most important bits. Their common area features a series of comfortable massage chairs each equipped with a TV screen so you can be entertained while being massaged. However, there're also private rooms you can rent alone or with a friend, for a more intimate and relaxing setting. There's a wide list to choose from that includes aromatherapy leg massage, hot stone foot massage, another one focusing on the thighs, and the "16-royal foot" for the ultimate experience. For people with swelling issues, we recommend the systemic lymphatic drainage one. There are also choices of full-body, head and neck, hands, and more kinds of massages.
Opening hours: 24-hours
The 16 Foot Massage Shop 301, 3/F, Sofitel Macau At Ponte 16, Rua do Visconde Paço de Arcos, Macau, +853 2895 2161, +853 2895 2162, www.ponte16.com.mo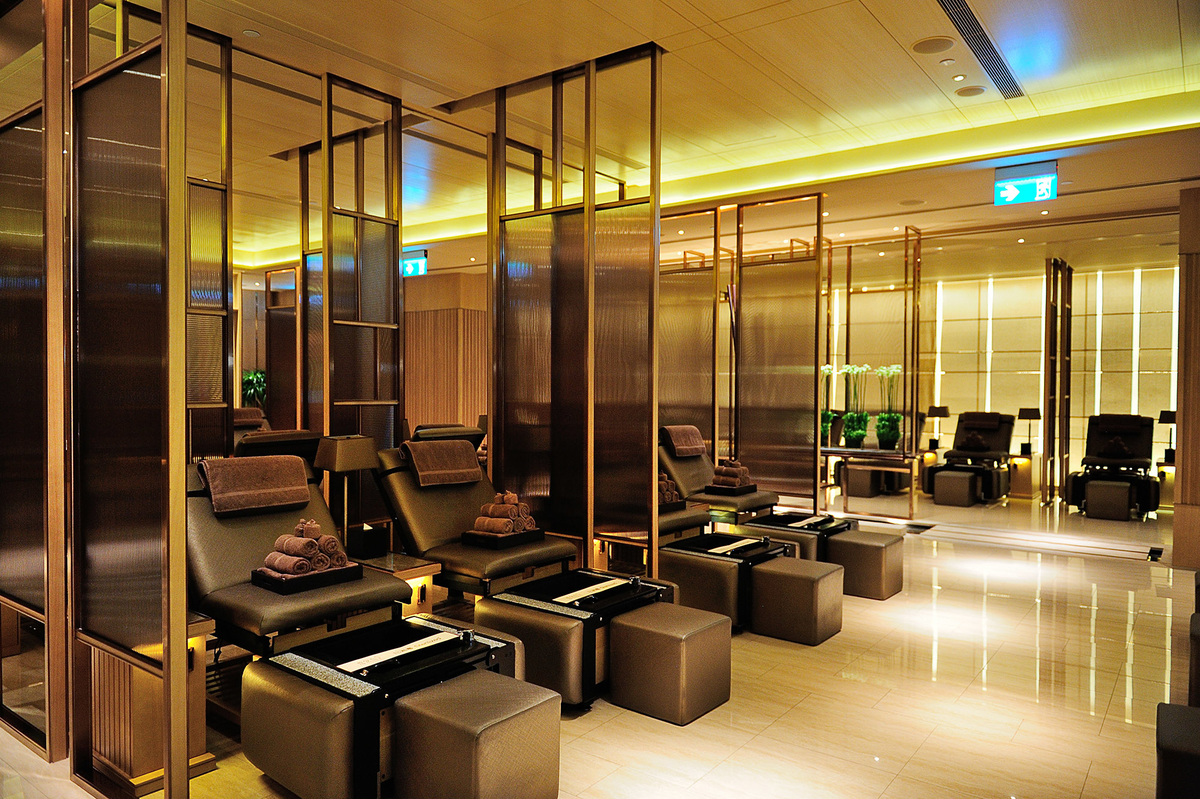 Foot Hub
The largest foot massage parlor in Macau so far, Foot Hub offers great, traditional foot reflexology massages. Alqvimia and Pattrena are two of the branded products they use here. Treatments include a traditional foot massage–signature–while there are other options such as Chinese traditional or aroma oil. This is definitely the place to pamper your feet when looking for a combination of elegance and class, but also professionalism and tradition. Their signature treatments include traditional foot massage, traditional Chinese massage, and aroma oil massage. With the promise of being "The Traditional Way to Wellness", Foot Hub presents the traditional art of reflexology in a new location where elegance and tranquility meet. Let the healing touch of their therapists lead you on a journey of total relaxation.
Whether it is a foot massage, a body massage, or an indulgent journey, the treatments at Foot Hub will make you feel more relaxed and revitalized. You may elevate the experience by enjoying your treatment in their private VIP or deluxe rooms. Check their price list here. Guests will find a tranquil contemporary space for a refreshing and revitalizing experience with an exquisite range of rituals and treatments on offer inclusive of foot massages and full-body massage treatments.
Opening hours: Sunday–Wednesday, 4:00pm–00:00, Thursday–Saturday, 4:00pm–2:00am
Foot Hub Close to the Crystal Lobby Casino Entrance, Galaxy Macau, Estrada da Baía de Nossa Senhora da Esperança, Cotai, +853 8883 2488, www.galaxymacau.com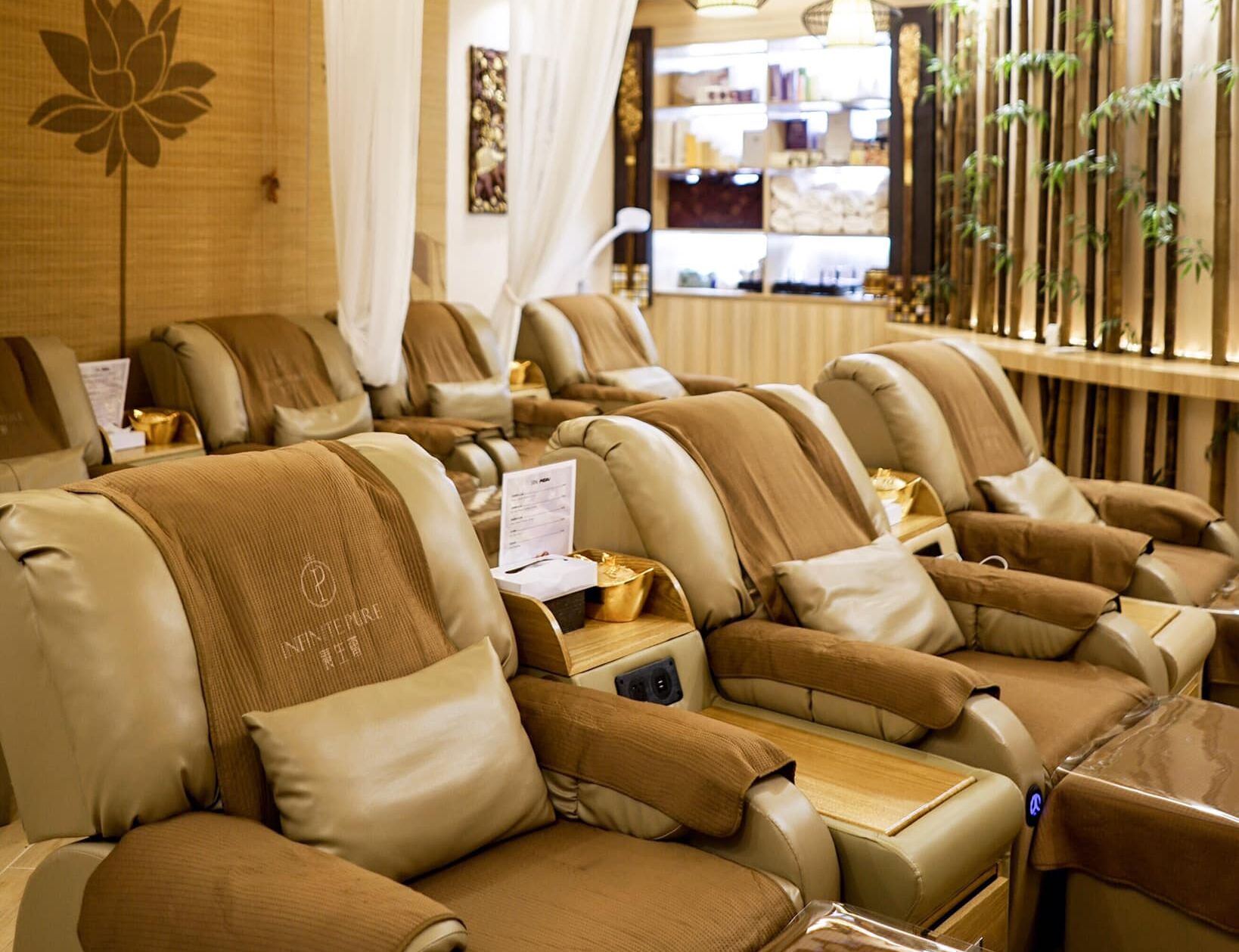 Infinite Pure
Located close to the Macau Stadium, in Taipa, Infinite Pure offers a wide variety of body treatments and massages, but also foot massages, which is what we like best here. With a wide room filled with comfy chairs–equipped with power outlets–it also has wi-fi access. These are your stairway (so to speak) to heaven when it comes to relaxation that starts from the bottom half of your body. The space is modern-looking and you can trust the professional therapists working there to knead your worries away.
Opening hours: Daily, 10:00am–00:00am
Infinite Pure 57 Av. de Guimarães, Edf. Mei Keng Garden,  Taipa, +853 2888 1226, www.facebook.com/Infinitepuremacau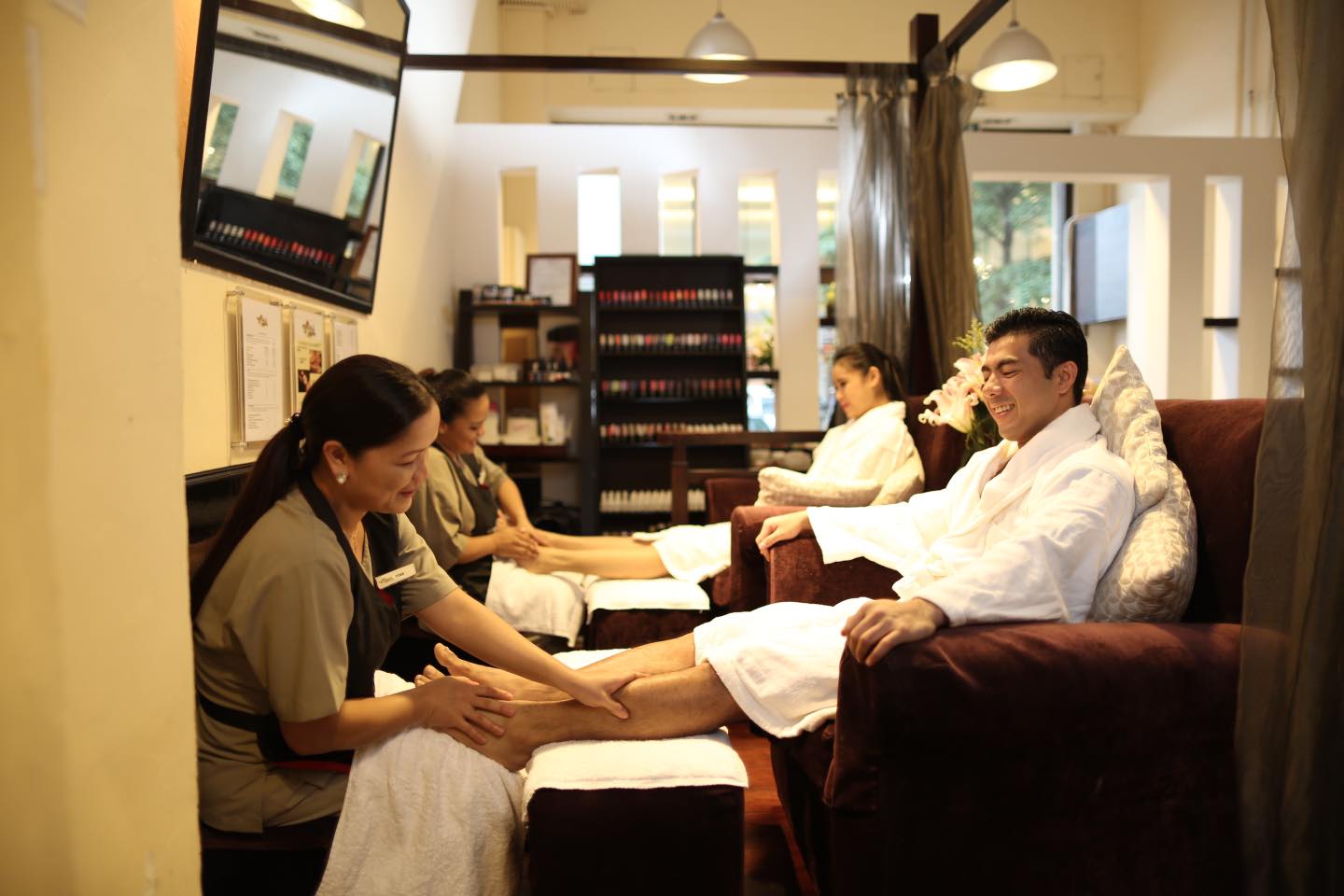 La Belle Spa
Located in the NAPE area, La Bella Spa offers much more than foot massages! However, these are a specialty of theirs and include treatments like reflexology, which is very sought-after in Asia. Head there for a wonderfully crafted foot massage and you won't regret it. Also, they have promotions going on during weekdays, from 11:00am till 4:00pm, so be sure to check their Facebook page!
Opening hours: Daily, 11:00am–11:00pm
La Bella Spa 105 Rua de Madrid, Wan Yu Villa Shop AM, Macau, +853 2875 2842, www.facebook.com/labellespamacau
---
Macau Spas Offering Foot Massages
Bodhi Spa
Featuring a beautiful and classy foot massage area, your relaxation moment at Bodhi Spa starts at the door. With a wide menu of body massages–which we also recommend–they offer a reflexology treatment, very sought-after in Asian cultures and countries. Harnessing the belief that each part of our foot is connected to a specific part or organ of our body, helps to eliminate stress, and help to ease pain and illnesses in those places. There are reflexology treatments of 60 and 90 minutes to choose from here.
Opening hours: Tuesday–Friday, 12:00pm–1:00am, Saturday–Monday & Public Holidays, 10:00am–1:00am
Bodhi Spa 3F Conrad Macao, Estrada do Istmo. s/n, Cotai, +853 8113 6188, www.londonermacao.com/hotels/conrad-macao/bodhi-spa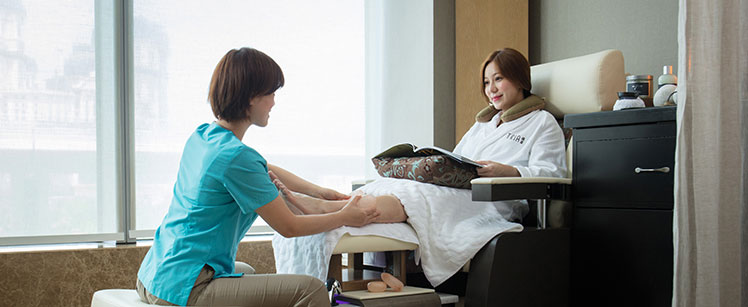 Tria Spa at MGM Cotai and MGM Macau
Enter MGM Macau or MGM Cotai's wonderful spa to experience a peaceful and soothing environment once you step into the door. Tria Spa's foot massage starts off with a cleansing ritual before a wonderfully crafted foot massage by experienced therapists. The best thing is it lasts 60 minutes! They will stimulate specific different points to promote body and soul health and wellbeing. While you're there, why not book one more treatment, perhaps aromatherapy or hot stone massage after a long day's work?
Opening hours: Daily, 11:00am–11:00pm
Tria Spa 3/F MGM Macau Avenida Dr. Sun Yat Sen, NAPE, Macau, +853 8802 3838, www.mgm.mo
2/F MGM Cotai Avenida da Nave Desportiva, Cotai, +853 8806 2733
Spa at Mandarin Oriental, Macau
With several rooms in a lavish atmosphere facing breathtaking views, the Spa at Mandarin Oriental, Macau boasts several treatments, including a special reflexology one dedicated to body and mind wellness. Using ancient oriental techniques,  it focuses on the foot's acupressure points, which are directly linked to various organs and glands in the body. A relaxing treatment with therapeutic benefits. It provides a wonderful experience of relaxation and energy for the next day. Mandarin Oriental, Macau spa's foot massage is an hour-long treatment.
Besides this, there's the amazing half-day (four-hour package) Haven for Ladies: this "head to toe" experience includes body and face treatments and includes their refreshing foot reflexology techniques, plus healthy refreshments along the way. Also, check their signature massages on this menu.
Opening hours: Daily, 11:00am–11:00pm
The Spa at Mandarin Oriental, Macau 945 Avenida Dr. Sun Yat Sen, NAPE, Macau, +853 8805 8588, www.mandarinoriental.com
Also read: Wake Up Here: Mandarin Oriental, Macau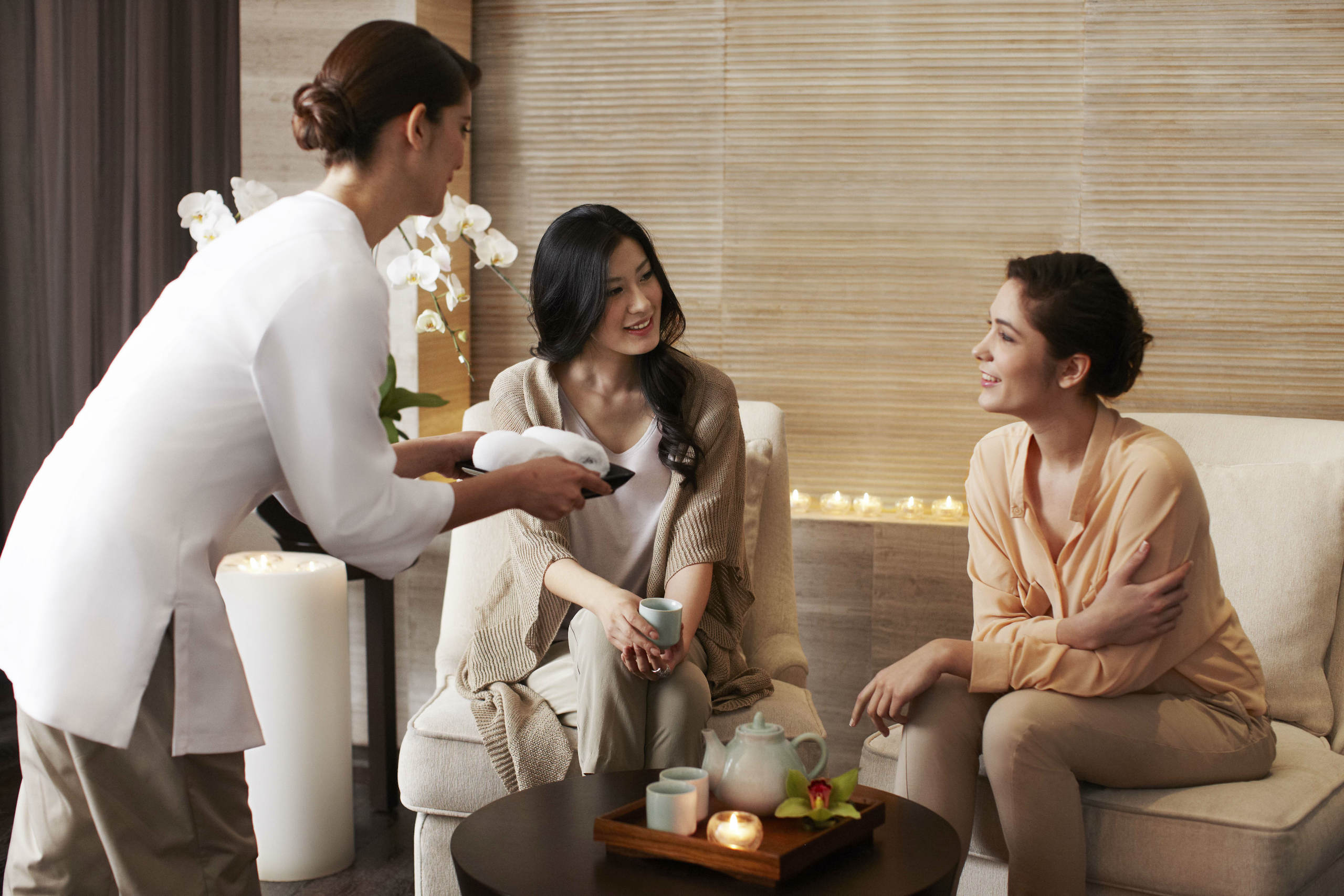 Shine Spa at Sheraton Grand Macao
Also offering a sumptuous foot reflexology treatment, Shine Spa is located in Sheraton Grand Macao. The luxurious venue has professional therapists looking to cater to customers' needs. Here, you'll be treated to a masterful pressure massage focused on your feet's main points. You can even choose between a one-hour or 90-minute treatment, allowing you to relax to the maximum! Refreshing and rejuvenating, it's an ideal place to head to when in need of taking some steam off. Sheraton Grand Macao also has restaurants and lots of shops to explore in its vicinity, so why not make it a day to pamper yourself with a spot of shopping and end it with a relaxing foot massage?
Opening hours: Daily, 2:00pm–10:00pm
Shine Spa Level 3, Sky Tower, Sheraton Grand Macao, The Londoner Macao, Estrada do Istmo, s/n, Cotai, +853 8113 0222, www.shinespamacao.com, [email protected]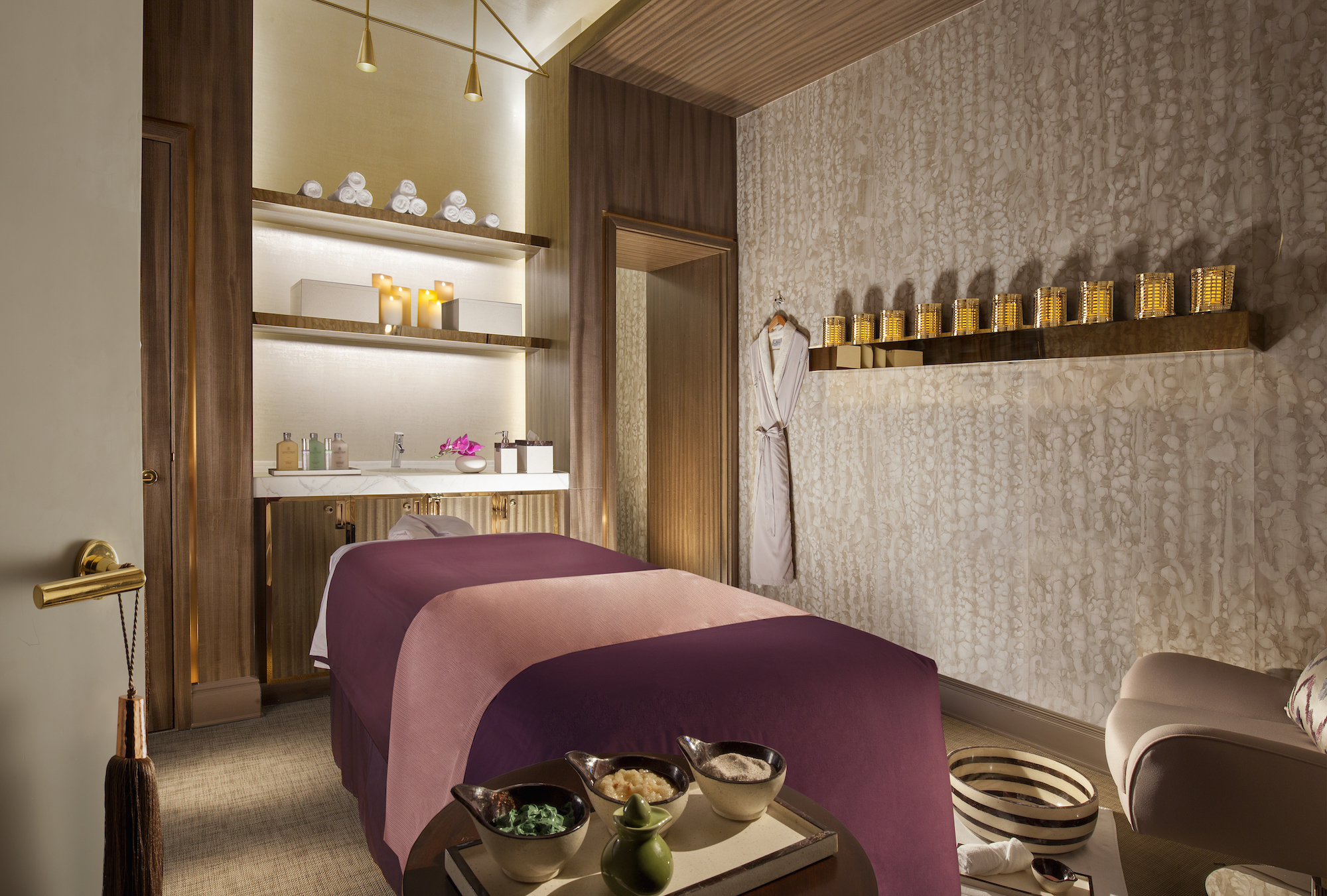 Le SPA'tique at The Parisian Macao
Located at The Parisian Macao, Le SPA'tique offers luxurious foot massages with reflexology. The trained professionals will surely help you relax–some say it should start at the bottom. The Parisian Macao's spa even has a special foot massage room with comfortable lounge chairs, and more, so customers can lay back and expect to leave this place with a new body and soul perspective. 60-minute and 90-minute treatments are available and for more information, check the spa's catalog here.
Opening hours: Daily, 11:30am–1:30am
Le SPA'tique Level 6, The Parisian Macao, Estrada do Istmo, Lote 3, Cotai, +853 8111 1221, www.parisianmacao.com, [email protected]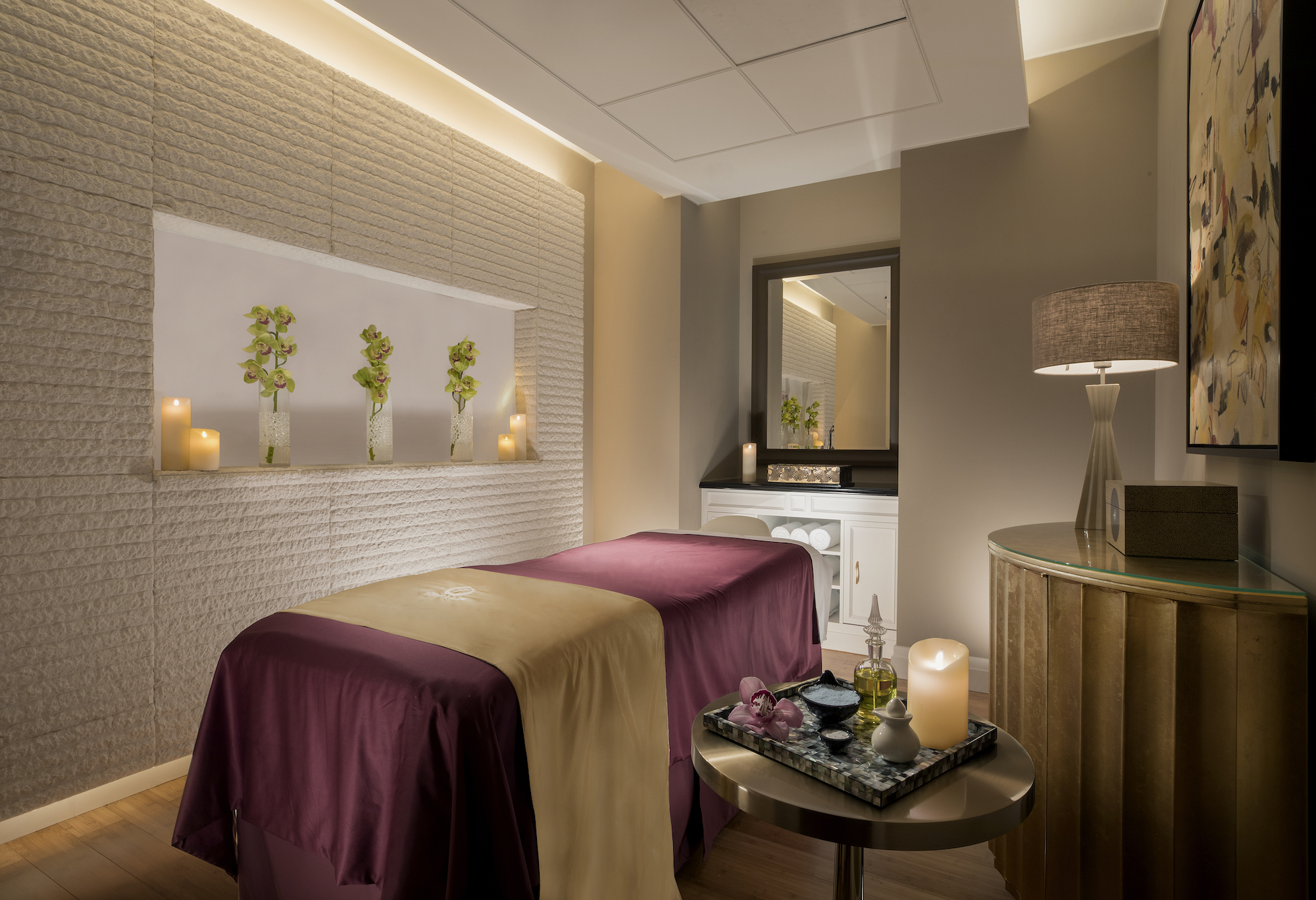 V Retreat at The Venetian Macao
Open until late, V Retreat really is a place where you can go to get away from all the hustle and bustle. Located in the decadent and luxurious The Venetian Macao, take some time to pamper yourself with a session of reflexology for your feet. Besides helping with body ailments, this kind of massage will leave you walking on cloud nine and absolutely refreshed feet!
Opening hours: Daily, 12:00pm–2:00am
V Retreat The Venetian Macao, Estrada da Baía de Nossa Senhora da Esperança, Cotai, +853 8118 7291, www.venetianmacao.com, [email protected]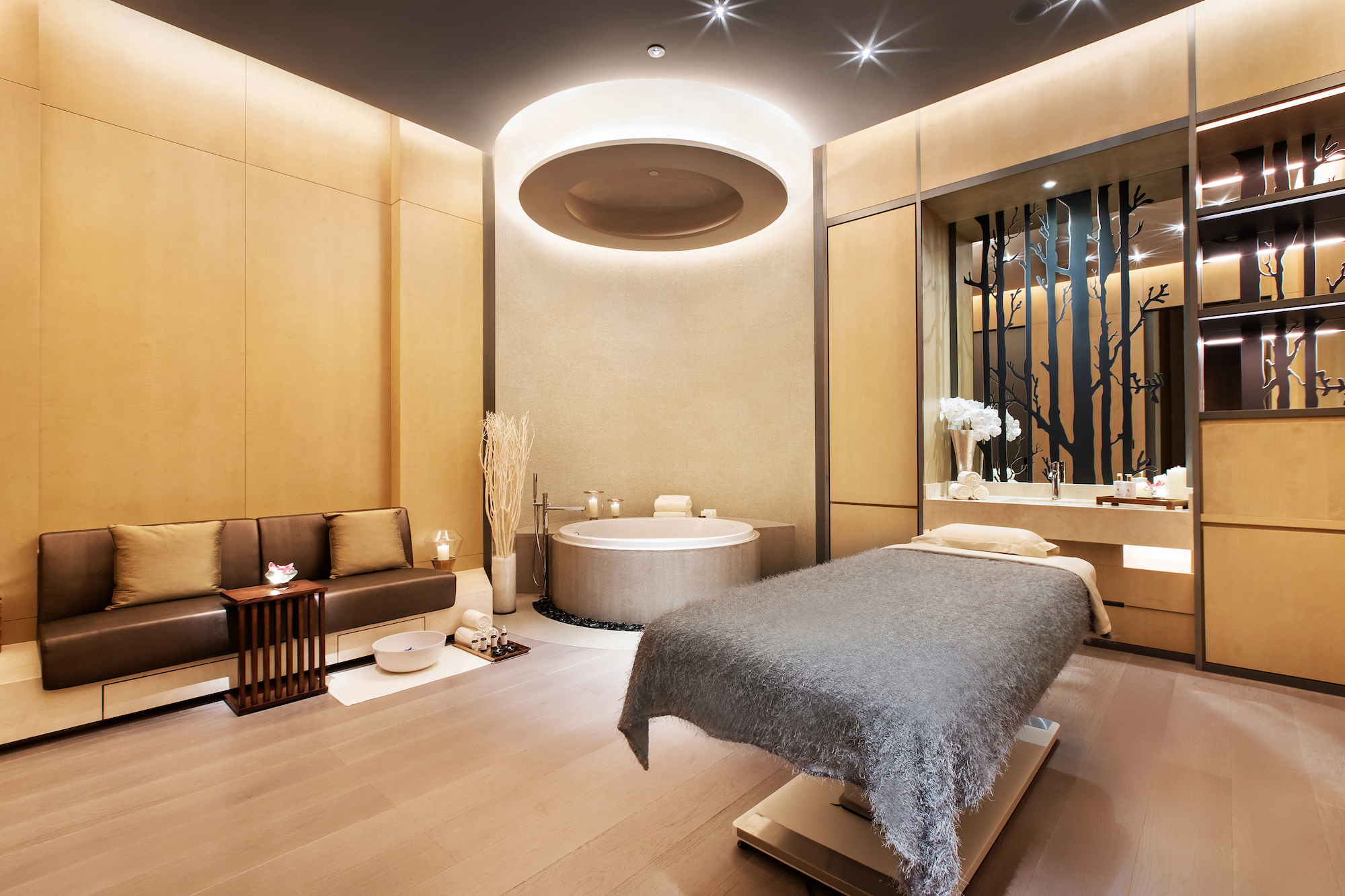 Morpheus Spa
Morpheus Hotel is synonymous with glamour and class, but what you might not know is that their spa was dubbed "the most luxurious spa experience in the region". When it comes to foot pampering, Morpheus Spa offers a unique treatment: their Synchronicity Leg & Foot Massage focuses on restoring balance to the body and it's especially recommended to help with jet lag.
The therapist starts by rubbing a handmade Kasa bowl on the foot in a circular motion to stimulate Marma points–energy points in the body used for healing in Ayurveda techniques–which helps the body to synch in the day cycle again. After this, hot compresses, a massage, and oils are added into this wonderfully mastered mix. Their exclusive treatment includes a foot ritual, skin exfoliation, a body mask, and an anti-aging Marma facial massage.
Opening hours: 2:00pm–11:00pm
Morpheus Spa Level 5, Morpheus Hotel, City of Dreams, Estrada do Istmo, Cotai, +853 8868 3098, www.cityofdreamsmacau.com, [email protected] www.cityofdreamsmacau.com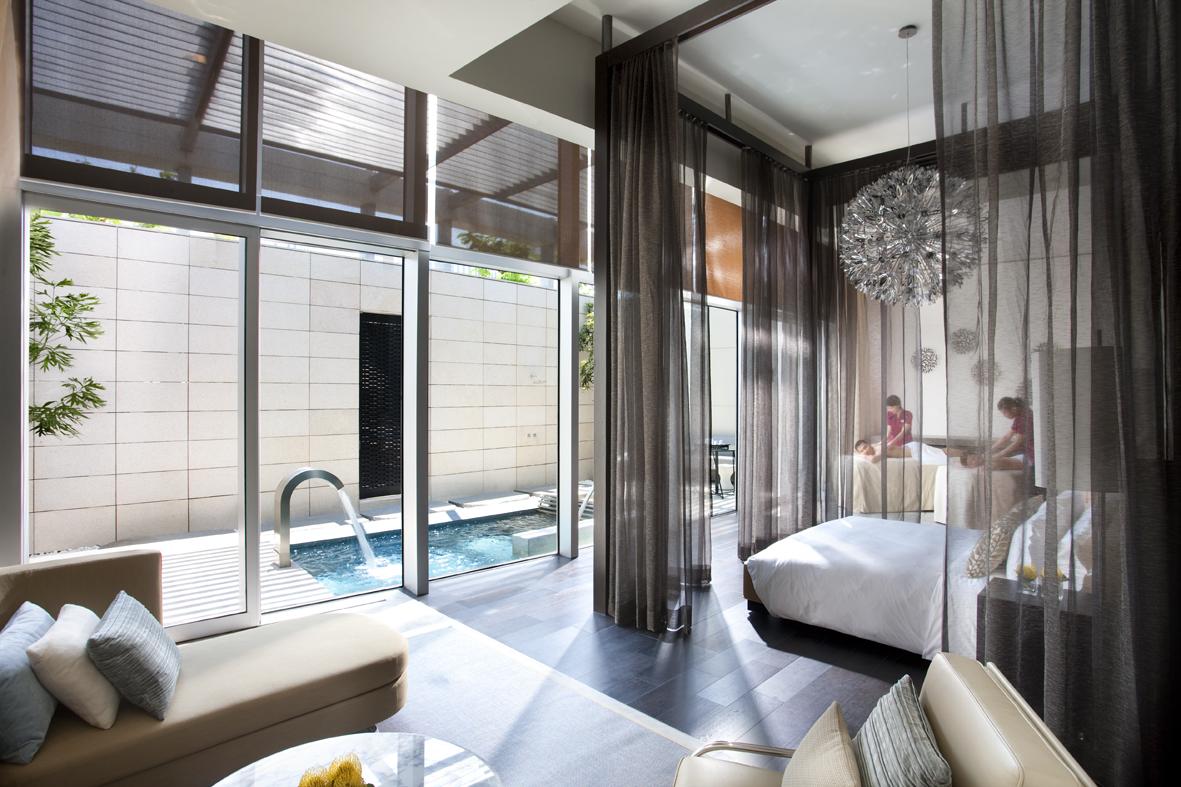 Nüwa Spa
Nüwa, at City of Dreams, includes a lavish spa with an extensive treatment menu. From nordic styles to ever-popular ones from Asia, there's an array to try out–especially when it comes to foot massages. Most of their experiences include full-body pampering as well: be it a body wrap or scrub, scalp massage, or Ayurvedic option, there's always a foot massage involved in the process, which makes this the perfect place to go to when looking for the whole package. If your schedule is tight but you really feel overwhelmed, try their 30-minute express targeted massage, where your back, shoulder, or feet. When in search of the perfect combo, go for the Oriental Herbal Infusion or the Ama Releasing Abhyanga–which includes a foot ritual, body exfoliation, and facial cleanse. You can also add a 60-minute Reflexology or a 30-minute targeted massage add-on to any 60-minute treatment. Check the whole catalog here.
Opening hours: Daily, 2:00pm–10:00pm (reservation only)
Nüwa Spa Level 3, Nuwa Hotel, City of Dreams, Estrada do Istmo, Cotai, +853 8868 6883, www.cityofdreamsmacau.com
Zensa Spa at Studio City
Located in Studio City, the modern-looking Zensa Spa offers signature body treatments to relax and pamper everyone. One of those is their Hydrating Foot Treatment, which focuses, as the name indicates, on one of our body's most important parts: the feet. Using a hydrating cream, it's basically a massage leading to deep relaxation, also relieving leg stress, something very common amongst people living stressful daily lives. To check out all their treatments, click here.
Opening hours: Daily, 12:00pm–9:00pm
Zensa Spa Level 3, Star Tower, Studio City, Estrada do Istmo, Cotai, +853 8865 1888, www.studiocity-macau.com, [email protected]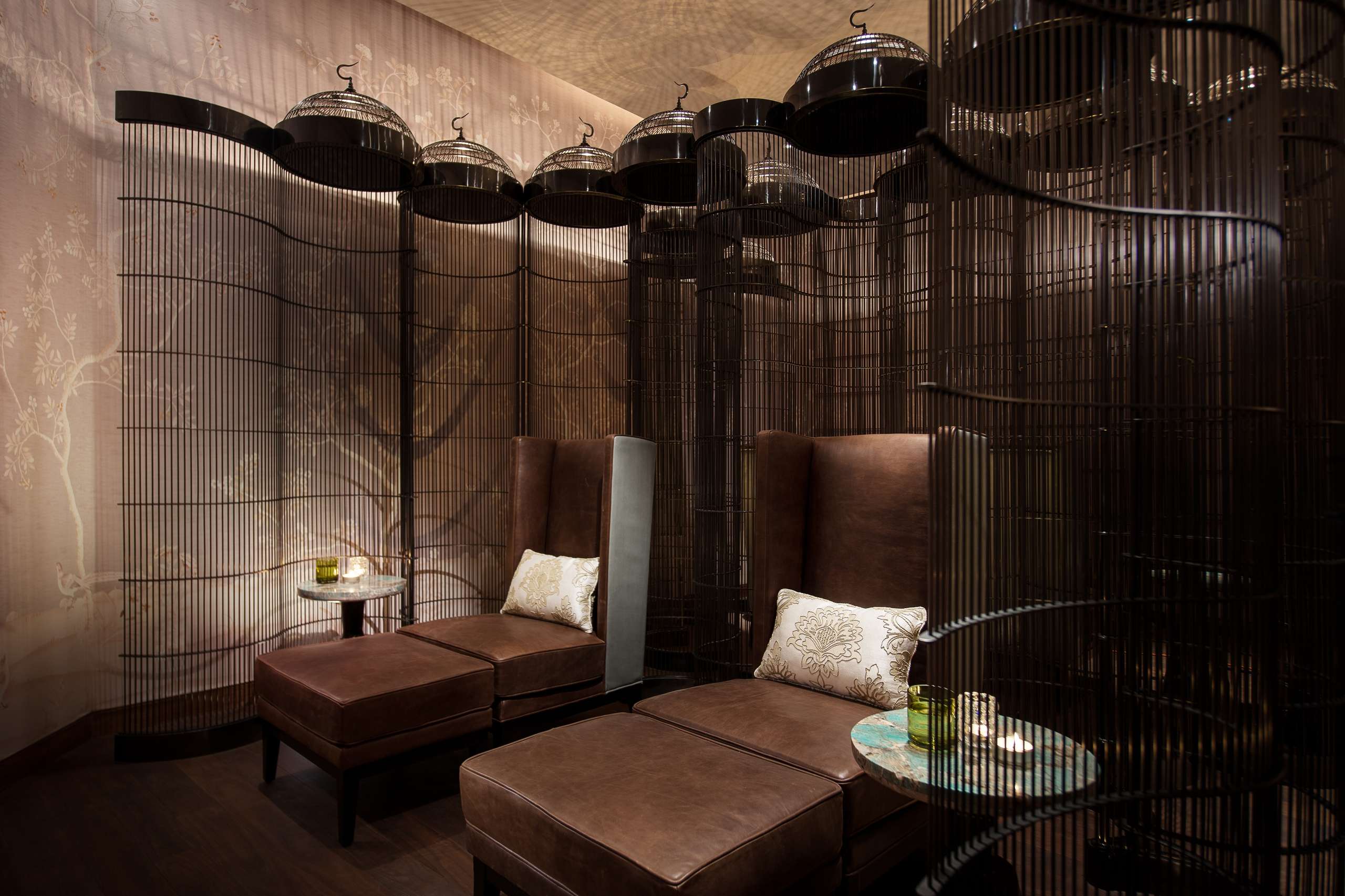 The Ritz-Carlton Spa, Macau
Whether you're looking for a full body massage that includes wonderfully feet pampering, or a more focused treatment for the bottom of your body, The Ritz-Carlton, Macau's spa has it. It delivers a wide list of body massages–Relaxation Massage with aroma oil, Traditional Chinese Massage or Thai Massage–that also include your feet's wellbeing. Besides these, there's the ultimate Foot Reviver: it focuses on smoothing the skin through an exfoliating and nourishing treatment that will leave the feet smooth, soft, and bright. Check the full menu here.
Opening hours: Thursday–Tuesdays, 1:00pm–9:00pm
The Ritz-Carlton Spa, Macau 3/F, The Ritz-Carlton, Macau, Galaxy Macau™, Estrada da Baía da Nossa Senhora da Esperança, Cotai, +853 8886 6868, www.ritzcarlton.com, [email protected]
Also read: Wake Up Here: The Ritz-Carlton, Macau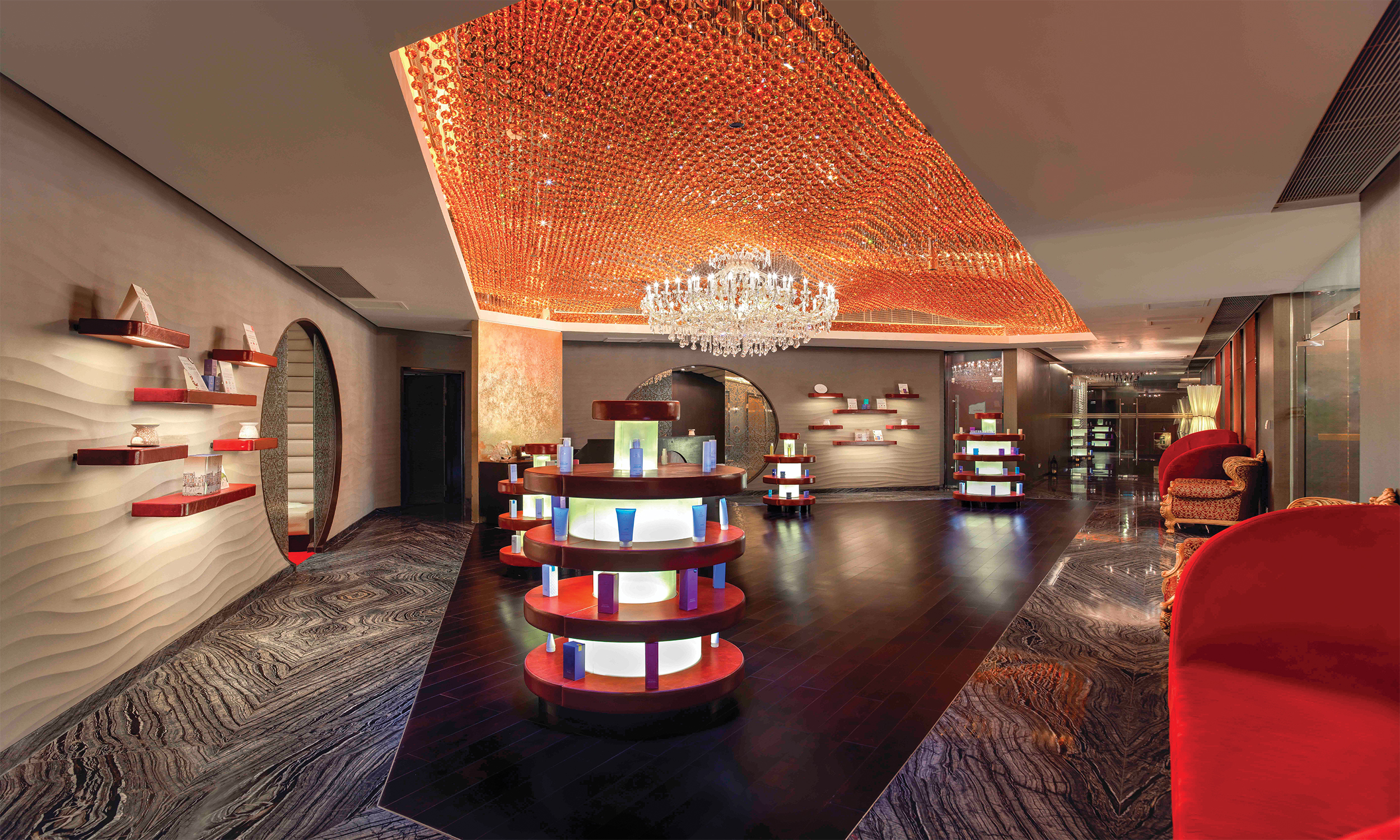 Grand Lisboa
With two entire floors dedicated to relaxation, Grand Lisboa's spa offers wonderfully crafted treatments and a relaxation room where you can relax afterward! They offer foot reflexology. This practice works on specific reflex points on the feet to induce a healing response in corresponding organs and areas of the body.
With gentle acupressure techniques, therapists massage several acupoints on the legs and feet which are linked to various body organs and glands and manipulate the nerve endings on the feet in order to clear up blocked energy channels, alleviate leg and foot fatigue, and ultimately improve the whole sense of well-being. The benefits include: cleansing the body of toxins, boosting the immune system, increasing blood circulation, promoting self-healing, and balancing the body's energy.
Opening hours: Daily, 12:00pm–9:00pm
The Spa at Grand Lisboa Avenida de Lisboa, Macau, +853 2828 3838, www.grandlisboahotels.com
Also read: Wake Up Here: Grand Lisboa Macau
Tags
Related Posts