We're super excited about all the things happening in Macau these last few weekends of 2021! Besides lots of festive dining offers, there are some other news, and one of them is the re-opening of Artyzen Grand Lapa Macau's Vasco Bar & Lounge. This Saturday, the iconic spot reopens its doors to welcome everyone with a special live set by DJ Ted. Want to discover all the surprises in store for you at the bar? Read about it here. There's also another great thing starting this weekend: The "MGM Awakening Lion" Techno-Cultural Dance Drama, a beautiful performance taking place at MGM Theatre, so be sure to grab your ticket. The weather has been quite nice, so we're recommending you take a stroll through Taipa Village and check out the cool creative mural set in Largo Camões, "Stay With Me" by P.I.B.G. Christmas is almost here, but if you're still planning your festive celebrations, explore our complete guide on the best places to celebrate Christmas in Macau!
(See featured image above)
"Wherever there is Chinese, there is Lion Dance". This December, the innovative ethnic dance drama "MGM Awakening Lion" is bringing you a spectacular show that pays homage to the classic cultural performance of the Greater Bay Area. Presented by MGM and Guangzhou Song and Dance Theater, the Techno-Cultural Dance Drama "MGM Awakening Lion" is re-arranged and tailor-made according to the best dance drama in the China Dance Lotus Awards. Showing the thousand-year history of Lingnan Culture on stage, this 70-minute drama is an exemplar of cultural tourism catered to the new generation of tourists according to the cutting-edge technology and state-of-the-art equipment of the MGM Theater. Immersing the arts of Lion Dance, Southern Fist (Nanquan), and dance performance, this dance drama fuses the venue and the performance together to deliver a one-of-a-kind and visual-stimulating extravaganza to the audience.
"Awakened by the spirit, rooted in the Lion"– the repertoire of "MGM Awakening Lion" starring Iiliwan Umar, Peng Guanyu and Zhu Jinhu, is based on the awakening of a nation expressed in traditional culture. The must-see show of this year, "MGM Awakening Lion" is ready to connect Chinese people all over the world.
When: 3:00pm and 8:00pm, December 19–25, 2021
Where: MGM Theater, MGM Cotai, Avenida da Nave Desportiva, Cotai
How much: MOP $280–600
For more information, check the event's official website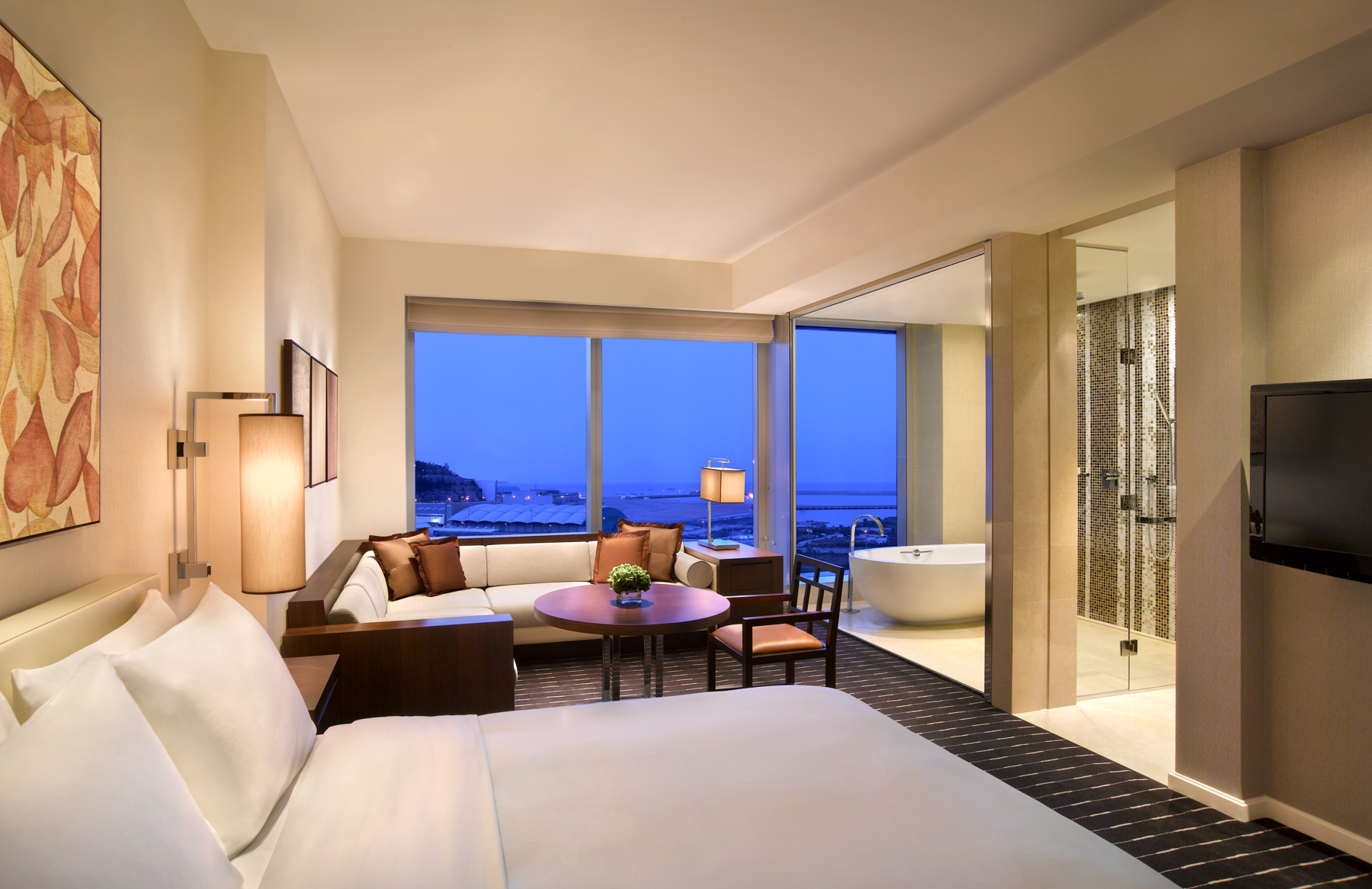 Grand Hyatt Macau has a series of wonderful offers, so visit their official e-voucher store for the 12.12 limited-time privileges! A series of spectacular offers, including a restful stay, delectable gourmet deals, and rejuvenating indulgences await to delight your winter holiday. Grand Hyatt Macau is a modern-looking and sumptuous property with lots of things to do, including dining and relaxing surprises. Have a fun-filled stay with their ultimate Grand Club package. It includes Grand Club privileges for two, including daily breakfast, all-day refreshments, an afternoon tea, and an evening cocktail. Experience the exceptional service at their Grand Club Lounge on the 37th floor and have a blast!
They're also offering the winter solstice package! Unwind yourself in the spacious suite rooms with a scrumptious breakfast, their specially crafted Winter Solstice menu (six- courses) at Beijing Kitchen for two, and enjoy early check-in and late check-out to start the fun earlier and wake up late, just like during the holidays!
When: Ongoing
Where: Grand Hyatt Macau, City of Dreams, Estrada do Istmo, Cotai
How much: Ultimate Grand Club Package – MOP $1,212 per night* (Sunday–Friday), MOP $1,712 (Saturday and holidays) per night*
Winter Solstice Package – MOP $1,899* per night, respectively
For more information and bookings, check the event's official website or send an email to [email protected]
*Terms and conditions apply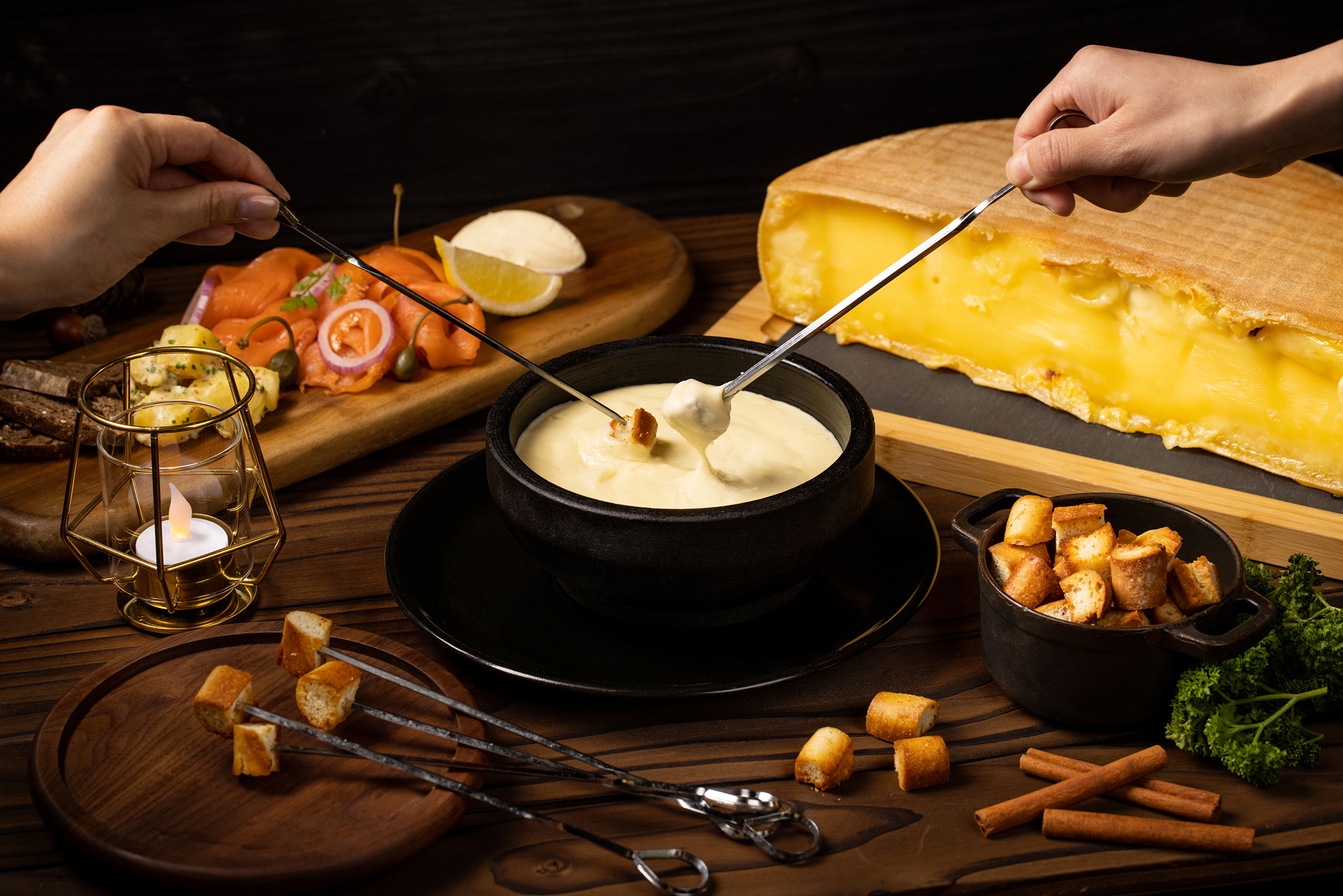 This Christmas, Mandarin Oriental, Macau is crafting a very special happening for everyone to relish this unique season. With splendidly festive decorations and a wintery vibe, their Christmas Chalet is all you'll need to spend some quality time with friends and family. Filled with traditional seasonal dishes and foods from all over the world, you'll get the chance to experience a cozy and tasteful Christmas throughout the season! This deal includes favorites such as original Swiss raclette, cheese fondue, Alpine cheese and cold cut selection, a white pizza with black truffles, traditional ham and sausage selections, Christmas pudding, chestnut pavlova, and so many other delights. There are three different kinds of fondues to choose from, and one of them includes champagne. Festive surprises include classic shrimp cocktail, seared foie gras with Gluhwein reduction, beef Wellington, whole roasted turkey, and whole honey glazed ham*.
You can also go for some of Vida Rica Bar's classics for the choice of the main dish. You probably won't resist their Christmas-themed desserts. From Christmas logs and puddings to a cinnamon ice cream with speculoos crumble, there's a world of sweetness to try out. The cocktails department has also turned into a feast for Christmas lovers! Besides their classic drinks, Vida Rica Bar's staff is also crafting original recipes such as a homemade Gluhwein (mulled wine) with cloves and cinnamon, a cherry Amaretto, or their winter wonderland Christmas punch. There's a whole world of Christmas-related dining to experience at this spot, so be sure to book your table now!
When: November 13–January 6, 2022
Where: Vida Rica Bar, Mandarin Oriental, Macau, 945 Avenida Dr. Sun Yat Sen, NAPE, Macau
How much: MOP $88–1,088 (dishes), MOP $88 (per cocktail)
For more information and reservations, call Vida Rica Bar at +853 8805 8918 or send an email to [email protected]
*The whole roasted turkey, and the whole honey glazed ham should be requested 48 hours in advance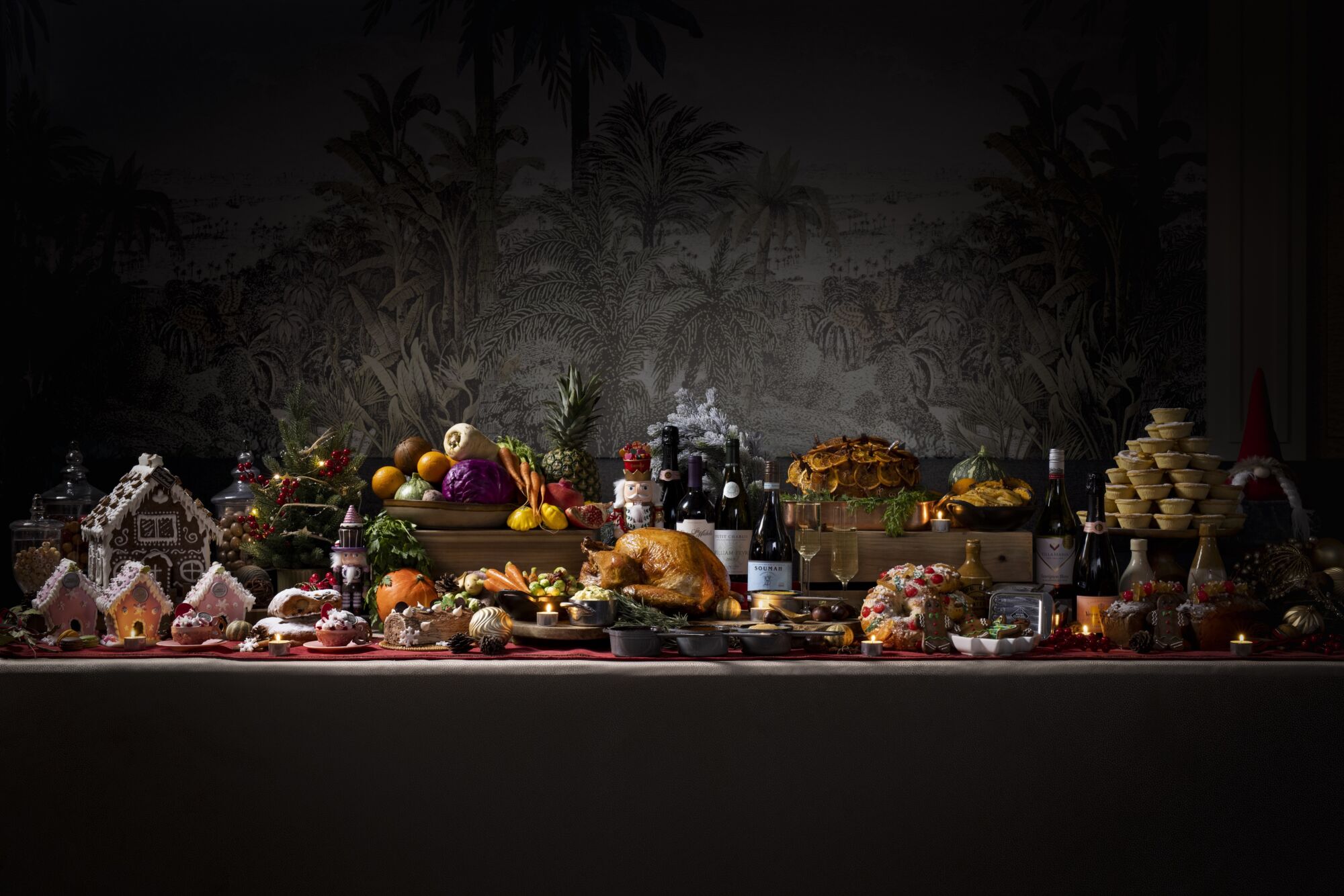 Christmas is just around the corner and there is no better time for everyone to gather together to eat, drink and be merry. Sheraton Grand Macao is offering an exciting array of festive menus at The Conservatory and Feast to raise the spirits and celebrate this magical festive season. These festive offerings will certainly make this holiday season a memorable one for all. Located at the Shakespeare's Hall of Sheraton Grand Macao, The Conservatory prides itself on the robust British-inspired fare. Make a date with family and friends to enjoy the festive roasts including roast turkey breast and leg ballotine with cranberry and caraway stuffing with hearty sides followed with festive desserts.
Festive feasting is never complete without sumptuous festive buffets. The festive dinner buffet at Feast is especially popular due to its lavish variety of signature dishes from around the globe. On Christmas Eve and Day, guests can indulge in traditional roast turkey with stuffing, gammon ham, seafood, Japanese konro grill, Christmas desserts to Sichuan Mala hotpot.
When: December 1–31, 2021
Where: Feast and The Conservatory, Sheraton Grand Macao, The Londoner Macao, Estrada do Istmo, s/n, Cotai
How much: Dishes starting from MOP $98
December is synonymous with joy and laughter surrounded by loved ones, so why not head for a beautiful venue in quaint and classic Taipa Village and have a blast over great food and drinks with friends and family? There, you'll find great restaurants such as Tapas de Portugal, António, Paulaner, or Barcelona. Each boasts a unique and exclusive vibe, taking you across the world with exotic flavors and ingredients. Celebrate this Christmas at Taipa Village and grab the chance to take some photos in front of Tapas de Portugal's installation façade, featuring Santa Claus. If you love barbecued chicken with spicy sauce, grilled octopus, and seafood rice, then Tapas de Portugal is the place to go. We love dining here and so will you. This Christmas and New Year, António is serving incredible dishes, including signatures such as grilled codfish, Portuguese steak, Portuguese duck rice, and some other surprises. Don't miss the chance to dine here!
A beer-tasting set, the Paulaner Brauhaus platter, Paulaner Brotzeit Platter, or spicy lamb sausage are some of the delicacies you can have at Paulaner, Macau's coolest and hippest beer place. A Bavarian beerhouse restaurant boasting multiple floors of dining areas, from the unrivaled rooftop terrace to entertaining dining floors for all kinds of gatherings and celebrations. Diners can indulge in seven types of Bavarian beer and a variety of traditional German plates, embark on a European journey and enjoy the fine art of Munich's inimitable brewing style. At Barcelona, you'll be able to have signature dishes such as suckling pig, octopus, or scallops. Sink in this season and try some of the best dishes in town in one of our favorite areas!
When: December 1–31, 2021
Where: Tapas de Portugal, 22A Rua dos Clérigos, Taipa Village, António, 18A–18B Rua dos Clérigos, Taipa Village, Barcelona, 47 Rua dos Clérigos, Taipa Village, and Paulaner Wirtshaus Macau, 41-43 Rua dos Negociantes, Taipa Village
For more information and bookings regarding Tapas de Portugal's menus call +853 2857 6626, for Barcelona call +853 2845 5168, for Paulaner call +853 2838 1038, and for António call +853 2888 8668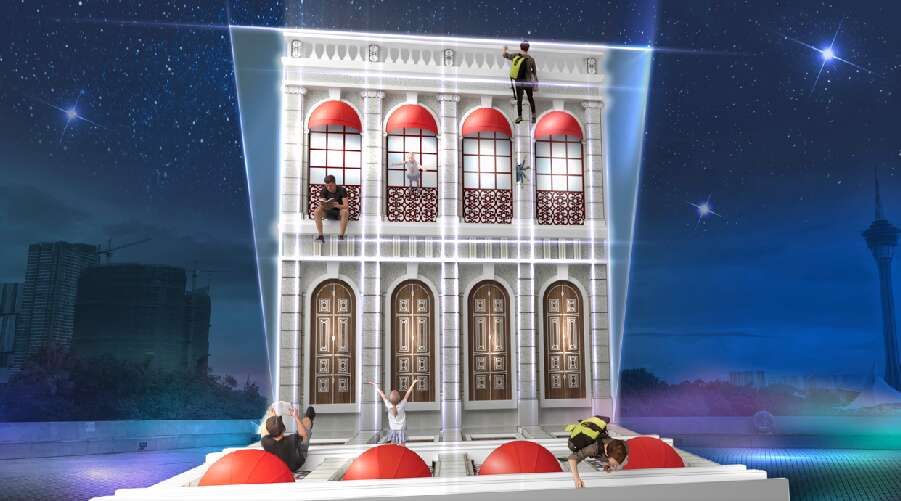 Macao Light Festival 2021 is themed as "Travellers from Mars". The storyline is based on friends from Mars who plan to travel to Macau and connects a series of elements related to tourism, culture and creativity, science, leisure, gastronomy, environmental protection, recreation and sports, nature, and the universe. It is presented in a humorous approach bringing joy and positivity to the audience while highlighting the image of Macau as a safe travel destination.
When: December 4, 2021–January 2, 2022
Where: Macao Science Center, Avenida Dr. Sun Yat-sen, Nape, Macau, Taipa Village, Nam Van Nautical Center, Lago Nam Van, Macau, Barra Area, Calçada do Amparo, Pátio de Chôn Sau, Rua dos Ervanários, Rua de Nossa Senhora do Amparo, Coloane Square, Coloane Village
How much: Free admission
For more information, check the event's official website
The Manor is celebrating sustainable dining with a six-course menu featuring the finest sustainably sourced ingredients and wines. The Manor's Executive Sous Chef Michele Dell'Aquila has raised his game by collaborating with sustainable food producers and utilizing seasonal ingredients to design a menu that not only tantalizes the taste buds but is also environmentally friendly. For chef Michele, cooking with sustainable produce is a significant game-changer in today's world. He actively searches for the right food producers that support the planet and help people re-establish a healthy relationship with nature.
Signature dishes showcasing sustainable ingredients in the six-course menu include true born tenderloin tartare, crème fraîche and Calvisius Siberian caviar, truly born tomahawk with maitake mushroom, smoked potato foam and port wine sauce, and true born sirloin with beluga lentil, green pea, pumpkin, foie gras, and beef jus. This sustainable beef originates from Monte do Pasto, in the sunniest plains of Portugal. Open-air breeding, animal welfare, a perfect blend of the best European breeds, cut design, maturation, and deep freezing are the secrets to this tasty, tender, and nutritious beef presented on the menu.
When: Ongoing, daily, 6:00pm–11:00pm
Where: The Manor, The St. Regis Macao, The Londoner Macao, Estrada do Istmo, s/n, Cotai
How much: MOP $888 per person, MOP $1,388 per person (with sustainable wine pairing)
For more information and bookings, check their website, call +853 8113 1300, or send an email to [email protected]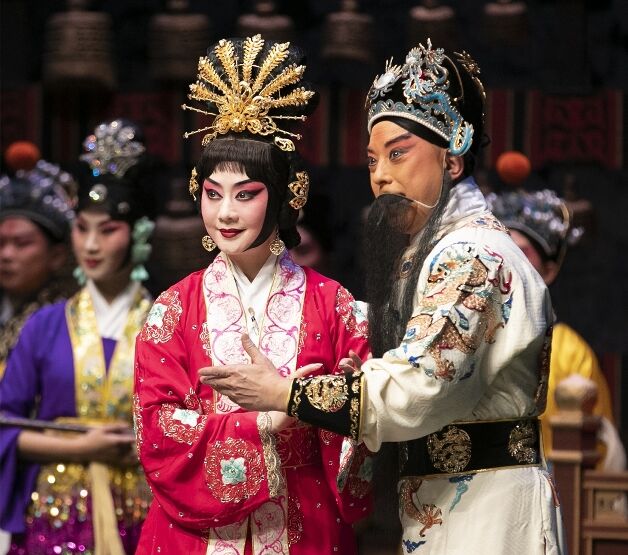 The exuberance of China's finest performing arts is returning to CCM's stage with two popular operatic tales brought by the National Peking Opera Company. Taking off Macau run with The Unofficial Biography of Taizhen, the program's opening piece is a Tang Dynasty epic tale singing the love story of Emperor Ming and his concubine, Yang Yuhuan. On the second day, opera lovers will be plunged into Mu Guiying Taking Command, depicting the emergence of a national heroine who led the troops against Western Xia's invading army. An outstanding military deed and a legend who remains to date both a cultural and feminist symbol.
These two productions are part of a vast and rich repertoire of Chinese tradition. More than a sheer display of vocal skills, Peking Opera combines various art forms in a fusion of recitation, dance-acting, and martial arts, well-adorned with impressive traditional costumes, vivid allegorical make-up, and simple props. Allowing a smooth connection between actors and musicians, a small traditional orchestra will be playing live tunes, inducing the plot and illustrating the atmosphere.
When: The Unofficial Biography of Taizhen – Friday, 7:30pm, December 17, 2021
Mu Guiying Taking Command– Saturday, 7:30pm, December 18, 2021
Where: Grand Auditorium, Macao Cultural Centre, Avenida Xian Xing Hai s/n, NAPE, Macau
How much: MOP $100–200
For more information, check here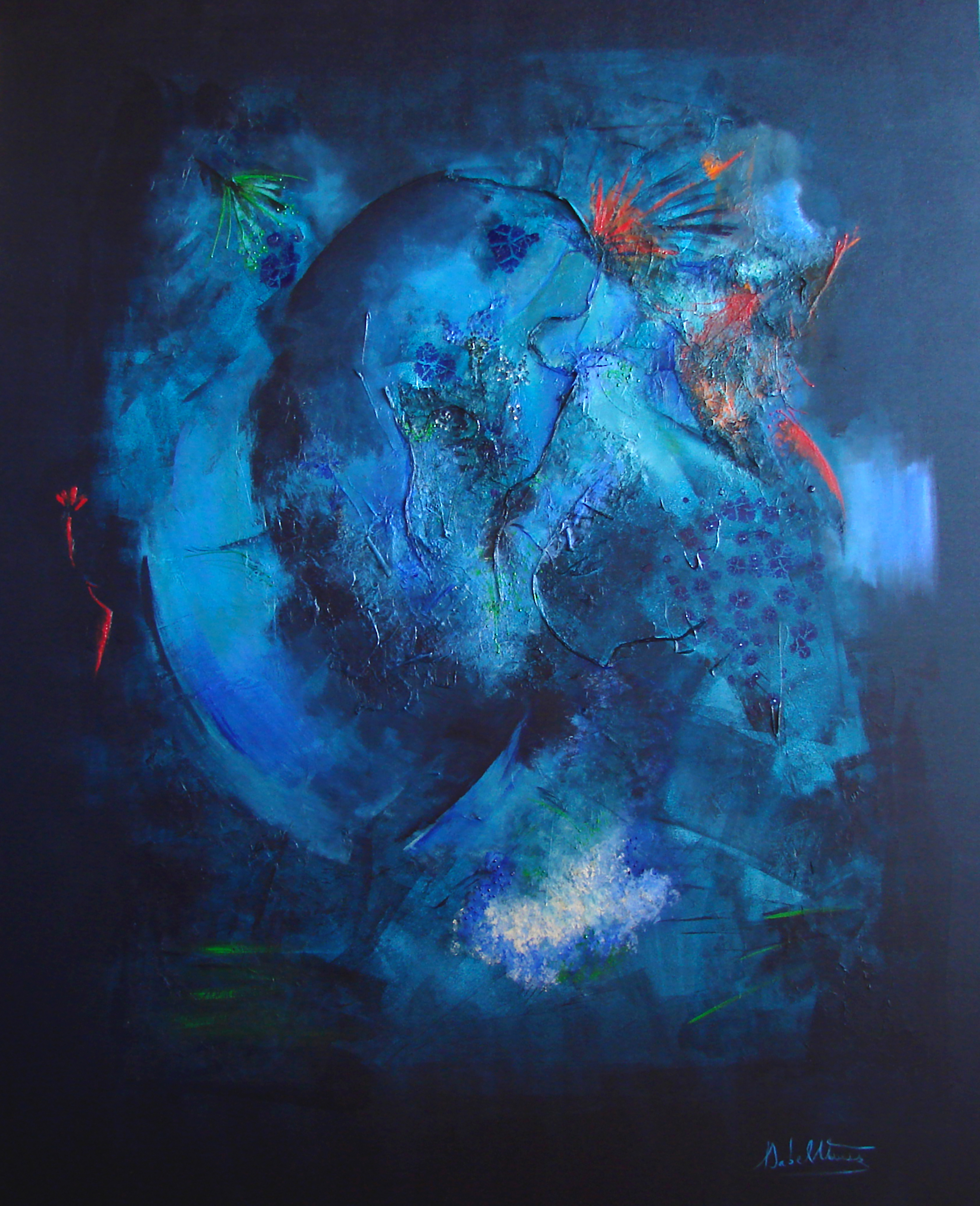 To celebrate the 22nd Anniversary of the Macau handover, Albergue SCM is organizing "Give back the Blue to the Oceans", a solo exhibition by the Portuguese renowned artist Isabel Nunes. Born in Lisbon in 1957, Artist Isabel Nunes currently lives and works in Lisbon. She was graduated from the Universidade Nova de Lisboa, majoring in History (Art History focus). She also stayed in Macau and studied subjects related to visual arts. As an established artist, she has launched over 40 individual exhibitions and has participated in over 30 collective exhibitions. Her works are represented in private and public collections in Macau, Portugal, the United Kingdom, Finland, Germany, Italy, and Angola.
The exhibition "Give back the Blue to the Oceans" presents 19 latest works of the artist. With the theme of marine conservation, the works invite the audience to meditate on the process of how the polluted transcends into purity, and rebirths into the realm of eternal blue. On the other hand, the artist is also deeply inspired by the experience of life in Macau, integrating traditional Chinese ink and wash techniques into his creation, and exploring the collision of Chinese and Western cultures through creation. "Give back the Blue to the Oceans – Exhibition by Isabel Nunes, On the Occasion of the Celebration of the 22nd Anniversary of Macau Handover to China" is organized by Albergue SCM, sponsored by the Macau Foundation, and will be open to the public at the A2 Gallery of Albergue SCM from December 15th, 2021 to January 15th, 2022.
When: December 15, 2021–January 15, 2022
Where: Albergue SCM, 8 Calçada da Igreja de S. Lázaro, Macau
How much: Free admission
For more information, check their Facebook page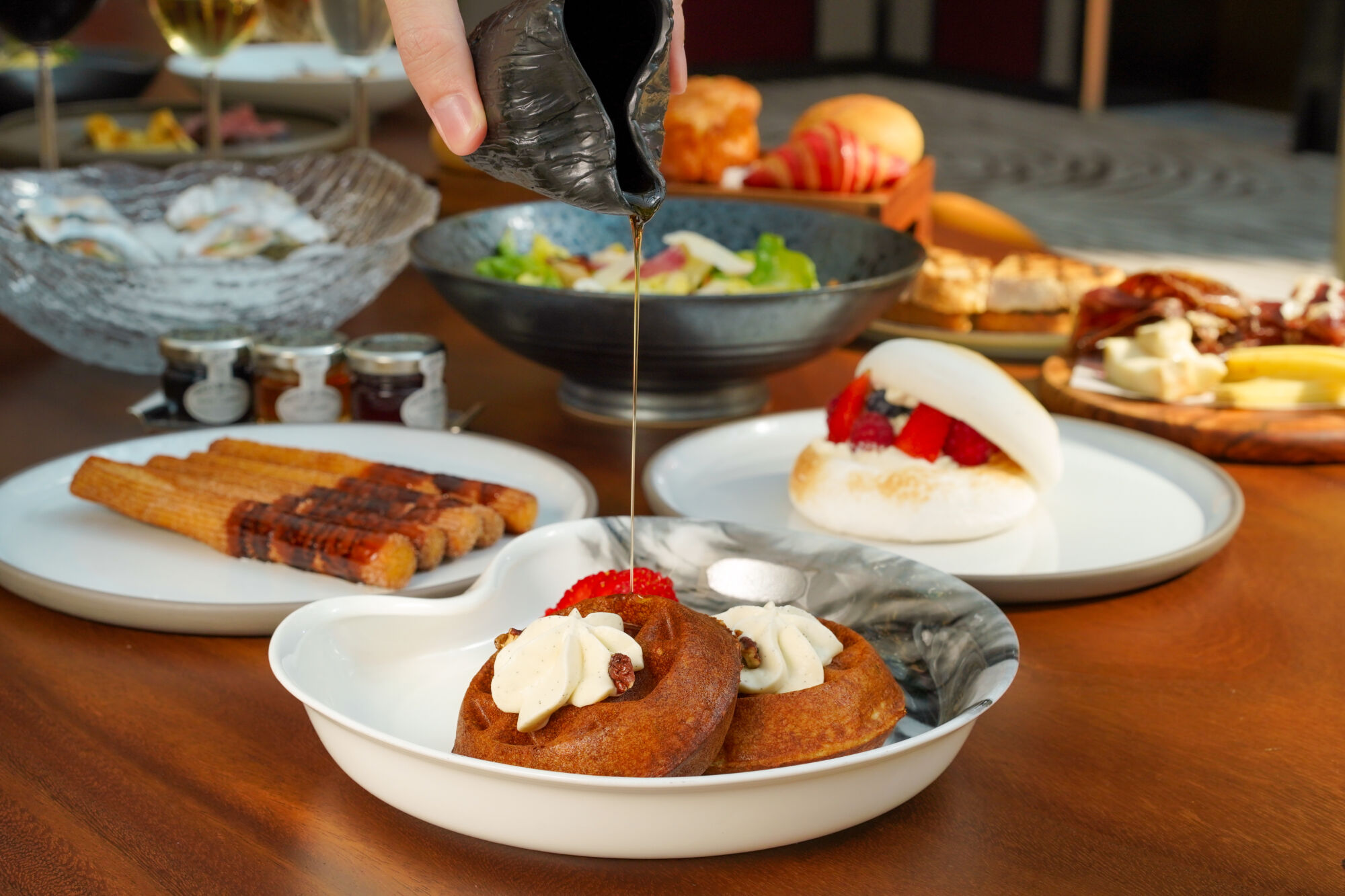 Sunday late mornings are made extra special at Grill 58, situated under the open-air Spectacle with natural sunlight, delightfully complementing a smorgasbord of special treats curated in a three-course menu. A selection of five sharing starters includes Fine de Claire oysters served with fermented tomato and smoked bonito oil, house-cured Petuna salmon trout, Iberico cold cuts (18-months cecina de Leon beef ham and 30-months Bellota ham), and artisanal cheeses from Les Freres Marchand and Grill 58 caesar salad.
Choices of the main course include the Australian M9 wagyu Bavette, which is a leaner cut of wagyu with intense flavor which makes a great option for brunch; pan-fried Japanese sea bream served with grilled leek and hazelnut Pil Pil sauce, and more. Four desserts are on offer, with a must-try which is Chef Conor's favorite: fluffy homemade buckwheat waffle served with maple syrup, butter pecans, and silky vanilla cream. The Sunday Brunch menu includes free flow of juices but an option of free flow of selected red, white, and sparkling wines is available as well.
When: Sundays, ongoing
Where: Grill 58, MGM Cotai, Av. da Nave Desportiva, Macau
How much: MOP $480 per person (additional MOP $180 per person for choice of free flow of selected wines)
For more information and bookings, call +853 8806 2318 or check here
Tags