Have you selected your favorite Christmas movies and songs already? Is everything set for tomorrow? Bookings done and outfits chosen? To get your groove on, we recommend checking out MGM Cotai's festive offers this weekend. We went there and just love all the seasonal vibes! For last-minute Christmas bookings, check out our selection of where to celebrate Christmas in Macau. If you're looking for something fun and different, know that Artyzen Grand Lapa Macau's Vasco Bar and Lounge has recently reopened its doors with an array of exciting news, so get your friends together and have a blast. For NYE planning, we've put together a complete guide for you on where to celebrate New Year's Eve in Macau, so read on and book your experience now!
(See featured image above)
Counting down the days to the end of the year, Christmas is always the most anticipated feast of the wintry season. To get in on the celebratory spirit, Hotel Lisboa presents a range of festive delicacies, Christmas goodies, themed cakes, and Christmas hampers for you and your family and friends to revel in the rejoicings.
Specialized in exquisite Portuguese cuisine, Guincho a Galera presents the Christmas Eve dinner menu (available only on December 24, 2021), featuring Boston lobsters with a selection of chef's recommendations. Another not-to-be-missed highlight is the desserts trolley, which sweetens up the magical moments with your beloved ones. Speaking of the emblematic dishes of Christmas, turkey is definitely a hallmark of the traditional celebration. Noite e Dia Café is crafting a wonderful Christmas buffet dinner of various classic dishes, ideally for parties with friends and family on December 24 and 25, 2021. A complimentary roasted seafood platter will be served to guests for the festive vibes (serving will be based on the number of diners per table).
When: Friday and Saturday, December 24–25, 2021
Where: Guincho à Galera (3/F, Lisboa Tower) and Noite e Dia Café (Lobby Level, Lisboa Tower), Hotel Lisboa, 2–4 Avenida de Lisboa, Macau
How much: Christmas eve dinner menu – MOP $850* per person**
Christmas buffet dinner – MOP $510* per person**, MOP $360* per child**, and senior citizen**
*All prices are subject to a 10% service charge
**20% discount with cash, credit card, or designated electronic payment
For more information and bookings, call +853 2888 3888 or check their official website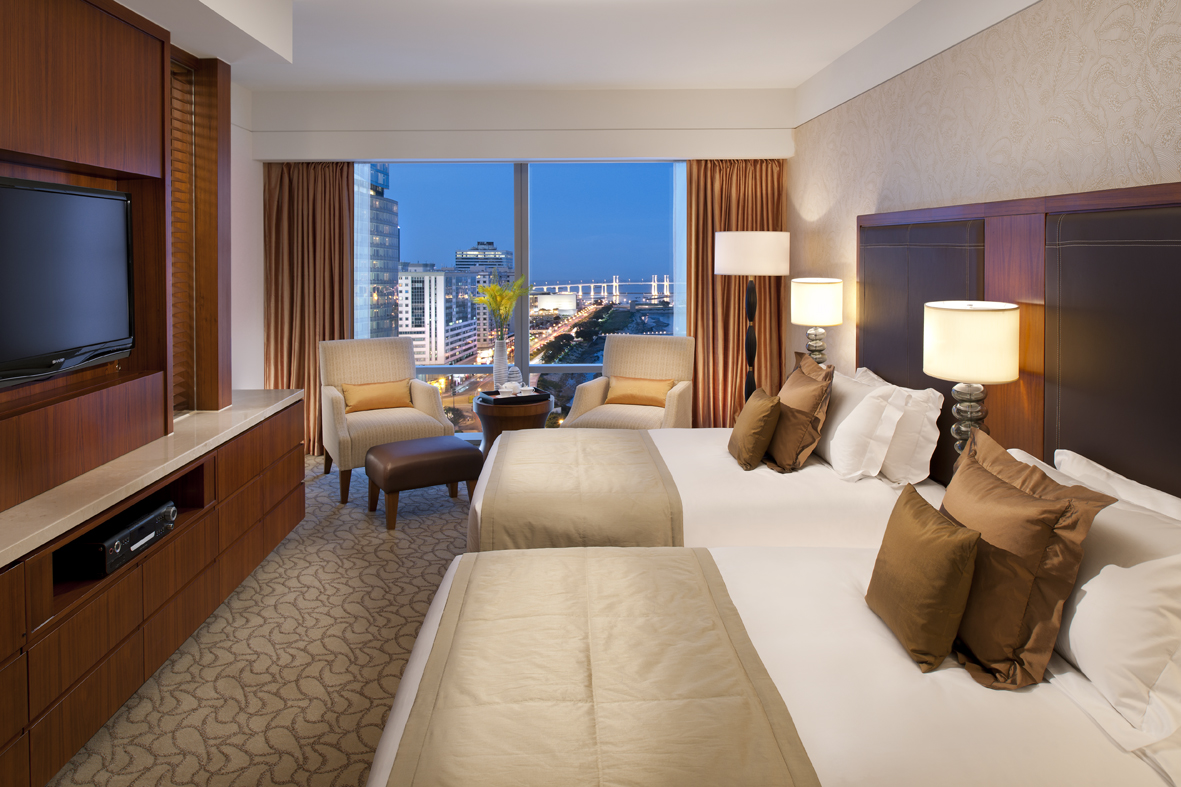 This Christmas, Mandarin Oriental, Macau has prepared a series of wonderful and unique seasonal staycation deals for everyone to truly enjoy this season's spirit in true style with their loved ones. There are two festive staycation packages to choose from so make sure to get a booking! Mandarin Oriental, Macau's Joyful Moments staycation package was made for couples who are looking for a romantic setting to celebrate the season, but also friends who love to relax and dine. Besides being accommodated at a Deluxe Lake View Room, you'll also have a festive afternoon tea for two persons, a one-pound cake from their cake shop, 20% discount on spa treatments and dining offers, and also a visit from Santa Claus to your room, where you can take great photos and have fun!
With the little ones in mind, Mandarin Oriental, Macau has crafted two staycation packages to please the kids in the family. With visits from Santa Claus, festive gifts, and a cool tent for kids to sleep in and have fun, this is a really enticing deal for everyone looking to spend the holidays with a twist.
There are two options to choose from: the first one includes accommodation in a room, and the second offers a night's rest at one of their suites. These staycations also include a 20% discount to enjoy spa treatments or dining.
When: From now till December 30, 2021
Where: Mandarin Oriental, Macau, 945 Avenida Dr. Sun Yat Sen, NAPE, Macau
How much: Joyful moments – Starting at  MOP $1,588 per night
Festive celebration at MO – Starting at MOP $1,288 or MOP $1,888 per night
For reservations, please call +853 8805 8822 or email to [email protected]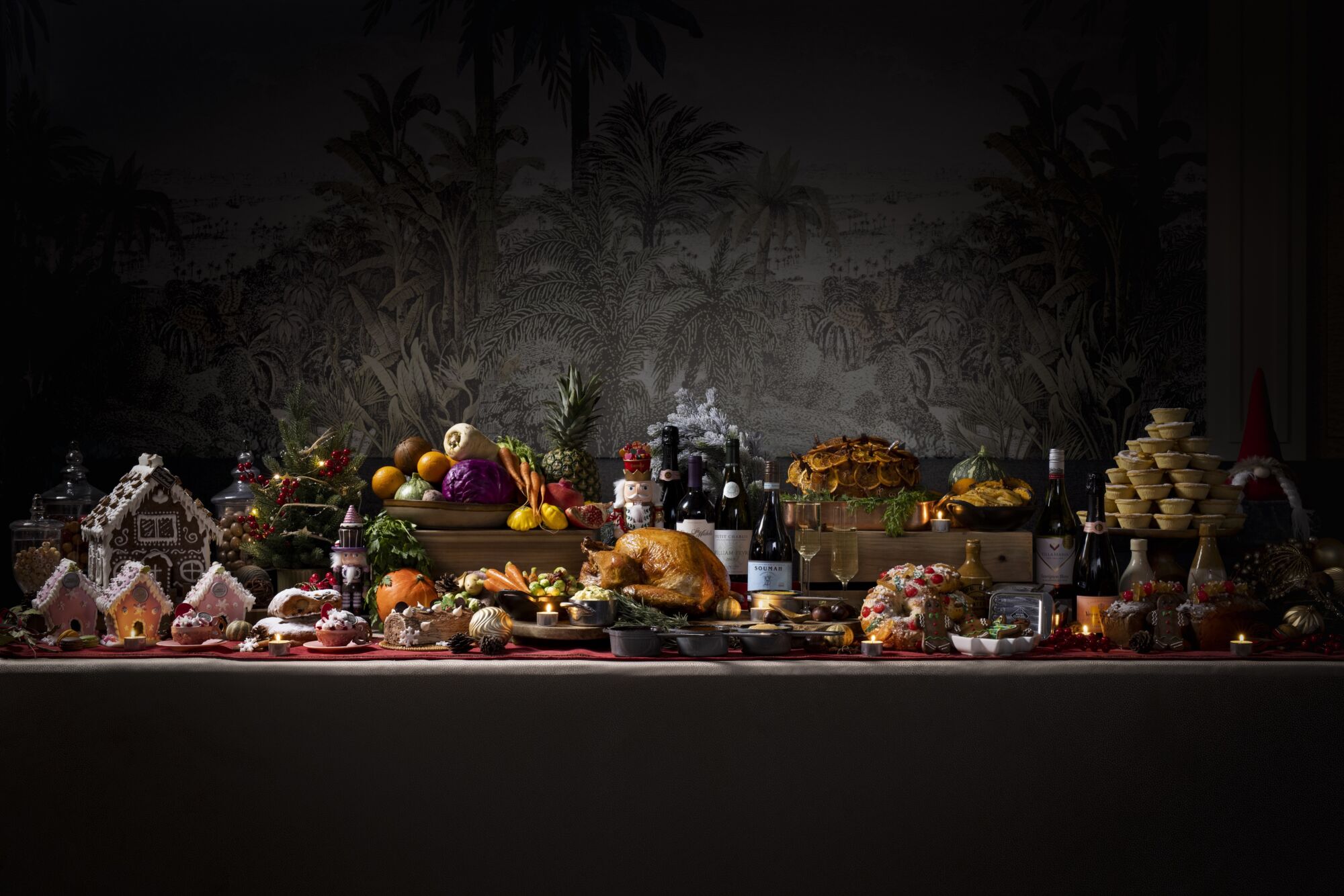 Located at the Shakespeare's Hall of Sheraton Grand Macao, The Conservatory prides itself on the robust British-inspired fare. Make a date with family and friends to enjoy the festive roasts including roast turkey breast and leg ballotine with cranberry and caraway stuffing with hearty sides followed with festive desserts.
Guests can also enjoy the special roast pork shoulder ham created by sous chef Ben Hu. This homemade ham is marinated for more than 12 hours with various spices and herbs before being slow-cooked for at least 18 hours. The final roasting method imparts the smokiness to this tender fall-off-the-bone pork unlike any other. Those who prefer to celebrate at home can select their favorites from the extensive festive takeaway menu. Deck your dining table with herb-roasted turkey, baked honey gammon ham, Christmas stollen, mince pies, selective wines, and more. Adults and children alike will be impressed with the extravagant feast.
When: From 6:00pm onwards, December 23–26, 2021
Where: The Conservatory, Sheraton Grand Macao, The Londoner Macao, Estrada do Istmo, s/n, Cotai
How much: From MOP $188* per dish
For reservations or more information about the festive offerings, call +853 8113 1200 or send an email to [email protected]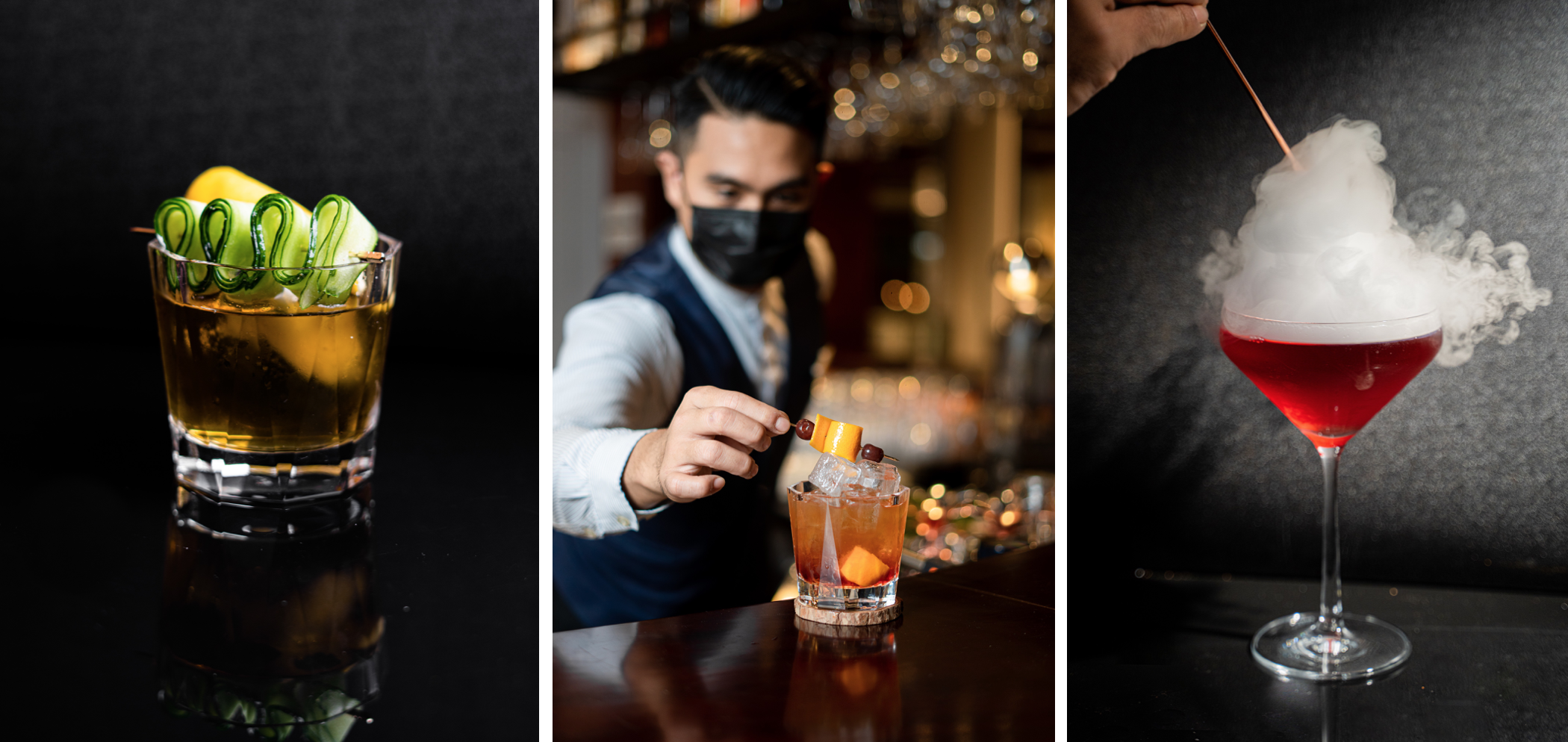 This December, get together with friends and head there to experience a unique vibe with DJ Ted pumping the beat every Friday night. On December 18, 20, and 25 (starting at 9:00pm), the bar is also having exclusive performances by the duo band, Riya and Ray. However, the fun doesn't end here! Vasco Bar and Lounge will also have live entertainment on Saturday nights and the very exclusive and special Smoke & Bubbles on Tuesdays, where ladies get a free glass of champagne. On Wednesdays, guests can expect the 'Friends of Vasco' happening, with numerous discounts for members of the Macau hospitality industry and spirits flights. Thursdays are dedicated to all the night owls out there, with special prices for drinks from 10:00am till late. Also, don't book anything for January 8, 2022, as Vasco Bar and Lounge will be the place to be with the performance of the local band, The High Rollers.
Capturing the true essence of the Portuguese Discoveries, the bar is a homage to the eponymous navigator Vasco da Gama. Their drinks are now filled with spices and exotic flavors, and signature cocktails include The Contender, which is a mix of strawberry gin, mandarin, cucumber, and pickled jalapeño. Some of their other beverages have been revisited and the passionfruit poncha–made of white cane rum, honey, fresh lemon, grapefruit, and passionfruit–is one of them. Their "Flights"–spirit offerings–are meant to take guests across the globe through sensorial travels.
When: Ongoing
Where: Vasco Bar and Lounge, Artyzen Grand Lapa Macau, 956-1110 Avenida da Amizade, Macau
For more information and bookings, call +853 8793 3871 or check the event's official website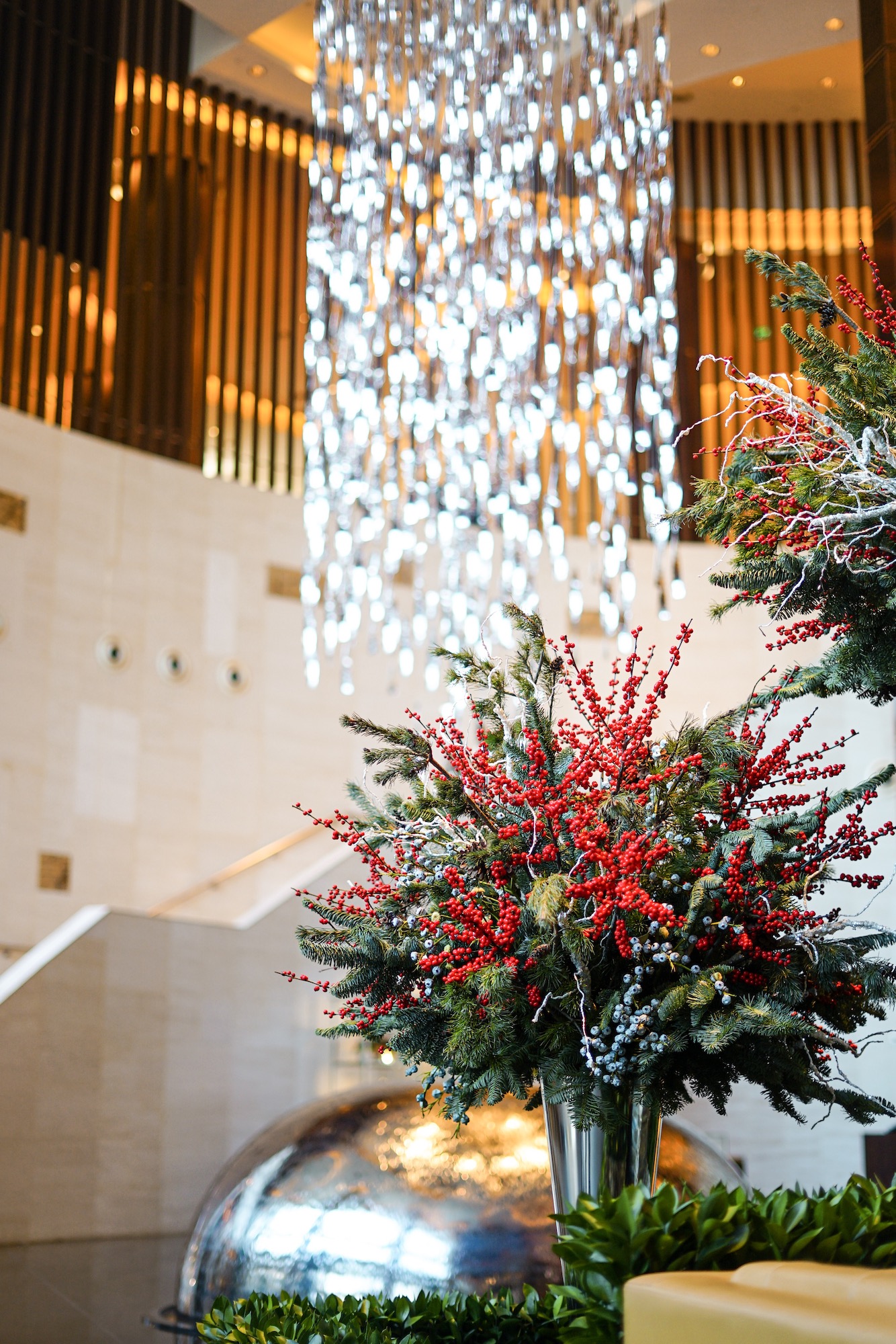 This holiday, a world of wonderful experiences awaits you at Grand Hyatt Macau. They invite everyone to revel in the joyous year-end celebrations with an array of dazzling eco-friendly Christmas trees rising from the fountain at the entrance, festive-themed floral arrangements, and music in the lobby, and seasonal menus at their restaurants. Discover endless ways to make this a season filled with joy!
Delight your palate with a medley of festive favorites at mezza9 Macau, including chilled seafood, lobster thermidor, grilled meat, as well as traditional roasted turkey and festive desserts. Savor Lobby Lounge's set lunch and Christmas grand set at Lobby Lounge to make the season sparkle with joy. A glass of sweetened Glühwein with festive pastries is a classic staple for this festive-filled holiday. Discover enchanting holiday gift ideas and sweet treats at their lobby. Beijing Kitchen is preparing a champagne festive menu with authentic traditional Beijing-style duck, exquisite dishes from northern China, and premium wines to pair with this sumptuous food. Discover the flavors of their Chinese favorites this season. Spend Christmas in grand style at luscious and classy Beijing Kitchen. They are also offering a menu featuring some of their signature a la carte dishes.
When: Friday–Sunday, December 24–26, 2021
Where: mezza9 Macau, Beijing Kitchen, Grand Club and Lobby Lounge, Grand Hyatt Macau, City of Dreams, Estrada do Istmo, Cotai
How much: MOP $208–1,099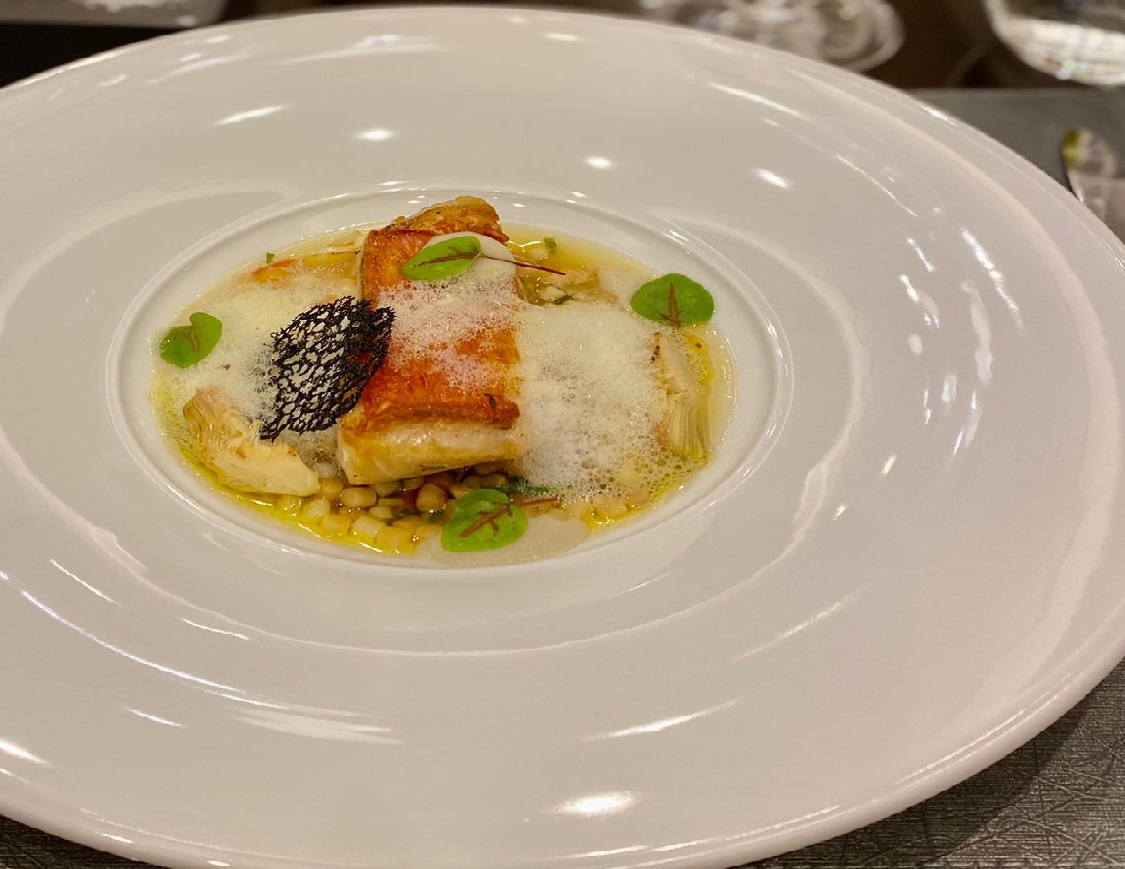 The Manor at The St. Regis Macao presents the newest edition of its "Let's do a Luxe Lunch" set menu.  This special occasion lunch experience features the finest imported seafood and premium cuts with the option of free-flow champagne. Let's Do a Luxe Lunch allows guests the choice of three, four, or five-course menus depending on their appetite. Seafood connoisseurs will appreciate the Hokkaido scallops with langoustine and Japanese sea bass and New Zealand Ōra king salmon while the George Bruck foie gras, Rhug Estate pigeon breast, and Aveyron lamb dressed with celeriac, truffle, and mustard seeds are the chef's specialties.
Chocolate lovers can indulge in the rich hot chocolate cake with hazelnut cream and Illy coffee ice cream. Alternatively, opt for the chestnut confit with cream and snow-white meringue. Both desserts are the perfect finale for this decadent brunch. The Let's Do a Luxe Lunch menu can be elevated further with free-flow Billecart-Salmon Champagne!
When: 12:00pm–3:00pm, Saturdays and Sundays
Where: The Manor, The St. Regis Macao, The Londoner Macao, Estrada do Istmo, s/n, Cotai
How much: Starting at MOP $398* per person (additional MOP $298* per person for champagne pairing)
*Prices include an additional 10% service charge
For more information and bookings, send an email to [email protected], call +853 2882 8898 or check here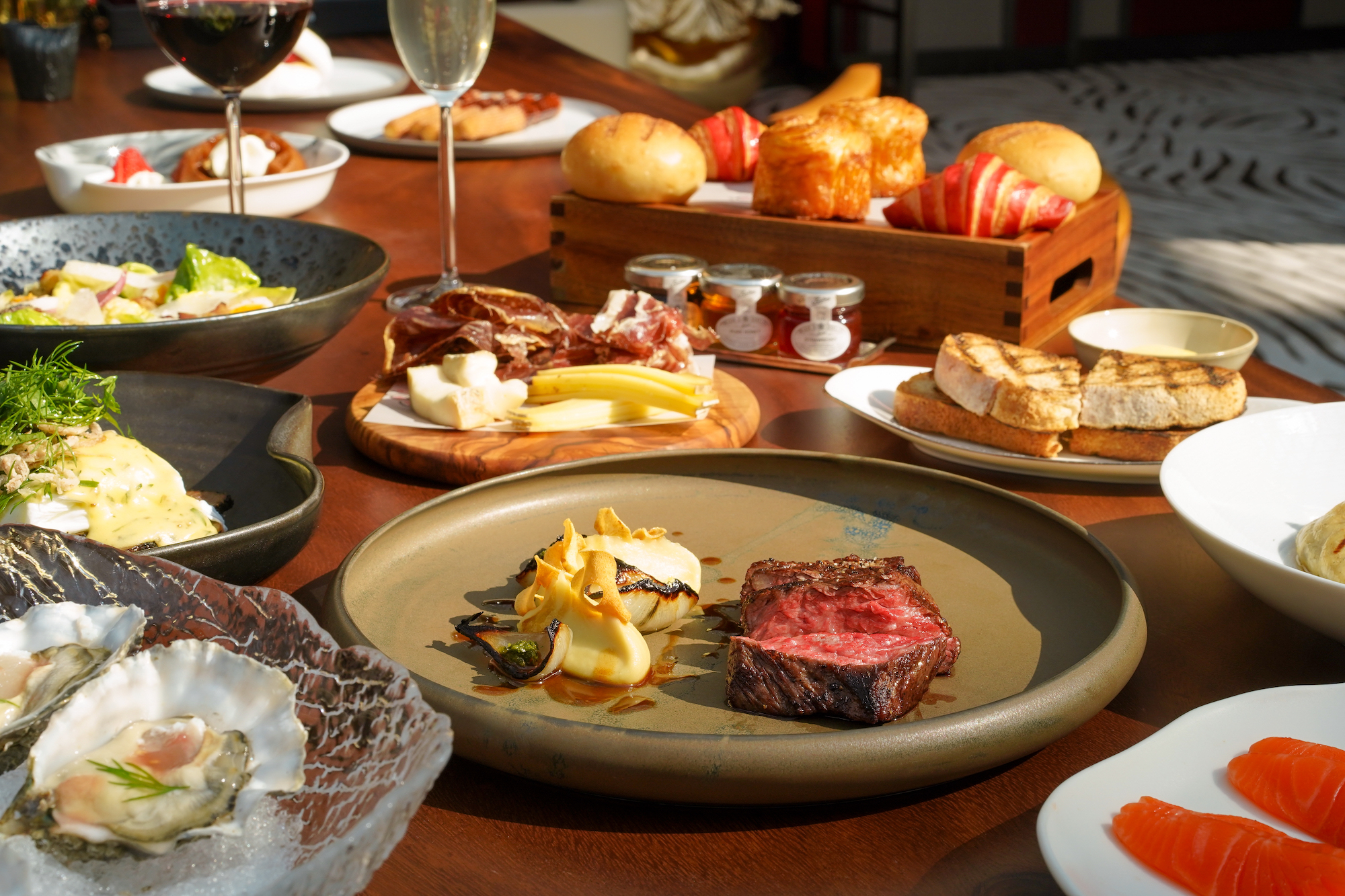 Sunday late mornings are made extra special at Grill 58, situated under the open-air Spectacle with natural sunlight, delightfully complementing a smorgasbord of special treats curated in a three-course menu. A selection of five sharing starters includes Fine de Claire oysters served with fermented tomato and smoked bonito oil, house-cured Petuna salmon trout, Iberico cold cuts (18-months cecina de Leon beef ham and 30-months Bellota ham), and artisanal cheeses from Les Freres Marchand and Grill 58 caesar salad.
Choices of main course include the Australian M9 wagyu Bavette, which is a leaner cut of wagyu with intense flavor which makes a great option for brunch; pan-fried Japanese sea bream served with grilled leek and hazelnut Pil Pil sauce, and more. Four desserts are on offer, with a must-try which is Chef Conor's favorite: fluffy homemade buckwheat waffle served with maple syrup, butter pecans, and silky vanilla cream. The Sunday Brunch menu includes free flow of juices but an option of free flow of selected red, white, and sparkling wines is available as well.
When: Sundays, ongoing
Where: Grill 58, MGM Cotai, Av. da Nave Desportiva, Macau
How much: MOP $480 per person (additional MOP $180 per person for choice of free flow of selected wines)
For more information and bookings, call +853 8806 2318 or check here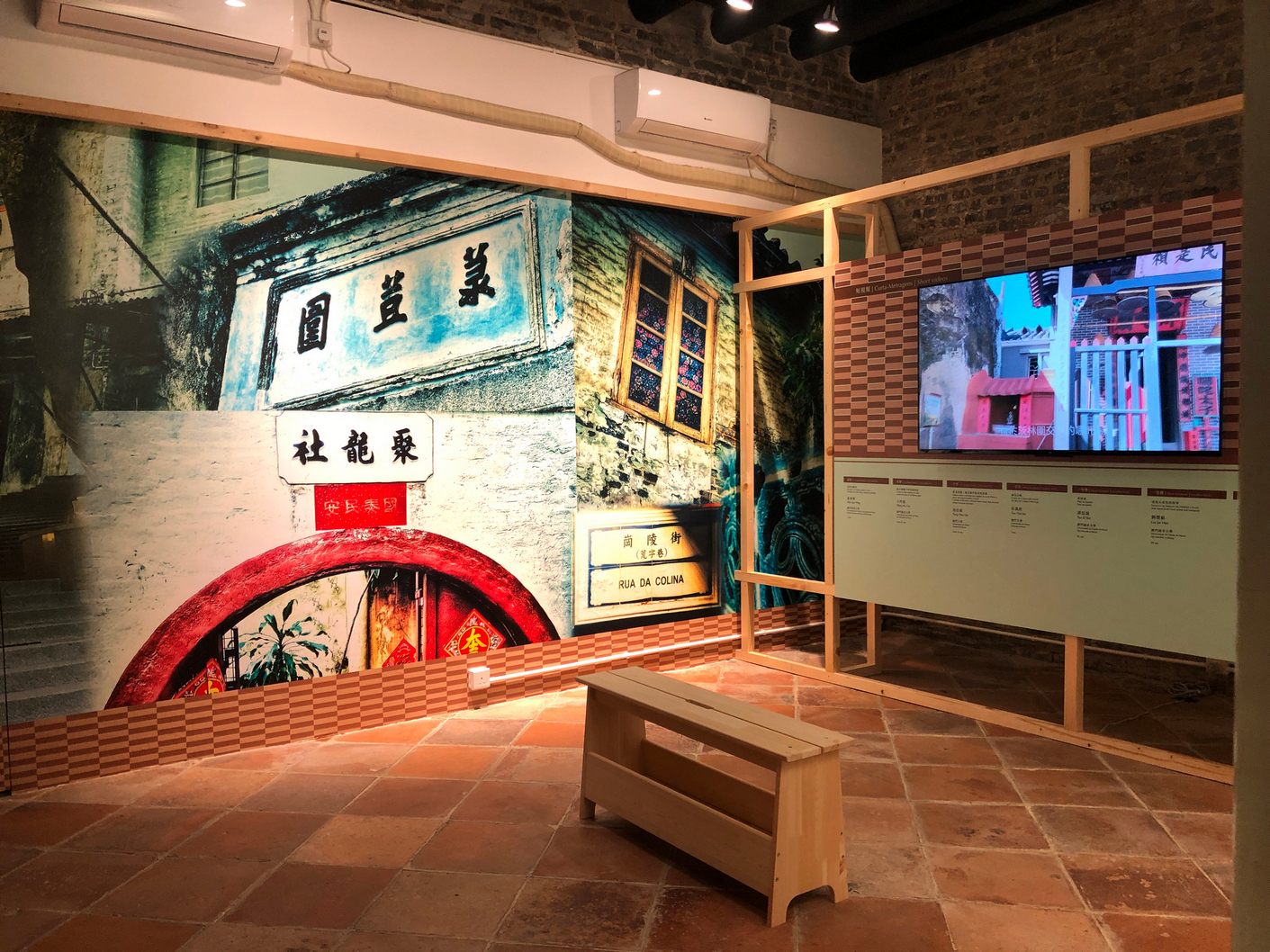 The exhibition features a total of 16 advertorials and short videos made by Macao's higher education students, which are all award-winning works of "Seeking Stories in the Travessas Becos Pátios – Advertorials and Videos Competition of Cultural Tourism Promotion Project about Macau's Cross streets, Courtyards, and Alleys". The competition was organized by the Macau Advertising Association, with the aim of putting the principles of the Cultural Affairs Bureau in terms of preservation, study, promotion, and transmission of local history and culture. On the occasion of the completion of the restoration work on No. 8 and No. 10, Pátio da Eterna Felicidade and its opening for public visit, IC organizes the exhibition with the Macau Advertising Association in order to promote and increase public awareness of the cross streets, courtyards, and alleys in Macau.
The works on display feature a variety of themes revolving around history, stories, architecture, food, and festivals of the cross streets, courtyards, and alleys, leading the audience to stroll through the historical areas of the Macau Peninsula, Taipa, and Coloane. The works are vibrant and show the cultural characteristics of Macau's cross streets, courtyards, and alleys, as well as the creative passion of Macau's higher education students, thus encouraging the public to visit urban spaces to appreciate and pass on the precious local history and culture.
When: From now till February 18, 2022
Where: 10 Pátio da Eterna Felicidade (entrance through Beco dos Faitiões), Macau
How much: Free admission
For more information, call +853 8988 4000 or send an email to [email protected]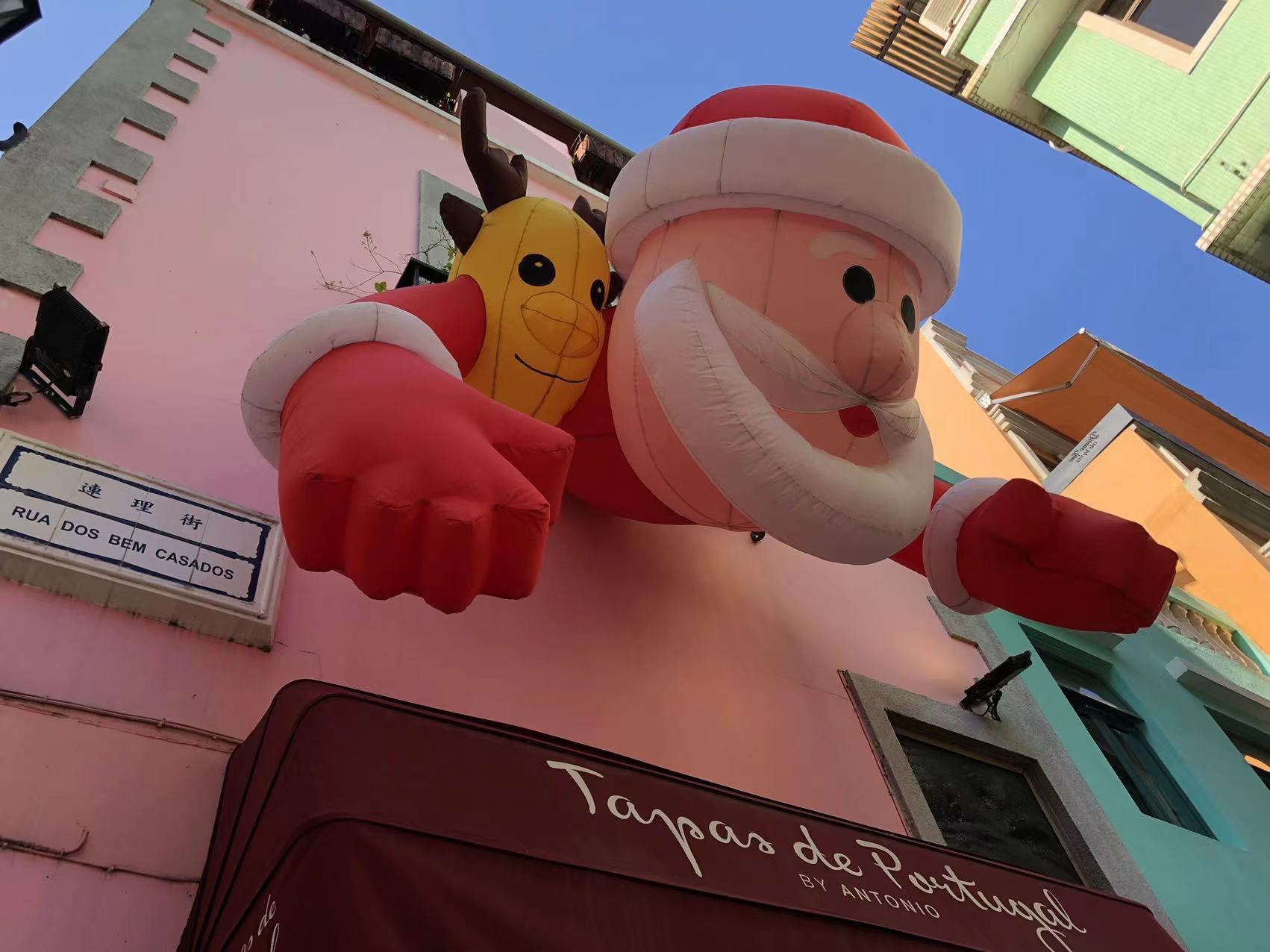 December is synonymous with joy and laughter surrounded by loved ones, so why not head for a beautiful venue in quaint and classic Taipa Village and have a blast over great food and drinks with friends and family? There, you'll find great restaurants such as Tapas de Portugal, António, Paulaner, or Barcelona. Each boasts a unique and exclusive vibe, taking you across the world with exotic flavors and ingredients. Celebrate this Christmas at Taipa Village and grab the chance to take some photos in front of Tapas de Portugal's installation façade, featuring Santa Claus.
When: December 1–31, 2021
Where: Tapas de Portugal, 22A Rua dos Clérigos, Taipa Village, António, 18A–18B Rua dos Clérigos, Taipa Village, Barcelona, 47 Rua dos Clérigos, Taipa Village, and Paulaner Wirtshaus Macau, 41-43 Rua dos Negociantes, Taipa Village
For more information and bookings regarding Tapas de Portugal's menus call +853 2857 6626, for Barcelona call +853 2845 5168, for Paulaner call +853 2838 1038, and for António call +853 2888 8668.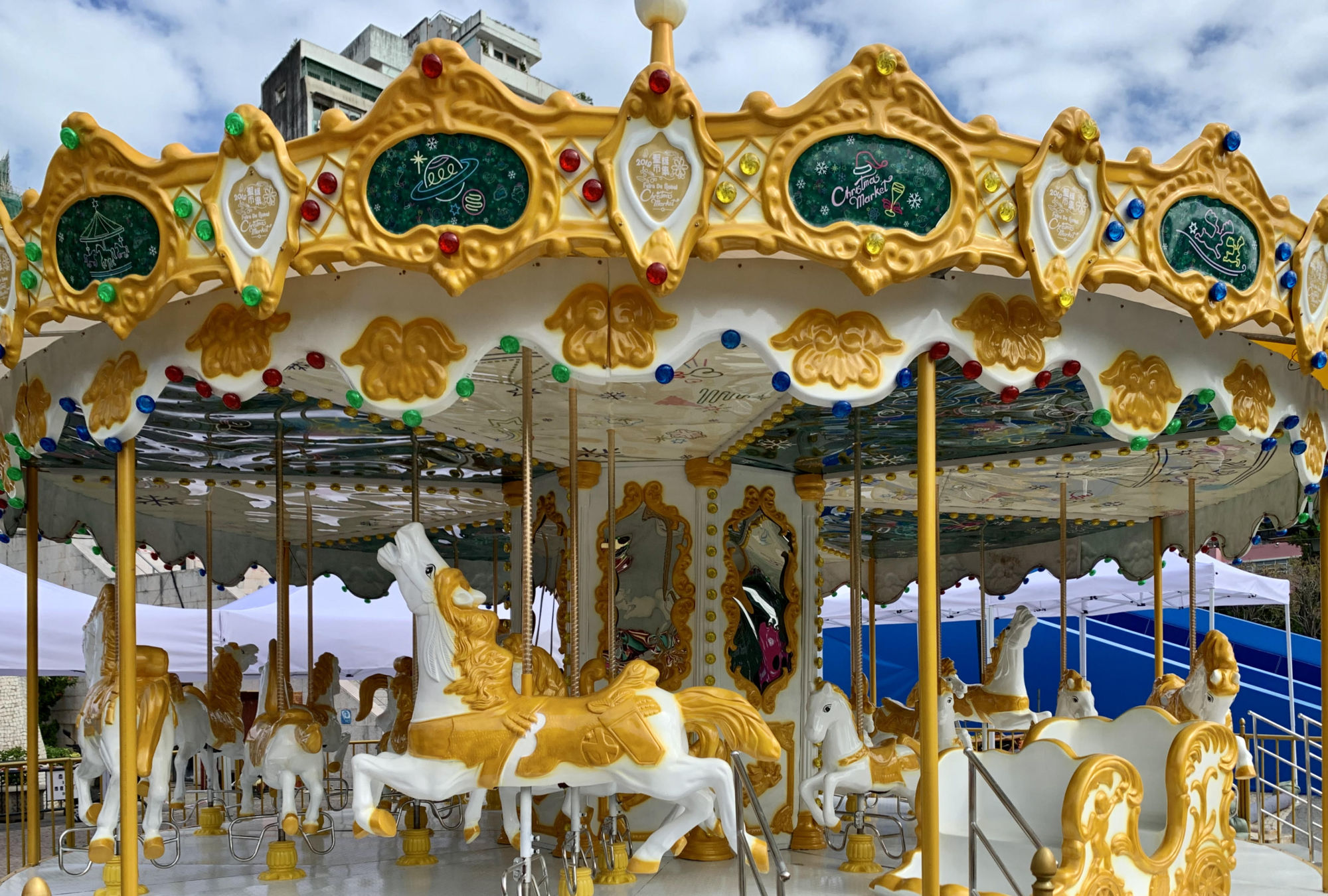 There are 22 Christmas gift stalls and eight snack stalls at the Christmas market. With a Christmas tree sparkling with dazzling lights, canopy light decorations, a manger, and Christmas huts, it's your best photo-taking spot! In addition, there is an outdoor merry-go-round, an artificial ski slope, an LED piano dance floor, and kids' favorite interactive performances. It is the perfect place to experience a joyful and warm Christmas in Macau!
When: 2:00pm–11:00pm, December 18–20 and 25–31, 2021
Where: Tap Seac Square, Avenida do Conselheiro Ferreira de Almeida, Macau
How much: Free admission
For more information, check here
Tags