Some eat to live but it's much more fun living to eat! In fact, here's a selection of the best dining experiences to enjoy this August in Macau. No matter when you're visiting the region or if you're lucky enough to live here, check out what the city has in store for you. From an Art Macao themed dining experience to real Goan food, there is also a lobster feast, Mexican food and much more!
(See featured image above)
Sands Resorts Macao has launched special promotional menus at four of its signature restaurants to celebrate "All That's Gold Does Glitter – An Exhibition of Glamorous Ceramics". Participating restaurants include The Venetian Macao's The Golden Peacock and Portofino; and The Parisian Macao's La Chine and Brasserie. Menus are available from now until August 31, 2019. In support of Art Macao 2019, a major international art and culture event running until October 9, "All That's Gold Does Glitter" is a museum-quality exhibition featuring over 90 masterpieces by contemporary ceramic artists from 13 countries and regions, and the largest and most prestigious ceramic art exhibition taking place in the Greater Bay Area in 2019.
The Venetian Macao's one Michelin star Indian restaurant, The Golden Peacock, is offering a four-course menu inspired by a blue and white ceramic butterfly dress entitled "Prosperity" created by renowned ceramic artist and "All That's Gold Does Glitter" curator Caroline Cheng. Chef Justin and his team have recreated "Prosperity" on a plate with two exceptional dishes: Lobster Maheen Katli and the beautiful Prosperity dessert which is decorated with gorgeous butterflies, featuring blueberries, hazelnut chocolate mousse, yogurt, cardamom, cherries and gold leaf.
When: July 1–August 31, 2019
Where: The Golden Peacock, Level 1, Shop 1037 and Portofino, The Venetian Macao, Estrada da Baia de Nossa Senhora da Esperanca
Brasserie and Le Chine, The Parisian Macao, Estrada do Istmo, Lote 3, Cotai, Macau
How much: The Golden Peacock's Prosperity menu – MOP $588 per person
Portofino's Art Macao set menu – MOP $688 per person
La Chine's tasting set menu – MOP $1,288 per person
Brasserie's 'A Summer in Montmartre' afternoon tea set – MOP $368 for two people; Add MOP $40 for a glass of French cider or MOP $75 for a glass of French sparkling 'Bouvet-Ladubay Brut Saumur '
Reservations at The Golden Peacock can be made by calling +853 8118 9696 or by emailing [email protected]
For Portofino, call +853 8118 9950 or email [email protected]
For La Chine, call +853 8111 9210 or email [email protected]
For Brasserie, call +853 8111 9200 or email [email protected]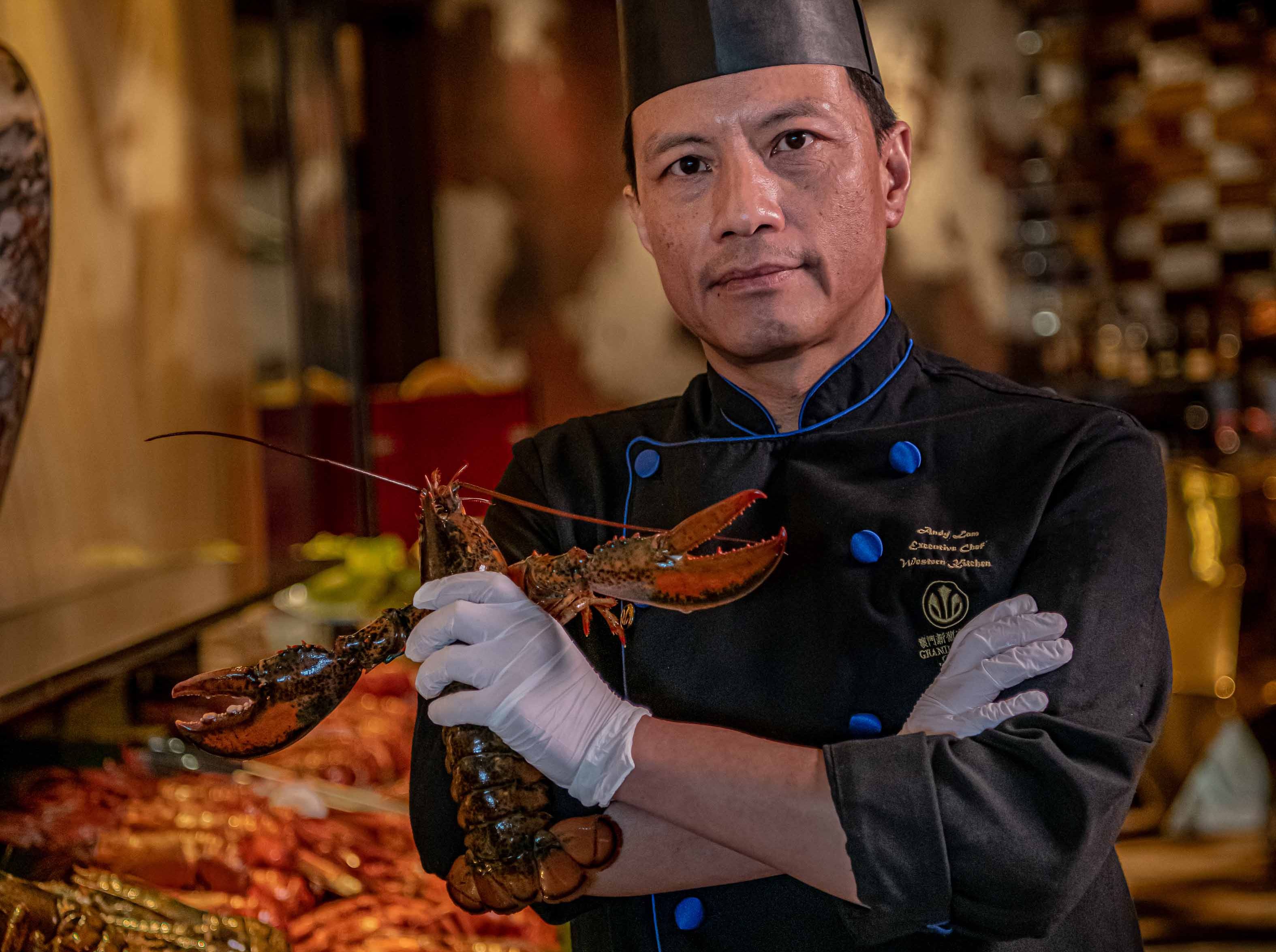 Feast on fresh Boston lobsters every Friday night in August at The Kitchen. Guests are welcome to eat as many lobsters as they wish at Grand Lisboa. The lobsters are flown in directly from the clean, cold waters of the U.S. and Canada and cooked any way you like. Renowned for their sweet and succulent flavor and tender meat, Boston lobsters are especially abundant in the pristine salt waters around Maine, Nova Scotia, New Brunswick and Newfoundland.
At The Kitchen, the chef team prepares pre-cooked lobsters as well as raw lobsters for guests to choose from the salad bar. The chefs are on hand to cook the lobsters three different ways, specifically to the guests' liking. Guests may ask for grilled Boston lobster, Boston Lobster Thermidor and baked Boston lobster with garlic butter. Before guests begin the lobster feast, The Kitchen treats them to an exceptionally delicious lobster sushi roll, a very special "lobster bisque" and homemade bread that is fresh from the oven. And for dessert, Grand Lisboa's Executive Pastry Chef Norihito Muranaka prepares a sweet surprise for all guests. If you wish to pair the dishes with Magnum wines, the wine sommelier would be happy to recommend the best pairings for you.
When: Fridays, August 1–31, 2019
Where: The Kitchen, The Grand Lisboa, 3/F, Grand Lisboa Hotel, Avenida de Lisboa, Macau
How much: Five-course Lobster Night menu – MOP $980 per adult (MOP $490 per child under 12 years old)
For more information and bookings, call +853 8803 7777 or visit their website
Award-winning Chef Hélène Darroze hosts an exclusive wine dinner in partnership with Château de Saint-Cernin wines at Chiado in August. Chef Hélène Darroze heads Michelin-starred restaurants in Paris and London, and she has also earned recognition as "World's Best Female Chef" from The World's 50 Best Restaurants. While in Macau, each one of her culinary masterpieces will be paired with extraordinary Château de Saint-Cernin wines from Périgord.
The exquisite dinner menu includes marinated carabineros with lime and sea herbs, clams, razor clams and dashi jelly, wild salmon from Scotland with Tasmanian pepper, crème fraîche, Oscietra caviar and dill, not to mention velouté of white coco beans from south-west of France with smoked eel, pickled girolles and shavings of duck foie gras from Les Landes. Next up is the barbecued Wagyu beef from Japan, "Coeur de boeuf" tomato, fresh almonds, black truffle from Australia with roasting jus, with the meal ending on a sweet note of raspberries, olive oil cream, sorrel sorbet.
When: 6:00pm, Sunday, August 11, 2019
Where: Chiado Restaurant, Shop 2206, Level 2, Sands Cotai Central, Cotai, Macau
How much: MOP $4,450 per person (plus 10% service charge)
Seats are limited, so for booking and more information, call +853 8113 8988 or send an email to [email protected] or visit www.sandscotaicentral.com/chiado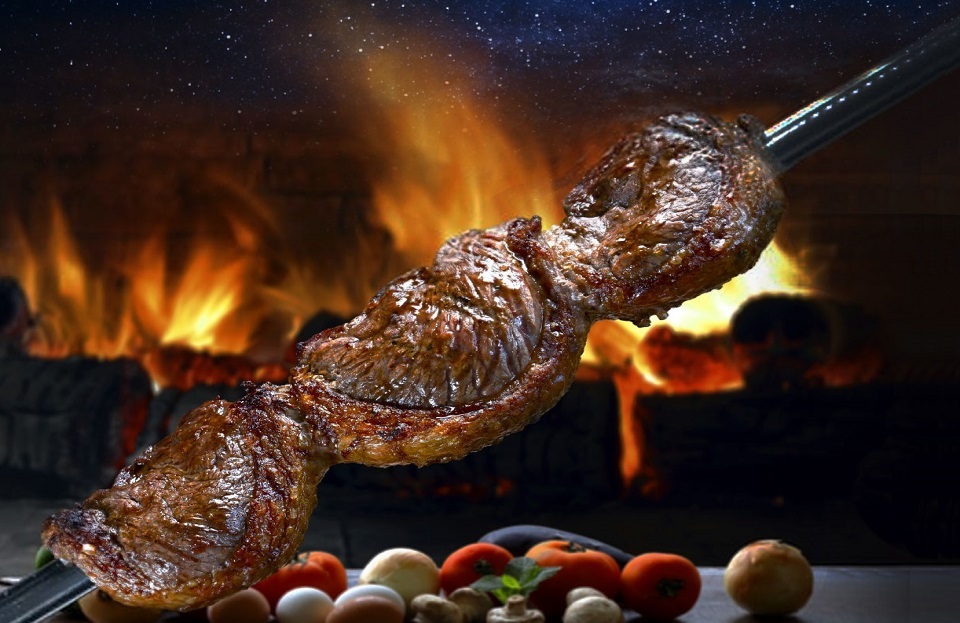 Churrasco Under the Stars at JW Marriott Hotel Macau's Pool Bar
Summer is in the air! Beat the heat and enjoy "Churrasco under the Stars" at the exotic Pool Bar in JW Marriott Hotel Macau–a one-of-a-kind extravagant barbecued feast dining experience, making it the perfect time for a cool getaway on the weekend. Every Friday and Saturday, the Pool Bar transforms into a spectacular alfresco scene with breathtaking panoramic views of the starlit night sky.
Indulge in scrumptious churrasco, authentic Brazilian barbecue delicacies, market fresh green salad, delectable soups and other gourmet dishes. "Churrasco under the Stars" set menu features various types of meat cuts, king prawns, chicken and juicy sausages.  All that is grilled at the cooking station right by the pool and brought to your table with a selection of sides. Don't forget their refreshing cocktails meticulously prepared by a skilled mixologist!
When: 6:00pm–9:30pm, Fridays and Saturdays, August 1–31, 2019
Where: 3/F, Pool Bar, JW Marriott Hotel Macau, Estrada da Baía da Nossa Senhora da Esperança
How much: MOP $588 per adult, MOP $298 per child (three–11 years old)
For more information, call +853 8886 6228, send an email to [email protected] or check the event's official page

Goa Nights presents a Goan food pop-up "Goa Nights Goes Goan" featuring guest chef Vasco Alvares. Vasco, a native from India's sunny Goa who is no stranger to Macau with his expertise in Goanese food, making him part of Macau's Lusofonia Festival in previous years. This time, there are gravies–including lamb vindaloo, chicken xacuti, pork sorpotel, fish balchao and much more–and also tapas such as prawns masala fry, cafreal pork chops, pork roast, rava eggplant, vegetable stuffed papad, and serradura and bebinca for dessert.
Goa Nights is known for presenting food pop-ups which introduce dishes from different regions in India with latest offerings, such as the "Street Food Festival" featuring a number of India's favorite street food dishes including the vada pav and the popular Bombay style sandwich to name a few; "Goa Nights goes Mexican" which celebrates Cinco de Mayo with its version of tacos and quesadillas. Now Goa Nights is bringing Goa to Macau with a Goan food festival that starts from 6th to 11th of August. Specially designed by Chef Vasco, the handpicked menu will carry a unique blend of Portuguese cuisine and Indian spices which promises to deliver an appetite-whetting gastronomic journey for all diners like no other!
When: Tuesday–Friday, 6:00pm–11:30pm, August 6–9, 2019
Saturday and Sunday, 12:00pm–11:30pm, August 10 and 11, 2019
Where: Goa Nights, 118 Rua Correia da Silva, Taipa Village
How much: Each dish has its own pricing
For more information and bookings, call +853 2856 7819 or check the event's Facebook page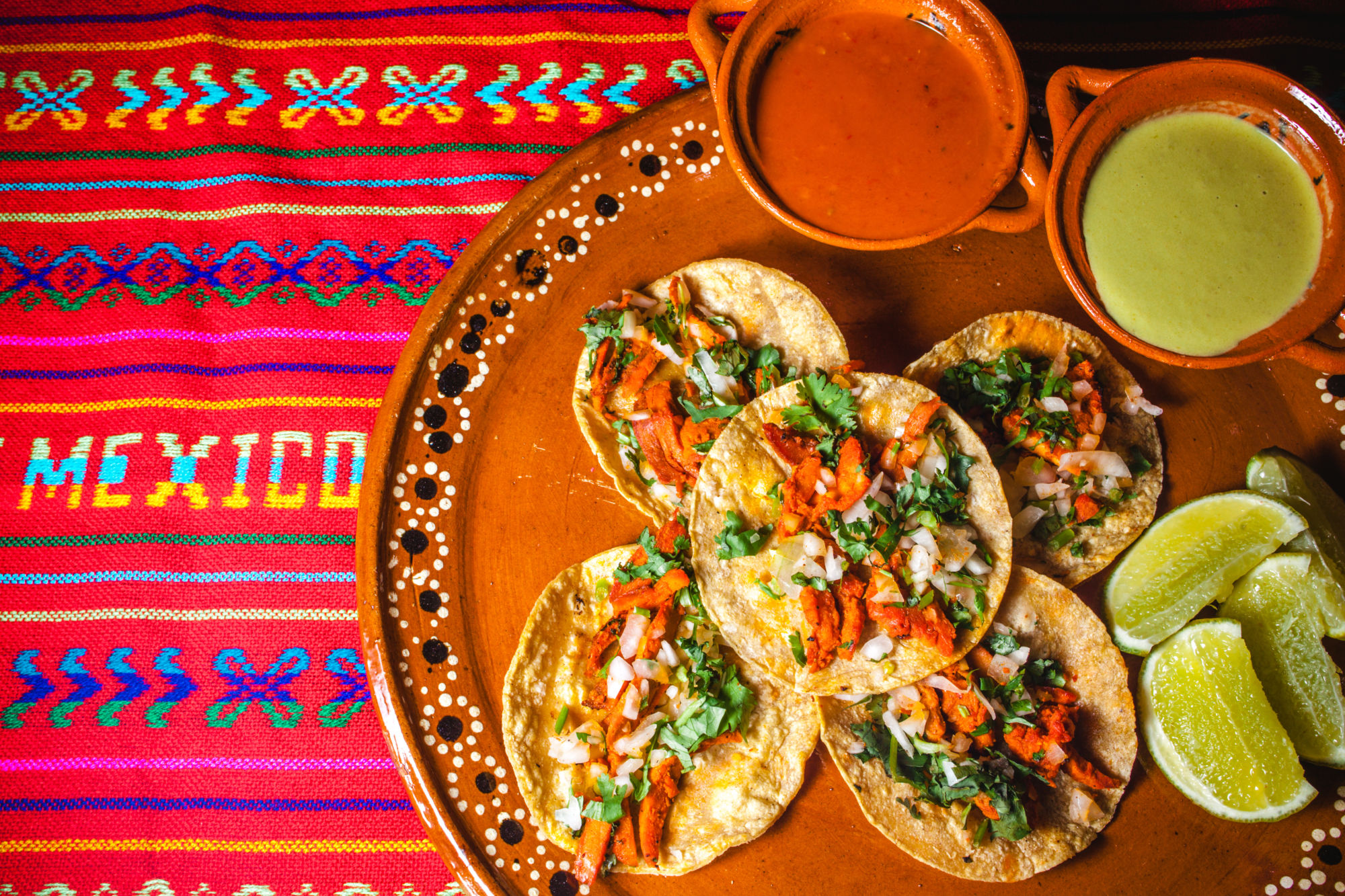 It's Mexican fiesta time from 30 August to 1 September at Vida Rica Bar as you can kick back with an array of tacos, nachos and more, specially prepared by Crazy Gringo's from Thailand. Since 2009, Crazy Gringo's has been a prominent restaurant situated in the heart of the tourist district in Krabi.
Fresh ingredients and high-quality products are what makes food enjoyable for everyone the world over. Crazy Gringo's Pop Up wants everyone to experience Tex-Mex and its rich culture coupled with fun, pumping music that keeps your toes tapping as you enjoy your meal. Get down with Mexican food at Crazy Gringo's Pop Up!
When: 6:00pm–11:00pm, Friday–Sunday, August 30–September 1, 2019
Where: Vida Rica Bar, Mandarin Oriental, Macau, 945 Avenida Dr. Sun Yat Sen, NAPE, Macau
For more information, call +853 8805 8928 or send an email to [email protected]
The signature dish of Ipoh, bean sprout chicken, and the wildly popular bak kut teh and nasi lemak from the capital Kuala Lumpur are also not to be missed. Malacca is known for its nyonya cuisine that fuses Chinese and Malaysian flavors–and you can taste the different influences in assam fish and beef rendang. Lovers of seafood can explore the explosion of flavors in white pepper crab and seafood curry laksa–two famous dishes of Johor Bahru. Not only will there be famous Malaysian desserts such as pandan chiffon cake and chendol, the array of durian desserts at the buffet will sweep any durian lover off their feet.
When: 5:30pm–11:00pm, August 23–29, 2019
Where: Festiva, G/F, Galaxy Macau, Estrada da Baía de Nossa Senhora da Esperança, Galaxy Macau, Cotai
How much: Monday to Friday – MOP $488 per person
Saturday to Sunday – MOP $528 per person
Macau ID holders can enjoy an early bird discount of 20% off,
50% discount for children of three to 11 years old and seniors of 65 years old or above
Children under 3 years old free of charge
For reservations and more information, call +853 8883 2221 or check the event's official website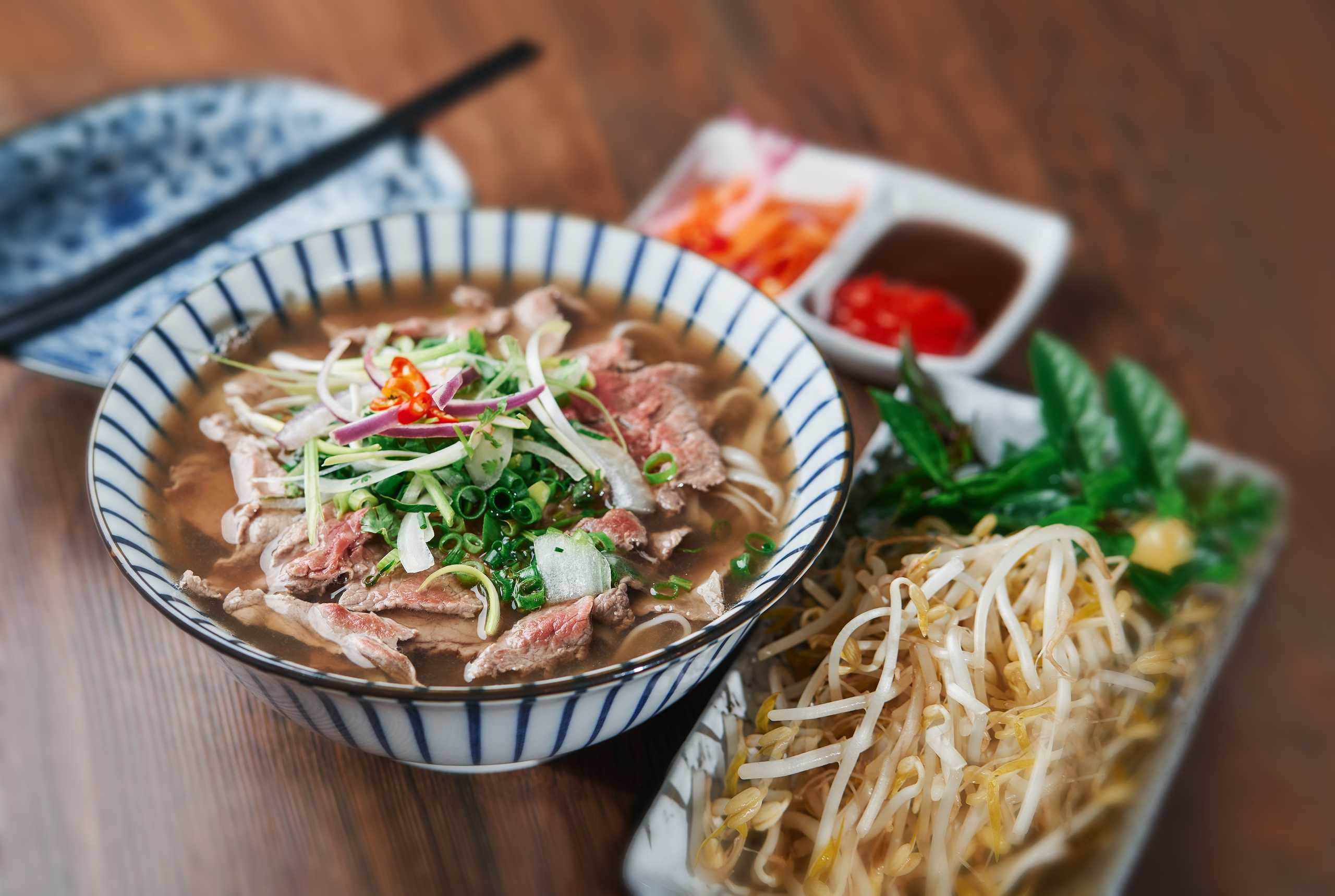 HANOI POP-UP – A Taste of Tradition at JW Marriott Hotel Macau
Let JW Marriott Hotel Macau take your taste buds on an exploration to Vietnam! Guest chef Trinh Cuong, from JW Marriott Hotel Hanoi, presents some authentic Vietnamese specialties that bring together fresh herbs, warm spices and complex sauces. Each dish is a celebration of traditional flavours and modern finesse. These are available at The Lounge and Urban Kitchen. Signature dishes at the first include green papaya salad with semi-dried beef, Vietnamese pho beef noodle, and Vietnamese chicken curry. At Urban Kitchen, there is a themed buffet running from until the end of the month as well.
When: August 1–31, 2019
Where: The Lounge and Urban Kitchen, JW Marriott Hotel Macau, Galaxy Macau, Estrada da Baía da Nossa Senhora da Esperança, s/n, COTAI, Macau China
How much: Signature dishes – Starting at MOP $108 per dish
Buffet – Starting at MOP $528 per adult and MOP $259 per child
For more information, check their website or call +853 8886 6228 for reservations
Tags