Macau is no stranger to its very own creepy and horrifying stories of ghosts narrated from one generation to another by locals. There are several phantasmagoric tales that are said to have happened right in on out town! If you love the thrill of getting a scare, here are our top picks of haunted places in Macau.
Calçada do Amparo
(Featured image above)
These days, it's easy to fall in love with the beautiful space that surrounds Calçada do Amparo. And why not? Its colorful alleyways and cool shops have made it one of Macau's most Instagrammable streets of 2017. But did you know that it was once called the "Cannibal Alley"? According to legends, during WWII, Macau was faced with a shortage of food and there were shocking stories of someone going around killing fat people. One narrated incident was that of a fat lady walking down this street late one night who then vanished, never to be seen again.
Legend has it that a restaurant was in short supply of meat so they slaughtered her and used her body as the main ingredient for their char siu bao. Another rumor was that people were kidnapped and locked in a house on this same street, which caught on fire and killed everyone trapped inside. If you are brave enough to be walking along this alley in the dark you might even hear the faint noises of someone crying–the voices of those who perished in the fire. We don't know about you but the thought alone sends a chill down our spines.
Also read: Colorful Macau: Best Street Art Hotspots
Also read: Rua dos Ervanários: Old Macau is Around the Corner
Calçada do Amparo Macau

Guia Hill
Ghost stories have been rife for years in this area. Many children were told that if they were naughty they would be locked in the underground tunnels of Guia Hill. Those tiny dark tunnels have been the stuff of nightmares for kids for years as it's well known that in the olden times, Chinese ancestors buried their dead in the mountains. It's been said that if you are locked in there at night, the ghosts of those who died come out to play.
One of the most famous ghost stories of Guia relates to the running track. Rumor has it, during the 60s or 70s, there was a young rookie policeman who wanted to challenge this "haunted tale", so he decided one day to run a lap around the mountain holding a lit incense and when he was about to finish the lap, he heard a lot of footsteps running behind him. He looked back and saw a crowd of ghost runners running after him. Horrified, he dropped the incense and fled, and watched as the ghosts swung up and ate this incense–which is the food for ghosts. So if you go running around Guia Hill at night, never turn your head to see what's behind you, no matter what you hear.
Also read: Guia Hill: An Urban UNESCO Heritage Spot & Hiking Haven
Guia Hill Rampa Da Guia, Macau, +853 2859 5481

Nam Van Lakes
Who doesn't love Nam Van Lake?  Many of us run there, but did you know it is the place of an infamous suicide? Tales were told that one evening a man was out for his evening jog and spotted an old lady who stopped him to ask if he'd seen a hat. He said no, she thanked him, and he continued on running. After running for a while he came across the same old woman who stopped him and asked him if he'd seen her shoes beside the lake. He looked down and realized she wasn't wearing any. He informed her that he'd not been running the evening before and perhaps her shoes were moved by someone. She thanked him again and off he went.
The jogger went on with his running but something felt off and he looked back and the woman had disappeared. When he looked closer he saw two legs floating in the lake so he called the police. When they arrived, they found no one. Back at the station, he told them the story of meeting her but they still insisted no one was at the lake aside from other people exercising. The next morning in the newspaper he saw the photo of the old lady, the same one he saw at the lake. He read the article and realized she had died days ago. Remember this story the next time you're strolling around Nam Van Lake. Fancy a run on All Hallow's Eve?
Also read: Great Places to Eat Around Nam Van Lake
Also read: Off the Beaten Path: Exploring Sai Van & Nam Van Lake
Nam Van Lakes Barra area, Macau

Hotel Presidente
Travelers beware because this is a story of a female guest staying in a hotel room at the Hotel Presidente near the old Lisboa. According to legend, she could remember smelling perfume every time she went into the bathroom yet she wasn't wearing any and didn't bring any on her trip. She also laid out on the bathroom counter all her cosmetics, but the next day she woke up and they were all in disarray. She later found out that in 1997 the room was the scene of a gruesome murder. A Chinese man had called a prostitute to the room. He had sex with her then killed her, chopped up her body with a knife, and flushed the pieces down the toilet. Horrendous as this story is, we're pretty sure it hasn't stopped many guests and visitors from staying at the lavish hotel.
Hotel Presidente 355 Avenida da Amizade, Macau, +853 2855 3888

Kiang Wu Hospital
Estrada do Repouso is one of the most haunted streets in Macau, along which is where Kiang Wu Hospital stands today. Several years ago, it was the burial place of impoverished people who were interred on the land, as their family had no money to bury them. When the government approved the building of the hospital, many workers were tasked with digging up the bones of the dead into a coffin to relocate the grave. But the coffin after all the bones had been placed in it, just could not be moved. This road is still believed to be the roaming grounds of the disturbed spirits who were once buried there. We can't blame anyone for not liking hospitals.
Also read: A Comprehensive Healthcare Guide for Expats in Macau
Kiang Wu Hospital 85-87 R. de Coelho do Amaral, Macau, +853 2837 1333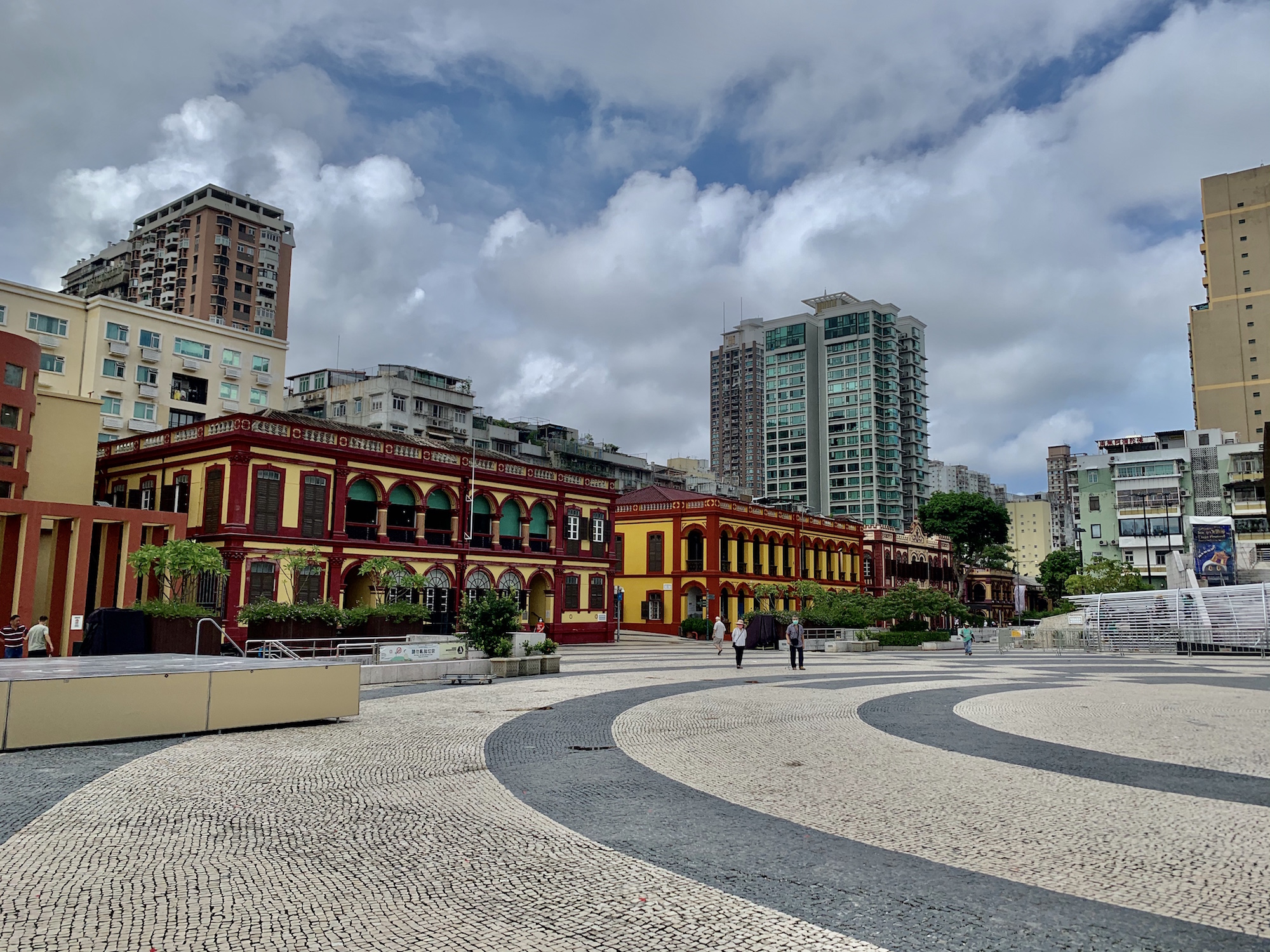 Tap Seac Square
Although the plan–after World War II–was to build residential complexes where now stands the majestic and wide Tap Seac Square, several construction workers then reported accidents and ghost sightings and got scared away. The project didn't go forward and local knowledge affirms the bones of abandoned bodies are still buried underground. Some also say the area was kept open wide like it absorbs sunshine during the day to breath.
Well, don't get scared by this tale though, because it might just be what it is: a scary story. Tap Seac Square might be haunted but it surely has its charms! From the beautiful–and modern–central library, to one of Macau's best public swimming pools, to restaurants and cafés, there's a lot to explore around here.
Also read: 5 Best Public Pools in Macau
Also read: Read On: Best Libraries in Macau
Tap Seac Square Avenida do Conselheiro Ferreira de Almeida, Macau
Tags
Related Posts