Looking for something light and healthy to eat or drink while strolling around the streets of Macau? Here's our list of hidden gems to kick start your day—eat and drink your way to better health!
Bless Juice Bar
This spot is truly a blessed area as its surroundings include popular tourist spots such as St. Augustine Church, Dom Pedro V Theatre and Sir Robert Ho Tung Library located in the heart of St. Augustine Square. Bless Juice Bar serves refreshing fresh juices, coffee, herb tea and hearty food. They provide an innovative and healthy drinking experience for customers.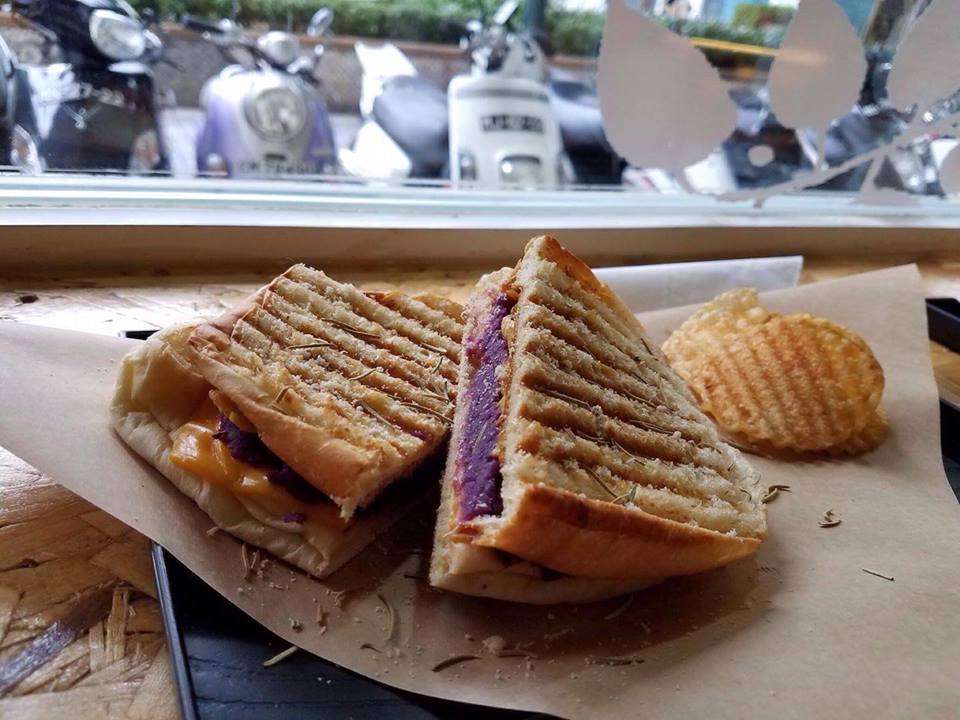 We love their purple yam toast—an interesting treat with cheese, sprinkled with rosemary, and served with a side of potato chips. The combination will surprise your taste buds. For drinks, we like their G Monster (avocado smoothie with matcha) or their iced caffe romano that has been enhanced with honey lemon. We love the roasted and nutty flavor the coffee gives along with a fresh and zesty kick. They also sell superfood products such as INKA quinoa flakes and chia sachets from Peru. We'll definitely be coming back to try their quinoa croissant, other house blend drinks, organic herb tea, and local taste coffee!
Bless Juice Bar 1B Largo de Santo Agostinho, Macau, +853 6222 9018, www.facebook.com/Bless-Juice-Bar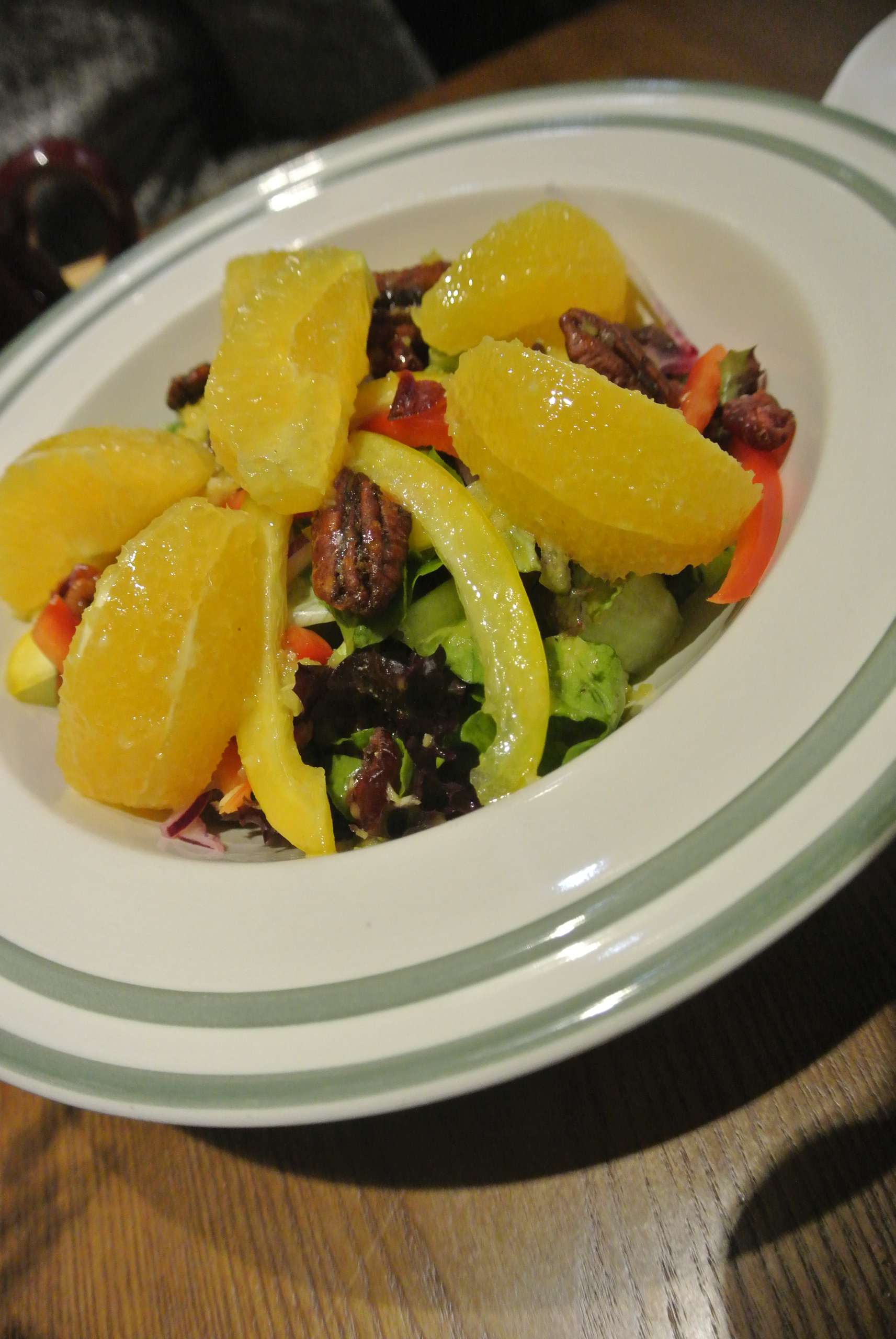 Cafe Marlette
Sister owners who studied in California and traveled to Australia and a few European countries were inspired by the coffee culture and wanted to create a place in Macau where people can relax and enjoy a good cup of coffee. They opened up this little cafe for customers to also enjoy a healthy lifestyle. Cafe Marlette serves four choices of slow-pressed juices, each mixed with fresh vegetables and fruits. They don't use MSG, chicken broth, or artificial coloring, and instead use a lot of herbs for seasoning and sauces. Here, we always get their fresh green salad in honey citrus dressing with homemade spiced pecan topped with cranberries and blue cheese bits. We also enjoy their truffle fries and sausage baguette with salsa. Drinking healthy doesn't mean you have to deny yourself a good glass of wine… well, not exactly here at Cafe Marlette. Try their wildfire tea, with homemade cinnamon syrup, that tastes like mulled wine served in a pretty tea cup instead of a wine glass. You may also notice there is rarely red meat on the menu, and every category of food has a vegetarian option.
Cafe Marlette 6A Rua de Jorge Alvares, Macau, +853 2852 3525, www.facebook.com/cafemarlette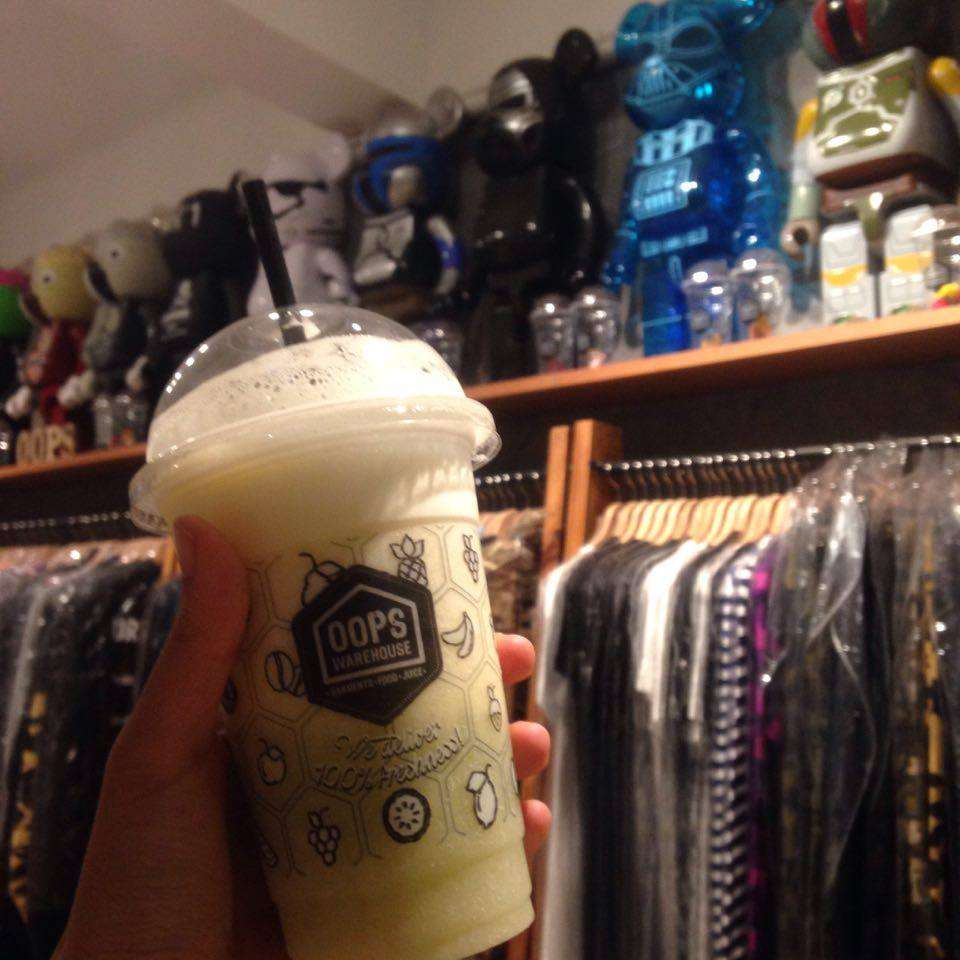 OOPS Warehouse
With a range of cool accessories and trendy clothing such as WTaps and Comme des Garçons, as well as possibly Macau's largest Bearbrick selection that includes A Bathing Ape, Neighborhood, Madness Supreme, Fragment, Stussy, Champion and more. They serve fresh-squeezed juices, teas, light snacks, and a range of colorful smoothies. Get a single, double, or triple fruit smoothie in one go. We recommend their double drink with guava and pineapple for that tropical summer  feel. A favorite is their watermelon milkshake. Enjoy the fresh ingredients and drink your way to good health.
OOPS Warehouse GF 13–15 Patio de Ho Chin Sin Tong, Rua de Pedro Nolasco da Silva, Avenida de Almeida Ribeiro, +853 6399 6866 www.facebook.com/oopswarehouse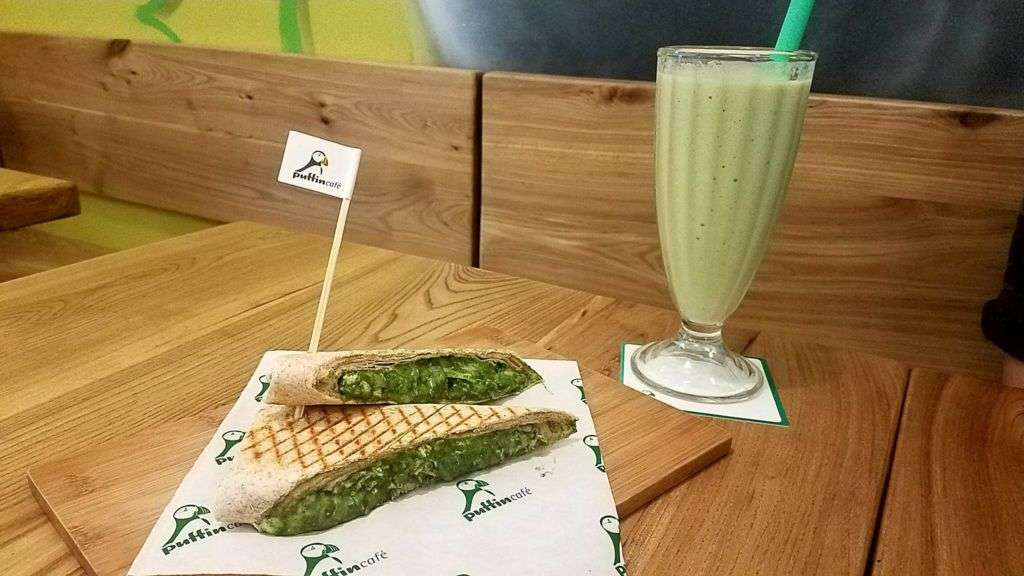 Puffin Cafe
Enter a world of green and photography of Puffin birds taken by the owners, who were inspired during their stay in Ireland. An ideal spot to escape from the crowd. Great if you're seeking a quick bite to eat. Build your own sandwiches here. Their bread choices include baguette, ciabatta, bagel, focaccia, croissant, and even whole wheat wraps. Fillings include tikka chicken, spicy salami, smoked salmon, and parma ham. They also have fresh vegetable choices like rocket, sun-dried tomato, and beet root. Lastly add in dressings, including sesame sauce, honey mustard, and caesar dressing. You can also build your own salad here with their endless options! Aside from salad and sandwich building, this place is great for vegetarians and vegans as one of the owners is vegan. Their veggie cheese burger with portobello mushroom is a great choice for those trying to cut meat from their diet as the portobello mushroom has a meat-like texture and taste. Start a new healthy habit here—meatless Mondays anyone?
Puffin Cafe 16A Rua de Santo António, Macau, +853 2883 6663, www.facebook.com/PuffinCafe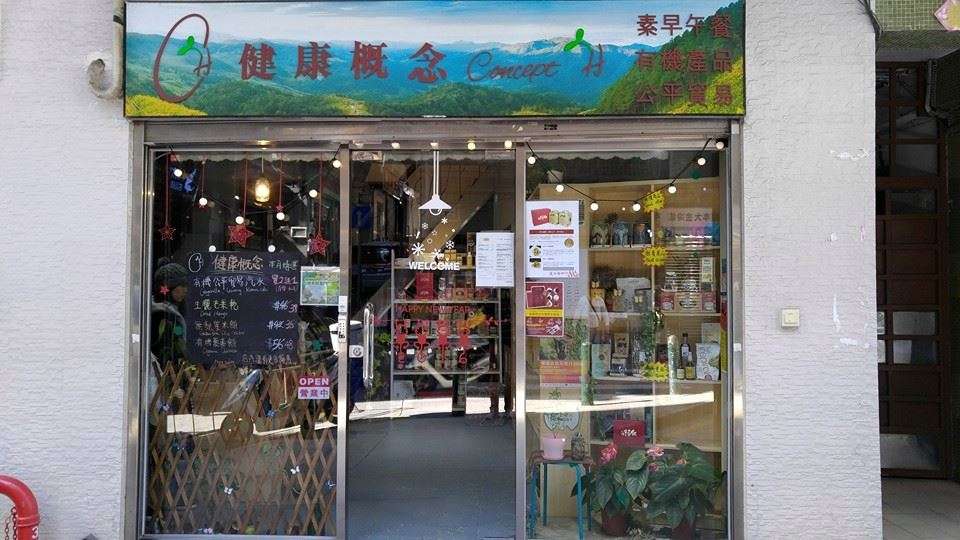 Concept H
Healthy, Honest, and Home is what the "H" stands for here. A brand promoting a healthy and green living lifestyle. They sell fair trade products, healthy rice bowls, and organic drinks. For a quick snack, we like their tempeh hummus toast served on focaccia with a side salad and tea with chia seeds. Many vegetarians and vegans use tempeh as a meat substitute like tofu. Tempeh is made from soybeans but is kept as a whole soybean, giving it a higher quantity of protein, vitamins and dietary fiber. It has a firm texture and a mild earthy flavor. Concept H occasionally their menu seasonally, depending on customer favorites and available ingredients. They also organize cooking workshops.
Concept H GF 10A Rua de Henrique de Macedo, Macau, +853 6557 9832, www.facebook.com/ConceptHMacau
Tags
Related Posts