Featured image photo credit: The Cheesecake Factory Macao, Oreo Dream Extreme cheesecake
Do you always have room for dessert even though you just had a full meal with appetizers and mains? Don't worry, we're not judging because we do too! Some people love sugar-filled sweets, while others prefer fresher and lighter flavors. Whether you're a sweet tooth or just want something to round off your meal, we've got you covered on some of the best dessert places in Macau. Here, we shed light on cakes, mousses, cookies, and such. If you're thinking about ice cream right now, you can always check out our article on the best places to get ice cream in Macau.
Also read: Macau's Best Ice Cream Spots
Cheesecake Factory
(See featured image above)
Well, this one's a no-brainer! Every dessert lover has to go to Cheesecake Factory at least once. First, for one of the widest selections of cheesecakes in town, and then for delights such as Linda's fudge cake, their sumptuous carrot cake–actually one of the best in Macau–Italian tiramisu, fresh strawberry shortcake, and so many other things. We also love their pancakes, but maybe try them some other day, perhaps as a breakfast main.
Also read: Great Places for Pancakes in Macau
Opening hours: Monday–Saturday, 11:00am–11:00pm; Sunday, 10:00am–11:00pm (Brunch served from 10:00am–2:00pm)
Cheesecake Factory Shop 2203D-E, Level 2, Shoppes at Londoner, The Londoner Macao, Estrada do Istmo. s/n, Cotai, Macau
Anytime
This is the to-go place to get together with friends and other loved ones in a beautiful setting taking in sumptuous cakes other wonderful desserts. Having dessert at Anytime is a real dining experience. Besides the delicious recipes, every single dish is wonderfully platted so you can have your own Instagram foodie moment! Available on weekends, Anytime's Sugar Crush lets people choose a selection of one meter-long cake, one meter-long savory, free flow of homemade ice cream, and sorbets made with fresh ingredients. This dessert journey also includes a glass of mocktail, fresh juice, bubble tea, coffee, or tea. The only thing left to do is head there! Sugar Crush is priced at MOP $118 (children), MOP $228 (per person), or MOP $428 for two people.
Also read: Let Them Eat Cake: Macau's Best Cake Shops
Opening hours: Sunday–Thursday, 11:00am–8:00pm, Friday and Saturday, 11:00am–9:00pm
Anytime MGM Cotai, Avenida da Nave Desportiva, Cotai, +853 8806 2338, www.mgm.mo/en/cotai/dining/anytime
Rocca Patisserie
If you're looking for some eye-catching cakes, head over to Rua do Noronha, and at a small and quiet corner find the humble Rocca Patisserie. Desserts here are more than just a sweet craving for them as their creations are an expression of their art. Everything is hand-crafted using natural ingredients and lots of passion. Experience genuine flavors and textures. They come out with a new cake collection every season. We first visited here during the spring loved how everything looked so appealing! Their cakes are as tasty to look at as they are to eat.
Our favorite is their "Rosy" which reminds us of the rose from Beauty and the Beast. We enjoyed each layer of smooth oolong tea cream, rose mousse and compote, poached mango, and oolong tea sponge cake all in one bite! We even appreciated the tiny details like the drop of water that made the rose look even more realistic. Each cake will definitely surprise you with unique features. Their summer collection "Les Fruits Frais" features captivating real-looking fruits in cake forms like green granny smith apples, red fuji apples, and lemons. We can't wait for more surprises for the next season!
Opening hours: Daily, 1:30pm–7:30pm
Rocca Patisserie Hong Hoi Building, 30 Rua do Noronha, Macau +853 6362 0926, www.facebook.com/rocca.patisserie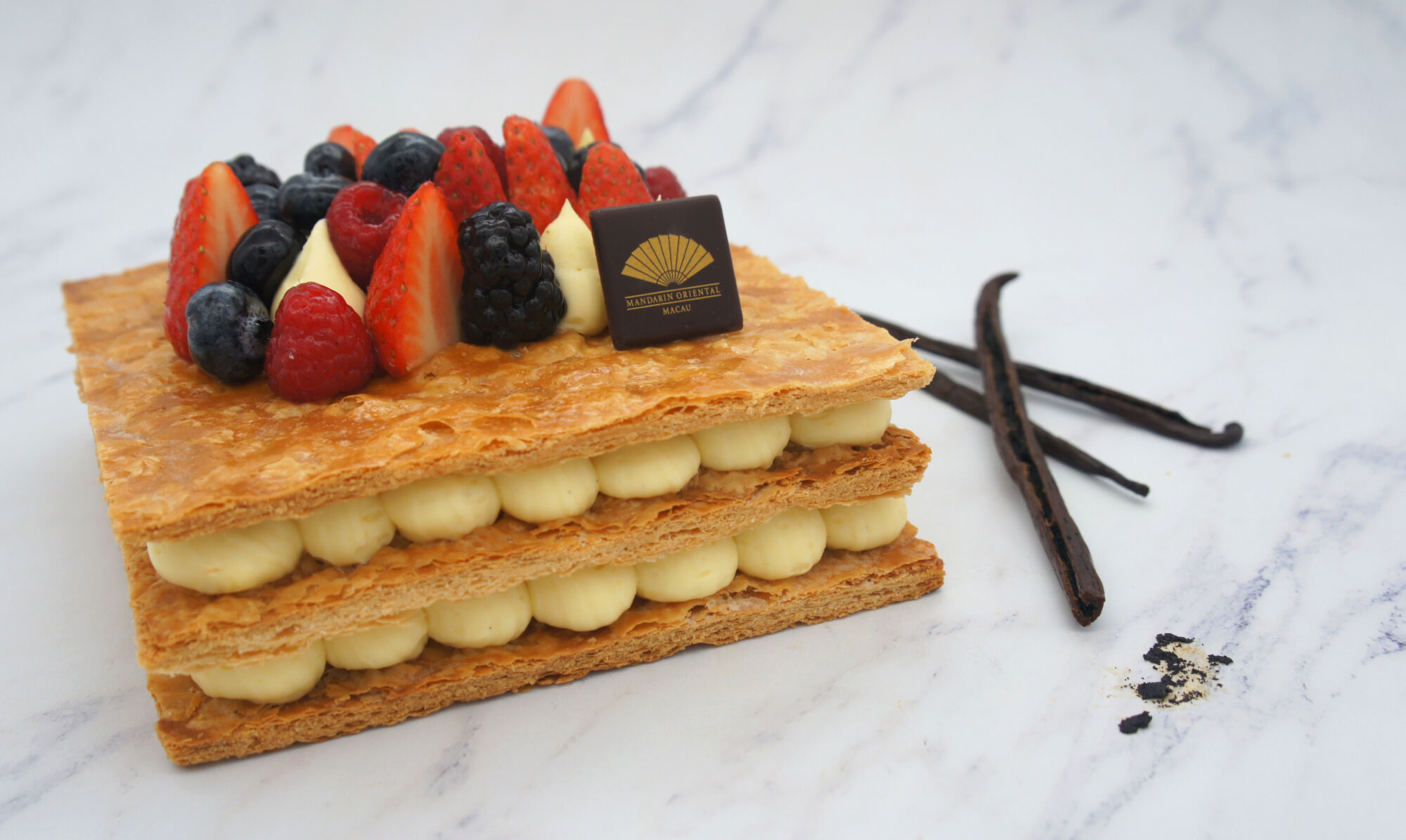 The Mandarin Cake Shop
Headed by the French pastry chef, Sebastien Bernis, this shop is one of the "sweetest" places in town! Featuring both classic and contemporary design cakes, Mandarin Oriental, Macau's pastry shop is located on the hotel's ground floor and has countless creations for people to choose from. From signature desserts such as the Napoleon and the Pink Bloom, diners will surely be glad to taste the strawberry cheesecake or the Spring Special, made with pistachio. From fresh to fruity, nutty to sugary, there's something for everyone in there! Head to The Mandarin Cake Shop and be delighted with all their treats.
Opening hours: Daily, 9:00am–10:00pm
The Mandarin Cake Shop Mandarin Oriental, Macau, 945 Avenida Dr. Sun Yat Sen, NAPE, Macau, [email protected], +853 8805 8948
Miss M Food
Located at the foot of St. Lawrence church, Miss M Food serves everything homemade like their daily special chiffon cakes. The classic light, airy cake has a pillowy texture that is perfect if you're looking for a light dessert to enjoy. Finding it hard to come across good English scones in Macau, Miss M decided to bake their own to satisfy their cravings and share their love for scones with the community. They are made authentically with hints of lemon and served with jam for a sweet and flaky treat. We also like rinsing down the desserts with their infused rosemary lemon tea. The herb adds a savory depth and flair to the lemon tea, making it a soothing and refreshing drink. They also serve chocolate pistachio lava cake, oatmeal and raisin cookies, crunch cakes made with homemade caramel and light cream, and more lovely pastries.
Opening hours: Thursday–Tuesday, 12:00pm–6:00pm
Miss M Food GF 6E Rua de S. Lourenço, Macau, +853 6560 0232,  www.facebook.com/MissMFood
Oden Studio
Oden is a type of Japanese street snack of skewers similar to those curry fish ball stands in San Malo and what they call "lok lok" in Singapore and "tusok tusok" in the Philippines—which literally means "to poke" in Tagalog. Oden Studio is Macau's first Japanese kanto cooking shop with oden imported directly from Japan. They serve food with no MSG added and only use all-natural ingredients too.
Here, you can taste the authenticity all the way from Japan as the owner and cook are from Osaka. Aside from oden, the dessert highlight here is their sakura shingen mochi, also known as the wobbly water "cake". Actually referred to as a mochi cake but tastes like jelly, sprinkled with a bit of matcha sugar and drizzled with some homemade syrup for that pleasant natural sweetness. Make sure to eat it within 30 minutes or it'll vanish into a sweet puddle of water.
Opening hours: Monday–Saturday, 6:00pm–1:00am
Oden Studio Veng Seng Building, 41 Rua do Capão, Macau, +853 2835 0201, www.facebook.com/Oden-Studio
D'light Dessert Cafe
Feel delightful and eat light desserts (hence their cafe name) here. This is one of our favorite sweet spots to relax and enjoy. With a comfortable and spacious layout. We absolutely love their tiramisu dessert and ginger milk curd mousse cake. What makes their tiramisu treat unique is how they've separated the ladyfinger cookies as a base topped with light mascarpone with a sheet of chocolate and edible gold served with a shot of hot chocolate, instead of stacking and layering dipped ladyfinger biscuits in coffee and mascarpone.
Pour the hot drink and watch the chocolate melt over the dessert and enjoy every bit of it! Their ginger milk curd mousse cake has an interesting flavor and silky texture–an adaptation of a popular Cantonese dessert but recreated in cake form for cake lovers to experience a different taste. To pair with these desserts, we love their white ginger pear from Tea Forte. Add a bit of honey to bring out the flavor and craft an exceptional tea experience. We also adore their green alien (matcha) tea latte inspired by Toy Story!
Opening hours: Daily, 12:00pm–10:00pm
D'light Dessert Cafe Lei Hang Building, 90 Rua da Ribeira do Patane +853 2855 6332, www.facebook.com/Dlightdessertcafe
Mochi Mochi Macau
Asian sweets–especially those from China–have less sugar than the ones found in European countries such as Portugal or France. These are usually served hot or cold to cope with both the low and high temperatures. Mochi is one of such: ice cream or real fruit is wrapped on a chewy rice flour dough, making this a delightful, light, and flavor-filled dessert. It's very common in Japan and Japanese restaurants around the world. There are some places in Macau offering this treat, but we especially like the ones from traditional Mochi Mochi Macau, set on a corner of quaint Rua do Cunha.
Opening hours: 9:00am–10:00pm
Mochi Macau 4 R. de Horta e Sousa, Taipa Village, +853 2822 6663, www.facebook.com/macaupingkei
Golden Mix Dessert
If you're into Chinese-style desserts–we are and recommend to start too–there's no dessert as fulfilling, energizing, and fresh as a mango pomelo sago mix. Although they come in different forms (pudding, mousse), the best so far might be at Golden Mix Dessert. With a scoop of mango ice cream and topped with pomelo bits, this is a great way to end a meal. There are, however, other wonderful spots to try this sweet treat, so check out the link below as well.
Opening hours: Daily, 2:30pm–2:30am (Taipa and Areia Preta); Daily, 3.00pm–3.00am (Patane)
Golden Mix Dessert 606, Dr. Sun Yat Sen, Edf Chun Lai Garden R/C-Loja-C, Taipa, +853 2856 3080
31-B Av. de Demétrio Cinatti, RC J, Macau, +853 2895 0543, +853 6569 9374
34 Av. de Demétrio Cinatti, Edf. Chun Iao R/C-D, Macau, +853 6668 0348
512 Rua Nova da Areia Preta, Kuong Wa San Chun, Bl.2 R/C-B, Macau, +853 2876 8536, goldenmixdessert.com
Also read: Best Places to Get Mango Pomelo Sago in Macau
Lady M
Serving a wide array of French-inspired recipes, Lady M is known for its mille-feuille, a dessert made of puff pastry and vanilla cream. With countless flavors and different scents, these are great for someone looking for a light, yet flavorsome and fulfilling dessert. Mille-feuille allows for a soft experience with a crunchy yet soft pastry. We dare you to try! Another signature dessert Lady M is their mille-feuille in the form of crêpe with different tastes, such as green tea, Earl Grey, popcorn, black sugar soy. There are also other recipes such as shortcake and mousse, gâteaux, and more things to try and repeat.
Opening hours: Daily, 10:00am–11:00pm
Lady M Shop 2203B, Level 2, Shoppes at Cotai Central, Sands Cotai Central, Macau, +853 2855 1680, www.ladymhk.com
K02, Grand Canal Street, Level 3, Shoppes at Venetian, Macau, +853 2825 8320
Also read: Where to Get Your French Dessert Fix in Macau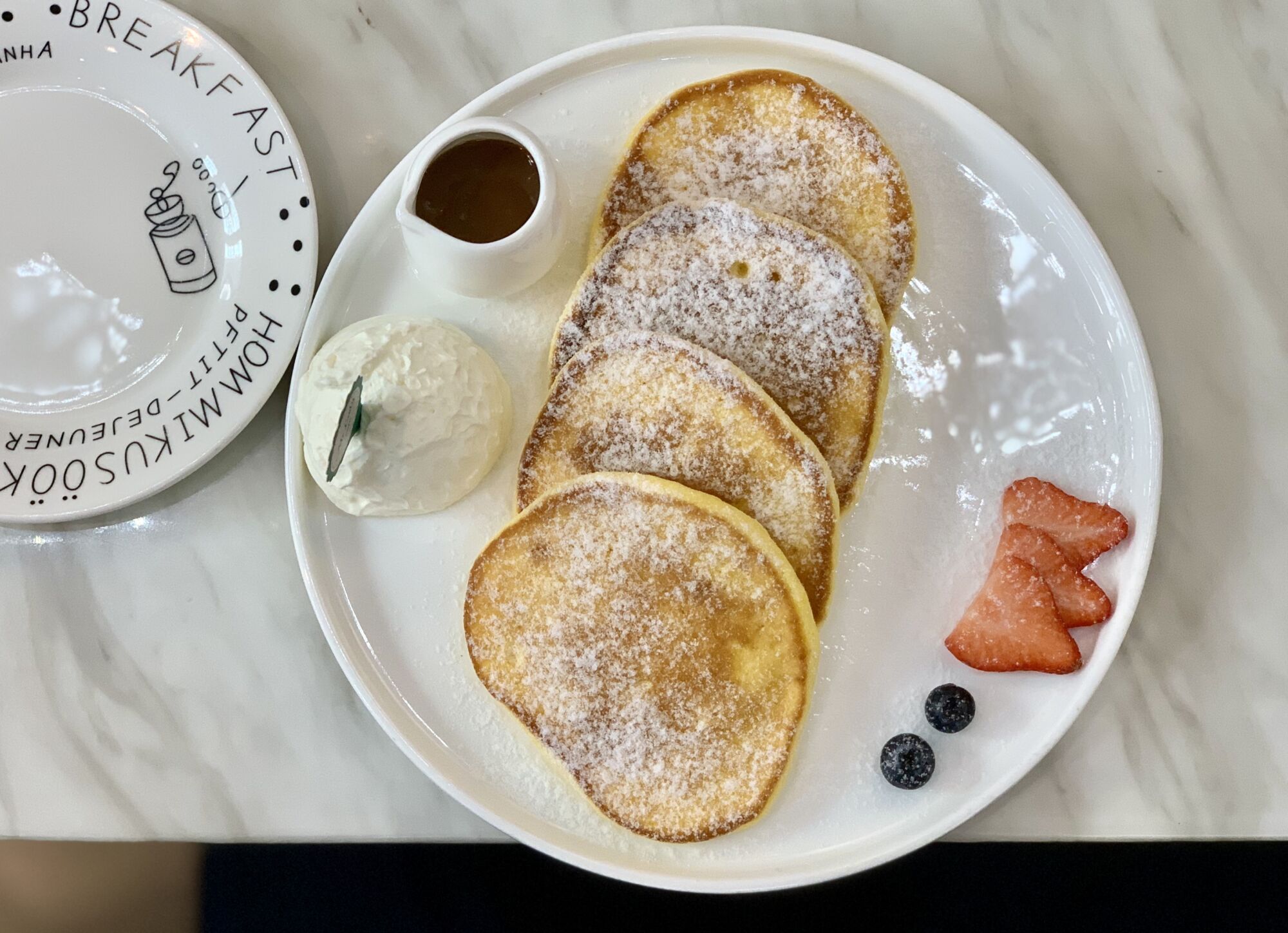 Mr. Lady
Although with a very similar name to the patisserie above, Mr. Lady is a completely different restaurant and brand. Located at busy and old Avenida Horta e Costa, this little cute café serves incredible things! It might come as a surprise since this place can be mistaken for just another normal snack shop, but the truth is that lunchtime is usually very busy, with lines outside to get one of the few tables they have.
Besides the out-of-this-world scallop and garlic pasta, this restaurant serves pancakes. However, these are not your average pancakes: these are those trendy souffle ones, inspired by Japanese cuisine. These take a bit more than 20 minutes to concoct, but they're worth the wait. With whipped cream, fruit, and other goodies of your choice, these are some of the best souffle pancakes we've had. When we head there, we usually go for both the pasta and some pancakes to share with friends, as each plate includes four big ones.
Opening hours: Daily, 12:00pm–8:00pm
Mr. Lady 5G Avenida de Horta e Costa, Macau, www.facebook.com/Mr-Lady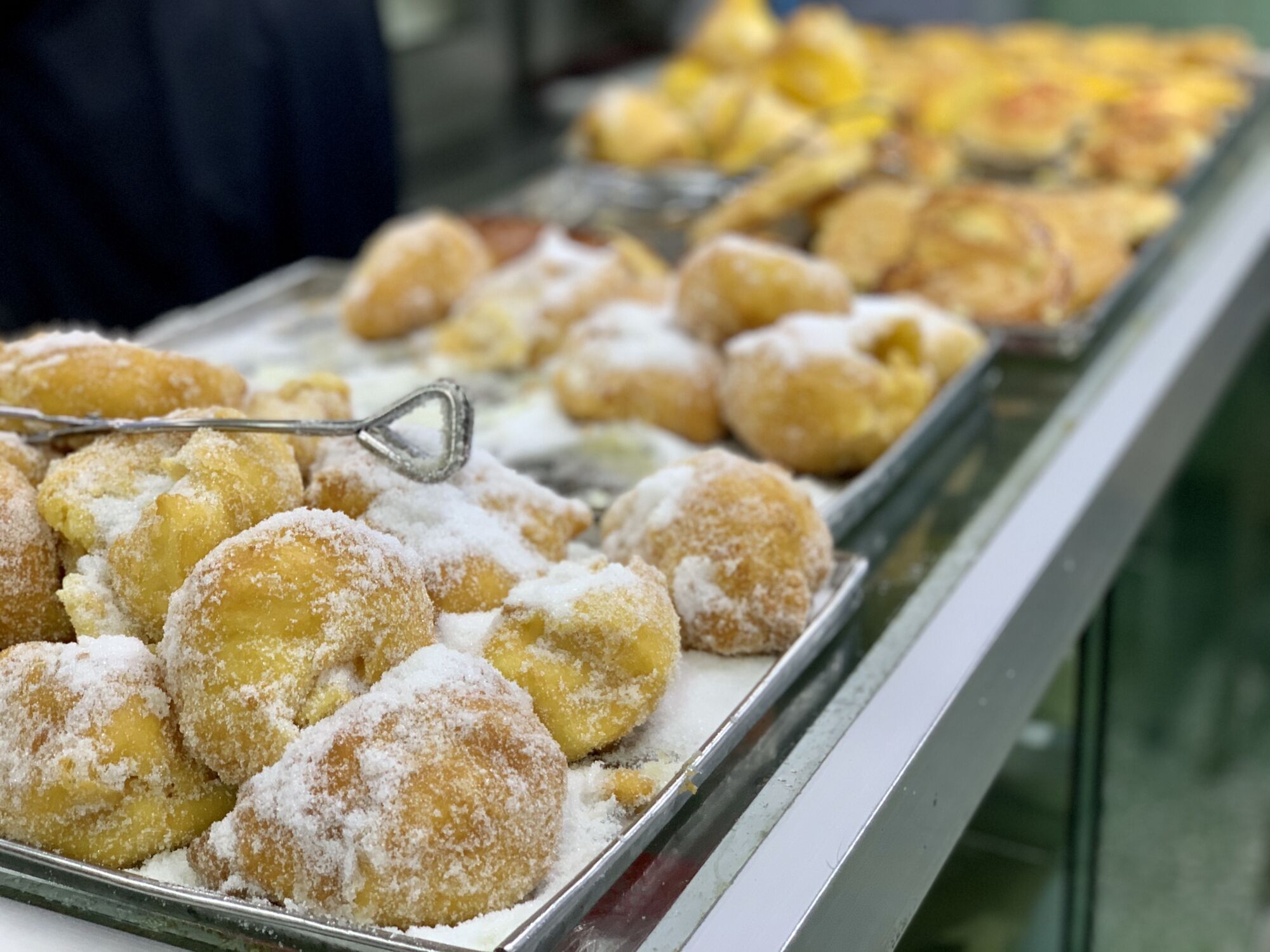 Nam Ping
Sugan buns, donuts, sweet bread with char siu, and so on, there's a whole world of traditional Macau sweets and we love touring the city while falling in love with these. One of the places we love heading to because of their sugary items is Nam Ping, where they craft pastries on a daily basis. You can expect sweet bread and some homey dishes like noodles soup of egg and char siu sandwich. As for dessert, we love their sugar bun, super soft on the inside and crispy on the outside, with sugar covering the deep-fried dough. Although it may look so, this isn't a very sweet item, so be sure to check it out if you're not a fan of sugary desserts.
Opening hours: Daily, 6:00am–6:00pm
Nam Ping 54 R. de Cinco de Outubro, Macau, +853 2892 2267
Also read: A Tour of Traditional Chinese Pastries in Macau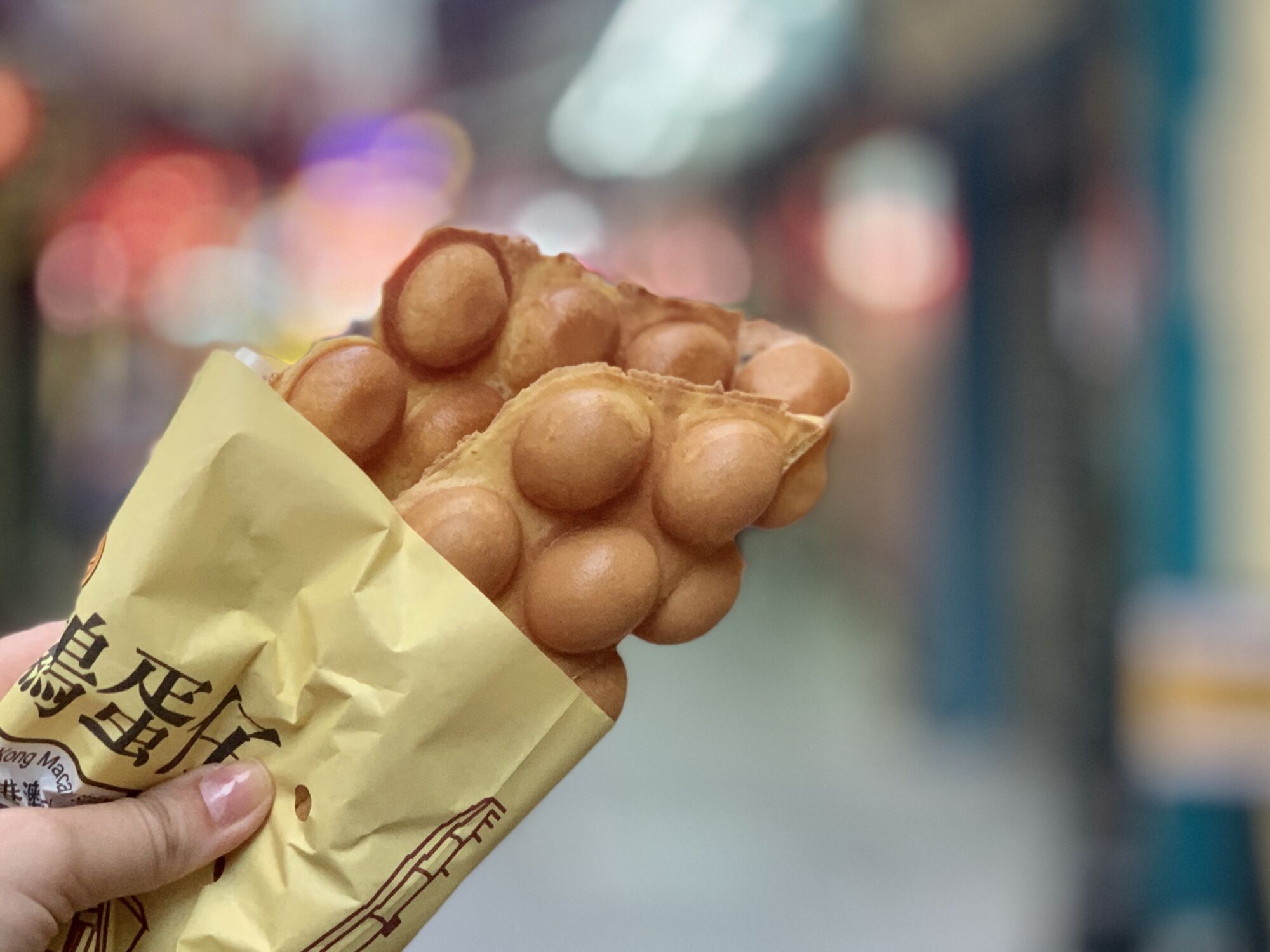 Egg Waffle
Also very typical in both Macau and Hong Kong, egg waffles can be eaten as an afternoon snack or a dessert. Some people will order them plain, but we like the traditional recipe: steaming hot from the toaster on the paper bag, leaking of condensed milk, and soft peanut butter. Sweet enough? We believe so! There are several street stalls–and some shops–selling these and although they're mostly named with Chinese characters, you'll spot the waffle machine by the door and just point to that to order one. Affordable and delicious, we think this is one of the best Macau sweets to try!
Hing Yi Waffle Stall Pátio das Flores Alley, Macau
Also read: Best Waffle Spots in Macau
Also read: Street Snacks in the Red Market & Horta e Costa Area
Cha Bei
Titled "the guilty choices", Cha Bei's dessert selection is a happy place. From wonderfully crafted ice creams to pancakes, or chiffon cakes and their seasonal fruit tart, we also love the milk and honey pannacotta, and the Cha Bei banana soufflé, which is ideal to share amongst friends. Cha Bei has an incredible all-day dining menu, but a nice option is heading there just to (un)balance your sugar levels. We'd suggest going for the pannacotta and the Cha Bei soufflé. Wander through the cute restaurant painted in pink, with a swing right by the door and lots of sweets to try out. They also specialize in tea, so be sure to order a pot and try some of their selections.
Opening hours: Tuesday–Sunday, 11:00am–9:00pm
Cha Bei 1047, 1F, Galaxy Macau, Estrada da Baía de Nossa Senhora da Esperança, Cotai, www.galaxymacau.com
This article was written by Bel Faustino in 2017 and updated by Leonor Sá Machado in July 2021.
Tags