One of the best things about the cold weather is warming up with hot noodles. However, rainy days are a perfect setting for a bowl or two as well. Luckily, Macau offers an eternity of tiny eateries, large restaurants, and authentic takeaway shops with this comfort food. Where to start with? We compiled a list of five great Asian noodles and where to eat them in Macau. Read on and mark them on your noodle exploration map! 
Pho at Pho Tik 
(See featured image)
Historians believe that pho originated early in the 20th century. It is a national dish of Vietnam that has become popular worldwide after the post-war Vietnamese refugees brought its recipe everywhere they went. Although pho's variations differ depending on the region, the most common type is beef soup, aka pho bo, a clear beef broth with beef cuts and flat rice noodles. Herbs, lime, and sauces are traditionally served on the side. 
We love the signature pho at Pho Tik, a real pleasure for meat lovers. When you can't decide which meat cuts to have in your soup (steak, flank, meatballs, or tendon), go for the one that has them all. A large bowl of rich broth, noodles, and beef is accompanied by herbs, sprouts, hoisin, and sweet chili sauce. Moreover, generous portions come at low prices, a hard-to-beat combination! 
Opening hours: Daily, 11:00am–8:00pm
Pho Tik 13C Rua do Bpo. Medeiros, A Ka Long Building, Macau, +853 2852 3000, www.facebook.com/photikmacau
Also read: Best Vietnamese Eateries in Macau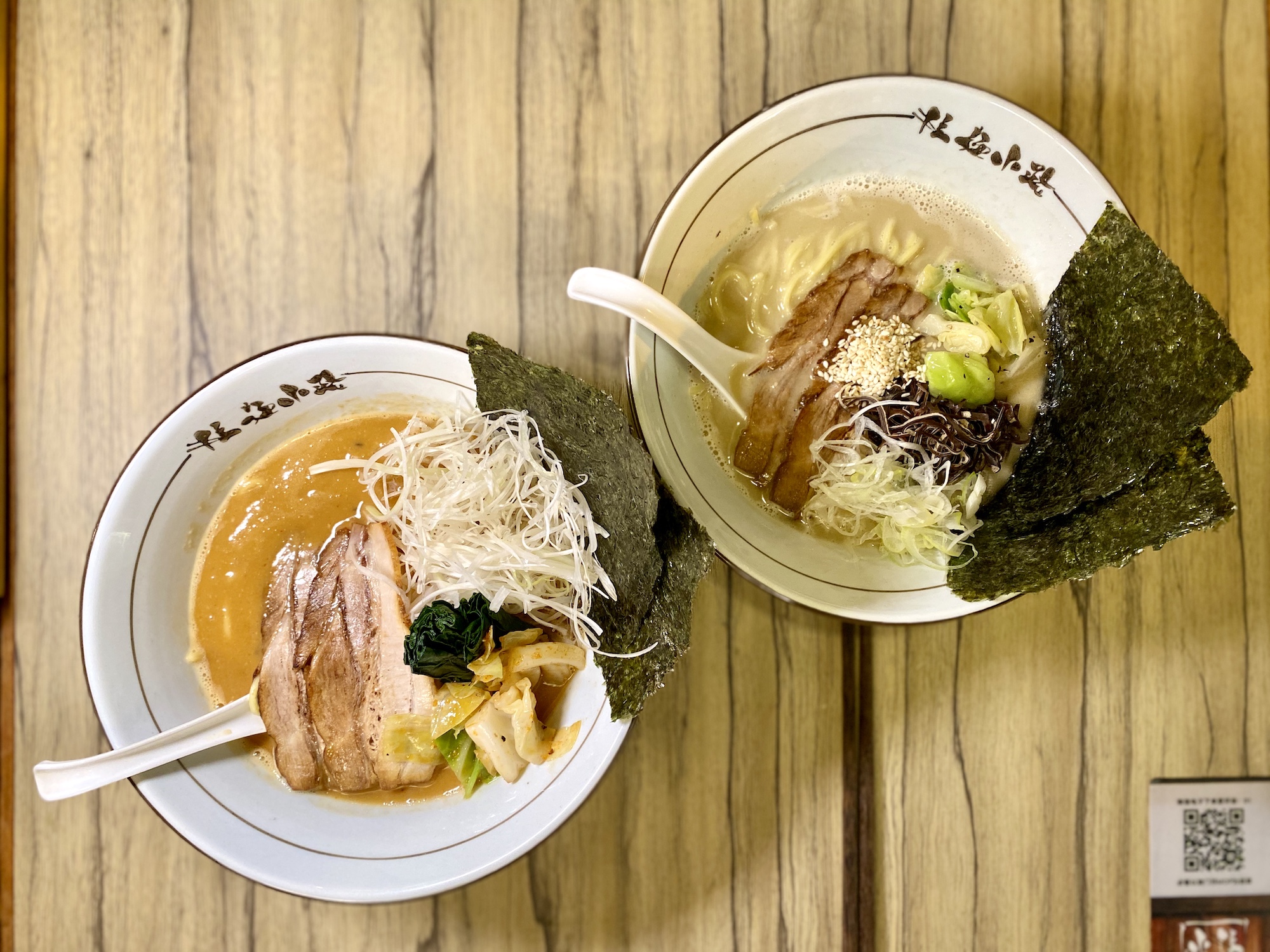 Ramen at Ramen Kouji
In the vast and diverse world of noodles, Japanese ramen is another world itself. From pork-based creamy tonkotsu to light salt-based shio, there are so many variations of broths and toppings that everyone can find one that fits their taste. While all the variables differ, one of the most common ramens is a pork-based soup topped with a portion of noodles, nori, marinated egg, and pork chāshū. If that's the one you are looking for, Ramen Kouji would be an ideal place to taste it. Pair your ramen with a bottle of Japanese soda, and you are good to go! 
You can find this Japanese ramen spot by the end of Filipino Street in the San Ma Lo area when you walk straight ahead from ANAK Philippine Bread. Another Kouji branch is in Taipa, next to Cuppa Coffee. 
Opening hours: Daily, 12:30pm–9:30pm (Macau)
Monday, Wednesday–Saturday, 12:00pm–12:00am; Tuesday, Sunday, 12:00pm–2:00am (Taipa)
Ramen Kouji Rua da Alfândega, No. 50, Mei Keng Building, +853 2893 8964, www.facebook.com/RamenKoujiYokohama
Rua de Fernao Mendes Pinto, Taipa +853 2857 6672 
Also read: Delicious Ramen Spots in Macau
Also read: Get Warm: Best Ramen Spots in Taipa

Laksa at the Lobby Lounge, Mandarin Oriental, Macau
One of Southeast Asia's top favorites has a blurry past and various theories of who created it and when. The most popular one goes back to the 15th-century Chinese migrants who came to Southeast Asia, settled down, and married local women. Adapting traditional Chinese noodles to the local culinary traditions, women added coconut milk and curry, ingredients typical for the region. The marriage of Chinese and Southeast Asian cultures is known as the Peranakan culture, while the gastronomic baby is known as laksa. Today the creamy noodle soup with bean curd, seafood, and coconut milk curry is an integral part of Indonesian, Malay, and Singaporean cuisines. 
In our humble opinion, the winning recipe is definitely at Mandarin Oriental, Macau's Lobby Lounge. Served with your choice of lobster or king prawns, their laksa is creamy, slightly spicy, and perfect on seasoning. The addition of premium seafood makes this humble noodle soup meal a luxurious dish!
Opening hours: Daily, 10:00am–8:00pm
Lobby Lounge Mandarin Oriental, Macau, 945 Avenida Dr. Sun Yat Sen, NAPE, Macau, +853 8805 8938, www.mandarinoriental.com/lobby-lounge
Also read: Best Restaurants Serving Malaysian Flavors in Macau

Dan Dan Noodles at Crystal Jade La Mian Xiao Long Bao
Born in Sichuan's streets, dan dan noodles become popular all over China and beyond for the explosive flavors and a winning combination of the ingredients. The standard recipe includes bean sprouts, chili oil, chopped spring onion, soya sauce, and meat broth. Once the base is ready, noodles and fried minced meat go into the bowl. 
If you are a fan of spicy Sichuanese cuisine, particularly dan dan noodles, Crystal Jade would be one of the best places to savor them. Lamian noodles made in-house are served in a thick sauce made with peanut and chili oil. All that is topped with minced meat and scallions, an absolute perfection that is great for sharing. 
Opening hours: Daily, 11:00am–11:00pm (The Parisian Macao branch is closed on Mondays)
Crystal Jade La Mian Xiao Long Bao Shop 1026, Level 1, The Londoner Macao, Estrada do Istmo. s/n, Cotai, +853 8113 8998, www.londonermacao.com/crystal-jade
Shop 3122, Level 1, The Parisian Macao, Estrada do Istmo. s/n, Cotai, +853 8111 9220, www.parisianmacao.com/crystal-jade
Also read: Macau's Best Dumpling Places

Wonton Noodles at Wong Chi Kei 
Dumplings or noodles? Which one to choose when you crave comfort Asian food? No need to pick one as you can order a steaming bowl of wonton noodles. Especially on cold days, this dish is the ultimate soul food that will make your stomach happy. In Cantonese cuisine, wontons are usually filled with shrimp and minced pork served with noodles in a broth made with dried flounder, pork bones, and shrimp shells. It's a humble food, often cheap and consumed on-the-go. 
Many Macau's eateries offer this soulful soup, among the best of them is Wong Chi Kei, a chain with a 50-year history. A hot bowl of wonton noodles comes with fresh chives and chili. Last but not least, it will cost you less than MOP $50!
Opening hours: Daily, 8:30am–11:00pm
Wong Chi Kei 17 Largo do Senado, Macau, +853 2833 1313
21 Rua do Cunha, Taipa, +853 2836 1373, www.taipavillagemacau.com
51 Rua Cinco de Outubro, Macau
Also read: Macau's Best Wonton Noodles for Under MOP $50

Zha Jiang Noodles at North by Square Eight
An essential culinary element of Beijing's and Northern China's cuisine, zha jiang noodles is known and loved beyond the region's borders. Hence, it's not hard to find it on the menu of various northern Chinese restaurants in Macau. Thick wheat noodles are topped with so-called "fried sauce," or zha jiang, minced pork, or beef simmered with dark fermented soybean paste. Often, the noodles are served with fresh or pickled vegetables, sliced or julienned. Before indulging in a hot bowl of delicious noodles, you should stir all the ingredients together with chopsticks.
At North by Square Eight, guests can choose from two portions of zha jiang noodles. Even the smaller one is generous and good to share with a companion. Another remarkable detail is that you can watch the craft of hand-pulled noodles creation while waiting for the order. There is an open kitchen where chefs showcase their mesmerizing skills. If you wish to have more veggies in your zha jiang mian, head to Beijing Kitchen at Grand Hyatt, another great restaurant for northern Chinese food.
Opening hours: North by Square Eight: Daily, 11:00am–11:00pm. Beijing Kitchen: Thursday–Sunday, 12:00pm-2:30pm, 6:00pm–9:30pm
North by Square Eight MGM Macau, Avenida Dr. Sun Yat Sen, Macau, +853 8802 2388, www.mgm.mo
Bejing Kitchen Grand Hyatt, Estrada do Istmo, Cotai, +853 8868 1930, www.hyatt.com
Stir-fry noodles at Noodle & Congee
When hungry for something simple and satisfying, stir-fry noodles always save the day. It is not exactly a particular dish, it is more like a type. This quintessential comfort Chinese comes with various types of noodles, thin or thick, and all kinds of toppings. The best combination is a generous portion of veggies, meat, mushroom, and sauce, just like they cook it at Noodle & Congee. Stir-fried with soy and oyster sauce with large chunks of  pork chop, crunchy black mushrooms, scallions, and bok choi, this dish comes in a large–perfect for sharing–portion.
Opening hours: Daily, 11:00am–12:00am
TC – Noodle & Congee 2F, Grand Lisboa, 2-4 Avenida de Lisboa, Macau, +853 8803 7755, www.grandlisboahotels.com/rtc-noodle-congee

Taiwanese Beef Noodles at Jeng 
With bustling night markets and small eateries rated by Michelin guide, Taipei is one of Asia's gastronomy destinations. Many foodies worldwide add Taiwan's capital to the travel list to try the renowned street food and modern Taiwanese cuisine. One of the must-try eats is Taiwanese beef noodles based on rich beef broth with soy sauce, braised tender beef slices, topped with fresh scallions and cilantro. The dish is so popular it has its own annual event in Taipei, the Beef Noodle Festival.
An excellent place to order a steaming bowl of authentic Taiwanese noodles would be Jeng in Taipa Village. A two-story eatery works as a takeaway shop and a restaurant to have a quick lunch or dinner for a reasonable price. Beef noodles are their signature available in two variations, regular and spicy. One more place we love is the renowned Taiwanese chain, Din Tai Fung.  
Opening hours: Jeng: Daily, 12:00pm–10:00pm. Din Tai Fung: Monday–Friday, 12:00pm – 8:30pm, Saturday–Sunday, Public Holidays, 11:30am–9:00pm
Jeng G/F, 7 Rua dos Negociantes, Taipa Village, +853 2830 3055, www.taipavillagemacau.com/jeng-macao
Din Tai Fung Shop 1075, Level 1, The Boulevard at Studio City Macau, Estrada do Istmo, Cotai, +853 8865 3305, www.studiocity-macau.com
Level 2, SOHO at City of Dreams, Estrada do Istmo, Cotai, +853 8868 7348, www.cityofdreamsmacau.com/din-tai-fung
This article was originally written by Bel Faustino in December 2016 and updated by Ksenia Kuzmina in March 2021.
Tags
Related Posts