Macau is home to a host of cuisines and also internationally renowned Michelin starred eateries. All that said, on some days, a dish of steaming hot delicious dumplings really hits the spot. Dumplings are little pockets of happiness made with dough and filled with minced meat and chopped vegetables. These dumplings can then be steamed, boiled, or fried. Did you know that potstickers or "guo tie" are a type of dumpling? Xiao long bao or soup dumplings are also a super delicious treat to share with friends and family. Here're our picks for Macau's best dumpling places on days when you've got a craving!
The Himalayan House 
(See featured image above)
Momos are a form of juicy dumplings made with herbs and spices that are sure to be a great sharing dish among friends. The Himalayan House originally started off as a strictly Nepalese eatery. Today, they have two branches in the city: Taipa and another on the Macau side, serving Nepalese and Indian food. Curries and tikkas, naans and biriyanis all deserve attention for the authenticity and rich flavors. However, their star dish is chicken momos, large half-moon-shaped dumplings with poultry filling. The juicy chicken is mixed with herbs and spices and wrapped in a thin and shiny dough. Here, they serve their momos with an in-house made spicy sauce. The chef blends tomato, garlic, nuts, chili, black pepper, and sesame seeds to prepare it. If you are not afraid of the heat, dip those momos in the heavenly sauce. To balance the spiciness, order a glass of fresh mango lassi, one of the best in Macau!
Also read: Best Indian Restaurants in Macau
Also read: Interesting Asian Restaurants to Try in Macau
Opening hours: Daily, 12:00pm–0:00am
The Himalayan House Macau 26 Travessa do Auto Novo, Macau, +853 2893 3132, www.facebook.com/The-himalayan-house-macau
Opening hours: Daily, 12:00pm–11:30pm
The Himalayan House Taipa 18-26 Rua de Hong Chau, Taipa, +853 2883 2160, www.facebook.com/thehimalayanhousetaipa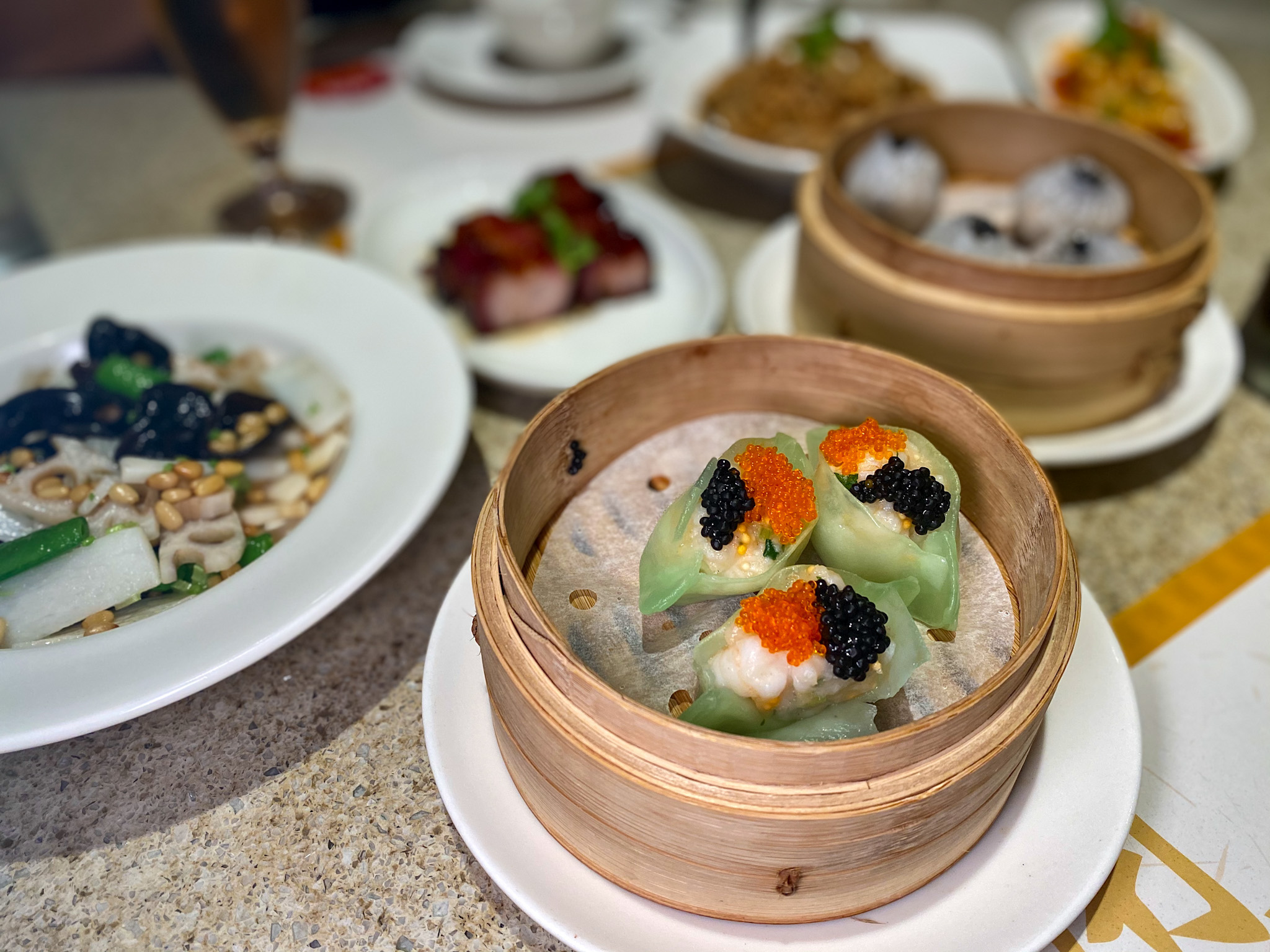 Yum Cha 
Where else should you hunt for dumplings if not in a restaurant specializing in dim sum? "Yum cha" stands for "a meal with dim sum", so no wonder the menu here includes several outstanding dim sum classics. Without thinking twice, opt for their two signatures–seafood basil crystal dumplings with tobiko and avruga caviar (beluga caviar substitute) and crystal shrimp and black truffle dumplings. The first one is pure umami wrapped in thin dough, and the latter has this rich aroma and flavor of black truffle. What we love about Yum Cha is that dining there won't break a budget–the prices are reasonable and they often have special offers and promotions!
Opening hours: Friday–Sunday, 11:00am–9:00pm
Yum Cha Sheraton Grand Macao, The Londoner Macao, Estrada do Istmo, s/n, Cotai, www.londonermacao.com

Crystal Jade La Mian Xiao Long Bao
This Asian chain of restaurants opened at Sands Cotai Central in 2019 and has gained many loyal customers ever since. Always full, it's a must-visit when it comes to dumplings. Besides their signature dumplings, there's also a tasting basket with eight different flavors which includes truffle, spicy beef, and foie gras! The xiao long baos are steamed with premium fresh pork making the broth contained so yummy! Additionally, do try the noodle soups and Sichuan dishes to add a kick to your lunch or dinner. Remember to book a table before coming by emailing crystaljade.reservatio[email protected] or giving them a call. Check out their full menu here!
Opening hours: Daily, 11:00am–11:00pm
Crystal Jade La Mian Xiao Long Bao Shop 1026, Level 1, The Londoner Macao, Estrada do Istmo, s/n, Cotai, +853 8118 8822, www.londonermacao.com

Beijing Kitchen
Beijing Kitchen has a long-standing reputation for some of the best Northern Chinese cuisine in town. Besides their delicious Peking duck, diners flock to their restaurant for the very authentic northern style "jiao zi". Anyone who's been to Beijing knows that dumplings are a staple food to get you through those cold winter months. Beijing Kitchen's pork and cabbage dumplings do not disappoint at all. Served in bundles of 12, paired with light soy sauce and vinegar for dipping, you will find these babies hard to share with the rest of the table. They also have xiao long bao and other steamed items available but the classic jiao zi, steamed or pan-fried is where it's at.
Also read: What to Eat at Beijing Kitchen, Grand Hyatt Macau
Also read: Best Places for Noodles in Macau Casinos
Opening hours: Daily, 11:30am–2:30pm, 5:30pm–11:30pm
Beijing Kitchen Grand Hyatt, Estrada do Istmo, Cotai, +853 8868 1930, www.hyatt.com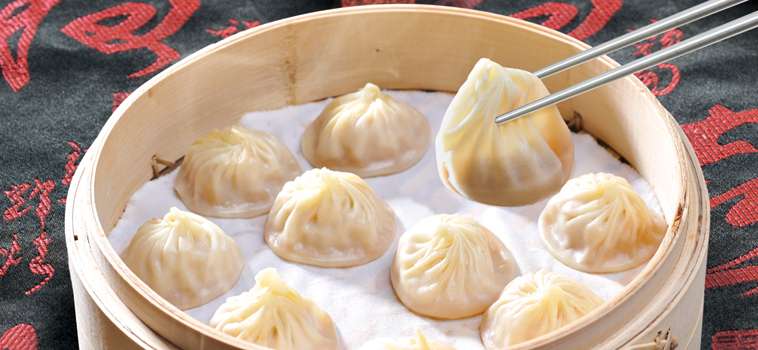 Din Tai Fung
No legit dumpling list is complete without mentioning the brand that brought them international fame. Founded in the 70s in Taiwan, this Asian restaurant is now in Studio City Macau! Having earned a Michelin star, their Hong Kong restaurant is always full! Mouthwatering xiao long baos are served fresh and you get the chance to eat the best of Taiwan without having to fly there. Not to worry because the branch in Macau is less crowded than the one in our neighboring city!
Opening hours: Daily, 12:00pm–3:00pm, 6:00pm–10:00pm
Din Tai Fung Shop 1075, Level 1, The Boulevard at Studio City Macau, Estrada do Istmo, Cotai, Macau, +853 8865 3305, www.studiocity-macau.com

Dumpling Town
Estb. de Comidas Kao Kao Chan also known as Dumpling Town and it is the place to be at for dumplings like their name says. Dumplings of all kinds are available, whether steamed, fried or deep-fried, and there's a wide choice between vegetarian, meat or seafood with veggies! Located in the Senado area in a back alley, this is the perfect place to bring visitors or just to grab a quick meal. Dumpling Town also offers takeaway and delivery services, which is perfect for office workers and those working from home. Order a few types of dumplings and share them with your friends, family, or co-workers! There's also a branch in the Fai Chi Kei area that's open till late, so why not grab some dumplings as a nightcap after going out for drinks?
Also read: Great Places to Eat Around Senado Square
Also read: Best Places to Find Authentic Milk Tea in Macau
Opening hours: Daily, 12:00pm–10:00pm
Dumpling Town 7A Beco da Arruda, Macau, +853 2835 6633
Opening hours: Daily, 6:00pm–2:00am
Dumpling Town 99 Rua 2 de Concórdia, Macau, +853 2822 2772

Northern Noodle House 
Northern Noodle House is inside the City of Dreams and holds its own against its Michelin starred neighbors. The dumplings here are hand made and their selection of seafood dumplings is one of the best in Macau. The luxurious lobster dumplings with saffron is an absolute must-try where you'll get six bright yellow xiao long bao with lobster flesh in a rich broth. For something more traditional, order their pork and fennel steamed dumplings. For our vegetarian friends, they also have a Chinese chive and scrambled egg dumpling.
Also read: Best Places for Noodles in Macau Casinos
Opening hours: Daily, 11:00am–3:00am
Northern Noodle House Level 1, Casino, City of Dreams, Estr. do Istmo, Cotai, +853 8986 3663, www.cityofdreamsmacau.com/en/dine/chinese/northern-noodle-house
North 
North is a tranquil restaurant in The Venetian Macao that's teeming with tourists all year round. Other than the delicious food on the menu, their decor is beautiful, and do remember to check out the stunning ceiling design while you're there. The dumpling menu is rather humble but they do have a few options–seafood, meat, and vegetarian. We made the mistake of ordering too many different types and not bringing a bunch of friends. North serves their dumplings in generous portions of 12 and at MOP $60, that's a really sweet deal. The dumplings that totally stole our hearts and stomachs were the pork, shrimp, and chives dumplings. Perfectly seasoned tender filling with a bit of broth–if that's not Chinese comfort food, then what is?
Also read: Best Vegetarian & Vegan Places in Macau
Opening hours: Daily, 11:00am–11:00pm
North Level 1, Shop 1015, The Venetian Macao, Estrada da Baia de Nossa Senhora da Esperanca, Cotai, +853 8118 9980, www.venetianmacao.com

Noodle & Congee
Macau foodies know this corner restaurant in Grand Lisboa for their extensive menu of noodles and congee dishes (obviously) but their dumplings are also an attraction. Steamed and fried, filled with meat, seafood and vegetables, there's a whole page of them! Our top picks are poached "Tianjin" dumplings with mushroom and vegetables, pan-fried dumplings with minced pork, and poached dumplings with shrimp and crabmeat in spicy sauce. No surprises or extravagant options, just good old Chinese recipes made to perfection. The service is fast and discreet. The interior is rather pompous for a noodle spot but that gives the place its unique vibe.
Also read: Macau's Best Wonton Noodles for Under MOP $50
Also read: Delicious Noodles & Where to Eat Them in Macau
Opening hours: Friday–Sunday, 8:00am–12:00am
Noodle & Congee 2F, Grand Lisboa, 2-4 Avenida de Lisboa, Macau, +853 8803 7755, www.grandlisboahotels.com/rtc-noodle-congee
North by Square Eight 
Modern interior with bright accents, beautiful ceramics, and Chinese paintings make up a perfect setting for lunch or dinner at North by Square Eight at MGM Macau. Besides the stunning design, they offer simple and satisfying Northern Chinese cuisine. To make an order, you don't even need to talk to waiters, if your inner introvert doesn't feel like it. Just open the WeChat app, scan a QR-code on the card available at every table, and explore the menu. The dumplings selection here is not that big. However, what placed North by Square Eight on this list of the best dumplings in Macau is their delicious Sichuan pork dumplings. Large dumplings filled with tender pork floating in spicy red oil with Sichuan peppercorns and chili. Make sure you don't wear white to savor them as it can get messy! In case you are not keen on spicy food, there is another item worthy to order–pork and pickled cabbage dumplings, a balanced combination of crunchy and sour vegetables, and fatty pork.
Opening hours: Daily, 11:00am–3:00pm, 6:00pm–11:00pm
North by Square Eight MGM Macau, Avenida Dr. Sun Yat Sen, Macau, +853 8802 2388, www.mgm.mo
This article was originally written by the Macau Lifestyle team in March 2019 and updated by Ksenia Kuzmina in October 2020.
Photo credits: Ksenia Kuzmina and others. 
Tags
Related Posts