Looking for a group to workout with and have more meaning to it than just sweating off calories? ManaVida spreads health awareness, benefits, and fun to the Macau community by aiming to "sweat for others" through charity, workshops and more. Here, we have Cintia Milk, one of the founders of ManaVida, to share their story.
Where did the name ManaVida come from?
Mana as described in the Bible is the food miraculously supplied to the Israelites in the wilderness by God. Today, we see it as a symbol of a miracle, a supernatural force that can be either acting on people or a situation. We believe each one of us can be a Mana—a miracle, a blessing, a support for people around. Vida means life in Portuguese. And the name came naturally when starting this social enterprise. We want people to not just wait for the miracle to fall from the sky, but empower them to be the miracle.
What inspired you to bring ManaVida to Macau?
Both my husband and I grew up in Macau, and we've been exposed to diverse communities related to our job, church, and social life. And being a local, people kept asking us how they could donate goods, supplies, or funds and it's never a simple question to answer in Macau. So we created ManaVida—the bridge between people and community projects that we personally seek and support. Although many people relate it to fitness sessions, ManaVida is about giving and about doing something that not only benefits the participant but people that they don't even know. The fitness component is attached to the idea of respecting your body as a temple by nourishing it with a good lifestyle mentally, physically and spiritually. And when I say spiritually, it is the simple fact that you are caring and loving people that you don't even know, but you're somehow connected.
Tell us about your fitness journey.
I was always active in sports—different football modalities, roller hockey and other activities related to fitness. After getting married, I got into running and high-intensity modalities and by then I really enjoyed the process of learning deeper about every exercise I was doing. In 2015, I started applying to numerous courses; TRX Suspension training course and Schwinn Cycling (spinning instructor course) were my first ones. Back then, I didn't think of becoming a fitness instructor as a full-time job but the joy of being able to help people around me took over. I wanted to dig deeper but I was finishing my education diploma and working full time as an art teacher so almost every month I would spend my weekends in Hong Kong for more fitness courses to later be able to make the transition. In 2016, I took the summer break to become a certified personal trainer by the National Academy of Sports Medicine and later that year, I started my journey to become a Pilates instructor and also started ManaVida!
You do a lot of bootcamps–what are your favorite outdoor workout spots in Macau?
Macau has amazing places for outdoor bootcamps, but a lot of public areas have so many rules that "cut our legs". We love Central Park in Taipa, Ocean Garden waterfront square and the Macau Stadium running track (where it all started).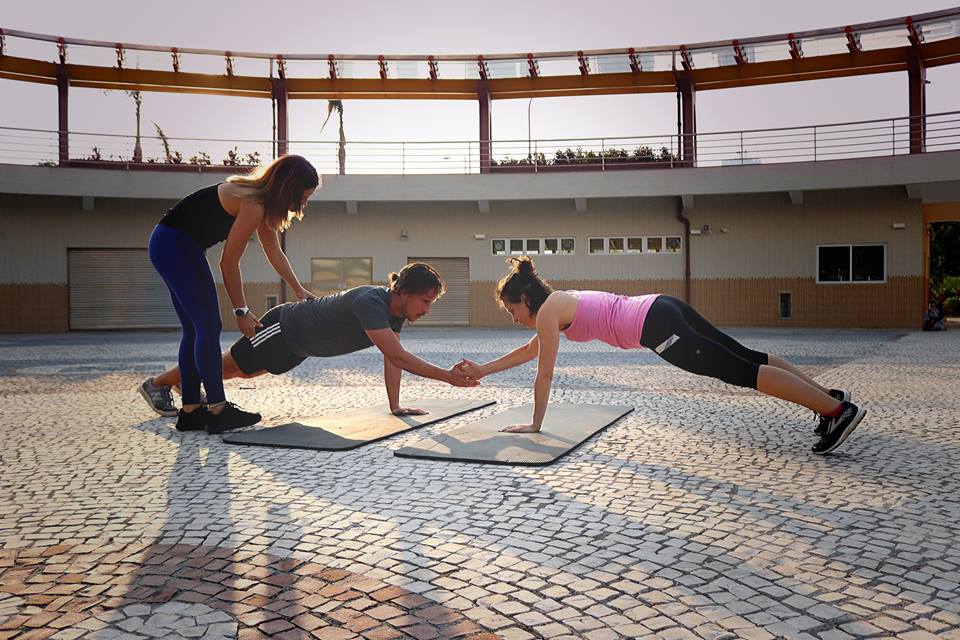 What are your thoughts on the Macau fitness scene?
Definitely growing, but a lot still needs to be done. But in every small enterprise business in Macau, we all suffer from the same restrictions, bureaucracies and logistics. I'm happy to see young entrepreneurs taking a bold step and making this possible. Fitness is for everyone and there's a taste for everyone and every modality. It's great when you can talk to other fitness business owners and collaborate—things move faster, and everyone benefits from it. One of our mottos when presenting ManaVida to fitness facilities and instructors is that we are not here to compete, but complete. Even if it's the charity part, we would gladly put events up and do it for them! Macau is a rich city. Government and casinos could definitely reach fitness-related business and associations to create more events for the community.
Who had the most influence in your life while growing up? What's the best advice they gave you?
My mother. A woman that battled a lot and always made it all to provide for me and my brother. She made me believe I could be anything I wanted to be, and never made me look at the barriers for new experiences. While choosing my university degree, everyday she would suggest to be an engineer, doctor, artist and even an astronaut, no kidding. We grew up with just enough, having some difficulties, but in every struggle she would make us appreciate life and make little experiences feel like a theme park! Also, I grew up in a Christian environment, and she would make us be very active in the Christian community, making me who I am today.
How do you find time for exercise and time to prepare healthy food?
Exercise has to be early in the morning—get it done and have the rest of the day full of energy. I started food prepping after getting married and realized that my husband was constantly getting sick, specially related to stomach issues. So I started researching and healing it all with food. Weekends are for food shopping and meal prepping and planning while watching a movie. I can't just watch a movie…I need to move! But of course until today, there are times that I fail in planning properly, or we enjoy hanging out with family and friends so sometimes end up eating out. Usually friends end up asking where we would like to eat so that we can customize our dish.
Can you tell us more about the RawVida events and its aim?
RawVida was created in collaboration with Rawlicious. Andreea, a qualified raw chef, approached me to start what we call "Macau rawvolution". An opportunity for Macau to learn more about diet variations (in this case specifically raw) and body exercises that can be added to their normal routine. Our aim is not to convince people to be 100% raw—neither one of us is—but maybe shifting some old habits to a healthier one. People can also learn how to prepare their meals, a hands-on experience impossible to forget. We had our first raw food fitness retreat last November 19, which was very successful and overbooked, which took us by surprise. Feedback was great and we already have our second workshop this coming January 27 and 28.
This time, two different workshops, four hours long each day from 10:00am to 2:00pm. We will bring to Macau the concept of creating a kitchen "farm", Japanese raw cuisine, and benefits of aromatherapy stretch. An event where we nourish our body, mind, and stomach!
What's coming up for ManaVida?
ManaVida will be launching new components. Guilherme, my husband and partner, will be presenting "Macau Urban Gardens"—kits and workshops for people to grow their own veggies and herbs at home. He is passionate about it and feels the urge to create awareness both to older and young generation.
We are finally finishing our website, with all information about our mission, how people can participate in our activities, events, and donate with their skills, time or "sweat" when purchasing our services. For example, some fitness instructors are donating their time, so people can experience different modalities and both end up donating to different charity causes.
Ultimately we want to do a charity hike/run race, hopefully before June 2018 but still looking for sponsors!
---
Follow Cintia Milk on Instagram @cintia.milk and ManaVida's Facebook page for updates
ManaVida +853 6652 0872, manavida.com
Tags
Related Posts