Some visitors maximize their short time in Macau hopping from casino to casino and we don't blame them; after all, this is the gambling capital of the world with beautiful resort hotels where you can easily spend your entire day shopping and dining. But we also suggest giving the open spaces of Macau a chance. Besides, what better way to give your weary feet a break than by spending some time in nature? From gardens to cultural spaces, here's our quick guide to peaceful spots in ever-changing and bustling Macau.
Guia Fortress
(See featured image above)
One of the best ways to get a panoramic view of the city is by walking up this historic hill, entering through Flora Garden. It is home to the UNESCO heritage site of Guia Fortress and its lighthouse. Featuring a chapel that exhibits treasured relics, it's a great place to know more about our beloved city. Did you know the lighthouse is the highest point on the Macau peninsula and can be easily reached through Flora Garden cable car or on foot?
The chapel is opened every day, from 10:00am to 5:00pm, while the outdoor area is available to the public from 6:00am to midnight. If you have a thing for walking, take this chance to unwind. The whole area is worth the visit, but the best of it is getting to the top–try doing this around 5:00pm. You'll be able to catch a beautiful breathtaking panoramic view of the city while the sun sets.
How to get there: Take bus 32 to Flora Garden
Guia Hill Rampa Da Guia, Macau
Also read: Top Running Routes in Macau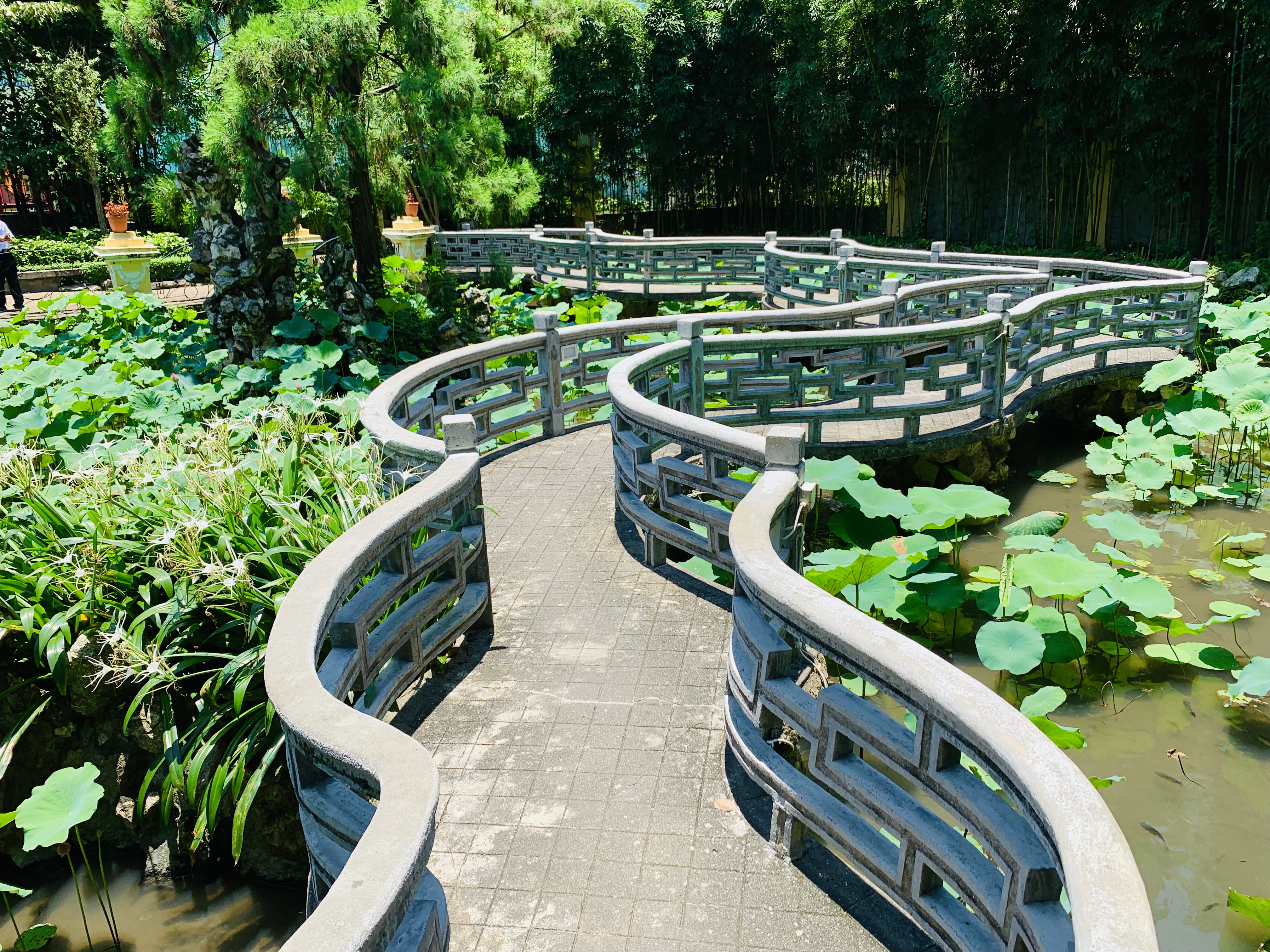 Lou Lim Ieoc Garden
Visitors are welcomed by a well-manicured landscape upon entering this public garden. It was built by a wealthy merchant, Lou Kau, and was inherited by his son Lou Lim Ieoc, in 1906. The property is enclosed by a high wall and sits right at the heart of the city. It's almost feels like magic that such a place, being right in the middle of the city and lots of traffic, has such a peaceful and relaxing vibe.
Upon entering, one can spot elderly residents playing cards and chess, taking naps or just strolling around. In the afternoon, parents sometimes take their children to play there as well. Although never totally empty, it's still a great place to relax. We dove into this sacred place's history and laid it down for you, so be sure to read more on this particular place here!
How to get there: Take bus 25 or 25X towards Horta e Costa area and get off at Lou Lim Ieoc Garden stop
Lou Lim Ieoc Garden Estrada de Adolfo Loureiro, Macau
Also read: Macau's Best Parks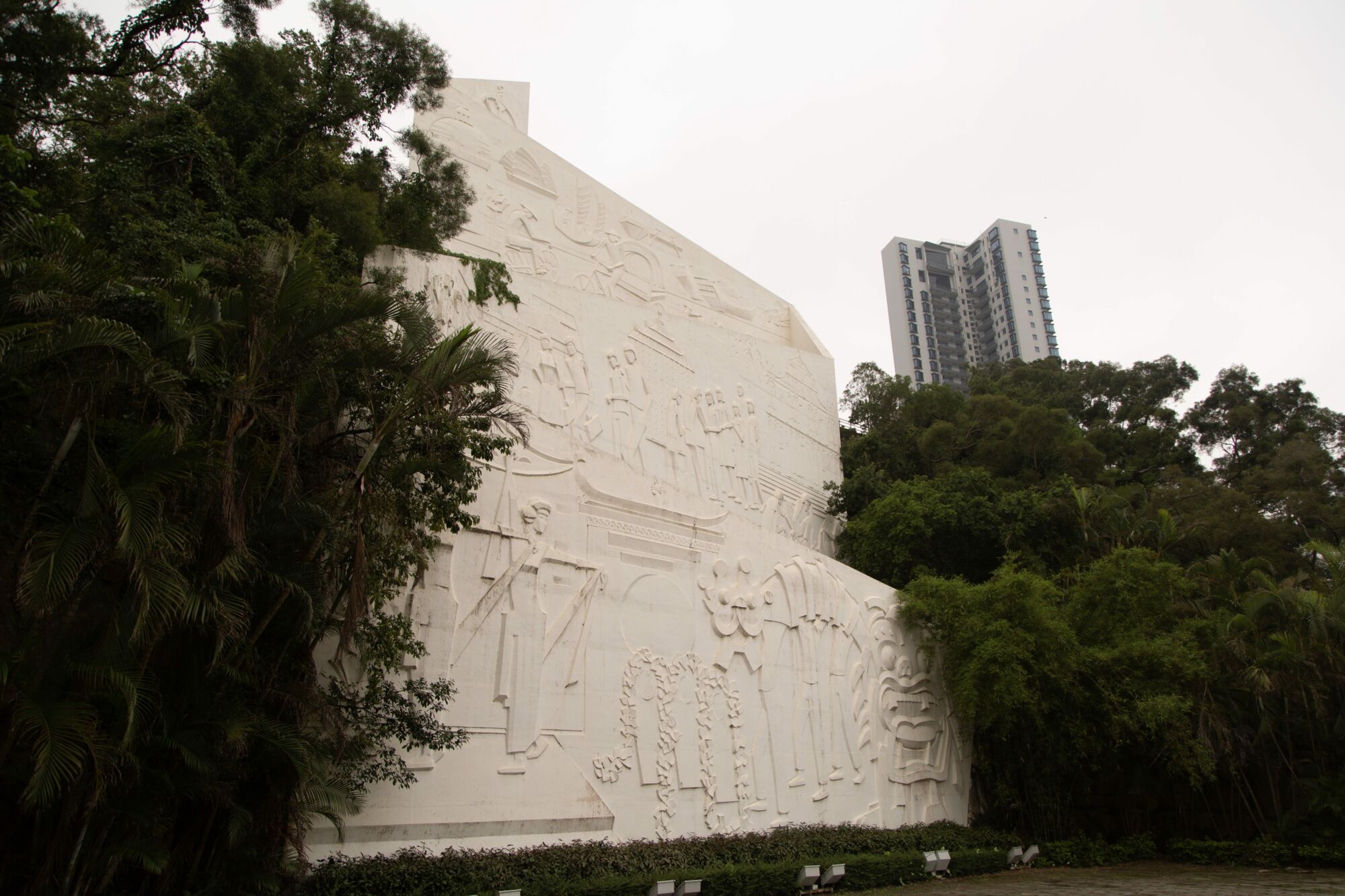 Taipa Pequena 2000 Circuit
This doesn't look like a peaceful spot in Macau, does it? The truth is this area is also home to one of Macau's most relaxing and unassuming spots: the start of a hiking trail, the Taipa Pequena 2000 Circuit. We all know the benefits of walking and running, but if you prefer drinking and spending time with friends with some music playing, this is the to-go place to hang out. Don't head there with a huge or noisy group and be sure it's a clear night when doing so.
We like enjoying the moonlight and the silence around the area, but it's also great by day, just expect some joggers coming in and out of the trail. Just go up the ramp starting somewhere close to this stone mural and you'll easily find a place with a wide and panoramic view of Macau side. From here, you'll spot MGM, Lisboa and Grand Lisboa hotels, all three bridges. Basically, the real deal when it comes to Macau's skyline.
How to get there: Take any bus to Taipa (22, 33, 25, 25B, 26, 26A, 21A, 11, etc), get off at Regency Hotel. Go up Estrada Lou Lim Ieok, turn right on Estrada de Sete Tanques until you reach the mural.
Taipa Pequena 2000 Circuit Estrada de Sete Tanques, Taipa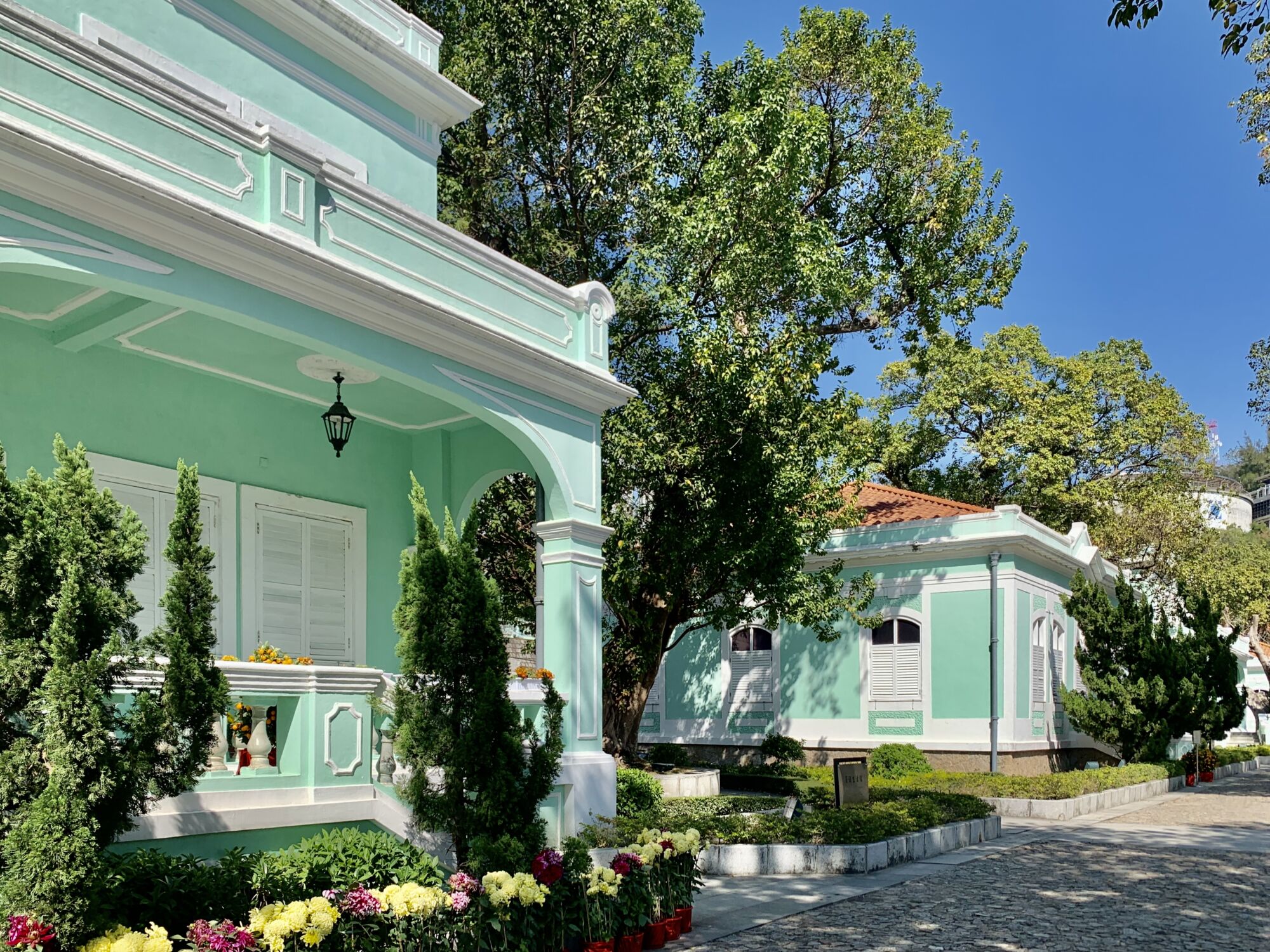 Taipa Houses–Museum
The Taipa Houses–Museum was originally a set of residences built in 1921 to serve as homes for local Portuguese families. In 1999, the local government revamped them, with four of the houses displaying artefacts from that era and a fifth devoted to events. There's also a church, some parks and playgrounds, and jogging trails in the area.
The adjacent garden also has outdoor exhibitions or installations from time to time, where kids and families can have fun. This is also a great area to enjoy a bird species only existent here, but also to shoot photos of the Cotai area without having to be in the midst of it all.
How to get there: Take bus 22, 28A 0r 33 towards Taipa and get off at Chun Yuet Garden Building stop
Taipa Houses–Museum Avenida de Praia, Carmo Zone, Taipa
Also read: 10 Free Things to Do in Macau
Seac Pai Van Park
This twenty-hectare multipurpose park consists of picnic areas, hiking trails, a mini zoo and an agricultural museum perfect for family outings. It is located not far from Cotai's Urban Zone and is a great diversion from the hustle and bustle of the city. The Macau Giant Panda Pavilion is also situated here and it's open from 8:00am–6:00pm, costing MOP $10 for regular admission.
Both kids and adults can be delighted with the sight of giant pandas and the ability to watch them up close. The park used to have a great Portuguese restaurant during the 90s but unfortunately, it's not there anymore.
How to get there: Take bus 21A, 25 or 50 towards Coloane and get off at Seac Pai Van stop
Seac Pai Van Park Estrada de Seac Pai Van, Macau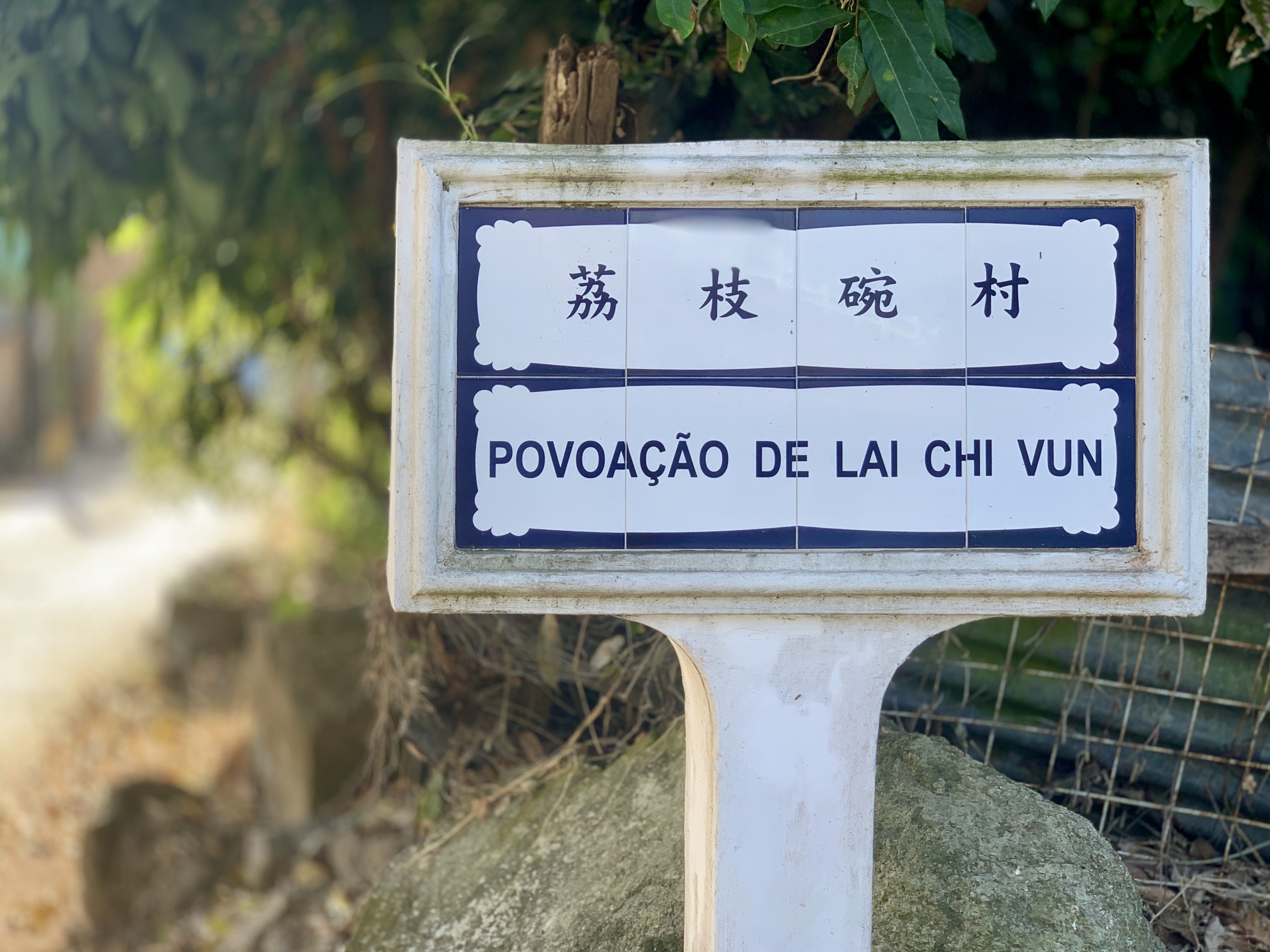 Lai Chi Vun Village
Missing the slow pace and thought you'd never be able to experience this in Macau? Well, look no more, because Lai Chi Vun Village is here to amaze you! This tiny village was once a pretty hectic spot, where fishermen spent their time. It also had a strong industry of shipbuilding and shipyards. Today, it's still a place lots of people–mostly the elderlt and less fortunate–call home.
It's a spot worth the visit because it's so peaceful and serves up some humble fare with no luxuries or fancy stuff. Hon Kee Café serves simple yet delicious and comfort food such as pork chop sandwiches and noodle soup with egg. Try their milk tea as well and you won't regret walking all day to reach this nice little village hidden on the way from Seac Pai Van to Coloane (right before reaching the prison).
How to get there: Take any bus going to Coloane village, Hac Sá or Cheoc Van beaches and get off at Coloane Prison stop (buses 25, 26A, 26, 21A)
Lai Chi Vun Village Estrada de Lai Chi Vun
Also read: Hon Kee Café: A Taste of True Coffee in Coloane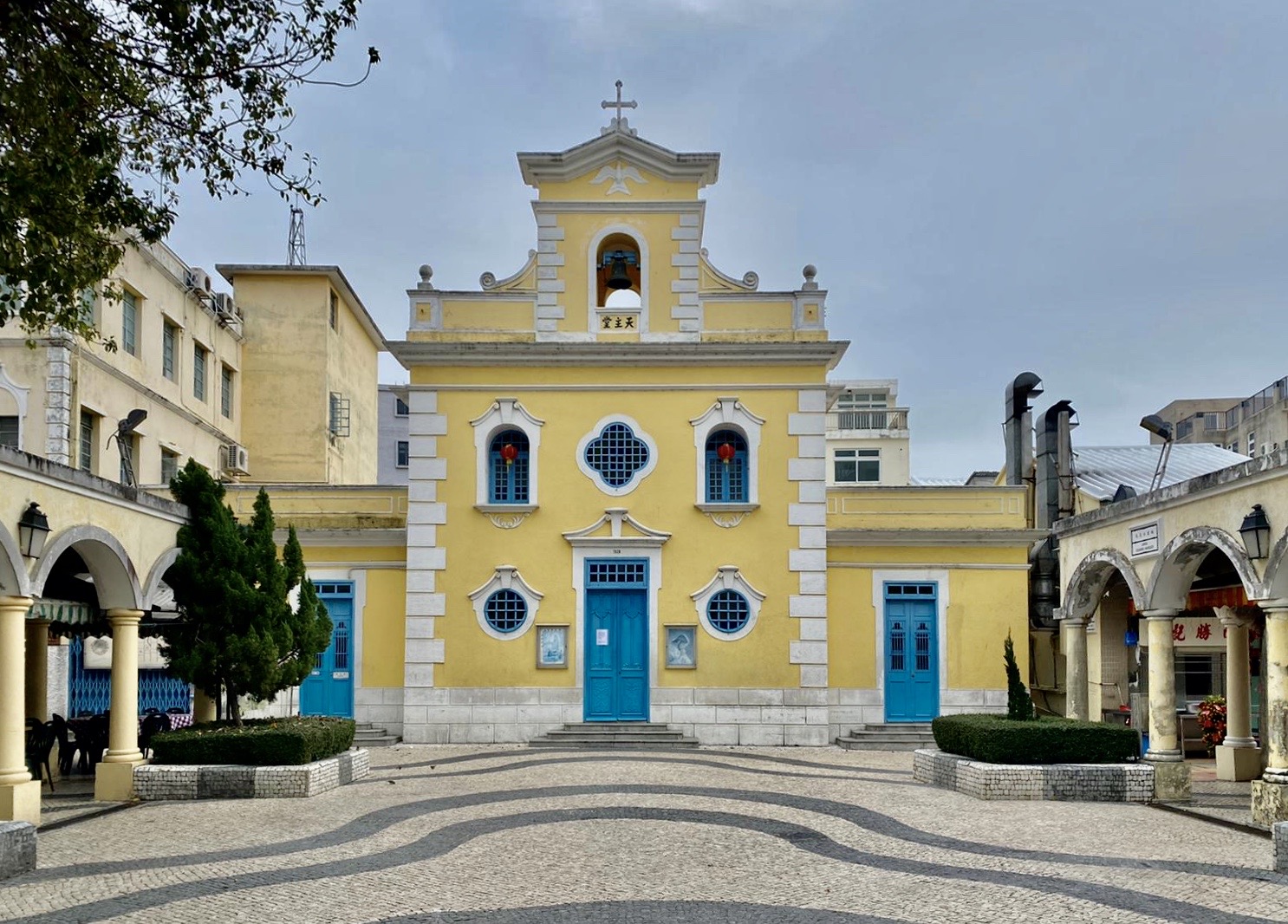 Coloane Village
Can you imagine a life where after closing the door behind you, you set off on your errands, head to the local market for fresh veggies and fish, and then stroll along the coastline, imagining the lives of those living on the other side? Well, this is probably how Coloane Village's residents spend their days! This is one of Macau's most peaceful spots and really worth the visit.
From the picturesque alleyways to great restaurants, Coloane Village is more than just a quiet respite from the city. It is on the southernmost part of the island and a bit less touristy than other equally famous sights. Coloane Village is also home to local shops, historical churches and temples, and other traditional buildings. The area does get more visitors during weekends, so try for a weekday if quietness is what you seek. Head to Nga Tim Restaurant to get your fix of local seafood and noodles, buy some fruits and the rest is up to you! We also recommend the beautiful temple on the far end of the village, which is also one of the oldest in town.
How to get there: Take bus 21A or 25 and get off at Coloane Village
Coloane Village Coloane
This article was originally written by Mika in January 2017 and updated by Leonor Sa Machado in April 2020.
Tags
Related Posts