May is filled with exciting things to experience throughout the month, so be sure to check out all there is to do! From French GourMay celebrations–with lots of French food and wine–to summer promotions and picnic offers, fully immerse yourself in May's delights by embarking on gastronomic, cultural, spa, and holiday adventures! There are a bunch of cool staycation deals to choose from, so start booking and unwind because you deserve it.
Join our May giveaway to win a Summery Staycation With Dining Credits at Artyzen Grand Lapa Macau and you might just be one of the two lucky winners to score this amazing offer! The month of May also means that public pools have opened, so dive into some of the best outdoor ones and start the season right by reading about them here. We've also curated a list of Mother's Day gift ideas: Adorable Gift Ideas For Every Kind of Mom on Mother's Day. Also, the 31st Macao Arts Festival has started, peep the program here and get your tickets to enjoy some of the shows!
•Dining• 
(See featured image above)
The Manor is celebrating the spirit of the national days of France, Italy, and the USA and their world-renowned culinary heritage with "A Celebration of Fine Produce" series of special menus. These themed events are ideal for wine lovers but also those who like original flavor combinations and wines from all different corners of the world.
The Manor's team is crafting a series of three wonderful set menus where wine is key and paired with beautifully made dishes for all to savor and experience. Now Italy, the US, and France are just a reservation away! Book your table now and head there with your friends for a special night all about food and lots of specially curated wines.
When: Fridays, 7:00am–11:00pm, May 7, June 4 and July 2, 2021
Country dishes – Daily, 6:00pm–11:00pm, From now till July 31, 2021
Where: The Manor, The St. Regis Macao, The Londoner Macao, Estrada do Istmo, s/n, Cotai
How much: French GourMay Wine Dinner – MOP $1,288 per person
For more information, call +853 2882 8898 or send an email to [email protected]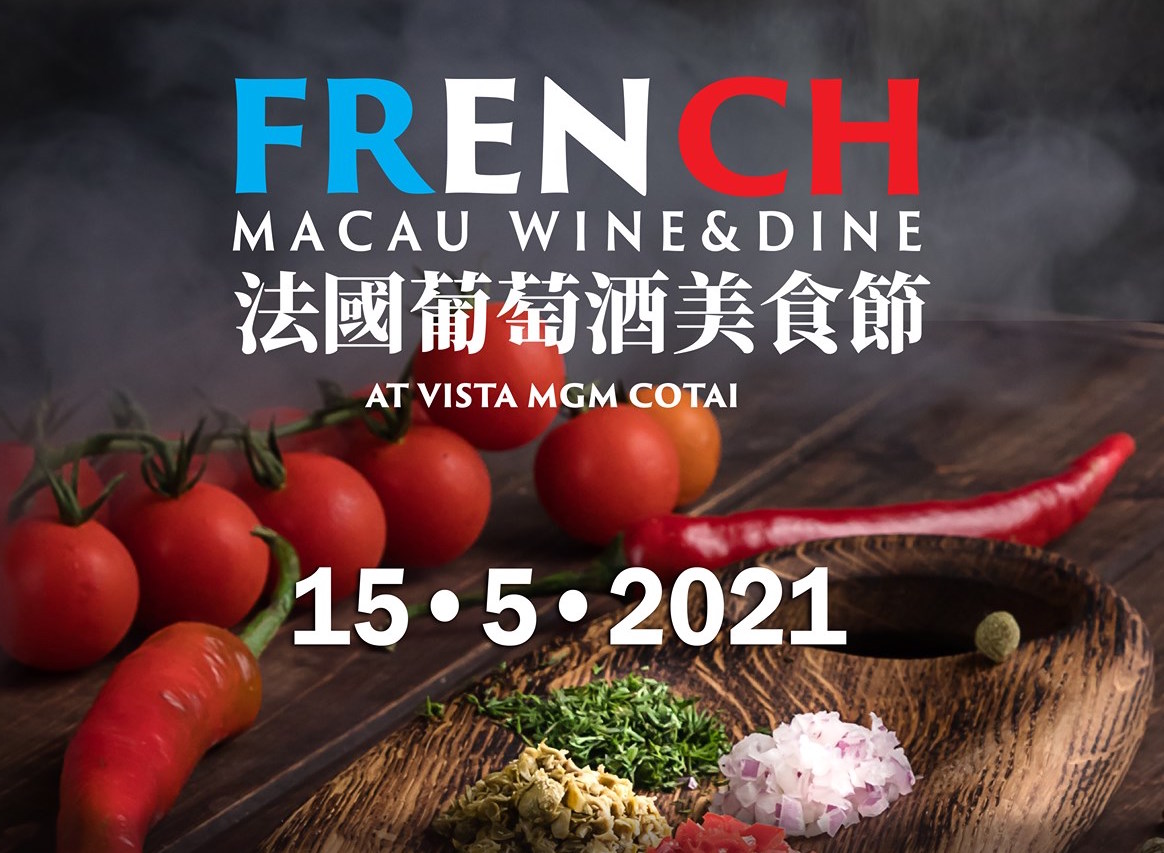 Macau Wine & Dine Events is co-organizing, along with MGM, an outstanding wine and dine pairing experience where each dish is matched with different wines. Expect a fun and tasteful evening of discovering new wines and pairing tips. The menu has been specifically created for this event by Executive Chef Jerome Deconinck of Aux Beaux Arts Restaurant.
The 18 wines featured at the event have been carefully selected by our team. Bordeaux region will be represented by wines from both the right and the left bank, while from champagne two of the most well-known brands will be displayed. Bourgogne wines are going to be in the spotlight with the outstanding 1er Cru "Les Beaux Monts" from the AOC Vosne-Romanée, and the remarkable Nuits-Saint-Georges by Maison Champy. An interesting Sancerre Rouge from the Loire, and a classic and unmissable Châteauneuf-du-Pape, will complement this notable wine selection.
To conclude the evening, guests may stay for an after-party with dance music from the '80s, '90s, and 2000s till late. Tickets include unlimited food, eight or more tokens, and after-party access. Tokens are worth MOP $20 and can be exchanged for wines and other drinks. All the wines can be tasted and purchased by the glass at a price of one, two, or more tokens.
When: May 15, 2021
After-party – 11:00pm–2:00am
Where: Vista, MGM Cotai, Avenida da Nave Desportiva, Cotai
How much: MOP $500 per person (including unlimited food, tokens, and access to the after-party)
For more information and ticketing, click here or check the event's Facebook page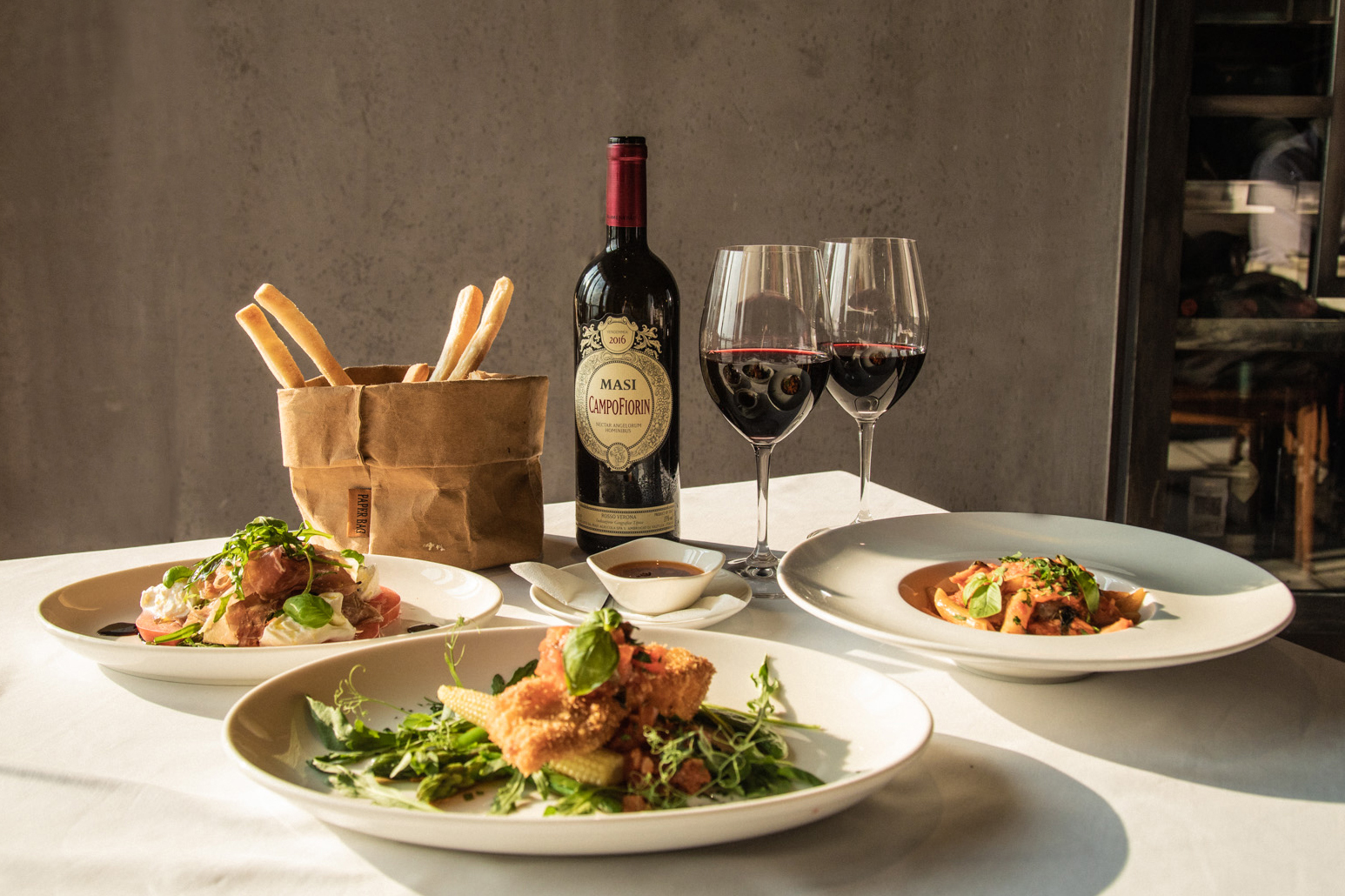 Spring emerges after a nippy winter and that means warmer weather and gathering with your friends over glasses (or bottles) of your favorite wines. Don't miss ladies' night with Italian sparkling wine, socialize and just pay for drinks while nibbling on delicious bites, or perhaps throw a dinner party and catch up on all the gossip. Caffé B Macau has all you need for a fun spring and summer coupled with lovely wines and laughs!
Gather your wine buddies and make sure to reserve a few bottles of Il Pollenza Marche Italian wines, only available at Caffé B. With choices of red wine–Porpora and Cosmino, white wine–Brianello and Angera, and rose–Didi, make it a night to remember with these exclusive wines. Instead, why not go for a fun way to socialize with your friends or perhaps meet new ones over cocktails and nibbles? Pay only for your drinks with a choice of beer, wine and spritzes while enjoying finger food, snacks, and sparkling conversations. How fun! There's also Wednesday Ladies' Night to get it on with all your gals, and even a Wine & Dine experience, to be enjoyed with 10 friends or more!
When: From April 10, 2021
Where: Caffé B Macau, Lake View Mansion Block 1, 744G-H Avenida Panorâmica do Lago Nam Van, Macau
For bookings, call +853 2838 6886 or follow their Facebook page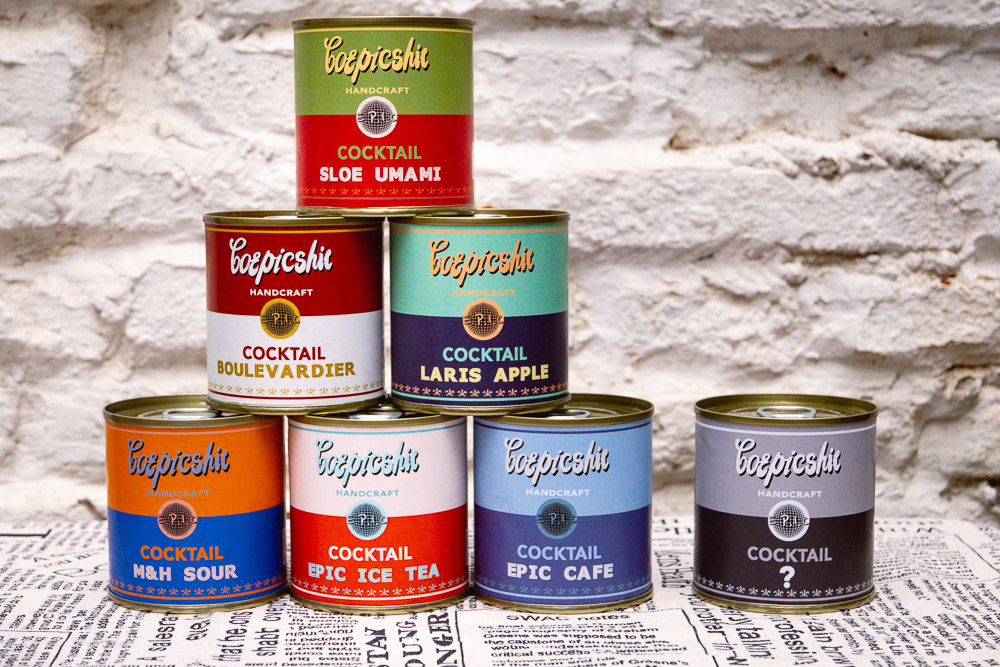 Taking center stage at Vida Rica Bar this May is Cross Yu, owner and award-winning bartender of E.P.I.C Shanghai, a cocktail lounge recognized by Asia's 50 Best Bar Awards. Cross Yu has been revolutionizing cocktail culture in the Chinese city by crafting a series of concoctions really worth the try. For three days only, he'll be at Vida Rica Bar to bring all mixology aficionados a bit of Shanghai's bustling contemporary culture.
When: Tuesday–Thursday, May 25–27, 2021
Where: Vida Rica Bar, Mandarin Oriental, Macau, 945 Avenida Dr. Sun Yat Sen, NAPE, Macau
For more information and bookings, call Vida Rica Bar at +853 8805 8928, send an email to [email protected]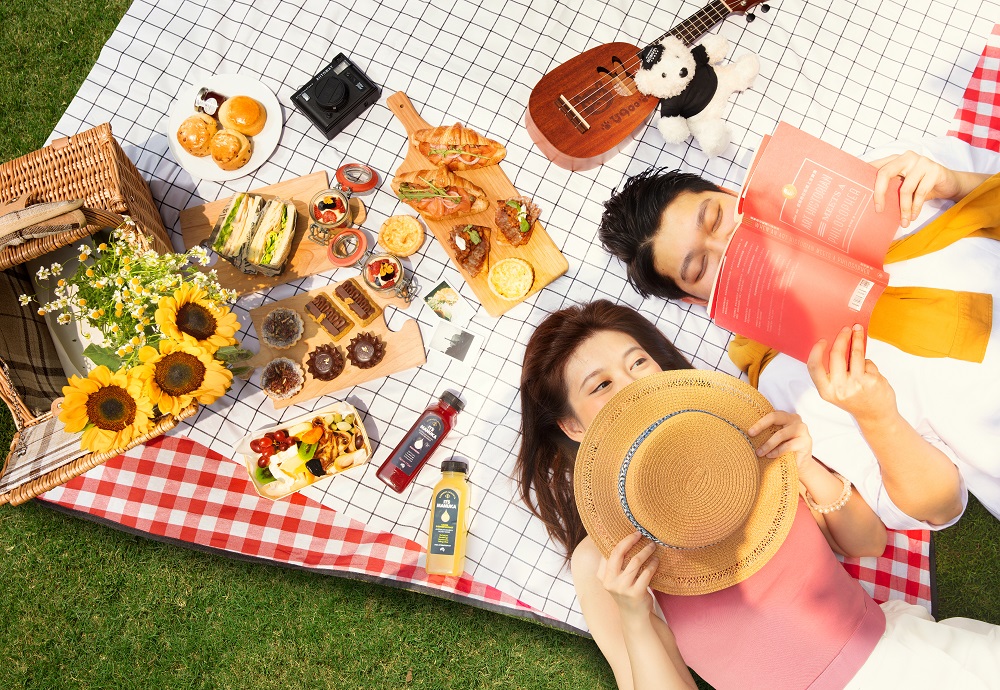 Enjoy a fun-filled picnic on the grass with delicious treats and create unforgettable memories with friends and loved ones with Sheraton Grand Macao's "A Date with Spring" limited-time accommodation package. Offering a delightful outdoor experience, "A Date with Spring" hotel package includes a one-night stay in a Deluxe King or Twin room, as well as a picnic experience featuring a picnic basket full of sweet and savory treats that guests can enjoy on the nearby Le Jardin or elsewhere to explore the beauty of Macau.
The picnic basket is packed with delicious afternoon tea items including charcuterie and cheese, croissants, finger sandwiches, and sweet treats including English trifle, maple, and pecan tart, freshly baked scones, as well as a selection of refreshing beverages. "A Date with Spring" is available now and includes accommodation in a Deluxe King or Twin Room, a picnic experience by Sheraton Grand Macao featuring a picnic basket takeaway, late check-out until 3:00pm, and a complimentary room upgrade to the next category (subject to availability upon check-in).
When: Bookings – From now till July 16, 2021
Stays – April 22–July 18, 2021
Where: Sheraton Grand Macao, The Londoner Macao, Estrada do Istmo, s/n, Cotai
How much: From MOP/HKD $888* per night
For more information and bookings, check here
*Subject to a 10% service charge and 5% government tax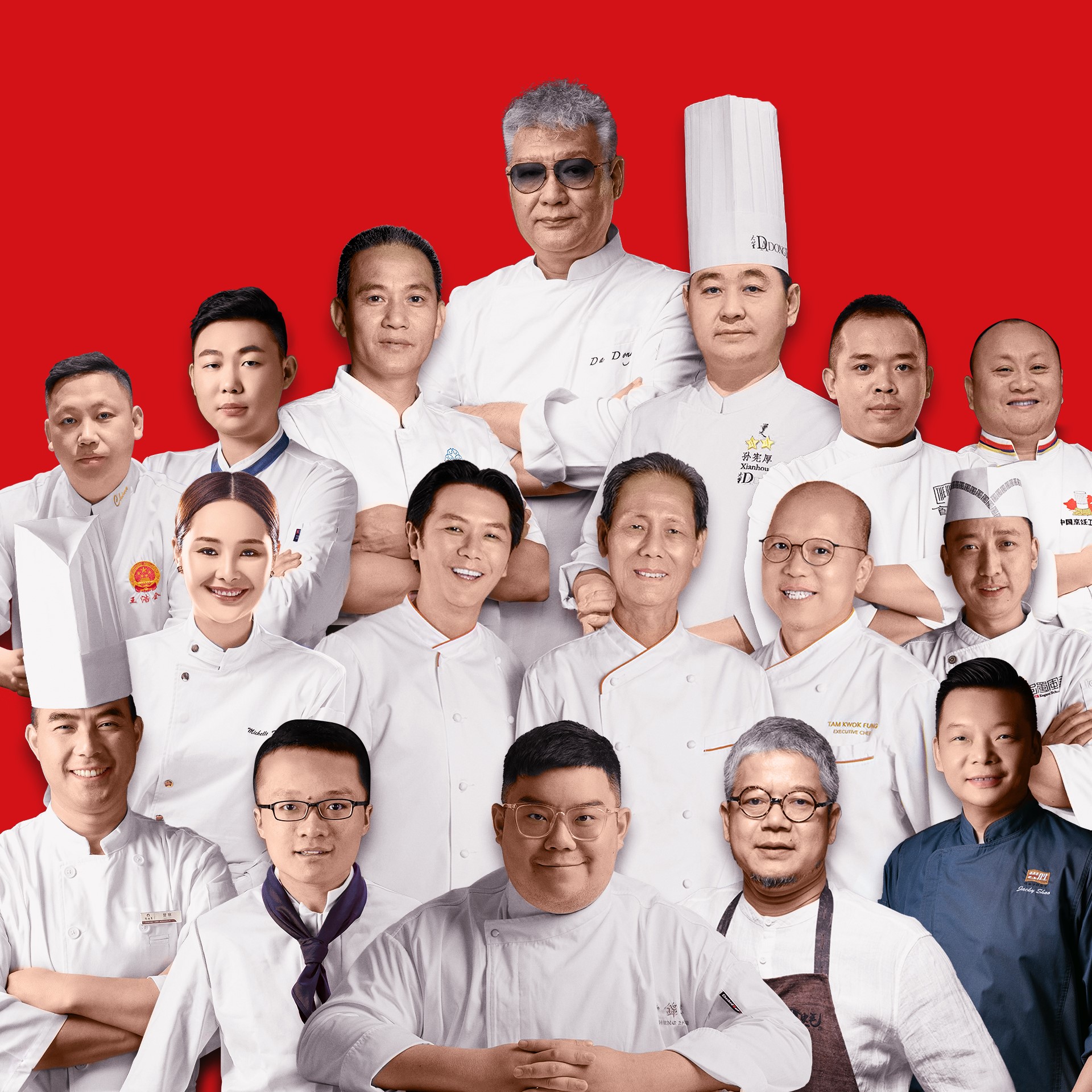 With the arrival of spring, Wynn engages in a new edition of the Wynn Guest Chef Series. China's leading chefs from all across the country descend upon Macau to take part in a series of 14 events for three consecutive months. These experienced chefs will lead guests on a gastronomic journey to experience the flavors of China's north and south from April to June this year at Wynn Macau and Wynn Palace Cotai.
Throughout their Macau visit, the celebrity chefs will also devote time toward sharing their culinary expertise with local students at The Eight Great Cuisines of China masterclass sessions. These educational events are held at the Wynn F&B Academy and at other Macau higher educational institutions such as the Macao Institute for Tourism Studies (IFTM) and the Macau University of  Science and Technology (MUST). Macau, recognized as a UNESCO Creative City of Gastronomy,  is the perfect platform to exchange knowledge, introduce China's eight great cuisines and promote the rich culture of China's cuisine.
When: Fridays and Saturdays, April 2–June 26, 2021
Where: Golden Flower, Wynn Macau, Rua Cidade de Sintra, NAPE, Macau and Sichuan Moon, Wynn Palace Cotai, Av. da Nave Desportiva, Macau
For more information on Wynn Macau's events, check their website or call +853 2888 9966, and for Wynn Palace, check here or call +853 8889 8889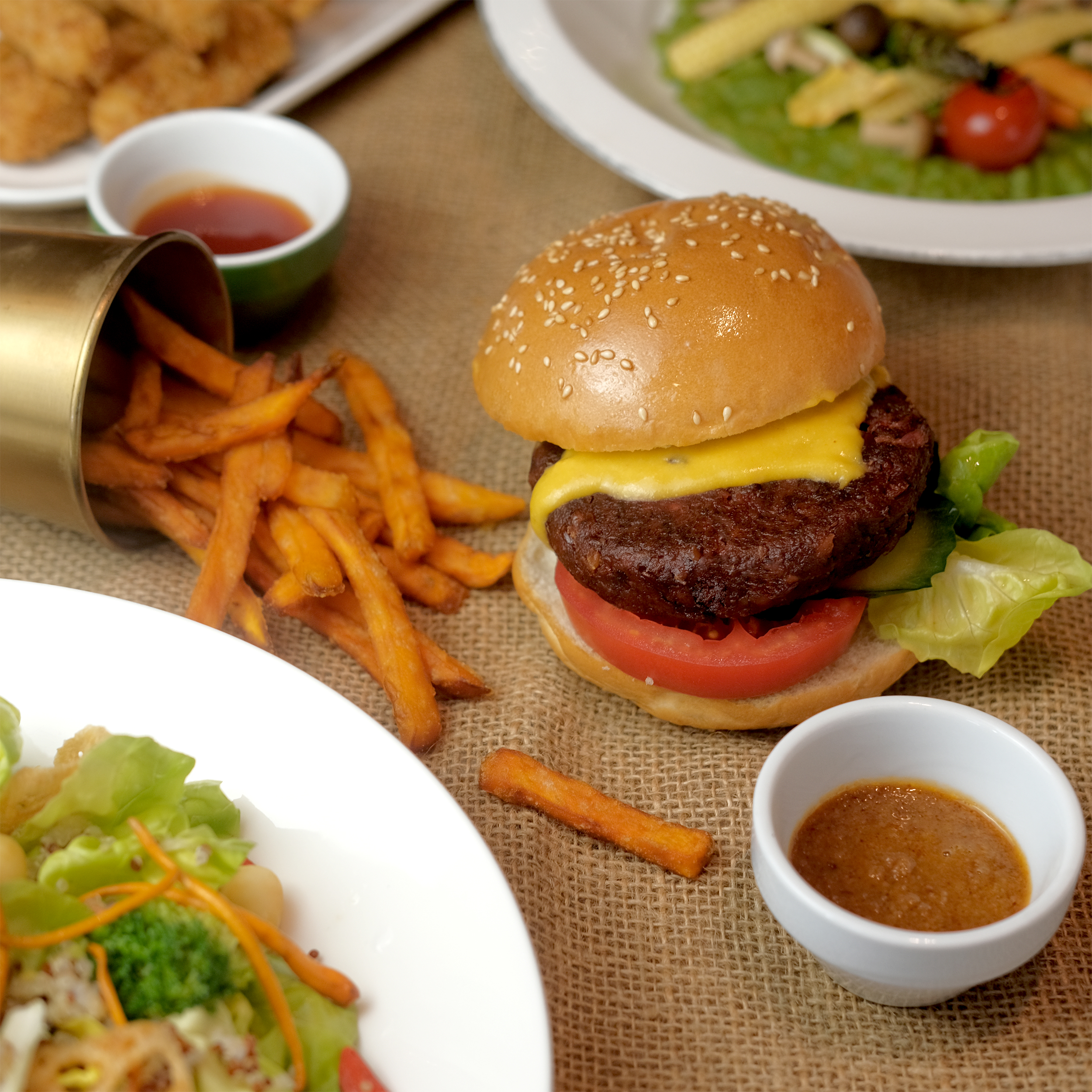 Wholesome and tasty food is now much more accessible with many people embracing vegetarian or vegan lifestyles. One such place is the wonderful and welcoming Lobby Lounge at Mandarin Oriental, Macau. Besides all-time favorite snacks, soups, main, and desserts inspired by western and Asian cuisines, they now have an all-vegan menu!
With this completely new menu with original dishes at Lobby Lounge, you and your friends won't have to search town looking for restaurants serving vegan delicacies. There, you'll be able to experience their Toss Me salad–with butter lettuce, broccoli, quinoa, lotus seed and roots, goji berries, and more–crispy tempeh with satay sauce and chili dip, a mushroom walnut rice burger (Burger in MO), and their barley risotto with grilled baby vegetables, asparagus, cherry tomato, and mushroom.
100% cold-pressed juices are also available, so be sure to order some of these wholesome dishes and try Mandarin Oriental, Macau's newest vegan recipes!
When: Daily, 12:00pm–8:00pm
Where: Lobby Lounge, Mandarin Oriental, Macau, 945 Avenida Dr. Sun Yat Sen, NAPE, Macau
How much: MOP $98 per dish
For more information, call +853 8805 8938 or check the menu here
*10% service charge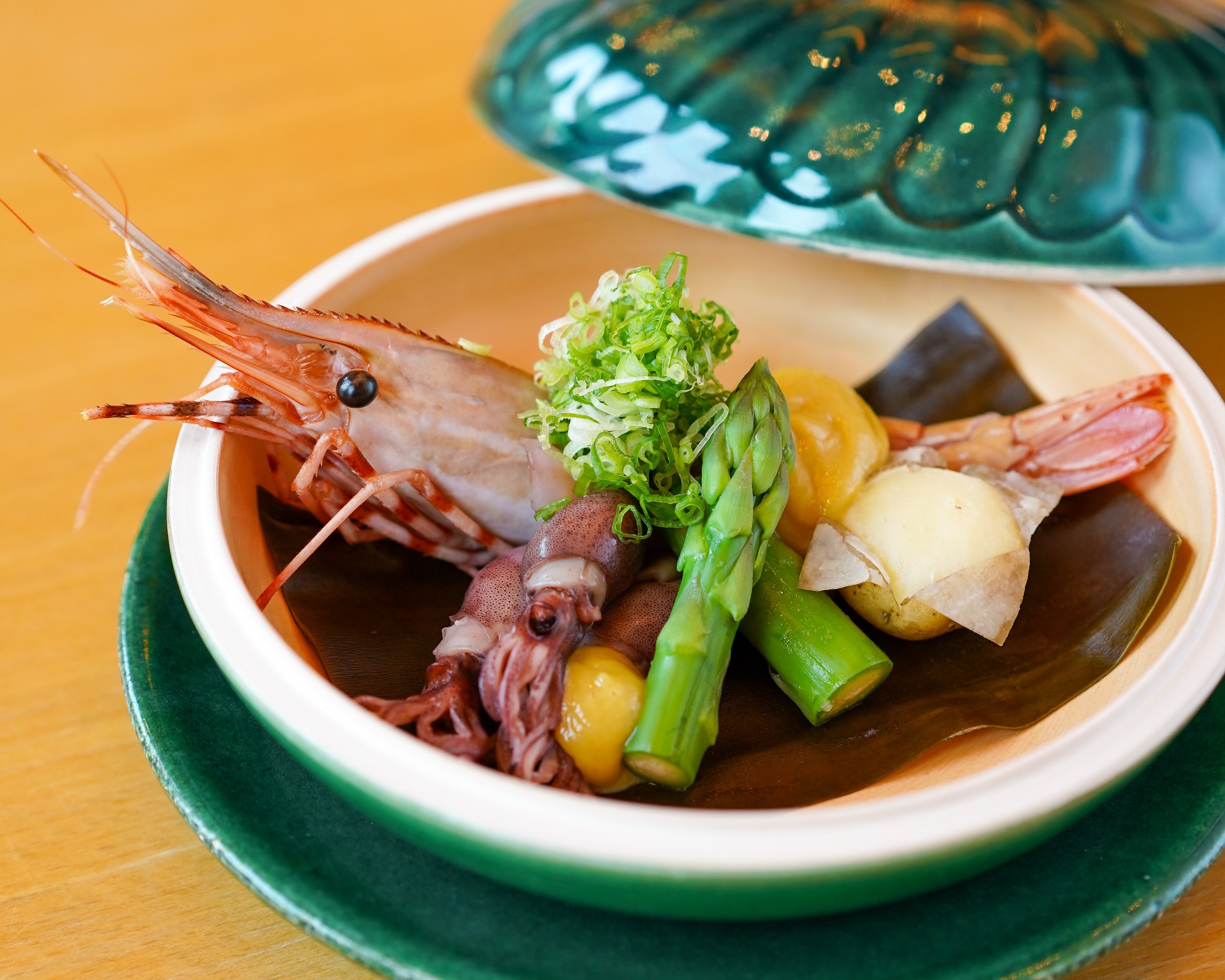 Executive chef Takeda and his culinary experts are delighted to prepare a 10th years anniversary kaiseki set-dinner for you to enjoy with your family or business partners. The Kaiseki set-dinner includes simmered ice-fish from Ibaraki and spring vegetables, fish soup with Shiba shrimp noodles, seasonal vegetable and kinome leaves, three kinds of seasonal sashimi, Hassun (Sushi of Nagasaki sea eel served in bamboo leaf, spicy cod roe with lotus root, simmered white cucumber and white fish Akita water shield with okra and shiratama mochi, crab meat and tomato jelly, smoked bonito and radish roll with plum sauce), grilled firefly squid from Toyama and Botan shrimp cooked with kombu kelp served with seasonal potato, asparagus, and salty miso sauce, simmered greenling fish of Hokkaido and eggplant from Nara served with umami radish sauce, steamed rice with green beans, red miso soup, assorted pickles of Kyoto vegetables and dessert Shizuoka crown melon and oita Seminole orange.
The highlight dish for this menu is grilled firefly squid from Toyama. The firefly squid season is also known as hotaru ika season which is from March to June, thousands of bioluminescent firefly squid come together in a stunning electric-blue marvelous colorful at Toyama Bay in the Toyama prefecture. The firefly squid is commercially fished and eaten as a seasonal delicacy. Toyama bay is one of the largest seafood distribution centers within Japan and around the world. There are many ways to eat the squids–raw, grilled, stewed, and in tempura form. At Yamazato, chef Takeda simply grilled firefly squid and Botan shrimp and cooked with kombu kelp served with seasonal potato, asparagus, and salty miso sauce. The grilled firefly squid has a soft texture and mild flavor with the bitter-sweet taste of the squid in the mouth.
When: April 29–June 15, 2021
Where: Yamazato, 28/F, Okura Hotel, Galaxy Macau, Av. Marginal Flor de Lótus, Cotai
How much: MOP $980 per person
For more information, call +853 8883 5127 or send an email to [email protected], or check here
•Arts & Culture•
This year's MAF will focus on productions from Mainland China and Macau, presenting nearly 100 events including outreach activities in various districts, establishing a display and exchange platform, expanding the artistic vision, and enhancing the aesthetic perception of its audience.
The grand opening White Snake by Lin Zhaohua Theatre Studio from Beijing, redesigns the characters of the classic folktale The Legend of the White Snake in an artistic and creative way, combing theatre, music, dance and multimedia art. The closing performance Taking Leave is a production adapted from American contemporary playwright Nagle Jackson's namesake play by the National Theatre of China. In this play, the National First Class Director Wang Xiaoying will lead a cast of veteran actors to interpret the story of an acclaimed actor who used to play the role of King Lear, who was approaching the end of his life, wandering between reality and imagination, allowing the audience to witness the fragility and eternity of life.
When: April 30–May 29, 2021
Where: Macao Cultural Centre, Avenida Xian Xing Hai s/n, NAPE, Macau, Old Court Building, 459 Av. da Praia Grande, Macau, Macau Contemporary Art Center, Rua de S. Tiago da Barra, Macau, Cinema Alegria, 85D-85E Estrada do Repouso, Macau, Broadway Theatre, Broadway Macau, Avenida Marginal Flor de Lótus, Cotai, Tap Seac Gallery, Praça do Tap Seac, Macau, MGM Theater Cotai, Avenida da Nave Desportiva, Cotai, and Tai Fung Supermarket, Taipa,
How much: MOP $120–300 per person
For more information, check +853 8399 6699 or check here. For ticketing, click here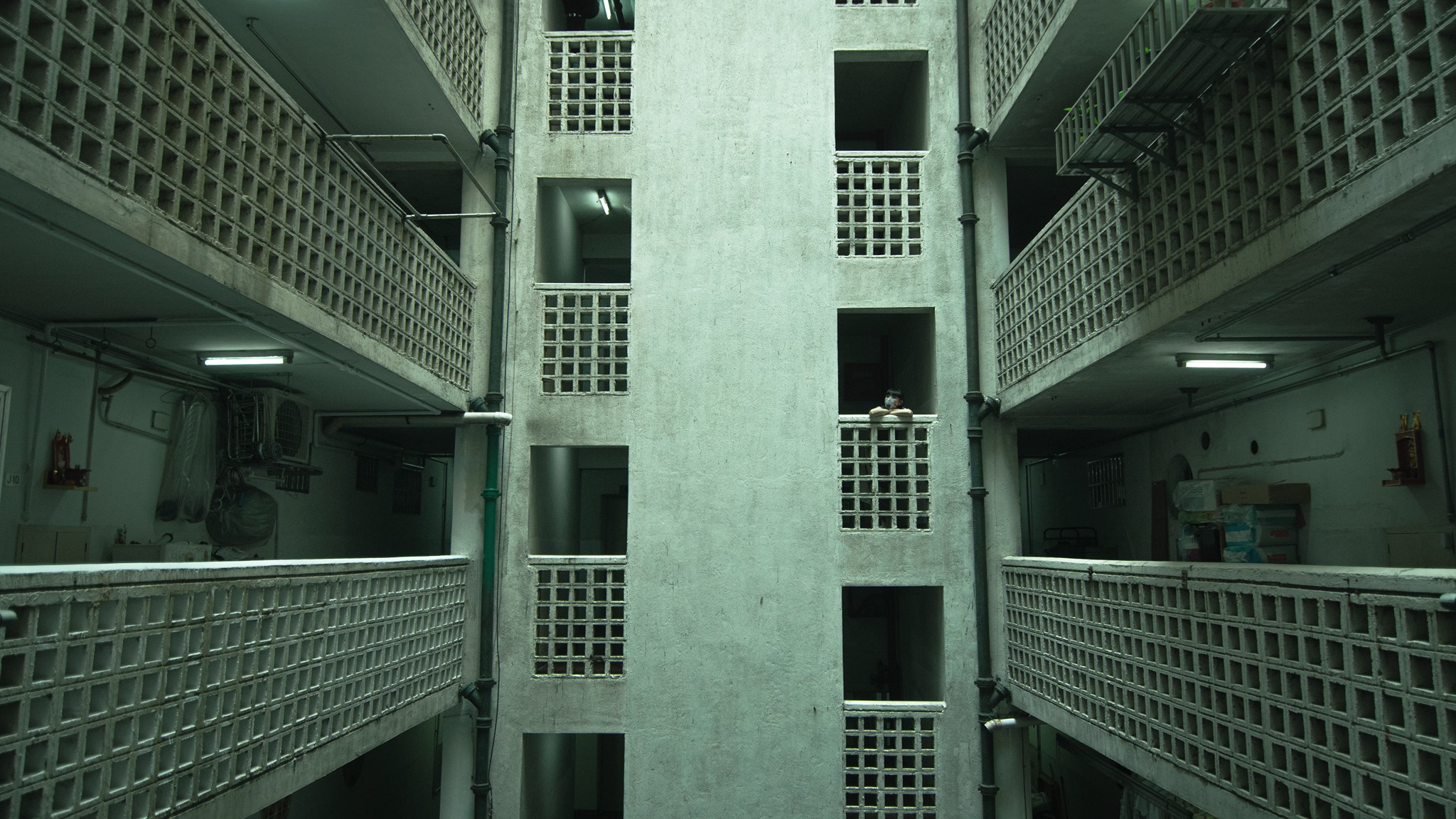 Taipa Village Cultural Association presents the second exhibition of the year–Trapped x Escape – An Eternal Theme: Narrative Stills by Tracy Choi & Simmy Cheong. Created by award-winning movie director Tracy Choi and cinematographer Simmy Cheong, the exhibition showcases a short film that is compiled by a unique set of narrative still images, uncovering the essence of a story in a different form.
The exhibition unveils the tacit understanding between Tracy and Simmy, who have been working together for more than ten years, and sometimes this makes their ideas too consistent. Through this short film production, they hope to return to the original point to tell a simple story with still images to experiment together, return to the origin, and regain their original intentions.
When: April 14–June 2, 2021
Where: Taipa Village Art Space, 10 Rua Dos Clérigos, Taipa
How much: Free admission
For more information, check here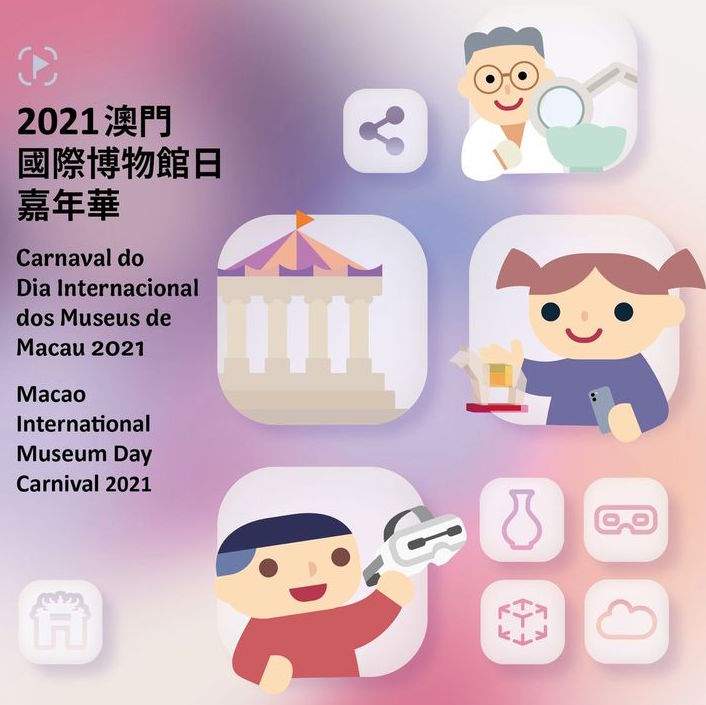 To celebrate the International Museum Day–May 18, 2021–there's a fantastic celebration to be part of! The Macao International Museum Day Carnival 2021 takes place for the whole month of May, offering an array of cool and original activities, performances, and workshops for the whole family to enjoy, especially kids. Non-fired ceramic tile painting, kalimba DIY, and wooden accessory box decoration with matchbox label stickers are just some of the workshops available for free and open for everyone to have fun!
Other experiences include a tactile experience tour, a 3D photography activity, exhibitions and lectures such as "History and Wisdom – Conversation about Classical Chinese Studies", with speaker Chong Chonfai. The Cultural Guide Route takes participants across different corners of the peninsula, namely Lin Fong Temple, Xian Xinghai Memorial Museum, General Ye Ting's Former Residence, and the Historical Memorial House of Kiang Wu Hospital. Take a look into the array of different activities and register online to take on some of these adventures!
When: May 9–31, 2021
Where: Convention Center, Macao Science Center, Avenida Dr. Sun Yat-sen, Nape, Macau
How much: Free admission
For more information, check here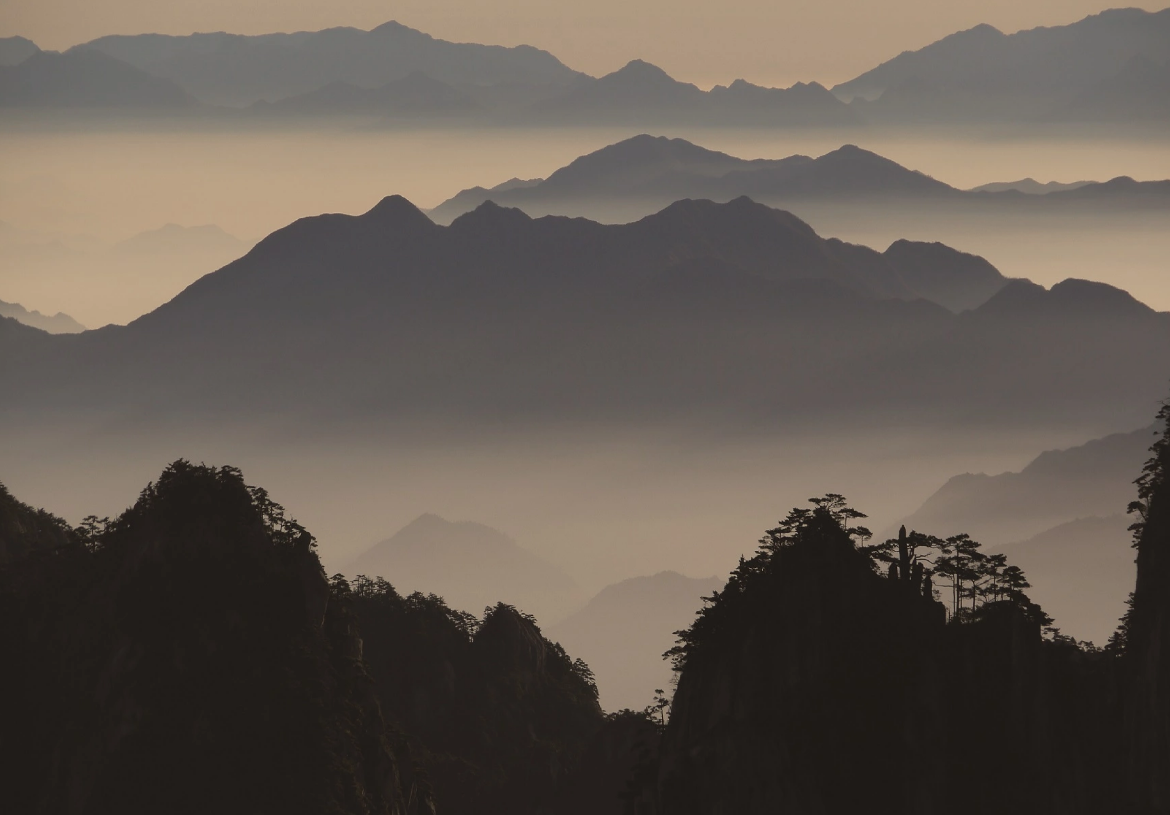 Sands China Ltd. and Four Seasons Hotel Macao will jointly present an exhibition entitled The State of Dust-Free – Water Poon Works. The exhibition showcases Water Poon's compelling photography of Huangshan and landscape paintings of Guilin in China. His simple yet deeply poetic paintings capture the natural beauty and tranquillity. Poon is especially interested in Chinese ink painting due to his passion for Chinese heritage. When painting landscapes, he attains a state of meditation, allowing the surroundings to guide his creative flow. In addition to ink paintings, photos and sculptures will also be exhibited, with 56 of the renowned artist's pieces on display.
Water Poon is an artist, photographer, designer, and film director. Over his career, he has published over 50 photo albums, art books, and travel notes. His works have been exhibited around the world, including China, Singapore, Japan, Canada, and the United States, at venues including the Beijing Art Museum and National Dr. Sun Yat Sen Memorial Hall in Taipei. He has won a variety of awards including Hong Kong's Ten Outstanding Professional Youth of the Year, Hong Kong Artist of the Year for photography, and the Martell Artist of the Year in Shanghai, China.
When: May 1–19, 2021
Where: Grand Atelier, 6/F, The Grand Suites at Four Seasons, Four Seasons Hotel Macao, Cotai Strip Estrada da Baía de N. Senhora da Esperança, S/N, Taipa
How much: Free admission
For more information, check here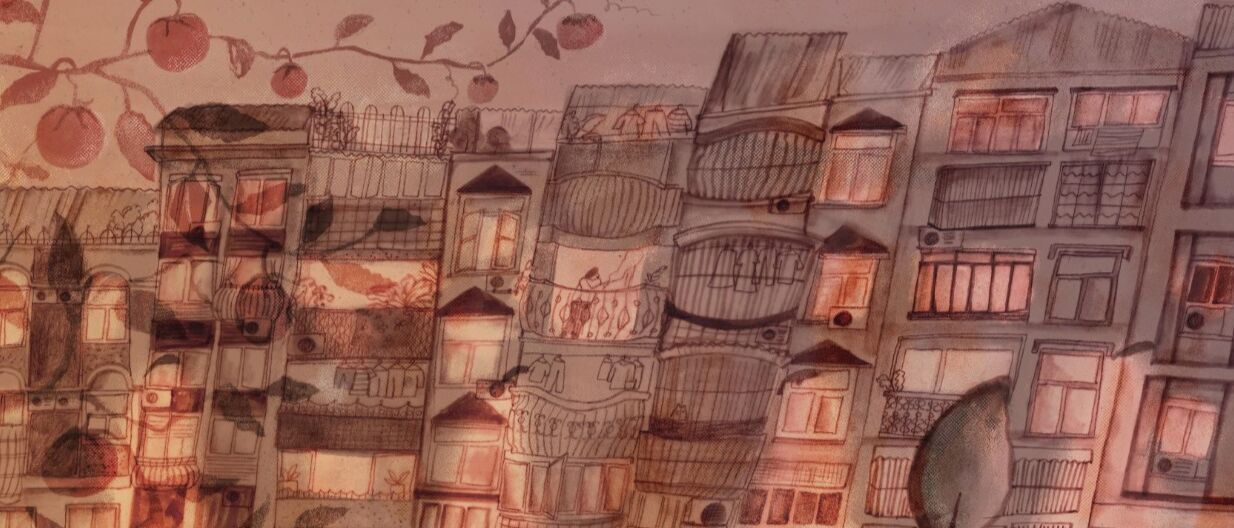 Beautiful Sunset, Infinite Good is an exhibition of local artist Yang Sio Maan, showcased at Creative Macau. The exhibition features some of Yang's illustrations, including from her book, which she wrote and illustrated last year. According to the author, "Mr Matos Goes to Buy Tomatoes" tells the story of Mr Matos who lives around Bird Garden and goes to buy tomatoes, the tomatoes fall onto the ground on his way home and turn into a giant plant. Yang intends to bring Mr Matos to life in the exhibition.
Yang Sio Maan is an independent illustrator based in Macau. She received a BA in English Studies from the University of Macau and an MA in Illustration from the University of the Creative Arts (UK). Aside from accepting illustration commissions, she also participates in community art projects, exhibitions, and alternative publishings, exploring the possibilities of visual language. In 2009, she had her solo exhibition Everywhere and Anywhere at the Post-Ox Warehouse Experimental Site. In the same year, she received the honor of Category Winner at World Illustration Awards by the AOI and the Best of the Best at Hiii Illustration by HiiiBrand.
When: April 15–May 22, 2021
Where: Creative Macau, G/F Macau Cultural Centre Building, Avenida Xian Xing Hai
How much: Free admission
For more information, call +853 2875 3282 or check the event's Facebook page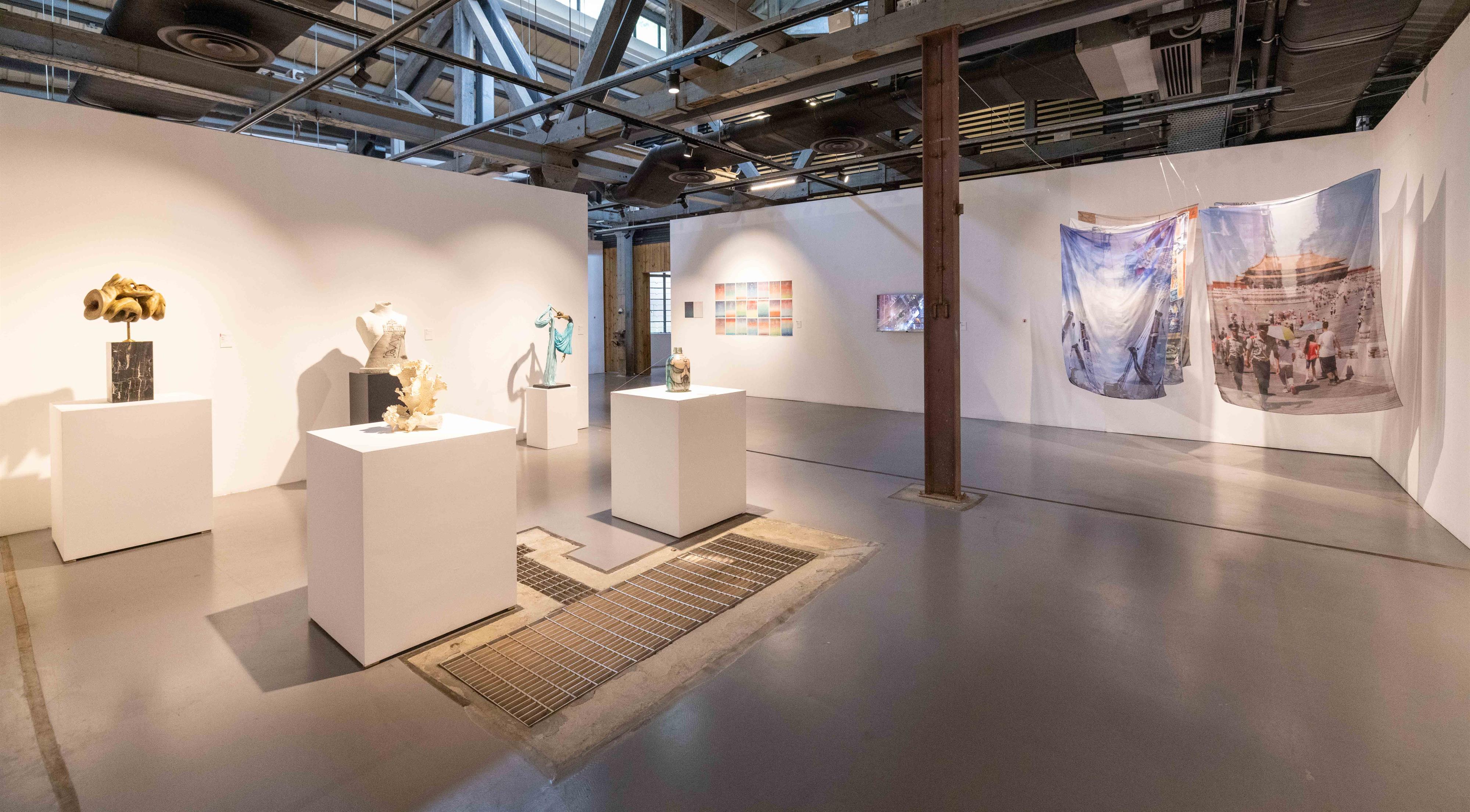 The Collective Exhibition of Macao Visual Arts has been promoting local artistic creation and the development of talents for many years and has been an iconic cultural event in the local visual arts sector, and a platform for Macau artists to showcase their talent and creativity. A total of 300 pieces (sets) from 180 participants were submitted, covering a wide variety of media, ranging from painting, photography, printmaking, ceramics, sculpture, installation, video to related cross-media creations, showing the diversity and creativity of the local art scene.
10 artworks were selected to receive the Outstanding Artworks Award, namely Animus by Lo Hio Ieng; Review by Sit Ka Kit; Infernal Valley by Lou Kam Ieng; UNTITLED#03 by Ricardo Filipe dos Santos Meireles; He Was Here by Ieong Wan Si; Self Portrait Wall-paper by Xie Yun; Measurement by Lam Im Peng; Epitome by Im Fong; St. Dominic's Church by Cai Guo Jie; and Conjoined Existence by Ng Sang Kei. In addition, 10 artworks integrate the Special Artwork Selection, namely Out of the World by Lam Sio Hong; Minus Landscapes by Kun Wang Tou; Everyone has Their Own Truth by Cheong Hoi I; Lost Space by Ieong Mei Cheng; Inclusion Series I by Wu Hin Long; Five Tastes: Bitter and Sweet Feelings by Kam Hio Kuan; Gathering by Lei Ka Ieng; Colourful Macao by Wang Fan; Mists of Macao by João Miguel Vieira Santos de Barros; and Tour by Che Chi Un.
When: Macao Contemporary Art Center – Navy Yard 1, Rua de S. Tiago da Barra, Macau
Where: April 30–June 13, 2021
How much: Free admission
For more information, call 8988 4000 or check here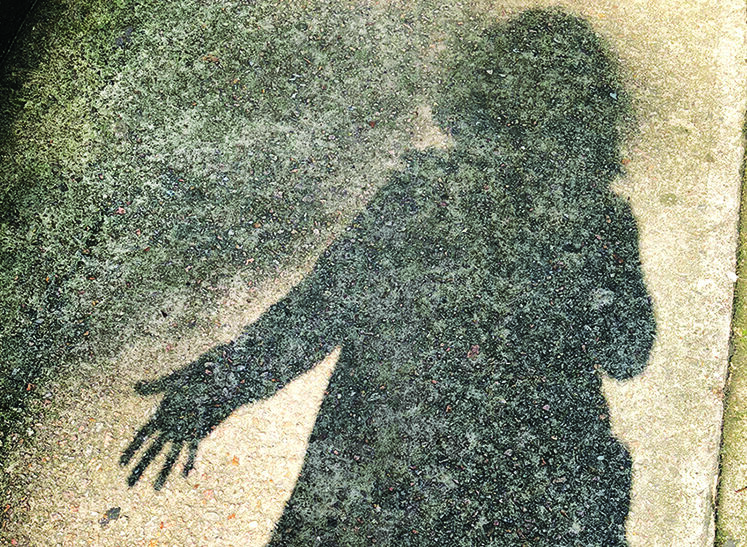 "Sombras" (Portuguese translation of "shadows") is a photography exhibition taking place at Casa Garden. The exhibition showcases 49 photographs taken by Portuguese Macau-based artist, Vera Paz, between 2017 and 2020. They were selected from a total of 500, shot with a mobile phone. Vera Paz is the co-founder of the local-based cultural association, D'As Entranhas Macau.
When: April 15–May 15, 2021
Where: Casa Garden, 13 Praça de Luís de Camões
How much: Free admission
For more information, check the event's Facebook page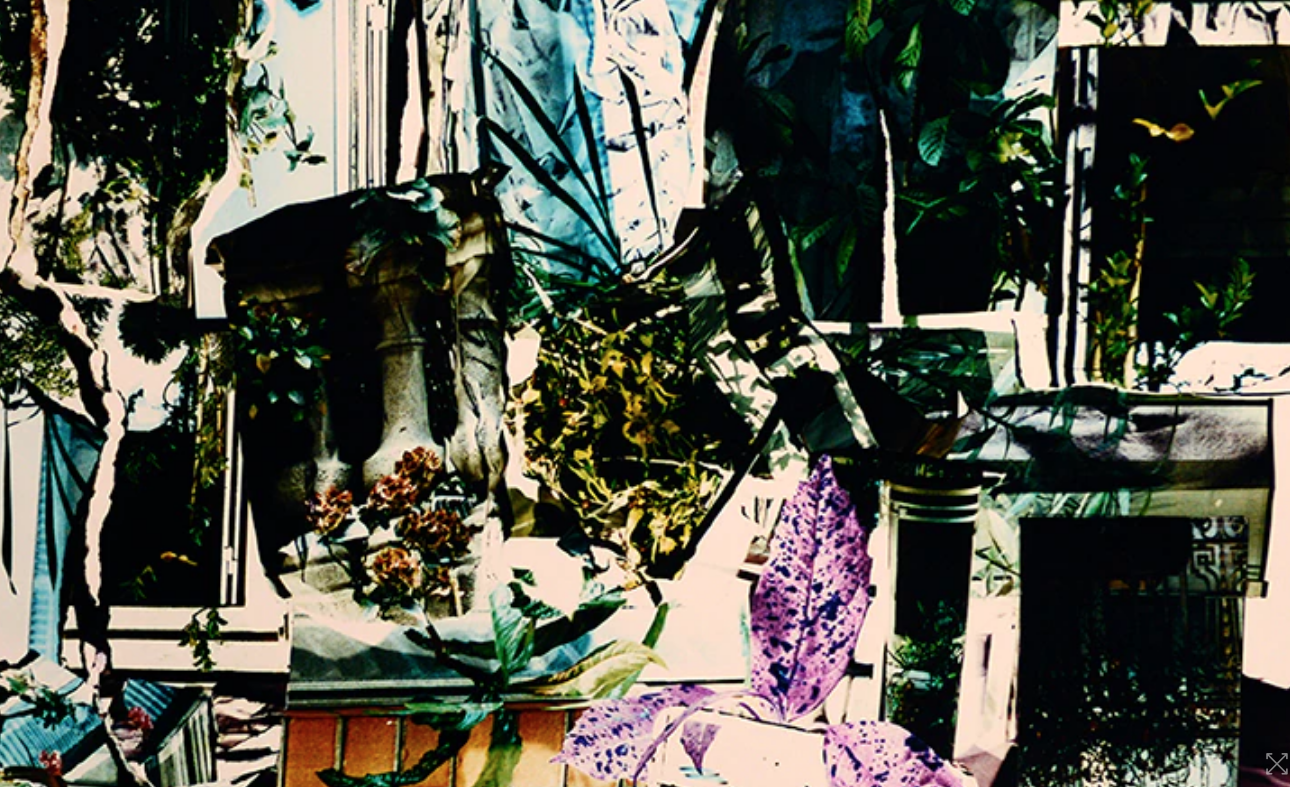 Baptiste Rabichon is an emerging contemporary French photographic artist. He creates his works with a technique that combines traditional and innovative elements including analog photography, digital images, and projections of various objects from daily life.
Rabichon's works are abundant with realistic, hallucinatory, amazing, and experimental context and embody his ingenious ideas of breaking the boundaries of photography. The exhi­bition, featuring 41 pieces (sets) of Rabichon's creations that introduce the contemporary expressions of photography, will be a feast of mo­lecular gastronomy to the eyes of the photographic circle, art aficionados and the general public of Macau, and in­vite viewers to explore further possi­bilities in artistic creation.
When: April 17–June 24, 2021
Where: Tap Seac Gallery, Praça do Tap Seac, Macau
How much: Free admission
For more information, check here
•Family-Friendly•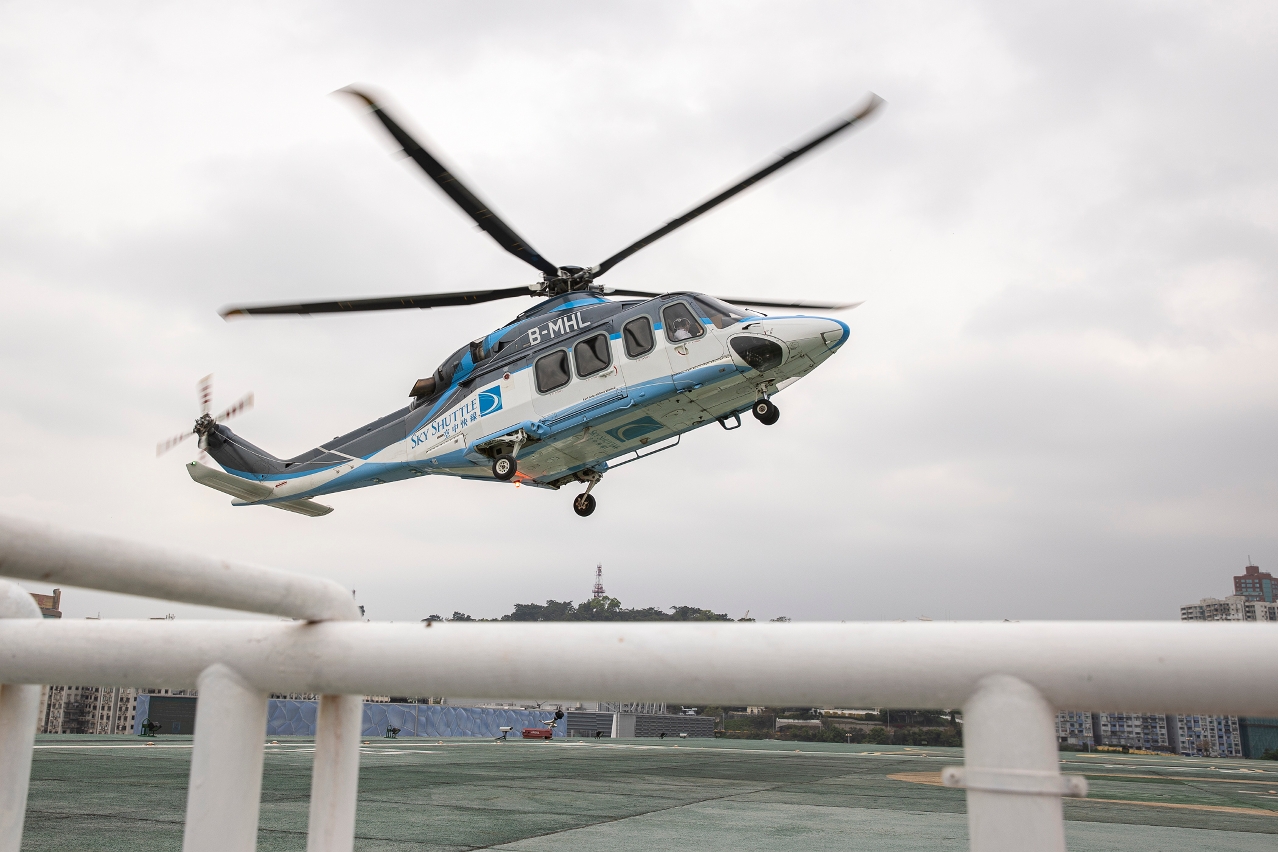 The "Stay, Dine and See Macao" project's new phase starts in April, 2021 and its highlights features helicopter rides across the city's skies, as well as yacht experiences as well. Due to the rising number of applications for helicopter trips, the government has created a system of drawing, where applicants are chosen through a lucky draw. The project offers a wide range of different city tours for both residents and non-residents to enjoy. Interested residents can sign up at travel agencies under the umbrella of the project which not only covers a range of local tours but also introduces experiences at local hotels.
Every permanent and non-permanent resident of the Macao Special Administrative Region is entitled to a one-time subsidy for each of both categories–local tour and hotel staycation. The project is tailored to support travel industry professionals by creating job opportunities as a form of relief, while joining industry operators to invest resources in launching remarkable local tour itineraries, spurring new rises in domestic demand and spending in local communities.
When: Local tours – April 25–June, 2021 and September to December, 2021 (Weekends and public holidays), July and August, 2021 (daily)
Staycation promotions – April 23–December 31, 2021
Where: Local tours – Departing from the Outer Harbour Ferry Terminal, Porto Exterior, Macau
Staycations – Check-in at the selected hotel
How much: For each of the six city tours – Subsidy up to MOP $280 per resident (tours cost between MOP $28 and $518 per resident)
Staycation promotions – Subsidy up to MOP $200 per resident
For more information, bookings and payments, call +853 8396 3052, send an email to [email protected], or click here. To check the full list and contact numbers of the travel agencies offering these services, click here. For full info on the tour itineraries, check here
*Non-residents can also enjoy the local tours at the original price while the price of hotel accommodation packages is determined by hotels. To cater to people with special needs, community organizations, schools and other entities can contact the Task Force directly for coordination of tour registration.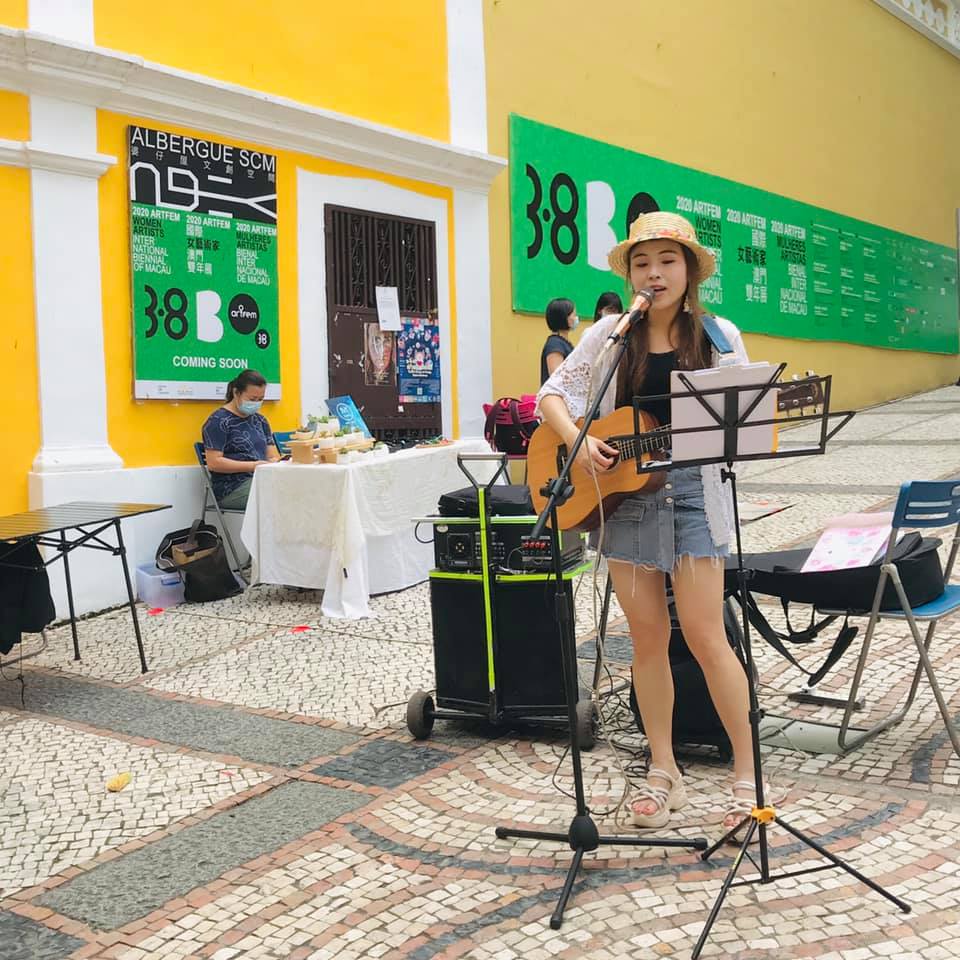 The events collection Sun Never Left features a wide range of arts and cultural activities, including local cultural and creative product stalls, street paintings, and street music performances, to bring lively energy to the European sensations at St. Lazarus Church district and encourage the public to participate in arts and cultural events.
When: Saturdays and Sundays, 3:00pm–6:00pm, May 1 and 2, 8 and 9, 16 and 16, 22 and 23, 29 and 30, 2021
Where: Square in front of the St. Lazarus Church, St. Lazarus district, Calçada da Igreja de São Lázaro, Macau
How much: Free admission
For more information, check their Facebook page or send an email to [email protected]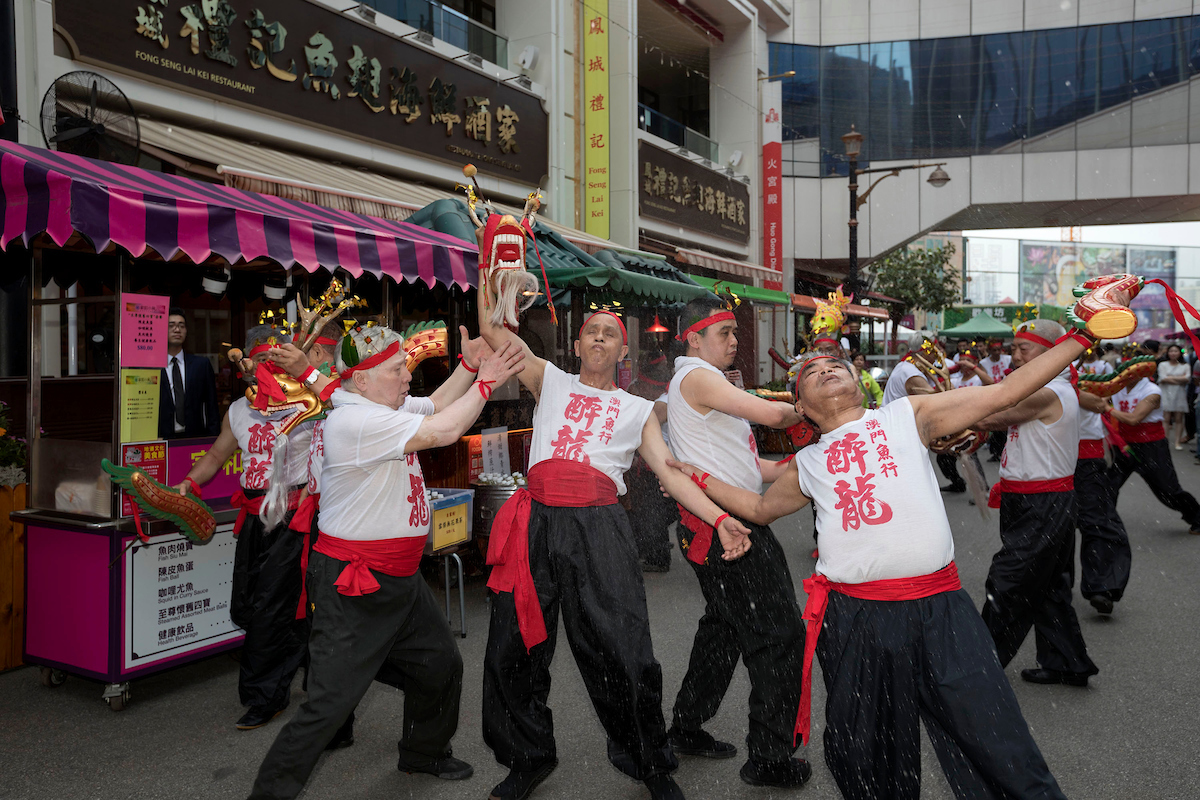 The traditional Festival of the Drunken Dragon is listed as part of Macau's Intangible Cultural Heritage, and is inscribed on the "Third National List of Intangible Cultural Heritage". The fishmonger associations in Macau celebrate the festival with a variety of activities, including the distribution of free longevity rice and the Drunken Dragon Parade. Members of local fishing associations join forces to create beautiful and traditional spectacles such as dancing, performances, and more. It takes place a bit all over town, including the central area.
When: Wednesday, May 19, 2021
Where: Senado Square, Largo do Senado, Macau, Red Market, Avenida do Almirante Lacerda, Macau and other venues across town
How much: Free admission
For more information, call +853 6653 1633 or check here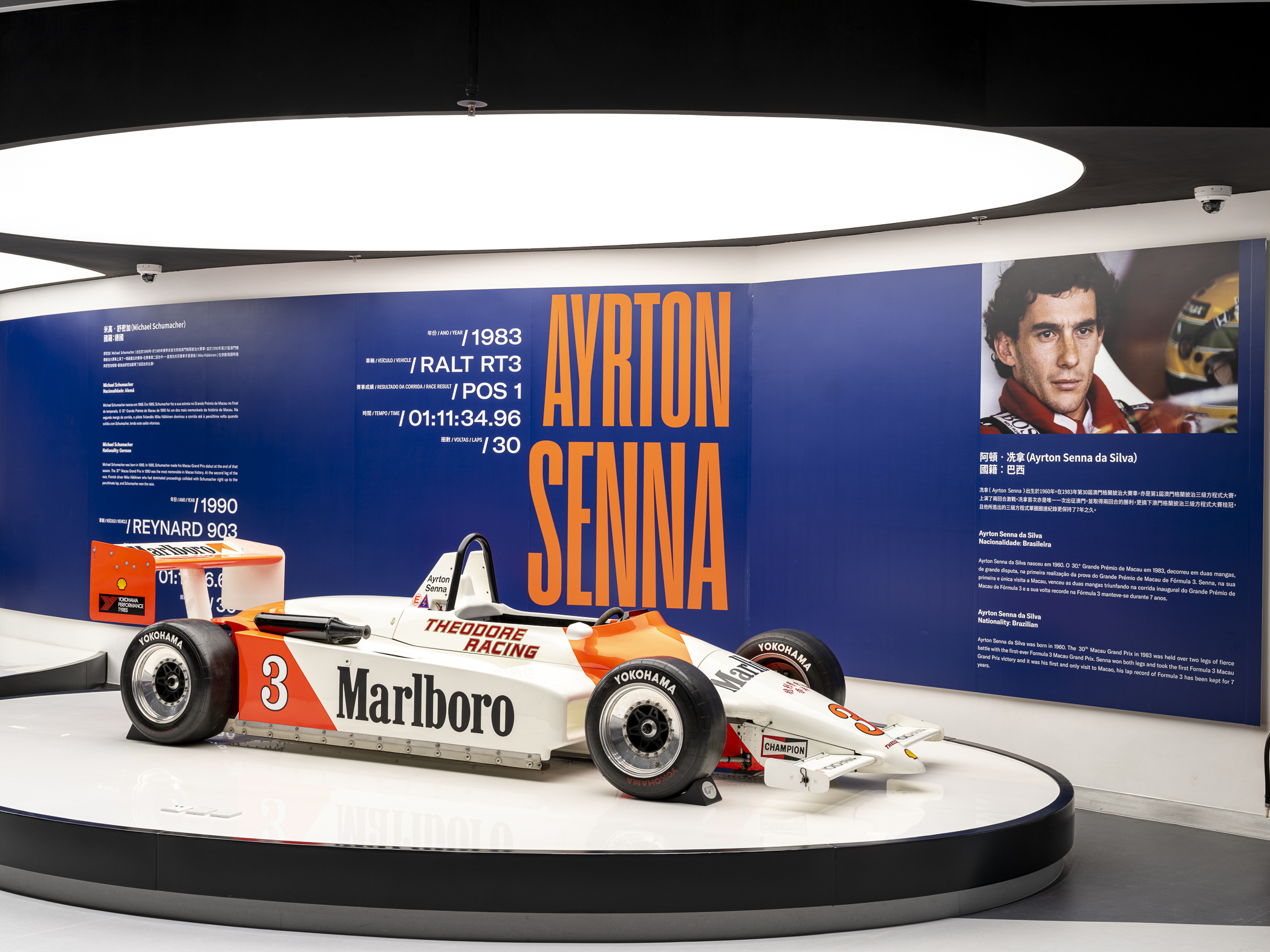 The Macao Grand Prix Museum has recently been refurbished, now open for a trial period. Head there with the little ones and let them experience and learn everything there is about one of the coolest–and most dangerous–car competitions in the world! There's even a simulator for everyone to try and feel the rush.
The Grand Prix Museum is an interesting place to visit with kids and sports fans. There are interactive exhibitions and other activities for kids to do as well.
When: May 1–30, 2021
Where: Macao Grand Prix Museum, 431 Rua de Luís Gonzaga Gomes, Macau
How much: MOP $20–MOP $40 per person
For inquiries on the tour guides and more, call +853 8593 0515, +853 8593 0516 or check here
•Wellness & Staycations•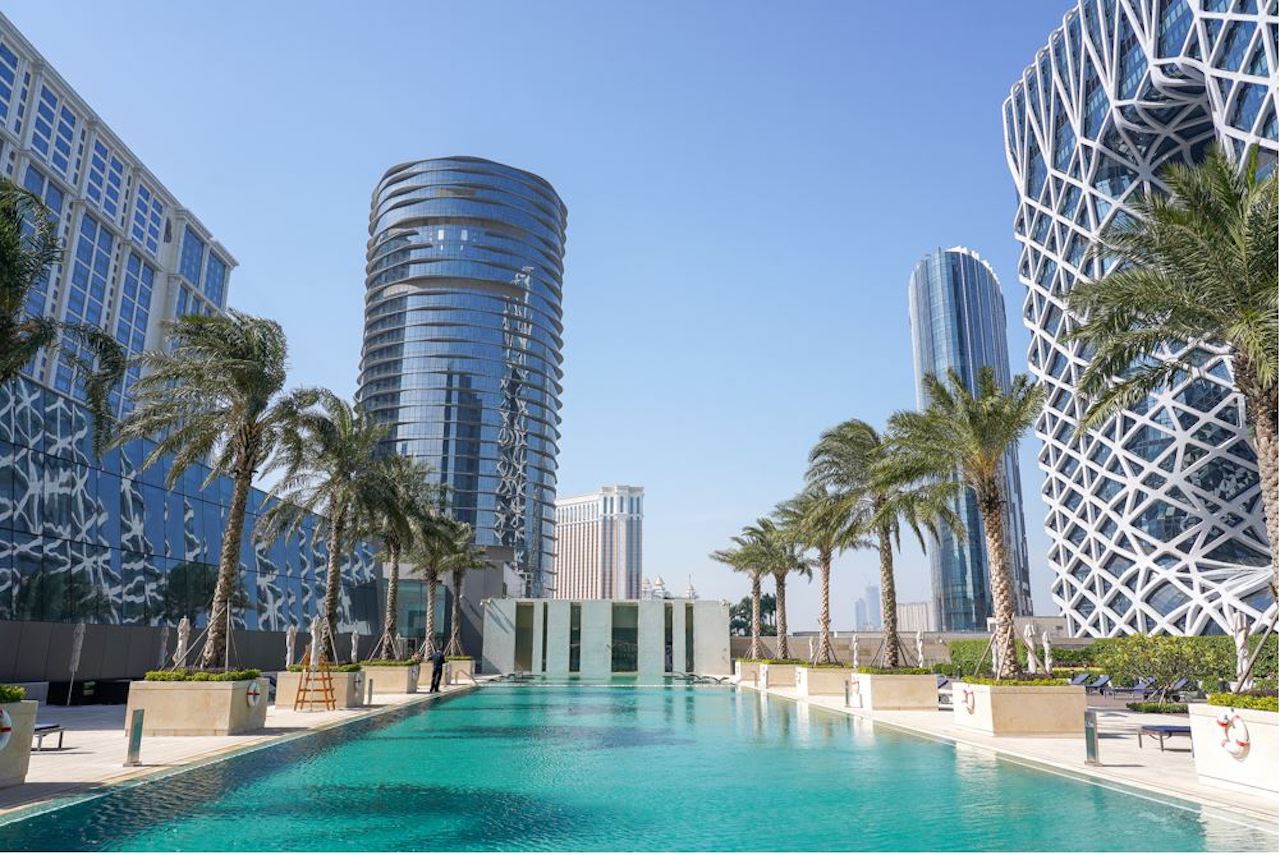 Sitting in the heart of Cotai, there's a stunning swimming pool set amid an enchanting garden complex at Grand Hyatt Macau waiting for you. Summer is fast approaching and this serene location is the perfect place for celebrations, reunions, or just plain relaxing! Keep out of the heat under the shade of a palm tree or a cabana during the day. If you're thinking of a unique date night idea, the calm oasis with a beautiful landscape is transformed into a twinkling magical garden when the lights come up each night offering guests a romantic setting for a drink and dip kind of evening.
Grand Hyatt Macau is home to a 40-meter aqua green-tiled, temperature-controlled outdoor swimming pool. It welcomes guests with a delicious pool menu that offers comfort food, refreshments, and bites for everyone. Rejoice at the free entry offer during the nighttime with their special summer promotion. From cooling off on a hot day to a birthday or pool parties, we can all agree that they are the unforgettable times of our life. Host a pool party at the Grand Hyatt Macau swimming pool just as the sun sets and bring everyone together for a lovely summertime. This summer, you're in luck as there are two Grand Hyatt Macau pool offers just for you!
When: Ongoing
Where: Swimming pool, Grand Hyatt Macau, City of Dreams
For more information, call +853 8868 1193 or check here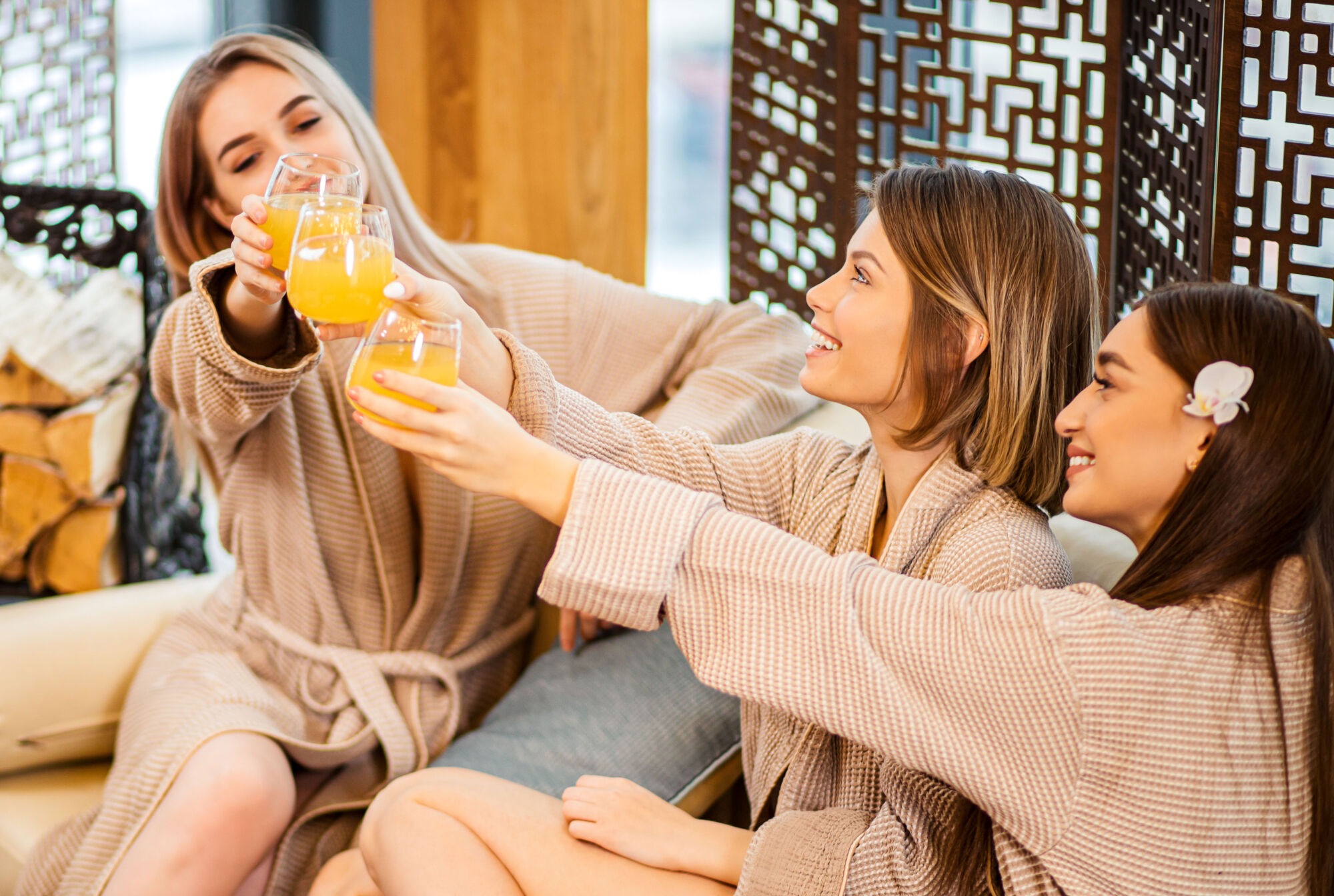 Groups of friends and family seeking relaxation and rejuvenation are invited to make the most of the new "A Spa Day with Friends" offer now available at Shine Spa by Sheraton. This attractive package includes a 60-minute spa treatment followed by a healthy and nourishing plant-based wellness meal set for four guests. The "A Spa Day with Friends" offer is perfect for those looking to incorporate wellness into their lifestyles, combining the restorative nature of physical massage with the nutritional benefits of a meal focusing on fresh whole foods and grains.
After selecting their preferred Elemental Herbology treatment that is personalized to each customer, guests can choose to have the massage in private or together with friends. After the treatment, a "Wellness Set" menu is served in our serene relaxation zone. The two menus feature delicious healthy dishes including butternut squash soup, pear and gorgonzola cheese green salad or whole-wheat pasta puttanesca, and a fresh fruit platter.
When: From now until June 30, 2021
Where: Shine Spa, Level 3, Sky Tower, Sheraton Grand Macao, The Londoner Macao, Estrada do Istmo, s/n, Cotai
How much: MOP $3,399* for four people
For more information and reservations, call +853 8113 0222, send an email to [email protected] or check here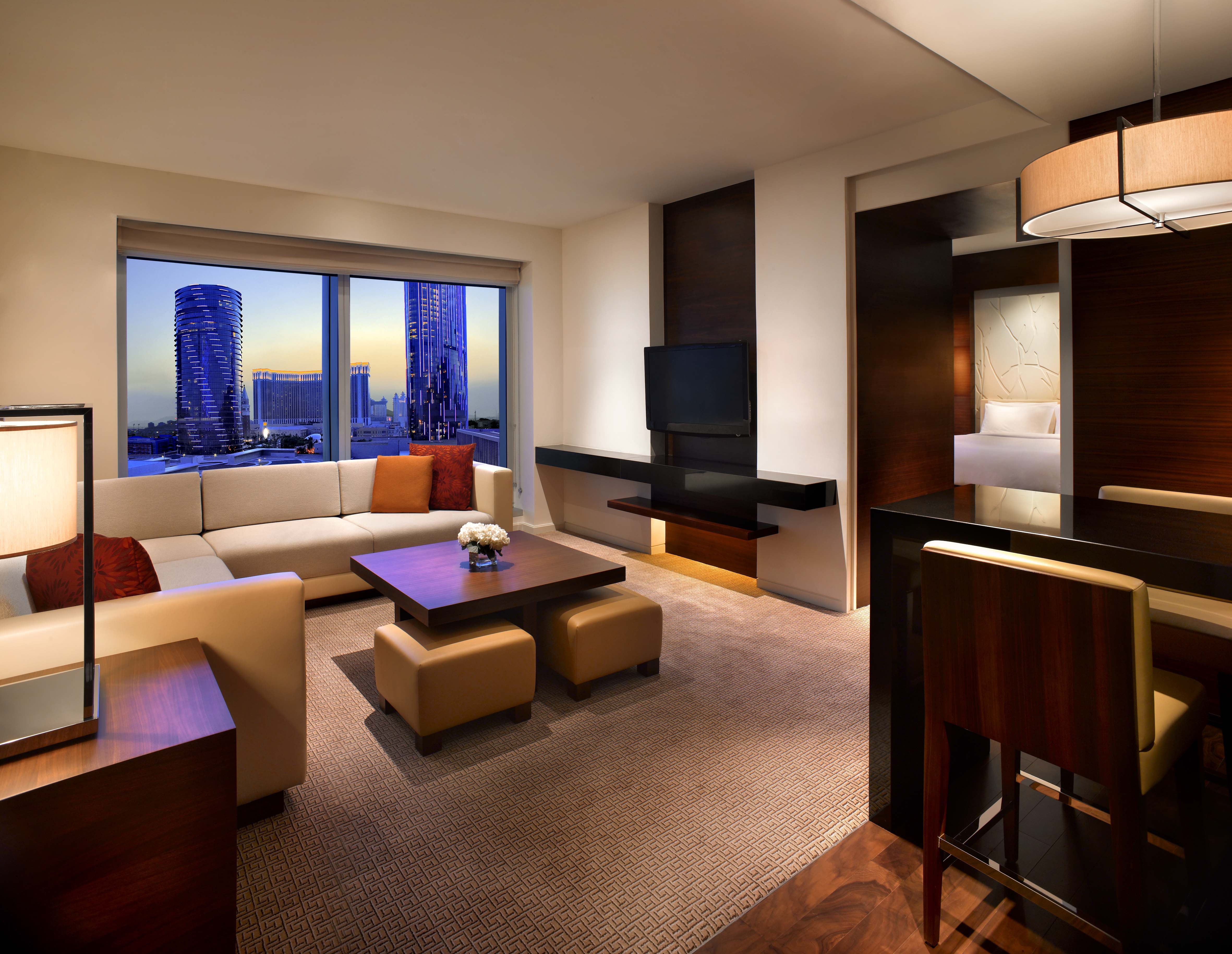 Plan the ultimate getaway with a series of exciting offers and delicacies with your loved ones. Grand Hyatt Macau is thrilled to launch an extravagant room package–Grand Offer–with a wide range of selections and discounts for you to enjoy a splendid springtime experience! Unwind in the spacious and comfortable guestrooms in Grand Hyatt Macau.
Start your remarkable indulgence with the exciting "Grand Offer" at Grand Hyatt Macau. Priced from MOP $1,599*, "Grand Offer" features luxurious accommodation and mezza9 Macau dinner for two. mezza9 Macau presents a variety of made-to-order fresh seafood with a wide selection of preparation styles, such as steamed abalone with garlic, wok-fried lobster with dry chili and garlic, and steamed garoupa to treat your palate. Fill your night with coconut crème brûlée, soft-serve ice cream, and other exquisite desserts to tantalize your taste buds.
When: From now till June 30, 2021
Where: Grand Hyatt Macau, City of Dreams, Estrada do Istmo, Cotai
How much: From MOP $1,599 per room
For more information and bookings, check here or enter the special offer code 'PRM19' during your booking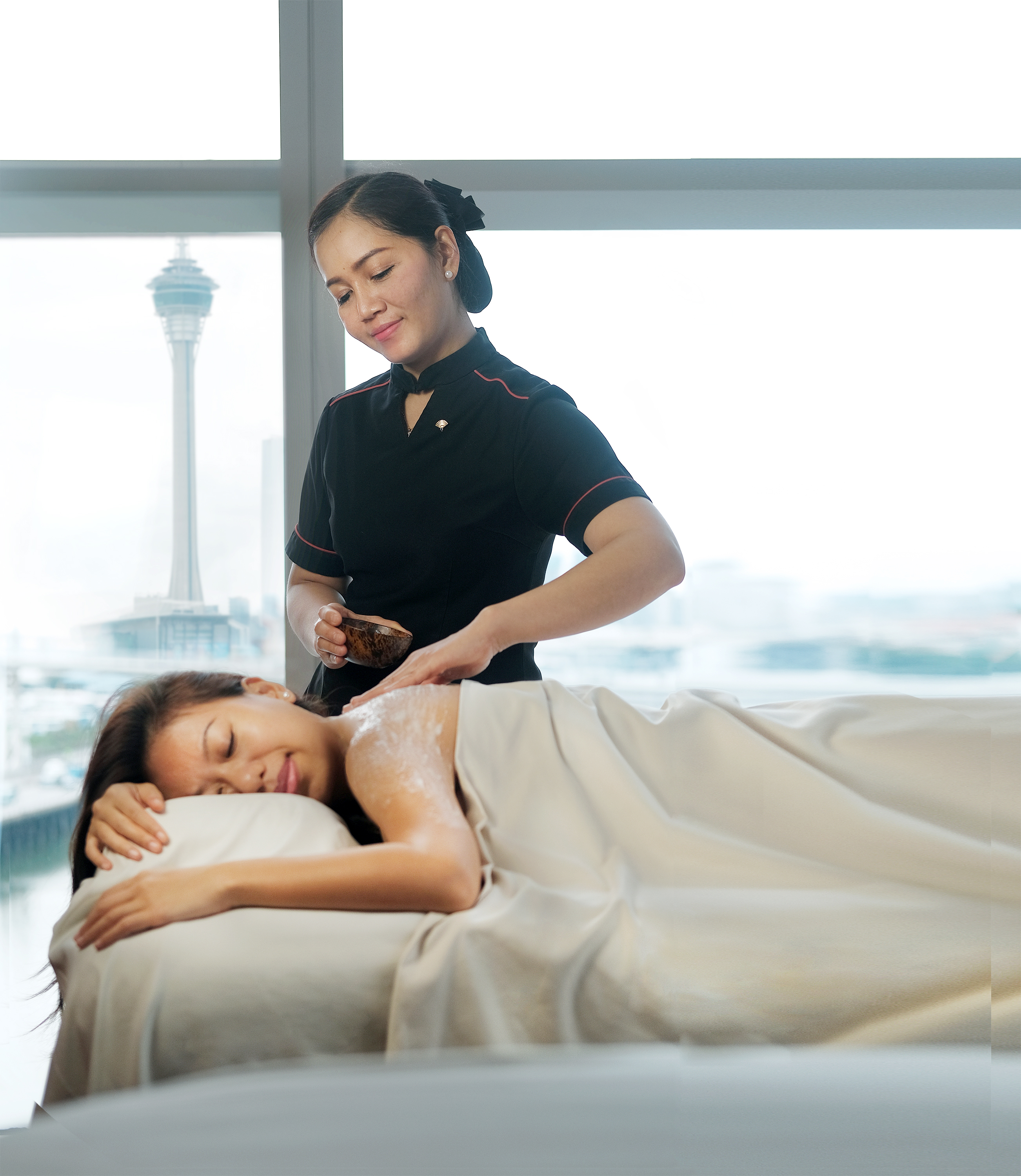 Indulge in The Spa's Thai massages and leave feeling relaxed and blissed-out. You'll start with an in-house blended coconut body scrub, followed by a traditional Thai massage with coconut oil. This is surely the guaranteed recipe to relax and revitalize both body and mind. Start the week right or wait for the end of a workday to just unwind and clear your head of stress.
When: From now till May 31, 2021
Where: The Spa, Mandarin Oriental, Macau, 945 Avenida Dr. Sun Yat Sen, NAPE, Macau
How much: MOP $1,980 per person for a 120-minute treatment (with 10% service charge)
For more information and bookings, call +853 8805 8588 or send an email to [email protected]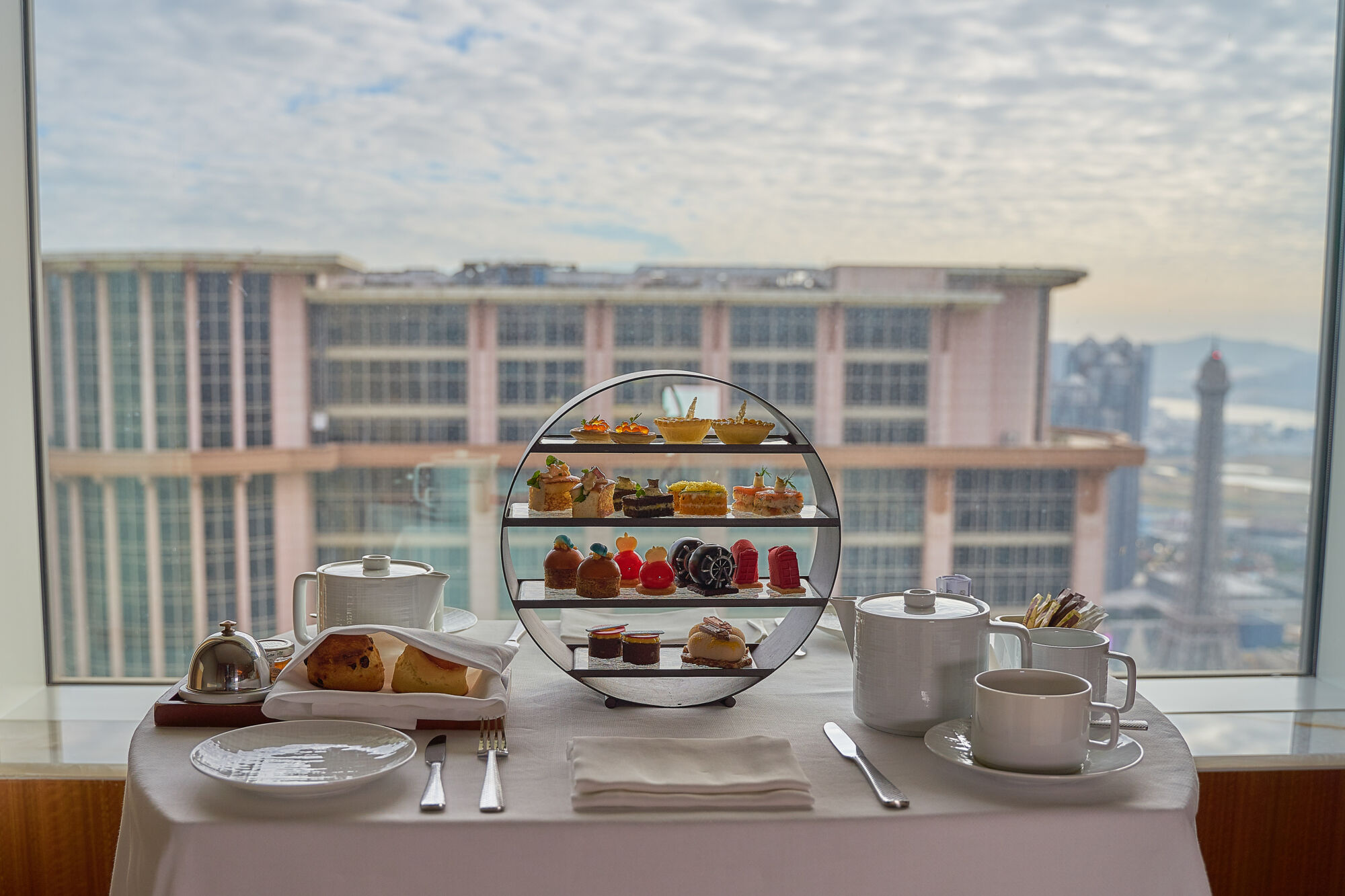 The St. Regis Macao presents the ultimate immersive afternoons with the "Spa Indulgence with Afternoon Tea" bringing together a spa treatment at Iridium Spa with the extravagance of a St. Regis Afternoon Tea. Perfect for couples or friends to enjoy together and priced at MOP $1,988+ for two, the "Spa Indulgence with Afternoon Tea" combining an 80-minute signature personalized gemstone treatment performed by their expert therapists. From there, guests can choose to have their signature Afternoon Tea served at Iridium Spa or make an occasion of it at The St. Regis Bar.
At Iridium Spa, guests can tailor their 80-minute gemstone treatment to their needs and preferences, as well as enjoy the captivating views of the Cotai Strip in one of 10 treatment suites. With a customized gemstone treatment performed in tranquil surroundings, guests will enjoy a sense of rejuvenation and energy, as well as healthier, more revitalized skin. With afternoon tea served either at the spa or at The St. Regis Bar, guests can continue the indulgence with a selection of sweet and savory treats including smoked salmon roe blini, quiche, sandwiches, and a range of British-inspired sweets including freshly baked scones, Big Ben mousse, and London Eye chocolate cake.
When: Until June 30, 2021
Where: Iridium Spa, 38th Floor, The St. Regis Macao, The Londoner Macao, Estrada do Istmo, s/n, Cotai
How much: MOP $1,988 per person
For more information and bookings, call +853 8113 4949, email [email protected] or check here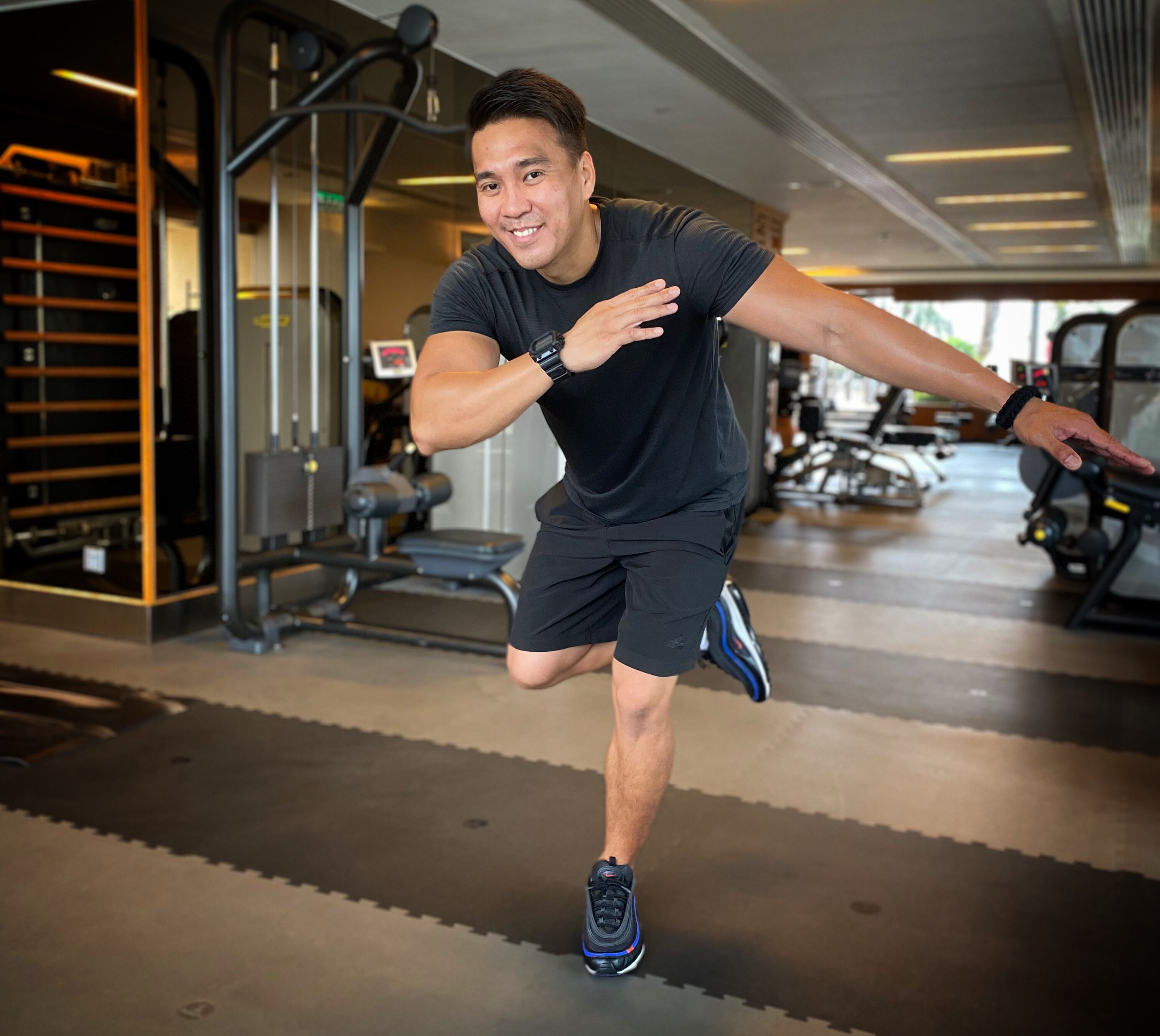 Stretching routines are great for regular gym-goers or people who exercise once in a while. It's for those that Mandarin Oriental, Macau's fitness center is having an offer on training routines. Master yours with their expert advisors to help boost your flexibility, reduce tightness, and ultimately make your workouts more efficient and safer.
When: From now until May 31, 2021
Where: Fitness Center, Mandarin Oriental, Macau, 945 Avenida Dr. Sun Yat Sen, NAPE, Macau
How much: Fitness members – MOP $300 (30 minutes), MOP $480 (60 minutes)
Non-fitness member – MOP $368 (30 minutes), MOP $600 (60 minutes)
For more information and bookings, call +853 8805 8958
---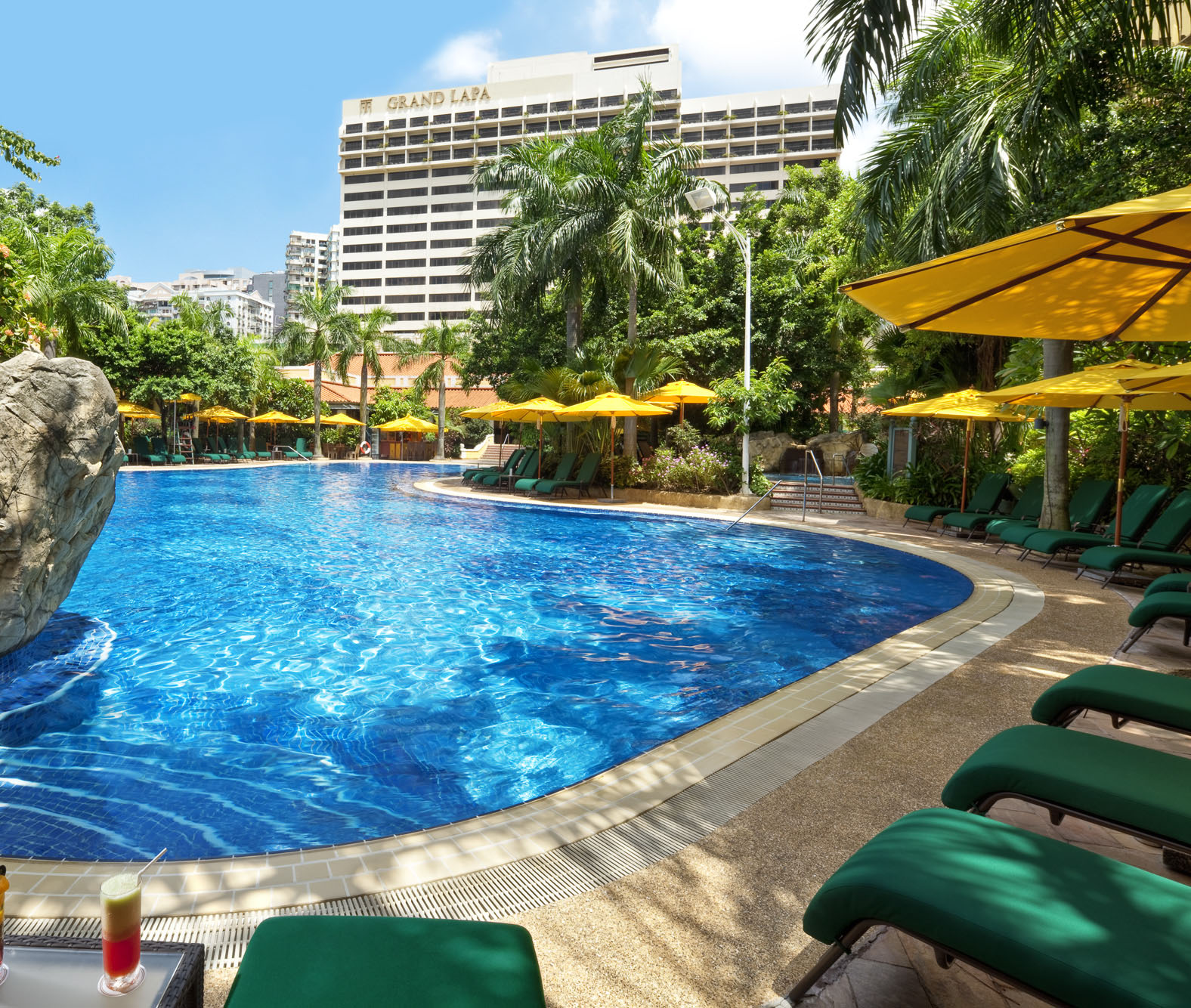 Summer is around the corner and this calls for lounging by the pool or make a splash and jump right in! Home to one of the best pools in town, Artyzen Grand Lapa Macau is the perfect place for a delightful staycation. Imagine waking up without any worries at a resort that doesn't need hours of travel to get to. Leave all your stress behind and focus on rest, relaxation, and cooling off at the pool, or sip on some stylish cocktails while soaking up the rays. Macau Lifestyle is giving away not one, but two prizes and each winner gets to enjoy a night in one of Artyzen Grand Lapa Macau's wonderful accommodations with MOP $1,000 food & beverage credit each! As mentioned, there'll be two lucky winners so what are you waiting for?
This giveaway ends on May 16, 2021, and the winners will be notified directly via email. Good luck!
Tags