While some might find them squishy and strongly flavored, oysters are one of the most sought-after delicacies in the world, especially in areas close to the sea. Although Macau doesn't produce its own oysters, there are plenty of restaurants serving these treats around town. Freshly imported from abroad–France, Japan, the US, and Canada–eat them super fresh, with some squeezed lemon and perhaps other sauces on top. Pick up your fork, slide it to the edge and slurp it down! For the oyster lover, this is our shortlist of the best places to enjoy fresh oysters, without putting a dent in your wallet.
The St. Regis Macao
(See featured image above)
If oysters are what you're looking for, The St. Regis Macao serves it at two different venues, both with welcoming environments. At The Manor, you'll be able to start your meal with some freshly shucked Daniel Sorlut oysters hailing from France. With an upbeat vibe, The St. Regis Bar might specialize in crafted cocktails with original recipes–we suggest trying Maria do Leste Bloody Mary–but they also serve very good food. On the snacks and appetizers department is a set of six fresh oysters, but also Daniel Sorlut oysters, Rockefeller (with creamed spinach and pernod), or Kilpatrick oysters, with guanciale bacon, brandy, and Worcestershire sauce.
Price: MOP $118 (fresh oysters), MOP $138 (Rockefeller oysters), MOP $138 (Kilpatrick oysters)
Opening hours: The Manor – 12:00pm–3:00pm, 6:00pm–11:00pm
St. Regis Bar – Daily, 2:00pm–1:00am
The Manor and The St. Regis Bar The St. Regis Macao, The Londoner Macao, Estrada do Istmo, s/n, Cotai
Also read: The St. Regis Bar Macao: The Hottest Spot in Town
Also read: Show Me the Way to: Macau's Best Cocktail Bars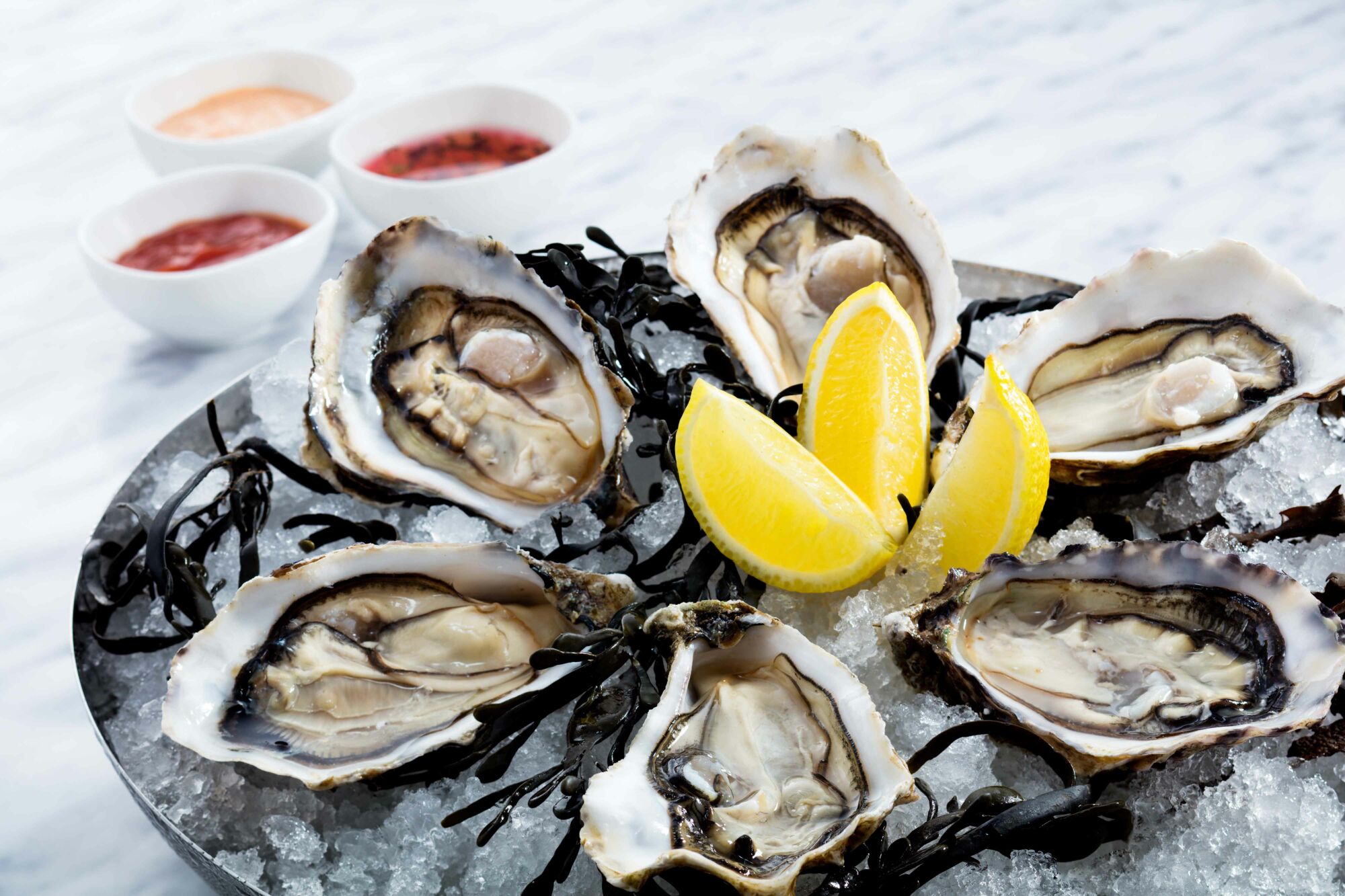 The Apron Oyster Bar & Grill
The Apron is Galaxy Macau's own oyster bar and grill. Although the space is not the coziest–it is located indoors at The Promenade Shops–Apron's oysters are incredibly exquisite and affordable. Their online menu includes France's Gillardeau, White Pearl n2, Boudeus n4, d'Isigny n2, but also Australian, South African, and Irish varieties. The Apron is also keen on serving fresh seafood platters, as well as beef dishes, including signature stockyard Australian Wagyu M5 Tomahawk steak. There are also other Western-inspired dishes such as soups, appetizers, and mains.
Price: Starting at MOP $28 per oyster
Opening hours: Daily, 12:00pm–11:00pm
The Apron Oyster Bar & Grill G108, G/F, Galaxy Macau, Estrada da Baía de Nossa Senhora da Esperança, Cotai, +853 8883 2221, www.galaxymacau.com/the-apron

Belon
Located on the 31st floor of Banyan Tree, one should expect an astonishing view, and you won't be disappointed. The decor is fabulous and they have the reputation for "the best oysters in town". Their oyster bar is open until late, which gives you time to get off work, relax a bit while sipping some cocktails, and sucking down those lemony fresh oysters.
Price: From MOP $98–188 per Belon oyster. Other types of oysters range from MOP $38–$68 each
Opening hours: Oyster bar – Daily, 5:00pm–12:00am
Belon 31F, Banyan Tree Hotel, Galaxy Macau, Estrada da Baía de Nossa Senhora da Esperança, Cotai, +853 8883 6090, www.banyantree.com/belon

Vida Rica Bar
Located in Mandarin Oriental, Macau this bar offers an exquisite river view. Besides bespoke cocktails and mocktails, great wine, and other drinks, Vida Rica Bar features happy hours and other surprises, including one of our favorites: Bubbles & Beats. This fantastic deal offers a set of oysters and a bottle of wine or caipirinhas, to be enjoyed on Wednesdays!
You can choose to head there and just stuff your belly with freshly shucked Fine de Claire n4, Rock n2 or LV Royal Cabanon n2 oysters, or combine them with sumptuous drinks. These include a 2018 Domæne Gobelsburg, Grüner Veltliner (Österreich, Austria), a 2018 Allegrini, Corte Giara, Prosecco, Millesimato Brut, DOC (Veneto, Italy) or six caipirinhas, a very famous and popular cocktail in Brazil. The Austrian wine is accompanied by a dozen oysters while the other two drinks come with half a dozen fresh seafood pieces. If you're into gourmet snacks and great panoramic views over the city, Vida Rica Bar is a good option, even without the oysters.
Price: Oysters – MOP $18–48 per piece
Combinations – MOP $438–680
Opening hours: Bubbles & Beats – Wednesdays, 5:00pm till late
Bar – Monday–Thursday, 5:00pm–midnight; Friday, 5:00pm–1:00am; Saturday, 3:00pm–1:00am; Sunday, 2:00pm–11:00pm
Vida Rica Bar Mandarin Oriental, 945 Avenida Dr. Sun Yat Sen, NAPE, Macau, +853 8805 8928, www.mandarinoriental.com/vida-rica-bar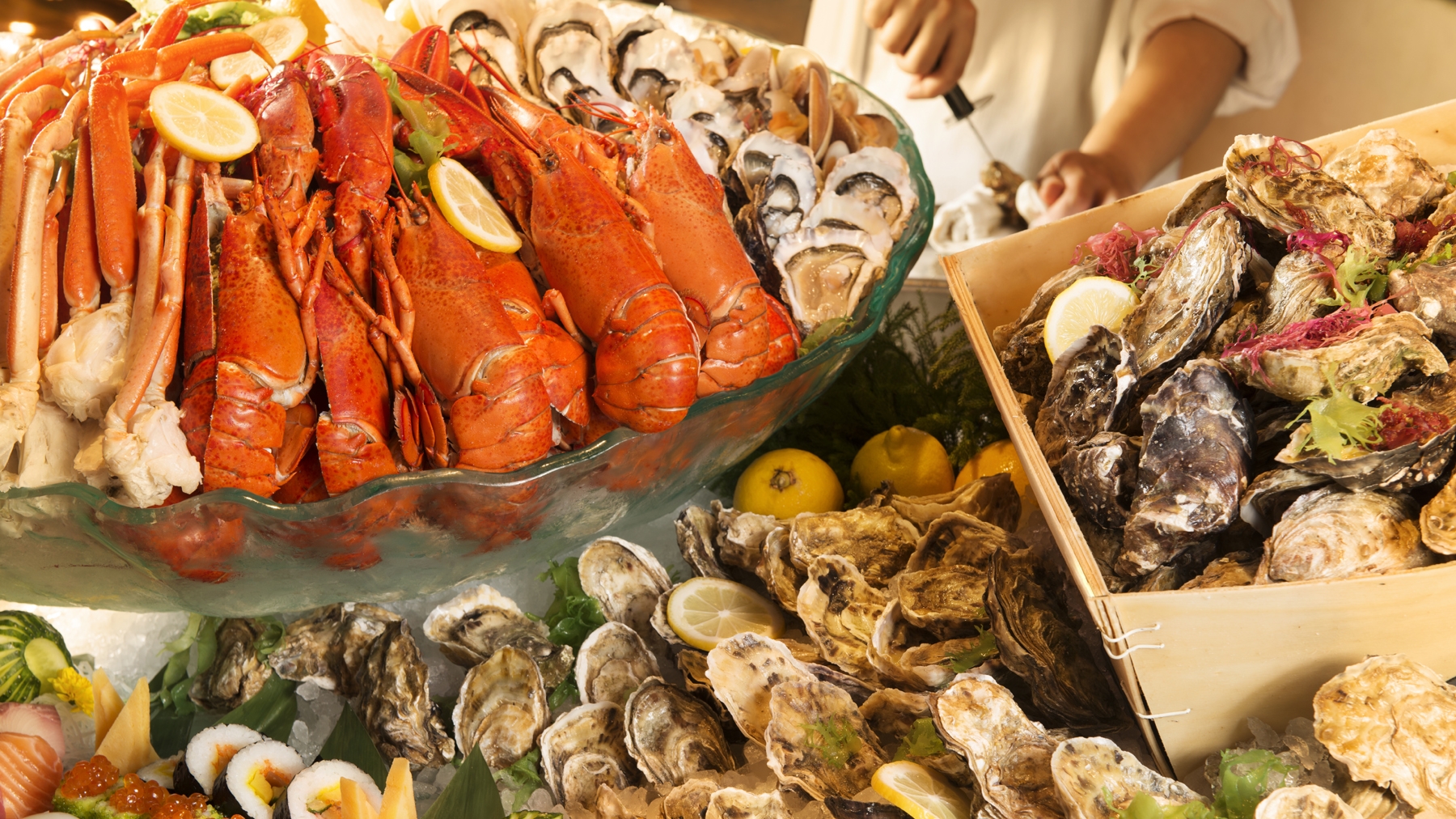 Feast
Well, its name really does justice to their weekend dinner seafood buffet. A bit pricier than the above-mentioned restaurants, it's still within the range of Macau buffet pricing. Featuring more than 10 different seafood specialties with three varieties of oysters, eight different salads, and several other delicacies, Feast is the right place to go if you are both hungry and craving seafood. If you are only looking for oysters, it is also a great place to try, since it's an "all you can eat" menu.
Price: MOP $458 per person (buffet)
Opening hours: Friday and Saturday, 6:30pm–10:30pm
Feast Level 1, Sheraton Grand Macao, The Londoner Macao, Estrada do Istmo, s/n, Cotai, +853 8113 1200, www.feastmacao.com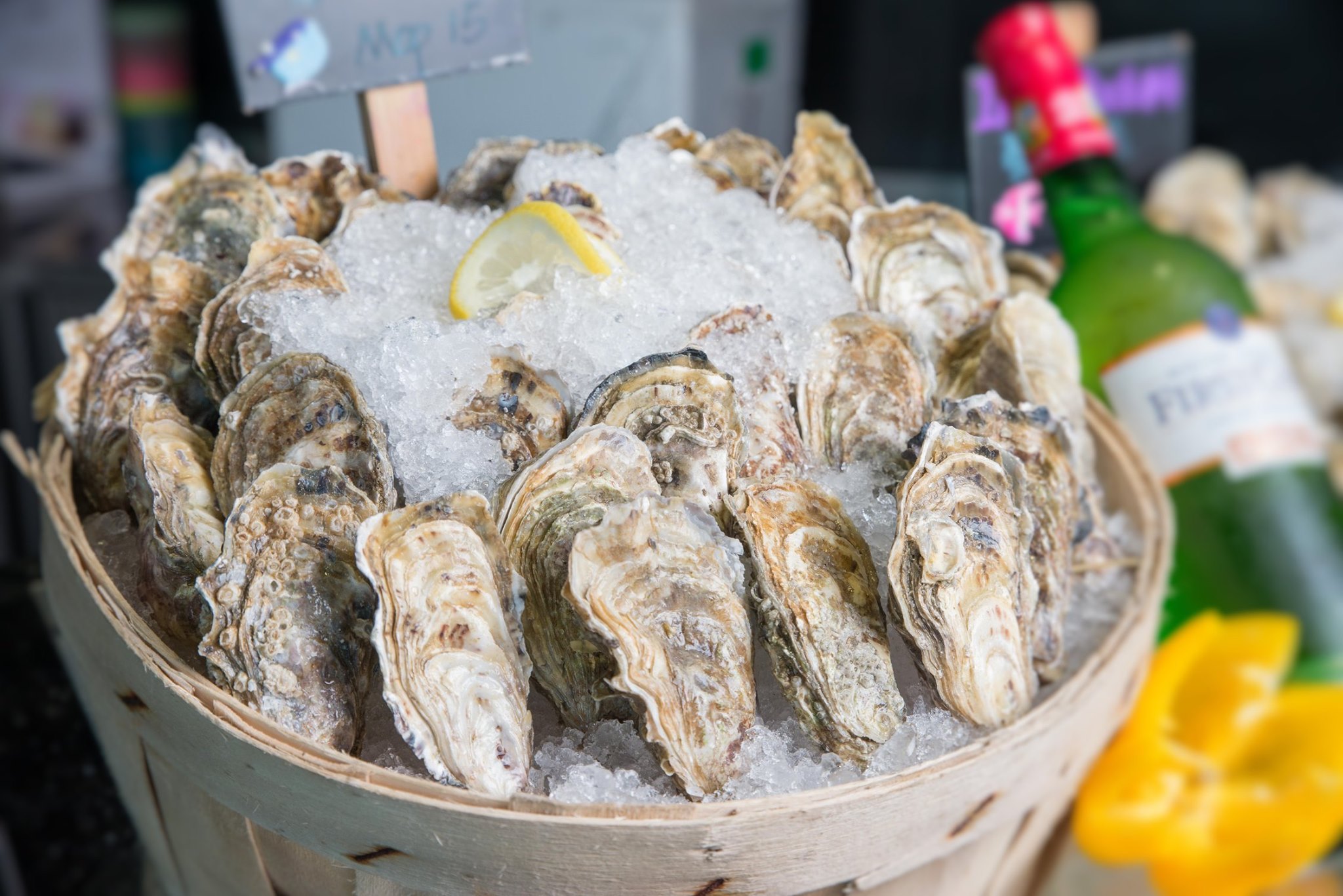 Sky 21
Sky 21 is already a super recommended spot due to its breathtaking views and comfortable outdoors. The fact that they serve oysters promotions is just a great plus on top of this! If you order 12 freshly shucked oysters, they'll offer you a complimentary bottle of white wine, an ideal thing to pair with these sea-flavored delicacies while overlooking the city through a 180º view. Serving more than five oyster types–Gillardeau, Mariscos Escarcha, Irish Rock, Fine de Claire, and TenKai Rock–hailing from Europe and Japan, it's one of our top recommendations.
Sky 21 is also a nice place to have a quick lunch with friends or colleagues, as it has set lunch menus and a buffet for everyone to choose from. With salads and other cold dishes, pasta made to order, several desserts, and fresh fruit, this restaurant is a very good deal. Sun Food & Beverage Group Members can also enjoy a complimentary bottle of selected wine with the purchase of 12 oysters.
Price: MOP $56–58 per piece
Opening hours: Monday–Saturday, 12:00pm–2:30pm, 5:30pm–3:00am; Sunday, 6:30pm–2:30am
Sky 21 21/F AIA Tower, 251A–301 Avenida Comercial de Macau, Macau, [email protected], +853 2822 2122, www.facebook.com/sky21macau
Also read: Macau Outdoor Dining Guide
Also read: Best Places for Whiskey Lovers in Macau
Also read: Most Instagrammable Restaurants & Bars in Macau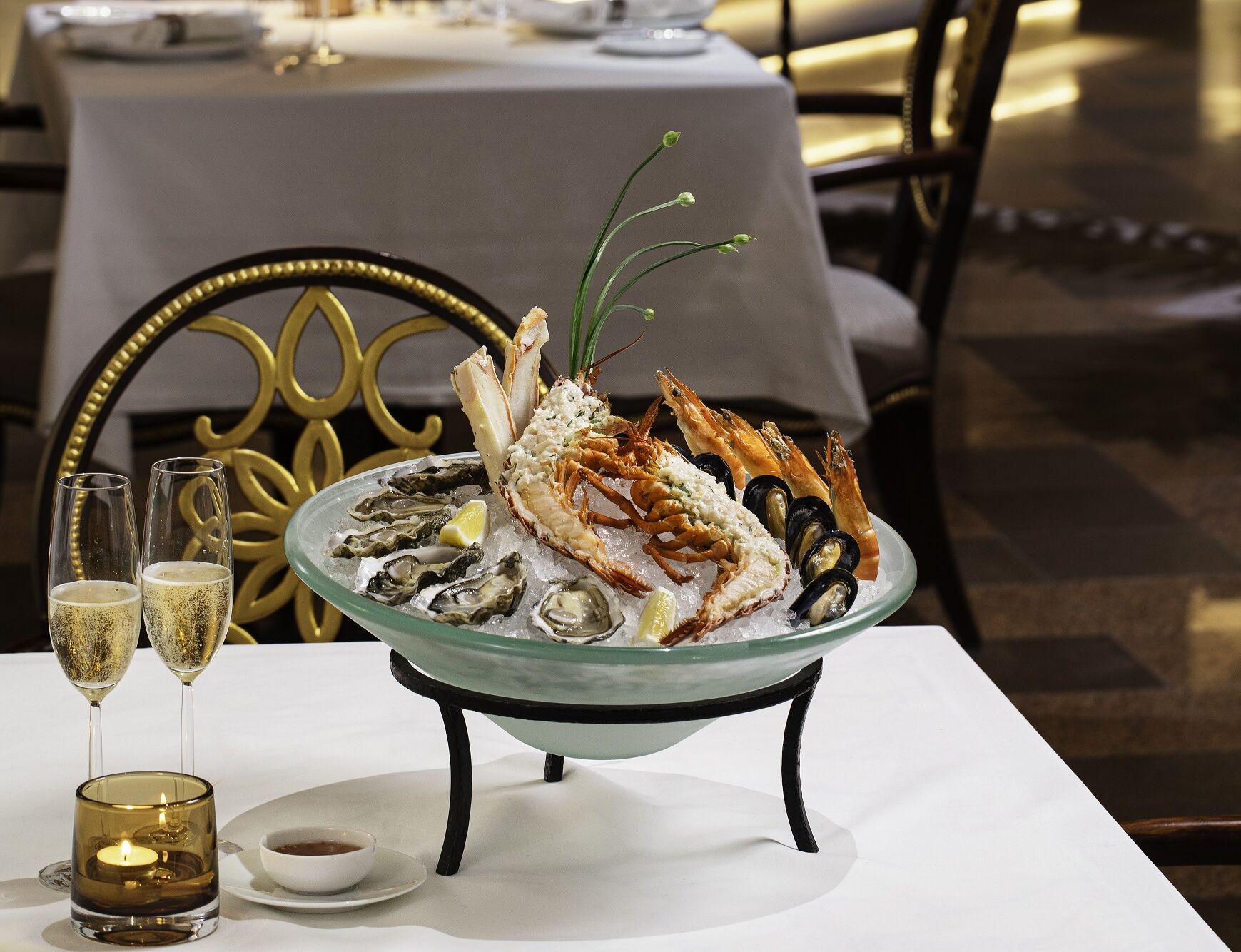 Aux Beaux Arts
The cool and decadent-looking Aux Beaux Arts is yet another venue serving fresh oysters for your delight. With a newly created menu, this restaurant located at MGM Macau is filled with foodie surprises, including a flawless list of French wine and crafted cocktails. We suggest having some of their sherry Mignonette fresh oysters (they come in sets of six) with one of Aux Beaux Arts' cocktails such as ABAtini or Monsieur Henri. When looking for a more colorful dish, go for the seafood platter, a great option to savor different sea flavors.
Price: MOP $248 for six fresh oysters
Opening hours: Wednesday–Saturday, 6:00pm–11:00pm; Sunday, 12:00pm–3:00pm, 6:00pm–11:00pm
Aux Beaux Arts MGM Macau, Avenida Dr. Sun Yat Sen, Nape, Macau, +853 8802 2319, www.mgm.mo/aux-beaux-arts
Also read: Best French Restaurants in Macau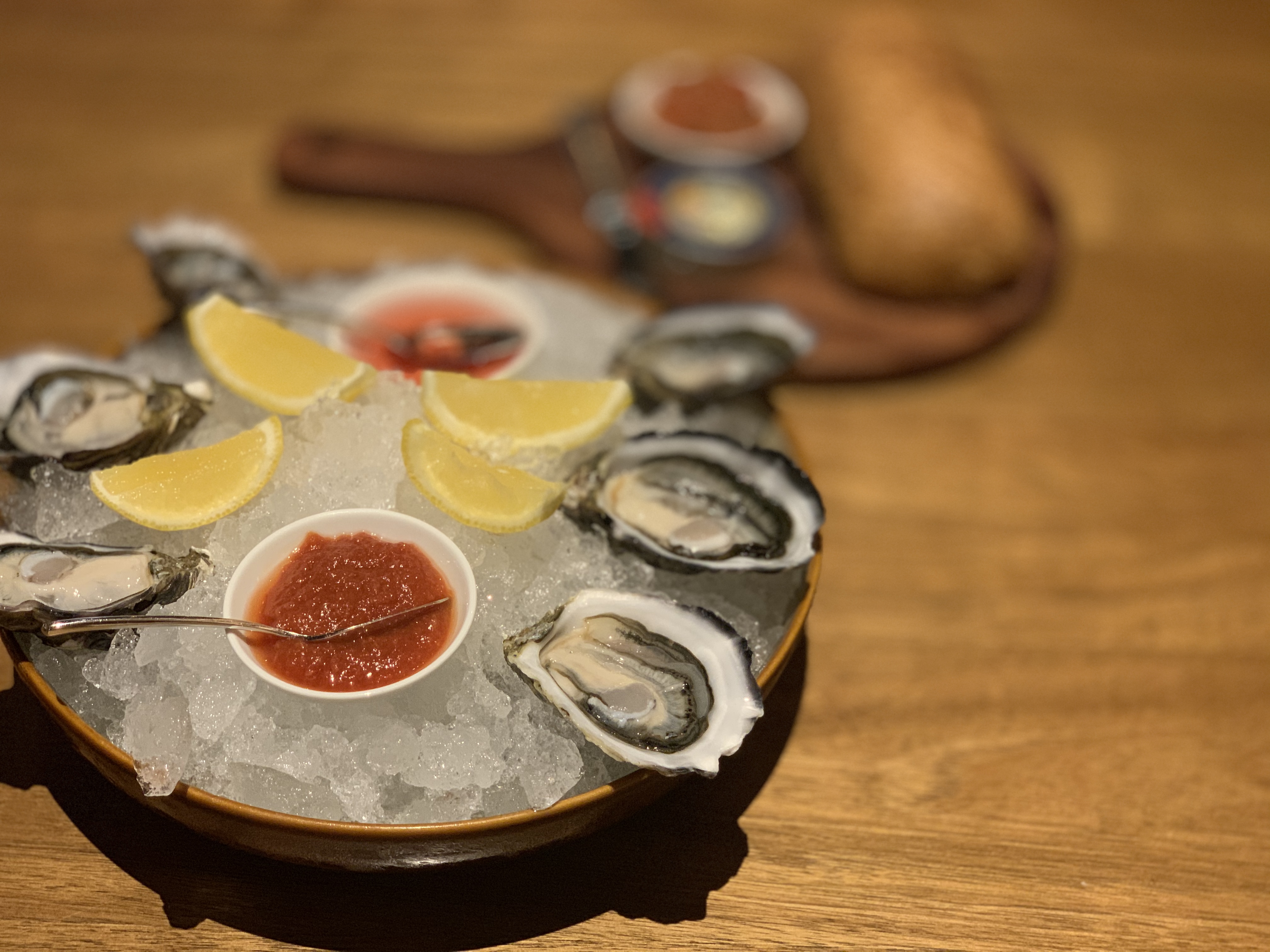 Coast
Set in MGM Cotai, Coast is an American-inspired restaurant serving amazing burgers, tacos, BBQ pork ribs, steaks, sandwiches, and more. Specializing in Western food and sure to fill that desire for strong foods, it also has some snacks available, amongst which we found some really fresh oysters. If you're into sharing, order the 12 pieces platter but you can also go for the half dozen and have a blast with all of them for yourself.
Price: MOP $188 (six oysters) and MOP $368 (12 oysters)
Opening hours: Daily, 12:00pm–3:00pm, 6:00pm–10:00pm
Coast MGM Cotai, Avenida da Nave Desportiva, Cotai, +853 8802 8888, www.mgm.mo/coast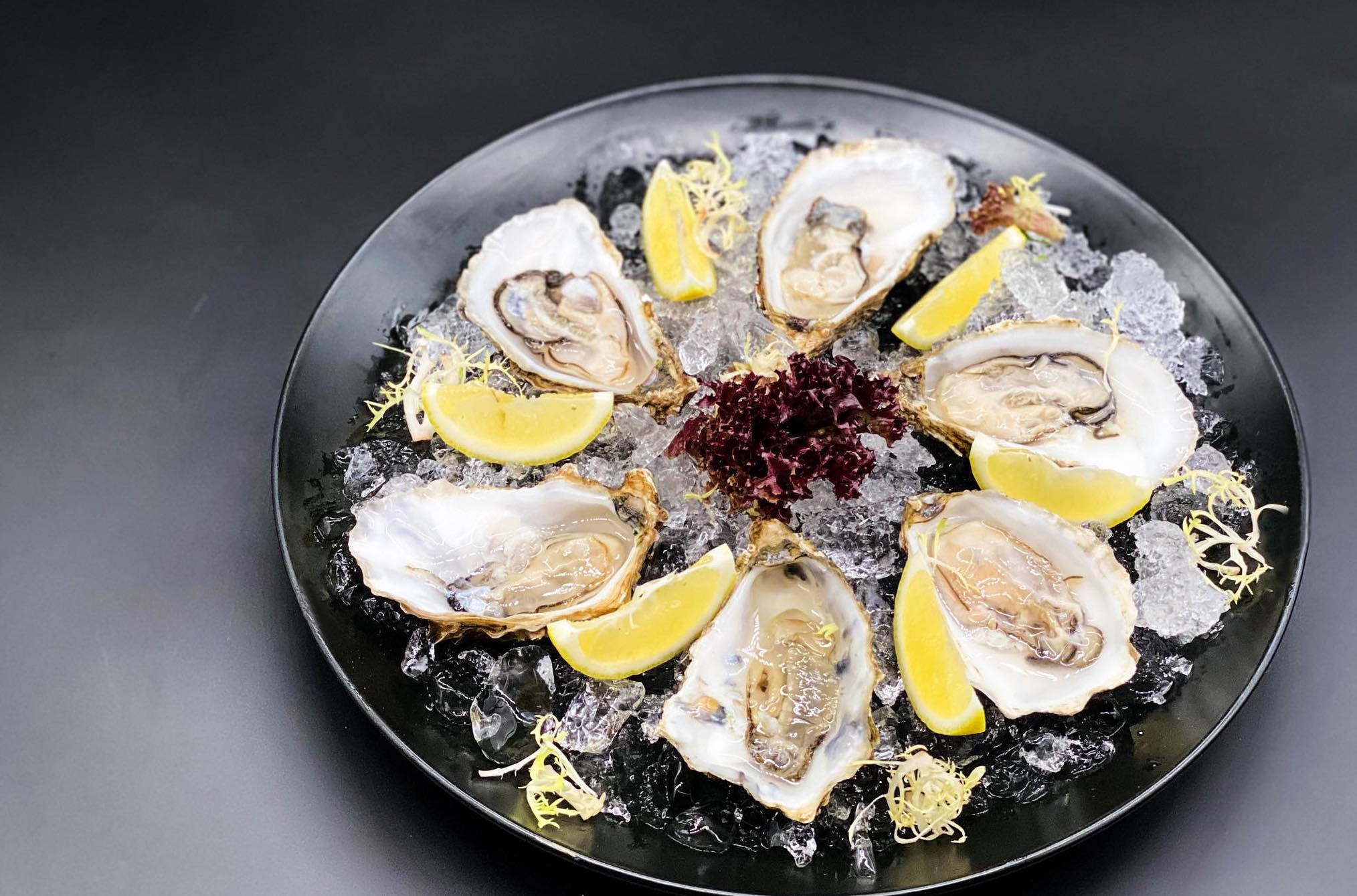 Antica Trattoria
Antica Trattoria has become very popular amongst both locals and expats in Macau. Besides set menus and a ravishing list of white and red wines, they're also crafting cocktails and other goodies. Italian food fans love it there, but also people looking to share some food, drinks, and good moments. Their menu also includes a wonderful set of half a dozen freshly shucked oysters to savor over some wine or cocktail. Head there with friends and spend a luxurious meal. Antica Trattoria serves Fine de Claire n3 (France) oysters.
Price: MOP $200 per set of six oysters
Opening hours: Monday–Thursday, 12:00pm–3:00pm, 6:00pm–11:00pm; Friday, Saturday and Sunday, 12:00pm–12:00am
Antica Trattoria 40–46 Edificio Vista Magnifica Court, Avenida Sir Anders Ljungstedt, Macau, +853 2875 5102, www.anticatrattoria.asia
Also read: Authentically Italian: Antica Trattoria
Also read: At the Bar With Bruno Santos of Antica Trattoria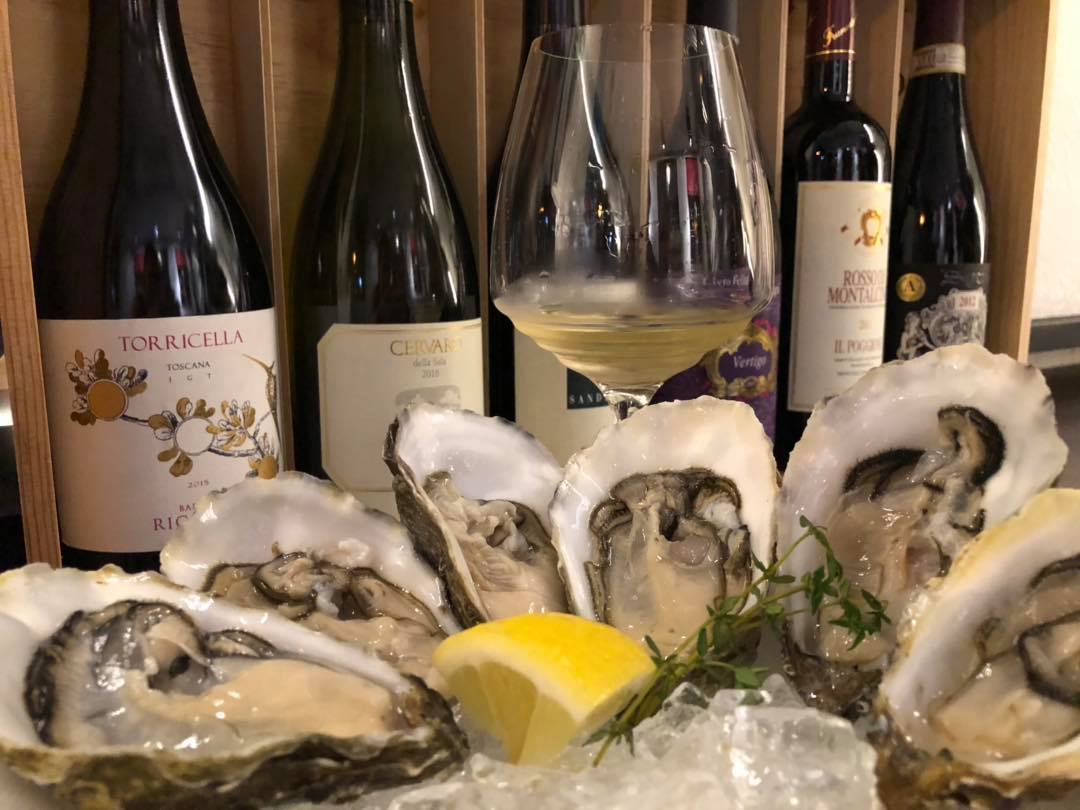 Bella Taipa
Bella Taipa is one of the Italian restaurants in town that we recommend. Offering everything from traditional Italian dishes to in-house cocktails, fresh entrées, and prosecco, it features a wonderful rooftop dining area. Although oysters have to be ordered three days in advance, there's no better way to spend a special sunset than with the freshest seafood and some great white wine. Gather your friends and enjoy the outdoors in Macau with a dinner alfresco in Old Taipa Village. The atmosphere surely makes it worthwhile. Their offer includes oysters from all over the world and depends on the freshest ones available.
Price: Starting from MOP $30 per oyster
Opening hours: Sunday–Thursday, 12:00pm–11:00pm, Friday and Saturday, 12:00pm–00:00am
Bella Taipa 1 Rua dos Clérigos, Taipa, +853 2857 6621, www.bellataipa.com
Also read: Best Rooftops in Macau to Relax At
Also read: Great Local Pizza Places in Macau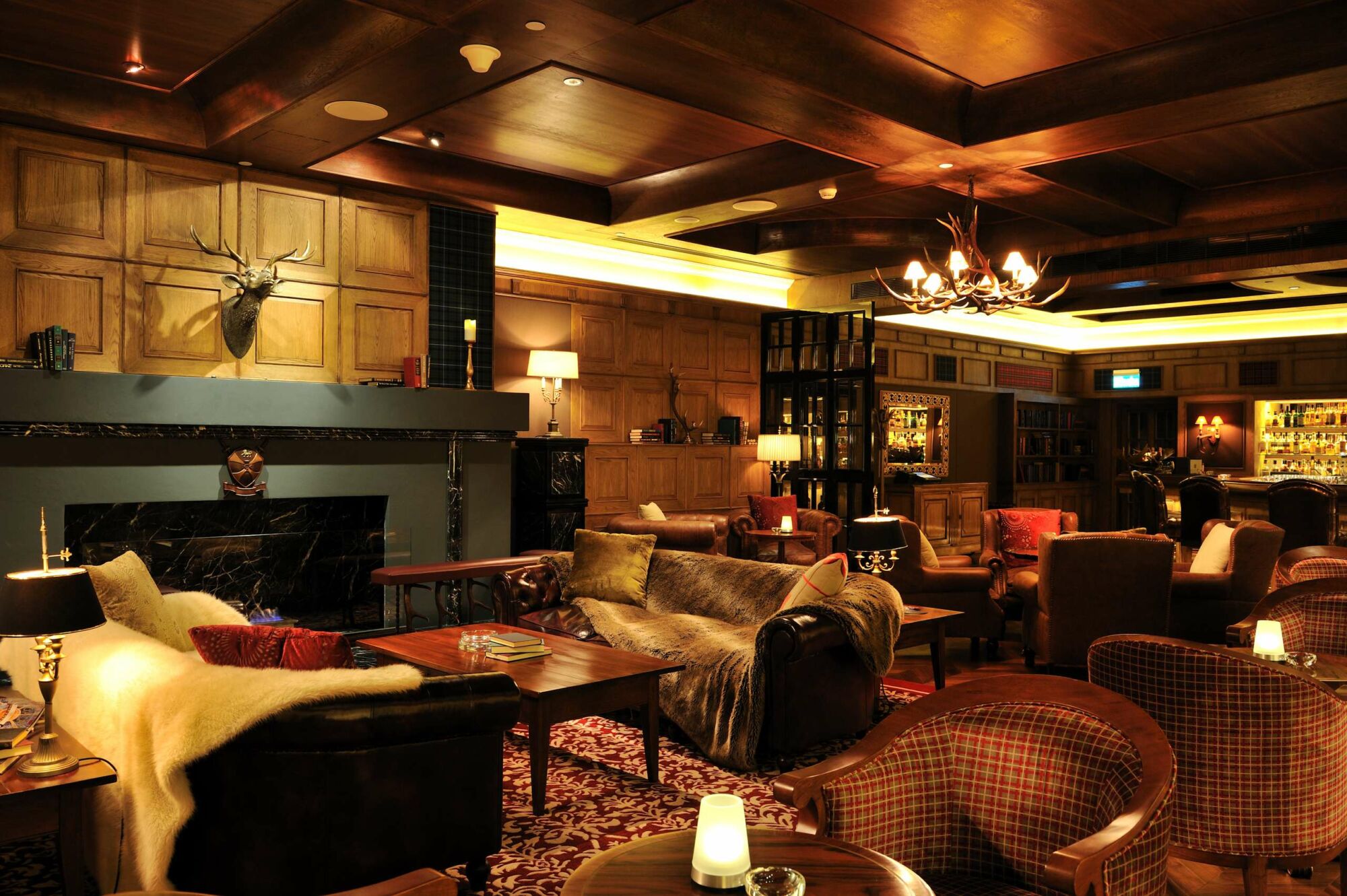 The Macallan Whisky Bar & Lounge
Cozy and elegant, The Macallan Whisky Bar & Lounge is the to-go place for classy pre-dinner drinks, a late meeting, or even an adult's birthday party. Besides their bespoke cocktails and mocktails on big leather sofas by the wooden-made fireplace, they also serve numerous food items and snacks that you'll find in their menu, where there are also some freshly shucked Gillerdeau oysters. What's better than keeping cozy with friends around a table filled with cocktails and oysters?
Price: MOP $69 per oyster
Opening hours: Monday–Thursday, 6:00pm–midnight; Friday and Saturday, 6:00pm–1:00am
The Macallan Whisky Bar & Lounge 203, 2/F, Galaxy Hotel, Galaxy Macau, Estrada da Baía de Nossa Senhora da Esperança, Cotai, +853 8883 2221, www.galaxymacau.com/macallan-whisky-bar
This article was originally written by Leonor Sá Machado in 2017 and updated in April 2021.
Tags
Related Posts