Is it possible to explore Macau in a whole day? This question has often been thrown our way, and our resounding answer is a big no. It's impossible to discover and learn the secrets of this great city in a single day. However, as we demonstrate below, you should be able to squeeze in some satisfying sightseeing on a tight 24-hour timeline. Macau is diverse and vibrant, offering visitors an eclectic programme of both modern and traditional culture. You'd better make every moment count. First of all, brush up on your local knowledge of all things Macau and read our Quick Guide to First Timers to Macau.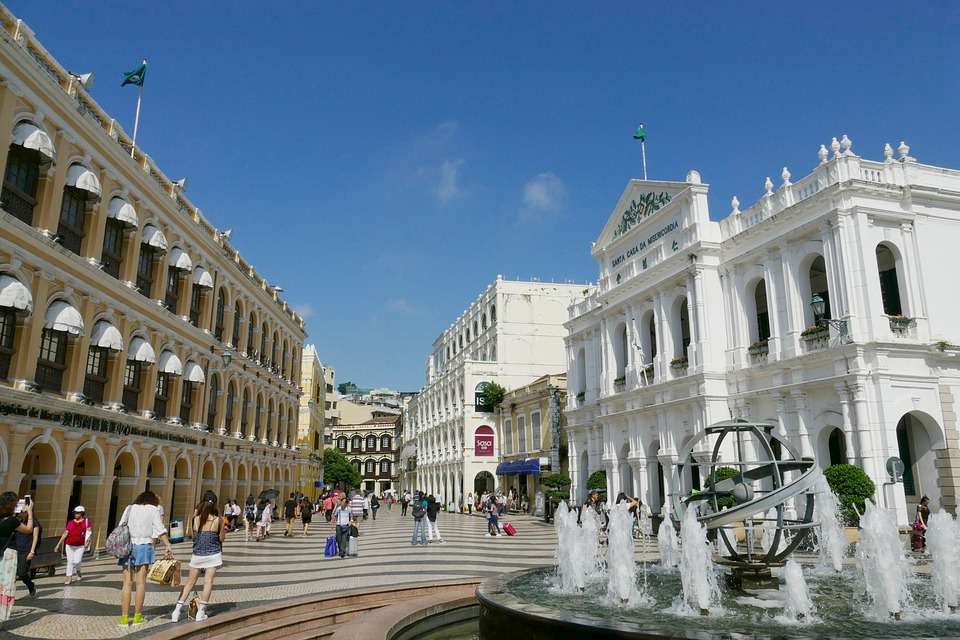 Getting Around
The most convenient way to see the best of Macau is on foot. However, you'll need transportation from one island to another and the best way to do that is by bus, taxi or free hotel shuttles. Make sure you have Google Maps on your phone.
8:00am to 12:00pm
The best way to explore a new place is always by walking. Kick off your day with a stroll to Senado Square and explore the historical architecture surrounding the spectacular area. There are the UNESCO heritage sites including the Baroque styled St. Dominic's Church and the Holy House of Mercy and Leal Senado across the street of which all are part of the Historic Centre of Macau. We suggest trying a taste of the famous durian ice cream and grabbing some almond cookies as you walk along your way to the Ruins of St. Paul. You will soon notice that shops line the road to the iconic landmark in Macau and pass out free samples, which is great fun. It's a good place to get souvenirs and gifts for family and friends.
If you make your way further up the hill you reach the Macau Museum tucked inside Mount Fortress. It's easy to navigate your way with the signs on the pathways. The permanent exhibitions include a first floor devoted to history, a second floor focusing on folk customs, and the third floor dedicated to contemporary Macau. The museum also houses a regularly rotating series of temporary exhibitions covering a variety of topics. The grounds around the museum are perfect for relaxing and provide great panoramic views of the city below. A visit to Macau Museum will fill you in on everything that's led the SAR to where it is now. The modern and yet multi-cultural city is filled with rich cultural heritage and an enviable lifestyle. There is definitely a thriving arts scene here too. There is a small fee of MOP $15 for this museum but many art galleries around the city are free admission.
If you like museums and have a fascination with history and culture then we suggest you also try and check out some of these 5 Original Museums in Macau too.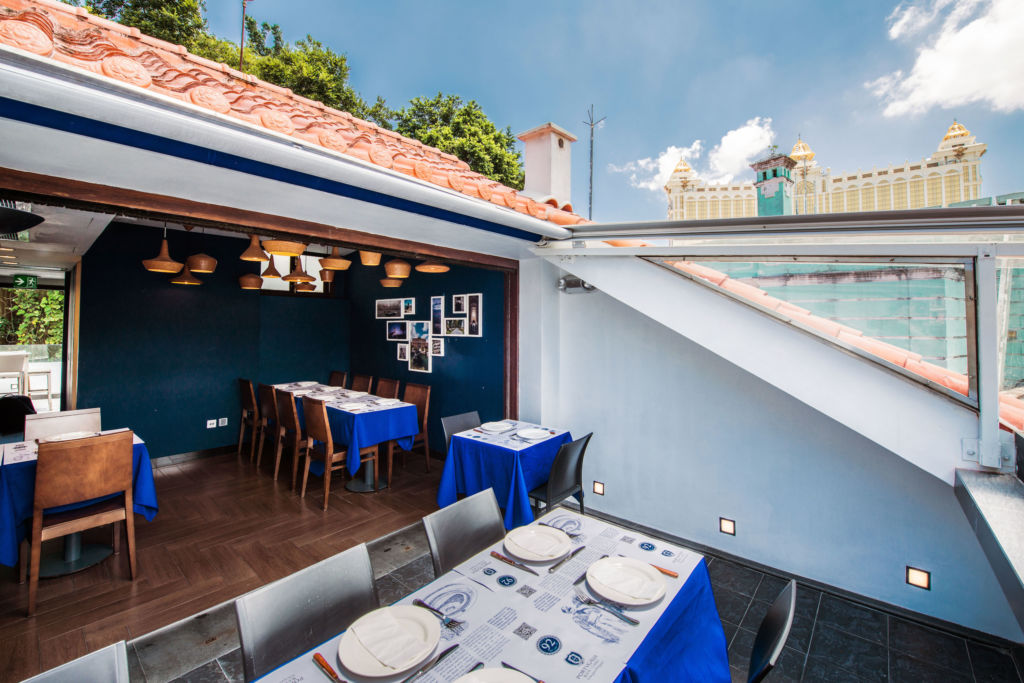 12:00pm to 4:00pm
By 12:00pm, you would have realized how time flies fast when you're having fun. Wrap up your sightseeing in Macau proper area and prepare to move to another island. This is also the perfect time to grab a much-needed lunch to power up your afternoon.
We've said it before, no trip to Macau would be complete without taking a tour of the historical Taipa. The enchanting alleys of Taipa Village are filled with traditional Chinese shops, beautifully colored colonial villas, stunning churches, and ancient temples. There will be more walking ahead so Eat and drink your way around Rua do Cunha and get a taste of Macanese bites and treats. You'll never get stomped for ideas on where to dine because of all the Delicious Dining Spots.
We particularly love Portugalia (see featured image above). This cool restaurant allows you to bask in the calm sea blue interior which gives off a holiday vibe and is popular for serving one of the best steaks in town. Whatever dish you go for here, it is always a delightful dining meal. There are tons of exciting activities you can do in this fascinating village also. Here are the Best Things To Do in Taipa Village. It's also wise to look for more souvenirs in this area also – check out some Great Souvenirs to get from Macau.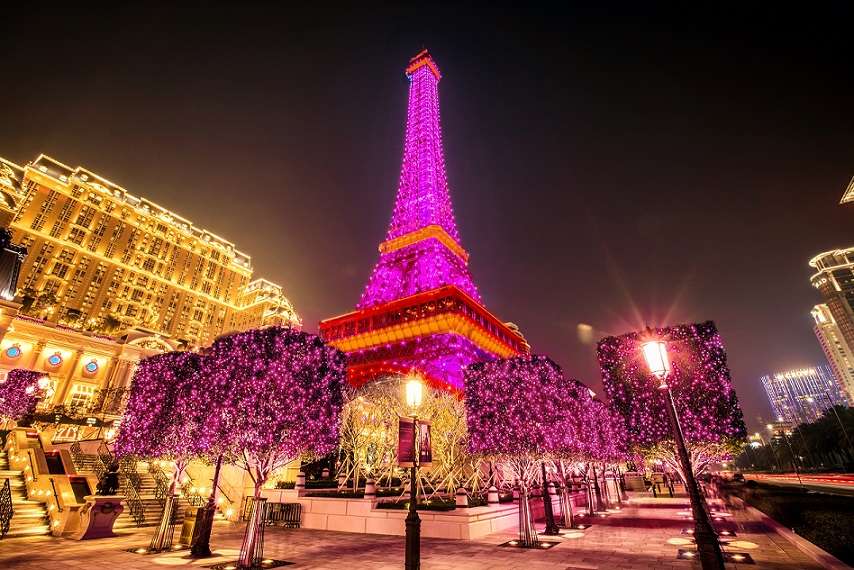 4:00pm to 7:00pm
After Taipa, head to Cotai, the bustling business district of Macau, where filled with eye-catching architecture and hotels. You'll probably spot the iconic Morpheus that's worth a quick photograph. Here are 10 Fascinating Facts that you might find impressive about the new designer hotel. Macau is littered with luxurious hotels. You'll find the biggest casino in the world housed at the Venetian Macao. More than just gaming, Macau is also an entertainment hub renowned in Asia for hosting international acts. It's steeped with opulent interiors and draws a huge crowd of tourists to the city.
Hotel-hopping is the right word to describe the best of Macau sightseeing. Head to Parisian Macao to see the striking structure of Macau's Eiffel Tower. A half-scale authentic recreation of the most romantic structure in the world, Macau's Eiffel Tower sits magnificently at the hotel's entrance. It has two observation decks offering stunning scenery of the city. It's currently one of the most photographed buildings in Macau so don't forget to take a snap. Explore the other properties including a cable car ride to Wynn Palace or take a stroll around Studio City if you have more time.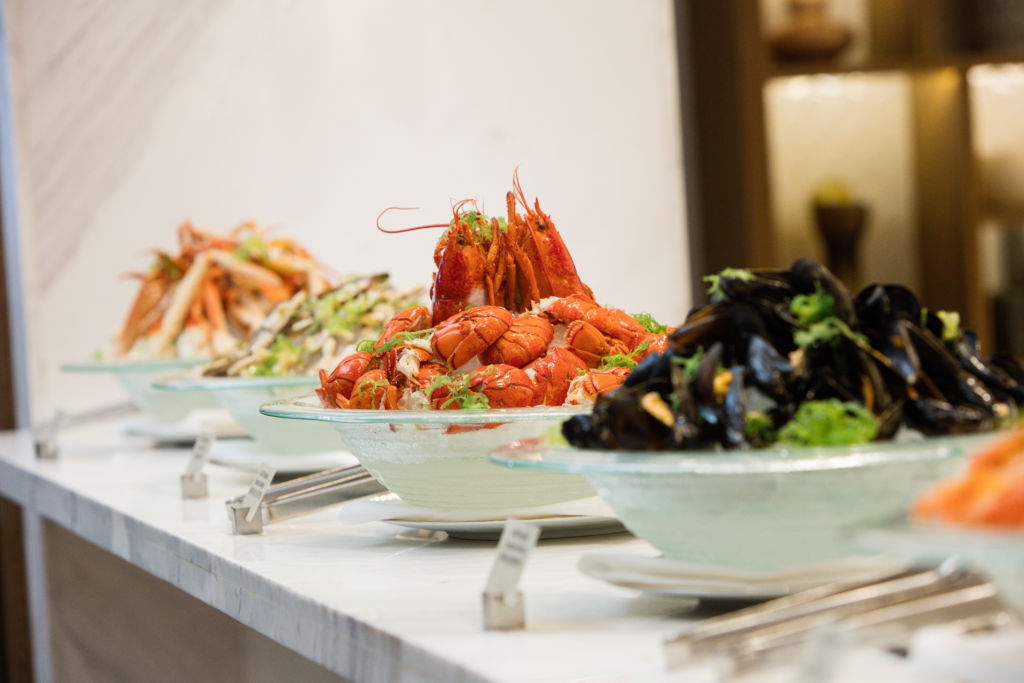 7:00pm to 10:00pm
It's almost time for dinner and the choices are plenty in Cotai. For a rewarding meal, we suggest you head to The Manor at St. Regis Macao for its stylish setting and a memorable medley of flavors on offer (see image above). If you want to splurge even further, try the Michelin-starred restaurant, Jade Dragon at City of Dreams or Lai Heen at The Ritz-Carlton Macau. Whichever way you go, Macau is teeming with local and global cuisine of outstanding quality. You can also head to Broadway Macau Food Street for some laid-back dining. The hawker-style street market vibe is complemented by fuss-free and delicious dishes that a true traveler needs to try.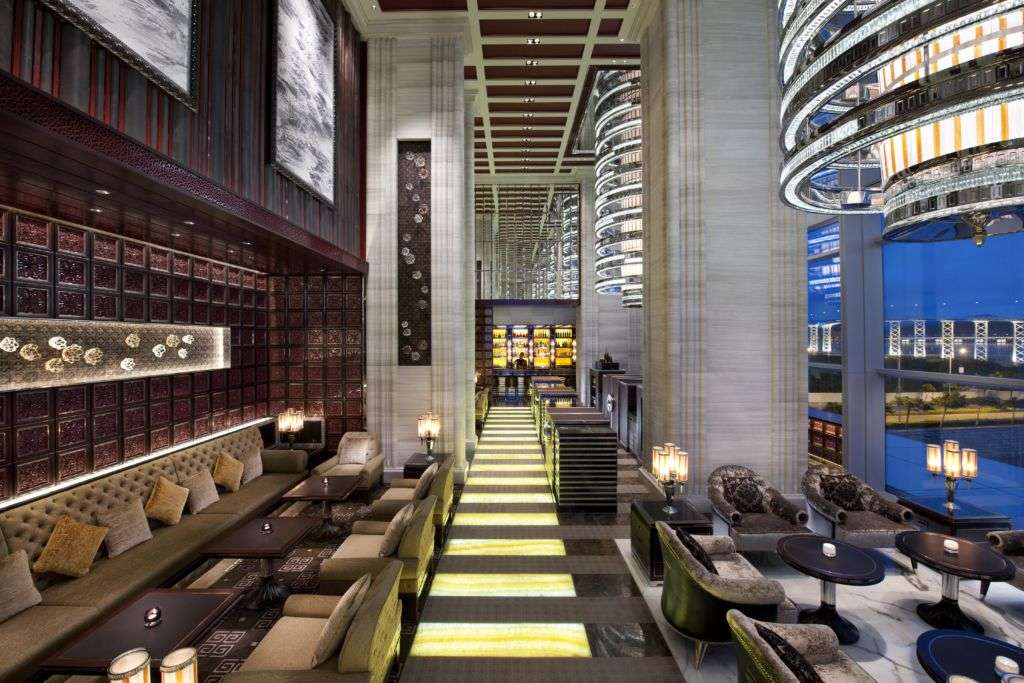 10:00pm to midnight
Need a few drinks to unwind after the long day? Head to Vida Rica Bar for the best cocktails in town. With magnificent views of the city, you can sip champagne, taste some tapas and try signature drinks as you while away the evening. You'll be sure to leave the city with incredible memories after this, so make sure come back for a longer stay!
There are also many ways to explore Macau on a budget. If you're exploring for less than 24 hours during a layover, there are many ways to discover the city for free. It's a destination that can be easy on the wallet and, trust us, when we say there are many beautiful things to see in Macau without the hefty price tag the city is often associated with. Check out this list of 10 Best Free Things in Macau.
Share
Tags
Related Posts