Food is everywhere! An experience while traveling, a part of culture exchange, or simply for surviving. As such, we would like to share a foodie bucket list with our fellow food lovers. Did you know that there are some snacks from Macau that most don't know about? If you're planning on visiting Macau, here're a few traditional snacks that you should definitely try!
Dragon Beard Candy
(See featured image above)
Also known as "Chinese cotton candy", dragon beard candy is a handmade traditional sweet from China. It has a sweet flavor with a chewy texture containing crushed peanuts, shredded coconut and white sesame seeds that melts in your mouth! Shaped like a small pillow, it resembles that of a cocoon. It is also one of the local must-tries in Hong Kong.
You can find it in a traditional local patisserie shop for MOP $25 per box of nine pieces located inside the Rotunda de Carlos da Maia (Three Lamps District), around the Red Market area. The owner has 40 years of experience making dragon beard candy and also sells black sesame soup for MOP $15 a bowl at Yeng Kee Bakery in Broadway Macau and The Venetian.
Black Sesame Soup
A popular East Asian and Chinese dessert, black sesame is typically served hot. It is probably one of the thickest sweet soup desserts there is. The soup is made by blending crushed and toasted sesame seeds with finely ground rice into a thick and creamy paste. Rock sugar is then added to lightly sweeten the dessert and the result should be a beautiful glossy black color with a thick smooth texture, and a fragrant nutty aroma.
Although they're tiny, these sesame seeds have a huge list of health benefits. They have been proven to be full of vitamins, fiber, and said to be good for digestion, improve bone and cardiac health, and prevent cancer. It is a longstanding belief that, because of how it looks, it will make your hair shiny and silky, and because of its rich fatty acids, your skin as well. You can find the soup in a traditional local patisserie shop for MOP $15 per bowl, located inside the Rotunda de Carlos da Maia (Three Lamps District), around the Red Market area. The owner also sells dragon beard candy.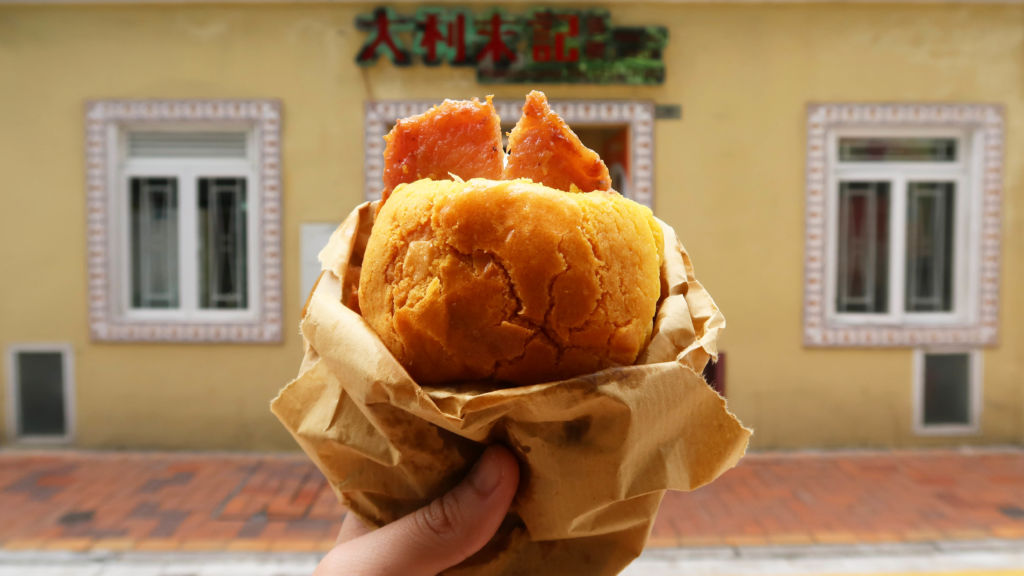 Pork Chop Pineapple Bun
You have to try the pineapple bun in Macau, it's actually a very popular sweet bun. The name has a funny meaning. With a sugary cookie top, but with no actual pineapples in it, the name comes from its appearance—like a pineapple!
That brings us to another popular local snack, the pork chop pineapple bun. It's a seasoned, juicy pork chop bun made with a sweet pineapple bun. And who would have thought to combine these two simple, yet so delicious, items together? You can find this at Kafelaku Coffee (MOP $20 per bun) in Old Taipa Village, in a lot of the local cha chan tengs or on the streets around the Ruins of St. Paul's.
Kafelaku Cafe 8 Rua do Cunha, Taipa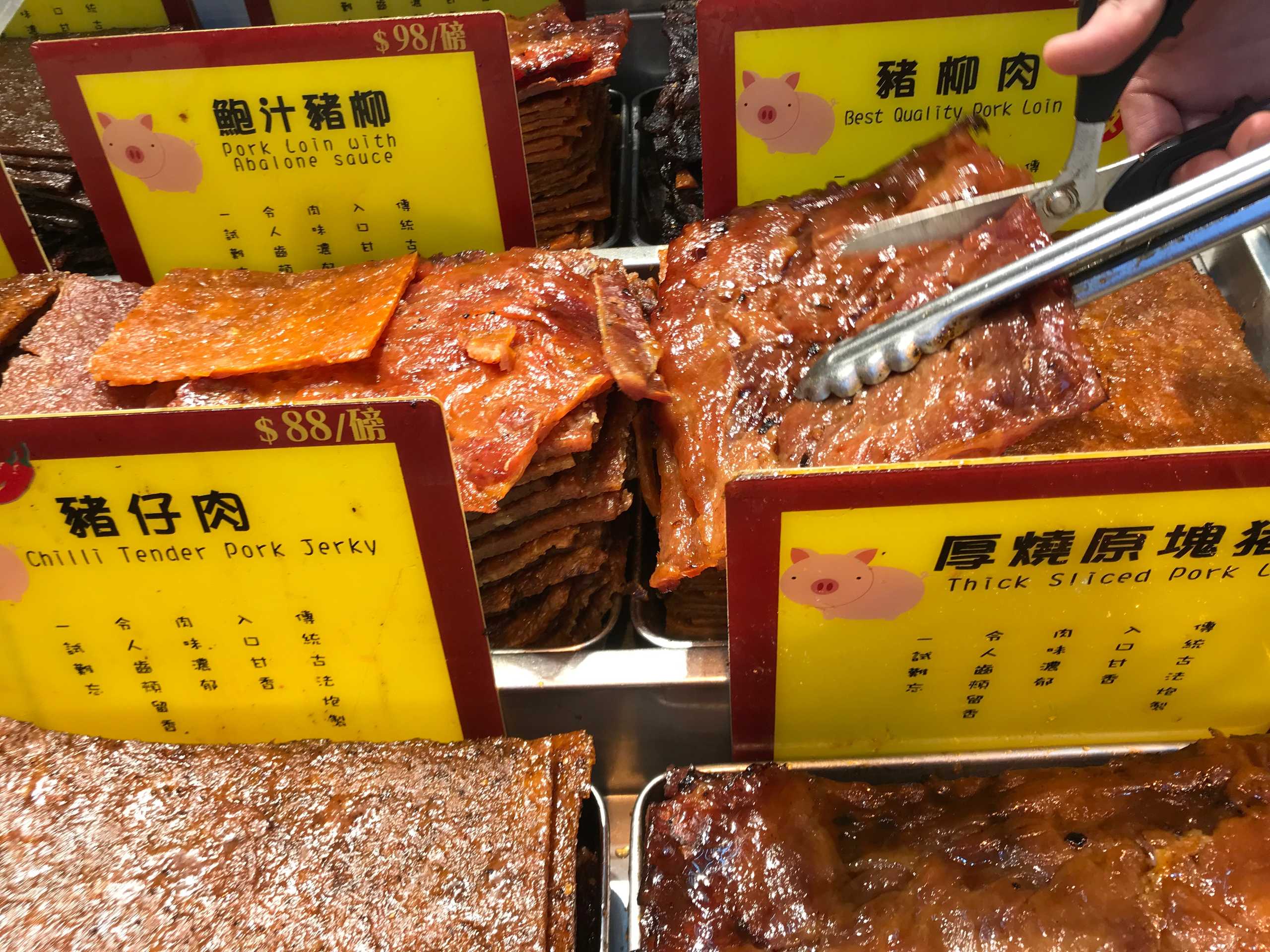 Meat Jerky
These might not be a great sight to see or even smell. However, they're all over town (Macau peninsula and Taipa), so they may pique your curiosity. Shiny with a strong scent, they have different tastes and ingredients. Most stores have testers for you to try and also sell in a pack for take away. For this local treat, go to Koi Kei Bakery, located in the city's most touristic spots, including on the way to the Ruins of St. Paul.
Koi Kei Bakery 23AA–23AB, G/F, Rua de S. Paulo, Macau, +853 2835 8230, www.koikei.com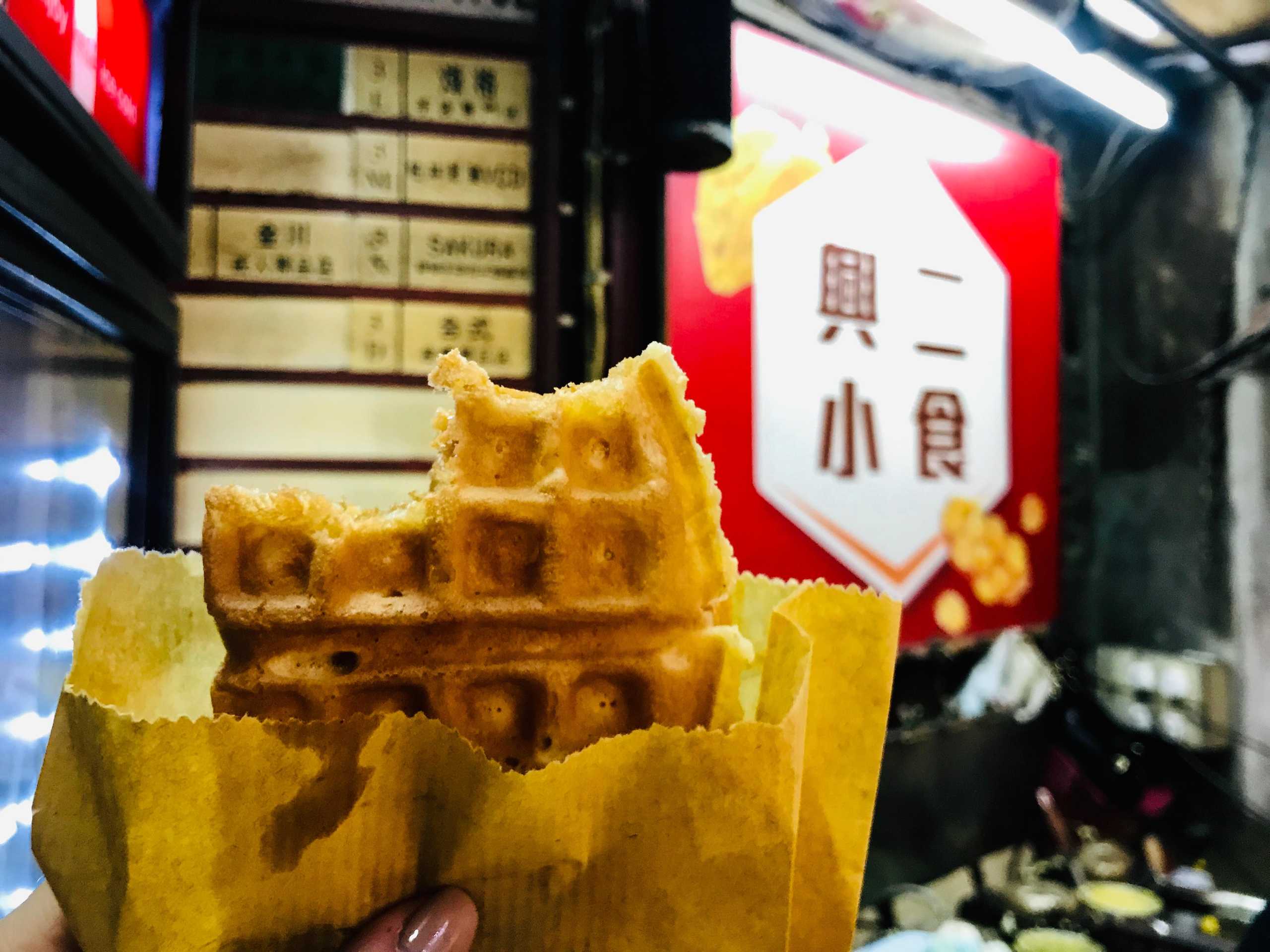 Macau-style waffles
These are no ordinary waffles and any Macau local will tell you the same thing. Made with fresh dough that goes in the toaster when you order, it's ready in under two minutes to then be filled with thick layers of condensed milk and peanut butter ! Is there a better snack for literally any given time in the day? We'd say it's pretty much the best you can have!
Hing Yi Waffle Stall (格仔餅檔) 1-9 Pátio das Flores, Macau
G/F, Centro Comercial Teatro Capitol, Rua de Pedro Nolasco da Silva, Macau
Pork Ball Congee
Congee is a traditional Cantonese dish, but congee with pork balls is rarely found elsewhere but in Macau and Hong Kong. A perfect snack for a cold day, this delicacy is best served fresh and hot from the pot. There are two places we recommend to have this hot and warming bowl of goodness, both in Macau.
Sam Un Loja De Canja 44 Rua da Caldeira, Macau
Cheng Ji 成记粥品 Rua dos Mercadores, Macau
Nam Peng's Char Siu Omelette Sandwich
This is one of our guilty pleasures and it's a place we bring all our visiting friends to try. Fresh white bread, char siu and egg—it's basic but delicious and only MOP $16! What a steal! Served in one of the oldest local cafes in town! Better to go early in the day to be sure there is still some left. This is a perfect snack combining the mastery of cooking char siu meat and the softness of eggs cooked to perfection.
Nam Peng 54 Rua Cinco de Outubro, Macau
Milk Custard Dessert
This is served both hot or cold, depending on your mood. If you grew up in Macau, you certainly know the feeling of bliss when you have this dessert. This pudding-like dessert is served in a franchised shop easily spotted by the huge  drawing of a cow on the door. It becomes neon after the sun goes down, so get your camera ready for some cute photos as well. There are ginger and egg variations for the pudding as well!
Yee Shun Dairy Company 381 Avenida de Almeida Ribeiro, Macau
7 Senado Square, Macau
G/F, 11 Rua Ferreira do Amaral, Macau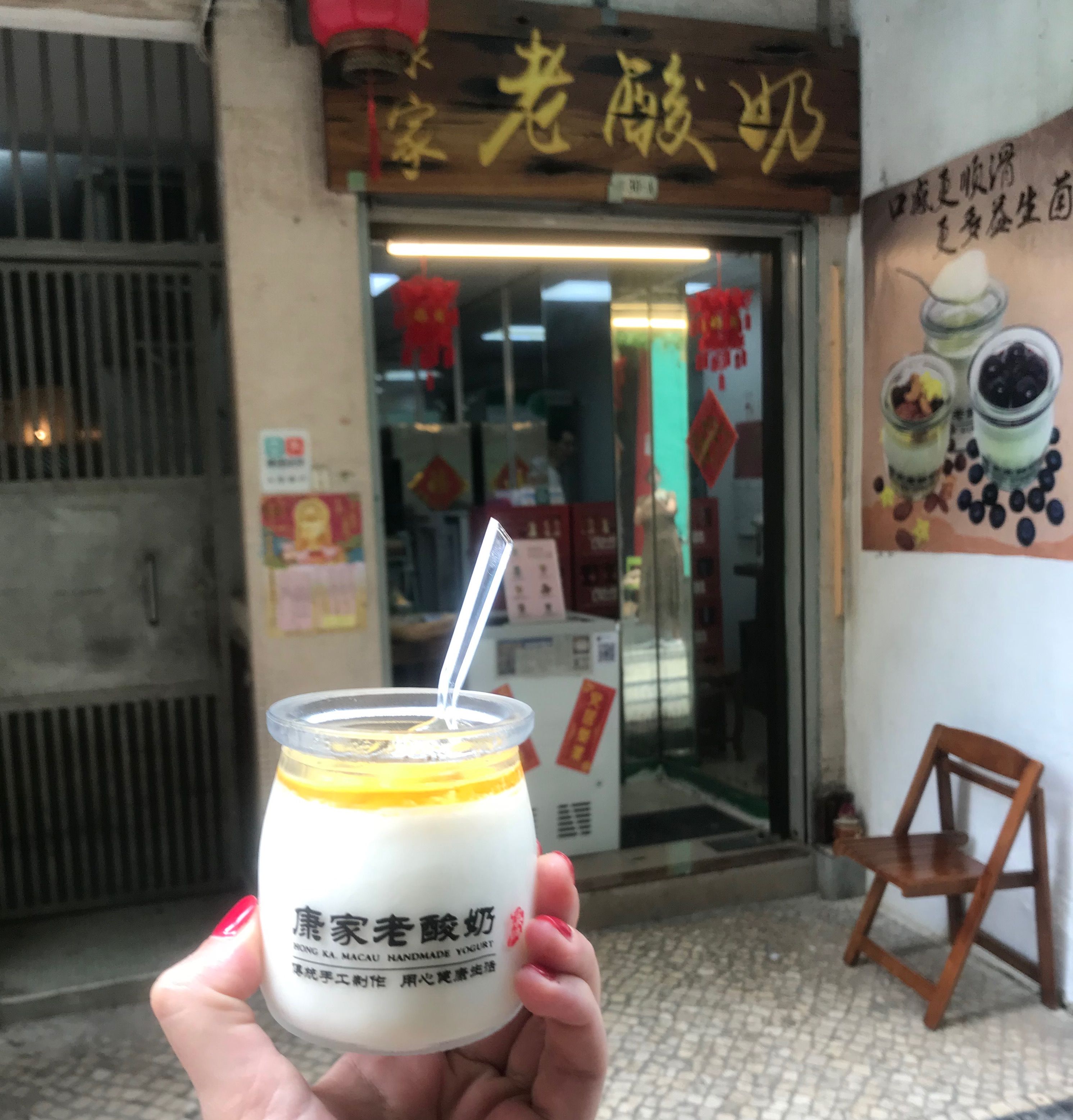 Handmade Yogurt at Hong Ka Macau Shop
In Macau, it was always difficult to find a good variety when it comes to yogurt. While strolling around town, we found Hong Ka Macau Handmade Yogurt. Made with cow's milk, it is served in a small glass recipient, which you can return to the store or take home and use it to keep spices or something else! There are many varieties. From plain to honey, nuts or fruit, there is a lot to choose from. And it's made locally! Made with fresh ingredients, it's the perfect snack to be eaten as a dessert or just an afternoon treat.
Hong Ka Macau Handmade Yogurt 27 Rua de Nossa Senhora do Amparo, Macau
This article was originally written by Bel Faustino on March 26, 2016 and updated by Leonor Sá Machado on February 11, 2019.
Share
Tags
Related Posts